You're prepared to oversee an entire team of developers and ensure that all client websites are built and expanded to meet business needs, so why does writing a resume feel so hard?
Well don't stress, we can help. In the guide below, we'll break the resume writing process down into manageable steps and share all our top tips for an impressive application.
This includes a web application manager resume example to inspire your own.
Contents
| | |
| --- | --- |
| How to write a Web Application Manager resume | |

Web Application Manager Resume Example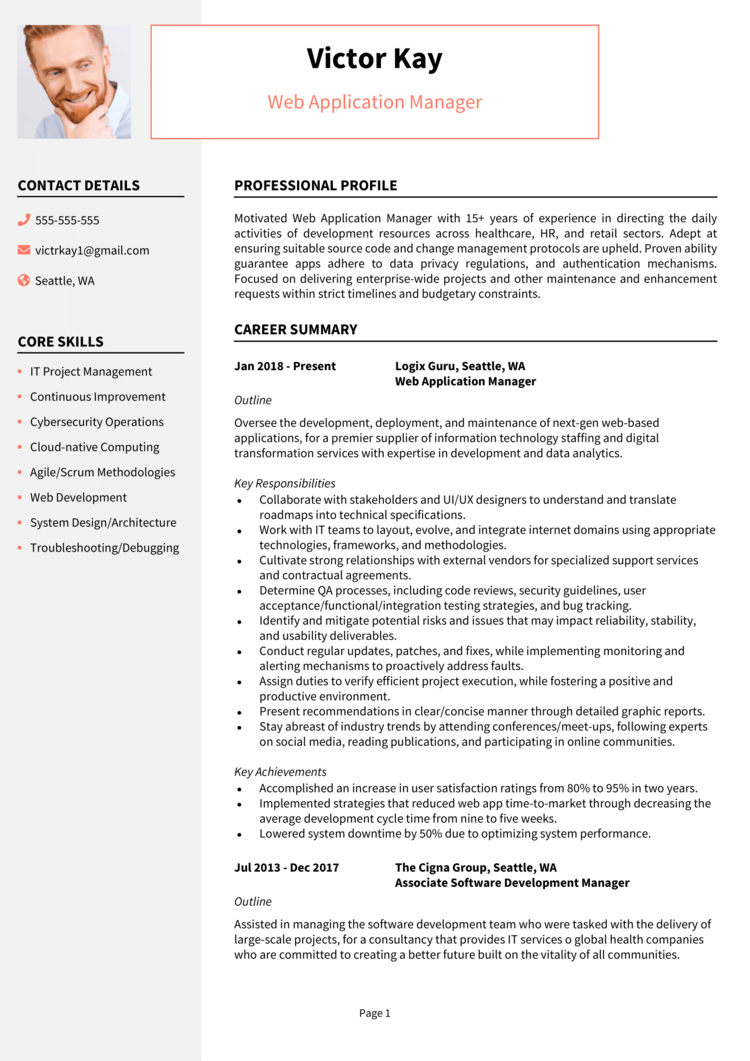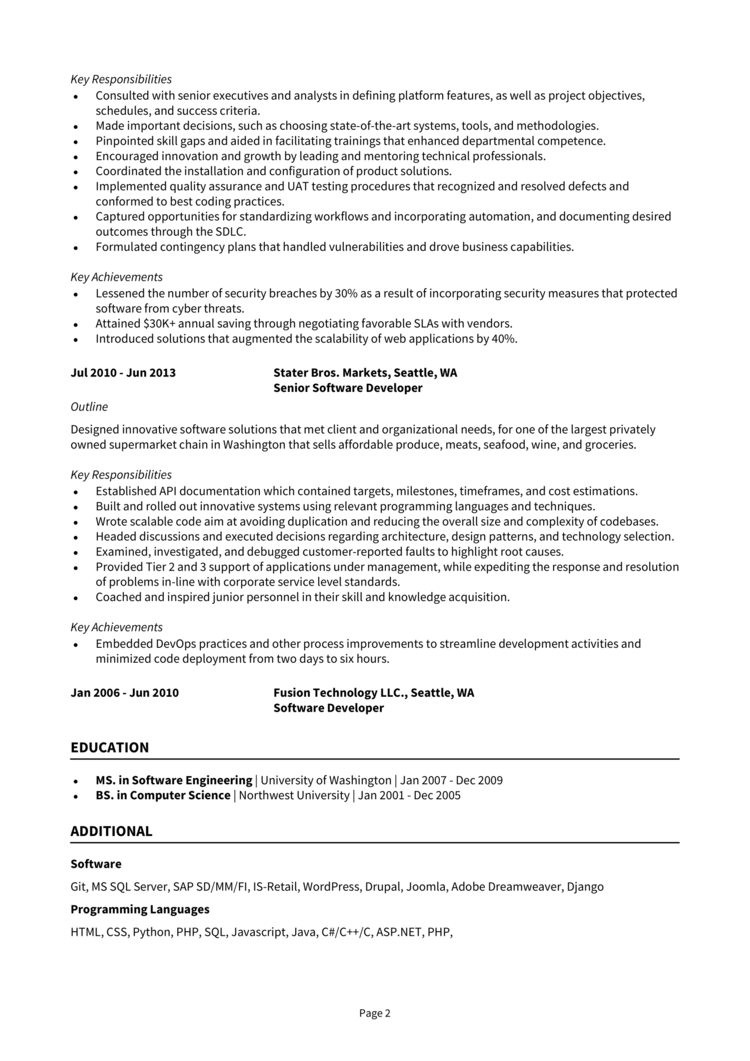 From the Web Application Manager resume example above, you can see the kind of information your resume will need to include, and the layout you will need to create for an easy-reading experience.
The rest of this guide will show you how to apply this format to your own unique situation, and create a resume that will attract the best employers in your industry.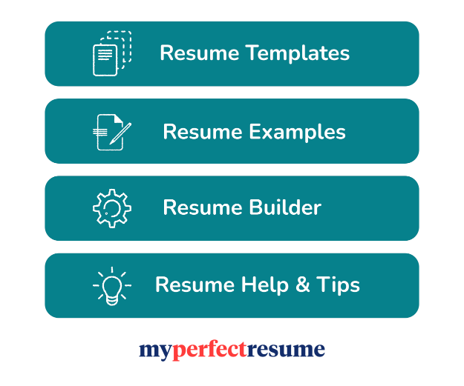 Web Application Manager resume layout and format
Formatting and structuring your resume correctly is key to landing job interviews.
Your resume needs to look attractive, but more importantly it needs to be easy for recruiters and hiring managers to read and digest the information.
These tips will help you to do that: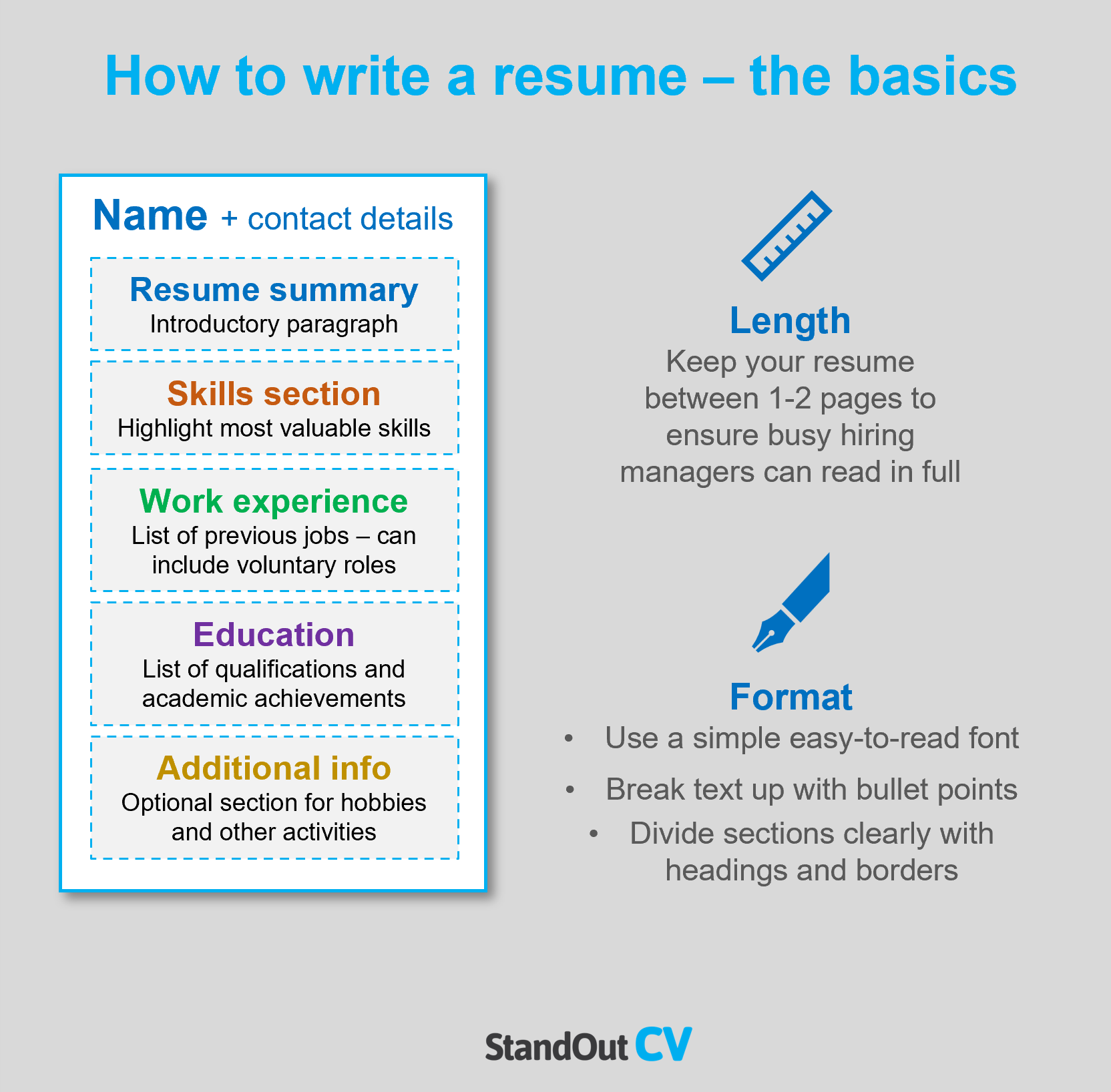 Formatting your resume
Length: Given that recruiters have to sift through tons of resumes daily, it's recommended to keep your resume brief (no more than 2 pages) to make sure it receives their full attention.
Font & readability: Complex fonts are a readers' worst nightmare and will leave recruiters struggling to understand your message. Use a clear simple lean font in a color that stands out against the page, and break your text up with bullet points to make the content easily digestible.
Layout & Structure: Your resume's design must strike a balance between aesthetics and functionality. Using bold headings and borders to organize the page into clear sections is an effective way to achieve both.
Photos: Including a photo on your resume is not obligatory in the United States, but it may be a good idea in some regions and industries where it is customary.
Quick tip: Achieving a professional look for your resume can be difficult and time-consuming. If you want to create an attractive resume quickly, try our partner's Resume Builder and use one of their eye-catching resume templates.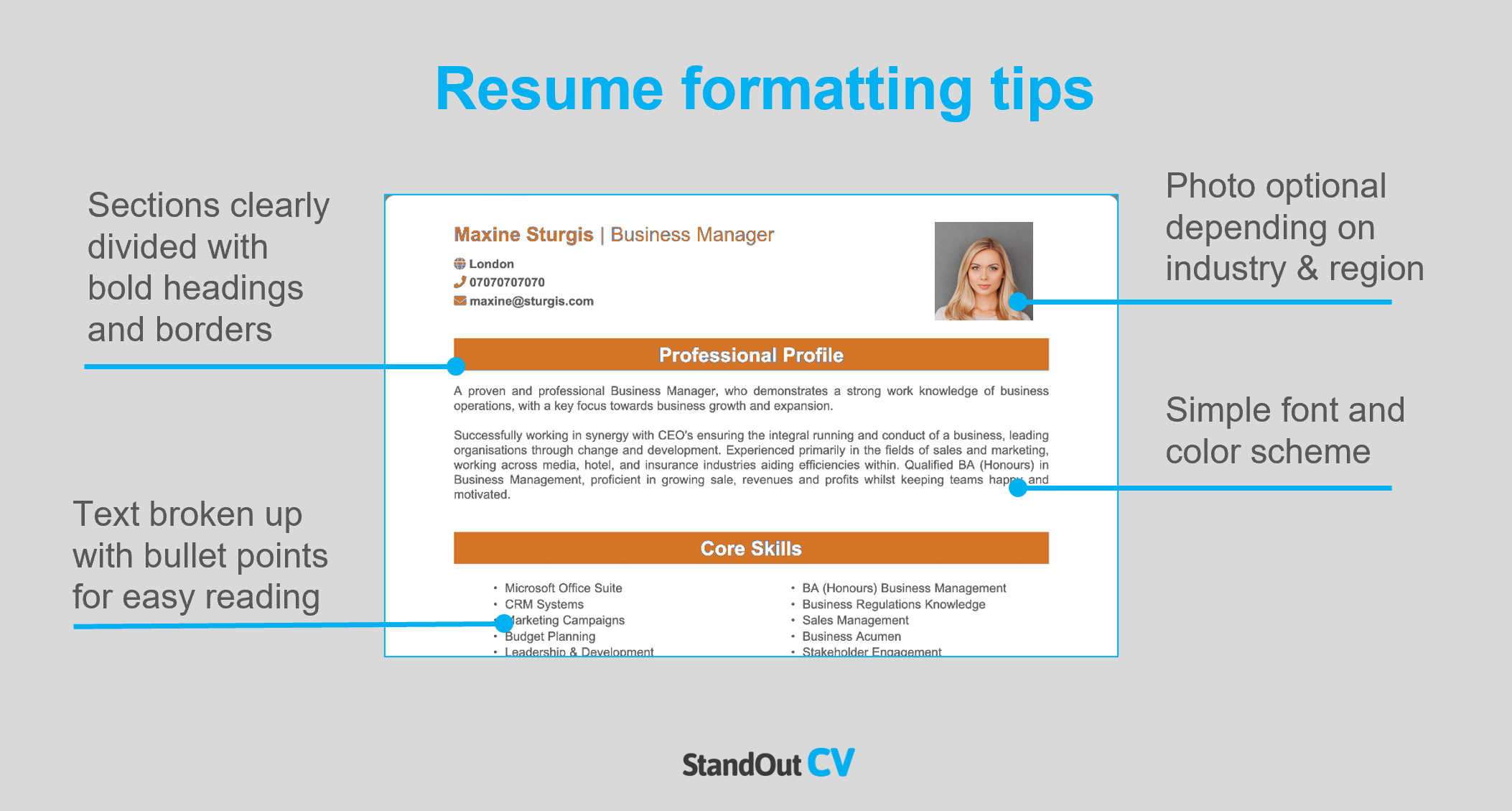 Resume layout
When writing your resume, you should always include the following sections:
Name and Contact Details – Place this information at the top of your resume to make it easy for employers to contact you.
Resume Summary – Write a brief introductory paragraph at the top of your resume summarizing why you are the best candidate for the job.
Skills Section – Create a concise list of your most important skills that can be quickly skimmed over by potential employers.
Work Experience – List your previous jobs in reverse chronological order, including volunteer work and college placements if you have no paid experience.
Education – List your educational qualifications and any professional training you have received.
Additional Information – This is an optional section for including details about hobbies, interests, or any other relevant information that may help distinguish you from other candidates.
Here's what to include in each part of your resume.
Contact Details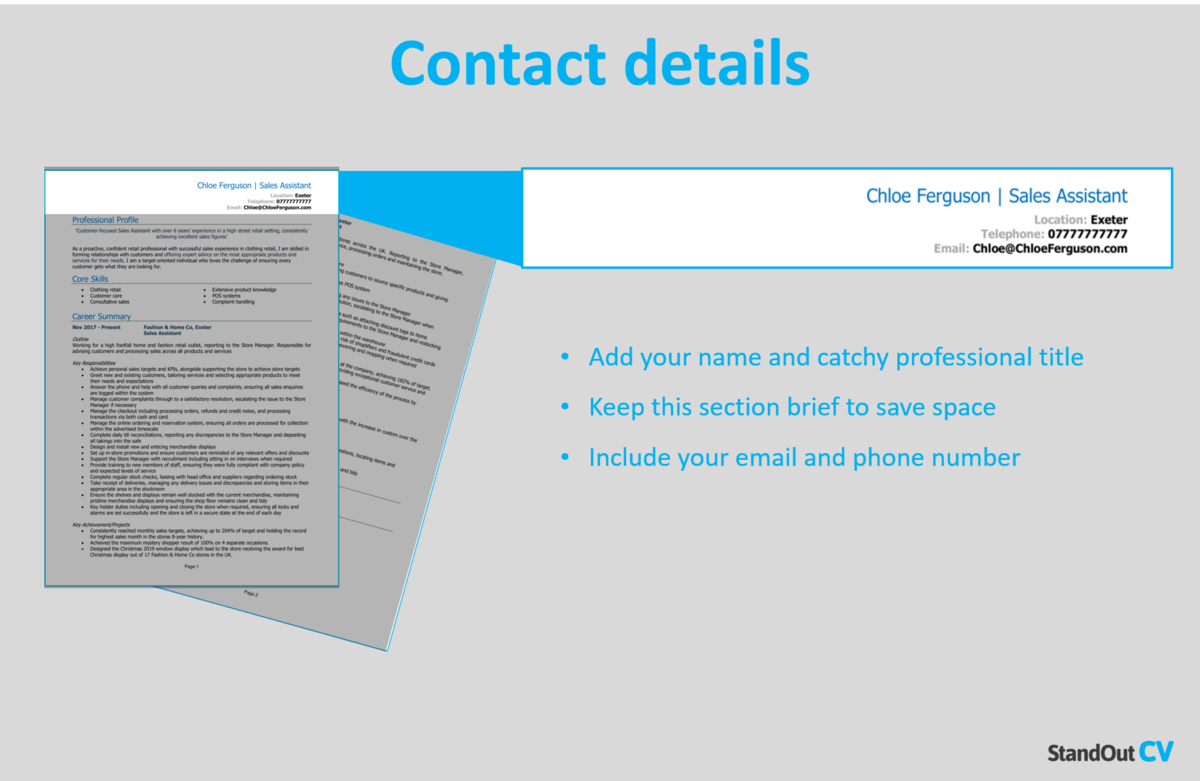 Add your name and contact details to the very top of your resume, making it easy for recruiters to get in touch
Name and profession title
Cell phone number – or another number you can answer quickly
Location – Add your local area such as San Diego or New York – not your full address as that will take up too much space.
Email address – Use your name or close variation – no nicknames from high school.
You can add a link to your LinkedIn profile if you have one – you do not need to include personal details like date of birth or marital status.
Web Application Manager Resume Summary
Create a strong opening for your resume by adding a compelling summary to the top that highlights your most valuable skills and experience.
This short but important paragraph is designed convince recruiters that you're the perfect candidate for the job and entice them to read more of your resume.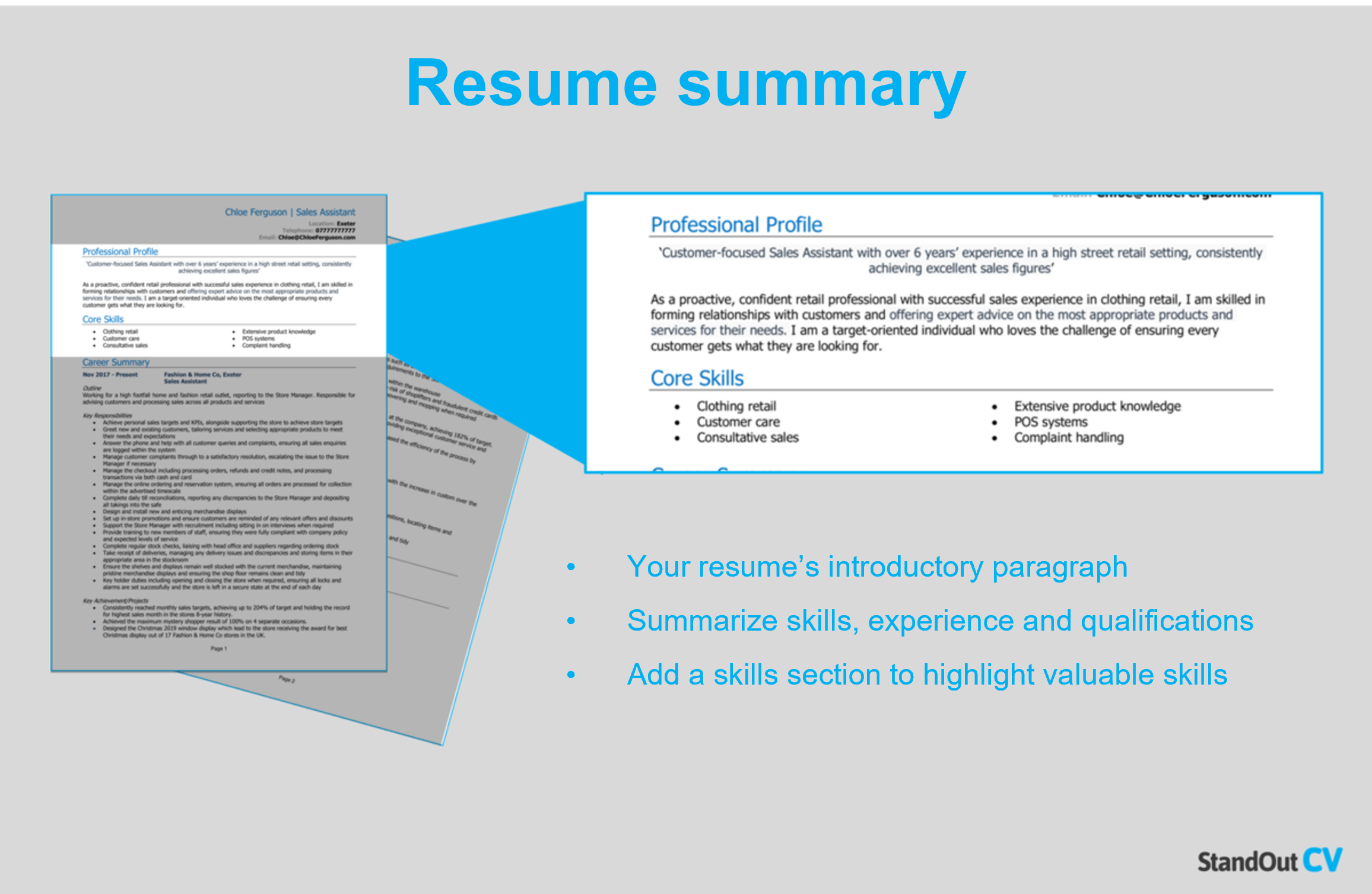 How to create a resume summary that will excite recruiters:
Keep it short: Your summary is intended to be a high-level introduction to hook readers' attention, so keep it brief (4-7 lines) – save the details for later in your resume.
Tailor to target jobs: To better align your resume with your target jobs, it's important to scrutinize the job description and identify as many relevant skills as possible to include in your resume.
Avoid using cliches: Recruiters always see cringey cliches like "hardworking guru who works well in a team or individually" – they don't mean much to anyone, so focus your summary on tangible skills and experience.
Web Application Manager resume summary example
Motivated Web Application Manager with 15+ years of experience in directing the daily activities of development resources across healthcare, HR, and retail sectors. Adept at ensuring suitable source code and change management protocols are upheld. Proven ability guarantee apps adhere to data privacy regulations, and authentication mechanisms. Focused on delivering enterprise-wide projects and other maintenance and enhancement requests within strict timelines and budgetary constraints.
What to include in your Web Application Manager resume summary?
Summary of your experience: Provide an overview of the type of work you have done in the past and the impact you have made at previous employers.
Relevant skills: To quickly showcase your suitability for Web Application Manager jobs, ensure that your summary emphasizes your most relevant skills to the jobs you are applying for.
Qualifications: Any qualifications that are important to the Web Application Manager jobs you are applying for, should be mentioned in the summary.
Quick tip: Choose from hundreds of pre-written summaries across all industries, and add one to your resume with one-click in our partner's Resume Builder. All written by recruitment experts and easily tailored to suit your unique skillset and style.
Core skills section
Underneath your summary, write a core skills section to make your most relevant skills jump off the page at readers.
It should be made up of 2-3 columns of bullet points of your relevant skills.
Before you do this, look over the job description and make a list of any specific skills, specialisms or knowledge required.
Then, make sure to use your findings in your list. This will paint you as the perfect match for the role.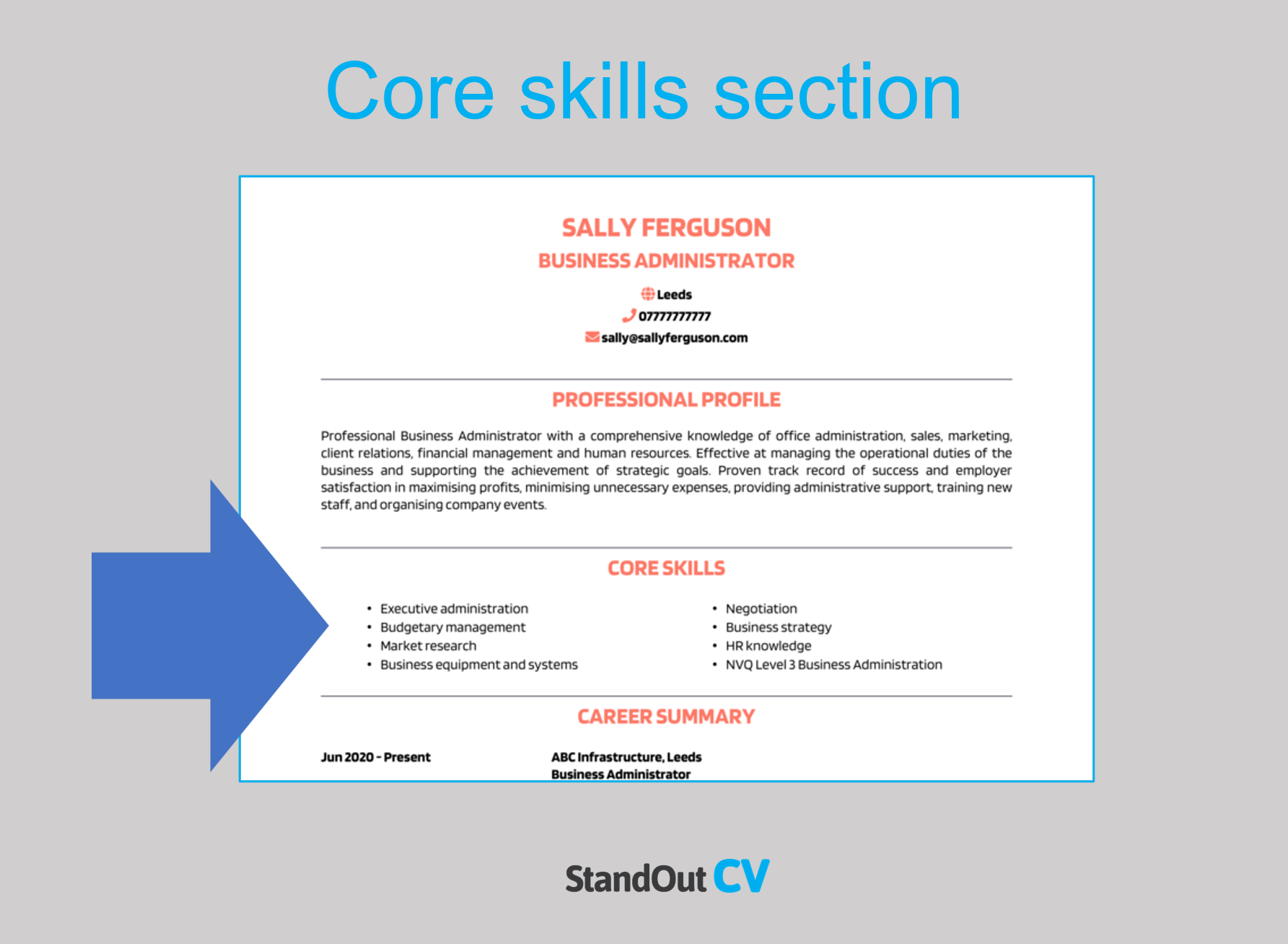 Best skills for your Web Application Manager resume
Web Development – Utilizing web development technologies, frameworks, and languages, such as HTML, CSS, JavaScript, and various backend technologies, to oversee and guide web application development projects.
Project Management – Planning, executing, and delivering web application projects within defined timelines, budget, and quality standards.
Team Leadership – Leading and managing a team of web developers and designers, providing guidance, support, and fostering collaboration to achieve project goals.
Web Security – Utilizing knowledge of web application security best practices, including vulnerability assessments, penetration testing, and implementation of security controls, to ensure the protection of sensitive data.
Performance Optimization – Optimizing web application performance, including load time optimization, caching techniques, database optimization, and content delivery network (CDN) implementation.
Quality Assurance – Conducting thorough testing and quality assurance of web applications to ensure functionality, usability, and compatibility across different devices and browsers.
Agile Methodology – Utilizing agile project management methodologies, such as Scrum or Kanban, to facilitate iterative development, efficient collaboration, and continuous improvement.
User Experience (UX) Design – Utilizing knowledge of user experience principles to collaborate with designers and create intuitive and user-friendly web application interfaces.
Analytics and Reporting – Utilizing web analytics tools, such as Google Analytics, to track and analyze user behavior, measure key performance indicators, and make data-driven decisions for web application improvements.
Change Management – Managing change within the web application environment, including handling version upgrades, implementing new features or functionalities, and ensuring smooth transitions.
Quick tip: Our partner's Resume Builder contains thousands of in-demand skills for every profession that can be added to your resume in seconds – saving you time and greatly improving your chances of landing job interviews and getting hired.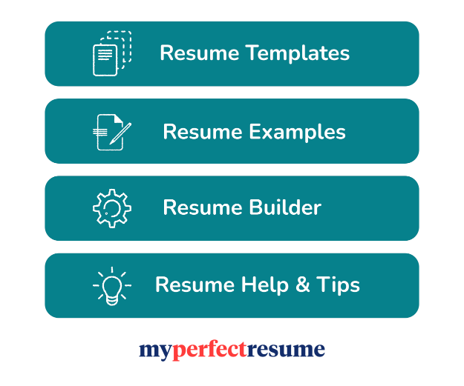 Work experience
Once you've got recruiters interested with your impactful summary, your work experience is where the real detail will lie.
Lay out your previous jobs from current to oldest, detailing what you contributed and achieved in each one.
If you're highly experienced you can cut this section down to your most recent few years of work, but if you are junior you can bulk this up with voluntary work and college placements.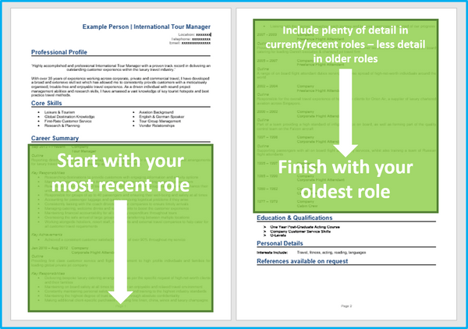 Structuring your jobs
Your job description probably includes tons of information, so it's vital to organize it well when writing about it on your resume.
Structure your jobs as like the example below to make skim-reading easy for recruiters and hiring managers.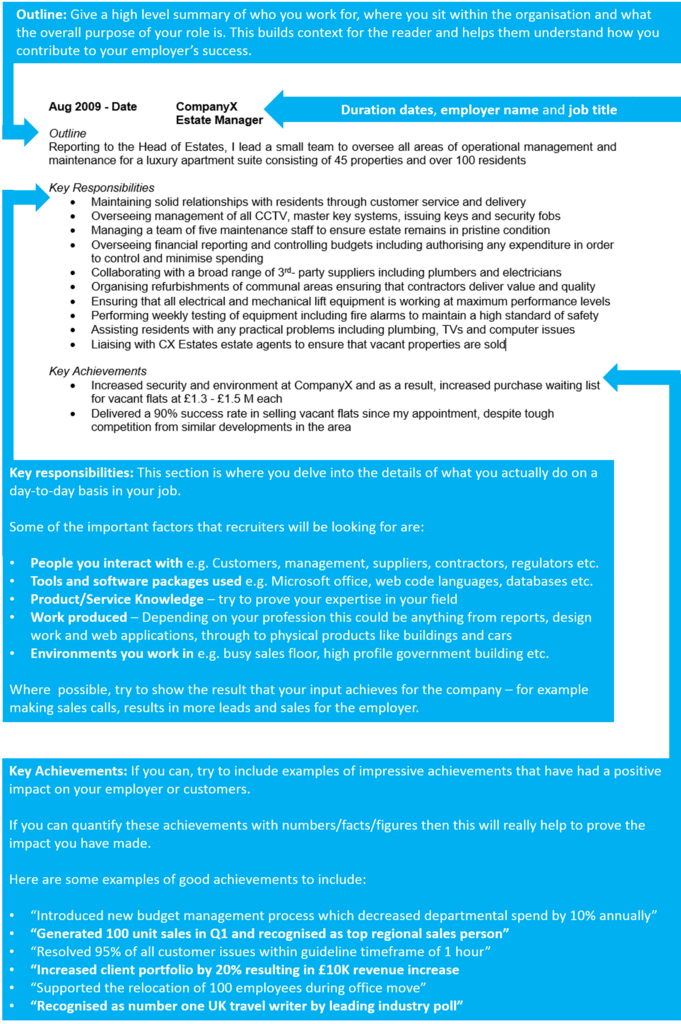 Job outline
Begin each job with a short summary of who the organization is, where you sit within it, and what the main goal of your position is.
Key responsibilities
The bulk of the role description should be comprised of bullet points that explain all of your duties in the job.
Keep the sentences short and simple to make them easy for recruiters to digest.
Key achievements
Finish each role by highlighting some impressive achievements you made whilst in the role.
Anything that benefited the employer can be included from making financial savings, to winning new customers.
Quantify your achievements with facts and figures if you can, e.g. "reduced call wait time by 10%"
Example job for Web Application Manager resume
Outline
Oversee the development, deployment, and maintenance of next-gen web-based applications, for a premier supplier of information technology staffing and digital transformation services with expertise in development and data analytics.
Key Responsibilities
Collaborate with stakeholders and UI/UX designers to understand and translate roadmaps into technical specifications.
Work with IT teams to layout, evolve, and integrate internet domains using appropriate technologies, frameworks, and methodologies.
Cultivate strong relationships with external vendors for specialized support services and contractual agreements.
Determine QA processes, including code reviews, security guidelines, user acceptance/functional/integration testing strategies, and bug tracking.
Quick tip: Create impressive job descriptions easily in our partner's Resume Builder by adding pre-written job phrases for every industry and career stage.

Education section
After your work experience, add your education section.
If you are an experienced professional, you can keep this part short – adding basic details of each qualification.
If you have little or no experience, bulk this section up by adding more detail and highlight important skills and knowledge for your target jobs.
Additional information
The bottom of your resume is a place to add any "additional info"
Any other info that didn't fall into any of the previous sections can be added here.
If you have hobbies that are related to your profession or any awards or publications – add them here.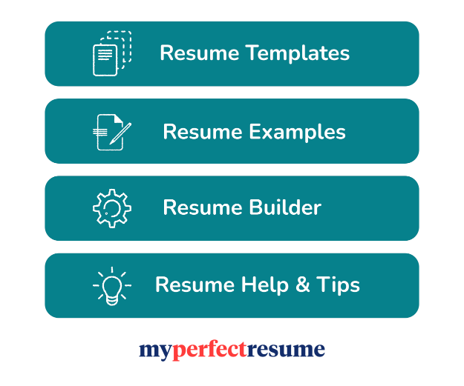 Writing your own winning Web Application Manager resume
Writing a Web Application Manager resume can be challenging but following the steps above will ensure that you land plenty of interviews.
Good luck with your job search!