In today's technical world, cybersecurity has become a top priority for every organization, which means SOC (Security Operations Center) analysts are in high demand right now.
However, you still need to create a persuasive resume that highlights your impressive security skill set if you hope to secure an interview.
To help you do this, we've created a comprehensive writing guide and SOC analyst resume example. You can check these out below.
Guide contents
| | |
| --- | --- |
| How to write a SOC Analyst resume | |

SOC Analyst Resume Example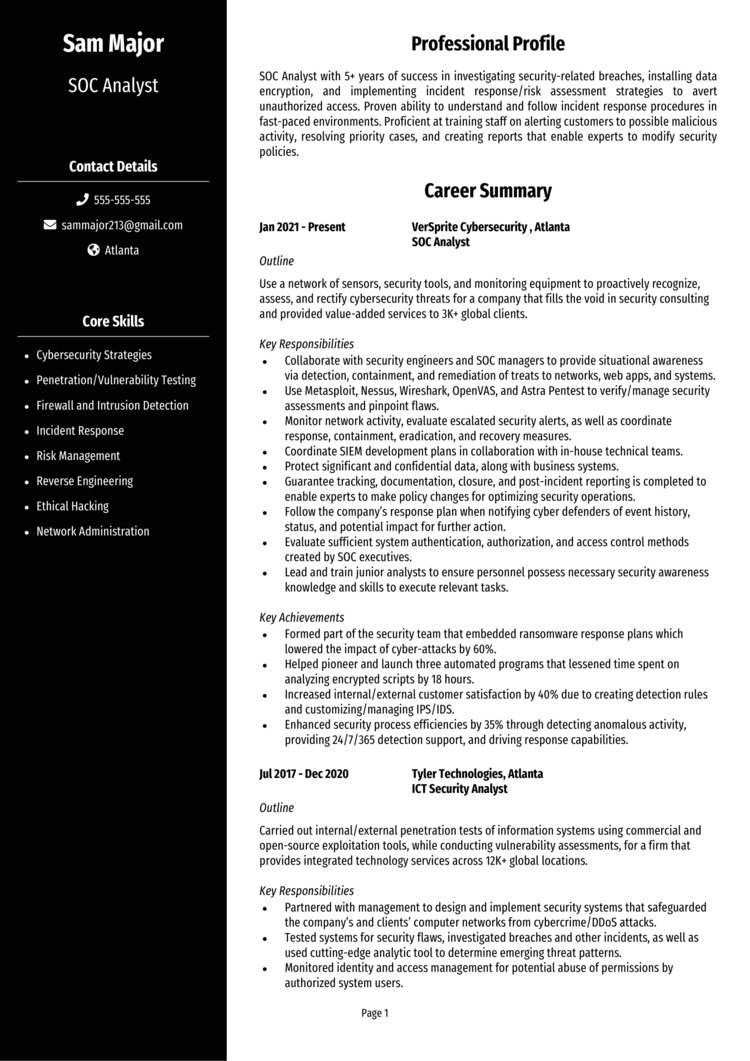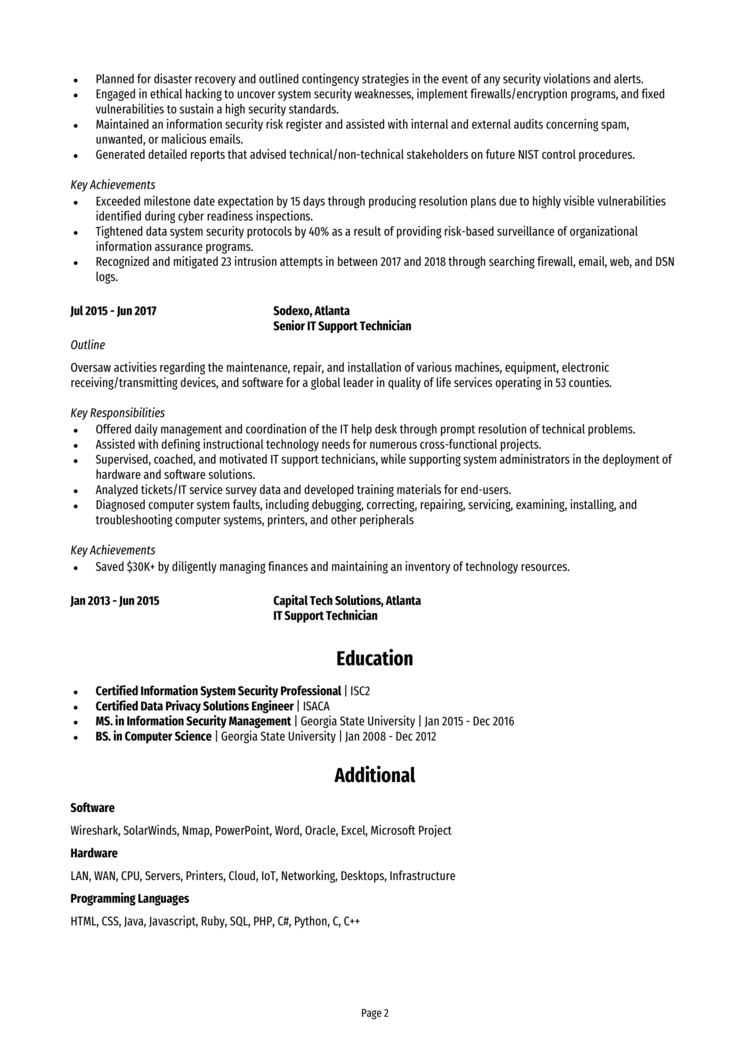 This SOC Analyst resume example shows you the most effective layout for a resume in today's job market, along with the type of content you need to include.
Stick closely to these guidelines as you write your own resume, to boost your chances of getting lots of responses, interviews and job offers.
Now lets dive into the details of how you write your own eye-catching resume…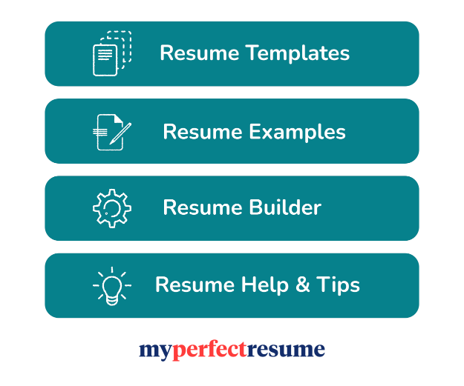 SOC Analyst resume layout and formatting
The format and layout of your resume can make or break its success.
Sure, it's great to pack your resume with lots of impressive skills and knowledge, but if the page is not structured clearly, hiring managers will struggle to find the important stuff!
Above all, your resume should be easy-to-read and professional looking.
Follow these formatting tips to get noticed.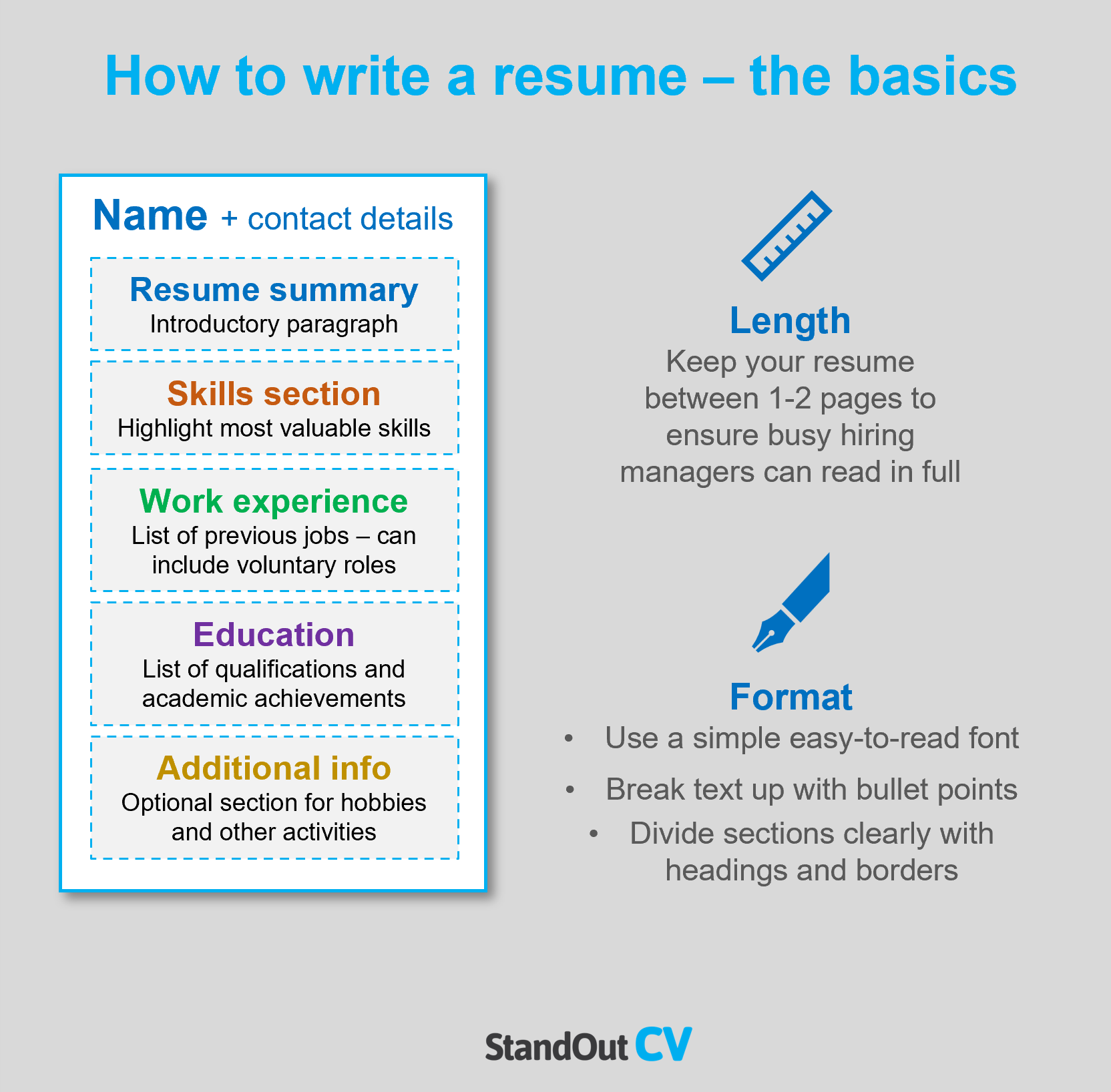 How to format your resume
Length: Attention spans in recruitment are notoriously short, so keep your resume short and sweet. There's no exact rule for resume length, but aim for 2 pages or less if you want to ensure yours gets read in full.
Font & text: Nobody likes to read huge unbroken paragraphs of text – and recruiters are no different. Break your resume text up with bullet points and use a clear simple font.
Design & layout: Go with a resume design that looks good, but also allows for easy reading and navigation for employers. Ensure the page is clearly split up into sections by adding large font headings and dividing borders. Keep the color scheme simple and don't overcrowd the page.
Photos: You don't have to add a photo to your resume in the States, but some regions and industries like to see them.
Quick tip: Achieving a professional look for your resume can be difficult and time-consuming. If you want to create an attractive resume quickly, try our partner's Resume Builder and use one of their eye-catching resume templates.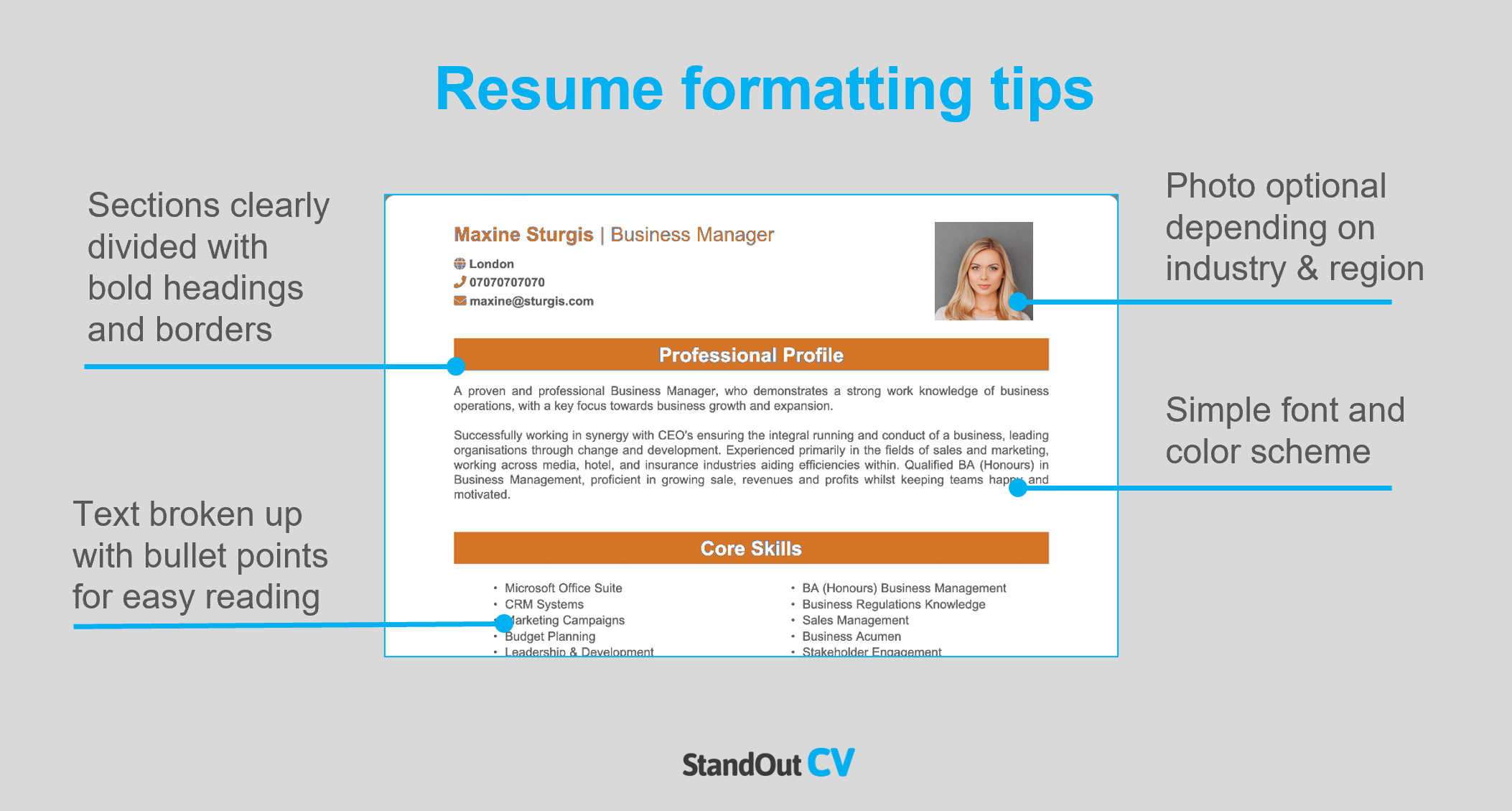 Resume layout
Here's an overview of the sections you should add when writing your resume.
Name and contact details – Stick these details at the top, so they are easy to find.
Resume summary – A punchy paragraph summarizing your skills and knowledge, enticing recruiters to read more of your resume.
Skills section – Short list of your most valuable skills, enabling recruiters to quickly spot your suitability.
Work experience – Showcase your previous employment, starting with your most recent roe and working backwards – voluntary work and college placements can be included if you have no paid experience.
Education – A summary of your most relevant qualifications and academic achievements
Additional info – An optional section for that other attributes that may boost your application, such as hobbies or clubs
Here's what you should include in each section of your resume.
Resume Contact Details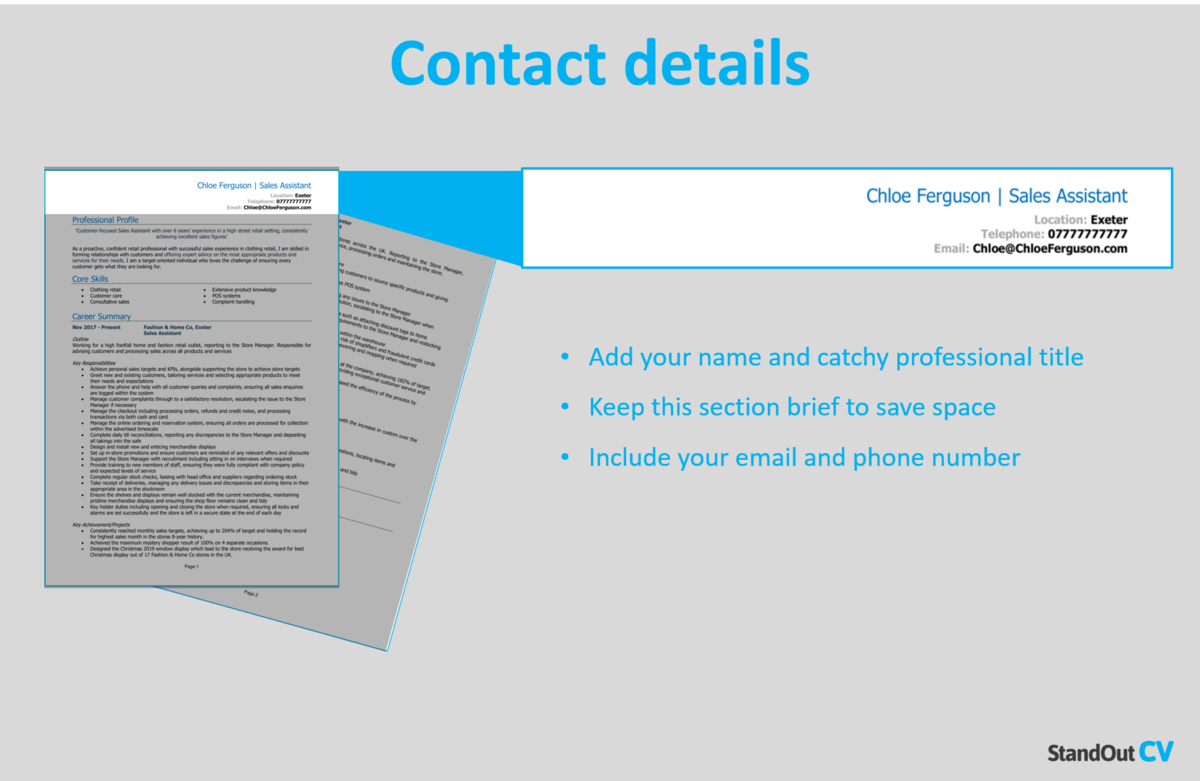 Keep your contact details short to save resume space and include the following.
Name and profession title
Cell phone number
Location – Add your local area such as Silicon Valley or New York, unless you are looking for work in a different location
Email address – Keep it professional and don't use an old address that you thought was cool in high school, but now looks a bit embarrassing.
You can add a link to your LinkedIn profile if you have one – you do not need to include personal details like date of birth or marital status.
SOC Analyst Resume Summary
Start your resume with a bang by adding a powerful summary to the top, summarizing your most valuable skills and experience.
This short paragraph is your chance to show recruiters why you are a perfect fit for the job and encourage them to read more of your resume.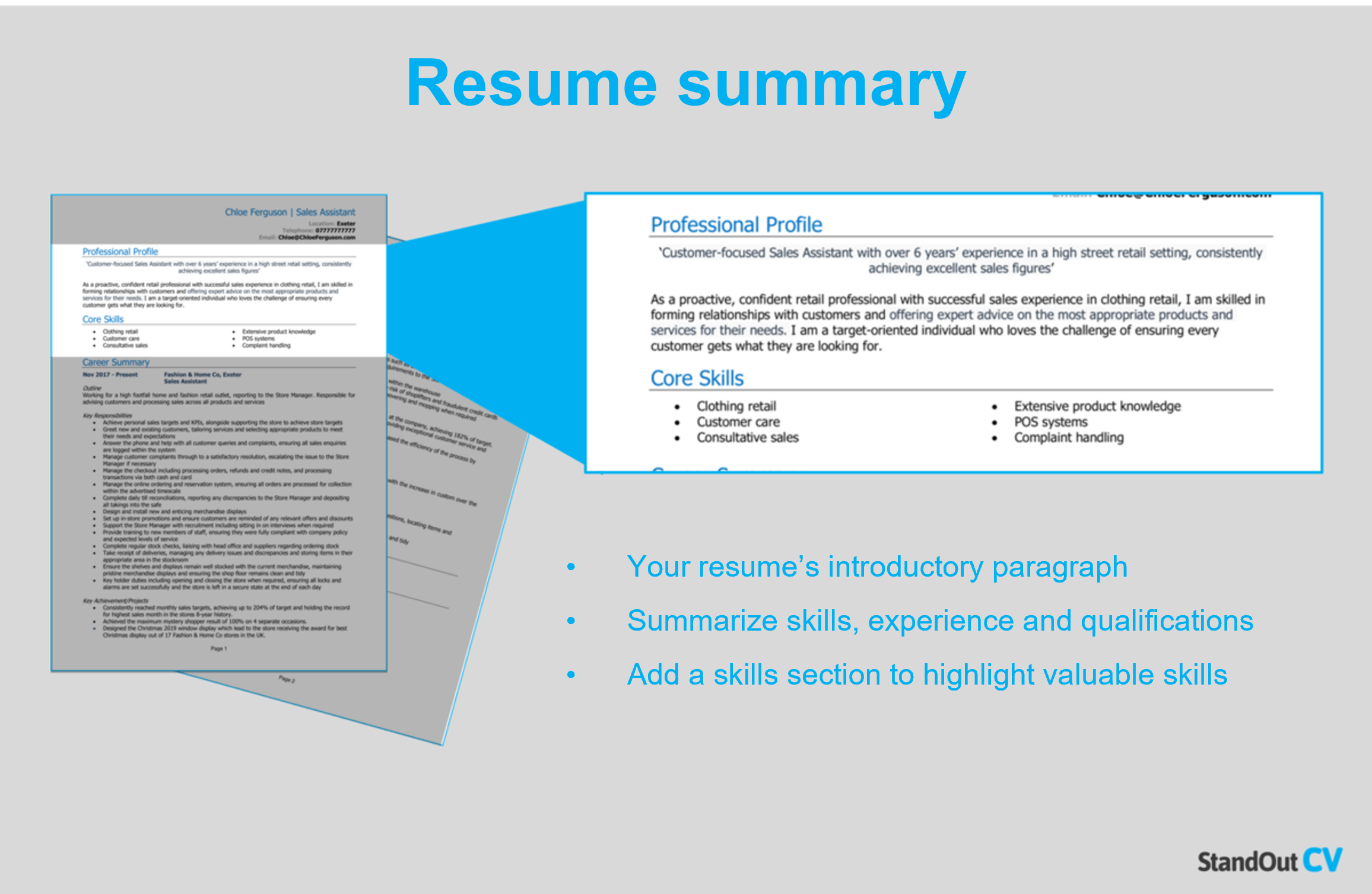 3 tips for creating a resume summary that will get noticed:
Keep it concise: You only have a few seconds to grab a recruiters' attention and make them commit to your resume, so keep your summary between 4 – 7 lines.
Tailor to target jobs: Tailor your resume to your target jobs by studying the job description and adding as many matching skills as you can.
Don't use cliches: Recruiters look for facts in resumes, such as hard skills and qualifications – so, leave out the meaningless cliches like "hard worker who works well in a team and individually"
Example resume summary for SOC Analyst
SOC Analyst with 5+ years of success in investigating security-related breaches, installing data encryption, and implementing incident response/risk assessment strategies to avert unauthorized access. Proven ability to understand and follow incident response procedures in fast-paced environments. Proficient at training staff on alerting customers to possible malicious activity, resolving priority cases, and creating reports that enable experts to modify security policies.
What info to include in your SOC Analyst resume summary?
Summary of experience: What kind of companies have you worked for in the past? And which jobs have you carried out?
Relevant skills: Skills that are highly relevant to Security Operations Center Analyst work should be made prominent throughout your summary.
Vital qualifications: Any qualifications that are important to the SOC Analyst jobs you are applying for, should be mentioned in the summary.
Quick tip: Choose from hundreds of pre-written summaries across all industries, and add one to your resume with one-click in our partner's Resume Builder. All written by recruitment experts and easily tailored to suit your unique skillset and style.
Core skills section
Next, you should create a bullet pointed list of your core skills, formatted into 2-3 columns.
Here, you should focus on including the most important skills or knowledge listed in the job advertisement.
This will instantly prove that you're an ideal candidate, even if a recruiter only has time to briefly scan your resume.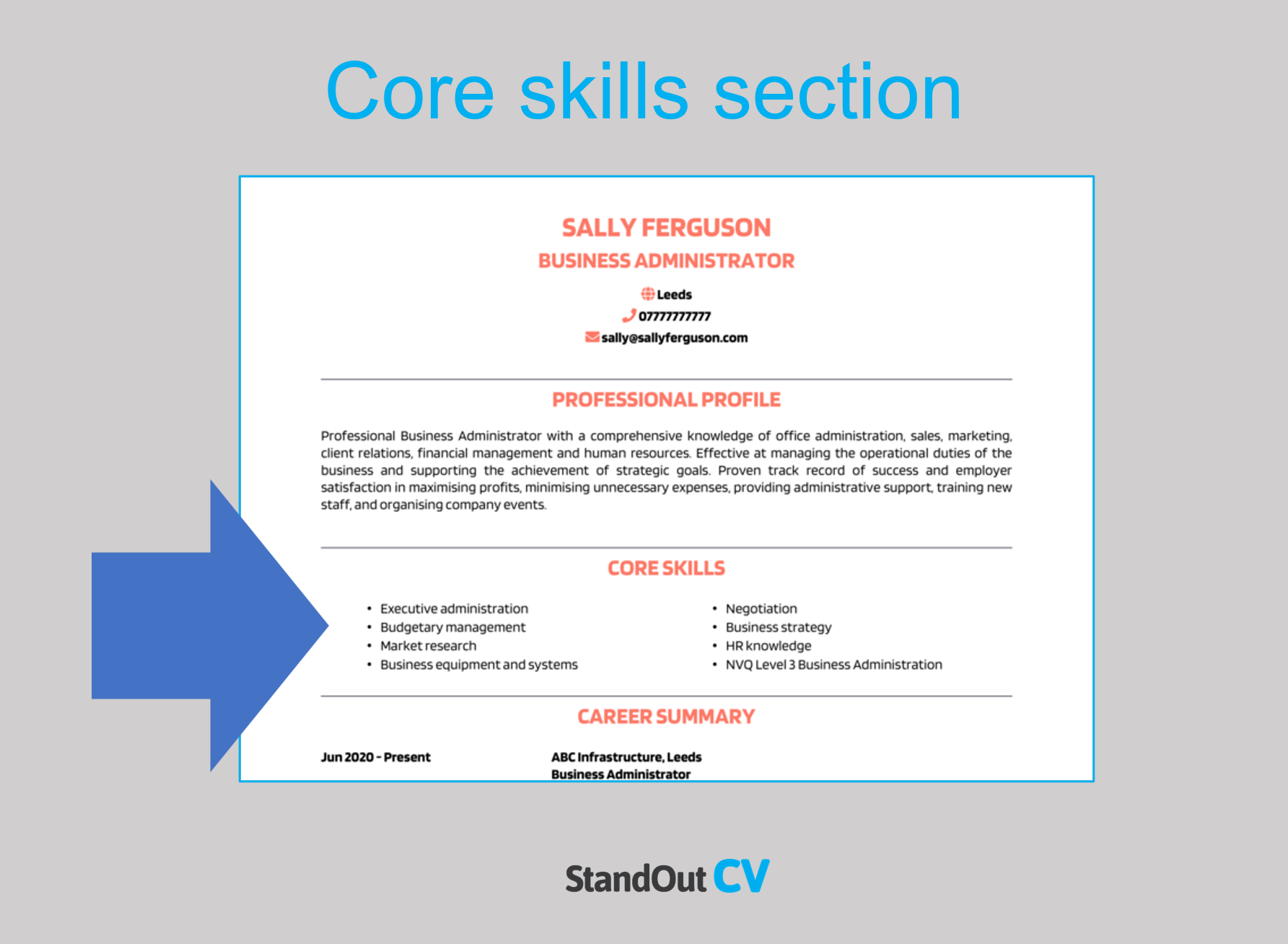 Top skills for your SOC Analyst resume
Cybersecurity Strategies – developing and implementing a high-level plan for how the organization will secure its assets over a set period of time.
Penetration/Vulnerability Testing – identifying, prioritizing and responding to issues and misconfigurations that could be exploited by attackers, lead to inadvertent release of sensitive data or disrupt business operations.
Incident Response – implementing processes to follow when faced with a data breach including what constitutes as an incident, who is involved in the plan and their contact information, steps to take in a breach and follow-up actions.
Risk Management – examining how project outcomes and objectives might change due to the impact of the risk event and creating strategies to prevent the event and manage it should it occur.
Ethical Hacking – authorized attempts to gain unauthorized access to data, duplicating strategies and actions of malicious hackers to detect the vulnerabilities they may try to exploit.
Quick tip: Our partner's Resume Builder contains thousands of in-demand skills for every profession that can be added to your resume in seconds – saving you time and greatly improving your chances of landing job interviews and getting hired.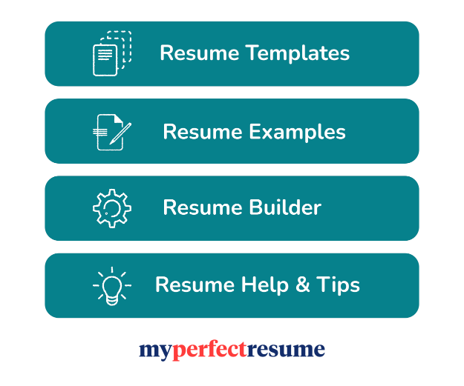 Resume work experience section
So, you've grabbed the recruiters' attention with your summary, now it's time to show them what you're really capable of in your work experience section.
List your previous jobs from current to oldest, showing off the impact you made at each organization.
If you have tons of experience, you should just list the most recent an relevant jobs – but if you have little or no experience, add it all and even consider putting in voluntary work.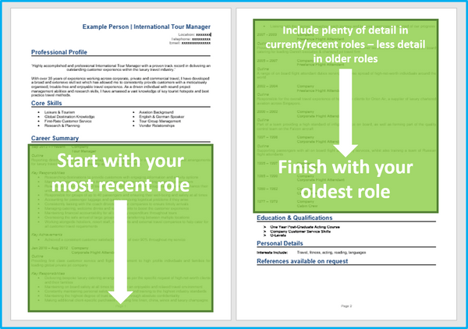 Structuring your job descriptions
Resume job descriptions contain lots of information, so its crucial to structure them well.
Use the structure below to ensure hiring managers can consume the information easily.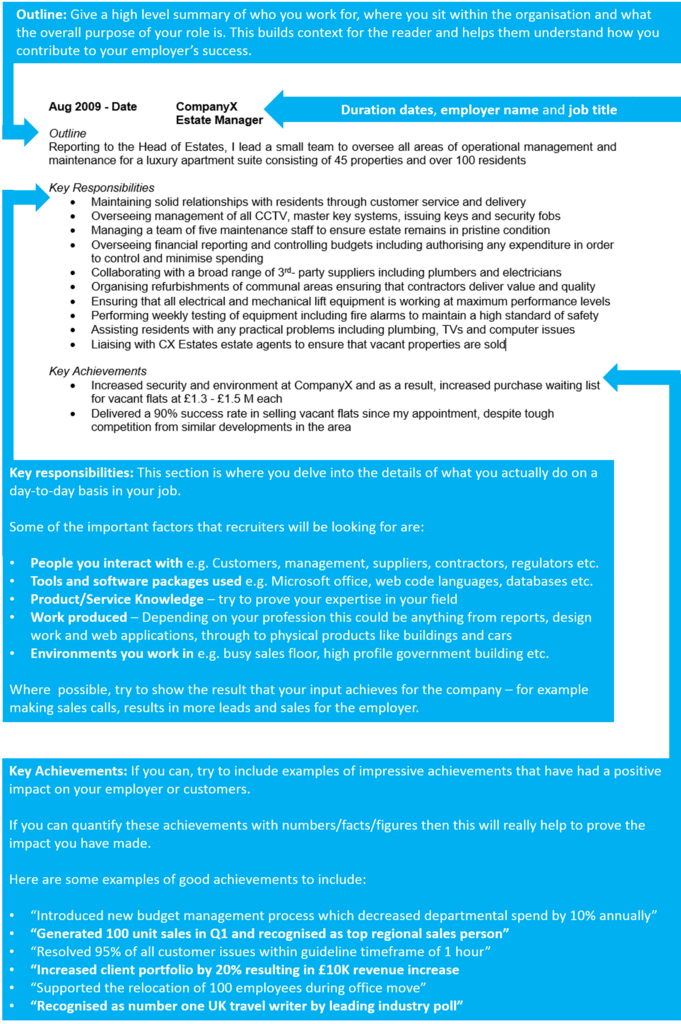 Job outline
Begin each job with a short summary of who the organization is, where you sit within it, and what the main goal of your position is.
Key responsibilities
Then delve into the detail of your job by listing out easy-to-read bullet points which show how you apply your skills in the workplace.
Tailor these bullet points to focus on the skills and knowledge that are required in the jobs you are applying for.
Key achievements
Finish each role by highlighting some impressive achievements you made whilst in the role.
Anything that benefited the employer can be included from making financial savings, to winning new customers.
Quantify your achievements with facts and figures if you can, e.g. "reduced call wait time by 10%"
Example job for SOC Analyst resume
Outline
Use a network of sensors, security tools, and monitoring equipment to proactively recognize, assess, and rectify cybersecurity threats for a company that fills the void in security consulting and provided value-added services to 3K+ global clients.
Key Responsibilities
Collaborate with security engineers and SOC managers to provide situational awareness via detection, containment, and remediation of treats to networks, web apps, and systems.
Use Metasploit, Nessus, Wireshark, OpenVAS, and Astra Pentest to verify/manage security assessments and pinpoint flaws.
Monitor network activity, evaluate escalated security alerts, as well as coordinate response, containment, eradication, and recovery measures.
Coordinate SIEM development plans in collaboration with in-house technical teams.
Quick tip: Create impressive job descriptions easily in our partner's Resume Builder by adding pre-written job phrases for every industry and career stage.

Education section
After your work experience, add your education section.
If you are an experienced professional, you can keep this part short – adding basic details of each qualification.
If you have little or no experience, bulk this section up by adding more detail and highlight important skills and knowledge for your target jobs.
Additional information
At the end of your resume, you can add any extra information that might be relevant to the jobs you are applying for.
This could be hobbies, interests, publications, clubs or memberships.
This section is optional and doesn't need to be added if you have nothing more relevant to add.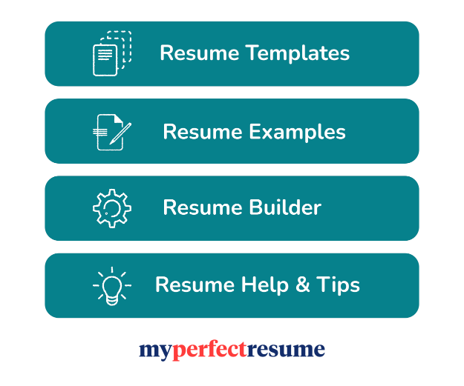 Writing your SOC Analyst resume
A winning Security Operations Center Analyst resume should look great, read well, and sell your skillset to hiring managers.
If you follow the steps above, you should be able to bag yourself a top job in no time.
And don't forget you can use our partner's Resume Builder if you want to save time and ensure your resume contains the very best content.
Good luck with your job search!