You want to support those living in a shelter and help them to build their future, but the first hurdle is landing the job.
You need a resume that showcases your skills and training, and we can support you in your writing efforts.
Simply check out our detailed guide below, complete with a shelter support worker resume for inspiration.
Contents
| | |
| --- | --- |
| How to write a Shelter Support Worker resume | |

Shelter Support Worker Resume Example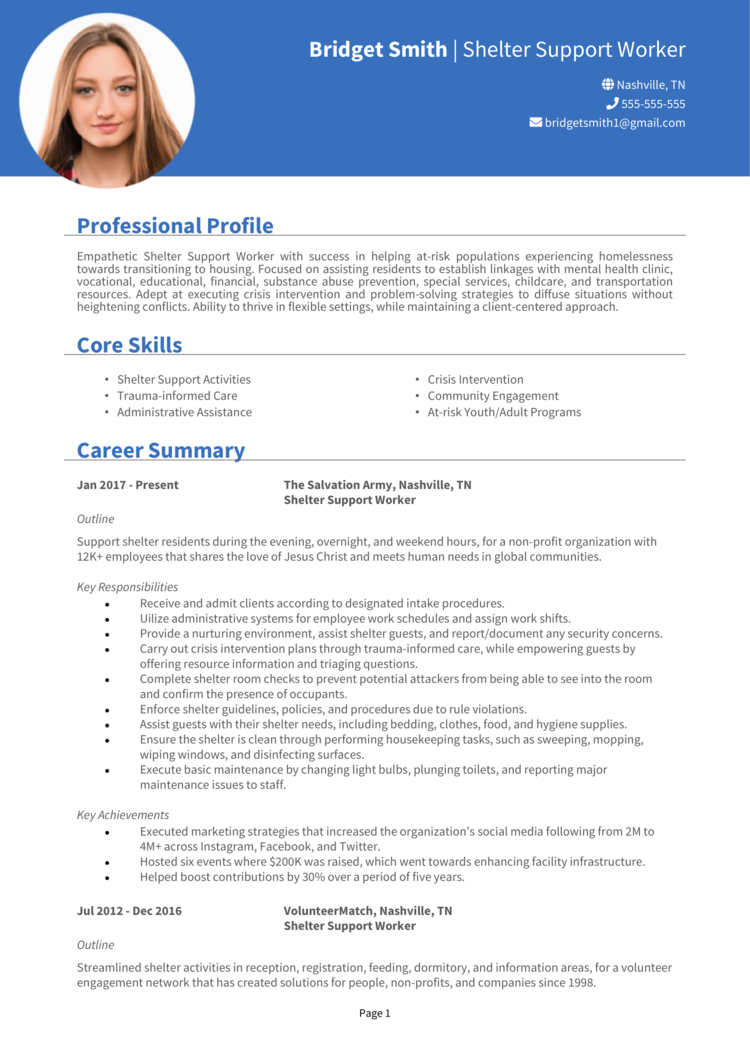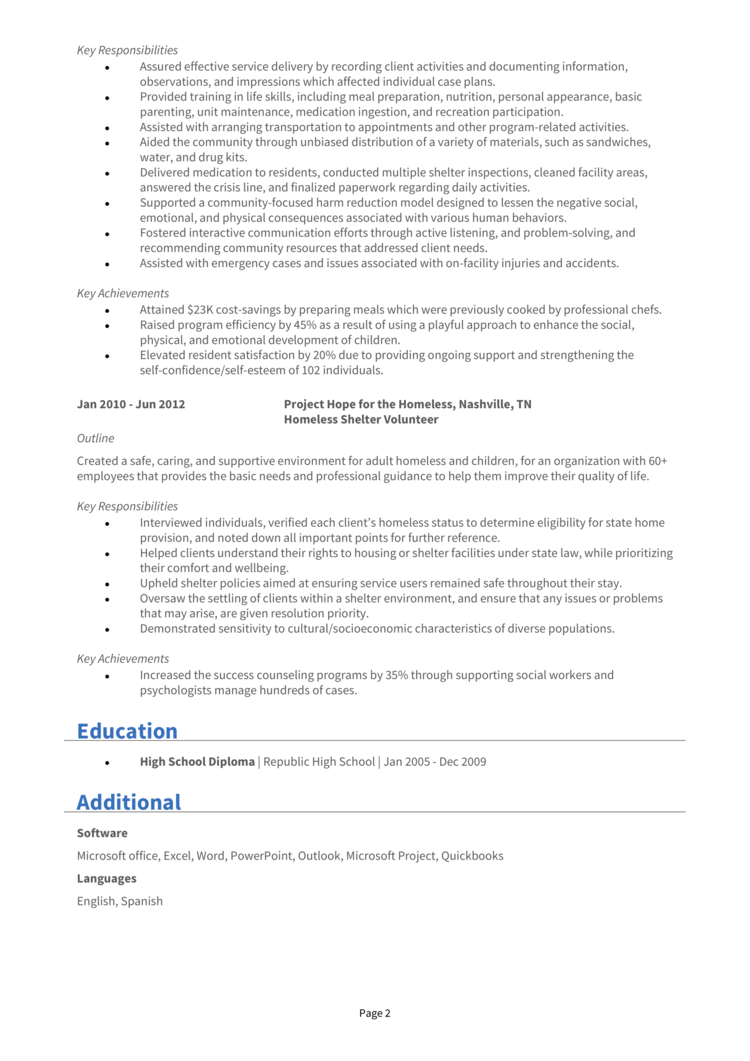 This example Shelter Support Worker resume gives you a general idea of how to structure your own resume, along with the type of content you need to include.
Sticking with this resume format will help you to get noticed by employers and ensure that they can quickly see the benefit of hiring you.
Now, lets walk through a step-by-step guide on how to write your own winning resume.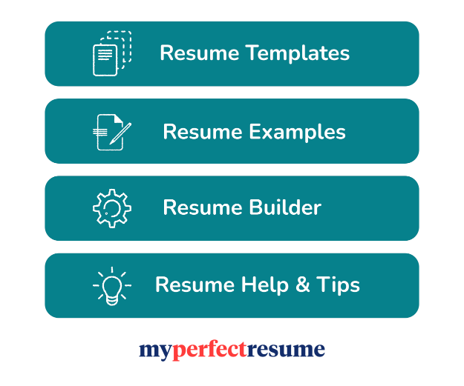 Shelter Support Worker resume layout and format
The format and layout of your resume can make or break its success.
Sure, it's great to pack your resume with lots of impressive skills and knowledge, but if the page is not structured clearly, hiring managers will struggle to find the important stuff!
Above all, your resume should be easy-to-read and professional looking.
Follow these formatting tips to get noticed.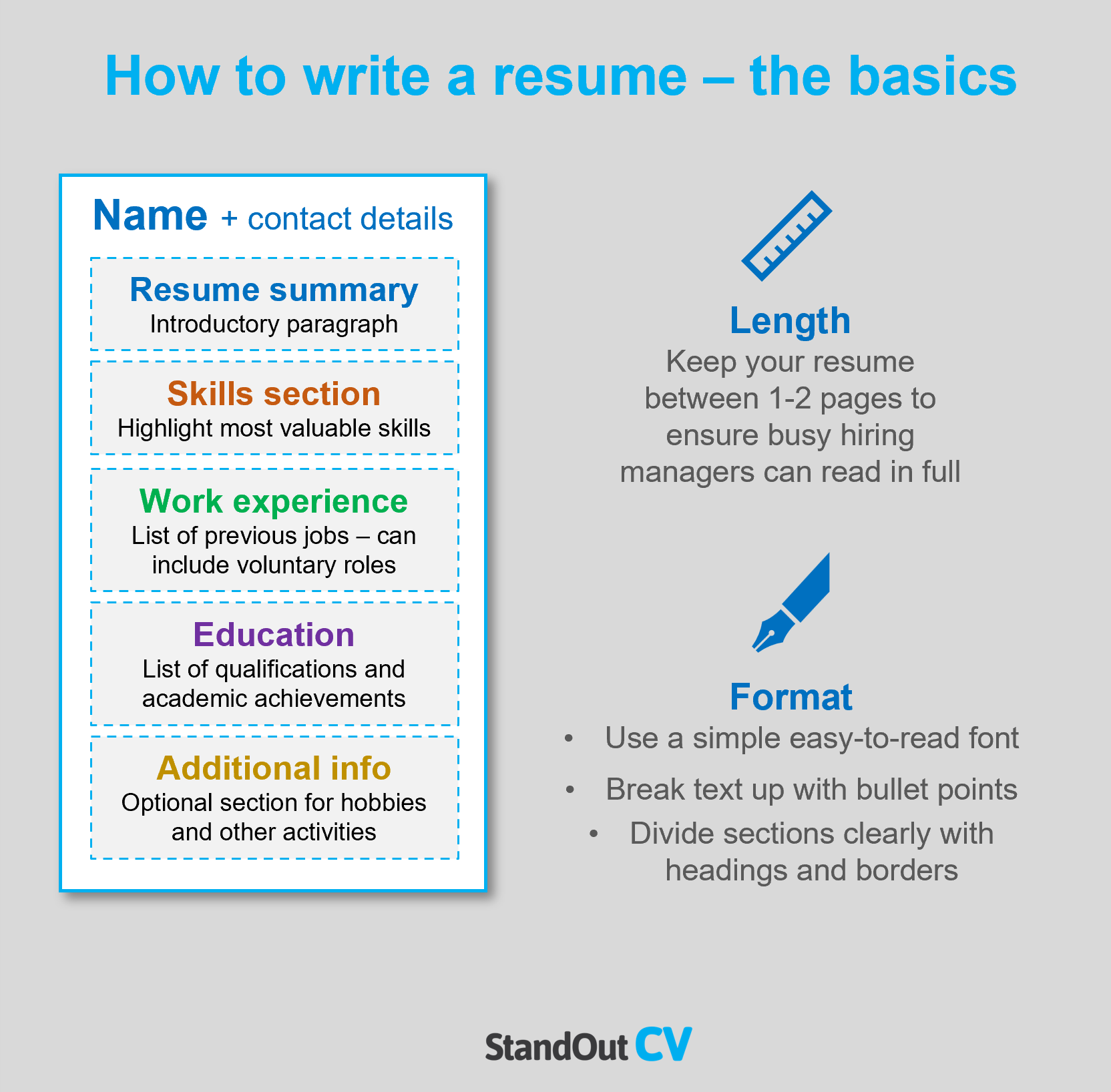 Formatting your resume for success
Length: Attention spans in recruitment are notoriously short, so keep your resume short and sweet. There's no exact rule for resume length, but aim for 2 pages or less if you want to ensure yours gets read in full.
Font & readability: Simplicity and a pleasant reading experience are crucial if you want to highlight your most valuable skills to recruiters. Use a clear font (avoid fancy ones) and break up the text in your resume with bullet points to ensure information can be easily consumed.
Layout & Structure: Hiring managers should be able to skim through your resume easily and pinpoint the information they want quickly. To help them do this, organize the page into clear sections with bold headings and dividing borders. The design should be clutter-free and professional-looking, with a calm color scheme.
Photos: You don't have to add a photo to your resume in the States, but some regions and industries like to see them.
Quick tip: Achieving a professional look for your resume can be difficult and time-consuming. If you want to create an attractive resume quickly, try our partner's Resume Builder and use one of their eye-catching resume templates.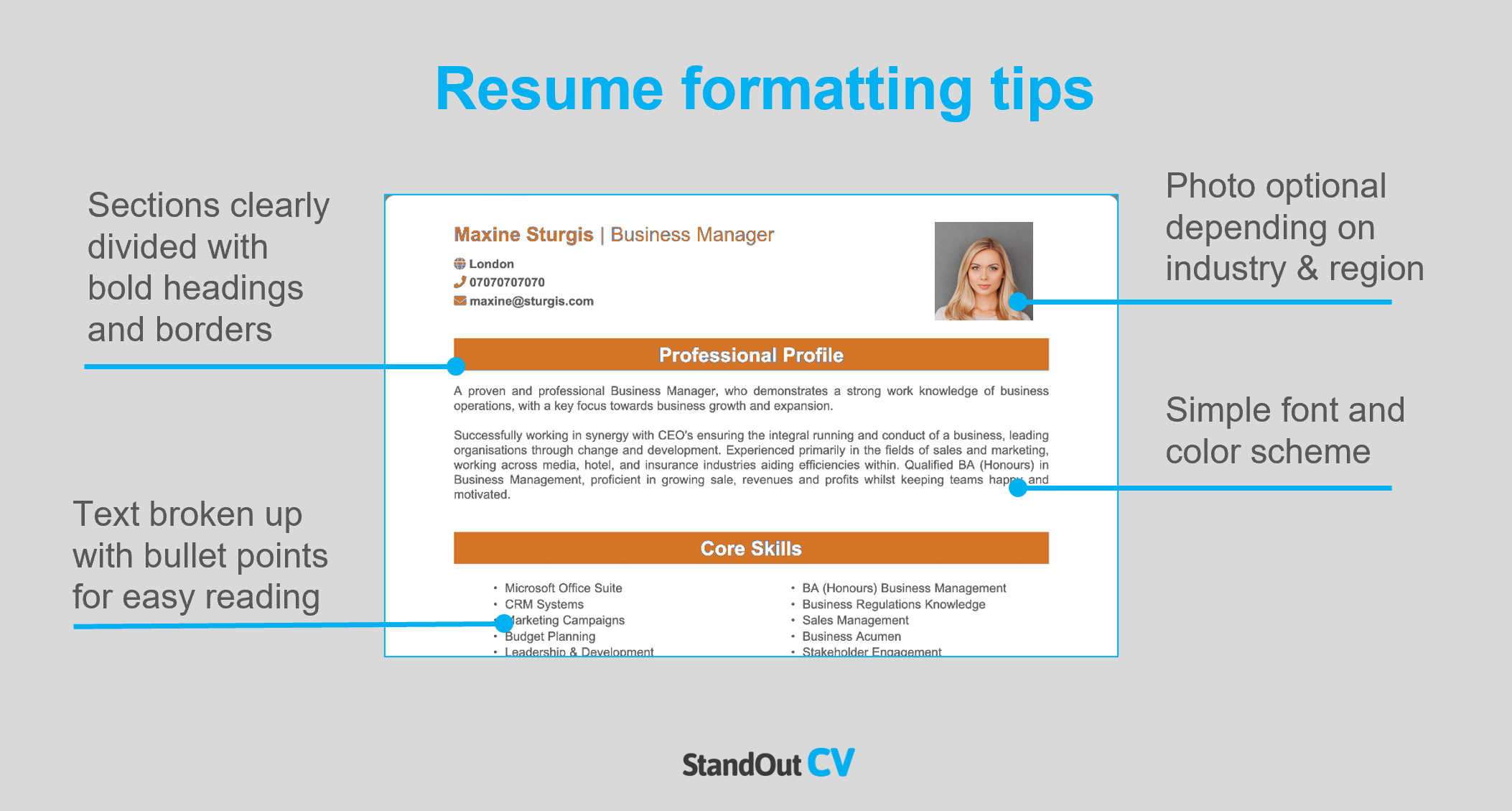 Resume layout
Divide the page into these sections when you write your own resume.
Name and contact details – Simply state who you are, and how to get in touch with you.
Resume summary – An introductory paragraph at the very top of your resume which summarizes your skills, experience and suitability for your target jobs.
Core skills section – A bullet-pointed list of your skills that relate most to your target jobs.
Work experience – A list of your current and previous jobs, including all of your responsibilities and achievements.
Education – A section that showcases all of your education and academic achievements.
Additional info (optional) – Here you can add an extra section for things like hobbies and interests, or anything else that might be relevant to your target jobs.
Here's what to include in each part of your resume.
Contact Details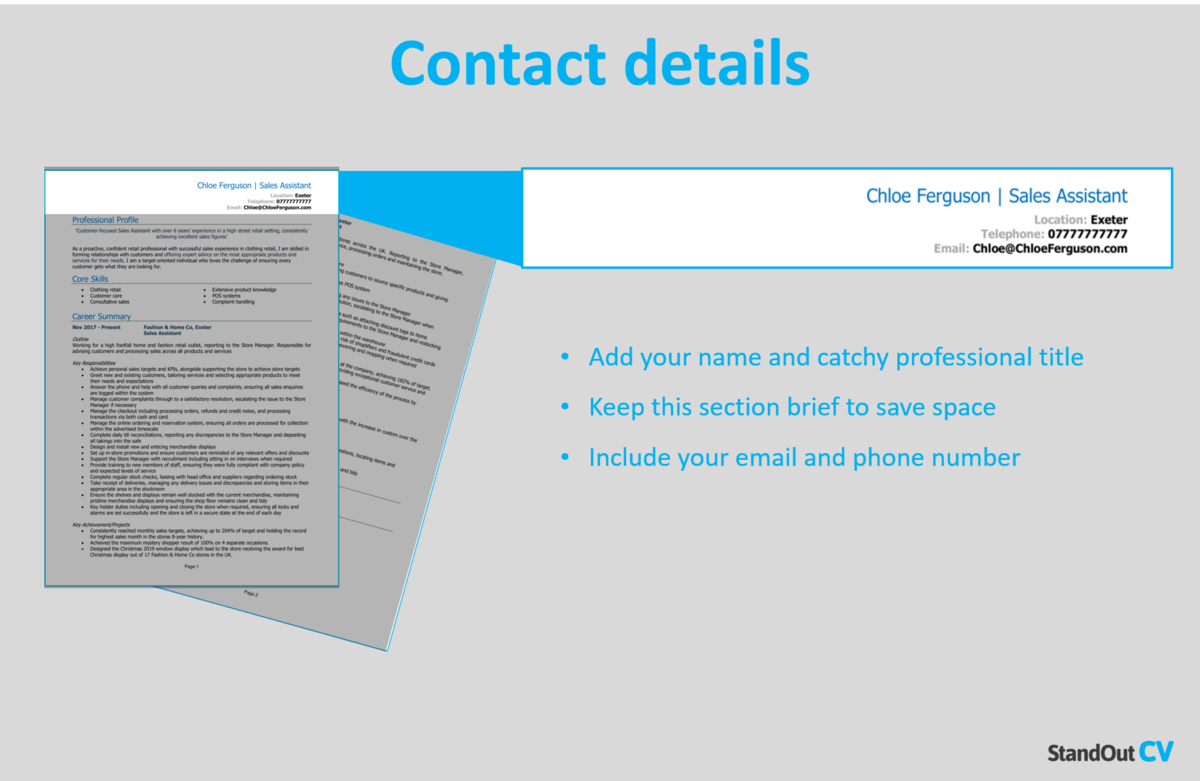 Keep your contact details short to save resume space and include the following.
Name and profession title
Cell phone number
Location – Add your local area such as Silicon Valley or New York, unless you are looking for work in a different location
Email address – Keep it professional and don't use an old address that you thought was cool in high school, but now looks a bit embarrassing.
You can add a link to your LinkedIn profile if you have one – you do not need to include personal details like date of birth or marital status.
Shelter Support Worker Resume Summary
Your resume summary is like an elevator pitch. It's your chance to sell yourself to employers within a short space of time.
Achieve this by summarizing your skills and expertise, whilst highlighting your abilities that closely match the jobs you are aiming for.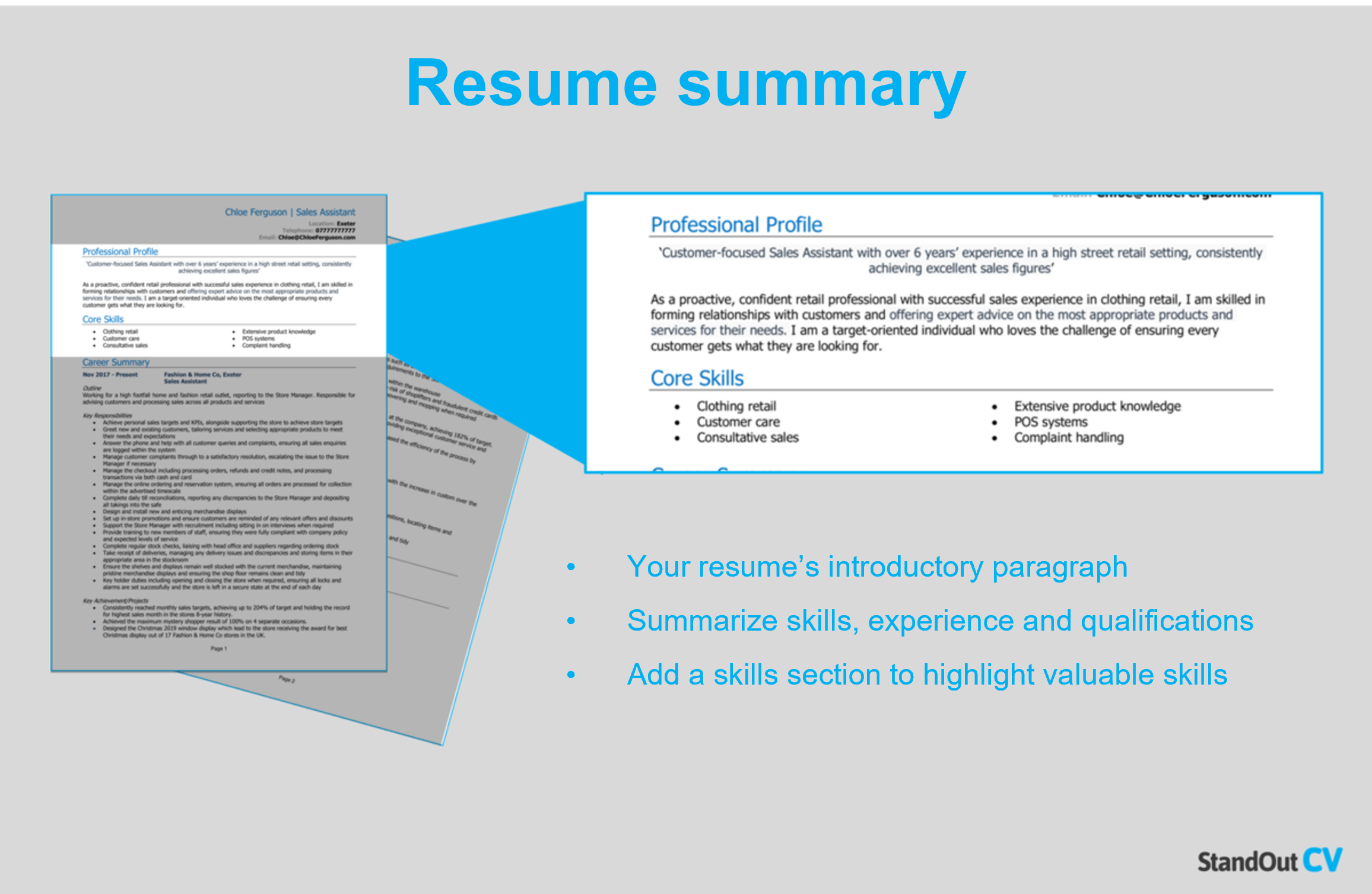 How to create a resume summary that will get you noticed:
Keep it short: You only have a few seconds to grab a recruiters' attention and make them commit to your resume, so keep your summary between 4 – 7 lines.
Tailor to target jobs: Recruiters will be scanning for the skills and knowledge they mentioned in the job description, so add as many as you can to your summary.
Avoid using cliches: You may be a "team player who always give 110%" but generic phrases don't tell employers much about you in reality – stick to factual information.
Example resume summary for Shelter Support Worker
Empathetic Shelter Support Worker with success in helping at-risk populations experiencing homelessness towards transitioning to housing. Focused on assisting residents to establish linkages with mental health clinic, vocational, educational, financial, substance abuse prevention, special services, childcare, and transportation resources. Adept at executing crisis intervention and problem-solving strategies to diffuse situations without heightening conflicts. Ability to thrive in flexible settings, while maintaining a client-centered approach.
What to include in your Shelter Support Worker resume summary?
Summary of experience: Briefly describe the work you have performed in the past and the contributions you have made to the organizations you have worked for.
Relevant skills: Highlight your skills which are most relevant to Shelter Support Worker jobs, to ensure that recruiters see your most in-demand skills as soon as they open your resume.
Qualifications: Showcase your level of education with a quick mention of any qualifications that are essential for the Shelter Support Worker roles you are applying to.
Quick tip: Choose from hundreds of pre-written summaries across all industries, and add one to your resume with one-click in our partner's Resume Builder. All written by recruitment experts and easily tailored to suit your unique skillset and style.
Core skills section
Sitting just underneath your resume summary, your core skills section gives recruiters 4-10 of your most in-demand skills in just a glance.
As Shelter Support Worker jobs may get hundreds of applications, this is a great way to stand out and quickly grab hiring managers' attention.
It should be made up of 2-3 columns of bullet points and highlight attributes that are hyper-relevant to the jobs you are aiming for.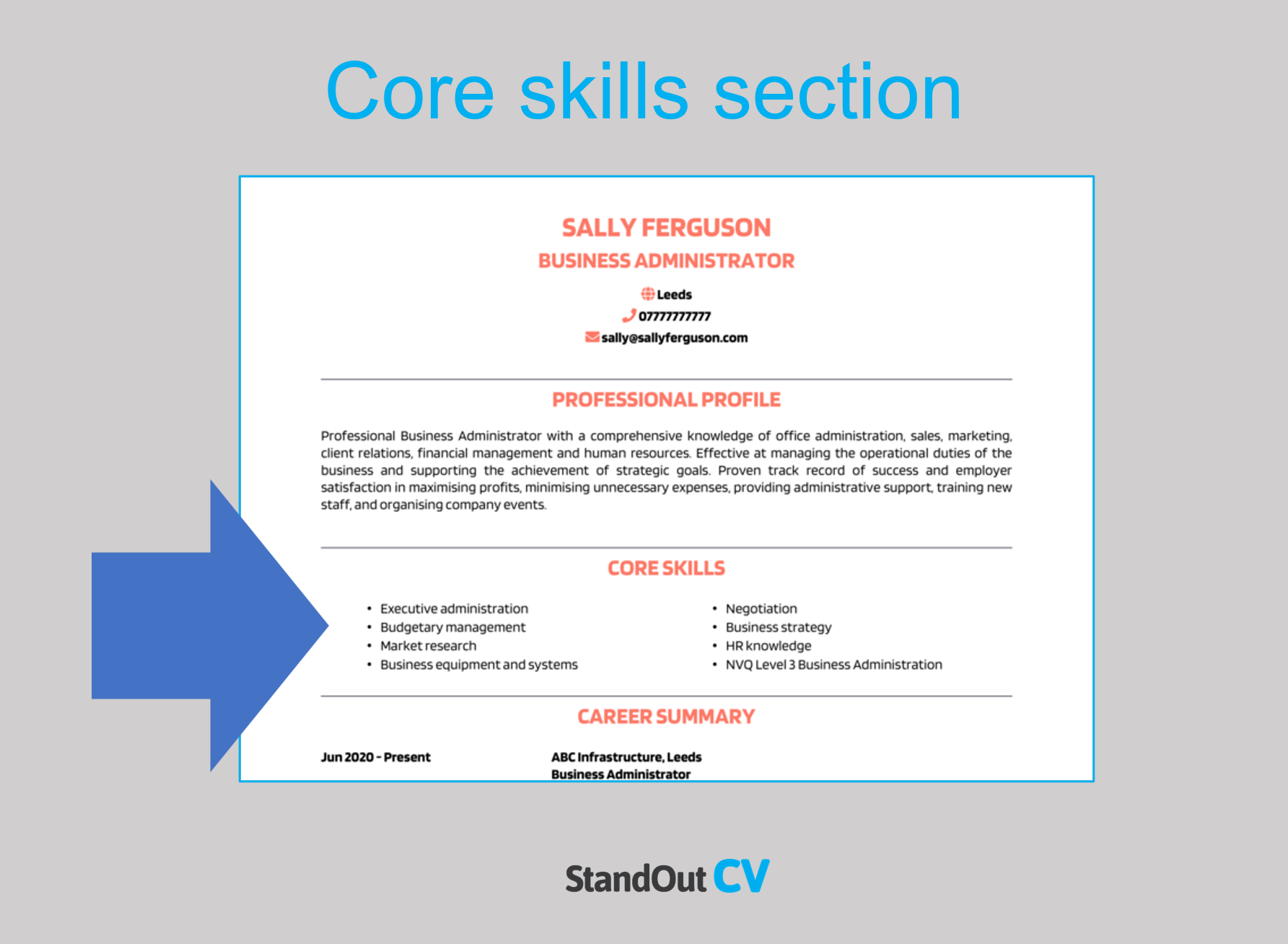 Best skills for your Shelter Support Worker resume
Crisis Management – Remaining calm and reacting appropriately in high-pressure situations.
Emotional Support – Understanding and providing appropriate support to the needs and emotions of vulnerable populations.
Problem Resolution – Assessing and solving problems in a timely and effective manner.
Record-Keeping – Using strong documentation and administrative skills to accurately track client information and progress.
Cultural Competency – Using understanding of diverse backgrounds and cultural values to provide inclusive and sensitive services.
Quick tip: Our partner's Resume Builder contains thousands of in-demand skills for every profession that can be added to your resume in seconds – saving you time and greatly improving your chances of landing job interviews and getting hired.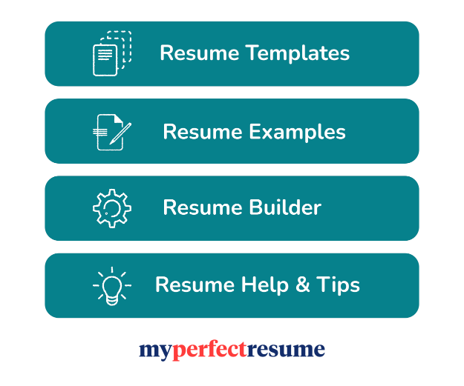 Work experience
Once you've hooked the hiring manager with your summary, you can really blow them away with you work experience.
List your previous jobs from newest to oldest to show the impact you made at each organization.
If you have years of experience, you can leave out some of the older jobs, and if you have little/no experience, you can bulk this section up with voluntary work and college placements.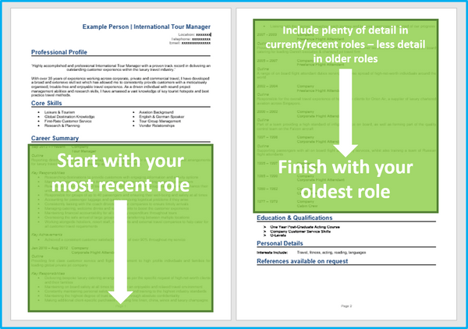 Structuring your jobs
You probably do a lot in your job, so its vital to break all of that information down into a good structure.
Structure your jobs as follows to make it easy for recruiters to skim through and pinpoint the essential info.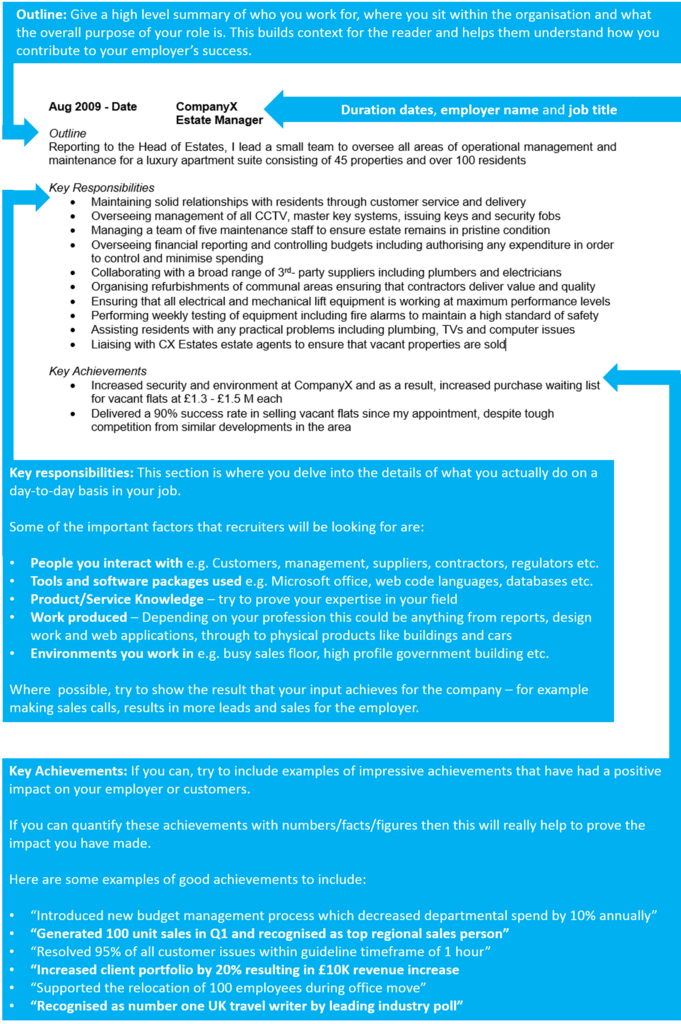 Job outline
Start with a 1-2 sentence outline of the role, summarizing what the goal of your position was, who you reported to (or managed) and the type of organization you worked for.
Key responsibilities
Next, write up a punchy list of your daily duties and responsibilities, using short bullet points.
Describe how you apply your skills and contribute to the running of the employer's business – highlighting skills which are applicable to your target jobs.
Key achievements
Finish each role by highlighting some impressive achievements you made whilst in the role.
Anything that benefited the employer can be included from making financial savings, to winning new customers.
Quantify your achievements with facts and figures if you can, e.g. "reduced call wait time by 10%"
Example job for Shelter Support Worker resume
Outline
Support shelter residents during the evening, overnight, and weekend hours, for a non-profit organization with 12K+ employees that shares the love of Jesus Christ and meets human needs in global communities.
Key Responsibilities
Receive and admit clients according to designated intake procedures.
Uilize administrative systems for employee work schedules and assign work shifts.
Provide a nurturing environment, assist shelter guests, and report/document any security concerns.
Carry out crisis intervention plans through trauma-informed care, while empowering guests by offering resource information and triaging questions.
Quick tip: Create impressive job descriptions easily in our partner's Resume Builder by adding pre-written job phrases for every industry and career stage.

Education section
Nearing the end of your resume, your education/qualifications section should be added.
In a well-structured list, add all of your qualifications and certifications that qualify you to perform a typical Shelter Support Worker role.
If you have plenty of work experience, keep this section brief – if not, add lots of detail to make up for your lack of experience.
Additional information
At the end of your resume, you can add any extra information that might be relevant to the jobs you are applying for.
This could be hobbies, interests, publications, clubs or memberships.
This section is optional and doesn't need to be added if you have nothing more relevant to add.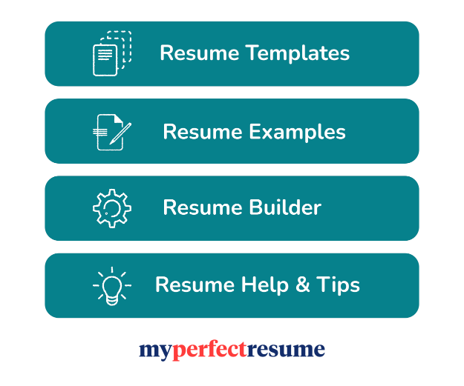 Writing your own Shelter Support Worker resume
Writing a Shelter Support Worker resume can be challenging but following the steps above will ensure that you land plenty of interviews.
If you want to speed up the process and use an attractive professional template, try out our partner's Resume Builder.
Good luck with your job search!