Your role is so much more than administering medication. You're there to support your patients and get them through their treatment.
Those are some pretty big scrubs to fill. That is why you need to prove to the recruiter that you've got the skills and qualities to be a great IV nurse.
You can do that using our writing guide and top tips below, complete with an IV infusion nurse resume to get you started.
Contents
| | |
| --- | --- |
| How to write a IV Infusion Nurse resume | |

IV Infusion Nurse Resume Example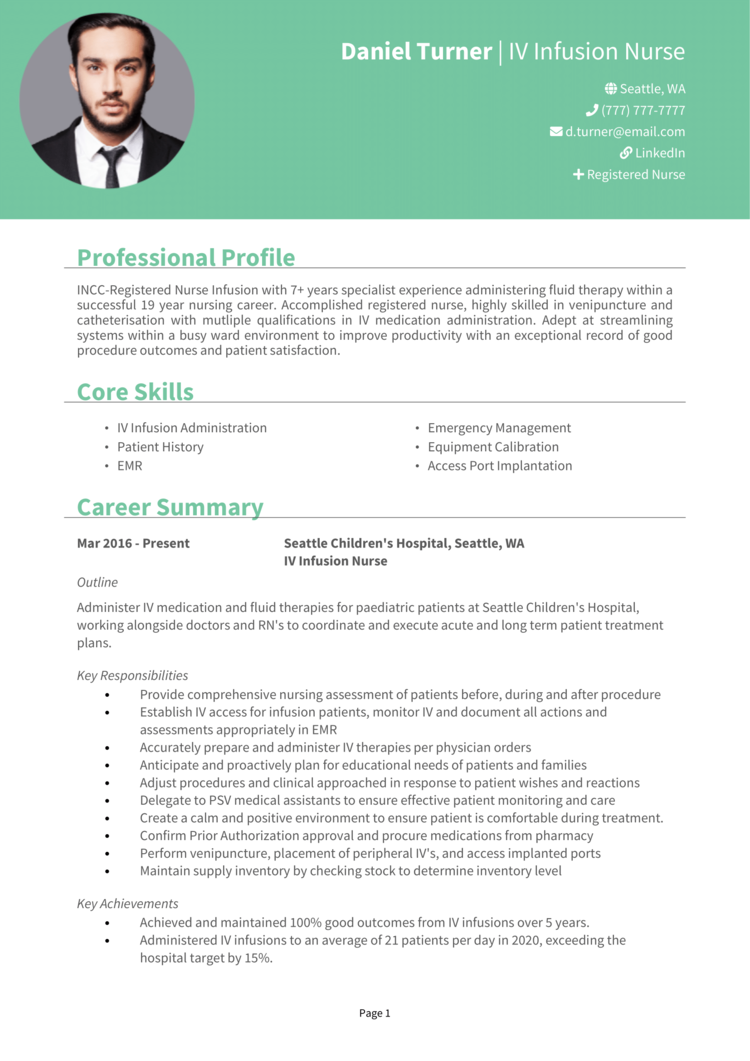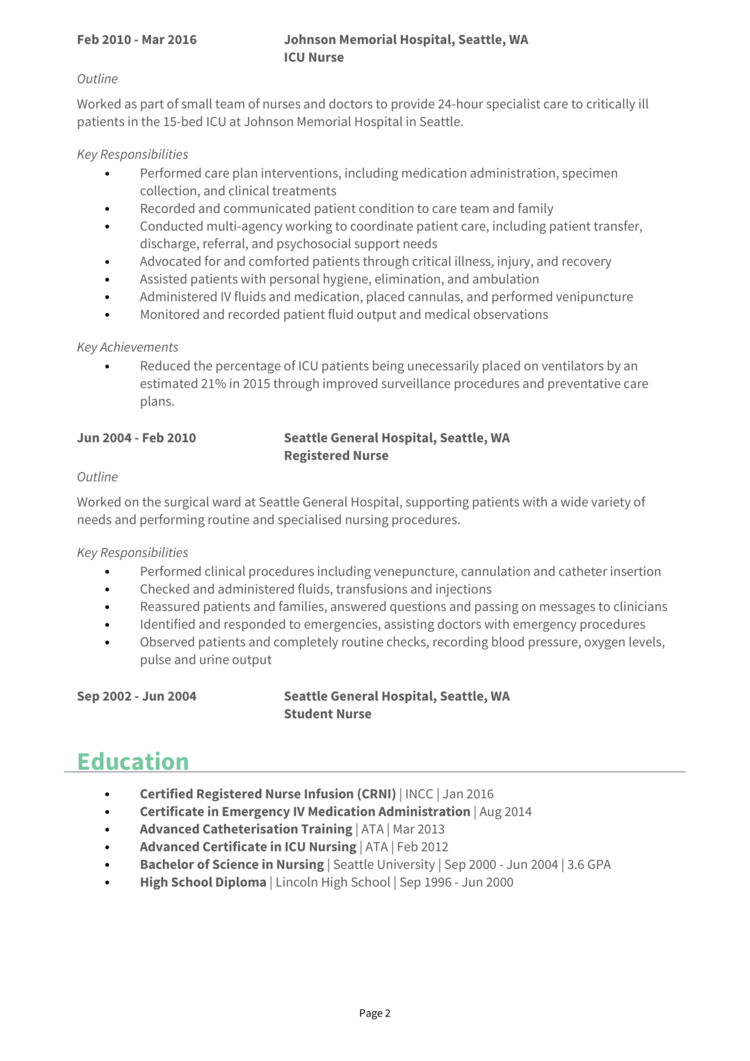 From the IV Infusion Nurse resume example above, you can see the kind of information your resume will need to include, and the layout you will need to create for an easy-reading experience.
The rest of this guide will show you how to apply this format to your own unique situation, and create a resume that will attract the best employers in your industry.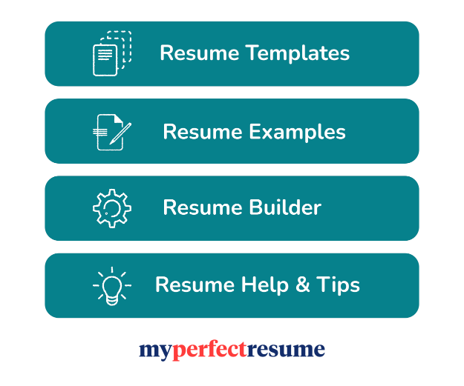 IV Infusion Nurse resume layout and formatting
The format and layout of your resume can make or break its success.
Sure, it's great to pack your resume with lots of impressive skills and knowledge, but if the page is not structured clearly, hiring managers will struggle to find the important stuff!
Above all, your resume should be easy-to-read and professional looking.
Follow these formatting tips to get noticed.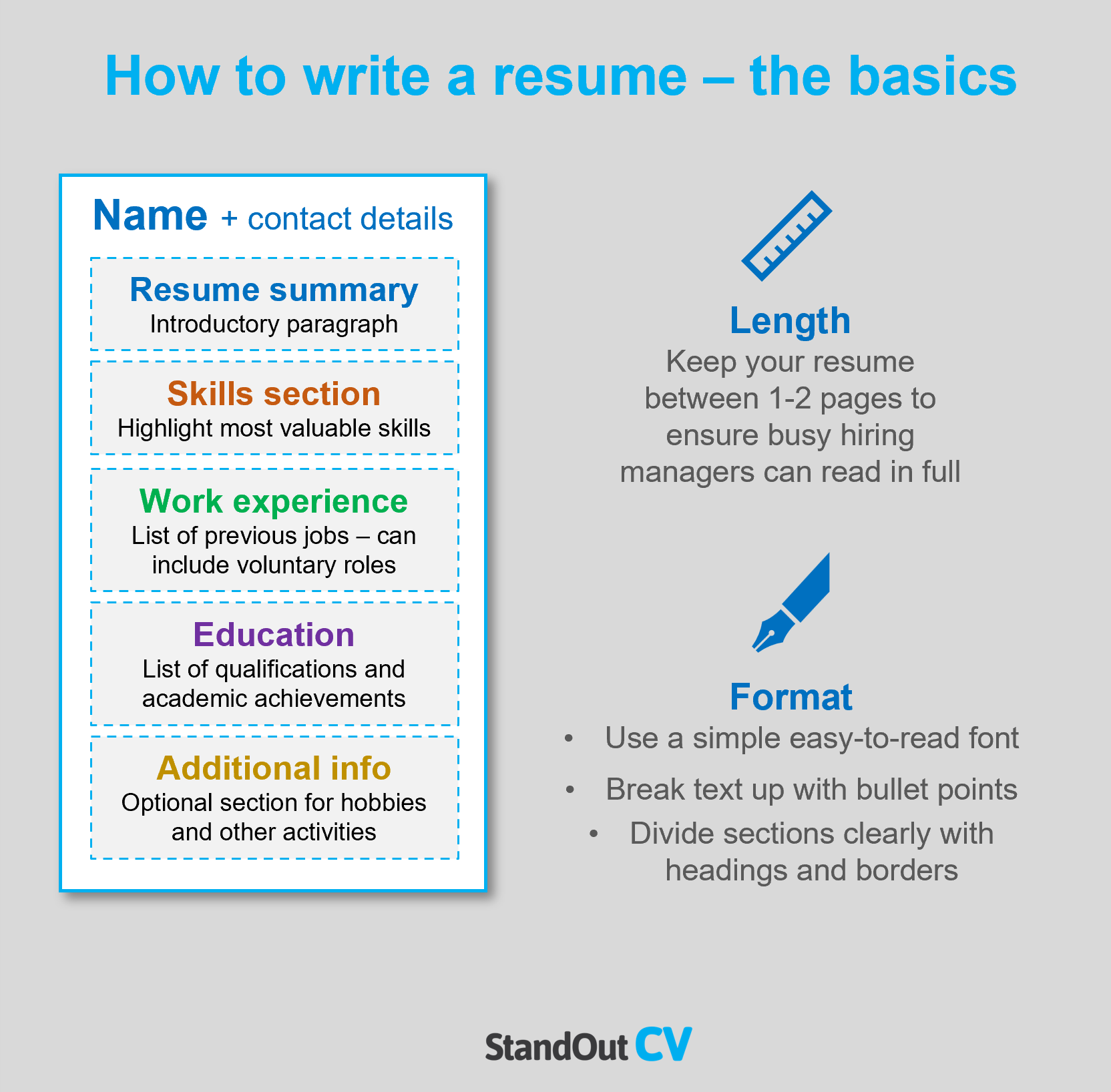 Formatting your resume
Length: Given that recruiters have to sift through tons of resumes daily, it's recommended to keep your resume brief (no more than 2 pages) to make sure it receives their full attention.
Font & readability: The key to an effective resume is its readability, so it's best to use a clear and simple font and format it with bullet points and short paragraphs to make it easy for recruiters to read through quickly.
Layout & Structure: While creating an attractive resume, it is crucial not to compromise functionality for design. To ensure both, use bold headings and borders to structure the page into clear sections.
Photos: Although it's not mandatory to include a photo on your resume in the United States, it may be a good idea to do so in certain regions and industries where it is preferred.
Quick tip: Achieving a professional look for your resume can be difficult and time-consuming. If you want to create an attractive resume quickly, try our partner's Resume Builder and use one of their eye-catching resume templates.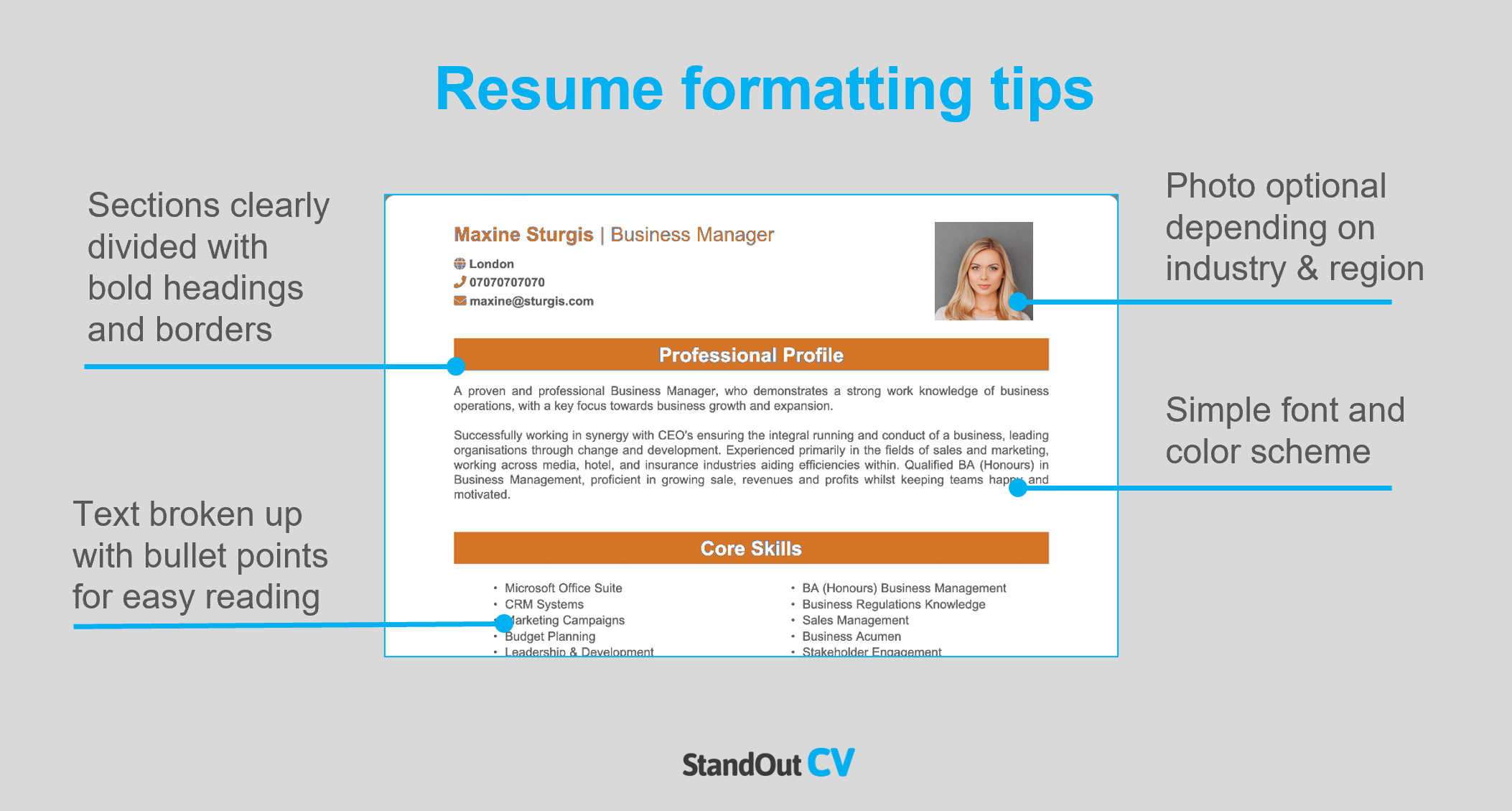 Resume layout
Divide the page into these sections when you write your own resume.
Name and contact details – Simply state who you are, and how to get in touch with you.
Resume summary – An introductory paragraph at the very top of your resume which summarizes your skills, experience and suitability for your target jobs.
Core skills section – A bullet-pointed list of your skills that relate most to your target jobs.
Work experience – A list of your current and previous jobs, including all of your responsibilities and achievements.
Education – A section that showcases all of your education and academic achievements.
Additional info (optional) – Here you can add an extra section for things like hobbies and interests, or anything else that might be relevant to your target jobs.
Here's what to include in each part of your resume.
Contact Details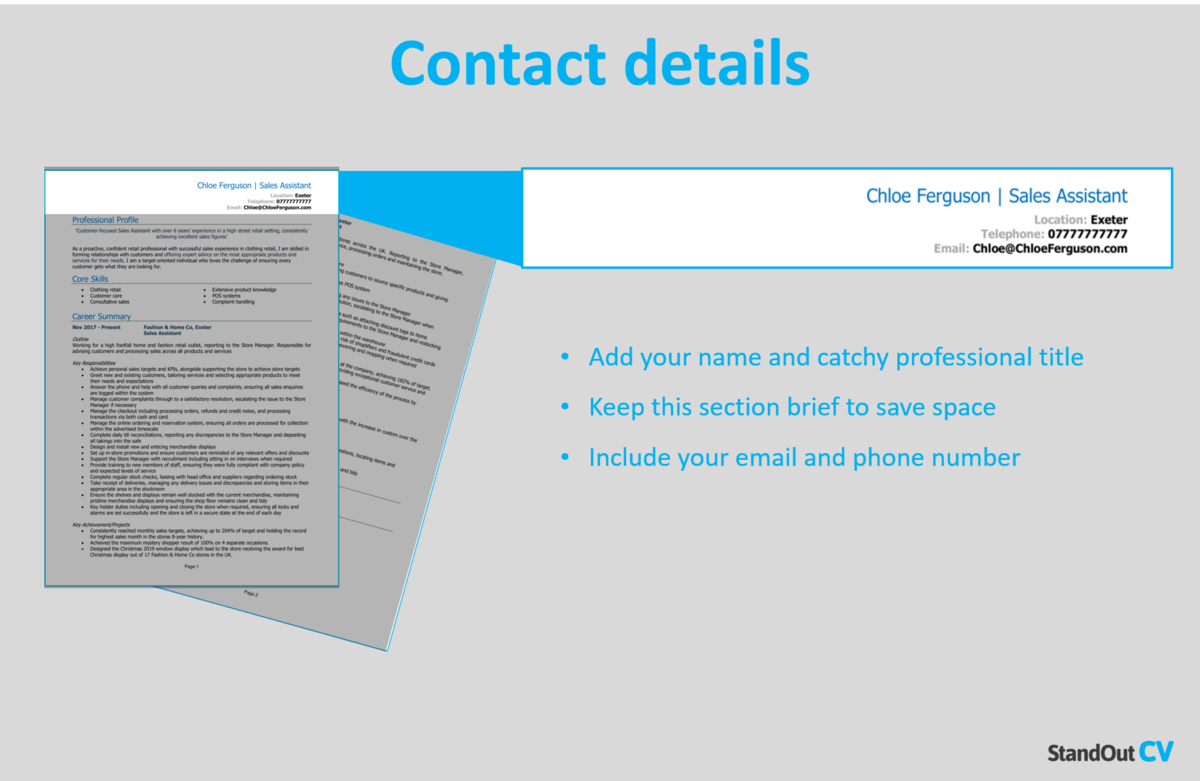 Keep your contact details short to save resume space and include the following.
Name and profession title
Cell phone number
Location – Add your local area such as Silicon Valley or New York, unless you are looking for work in a different location
Email address – Keep it professional and don't use an old address that you thought was cool in high school, but now looks a bit embarrassing.
You can add a link to your LinkedIn profile if you have one – you do not need to include personal details like date of birth or marital status.
IV Infusion Nurse Resume Summary
Create a strong opening for your resume by adding a compelling summary to the top that highlights your most valuable skills and experience.
This short but important paragraph is designed convince recruiters that you're the perfect candidate for the job and entice them to read more of your resume.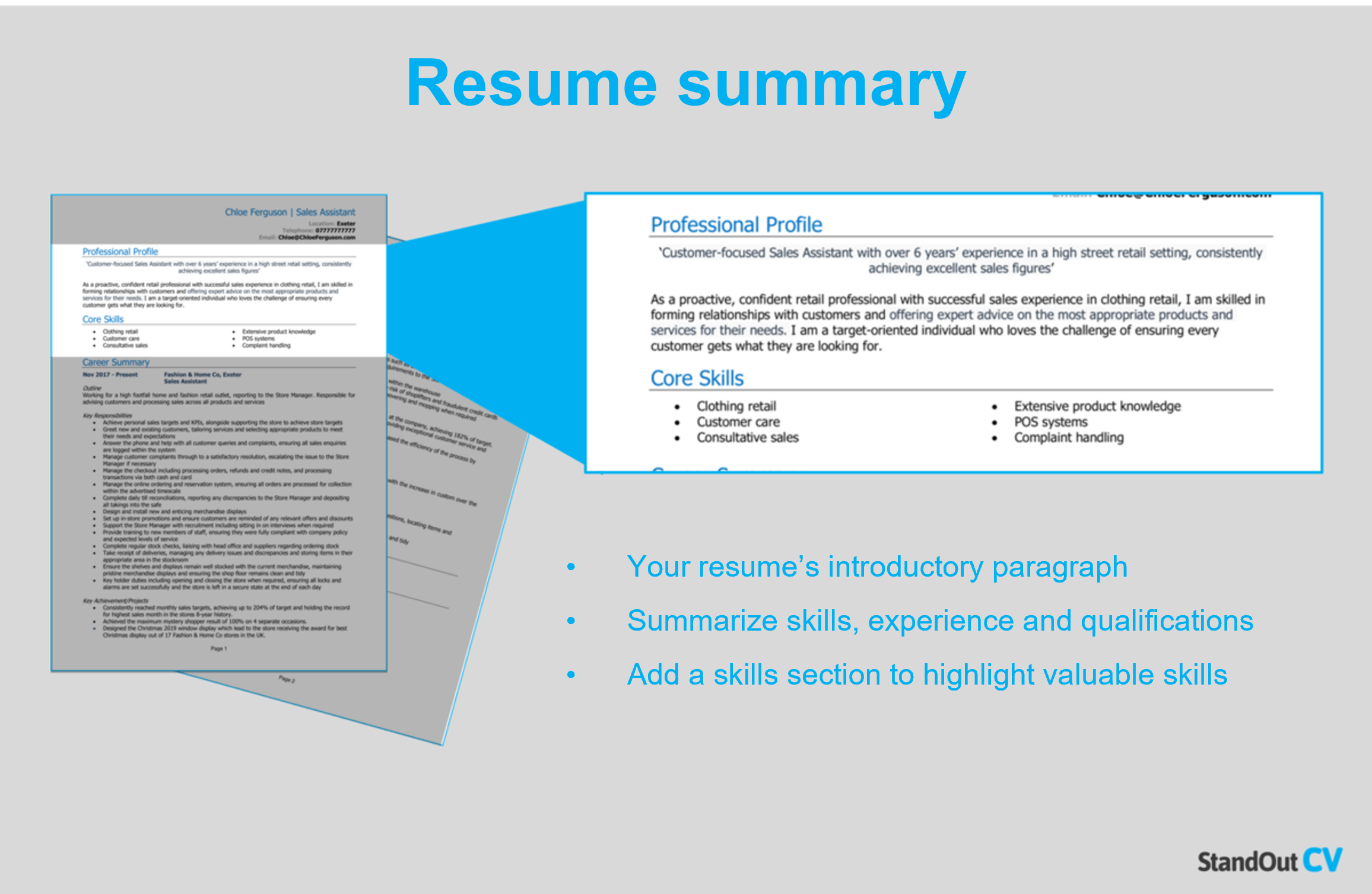 How to create a resume summary that will excite recruiters:
Keep it short: Your summary is intended to be a high-level introduction to hook readers' attention, so keep it brief (4-7 lines) – save the details for later in your resume.
Tailor to target jobs: To make your resume more relevant to your target jobs, analyze the job description and include as many matching skills as possible.
Avoid using cliches: You may be a "team player who always give 110%" but generic phrases don't tell employers much about you in reality – stick to factual information.
IV Infusion Nurse resume summary example
INCC-Registered Nurse Infusion with 7+ years specialist experience administering fluid therapy within a successful 19-year nursing career. Accomplished registered nurse, highly skilled in venipuncture and cauterization with multiple qualifications in IV medication administration. Adept at streamlining systems within a busy ward environment to improve productivity with an exceptional record of good procedure outcomes and patient satisfaction.
What to include in your IV Infusion Nurse resume summary?
Summary of your experience: What kind of companies have you worked for in the past? And which jobs have you carried out?
Relevant skills: Highlight your skills which are most relevant to intravenous Infusion Nurse jobs, to ensure that recruiters see your most in-demand skills as soon as they open your resume.
Qualifications: Showcase your level of education with a quick mention of any qualifications that are essential for the IV Infusion Nurse roles you are applying to.
Quick tip: Choose from hundreds of pre-written summaries across all industries, and add one to your resume with one-click in our partner's Resume Builder. All written by recruitment experts and easily tailored to suit your unique skillset and style.
Core skills section
Sitting just underneath your resume summary, your core skills section gives recruiters 4-10 of your most in-demand skills in just a glance.
As IV Infusion Nurse jobs may get hundreds of applications, this is a great way to stand out and quickly grab hiring managers' attention.
It should be made up of 2-3 columns of bullet points and highlight attributes that are hyper-relevant to the jobs you are aiming for.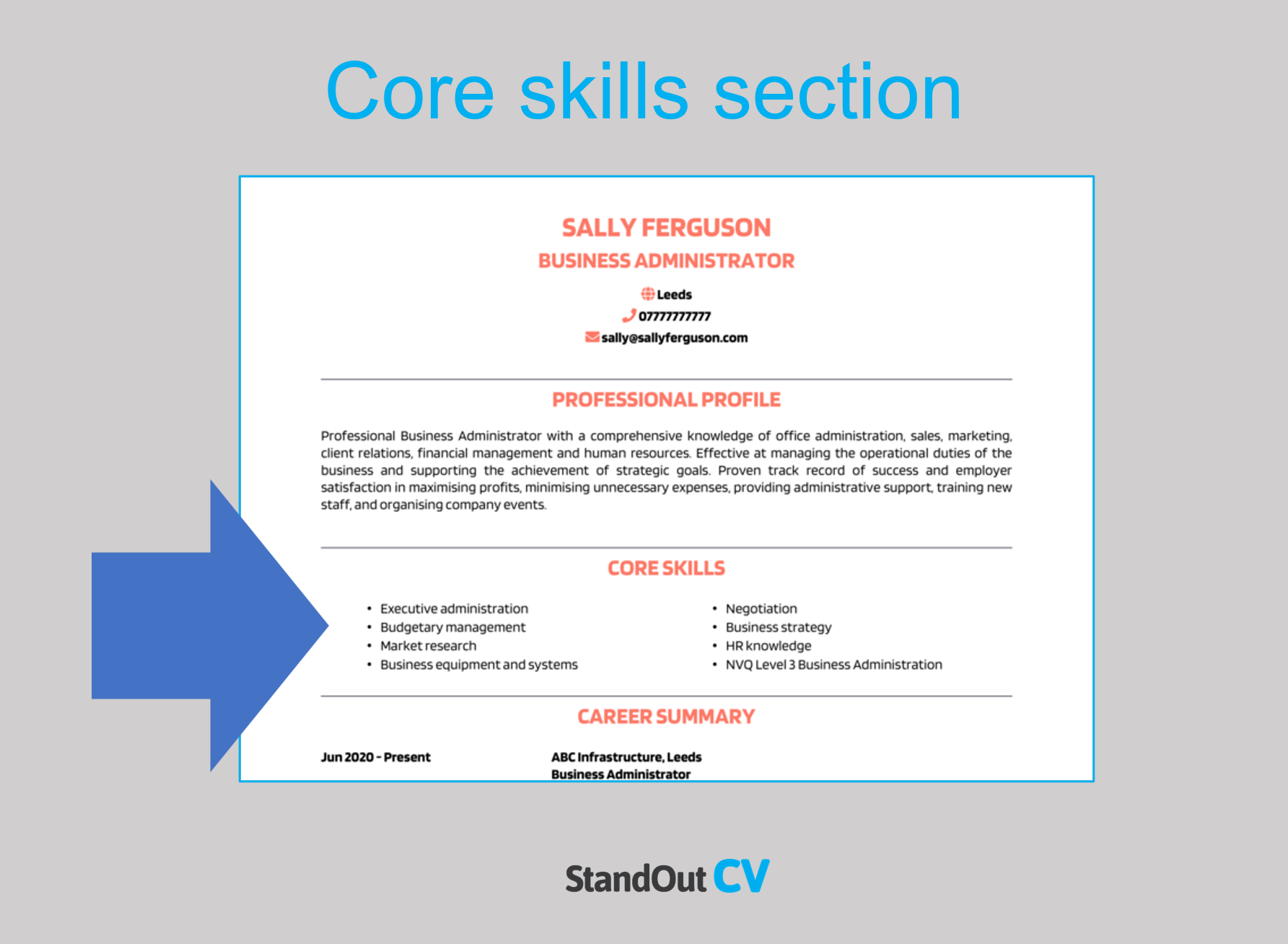 Best skills for your IV Infusion Nurse resume
Venipuncture – Inserting a needle into a vein to start an IV infusion, including selecting the appropriate vein and assessing the patient's tolerance for the procedure.
IV catheter insertion – Inserting a catheter into a vein to facilitate the IV infusion process, including selecting the appropriate catheter size and securing the catheter in place.
IV therapy administration – Utilizing knowledge of IV therapy administration procedures, including infusion rate calculations and medication administration, to ensure safe and effective IV therapy.
Central line management – Managing central lines, including insertion and maintenance, to facilitate IV therapy for patients with complex medical needs.
Patient assessment – Assessing patient needs, including vital signs monitoring and assessment of fluid and electrolyte imbalances, to ensure safe and effective IV therapy.
Documentation management – Maintaining accurate documentation of IV therapy procedures and patient care, including charting vital signs, medication administration, and patient progress.
Infection control – Utilizing knowledge of infection control procedures, including hand hygiene and sterile technique, to prevent infections associated with IV therapy.
Medical equipment management – Managing medical equipment related to IV therapy, including pumps and catheters, to ensure optimal function and safe use.
Patient education – Educating patients and their families about IV therapy, including medication administration and home care instructions, to ensure patient understanding and compliance.
Cross functional collaboration – Collaborating with other healthcare professionals, including physicians and pharmacists, to ensure effective and coordinated patient care.
Quick tip: Our partner's Resume Builder contains thousands of in-demand skills for every profession that can be added to your resume in seconds – saving you time and greatly improving your chances of landing job interviews and getting hired.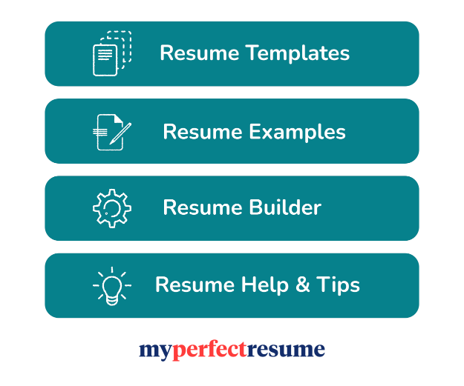 Work experience
So, you've grabbed the recruiters' attention with your summary, now it's time to show them what you're really capable of in your work experience section.
List your previous jobs from current to oldest, showing off the impact you made at each organization.
If you have tons of experience, you should just list the most recent an relevant jobs – but if you have little or no experience, add it all and even consider putting in voluntary work.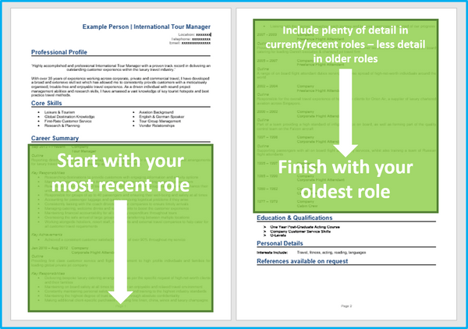 Structuring your jobs
You probably do a lot in your job, so its vital to break all of that information down into a good structure.
Structure your jobs as follows to make it easy for recruiters to skim through and pinpoint the essential info.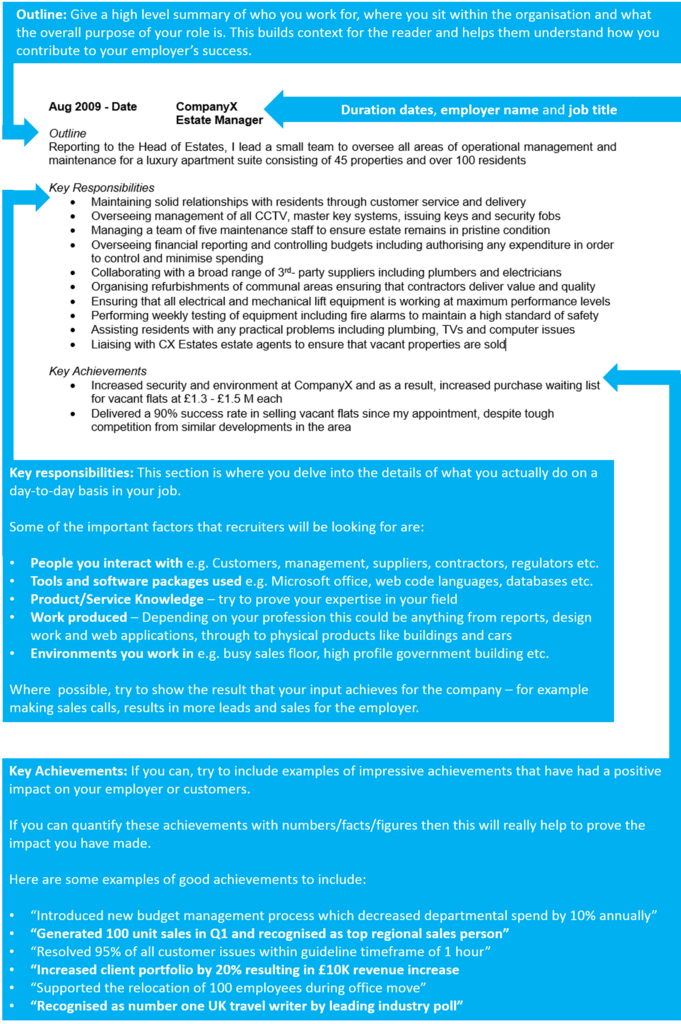 Job outline
Each role description should begin with a qucik summary of the job and company, along with how the job fits into the strucuture of the organization.
Key responsibilities
Then delve into the detail of your job by listing out easy-to-read bullet points which show how you apply your skills in the workplace.
Tailor these bullet points to focus on the skills and knowledge that are required in the jobs you are applying for.
Key achievements
Round off each job by adding some impressive achievements you made in the role.
Anything you've done that has made a big impact on your employer will make a good impression, think; generating revenue, saving costs, or improving a product.
Quantify your achievements with number where possible e.g. "reduced call wait time by 10%"
Example job for IV Infusion Nurse resume
Outline
Administer IV medication and fluid therapies for paediatric patients at Seattle Children's Hospital, working alongside doctors and RN's to coordinate and execute acute and long term patient treatment plans.
Key Responsibilities
Provide comprehensive nursing assessment of patients before, during and after procedure
Establish IV access for infusion patients, monitor IV and document all actions and assessments appropriately in EMR
Accurately prepare and administer IV therapies per physician orders
Anticipate and proactively plan for educational needs of patients and families
Quick tip: Create impressive job descriptions easily in our partner's Resume Builder by adding pre-written job phrases for every industry and career stage.

Education section
Towards the bottom of your resume, add your education section.
Here you should list your professional qualifications and academic record, such as high school diplomas or college degrees.
If you have lots of work experience, you can keep this section brief (because recruiters will be more interested in your career. If you have little/no experience then you should bulk this section up with plenty of detail.
Additional information
The additional info section is optional but can be useful if you have anything else to add that could benefit your application.
For example, you may have some hobbies and interests that are relevant to your job – or you might have awards or publications to shout about.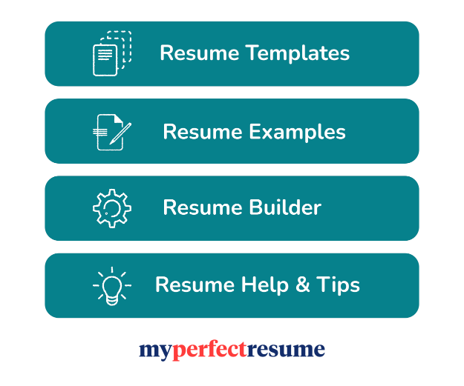 Writing your own winning IV Infusion Nurse resume
Crafting a strong IV Infusion Nurse resume can be a daunting task, but implementing the steps outlined above will significantly increase your chances of securing multiple interview opportunities.
Good luck with your job search!