If you've ever been celebrated for your hard work, whether that's in sports, education, your job, or your hobbies, you know how great it feels to be recognized.
But have you ever thought about including these awards on your resume?
By adding impressive or relevant awards, you could boost your application and give yourself a competitive edge.
So, if you're an award winner and you think potential employers need to know about it, here's how to highlight your achievements on your resume.

Where to add awards to your resume
You want to ensure that your awards stand out and that they appear in the places where recruiters expect to see them.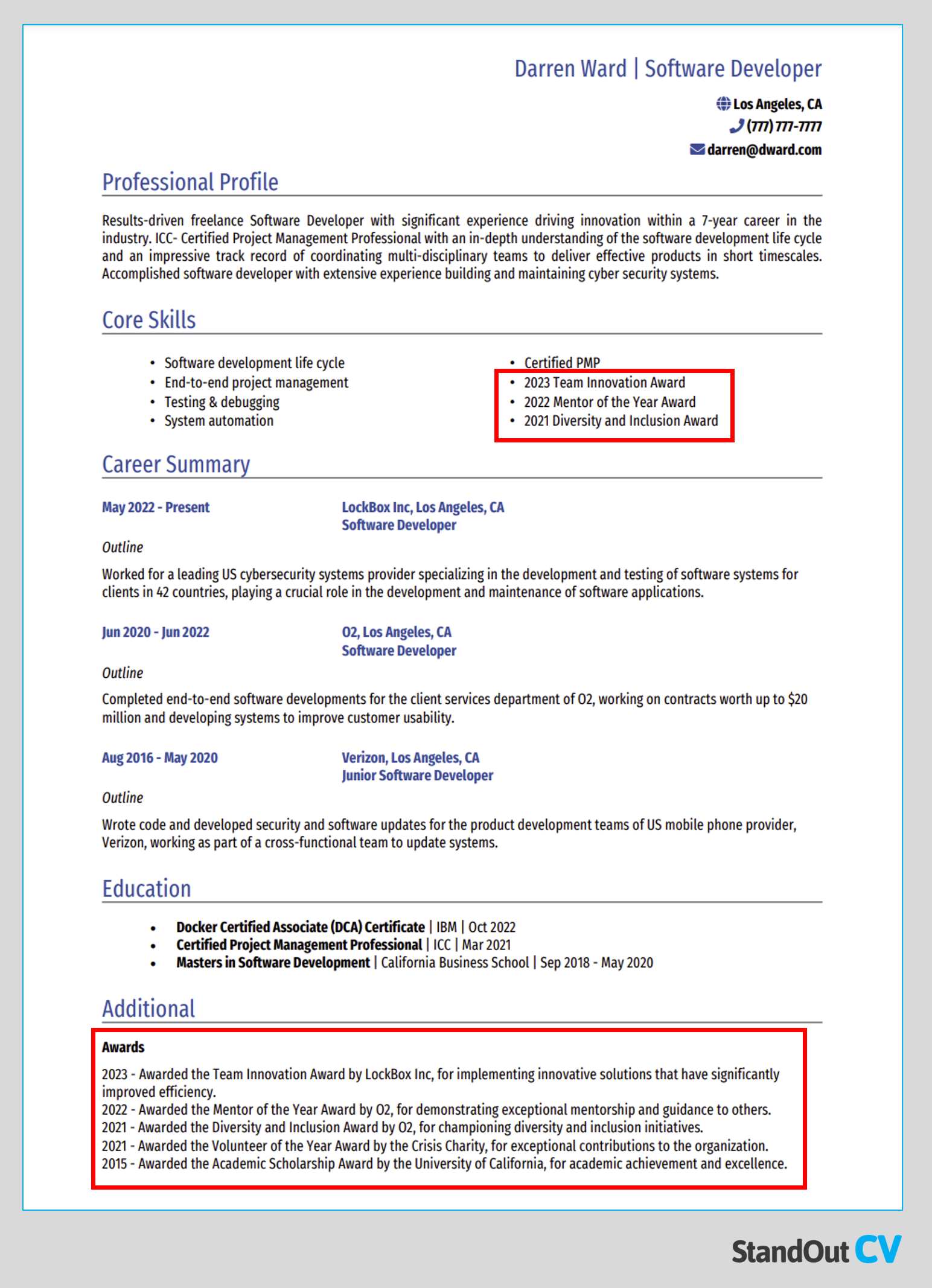 There are several places you should add them for the best results.
A dedicated award section
If you're somebody who has won tons of awards that will impress recruiters (well done you!) you could create a dedicated award section to highlight them.
If you do take this approach, the award section should be closer to the bottom of your resume, under your experience and education – and it should be clearly headed with the title "Awards"
This gives you plenty of room to includes the details of your awards, and makes it easy for readers to find them.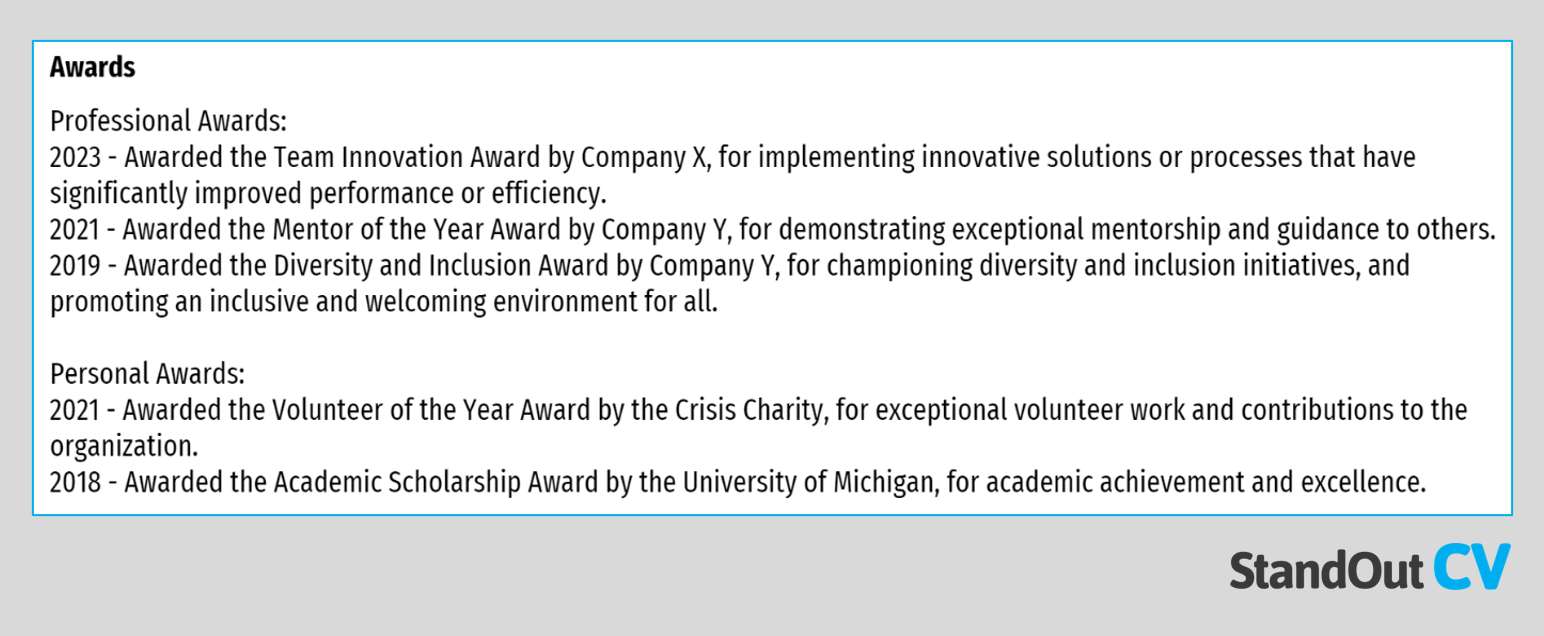 Your education section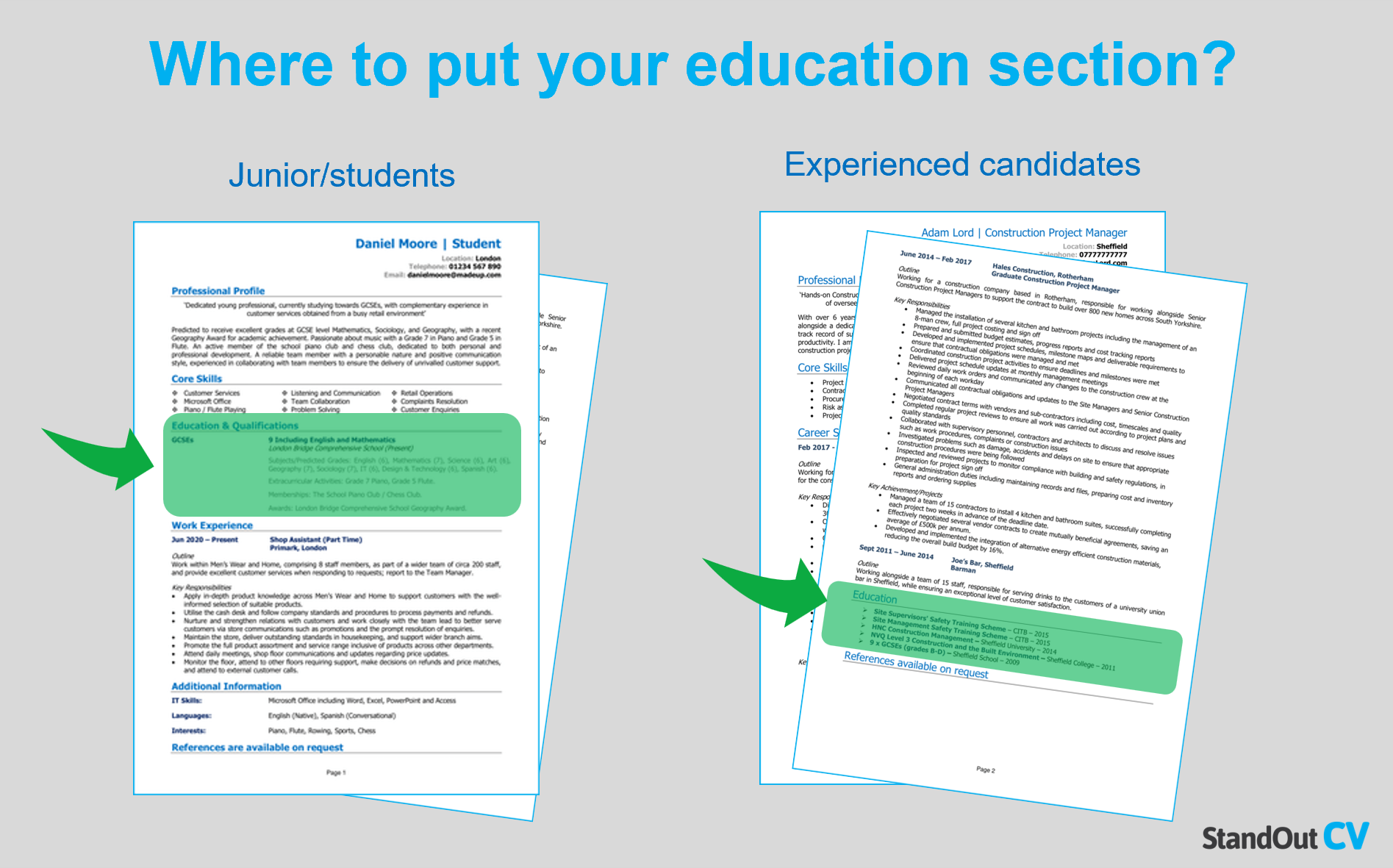 Awards related to your education or any extracurricular activities you took part in during your school years can be added to your education section.
For example, a high GPA, Dean's list, honor roll, sporting awards, or scholarships.
You should add these to the additional notes section, underneath the school name, course, and grades.
Your core skills section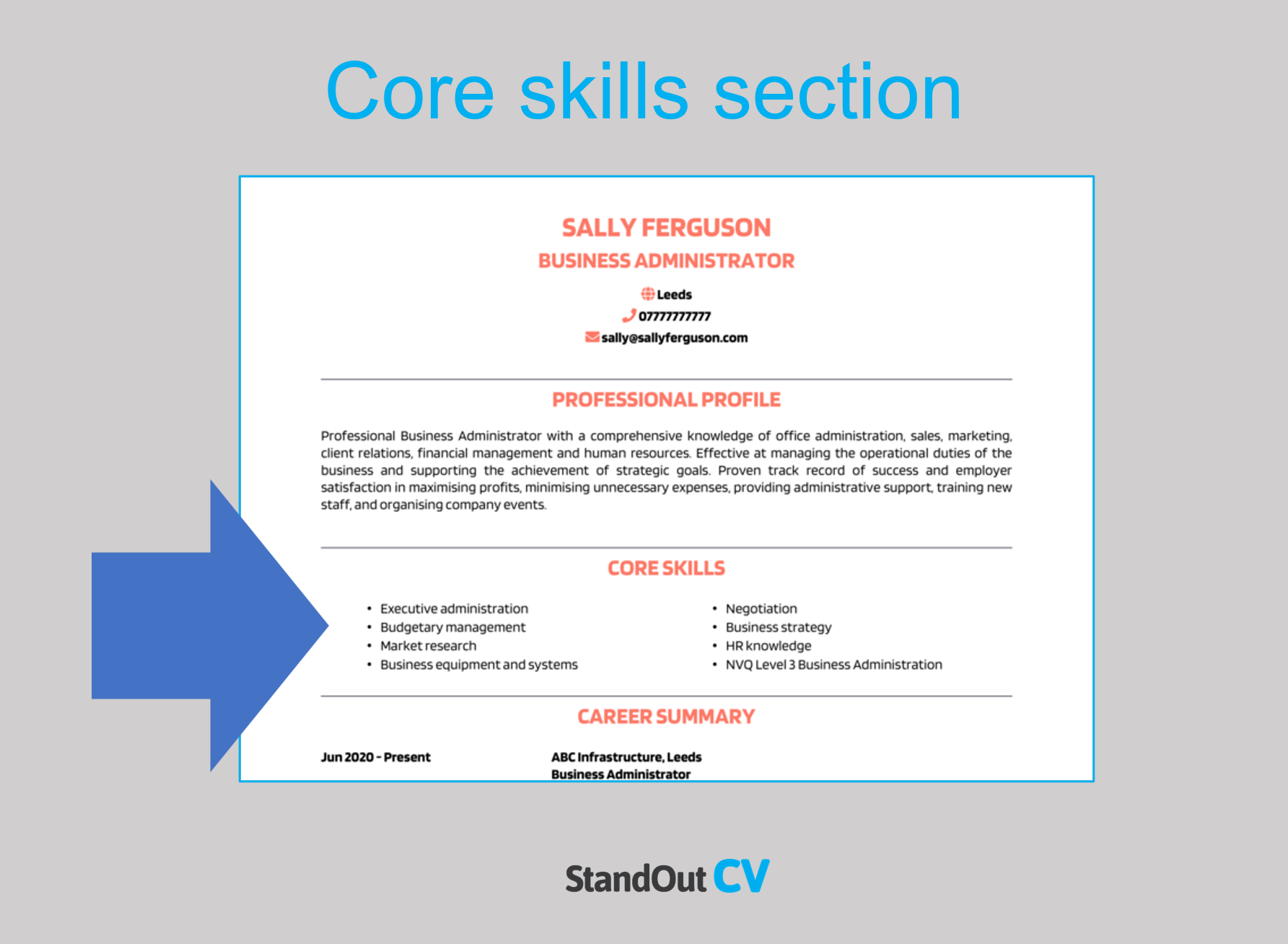 For any awards that are highly relevant to the job you are applying for (e.g. a school writing award, when applying for copywriting job) you want to ensure that recruiters notice them quickly.
This means that you could also include a brief mention of the award in your core skills section to it will be noticed as soon as anybody opens the resume.
This can be a great way to quickly and effectively highlight the awards you're most proud of and that you don't want the recruiter to miss.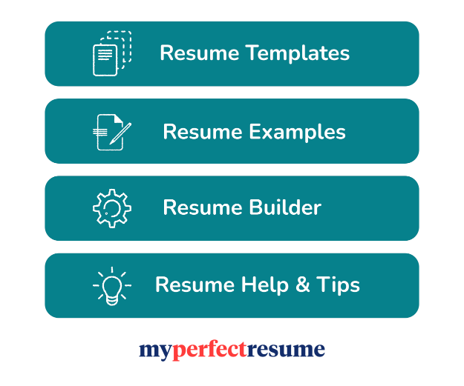 How to list awards on your resume
If you've decided to include a dedicated award section, you have the opportunity to go into more detail and give the hiring manager a little more context.
So, as well as including the name of the award, you should include details like the awarding body, dates, and your grade/score.
What to include about each award
If you're unsure about what to include and how to format your awards, we suggest you include the following details:
Awarding body – Some awarding bodies are more prestigious than others and providing the name of the organization that gave you your award can help to add context and a level of recognition to your achievement.
Award title – The recruiter will want to know which award you received and what it was for, so it's important to give the full (and official) title where possible.
Date – Adding the date you won your award gives recruiters a better idea of how long it's been since you displayed these skills, and also if you were given the award on more than one occasion.
Score/grades – If you were given a score or grade as part of your award, which is more likely to happen with educational achievements, this can help to prove just how skilled you are and is worth including if you scored particularly high.
Additional info – You might also wish to include other additional details of anything you think is relevant, impressive, or explains the purpose of the award and the impact you made.

What type of awards to include in your resume
When including awards on your resume, you need to be selective about what you share.
For example, you might have won the hot dog eating contest at your local cafe four years in a row, but potential employers really don't need to know this.
So, make sure that any awards you add are relevant or boost your application in some way. We suggest you include:
Professional awards
One way to impress potential employers is to include any professional awards you have achieved in past roles.
These can help to showcase your skills, experience, and above all else, how hard you work.
These could be peer, top performer, professional association, or leadership awards. You could also include details of any industry awards or prestigious lists or roundups you've been included on.
Professional award examples
Named Doug's Retail 'Employee of The Year', 2016, beating out 150 other employees
Included in Calthorpes prestigious '30 under 30 To Watch' list
Awarded 'Employee of the Month' nine times over a 2 year period
Scope's Winner of the Patient Champion Award, 2020 and 2022
BDC Business Awards, Executive of the Year, 2023 – Awarded to the senior executive who demonstrated outstanding leadership, team building, and positivity in their company
Winner of Lloyd's Excellence in Financial Inclusion, 2018
Voted 'Best Newcomer' at the US RecTech conference in 2020
Academic/educational awards
Beating the competition at school and picking up awards for performance shows employers that you're not afraid to put in hard work, so you should show this off on your resume if you want to land interviews for the best jobs.
These achievements can be project based, coursework recognition, exceptionally high exam grades or anything else that will make you stand out.
If you're in the early stages of your career, these can be a particularly great way to boost your application and give you a competitive edge.
Academic award examples
Dartmouth College, Dean's List, 2021
Named National High School Theatre's 'Best Musical Performer' in 2017
Won Dean's Award in 2022 for academic excellence for my thesis on 'Global Food Security for Health'.
Elected fraternity president by 550 fellow students, beating out 5 other candidates
Received a full U.S.S scholarship in women's soccer, allowing me to play semi-professionally alongside my studies
Honors BS in Chemistry, Valedictorian, Summa Cum Laude
Won a fully funded grant to cover research lab costs for my experiments in steroids and arthritis drugs at college
Personal awards
If you've achieved awards in your personal life, perhaps through hobbies or volunteer work, these can also be added to your resume.
If these achievements are really impressive, showcase desirable skills, or are very relevant to the role, they can help to boost your applications.
Personal award examples
Webby Awards, 'Best Marketing Blog of The Year', 2017
Voted 'Volunteer of The Year' for my ongoing work with Coalition, a charity that helps homeless families find safe accommodation
My website topped the list of '25 Must-Reads for Mental Health Professionals' in 2018
Earned my Gold Award for Girl Scouts in 2019, making it into the top 5.4% of Girl Scouts who successfully earn this award
Won the Chartown Mayor's Award for raising $10,000 for local charities
Voted 'Most Valuable Player (MVP)' of 2022 at my local football club, where I play 2 times a week
Won Belthen's Creative Writing Award, 2016, for my personal essay on living with chronic illness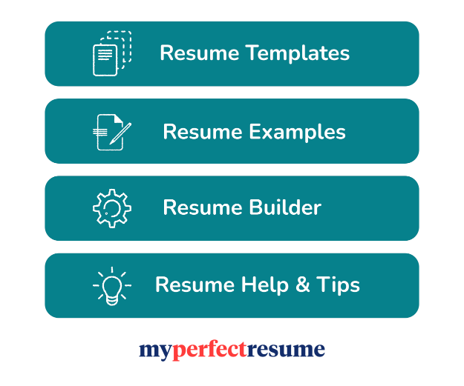 Should you add awards to your resume?
Yes, you absolutely should include awards on your resume if they are relevant to the role or industry, or if you think they are particularly impressive and make you stand out from the crowd.
But this will also depend on space, if you don't have a lot of room on your resume and there is other information you want to include that is more important, then it may be better to leave these off.
Always opt to include the information that is most likely to prove your suitability for the jobs you apply to.
What awards to leave out of your resume
Whilst every award may have personal value to you – not all of them will be impressive to employers. Here are some awards to leave out of your resume.
Very old awards – If you've already got a few years of work experience, you probably don't need to include your high school award for "Best Hall Monitor" – as it will not be of any interest to your next hiring manager.
Irrelevant awards – If you work in the finance industry, then an award from your local drama class is unlikely to impress recruiters in the banking world, so leave it out of your resume.