If you're organized, active and you thrive in a fast-paced environment, you could play an important role in the Amazon supply chain.
You'll be there to handle products, keep the warehouse organized, and most importantly, help to fulfill customer orders as quickly as possible.
If you've got what it takes then you need to sell your skills on your resume. Find out how using our handy guide and Amazon warehouse associate resume example below.
Contents
| | |
| --- | --- |
| How to write your Amazon Warehouse Associate resume | |

Amazon Warehouse Associate Resume Example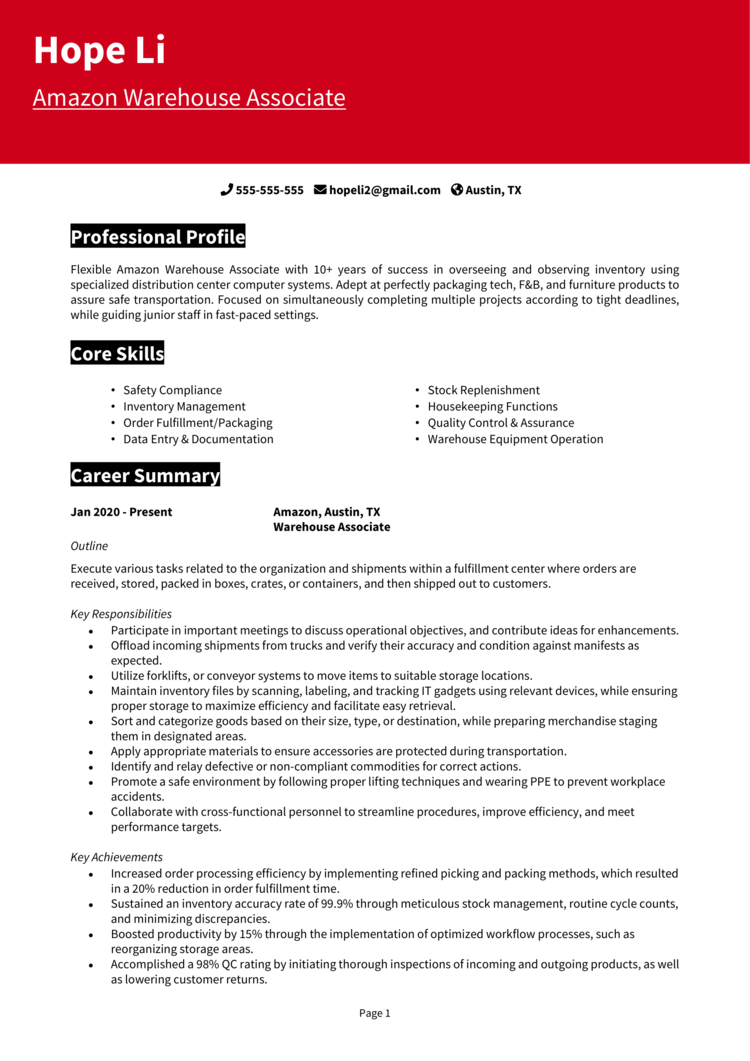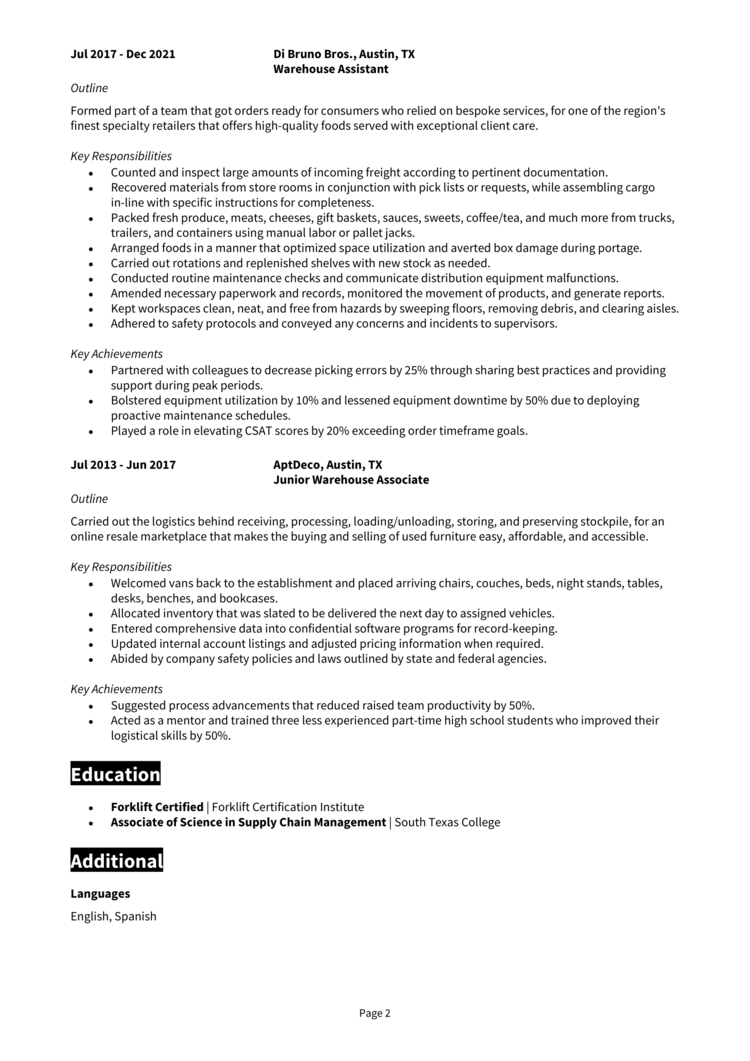 From the Amazon Warehouse Associate resume example above, you can see the kind of information your resume will need to include, and the layout you will need to create for an easy-reading experience.
The rest of this guide will show you how to apply this format to your own unique situation, and create a resume that will attract the best employers in your industry.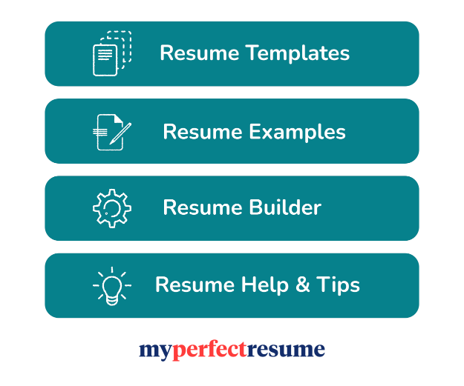 Amazon Warehouse Associate resume layout and format
Formatting is often overlooked when writing resume, but it's a crucial element of it"s success.
Creating a document that not only looks good, but is easily comprehended, is the key to gaining and holding the attention of busy hiring managers.
Use these formatting tips for best results.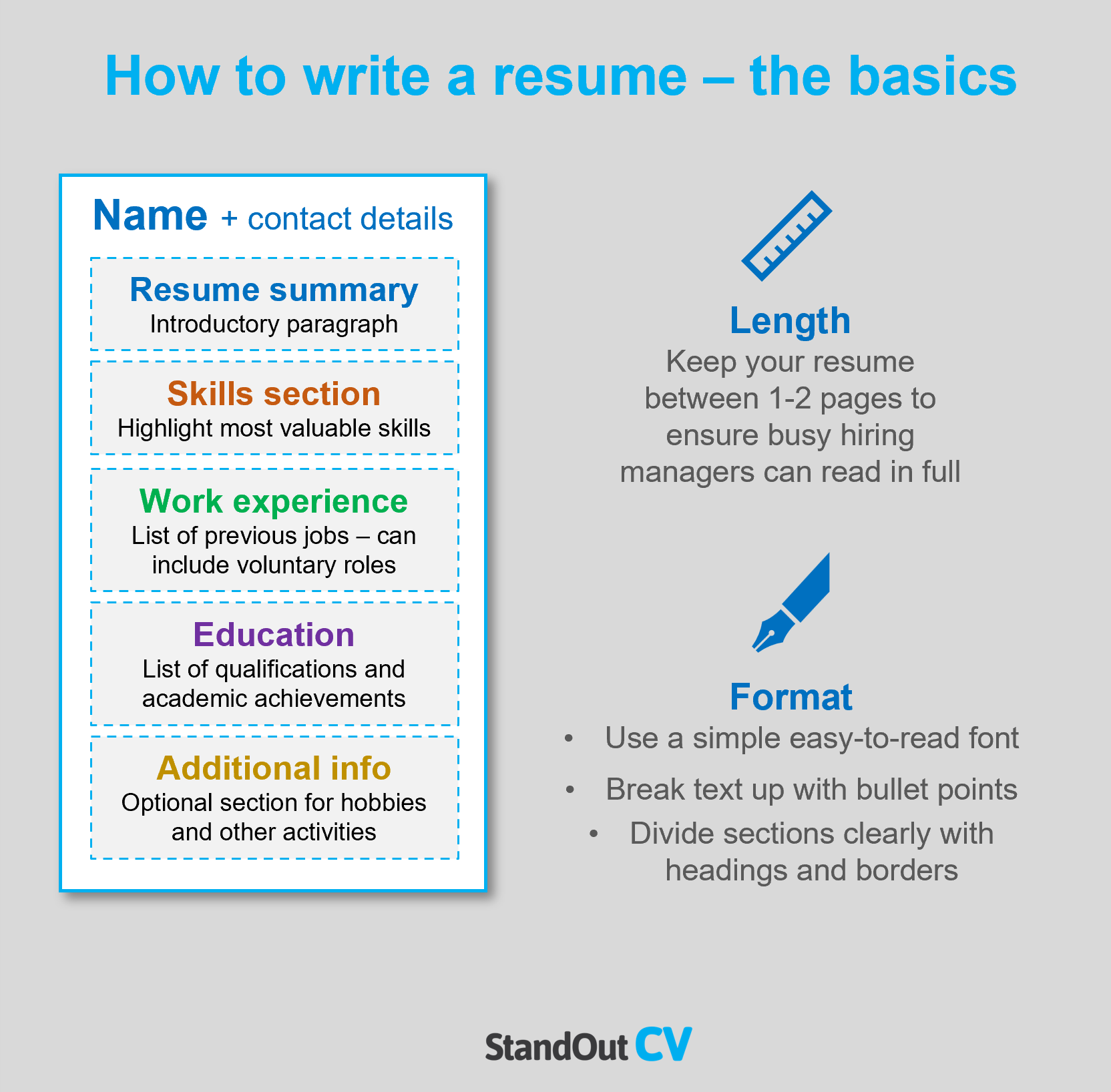 Formatting your resume
Length: To ensure that recruiters will read all of your resume, limit its length to 2 pages – as they someteimes read hundreds of resumes daily.
Font & readability: To create a resume that is easily digestible for hiring managers, it's essential to use an uncomplicated font and structure your content with bullet points and short paragraphs.
Layout: While creating an attractive resume, it is crucial not to compromise functionality for design. To ensure both, use bold headings and borders to structure the page into clear sections.
Photos: You are not obliged to add a photo to your resume in the USA, but it can be a nice way of adding some life to the document.
Quick tip: Achieving a professional look for your resume can be difficult and time-consuming. If you want to create an attractive resume quickly, try our partner's Resume Builder and use one of their eye-catching resume templates.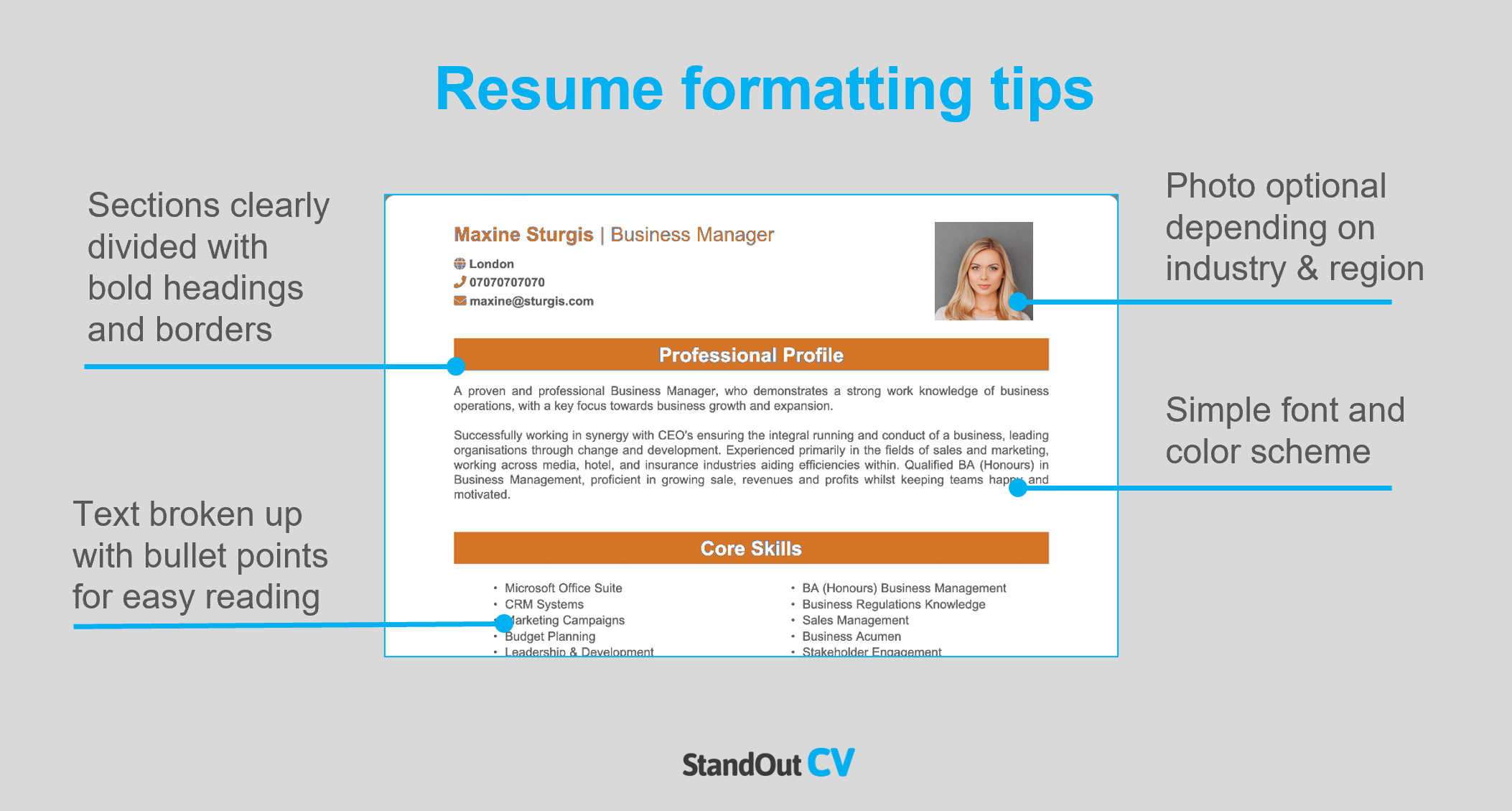 Resume layout
Your resume should include the following sections to give recruiters the information they require:
Name and Contact Details – Place your contact information at the top of your resume to make it easy for employers to get in touch with you.
Resume Summary – Write a brief introduction at the beginning of your resume that summarizes your most important qualifications and highlights why you are the ideal candidate for the job.
Skills Section – Include a concise list of your most relevant and impressive skills to quickly grab the attention of potential employers.
Work Experience – List your previous work experiences in reverse chronological order, including any volunteer work or college placements.
Education – List your educational qualifications and any professional training you have received.
Additional Information – This section is optional, but you can include details about your interests, hobbies, or any other relevant information that can make you stand out from other applicants.
Here's what to add to each section of your Amazon Warehouse Associate resume.
Contact Details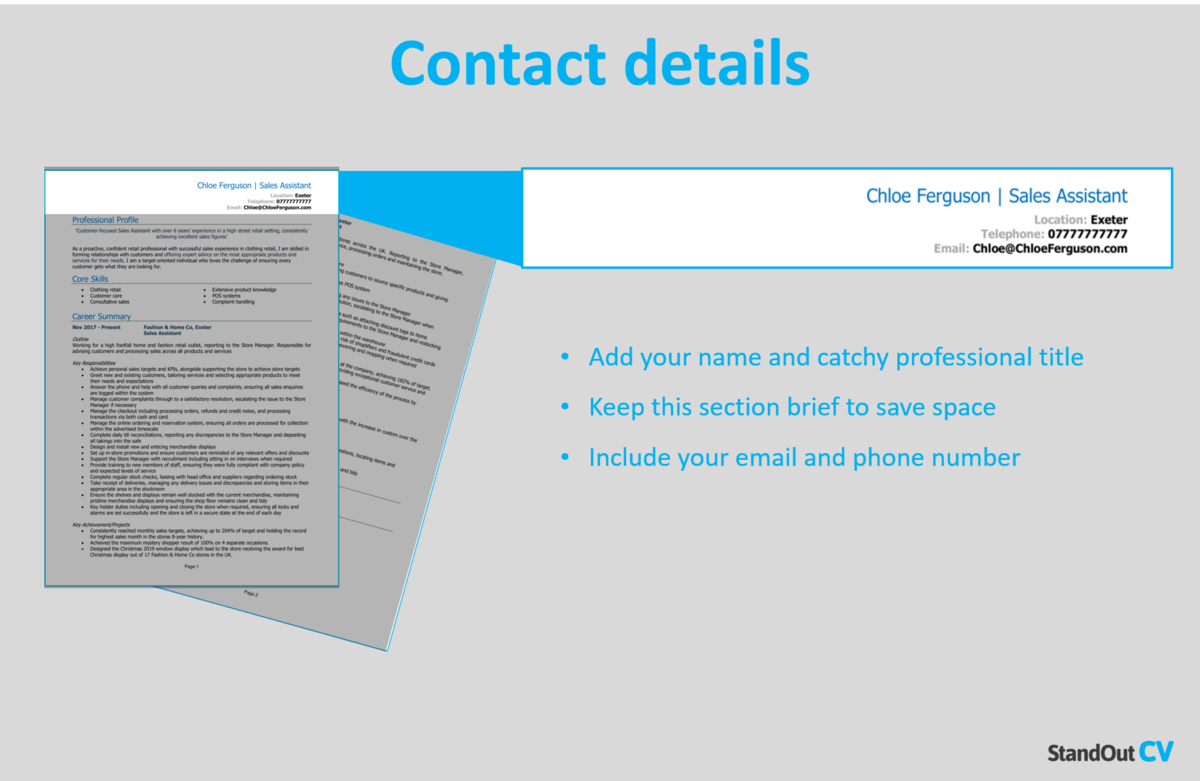 Keep your contact details short to save resume space and include the following.
Name and profession title
Cell phone number
Location – Add your local area such as Silicon Valley or New York, unless you are looking for work in a different location
Email address – Keep it professional and don't use an old address that you thought was cool in high school, but now looks a bit embarrassing.
You can add a link to your LinkedIn profile if you have one – you do not need to include personal details like date of birth or marital status.
Amazon Warehouse Associate Resume Summary
Now it's time to get into the real content of your resume, starting with the summary.
Your resume summary is a short paragraph at the top of the document, and its jobs is to catch the eye of hiring managers by summarizing all your skills and knowledge that are most important to the roles you are applying for.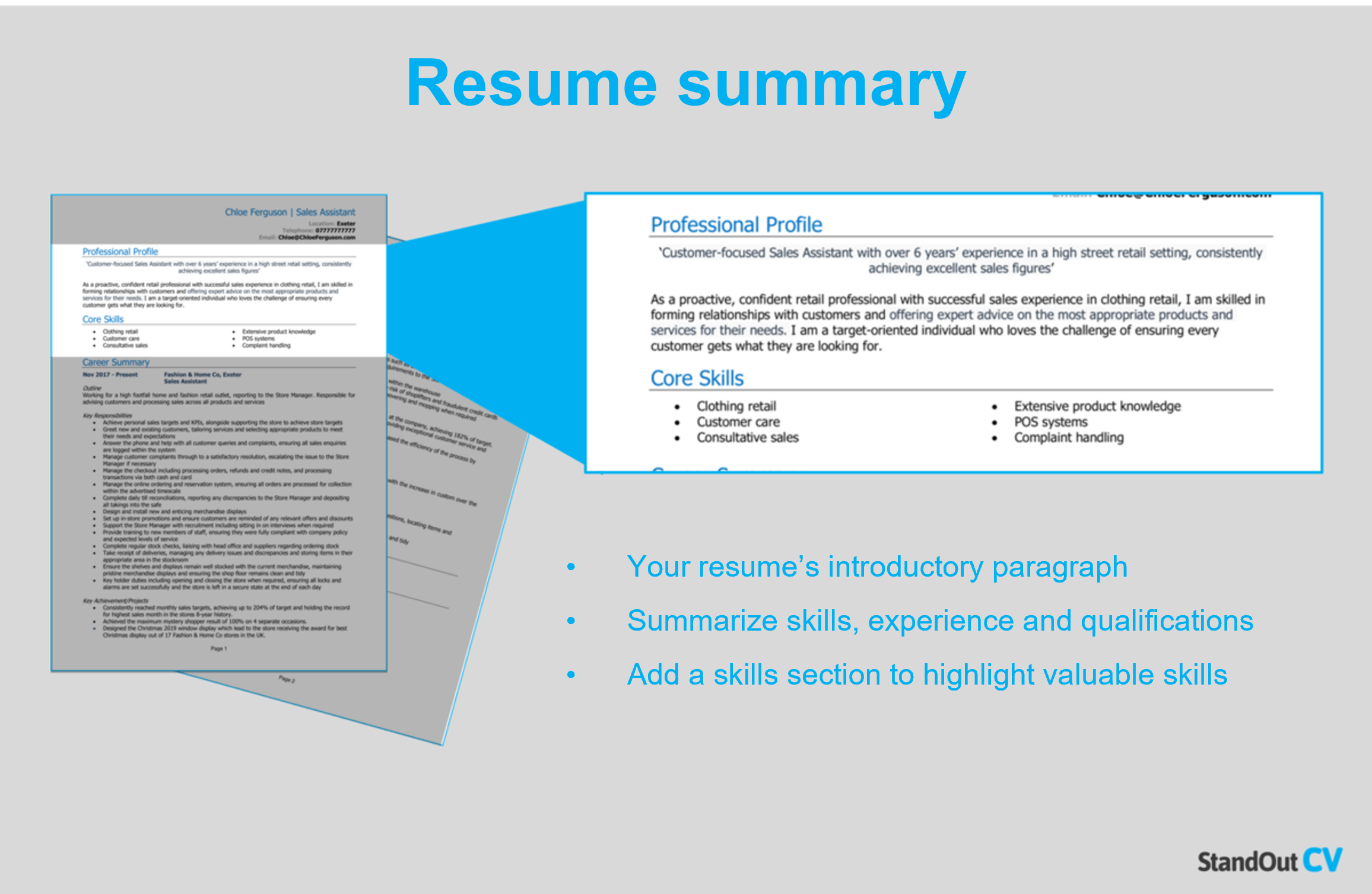 How to create a resume summary that will excite recruiters:
Keep it short: Attention spans are short in the job market, so keep your summary brief and high-level at around 4-7 lines – This is just enough to catch the eye of rushed hiring managers.
Tailor to target jobs: Recruiters will be scanning for the skills and knowledge they mentioned in the job description, so add as many as you can to your summary.
Avoid using cliches: Although you may believe that you're a "team player who always gives 110%," these kinds of cliches don't communicate much about your skills and qualifications to potential employers. It's more effective to stick to factual information in your resume.
Amazon Warehouse Associate resume summary example
Flexible Amazon Warehouse Associate with 10+ years of success in overseeing and observing inventory using specialized distribution center computer systems. Adept at perfectly packaging tech, F&B, and furniture products to assure safe transportation. Focused on simultaneously completing multiple projects according to tight deadlines, while guiding junior staff in fast-paced settings.
What to include in your Amazon Warehouse Associate resume summary?
Summary of your experience: Summarize the type of work you have done in the past and the ways in which you have contributed to the success of your previous employers.
Relevant skills: Incorporate your highly relevant skills for Amazon Warehouse Associate jobs to exhibit your suitability as soon as your resume is opened.
Qualifications: Showcase your level of education with a quick mention of any qualifications that are essential for the Amazon Warehouse Associate roles you are applying to.
Quick tip: Choose from hundreds of pre-written summaries across all industries, and add one to your resume with one-click in our partner's Resume Builder. All written by recruitment experts and easily tailored to suit your unique skillset and style.
Core skills section
Your core skills section, positioned just below your resume summary, provides recruiters with a quick glance at 4-10 of your most in-demand skills.
For Amazon Warehouse Associate jobs, where hiring managers may receive hundreds of applications, this section can help you stand out and immediately grab their attention.
To be effective, this section should consist of 2-3 columns of bullet points that highlight attributes that are highly relevant to the jobs you are targeting.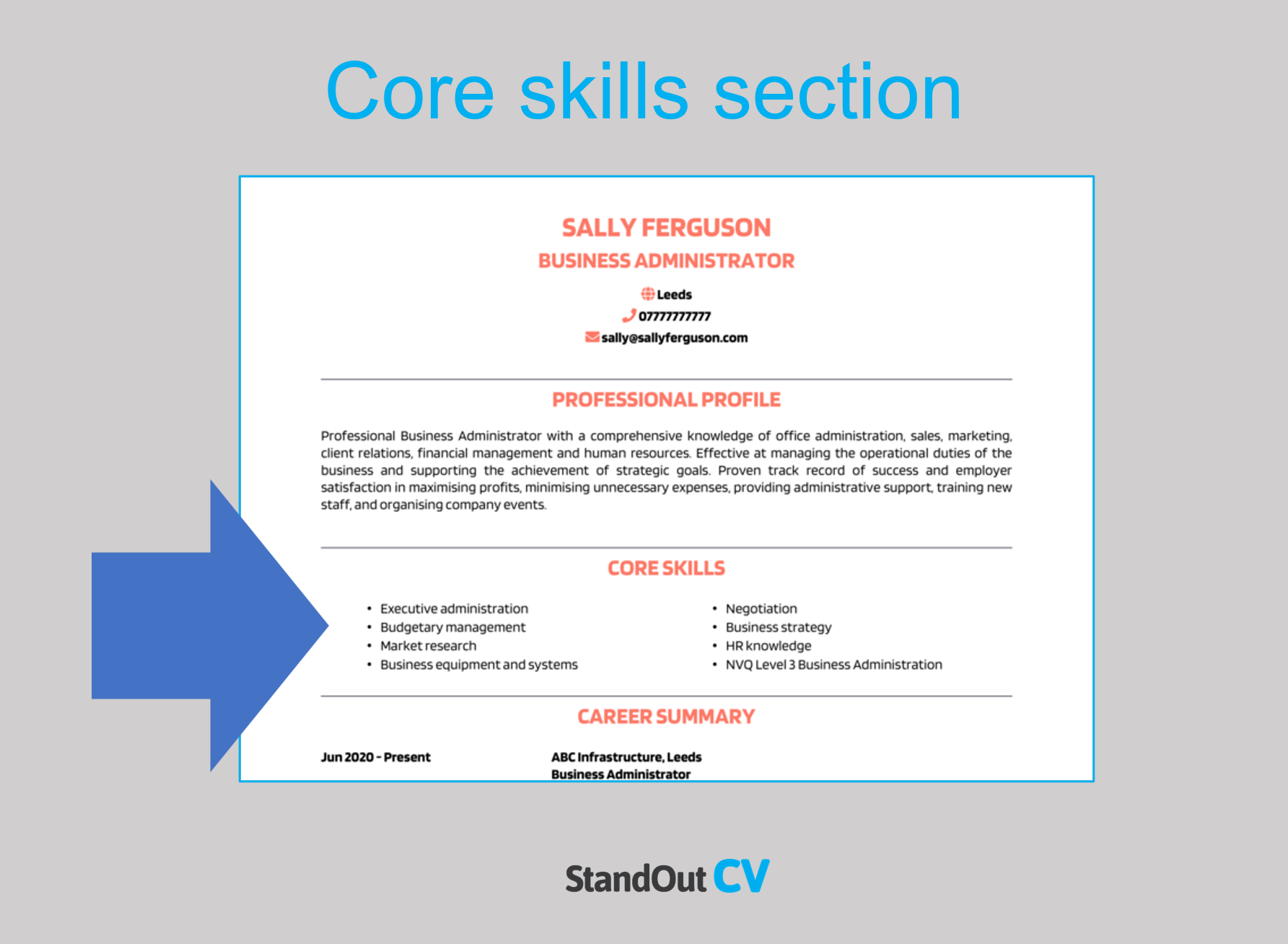 Best skills for your Amazon Warehouse Associate resume
Inventory Management – Managing and organizing inventory within the warehouse, including receiving, labeling, and tracking items.
Order Picking and Packing – Accurately picking and packing customer orders according to specified guidelines and standards.
Equipment Operation – Operating warehouse equipment such as forklifts, pallet jacks, and conveyors, ensuring safety and efficiency.
Quality Control – Inspecting items for quality and accuracy, ensuring that only defect-free products are shipped to customers.
Physical Stamina – Maintaining good physical endurance to perform tasks that require standing, walking, lifting, and moving heavy packages for extended periods.
Safety Compliance – Ensuring strict adherence to safety protocols and guidelines to maintain a safe working environment for oneself and fellow associates.
Technology Proficiency – Utilizing warehouse management systems, barcode scanners, and other technology tools used for inventory management.
Problem Resolution – Identifying and resolving operational issues or obstacles that may arise, contributing to a seamless workflow.
Quick tip: Our partner's Resume Builder contains thousands of in-demand skills for every profession that can be added to your resume in seconds – saving you time and greatly improving your chances of landing job interviews and getting hired.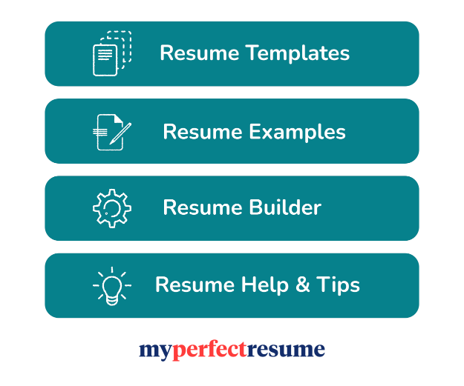 Work experience
Once you've got recruiters interested with your impactful summary, your work experience is where the real detail will lie.
Lay out your previous jobs from current to oldest, detailing what you contributed and achieved in each one.
If you're highly experienced you can cut this section down to your most recent few years of work, but if you are junior you can bulk this up with voluntary work and college placements.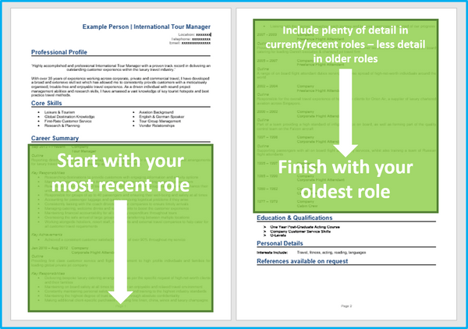 Structuring your jobs
Resume job descriptions contain lots of information, so its crucial to structure them well.
Use the structure below to ensure hiring managers can consume the information easily.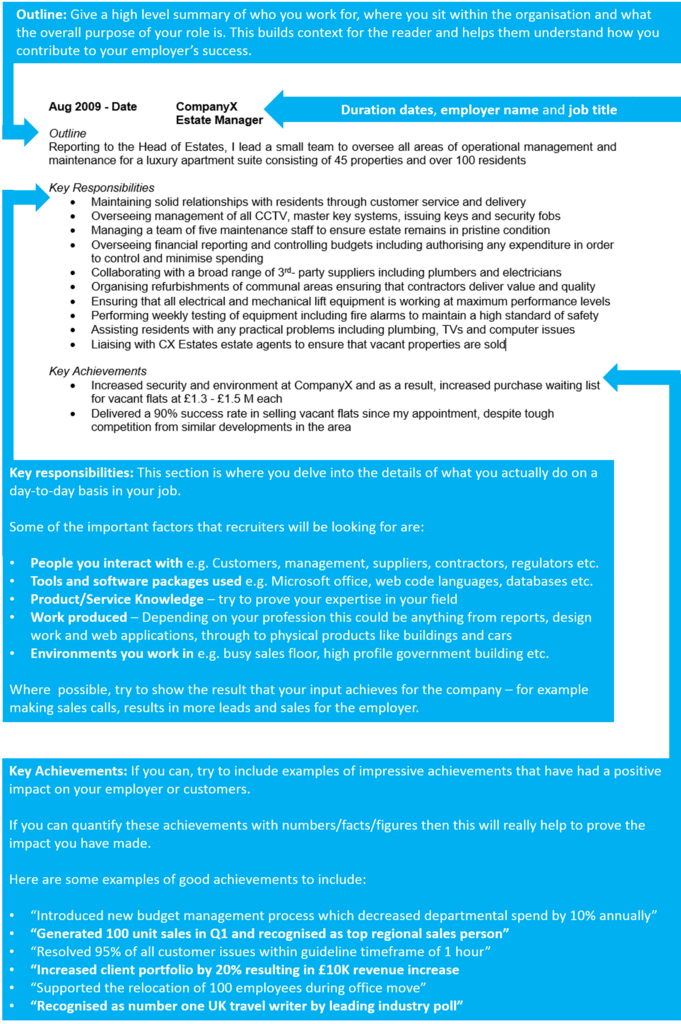 Job outline
Begin each job with a short summary of who the organization is, where you sit within it, and what the main goal of your position is.
Key responsibilities
The bulk of the role description should be comprised of bullet points that explain all of your duties in the job.
Keep the sentences short and simple to make them easy for recruiters to digest.
Key achievements
Show employers the value you can bring to them by adding a few achievements to your jobs.
Whether you've saved the company money or improved an internal process, let recruiters know
Add some numbers to give readers a real scale of the impact, e.g. "reduced call wait time by 10%"
Example job for Amazon Warehouse Associate resume
Outline
Execute various tasks related to the organization and shipments within a fulfillment center where orders are received, stored, packed in boxes, crates, or containers, and then shipped out to customers.
Key Responsibilities
Participate in important meetings to discuss operational objectives, and contribute ideas for enhancements.
Offload incoming shipments from trucks and verify their accuracy and condition against manifests as expected.
Utilize forklifts, or conveyor systems to move items to suitable storage locations.
Maintain inventory files by scanning, labeling, and tracking IT gadgets using relevant devices, while ensuring proper storage to maximize efficiency and facilitate easy retrieval.
Quick tip: Create impressive job descriptions easily in our partner's Resume Builder by adding pre-written job phrases for every industry and career stage.

Education section
Towards the bottom of your resume, add your education section.
Here you should list your professional qualifications and academic record, such as high school diplomas or college degrees.
If you have lots of work experience, you can keep this section brief (because recruiters will be more interested in your career. If you have little/no experience then you should bulk this section up with plenty of detail.
Additional information
At the end of your resume, you can add any extra information that might be relevant to the jobs you are applying for.
This could be hobbies, interests, publications, clubs or memberships.
This section is optional and doesn't need to be added if you have nothing more relevant to add.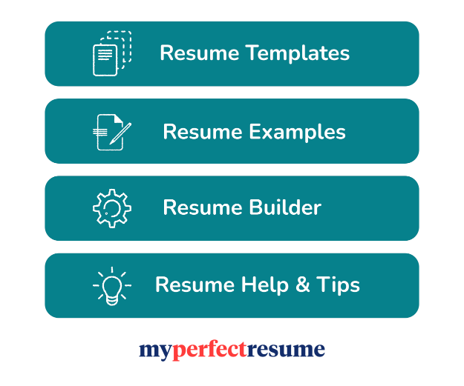 Writing your own winning Amazon Warehouse Associate resume
By tailoring your resume to the specific job and industry you are targeting and ensuring that it effectively communicates your professional value, you can position yourself as a top candidate for all Amazon Warehouse Associate positions.
Good luck with your job search!