Are you ready to take the next step in your Air Force career?
You can continue to make a real difference by commanding, training, and supporting your fellow Air Force personnel.
But first, you need to secure the role, and we can help you to do this. Check out our comprehensive writing tips and Air Force resume example in the guide below.
Contents
| | |
| --- | --- |
| How to write an Air Force resume | |

Air Force Resume Example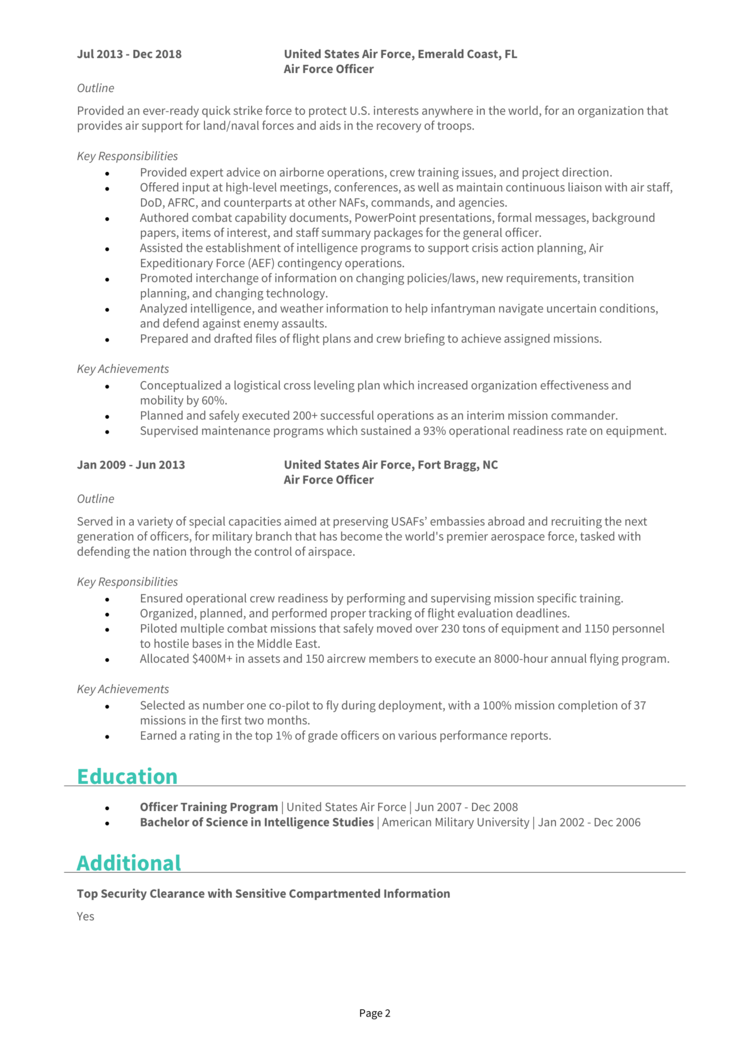 This Air Force Officer resume example gives you a good idea of how a good Air Force resume should look and read.
The information is presented professionally and the content is well structured to ensure that time-strapped recruiters and hiring managers can find the important skills and knowledge quickly.
Refer to this example as you write your own resume.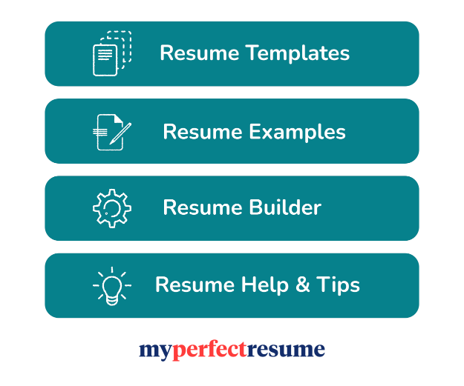 Air Force resume layout and formatting
Formatting is often overlooked when writing resume, but it's a crucial element of it"s success.
Creating a document that not only looks good, but is easily comprehended, is the key to gaining and holding the attention of busy hiring managers.
Use these formatting tips for best results.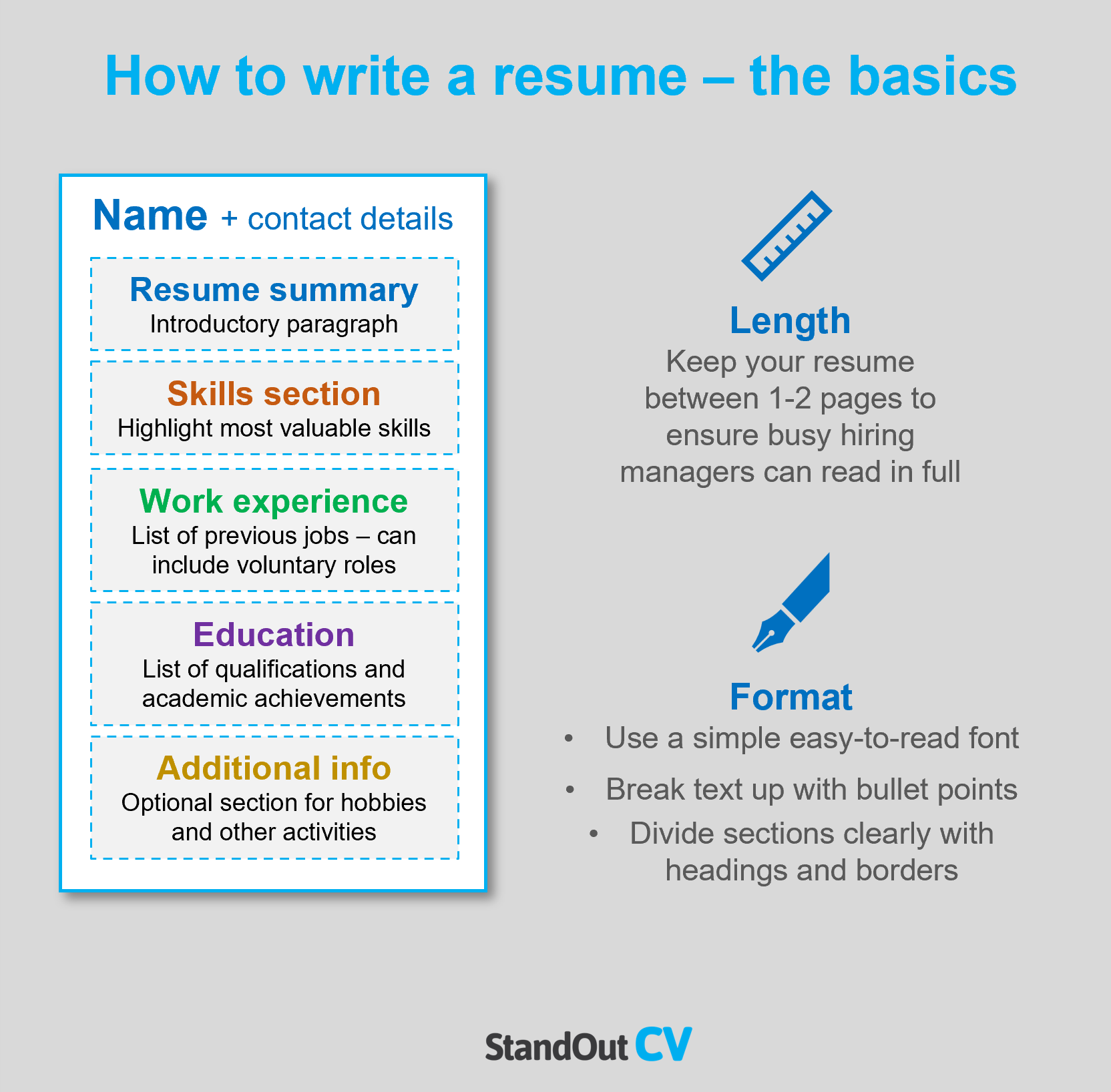 Formatting your resume
Length: As recruiters have a limited amount of time to review each resume they see, keep your resume to 2 pages or less to increase the chances of it being thoroughly reviewed.
Font & readability: Readability is the name of the game when it comes to your resume. Ensure yours is a dream to read by using a simple clear font, and breaking the text up with plenty of bullet points and short paragraphs.
Layout & Structure: Your resume should look appealing – but don't overlook functionality when it comes to design. Organise the page into clear sections using bold headings and borders.
Photos: Although it's not mandatory to include a photo on your resume in the United States, it may be a good idea to do so in certain regions and industries where it is preferred.
Quick tip: Achieving a professional look for your resume can be difficult and time-consuming. If you want to create an attractive resume quickly, try our partner's Resume Builder and use one of their eye-catching resume templates.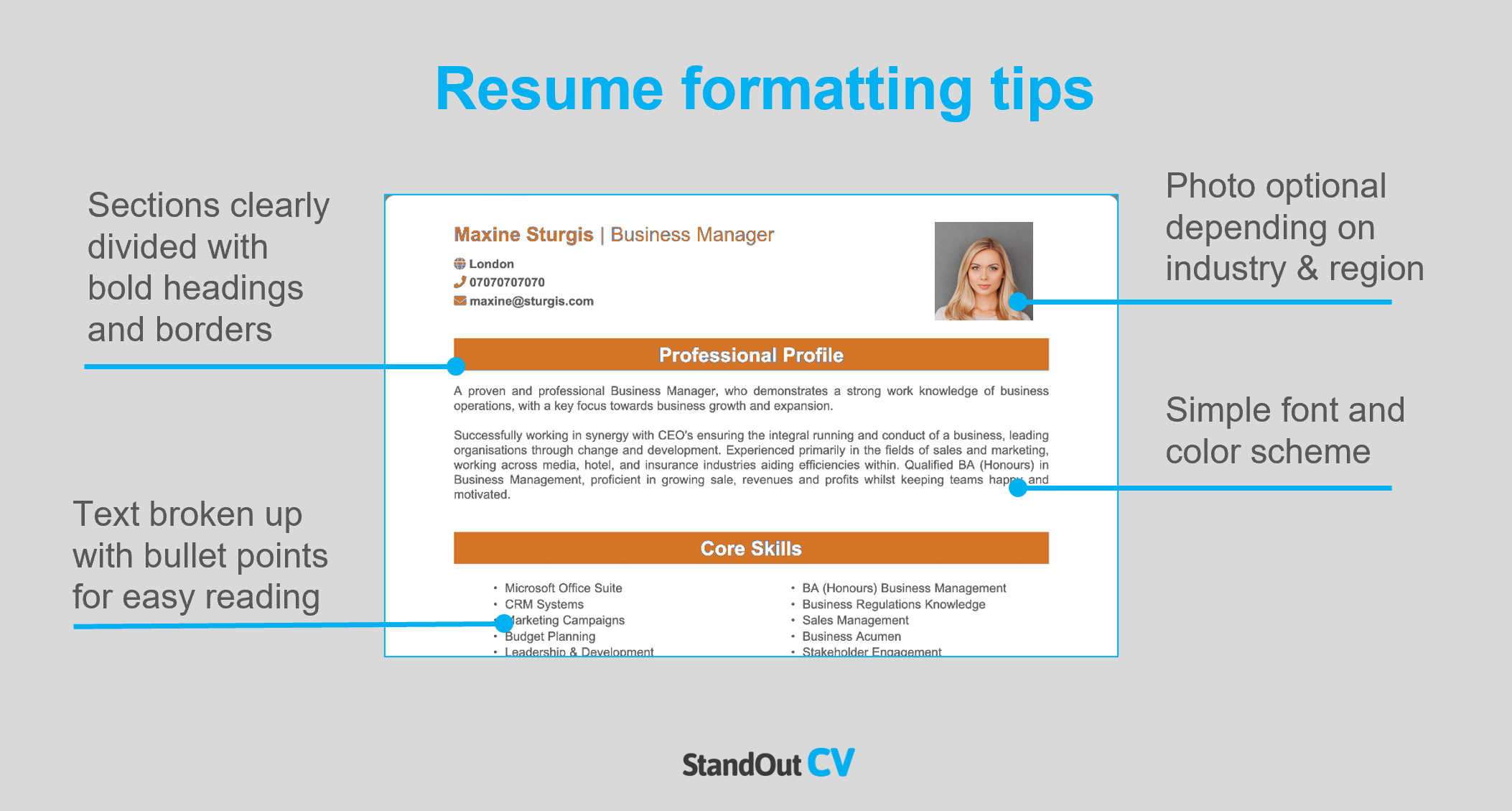 Resume layout
Include the following sections when you write your resume.
Name and contact details – Make it easy for employers to contact you, by putting these at the top.
Resume summary – An intro paragraph sitting at the top of your resume, summarizing the reasons why you should be hired.
Skills section – A short snappy list of your most important skills, that can be quickly digested
Work experience – Reverse chronological list of your previous jobs – voluntary work and college placements can be included if you have no paid experience.
Education – List your qualifications and professional training.
Additional info – An optional section for things like hobbies and interests.
Here's what to include in each part of your resume.
Contact Details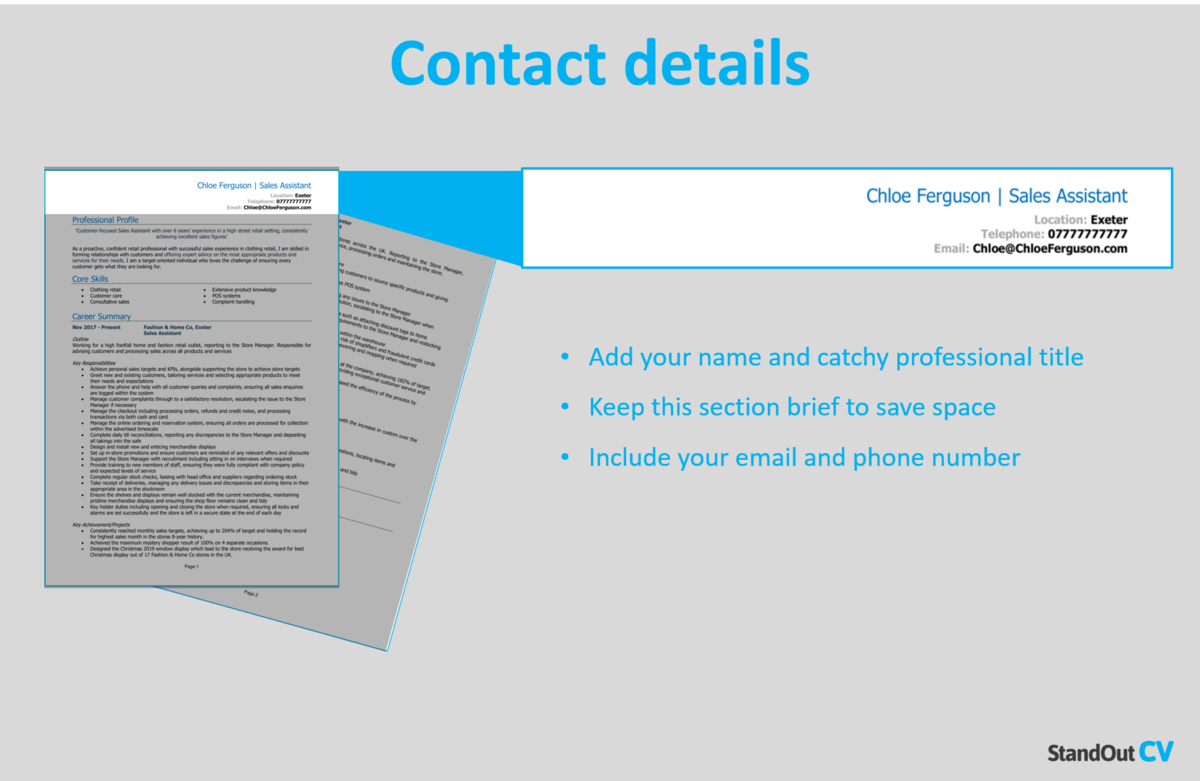 Keep your contact details short to save resume space and include the following.
Name and profession title
Cell phone number
Location – Add your local area such as Silicon Valley or New York, unless you are looking for work in a different location
Email address – Keep it professional and don't use an old address that you thought was cool in high school, but now looks a bit embarrassing.
You can add a link to your LinkedIn profile if you have one – you do not need to include personal details like date of birth or marital status.
Air Force Resume Summary
Grab the attention of recruiters right away by including a compelling summary at the top of your resume that summarizes your most valuable skills and experience.
This brief yet impactful section enables you to demonstrate why you're the best candidate for the job and convince recruiters to keep reading.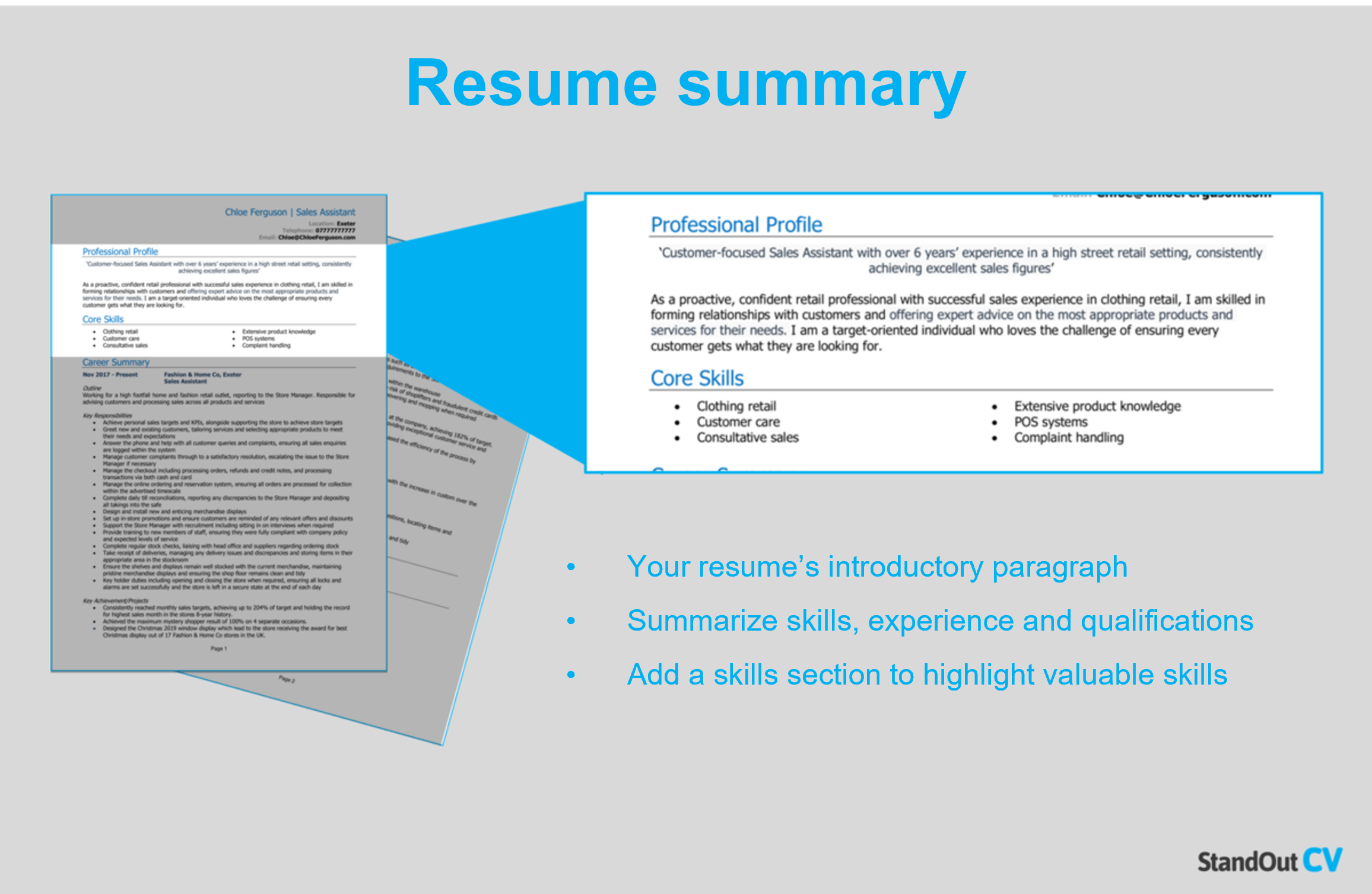 How to create a resume summary that will excite recruiters:
Keep it short: Aim for a short punchy paragraph of 4-7 lines. This is just enough info to showcase why you'd make the perfect hire, without going into excessive detail and overwhelming busy recruiters at such an early stage in the resume.
Tailor to target jobs: To mirror your target jobs, scrutinize the job description and include as many relevant skills as possible in your resume.
Avoid using cliches: Although you may believe that you're a "team player who always gives 110%," these kinds of cliches don't communicate much about your skills and qualifications to potential employers. It's more effective to stick to factual information in your resume.
Air Force Officer resume summary example
Patriotic Air Force Officer with a passion for planning and supervising flying missions, the repair/maintenance of planes, helicopters, and radio equipment, as well as providing movement of freight and personnel. Adept at helping in search and rescue operations, and disaster relief efforts in the U.S. and overseas. Accustomed to managing budgets to ensure costs effectively controlled, while coordinating with cross-functional units to optimize USAF operations.
What to include in your Air Force resume summary?
Summary of your experience: What kind of companies have you worked for in the past? And which jobs have you carried out?
Relevant skills: Instantly showcase your suitability for Air Force jobs by including your skills that are highly relevant to them.
Qualifications: Any qualifications that are important to the Air Force jobs you are applying for, should be mentioned in the summary.
Quick tip: Choose from hundreds of pre-written summaries across all industries, and add one to your resume with one-click in our partner's Resume Builder. All written by recruitment experts and easily tailored to suit your unique skillset and style.
Core skills section
Next, you should create a bullet pointed list of your core skills, formatted into 2-3 columns.
Here, you should focus on including the most important skills or knowledge listed in the job advertisement.
This will instantly prove that you're an ideal candidate, even if a recruiter only has time to briefly scan your resume.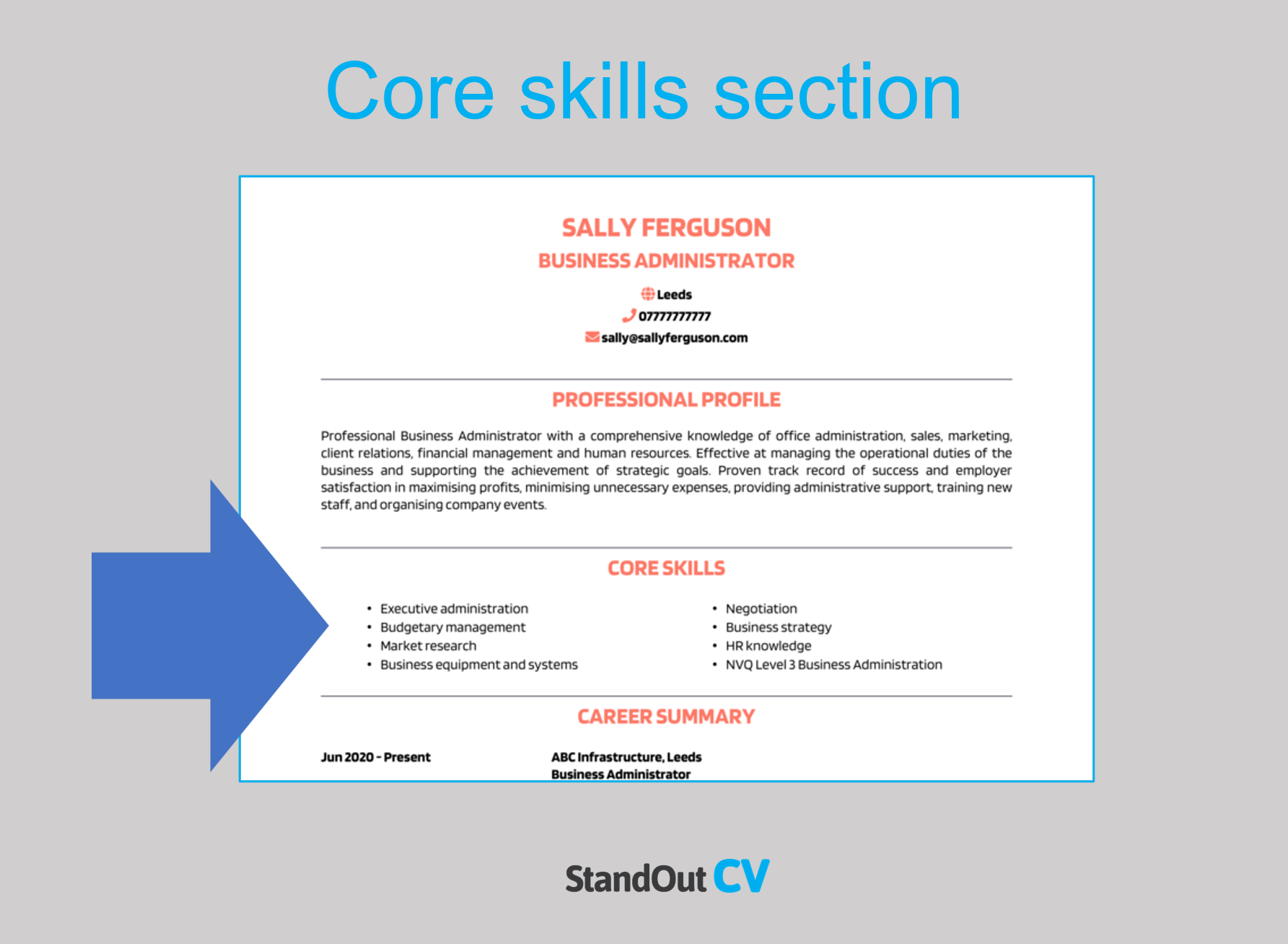 Best skills for your Air Force resume
Aircraft maintenance – Maintaining and repairing aircrafts, including engines, avionics, and mechanical systems, to ensure safe and efficient flight operations.
Flight operations – Maintaining knowledge of flight operations, including flight planning, air traffic control, and navigation, to ensure safe and efficient flight operations.
Weapons handling – Maintaining an in depth understanding of weapon systems and safety procedures, including handling, loading, and unloading of weapons, to ensure the safe and effective use of weapons in combat situations.
Emergency response – Responding quickly and effectively in emergency situations, including aircraft crashes, fires, and other disasters, to minimize damage and save lives.
Communications technology – Maintaining knowledge of communications technology, including radios, satellites, and computer networks, to maintain communication with other aircraft and ground personnel.
Leadership and management – Leading and managing teams of personnel, including pilots, technicians, and support staff, to ensure mission success.
Security protocols – Maintaining an in depth understanding of security protocols and procedures, including access control, perimeter security, and threat assessment, to ensure the safety and security of personnel and equipment.
Cultural competency – Working effectively with individuals from diverse backgrounds, including foreign nationals, to ensure effective collaboration and communication in international missions.
Logistics and supply chain management – Maintaining a strong understanding of logistics and supply chain management, including procurement, inventory management, and distribution, to ensure that personnel and equipment are properly supplied and supported.
Physical fitness – Maintaining physical fitness, including strength, endurance, and agility, to ensure that personnel can perform their duties in physically demanding situations.
Quick tip: Our partner's Resume Builder contains thousands of in-demand skills for every profession that can be added to your resume in seconds – saving you time and greatly improving your chances of landing job interviews and getting hired.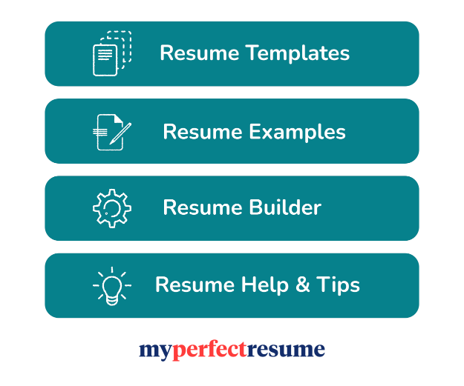 Work experience
Now that you've reeled recruiters in with your awesome summary, it's time to delve into your work experience.
Here you'll list your previous jobs (starting with your most recent and working backward) and showcase how you apply your skills in the workplace.
Provide lots of detail in recent jobs, and less in older roles.
If you have no relevant paid experience, you can include voluntary work and placements – but if you have lots of experience, you can leave out some of the really old jobs.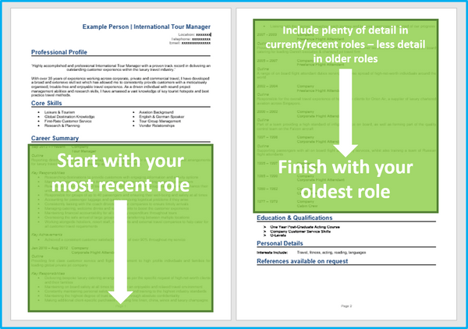 Structuring your jobs
You probably do a lot in your job, so its vital to break all of that information down into a good structure.
Structure your jobs as follows to make it easy for recruiters to skim through and pinpoint the essential info.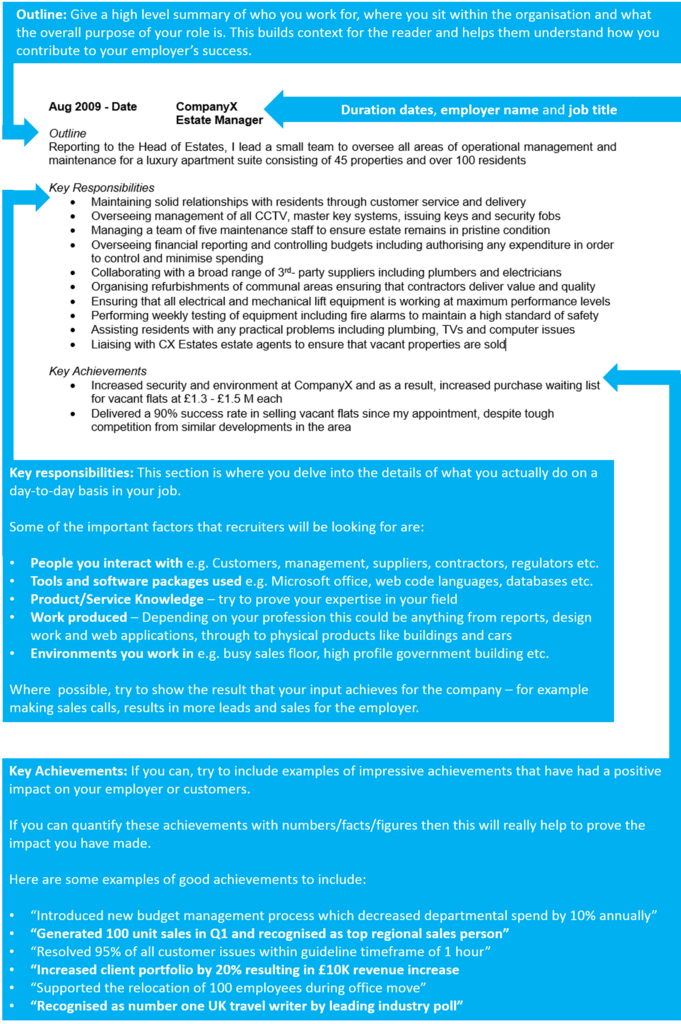 Job outline
Begin each job with a short summary of who the organization is, where you sit within it, and what the main goal of your position is.
Key responsibilities
Next, write up a punchy list of your daily duties and responsibilities, using short bullet points.
Describe how you apply your skills and contribute to the running of the employer's business – highlighting skills which are applicable to your target jobs.
Key achievements
Show employers the value you can bring to them by adding a few achievements to your jobs.
Whether you've saved the company money or improved an internal process, let recruiters know
Add some numbers to give readers a real scale of the impact, e.g. "reduced call wait time by 10%"
Example job for an Air Force Officer resume
Outline
Teach leadership curriculum to future officers, as well as participate in forecasting, budgeting, manpower allocation, and resource distribution, for the service branch of the United States Armed Forces that focuses on air warfare, air defense, and the development of military space research.
Key Responsibilities
Coordinate the planning and organization of flying operations and aircrew training activities of assigned unit forces.
Support military operations to ensure combat, humanitarian, disaster relief, and logistical processes are effectively carried out.
Conduct troop leading procedures and military decision-making functions, while formulating operations orders for personnel.
Manage individual/collective training critical for performing tasks to succeed in battle.
Quick tip: Create impressive job descriptions easily in our partner's Resume Builder by adding pre-written job phrases for every industry and career stage.

Education section
Nearing the end of your resume, your education/qualifications section should be added.
In a well-structured list, add all of your qualifications and certifications that qualify you to perform a typical Air Force role.
If you have plenty of work experience, keep this section brief – if not, add lots of detail to make up for your lack of experience.
Additional information
The bottom of your resume is a place to add any "additional info"
Any other info that didn't fall into any of the previous sections can be added here.
If you have hobbies that are related to your profession or any awards or publications – add them here.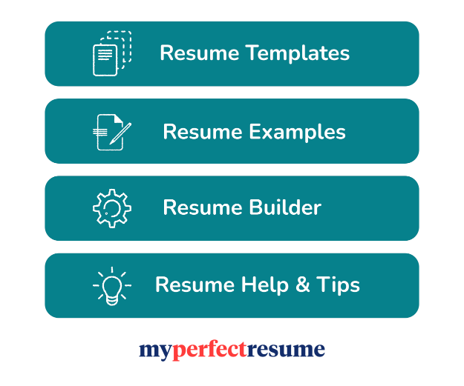 Writing your own winning Air Force resume
Following the steps in this guide will help you to create a winning Air Force resume and bag lots of interviews.
Good luck with your job search!