You're an expert at supervising and directing a large group of volunteers, but writing a great resume doesn't come as naturally to you.
But that's OK; that's where we come in!
In the guide below, we'll teach you how to craft an impressive application using our step-by-step process, alongside our volunteer program coordinator resume example.
Contents
| | |
| --- | --- |
| How to write a Volunteer Program Coordinator resume | |

Volunteer Program Coordinator Resume Example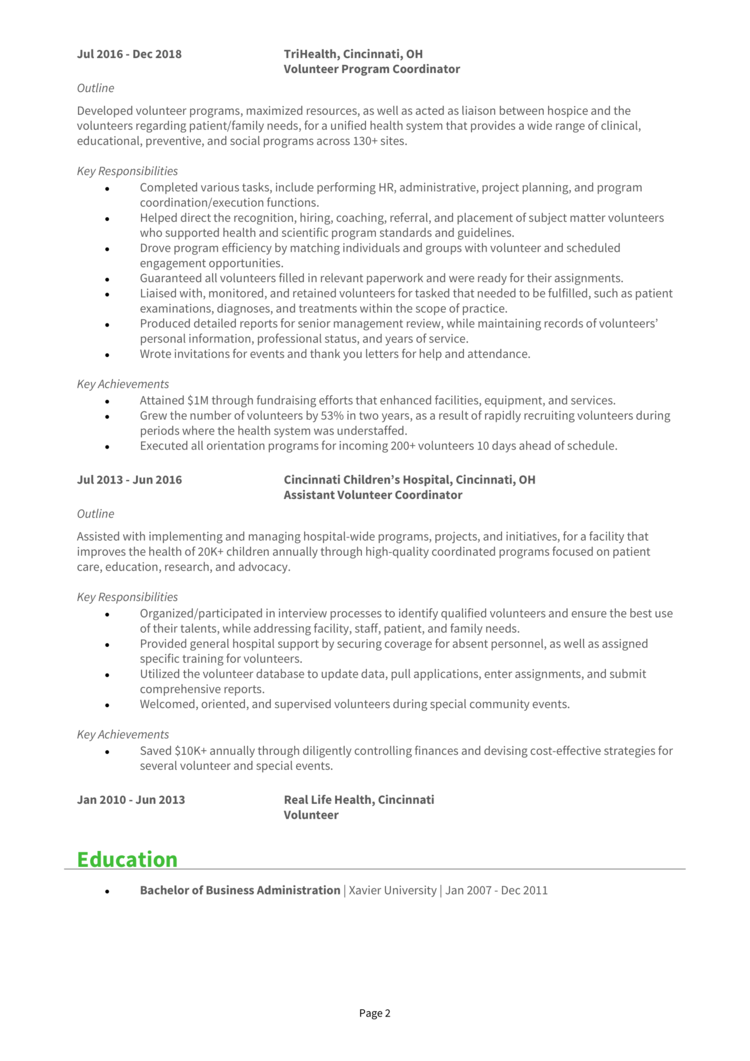 This example Volunteer Program Coordinator resume provides you with a general idea of how your resume should look, and what information recruiters expect to see.
The rest of this guide will explain how to layout your resume and create each section effectively.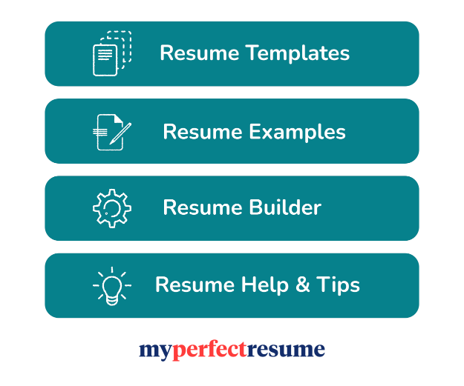 Volunteer Program Coordinator resume layout and format
Formatting and structuring your resume correctly is key to landing job interviews.
Your resume needs to look attractive, but more importantly it needs to be easy for recruiters and hiring managers to read and digest the information.
These tips will help you to do that: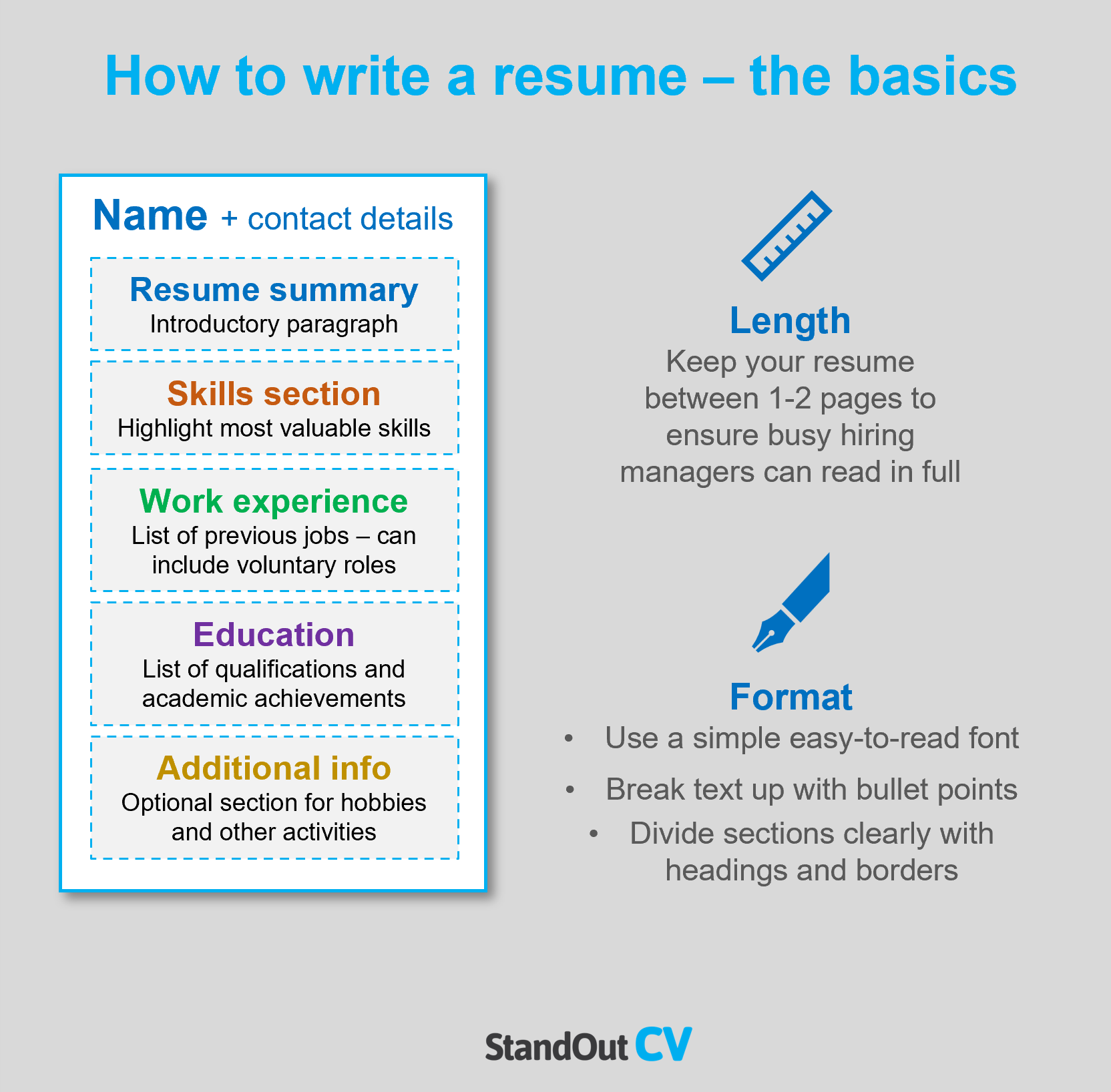 Formatting your resume for success
Length: Attention spans in recruitment are notoriously short, so keep your resume short and sweet. There's no exact rule for resume length, but aim for 2 pages or less if you want to ensure yours gets read in full.
Font & readability: Readability is the name of the game when it comes to your resume. Ensure yours is a dream to read by using a simple clear font, and breaking the text up with plenty of bullet points and short paragraphs.
Layout & Structure: Allow recruiters to skim through your resume with ease, by dividing the page into clear sections with headings and borders. The design of your resume should be eye-catching but not overly complex – keep the style and color scheme simple and clean.
Photos: It's not mandatory to add a photo to your resume in the USA but it if you're applying to organizations within the creative fields, it can be beneficial.
Quick tip: Achieving a professional look for your resume can be difficult and time-consuming. If you want to create an attractive resume quickly, try our partner's Resume Builder and use one of their eye-catching resume templates.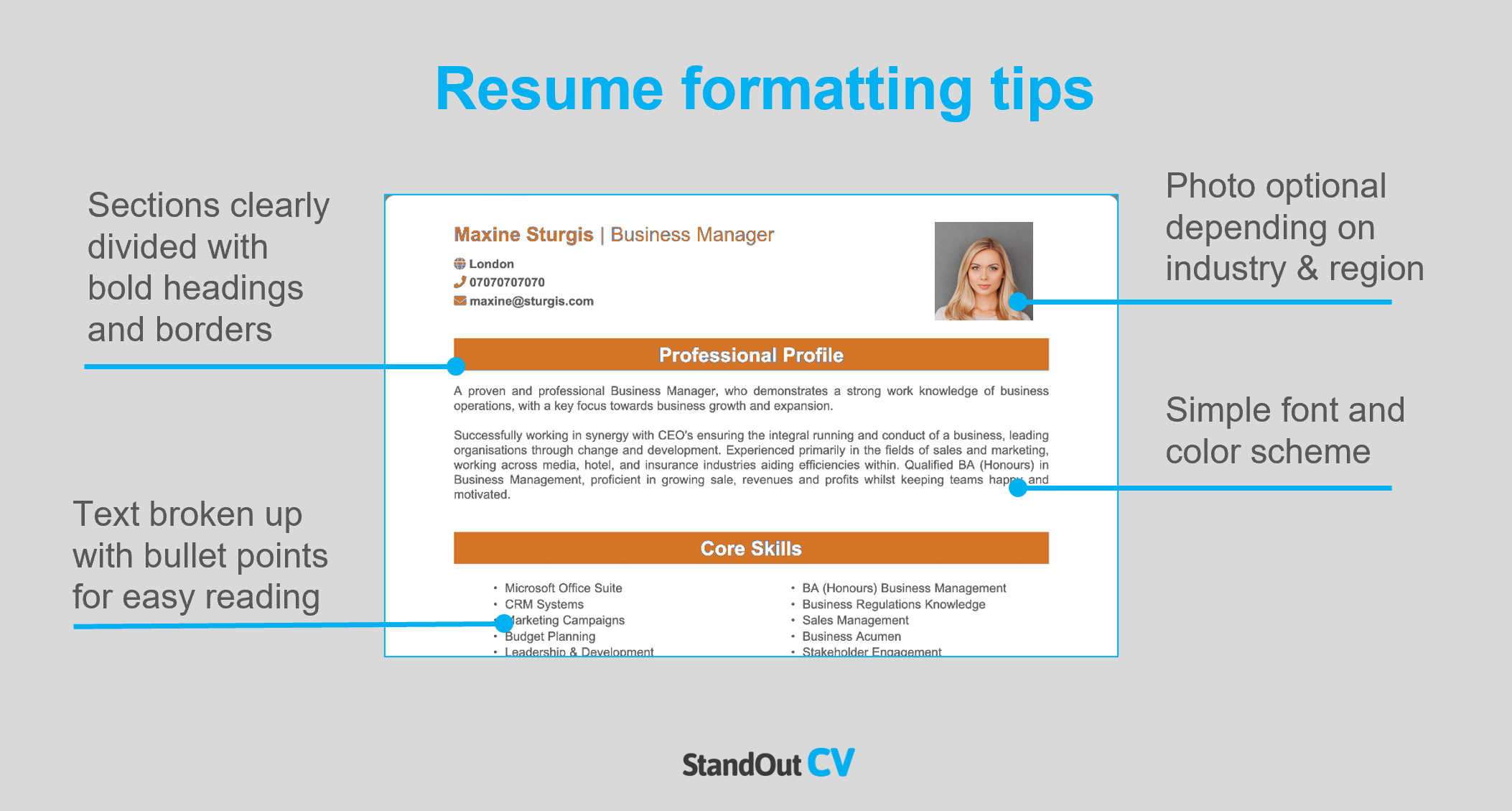 Resume layout
Divide the page into these sections when you write your own resume.
Name and contact details – Simply state who you are, and how to get in touch with you.
Resume summary – An introductory paragraph at the very top of your resume which summarizes your skills, experience and suitability for your target jobs.
Core skills section – A bullet-pointed list of your skills that relate most to your target jobs.
Work experience – A list of your current and previous jobs, including all of your responsibilities and achievements.
Education – A section that showcases all of your education and academic achievements.
Additional info (optional) – Here you can add an extra section for things like hobbies and interests, or anything else that might be relevant to your target jobs.
Here's what to include in each part of your resume.
Contact Details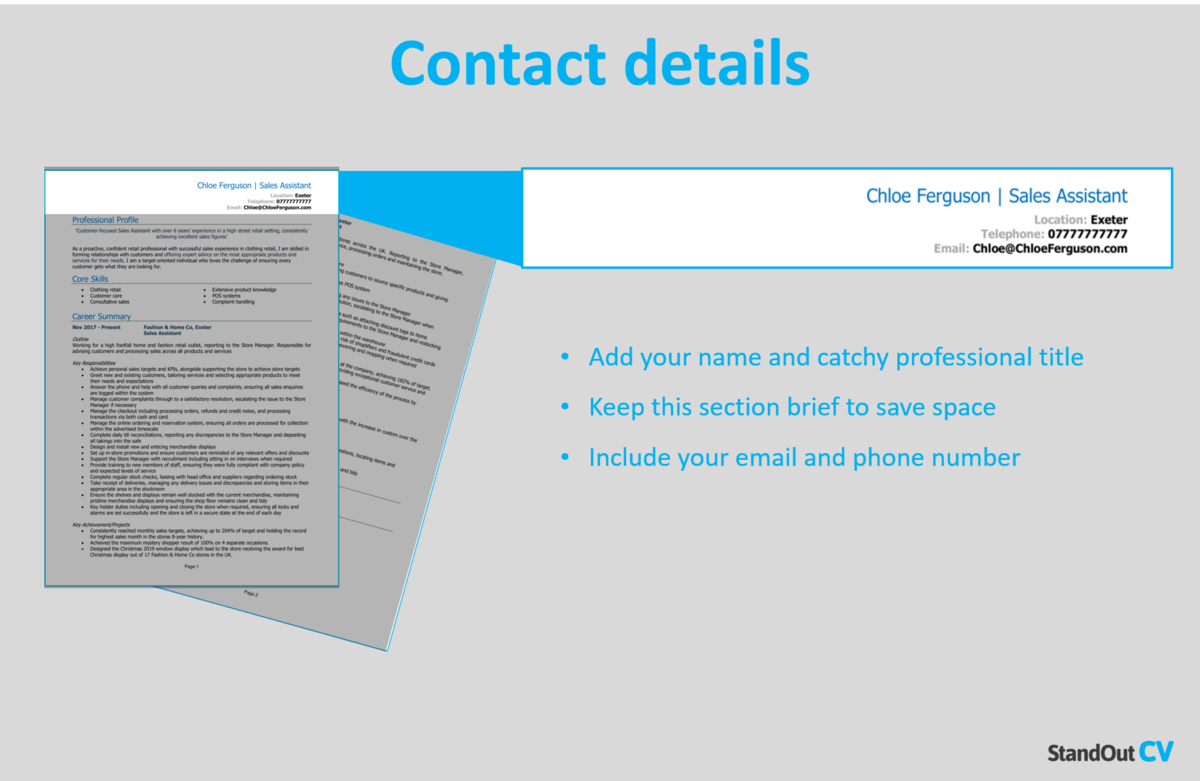 Add your name and contact details to the very top of your resume, making it easy for recruiters to get in touch
Name and profession title
Cell phone number – or another number you can answer quickly
Location – Add your local area such as San Diego or New York – not your full address as that will take up too much space.
Email address – Use your name or close variation – no nicknames from high school.
You can add a link to your LinkedIn profile if you have one – you do not need to include personal details like date of birth or marital status.
Volunteer Program Coordinator Resume Summary
Start your resume with a bang by adding a powerful summary to the top, summarizing your most valuable skills and experience.
This short paragraph is your chance to show recruiters why you are a perfect fit for the job and encourage them to read more of your resume.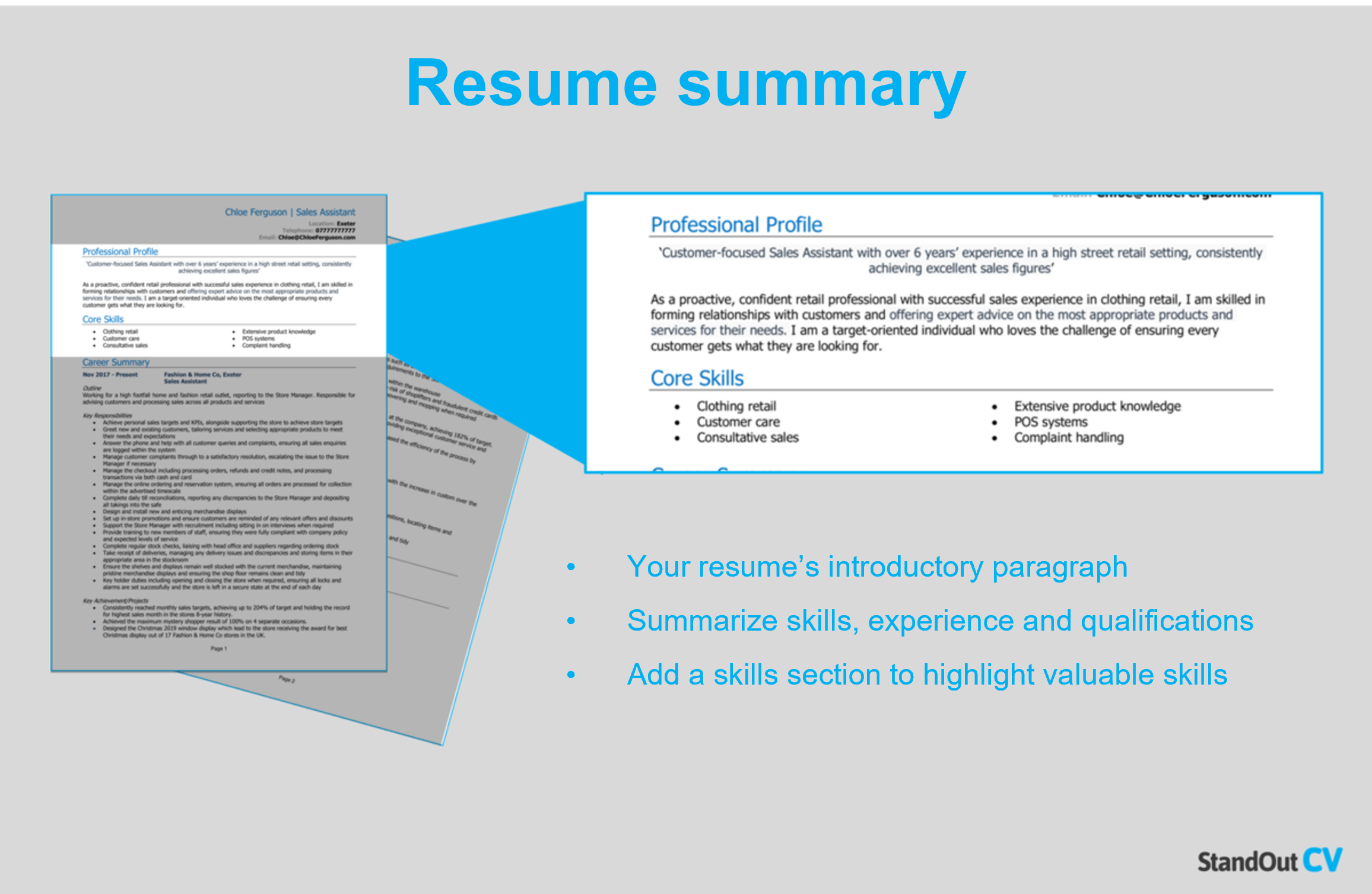 How to create a resume summary that will get you noticed:
Keep it short: You only have a few seconds to grab a recruiters' attention and make them commit to your resume, so keep your summary between 4 – 7 lines.
Tailor to target jobs: Optimize your summary to match the requirements of your target jobs, by mirroring the key words from the job description as closely as possible.
Avoid using cliches: You may be a "team player who always give 110%" but generic phrases don't tell employers much about you in reality – stick to factual information.
Example resume summary for Volunteer Program Coordinator
Motivated Volunteer Program Coordinator with experience in handling all program aspects, such as recruiting new volunteers based on their skill set and conveying the organization's purpose to the public. Adept at using marketing tools which include outreach initiatives, e-mails, and databases to promote volunteer opportunities. Passionate about engaging with people from diverse ethnic, cultural, educational, and socioeconomic backgrounds.
What to include in your Volunteer Program Coordinator resume summary?
Summary of experience: Provide a summary of the kind of work you have previously done, along with the benefits you have delivered to the organizations you worked with.
Relevant skills: Skills that are highly relevant to Volunteer Program Coordinator work should be made prominent throughout your summary.
Qualifications: Mention any Volunteer Program Coordinator qualifications that are important to your profession in the summary briefly, to show you are qualified to carry out the role.
Quick tip: Choose from hundreds of pre-written summaries across all industries, and add one to your resume with one-click in our partner's Resume Builder. All written by recruitment experts and easily tailored to suit your unique skillset and style.
Core skills section
Next, you should create a bullet pointed list of your core skills, formatted into 2-3 columns.
Here, you should focus on including the most important skills or knowledge listed in the job advertisement.
This will instantly prove that you're an ideal candidate, even if a recruiter only has time to briefly scan your resume.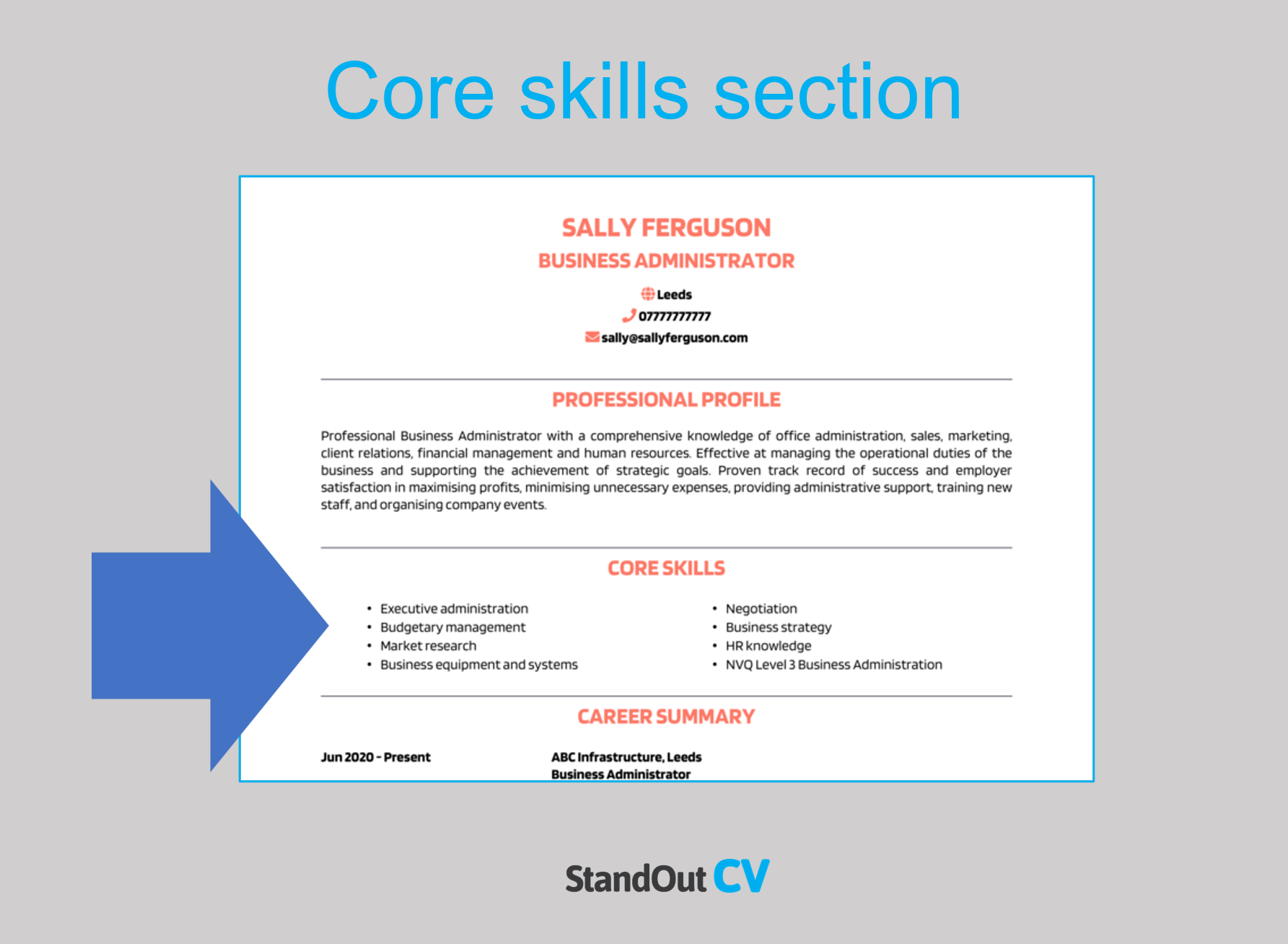 Best skills for your Volunteer Program Coordinator resume
Project management – Planning, executing, and controlling projects, including setting timelines and budgets, delegating tasks, and tracking progress to achieve program goals.
Cross-functional communication – Using strong communication skills to effectively liaise between the organization, volunteers, and other stakeholders, including being able to write, speak, and listen with clarity and understanding, using appropriate tone and terminology for various audiences.
Schedule and documentation management – Managing volunteer schedules, tracking volunteer progress, and maintaining detailed records of volunteer involvement and program outcomes.
Motivating leadership – Leading and motivating volunteers and providing direction and guidance to support successful volunteer programs.
Volunteer recruitment – Recruiting volunteers from a range of sources, including outreach to community groups and online promotion, and providing relevant training for volunteers.
Problem resolution – Identifying problems and creating solutions to overcome them, including resolving conflicts, managing difficult volunteers, and finding innovative ways to engage volunteers in the program.
Event planning – Planning and coordinating volunteer events, including logistics, supplies, and coordination with volunteers, staff, and other stakeholders.
Knowledge of volunteerism – Maintaining a deep and current understanding of volunteerism, including best practices, legal and ethical considerations, and current trends in the field to continuously improve the volunteer program.
Quick tip: Our partner's Resume Builder contains thousands of in-demand skills for every profession that can be added to your resume in seconds – saving you time and greatly improving your chances of landing job interviews and getting hired.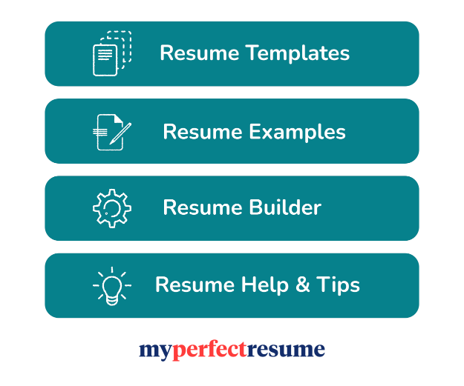 Work experience
So, you've grabbed the recruiters' attention with your summary, now it's time to show them what you're really capable of in your work experience section.
List your previous jobs from current to oldest, showing off the impact you made at each organization.
If you have tons of experience, you should just list the most recent an relevant jobs – but if you have little or no experience, add it all and even consider putting in voluntary work.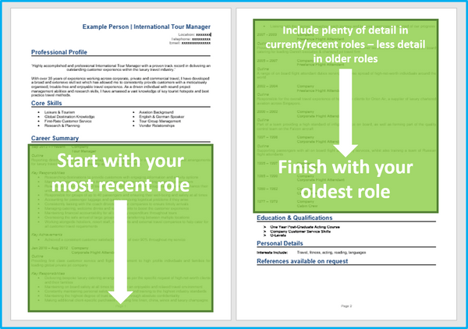 Structuring your jobs
Without a good structure, your job description can look messy and overwhelming to anyone reading them.
Make it easy for recruiters to read your work experience by structuring your roles like this.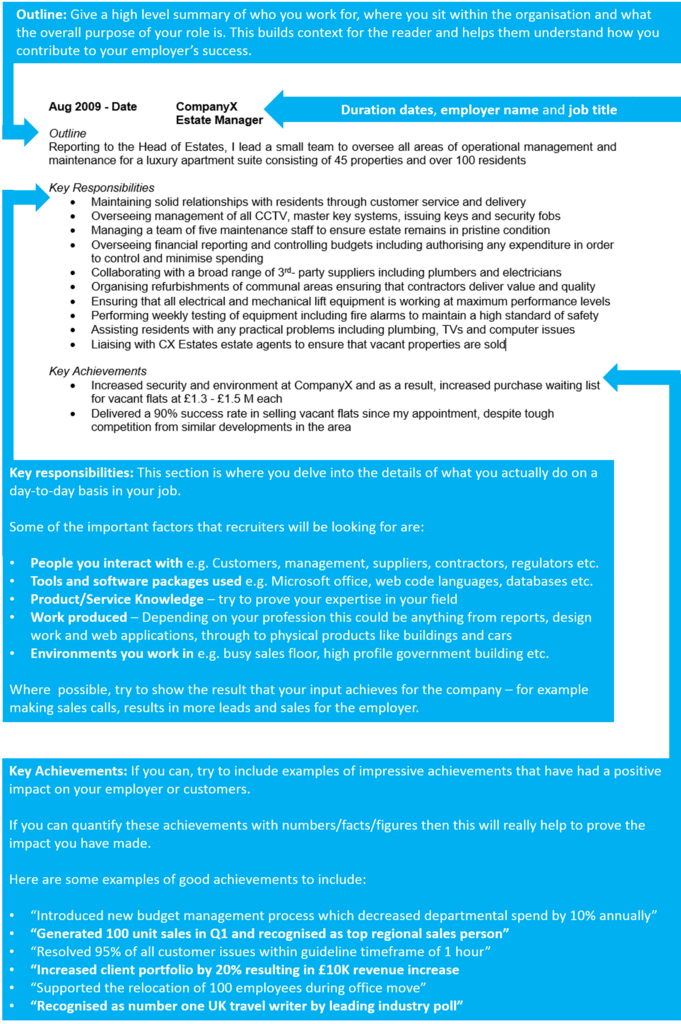 Job outline
Kick off each role with a high-level overview to summarize the focus of the job, what the organization/department does, and how you fit into the bigger picture.
Key responsibilities
Next, write up a punchy list of your daily duties and responsibilities, using short bullet points.
Describe how you apply your skills and contribute to the running of the employer's business – highlighting skills which are applicable to your target jobs.
Key achievements
Finish each role by highlighting some impressive achievements you made whilst in the role.
Anything that benefited the employer can be included from making financial savings, to winning new customers.
Quantify your achievements with facts and figures if you can, e.g. "reduced call wait time by 10%"
Example job for Volunteer Program Coordinator resume
Outline
Spearhead the recruitment, onboarding, and orientation of all new volunteers for a non-profit healthcare system that is committed to patient care, research, teaching, and service within community health centers, specialty hospitals, and home care settings.
Key Responsibilities
Oversee the recruitment, on-boarding, and orientation of volunteers who care for patients, conduct rounds, chart medical records, assist with discharges, and restock supplies.
Carry out interviews to ensure eligibility/appropriate placement and Facilitate department-specific training for all hospital volunteers entering the medical career exploration.
Manage volunteer program schedules, and record-keeping, computer databases in reference to relevant evaluations, demographic information, and statistical reports.
Foster strong facility-wide relationships to ensure ongoing communication with various units that are staffed with volunteers.
Quick tip: Create impressive job descriptions easily in our partner's Resume Builder by adding pre-written job phrases for every industry and career stage.

Education section
Towards the bottom of your resume, add your education section.
Here you should list your professional qualifications and academic record, such as high school diplomas or college degrees.
If you have lots of work experience, you can keep this section brief (because recruiters will be more interested in your career. If you have little/no experience then you should bulk this section up with plenty of detail.
Additional information
If you have anything else to add which is relevant to the jobs you are applying for, the additional info section is the place to add it.
Perhaps you have a hobby which involves relevant skills, or maybe you have some awards or publications worth mentioning.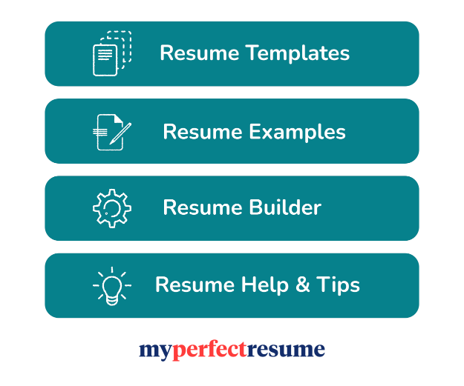 Writing your own Volunteer Program Coordinator resume
Writing a Volunteer Program Coordinator resume can be challenging but following the steps above will ensure that you land plenty of interviews.
If you want to speed up the process and use an attractive professional template, try out our partner's Resume Builder.
Good luck with your job search!