When looking for your next designer role, your resume is your first chance to show off your creative skills.
However, an impressively designed resume can only get you so far. You also need to make sure that the content is attention-grabbing too.
But if you're better with the visuals than the words, that's OK. Check out all our top tips and visual designer example below to guide you.
Contents
| | |
| --- | --- |
| How to write your Visual Designer resume | |

Visual Designer Resume Example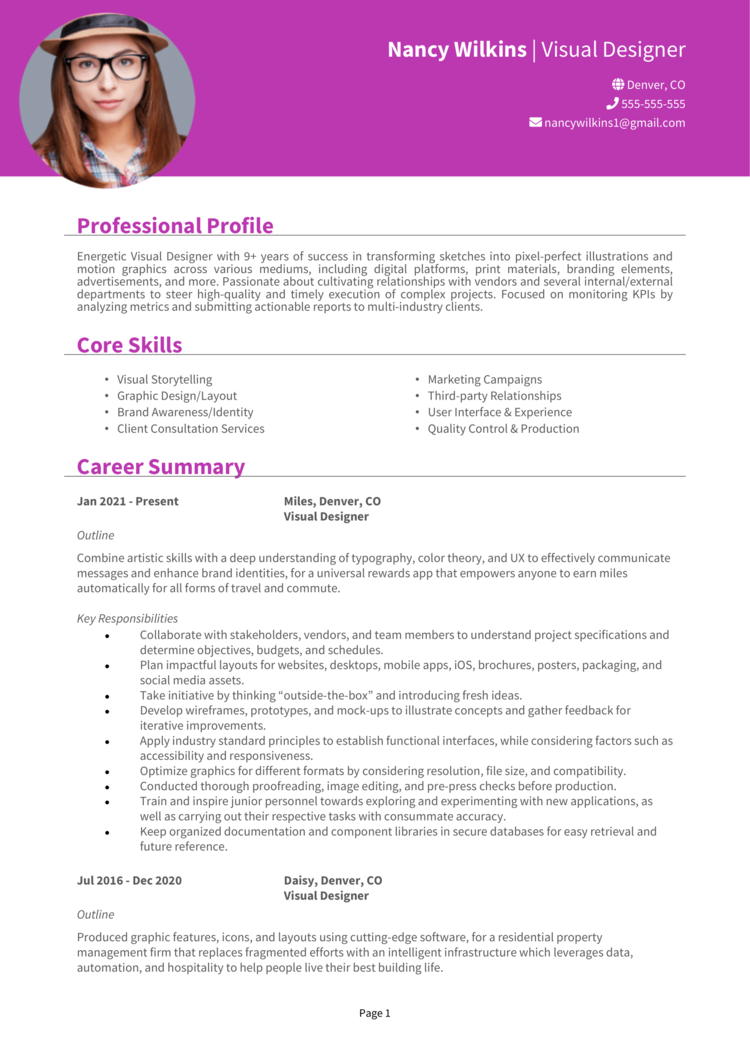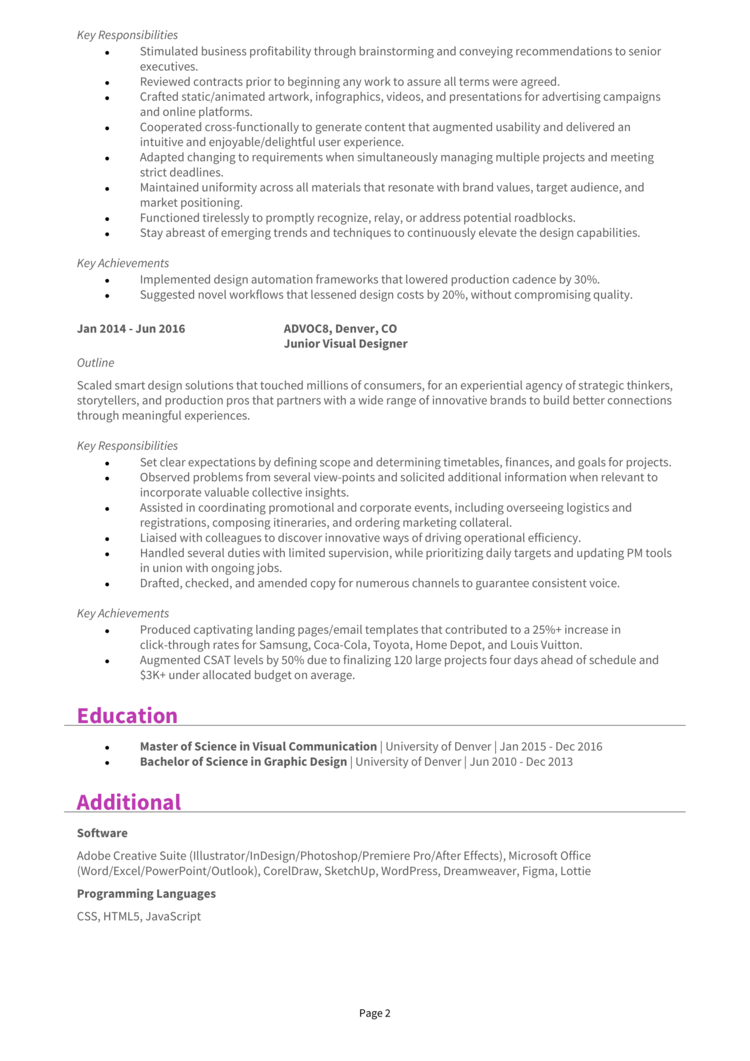 This example Visual Designer resume is well-structured to provide a pleasant reading experience for recruiters, and contains all of the crucial information they want to see.
The rest of the guide will show you exactly how you can achieve this in your own resume.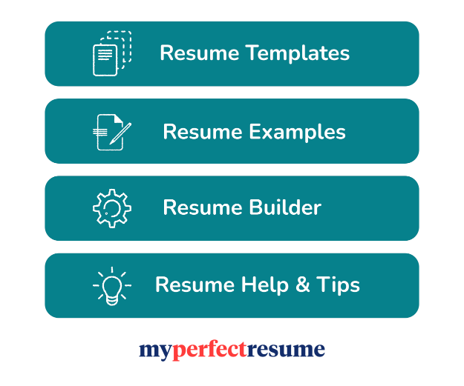 Visual Designer resume layout and format
The format and layout of your resume can make or break its success.
Sure, it's great to pack your resume with lots of impressive skills and knowledge, but if the page is not structured clearly, hiring managers will struggle to find the important stuff!
Above all, your resume should be easy-to-read and professional looking.
Follow these formatting tips to get noticed.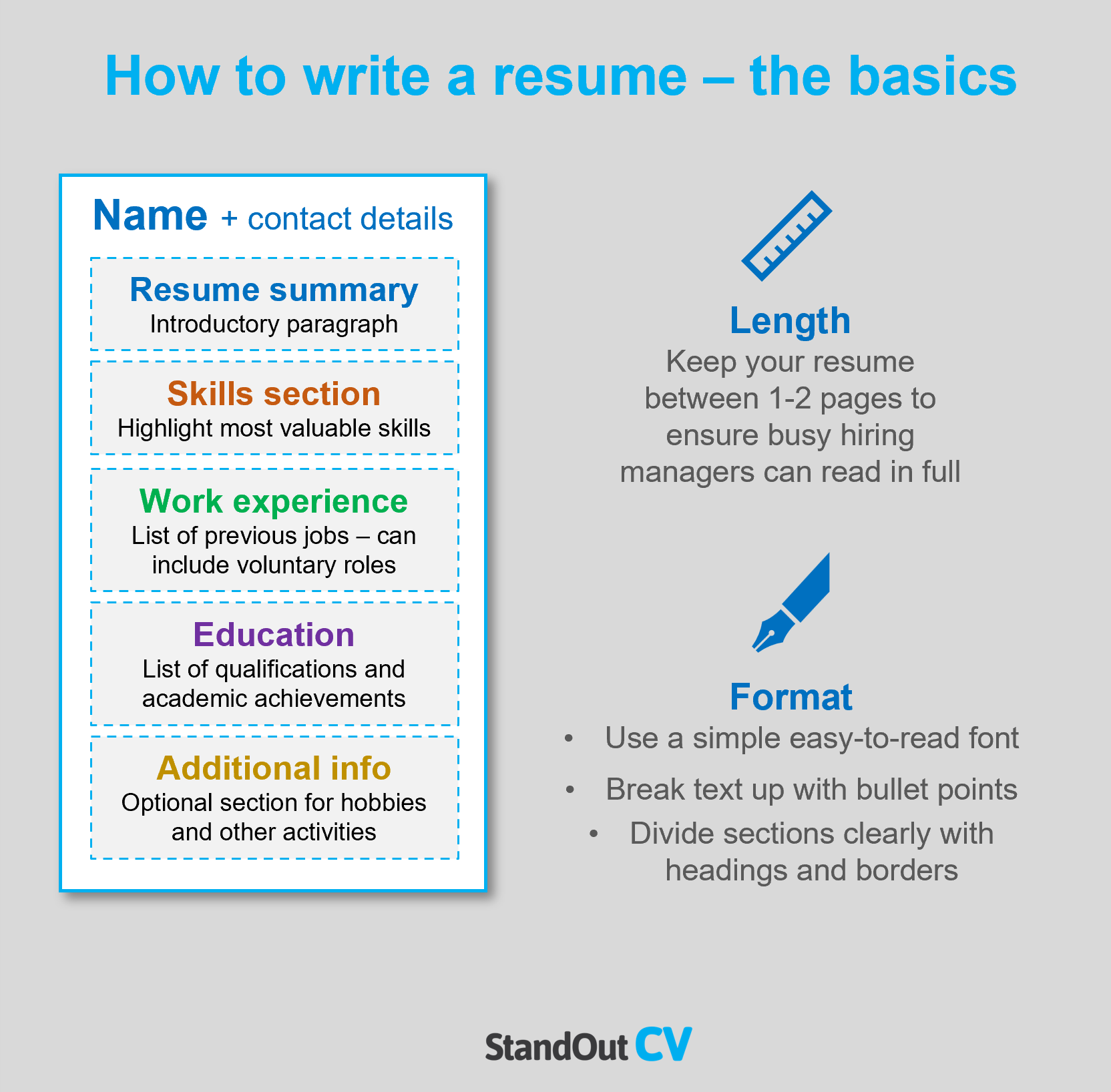 Formatting your resume
Length: As recruiters have a limited amount of time to review each resume they see, keep your resume to 2 pages or less to increase the chances of it being thoroughly reviewed.
Font & readability: Nobody likes to read huge unbroken paragraphs of text – and recruiters are no different. Break your resume text up with bullet points and use a clear simple font.
Layout: While creating an attractive resume, it is crucial not to compromise functionality for design. To ensure both, use bold headings and borders to structure the page into clear sections.
Photos: Although it is not compulsory to include a photo in your resume in the USA, it can be advantageous if you are applying to companies in creative industries.
Quick tip: Achieving a professional look for your resume can be difficult and time-consuming. If you want to create an attractive resume quickly, try our partner's Resume Builder and use one of their eye-catching resume templates.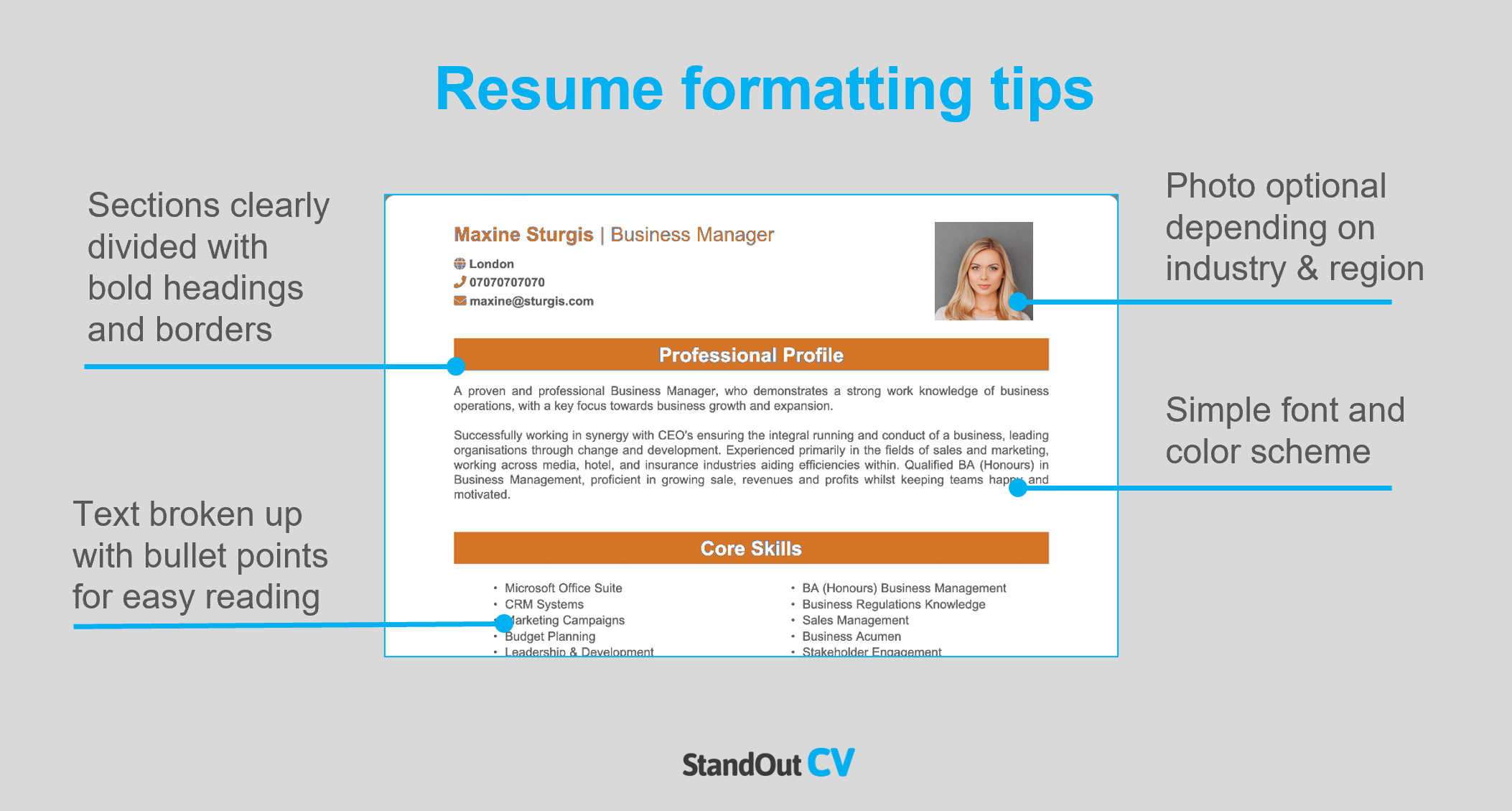 Resume layout
Organize the document into these sections when you write your resume.
Name and contact details – Employers need to know how to get in touch with you – so list your email and cell phone number here.
Resume summary – An intro paragraph at the top of the resume which summarizes your suitability for target jobs.
Skills section – A bullet-pointed list of your most relevant skills and knowledge.
Work experience – A list of your previous jobs (or at least the most relevant and recent ones)
Education – Add academic and professional qualifications that prove you can carry out the job
Additional info – If they are relevant to the jobs you are applying for, you can add an extra section for things like hobbies and interests.
Here's what to add to each section of your Visual Designer resume.
Contact Details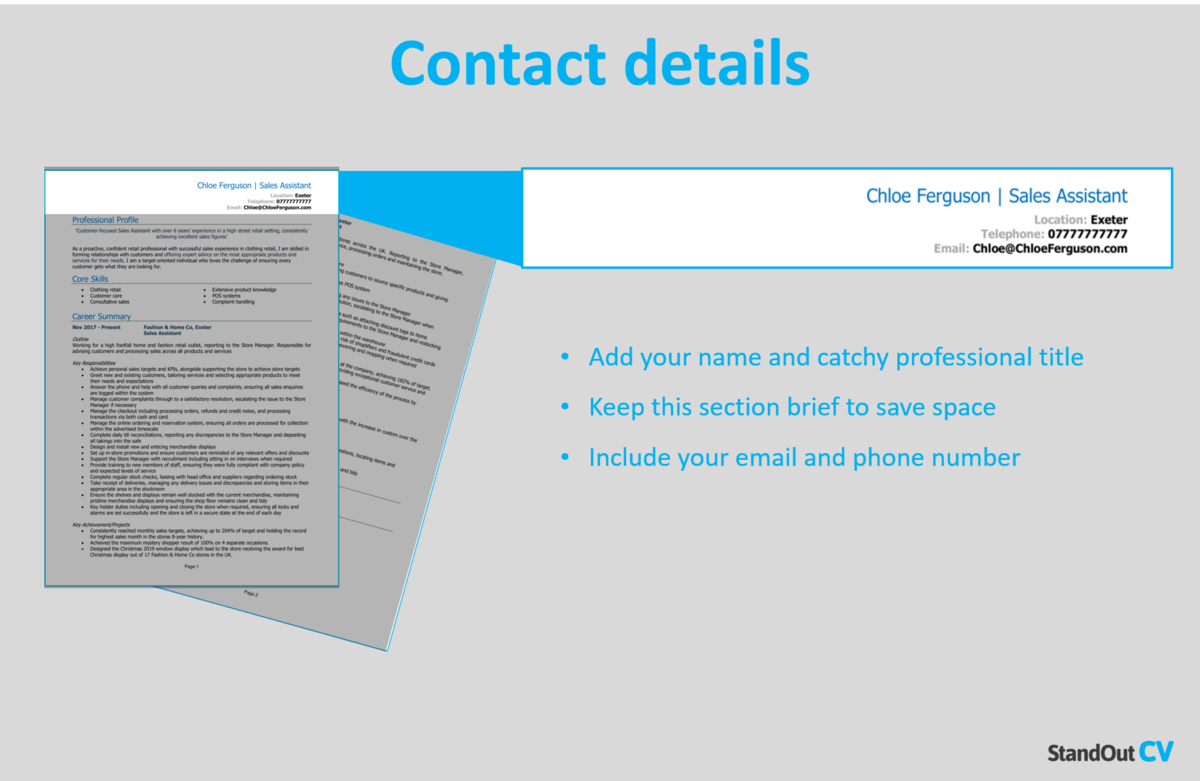 Add your name and contact details to the very top of your resume, making it easy for recruiters to get in touch
Name and profession title
Cell phone number – or another number you can answer quickly
Location – Add your local area such as San Diego or New York – not your full address as that will take up too much space.
Email address – Use your name or close variation – no nicknames from high school.
You can add a link to your LinkedIn profile if you have one – you do not need to include personal details like date of birth or marital status.
Visual Designer Resume Summary
Start your resume with a bang by adding a powerful summary to the top, summarizing your most valuable skills and experience.
This short paragraph is your chance to show recruiters why you are a perfect fit for the job and encourage them to read more of your resume.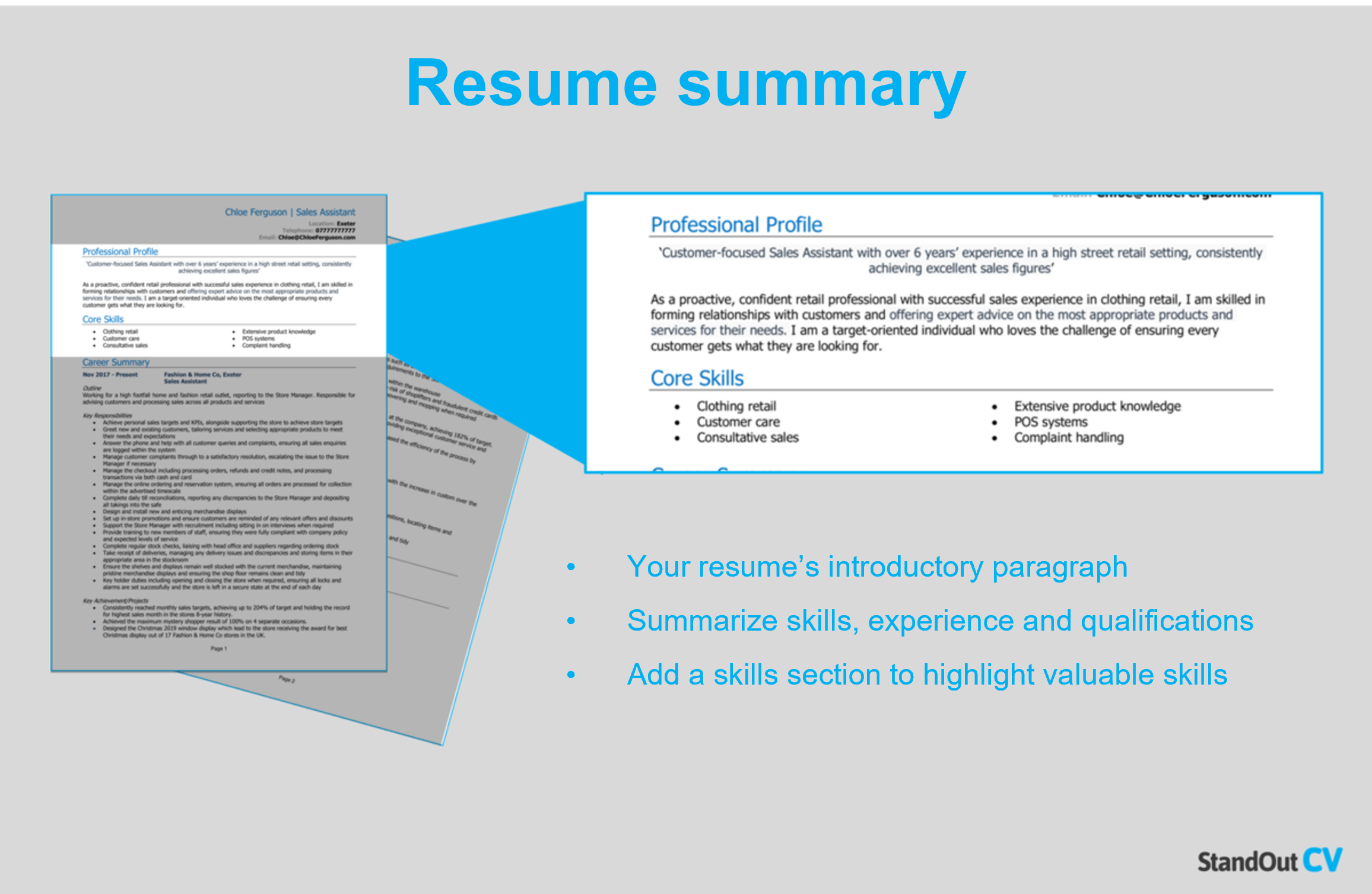 How to create a resume summary that will excite recruiters:
Keep it short: Your summary is intended to be a high-level introduction to hook readers' attention, so keep it brief (4-7 lines) – save the details for later in your resume.
Tailor to target jobs: To make your resume more relevant to your target jobs, analyze the job description and include as many matching skills as possible.
Avoid using cliches: Recruiters always see cringey cliches like "hardworking guru who works well in a team or individually" – they don't mean much to anyone, so focus your summary on tangible skills and experience.
Visual Designer resume summary example
Energetic Visual Designer with 9+ years of success in transforming sketches into pixel-perfect illustrations and motion graphics across various mediums, including digital platforms, print materials, branding elements, advertisements, and more. Passionate about cultivating relationships with vendors and several internal/external departments to steer high-quality and timely execution of complex projects. Focused on monitoring KPIs by analyzing metrics and submitting actionable reports to multi-industry clients.
What to include in your Visual Designer resume summary?
Summary of your experience: Summarize the type of work you have done in the past and the benefits you have delivered for the organizations you worked at.
Relevant skills: Highlight your skills which are most relevant to Visual Designer jobs, to ensure that recruiters see your most in-demand skills as soon as they open your resume.
Qualifications: Showcase your level of education with a quick mention of any qualifications that are essential for the Visual Designer roles you are applying to.
Quick tip: Choose from hundreds of pre-written summaries across all industries, and add one to your resume with one-click in our partner's Resume Builder. All written by recruitment experts and easily tailored to suit your unique skillset and style.
Core skills section
In addition to your resume summary, your core skills section provides an easily digestible snapshot of your skills – perfect for grabbing the attention of busy hiring managers.
As Visual Designer jobs might receive a huge pile of applications, this is a great way to stand out and show off your suitability for the role.
It should be made up of 2-3 columns of bullet points and be made up of skills that are highly relevant to the jobs you are targeting.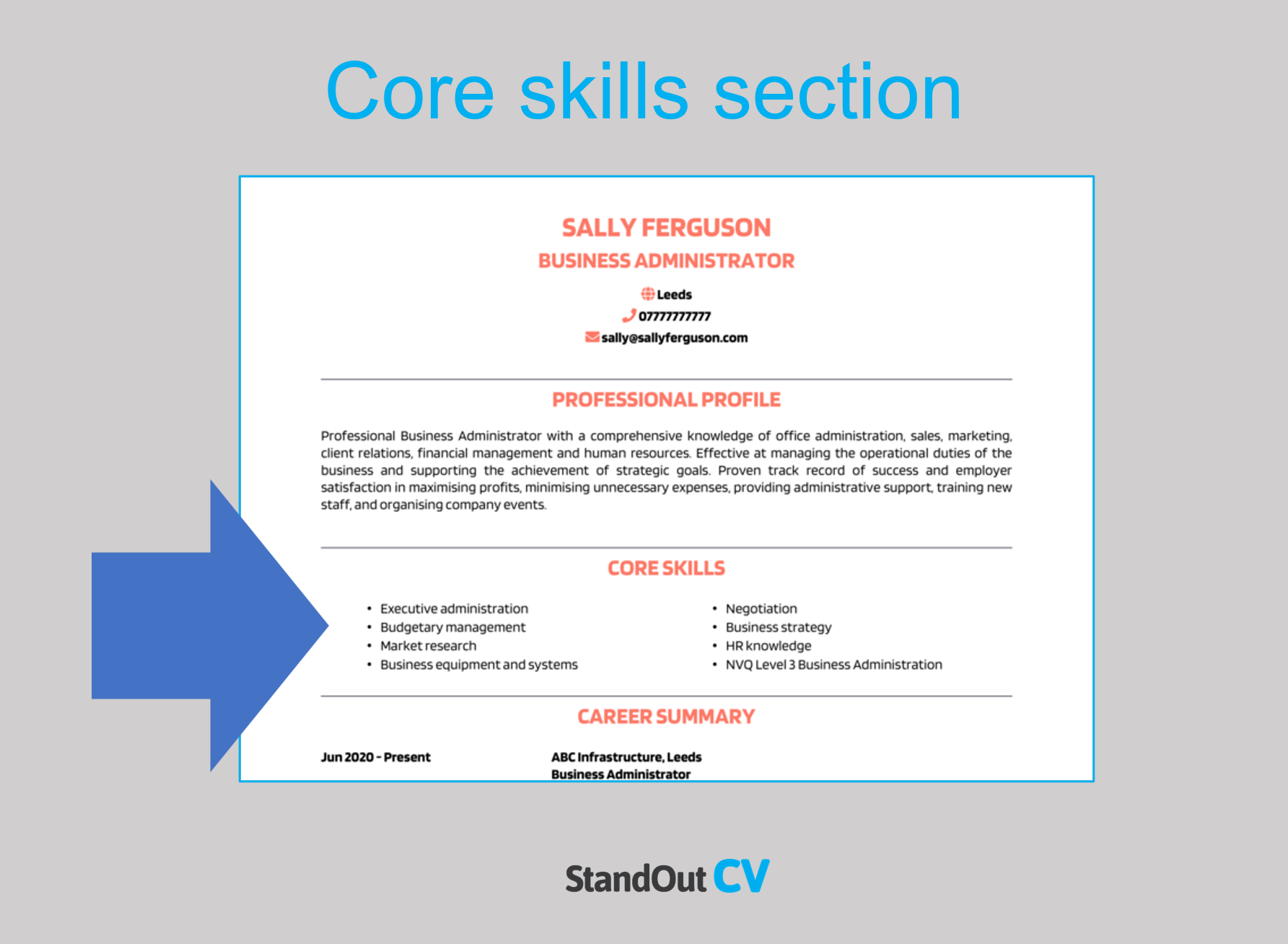 Best skills for your Visual Designer resume
Graphic Design – Creating visually appealing and effective graphics using various design tools.
Typography – Selecting and using appropriate fonts to enhance the visual message.
Color Theory – Utilizing knowledge of color psychology to use colors effectively in designs.
Branding and Identity Design – Creating cohesive brand visuals that reflect the company's identity.
Layout Design – Creating balanced and aesthetically pleasing layouts for print and digital media.
User Interface (UI) Design – Designing intuitive and user-friendly interfaces for digital products.
Illustration – Creating original illustrations to complement design projects.
Photography – Using photography to enhance designs or capturing original visuals.
Visual Software – Using software such as Adobe Photoshop, Illustrator, and InDesign.
Quick tip: Our partner's Resume Builder contains thousands of in-demand skills for every profession that can be added to your resume in seconds – saving you time and greatly improving your chances of landing job interviews and getting hired.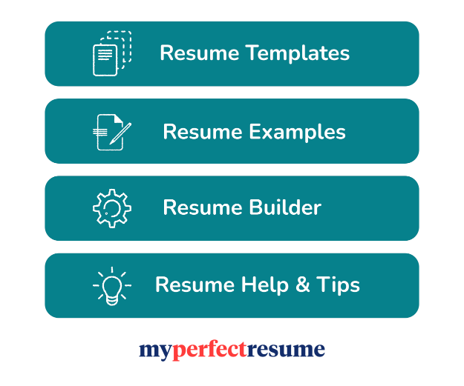 Work experience
So, you've got the recruiter interested with your catchy summary… Great work.
Now it's time to show them the impact you make in the workplace by listing out your previous jobs and what you achieved in each one.
If you have tons of experience, you can condense this part down to the last few years – if you are junior, then you should include as much possible (even volunteering and school work placements)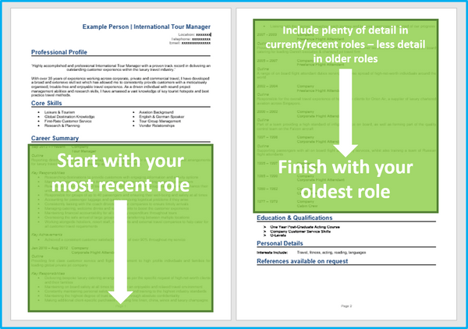 Structuring your jobs
Without a good structure, your job description can look messy and overwhelming to anyone reading them.
Make it easy for recruiters to read your work experience by structuring your roles like this.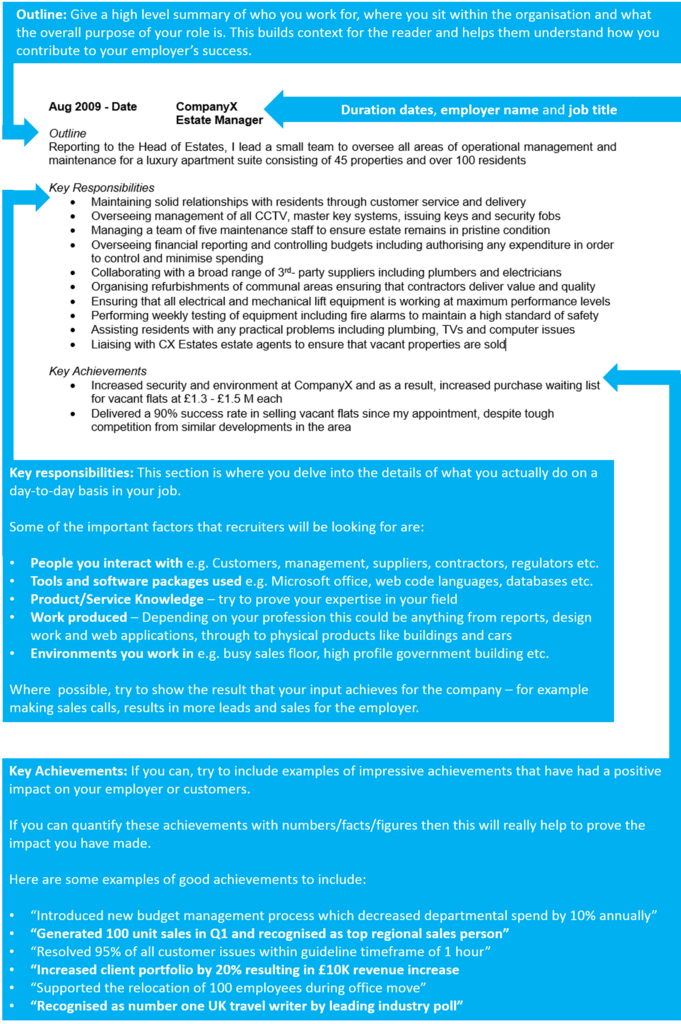 Job outline
Kick off each role with a high-level overview to summarize the focus of the job, what the organization/department does, and how you fit into the bigger picture.
Key responsibilities
Then delve into the detail of your job by listing out easy-to-read bullet points which show how you apply your skills in the workplace.
Tailor these bullet points to focus on the skills and knowledge that are required in the jobs you are applying for.
Key achievements
Finish each role by highlighting some impressive achievements you made whilst in the role.
Anything that benefited the employer can be included from making financial savings, to winning new customers.
Quantify your achievements with facts and figures if you can, e.g. "reduced call wait time by 10%"
Example job for Visual Designer resume
Outline
Combine artistic skills with a deep understanding of typography, color theory, and UX to effectively communicate messages and enhance brand identities, for a universal rewards app that empowers anyone to earn miles automatically for all forms of travel and commute.
Key Responsibilities
Collaborate with stakeholders, vendors, and team members to understand project specifications and determine objectives, budgets, and schedules.
Plan impactful layouts for websites, desktops, mobile apps, iOS, brochures, posters, packaging, and social media assets.
Take initiative by thinking "outside-the-box" and introducing fresh ideas.
Develop wireframes, prototypes, and mock-ups to illustrate concepts and gather feedback for iterative improvements.
[Copy and paste outline + first 4 bullet points, of first job]
Quick tip: Create impressive job descriptions easily in our partner's Resume Builder by adding pre-written job phrases for every industry and career stage.

Education section
After your work experience, add your education section.
If you are an experienced professional, you can keep this part short – adding basic details of each qualification.
If you have little or no experience, bulk this section up by adding more detail and highlight important skills and knowledge for your target jobs.
Additional information
If you have anything else to add which is relevant to the jobs you are applying for, the additional info section is the place to add it.
Perhaps you have a hobby which involves relevant skills, or maybe you have some awards or publications worth mentioning.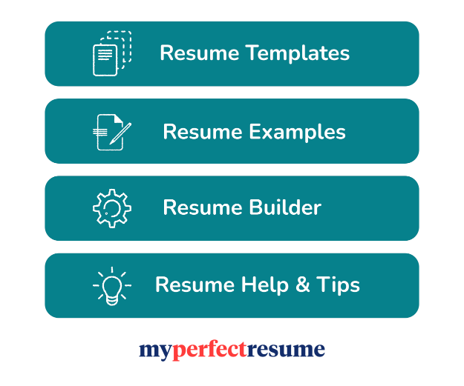 Writing your own winning Visual Designer resume
Following the steps in this guide will help you to create a winning Visual Designer resume and bag lots of interviews.
Good luck with your job search!