If you're ready to offer leadership and strategic direction to the program development department, then you need a strong resume that reflects this.
It's important that you showcase your skills and experience as effectively as possible if you hope to stand out from the competition.
To help you do this, we've created a vice president of programs resume example and step-by-step guide for you to utilize.
Contents
| | |
| --- | --- |
| How to write a Vice President of Programs resume | |

Vice President of Programs Resume Example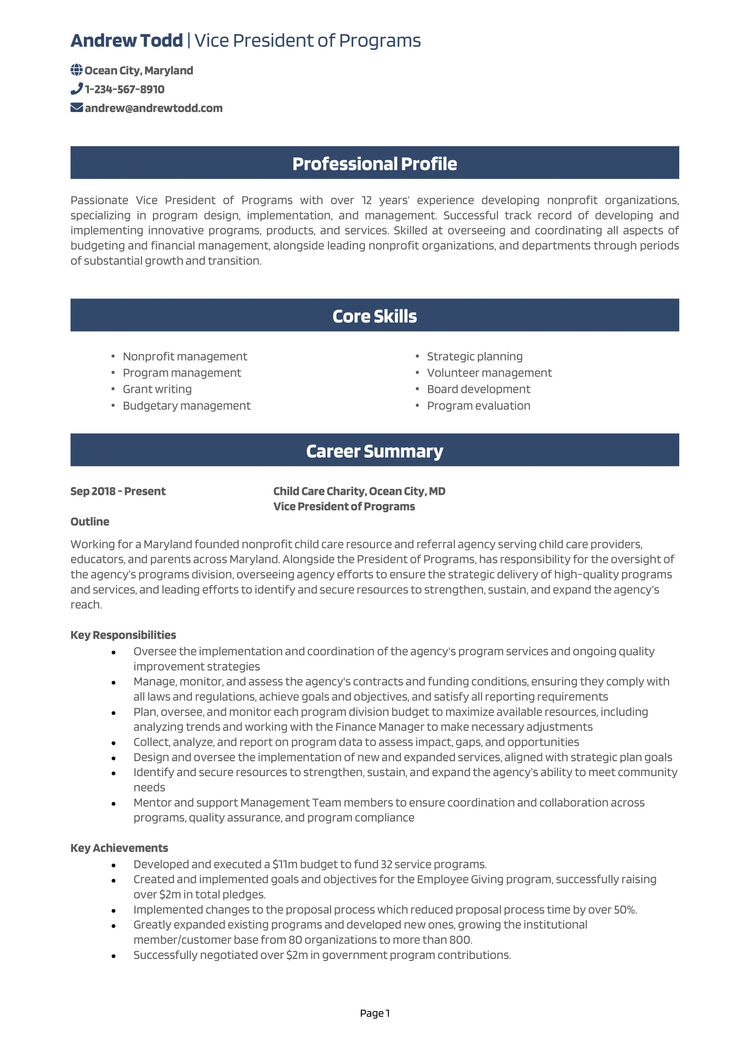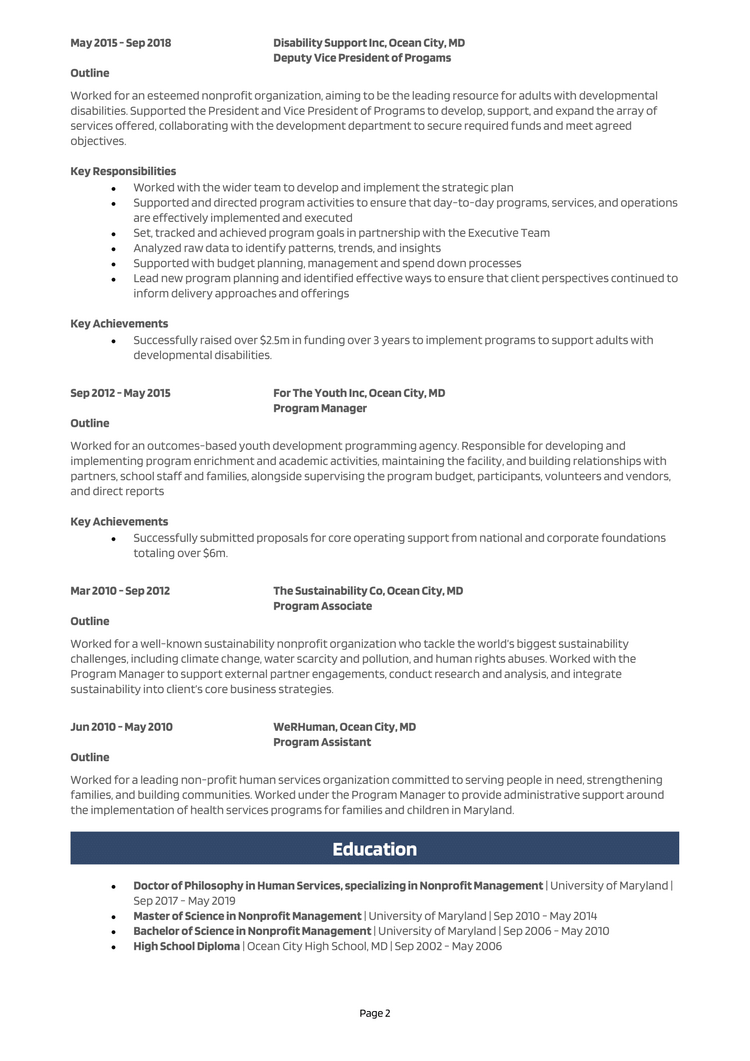 This example Vice President of Programs resume gives you a general idea of how to structure your own resume, along with the type of content you need to include.
Sticking with this resume format will help you to get noticed by employers and ensure that they can quickly see the benefit of hiring you.
Now, lets take a look at how to write your own winning resume.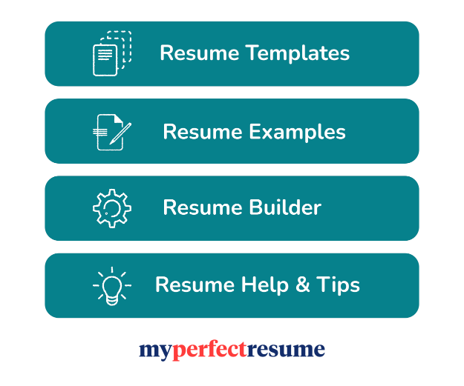 Vice President of Programs resume layout and format
If you want to get noticed in the job market, you have to pay attention to the format and layout of your resume.
Essentially your resume needs to look highly polished, and provide hiring managers with an easy reading experience.
Use these resume formatting tips to get a head start on this.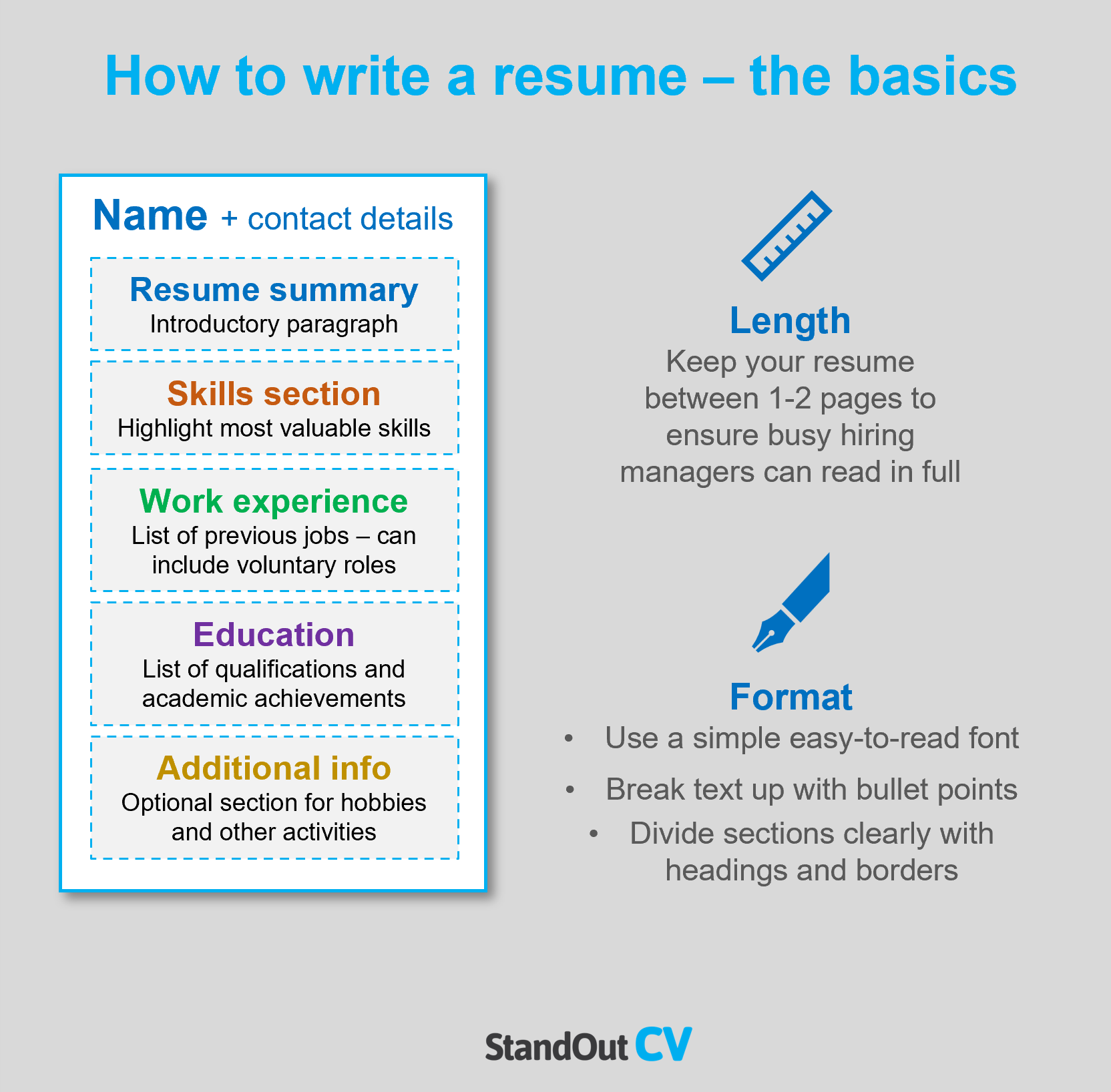 Resume formatting tips
Length: Think that submitting a 10 page resume will impress recruiters? Unfortunately it won't… Even if you've got tons of experience to brag about, recruiters don't have time to read essays, so keep it brief – around 2 pages is the sweet spot.
Font and text: Complex fonts are a readers' worst nightmare and will leave recruiters struggling to understand your message. Use a clear simple lean font in a color that stands out against the page, and break your text up with bullet points to make the content easily digestible.
Design & structure: Hiring managers should be able to skim through your resume easily and pinpoint the information they want quickly. To help them do this, organize the page into clear sections with bold headings and dividing borders. The design should be clutter-free and professional-looking, with a calm color scheme.
Photos and images: It's not mandatory to add a photo to your resume in the USA but it if you're applying to organizations within the creative fields, it can be beneficial.
Quick tip: Formatting a resume to look professional can be difficult and time-consuming. If you want to create an attractive resume quickly, try our partner's Resume Builder and use one of their eye-catching resume templates.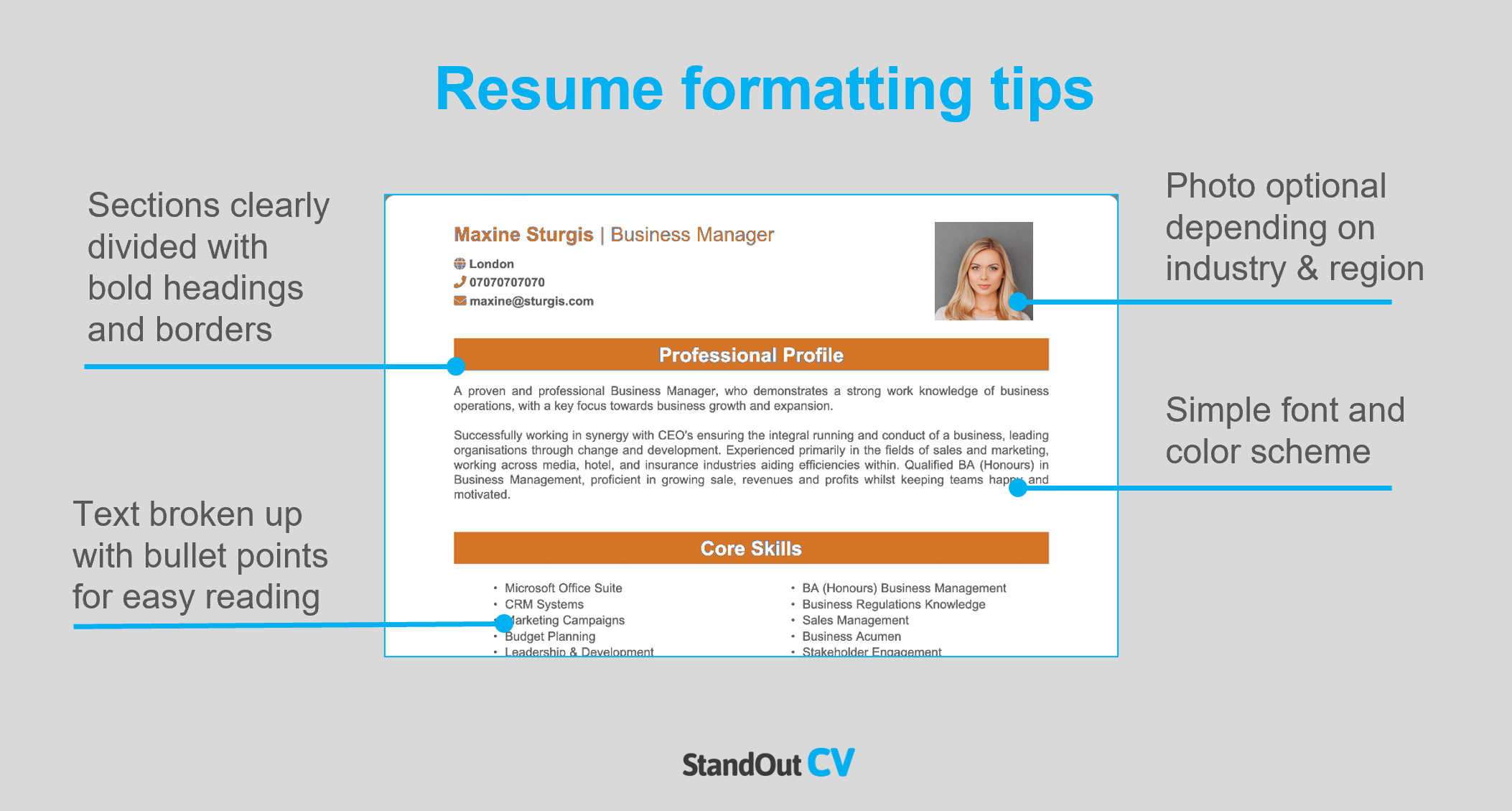 Resume layout
Add the following sections when you write your resume.
Name and contact details – Add to the very top of your resume to introduce yourself and make it super-easy for recruiters to get in touch.
Resume summary – Reel hiring managers in with an "elevator pitch" style paragraph which sums up your suitability for the job.
Skills section – A short and sharp list of your most important skills, that can be quickly skim-read.
Work experience – List your previous jobs (from newest to oldest) detailing the skills learnt and applied in each.
Education – List your qualifications and professional training.
Additional info – If it helps your application, you can add an extra section for things like hobbies and interests.
Now here's exactly what you should include in each of these sections in your resume.
Resume Contact Details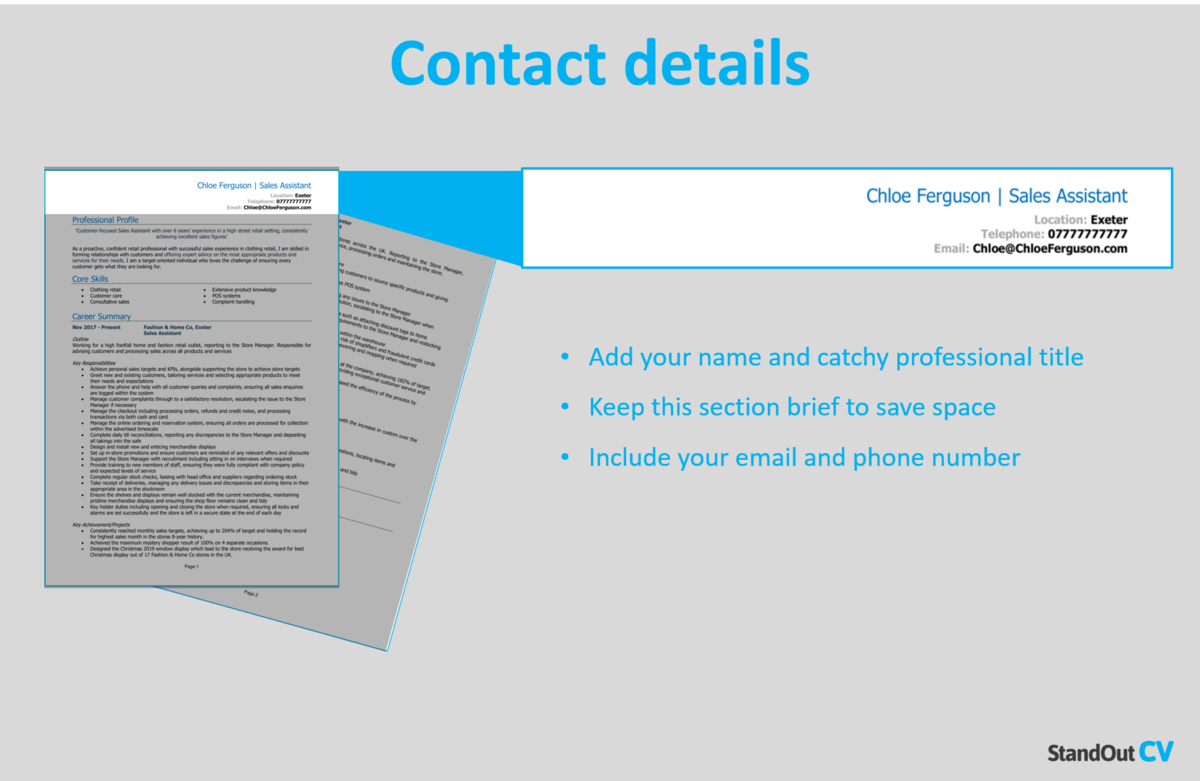 Add your name and contact details to the very top of your resume, making it easy for recruiters to get in touch
Name and profession title
Cell phone number – or another number you can answer quickly
Location – Add your local area such as San Diego or New York – not your full address as that will take up too much space.
Email address – Use your name or close variation – no nicknames from high school.
You can add a link to your LinkedIn profile if you have one – you do not need to include personal details like date of birth or marital status.
Vice President of Programs Resume Summary
Start your resume with a bang by adding a powerful summary to the top, summarizing your most valuable skills and experience.
This short paragraph is your chance to show recruiters why you are a perfect fit for the job and encourage them to read more of your resume.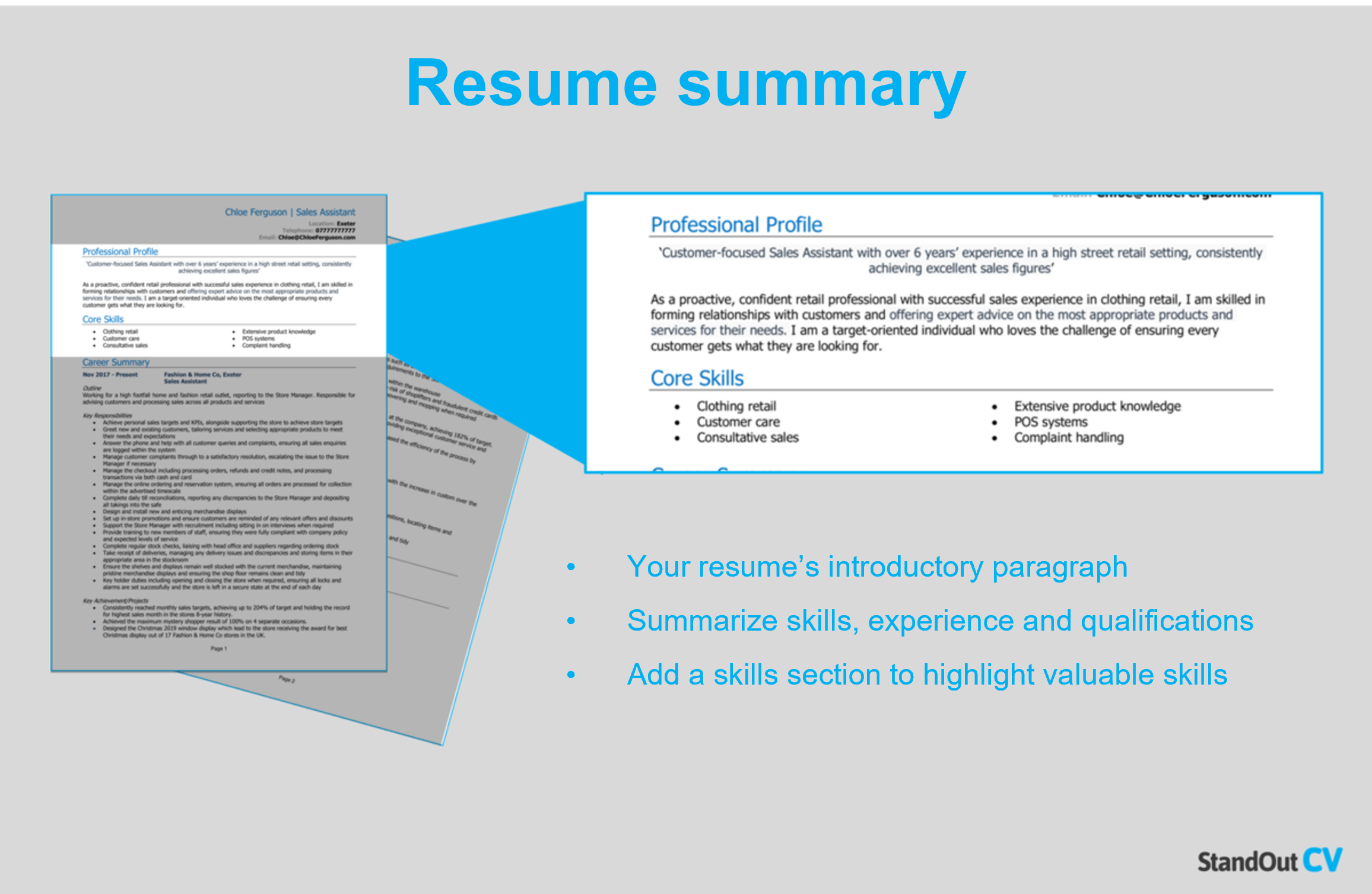 Tips for creating an strong resume summary:
Keep it brief: Your summary is intended to be a high-level introduction to hook readers' attention, so keep it brief (4-7 lines) – save the details for later in your resume.
Tailor it: Recruiters will be scanning for the skills and knowledge they mentioned in the job description, so add as many as you can to your summary.
Avoid cliches: You might be a "highly motivated go-getter who thinks outside the box" but generic meaningless cliches like that don't tell employers much about you – stick to factual information in your summary.
Example resume summary for Vice President of Programs
Passionate Vice President of Programs with over 12 years' experience developing nonprofit organizations, specializing in program design, implementation, and management. Successful track record of developing and implementing innovative programs, products, and services. Skilled at overseeing and coordinating all aspects of budgeting and financial management, alongside leading nonprofit organizations, and departments through periods of substantial growth and transition.
What to include in your Vice President of Programs Resume summary?
Summary of professional experience: What type of organizations have you worked at? What types of roles have you done and what have you contributed to previous employers?
Relevant skills: Include your skills which are hyper relevant to Vice President of Programs jobs to instantly show your suitability.
Essential qualifications: Showcase your level of education with a quick mention of any qualifications that are essential for the Vice President of Programs roles you are applying to.
Quick tip: Choose from hundreds of pre-written summaries across all industries, and add one to your resume with one click in our partner's Resume Builder. All written by our recruitment experts and easily tailored to suit your unique skillset.
Core skills section
Next, you should create a bullet pointed list of your core skills, formatted into 2-3 columns.
Here, you should focus on including the most important skills or knowledge listed in the job advertisement.
This will instantly prove that you're an ideal candidate, even if a recruiter only has time to briefly scan your resume.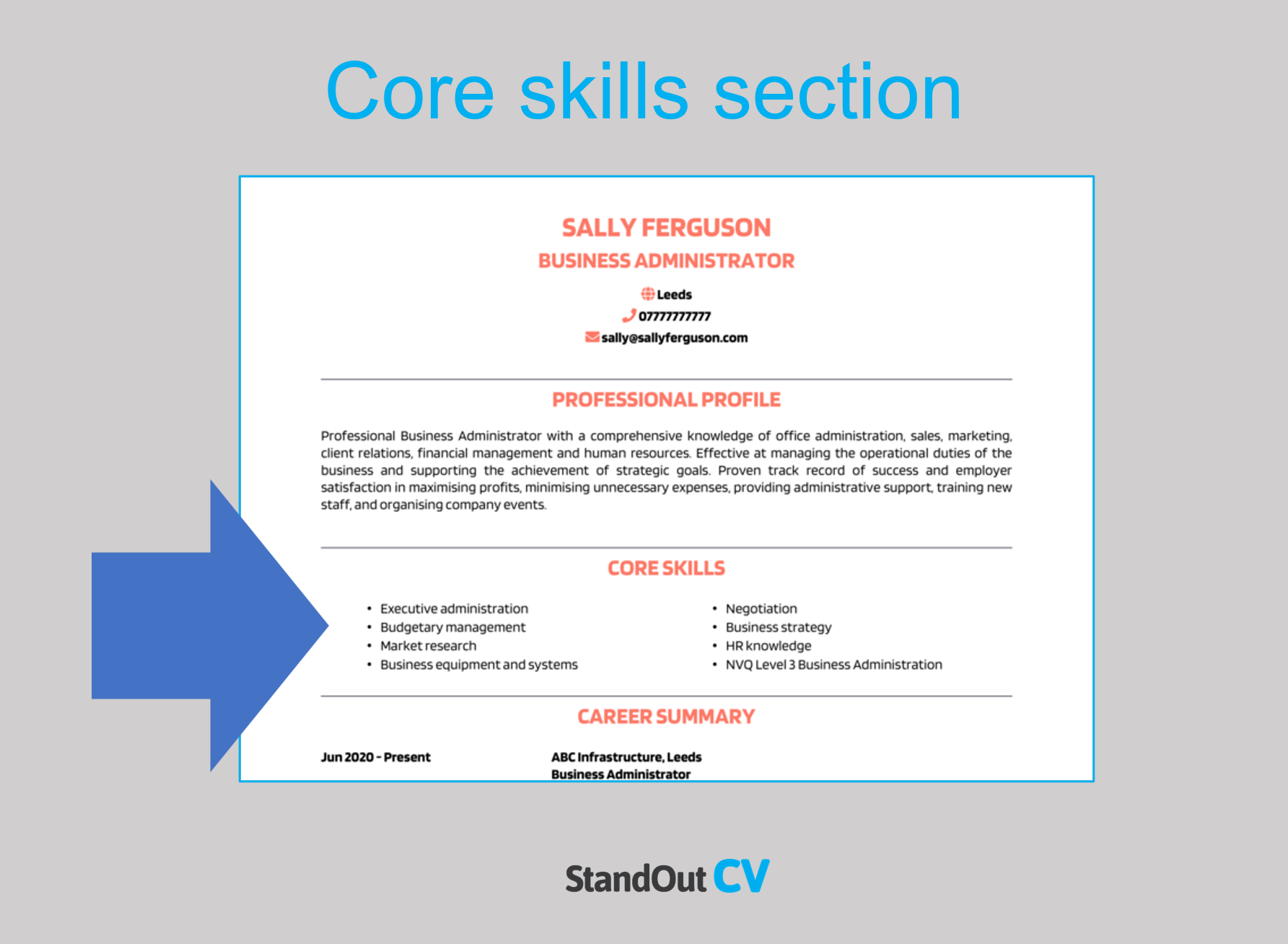 Best skills for your Vice President of Programs resume
Program management – Overseeing and coordinating various projects to improve overall performance.
Volunteer management – Effectively managing volunteers increase volunteer engagement, cultivate lifelong relationships, grow the impact of public events, boost revenue, and power the nonprofits mission.
Grant writing – Completing complex applications for financial grants provided by institutions such as a government department, corporation, foundation, or trust.
Budgetary management – Tracking the income and expenses of various program, deciding how to spend the money and what to prioritize.
Program evaluation – Completing systematic studies to assess how well a program is working and why.
Quick tip: Our partner's Resume Builder contains thousands of in-demand skills for every profession that can be added to your resume in seconds – saving you time and greatly improving your chances of landing job interviews.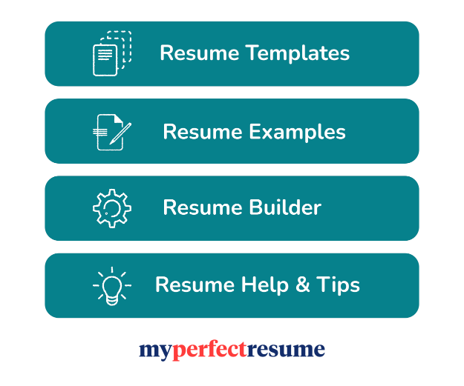 Work experience section
So, you've grabbed the recruiters' attention with your summary, now it's time to show them what you're really capable of in your work experience section.
List your previous jobs from current to oldest, showing off the impact you made at each organization.
If you have tons of experience, you should just list the most recent an relevant jobs – but if you have little or no experience, add it all and even consider putting in voluntary work.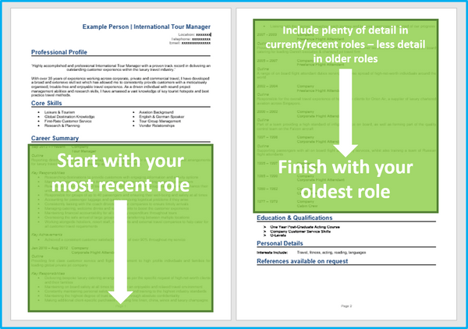 Structuring your job descriptions
It's easy to overwhelm readers when writing about a job you have been doing for years or even months.
Break the information up like this to keep it simple for recruiters to understand.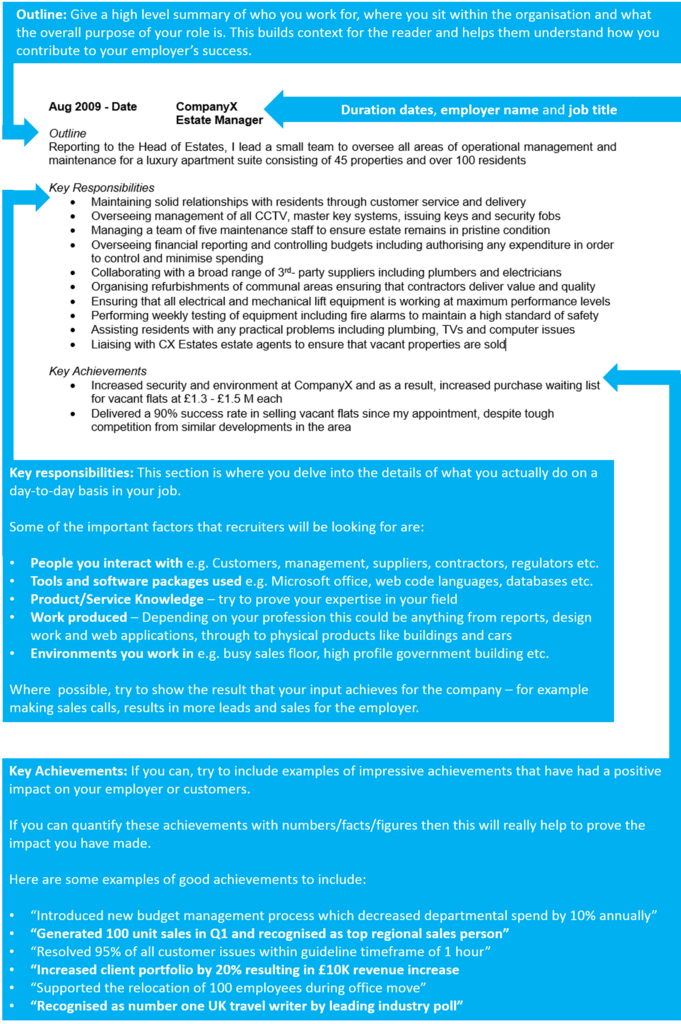 Job outline
Begin each job with a short summary of who the organization is, where you sit within it, and what the main goal of your position is.
Key responsibilities
Next, write up a punchy list of your daily duties and responsibilities, using short bullet points.
Describe how you apply your skills and contribute to the running of the employer's business – highlighting skills which are applicable to your target jobs.
Key achievements
Finish each role by highlighting some impressive achievements you made whilst in the role.
Anything that benefited the employer can be included from making financial savings, to winning new customers.
Quantify your achievements with facts and figures if you can, e.g. "reduced call wait time by 10%"
Example job for Vice President of Programs resume
Outline
Working for a Maryland founded nonprofit child care resource and referral agency serving child care providers, educators, and parents across Maryland. Alongside the President of Programs, has responsibility for the oversight of the agency's programs division, overseeing agency efforts to ensure the strategic delivery of high-quality programs and services, and leading efforts to identify and secure resources to strengthen, sustain, and expand the agency's reach.
Key Responsibilities
Oversee the implementation and coordination of the agency's program services and ongoing quality improvement strategies
Manage, monitor, and assess the agency's contracts and funding conditions, ensuring they comply with all laws and regulations, achieve goals and objectives, and satisfy all reporting requirements
Plan, oversee, and monitor each program division budget to maximize available resources, including analyzing trends and working with the Finance Manager to make necessary adjustments
Collect, analyze, and report on program data to assess impact, gaps, and opportunities
Quick tip: Create impressive job descriptions easily in our partner's Resume Builder by adding pre-written job phrases for every industry and career stage.

Education resume section
Towards the bottom of your resume, add your education section.
Here you should list your professional qualifications and academic record, such as high school diplomas or college degrees.
If you have lots of work experience, you can keep this section brief (because recruiters will be more interested in your career. If you have little/no experience then you should bulk this section up with plenty of detail.
Additional info for your resume
Any other info that didn't fall into any of the previous sections can be added here.
If you have hobbies that are related to your profession or any awards or publications – add them here.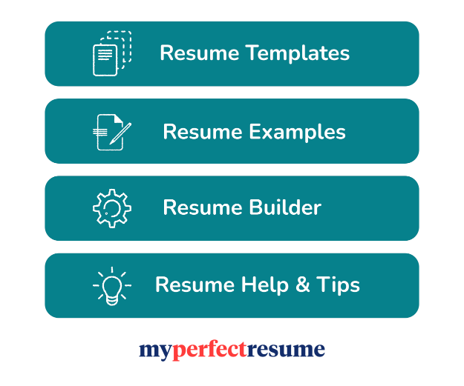 Writing your Vice President of Programs resume
Following the steps in this guide will help you to create a winning Vice President of Programs and bag lots of interviews.
If you want some more help through the process, try our partner's Resume Builder for expert guidance and tons of pre-written resume content.
Good luck with your job search!