Are you hoping to land the role of truck dispatcher?
Then you need to deliver an impressive application that's going to get you noticed. But if you're not sure how to get started, you've come to the right place.
Below, we've created a detailed guide that breaks the writing process down step-by-step. We'll also share a truck dispatcher resume example to point you in the right direction.
Contents
| | |
| --- | --- |
| How to write a Truck Dispatcher resume | |

Truck Dispatcher Resume Example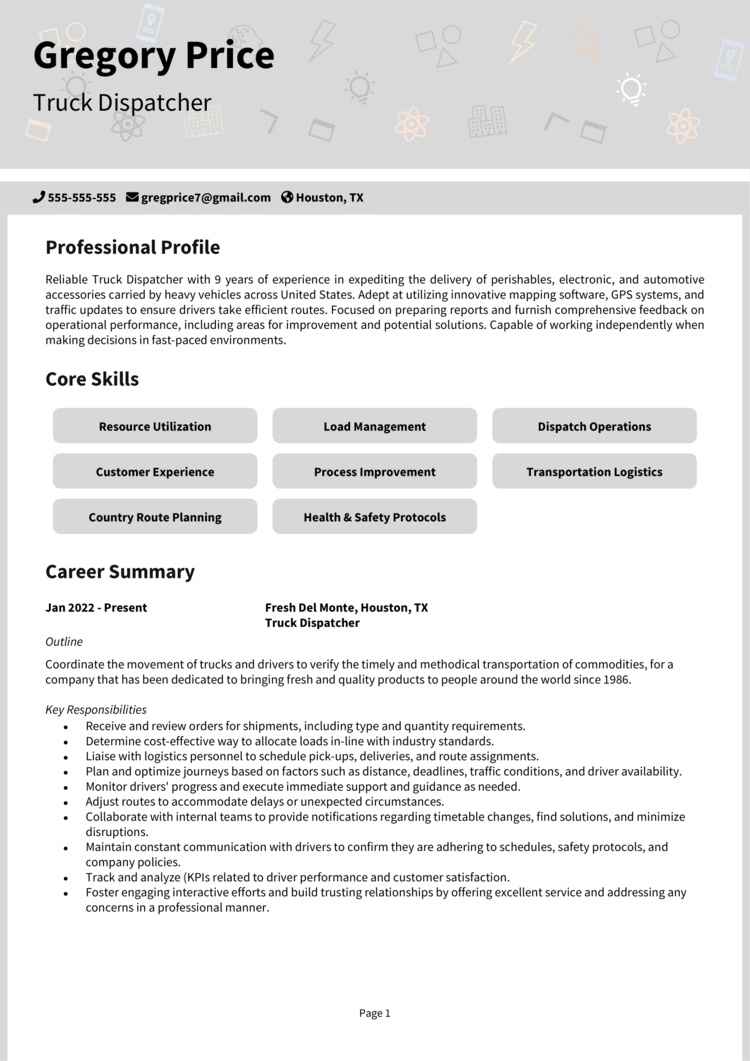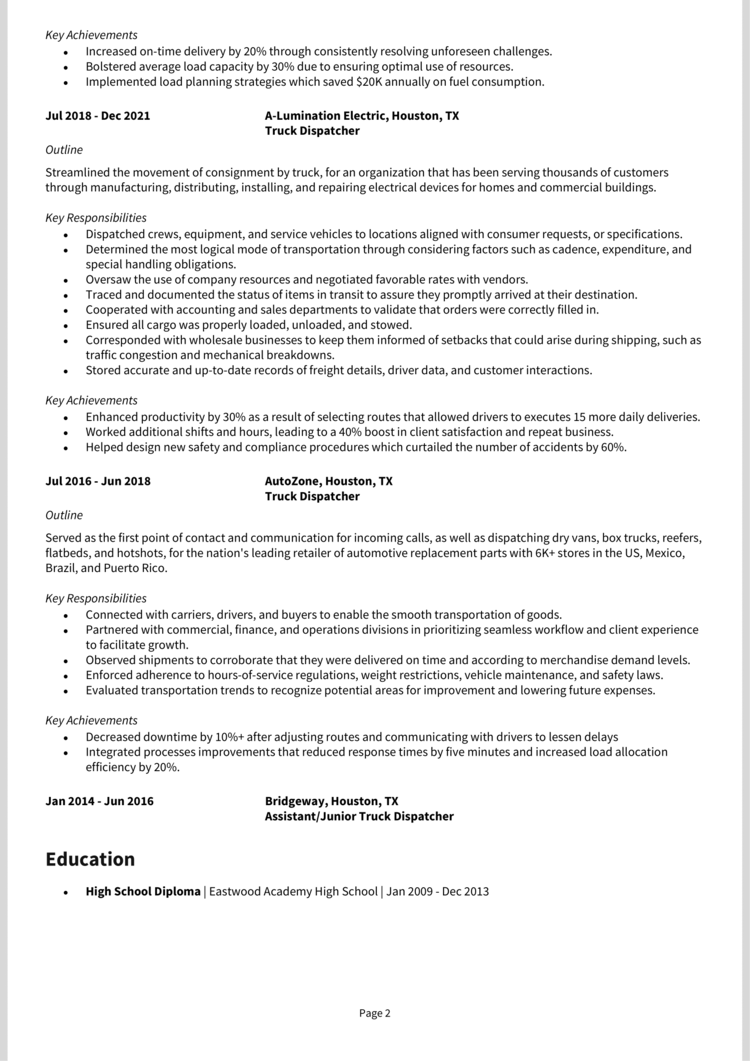 This example Truck Dispatcher resume provides you with a general idea of how your resume should look, and what information recruiters expect to see.
The rest of this guide will explain how to layout your resume and create each section effectively.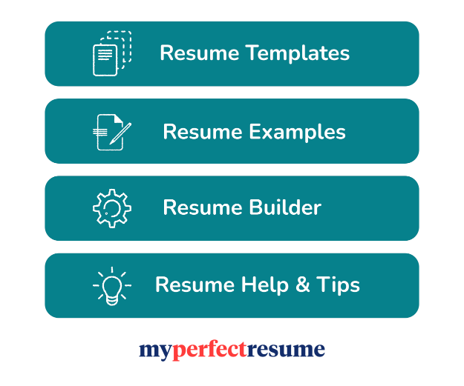 Truck Dispatcher resume layout and format
Formatting and structuring your resume correctly is key to landing job interviews.
Your resume needs to look attractive, but more importantly it needs to be easy for recruiters and hiring managers to read and digest the information.
These tips will help you to do that: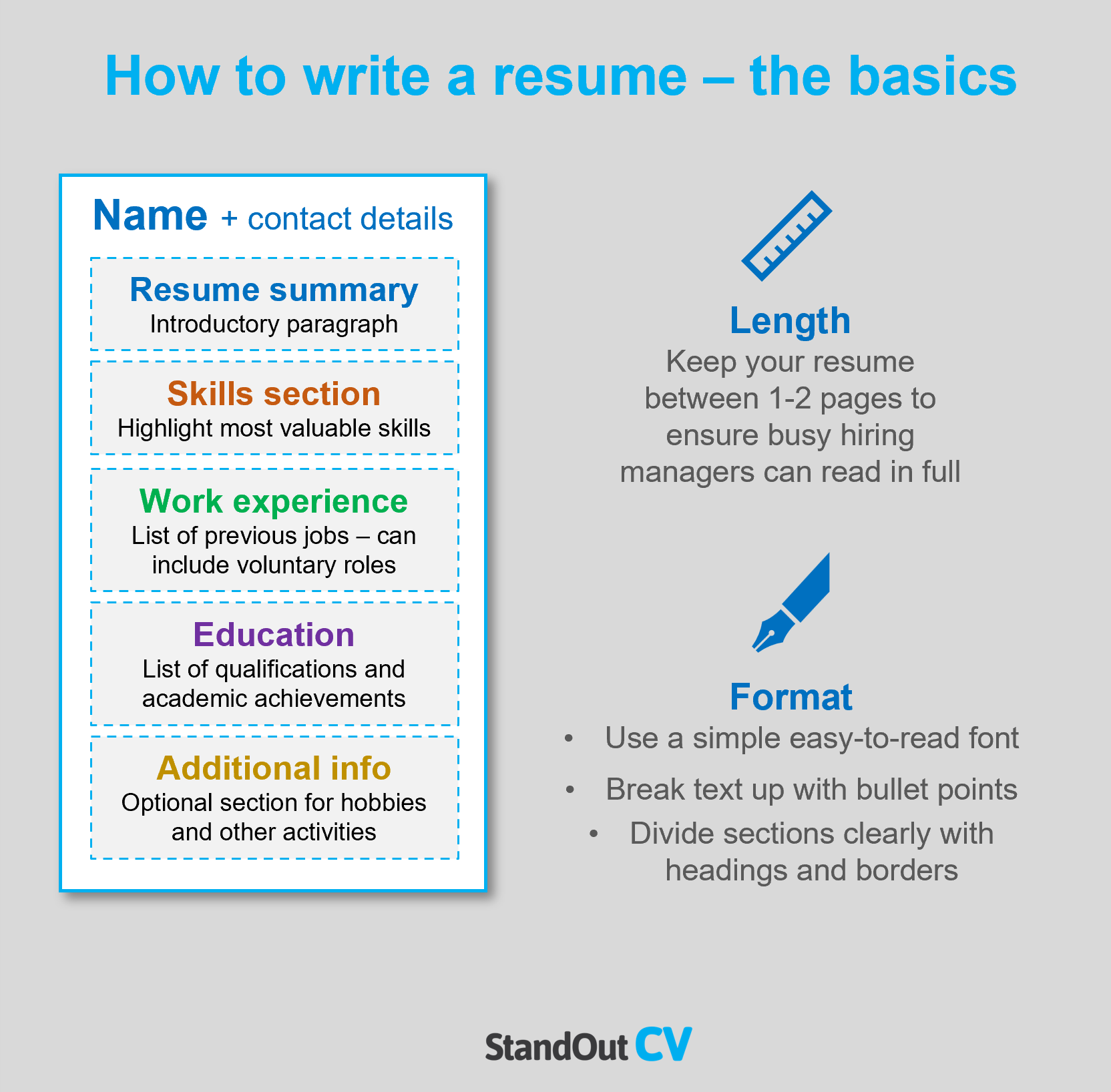 Formatting your resume
Length: Recruiters often see hundreds of resumes per day – so keep yours under 2 pages in length, if you want to ensure it gets read in full.
Font & readability: A readable resume is crucial if you want recruiters to see your important skills. Ensure yours is easy to read by using a simple, clear font and breaking up the text with bullet points and short paragraphs.
Layout & Structure: Go with a resume design that looks good, but also allows for easy reading and navigation for employers. Ensure the page is clearly split up into sections by adding large font headings and dividing borders. Keep the color scheme simple and don't overcrowd the page.
Photos: While adding a photo to your resume is not mandatory in the USA, it can be beneficial if you are applying to organizations in creative industries.
Quick tip: Achieving a professional look for your resume can be difficult and time-consuming. If you want to create an attractive resume quickly, try our partner's Resume Builder and use one of their eye-catching resume templates.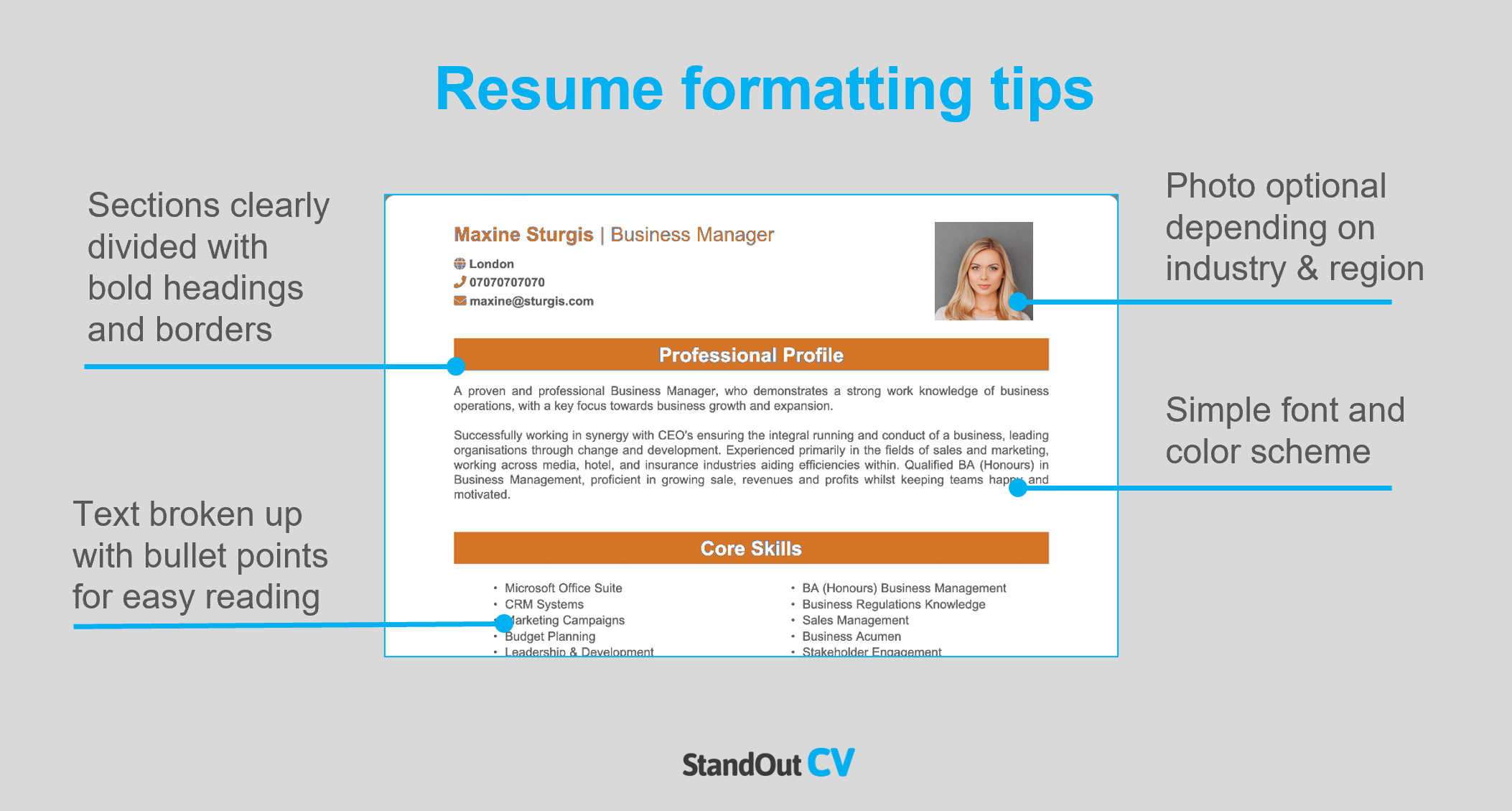 Resume layout
Your resume should include the following sections to give recruiters the information they require:
Name and Contact Details – Place your contact information at the top of your resume to make it easy for employers to get in touch with you.
Resume Summary – Write a brief introduction at the beginning of your resume that summarizes your most important qualifications and highlights why you are the ideal candidate for the job.
Skills Section – Include a concise list of your most relevant and impressive skills to quickly grab the attention of potential employers.
Work Experience – List your previous work experiences in reverse chronological order, including any volunteer work or college placements.
Education – List your educational qualifications and any professional training you have received.
Additional Information – This section is optional, but you can include details about your interests, hobbies, or any other relevant information that can make you stand out from other applicants.
Here's what to include in each part of your resume.
Contact Details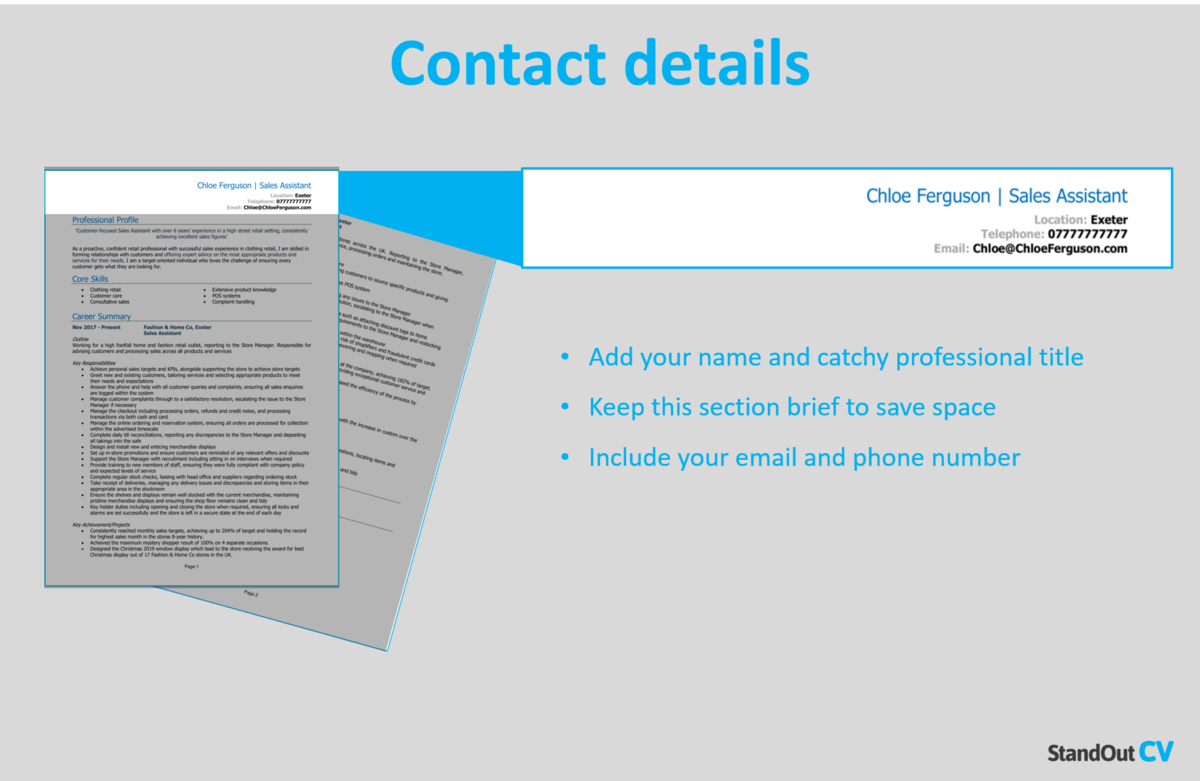 Make it easy for hiring managers to contact you by adding your contact details to the top of your resume.
Keep this section small to save space and include the following.
Name and profession title
Telephone number – Ideally your cell phone so you can answer quickly.
Location – Add your general location such as LA or New York
Email address – Use a professional looking one with no nicknames.
You can add a link to your LinkedIn profile if you have one – you do not need to include personal details like date of birth or marital status.
Truck Dispatcher Resume Summary
Grab the attention of recruiters right away by including a compelling summary at the top of your resume that summarizes your most valuable skills and experience.
This brief yet impactful section enables you to demonstrate why you're the best candidate for the job and convince recruiters to keep reading.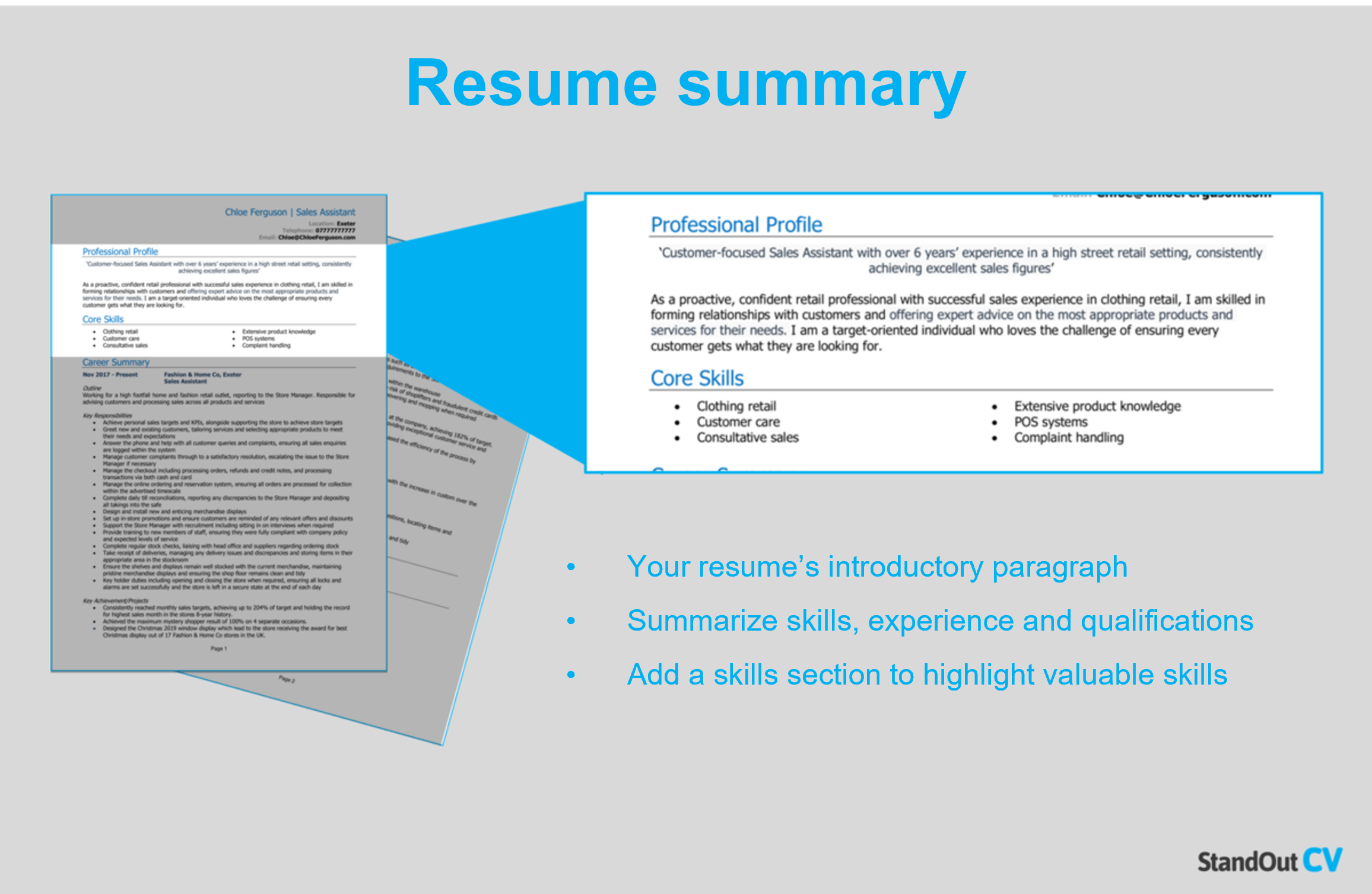 How to create a resume summary that will excite recruiters:
Keep it short: Aim for a short punchy paragraph of 4-7 lines. This is just enough info to showcase why you'd make the perfect hire, without going into excessive detail and overwhelming busy recruiters at such an early stage in the resume.
Tailor to target jobs: To mirror your target jobs, scrutinize the job description and include as many relevant skills as possible in your resume.
Avoid using cliches: Recruiters look for facts in resumes, such as hard skills and qualifications – so, leave out the meaningless cliches like "hard worker who works well in a team and individually"
Truck Dispatcher resume summary example
Reliable Truck Dispatcher with 9 years of experience in expediting the delivery of perishables, electronic, and automotive accessories carried by heavy vehicles across United States. Adept at utilizing innovative mapping software, GPS systems, and traffic updates to ensure drivers take efficient routes. Focused on preparing reports and furnish comprehensive feedback on operational performance, including areas for improvement and potential solutions. Capable of working independently when making decisions in fast-paced environments.
What to include in your Truck Dispatcher resume summary?
Summary of your experience: What type of organizations have you worked at? What types of roles have you done and what have you contributed to previous employers?
Relevant skills: Skills that are highly relevant to Truck Dispatcher work should be made prominent throughout your summary.
Qualifications: To make a strong impression on potential employers when applying for Truck Dispatcher jobs, be sure to mention any relevant qualifications in your summary.
Quick tip: Choose from hundreds of pre-written summaries across all industries, and add one to your resume with one-click in our partner's Resume Builder. All written by recruitment experts and easily tailored to suit your unique skillset and style.
Core skills section
Next, you should create a bullet pointed list of your core skills, formatted into 2-3 columns.
Here, you should focus on including the most important skills or knowledge listed in the job advertisement.
This will instantly prove that you're an ideal candidate, even if a recruiter only has time to briefly scan your resume.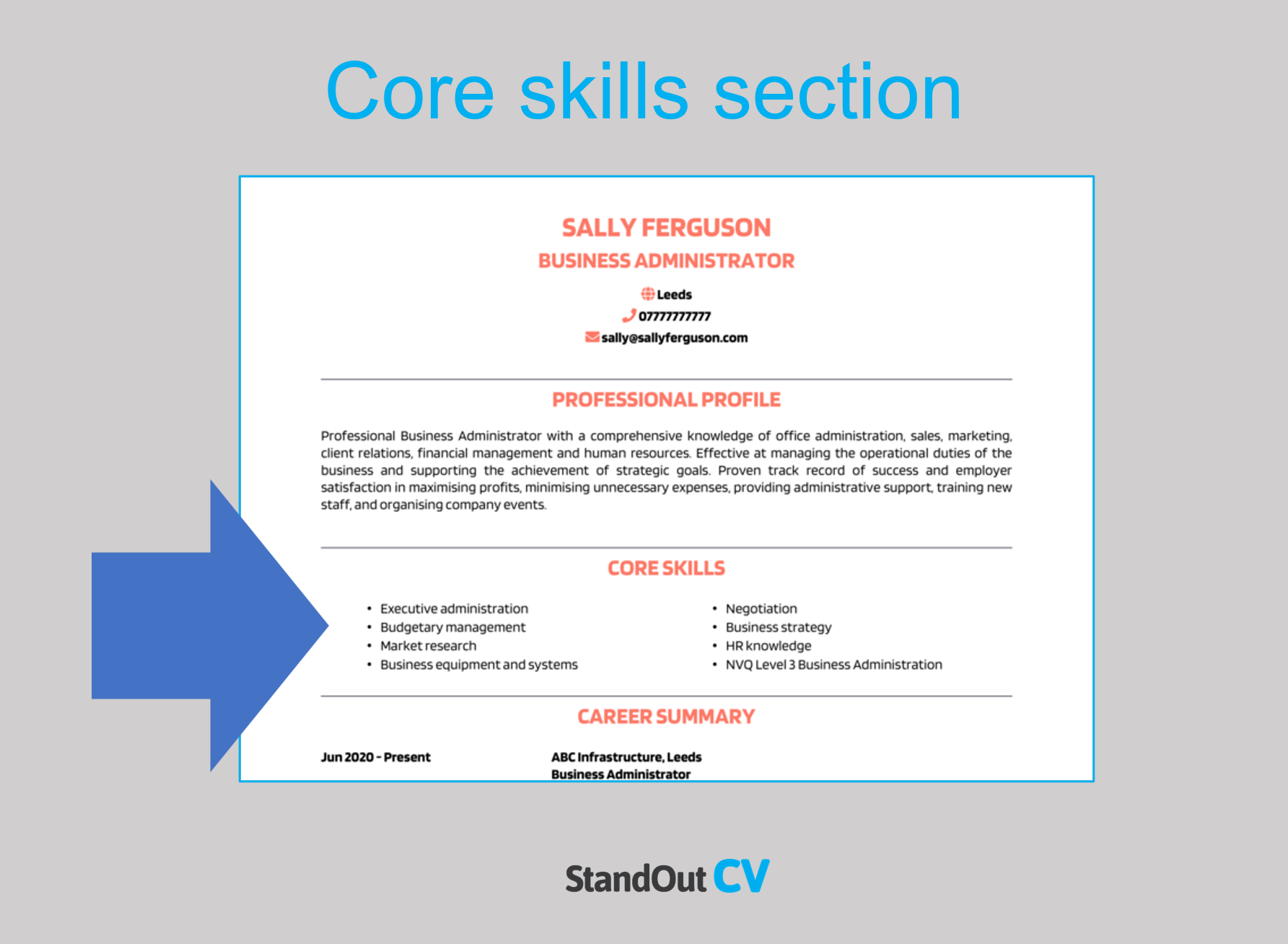 Best skills for your Truck Dispatcher resume
Route Planning – Planning efficient routes for truck drivers to optimize delivery schedules and minimize fuel consumption.
Dispatching Software – Utilizing dispatching software and tools to manage and track truck movements, monitor driver availability, and maintain real-time communication.
Stakeholder Communication – Coordinating effectively with truck drivers, customers, and other stakeholders, providing clear instructions and updates.
Problem Resolution – Identifying and resolving issues that may arise during transportation, such as traffic delays, breakdowns, or changes in delivery schedules.
Shipment Management – Prioritizing tasks, allocating resources effectively, and ensuring timely delivery of goods.
Geographical Knowledge – Maintaining a good understanding of local and regional geography to plan efficient routes, consider road restrictions, and navigate potential obstacles.
Documentation Management – Accurately recording and documenting information related to shipments, driver logs, and customer requirements.
Stress Management – Working well under pressure and handling stressful situations, such as unexpected delays or urgent requests, while maintaining composure and professionalism.
Customer Service – Addressing customer inquiries, resolving complaints, and ensuring a positive experience throughout the transportation process.
Quick tip: Our partner's Resume Builder contains thousands of in-demand skills for every profession that can be added to your resume in seconds – saving you time and greatly improving your chances of landing job interviews and getting hired.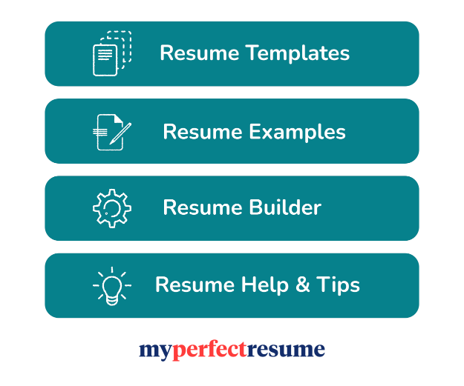 Work experience
Once you've got recruiters interested with your impactful summary, your work experience is where the real detail will lie.
Lay out your previous jobs from current to oldest, detailing what you contributed and achieved in each one.
If you're highly experienced you can cut this section down to your most recent few years of work, but if you are junior you can bulk this up with voluntary work and college placements.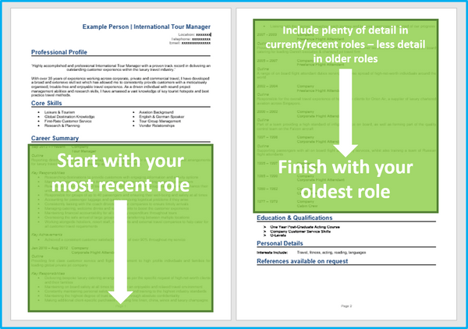 Structuring your jobs
Without a good structure, your job description can look messy and overwhelming to anyone reading them.
Make it easy for recruiters to read your work experience by structuring your roles like this.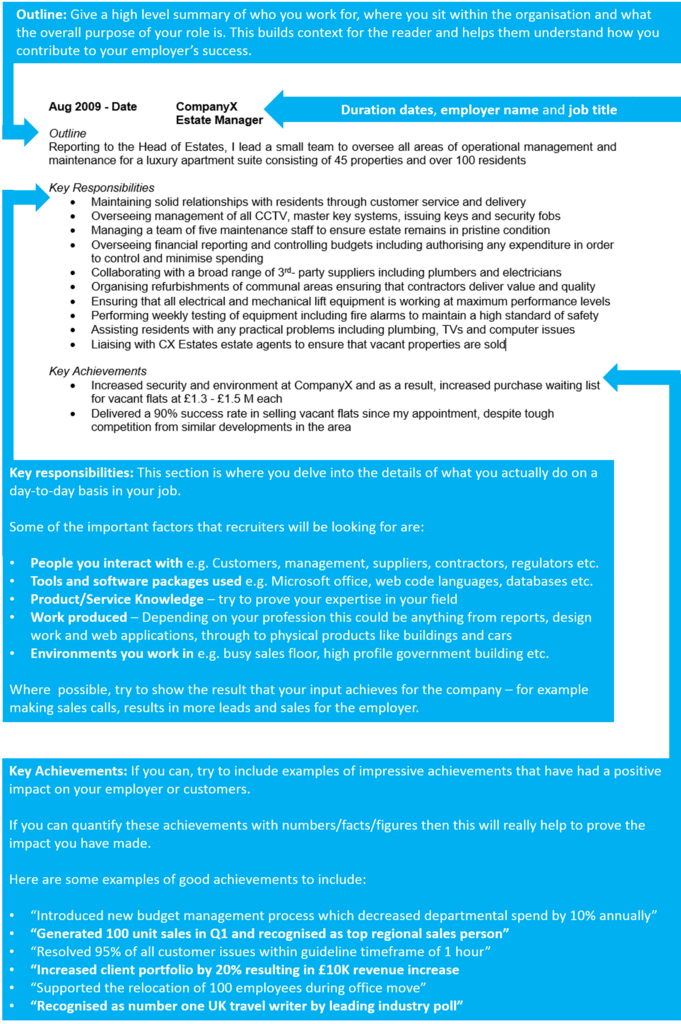 Job outline
To provide context to your jobs, begin each job with a concise summary of the organization, your role within it, and the main objectives of your position.
Key responsibilities
The bulk of the role description should be comprised of bullet points that explain all of your duties in the job.
Keep the sentences short and simple to make them easy for recruiters to digest.
Key achievements
Show employers the value you can bring to them by adding a few achievements to your jobs.
Whether you've saved the company money or improved an internal process, let recruiters know
Add some numbers to give readers a real scale of the impact, e.g. "reduced call wait time by 10%"
Example job for Truck Dispatcher resume
Outline
Coordinate the movement of trucks and drivers to verify the timely and methodical transportation of commodities, for a company that has been dedicated to bringing fresh and quality products to people around the world since 1986.
Key Responsibilities
Receive and review orders for shipments, including type and quantity requirements.
Determine cost-effective way to allocate loads in-line with industry standards.
Liaise with logistics personnel to schedule pick-ups, deliveries, and route assignments.
Plan and optimize journeys based on factors such as distance, deadlines, traffic conditions, and driver availability.
Quick tip: Create impressive job descriptions easily in our partner's Resume Builder by adding pre-written job phrases for every industry and career stage.

Education section
Nearing the end of your resume, your education/qualifications section should be added.
In a well-structured list, add all of your qualifications and certifications that qualify you to perform a typical Truck Dispatcher role.
If you have plenty of work experience, keep this section brief – if not, add lots of detail to make up for your lack of experience.
Additional information
The additional info section is optional but can be useful if you have anything else to add that could benefit your application.
For example, you may have some hobbies and interests that are relevant to your job – or you might have awards or publications to shout about.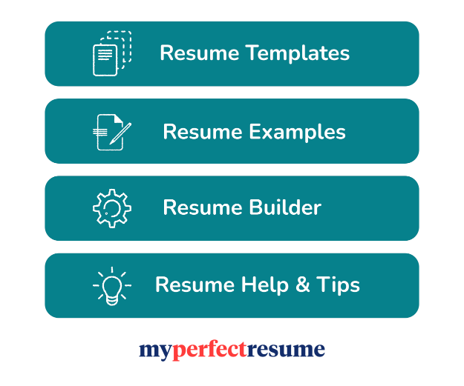 Writing your own winning Truck Dispatcher resume
Writing a Truck Dispatcher resume can be challenging but following the steps above will ensure that you land plenty of interviews.
Good luck with your job search!