Can you juggle multiple shipments, scheduling, storage, and more? If so, you could be the perfect transportation manager.
But in order to land the role, you need to effectively showcase your organization and decision-making skills with an engaging resume that will move the recruiter.
To help you do this, we've put together a handy writing guide, along with a transportation manager resume example. You can check these out below.
Contents
| | |
| --- | --- |
| How to write your Transportation Manager resume | |

Transportation Manager Resume Example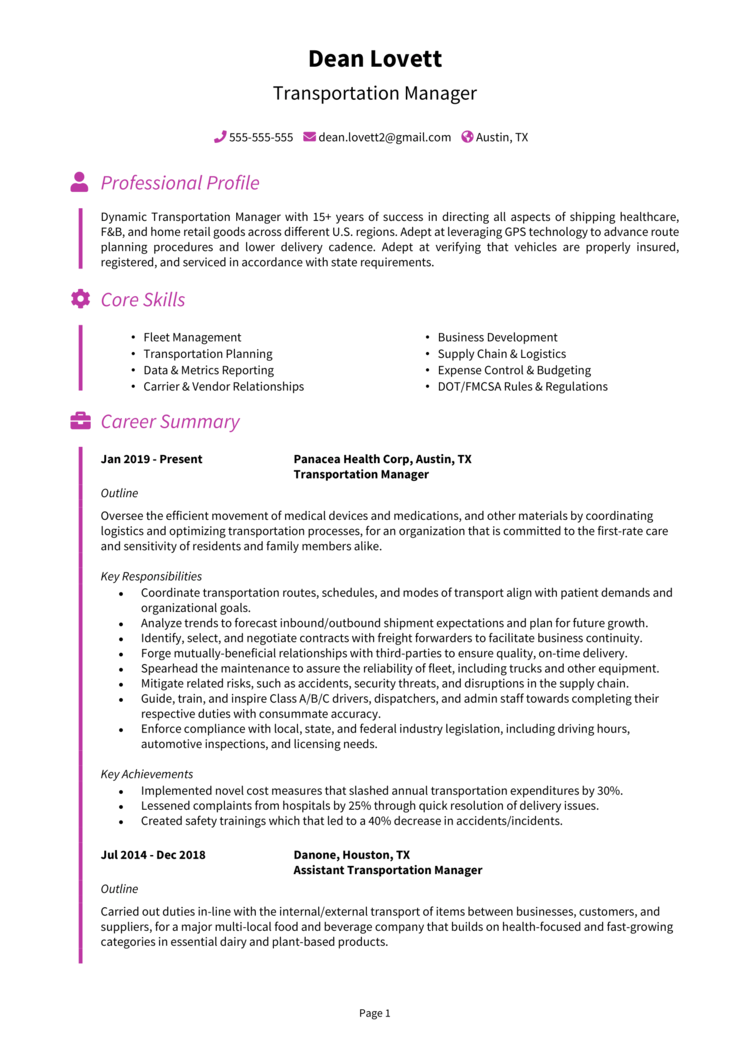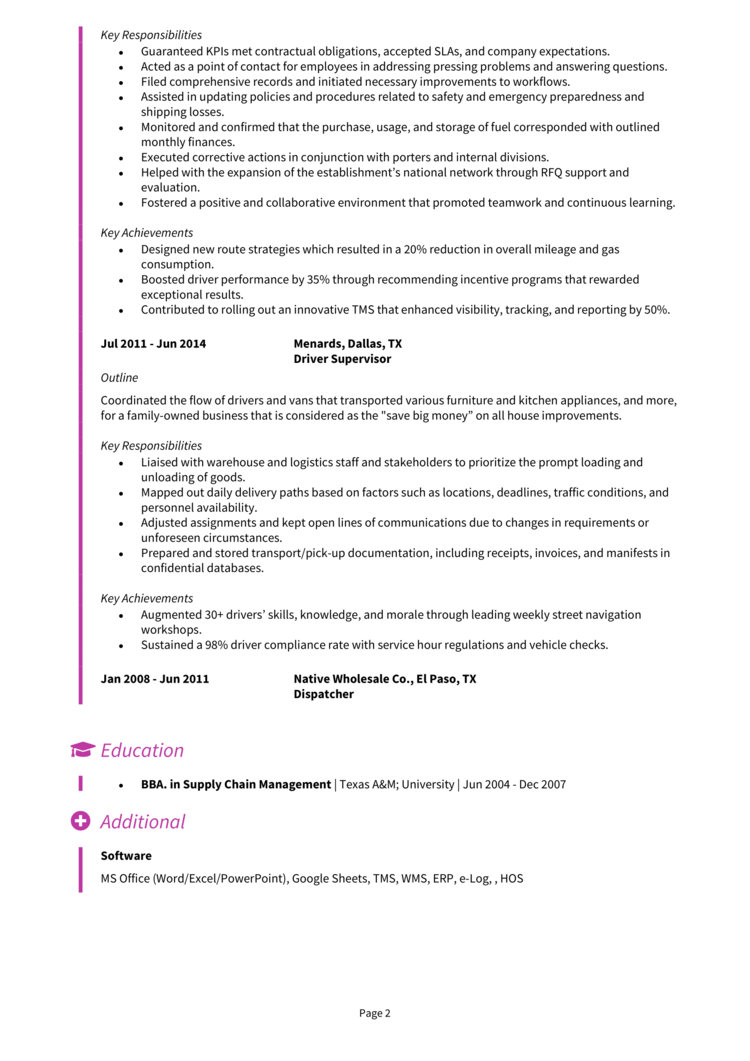 This Transportation Manager resume example gives you a good idea of how a good Transportation Manager resume should look and read.
The information is presented professionally and the content is well structured to ensure that time-strapped recruiters and hiring managers can find the important skills and knowledge quickly.
Refer to this example as you write your own resume.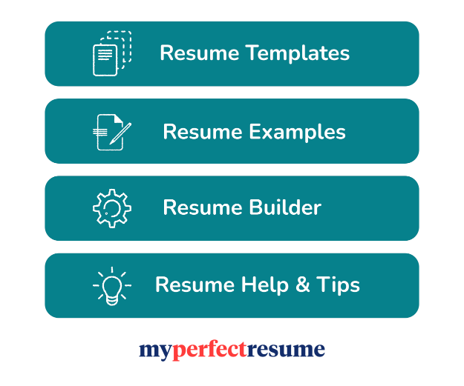 Transportation Manager resume layout and format
Formatting and structuring your resume correctly is key to landing job interviews.
Your resume needs to look attractive, but more importantly it needs to be easy for recruiters and hiring managers to read and digest the information.
These tips will help you to do that: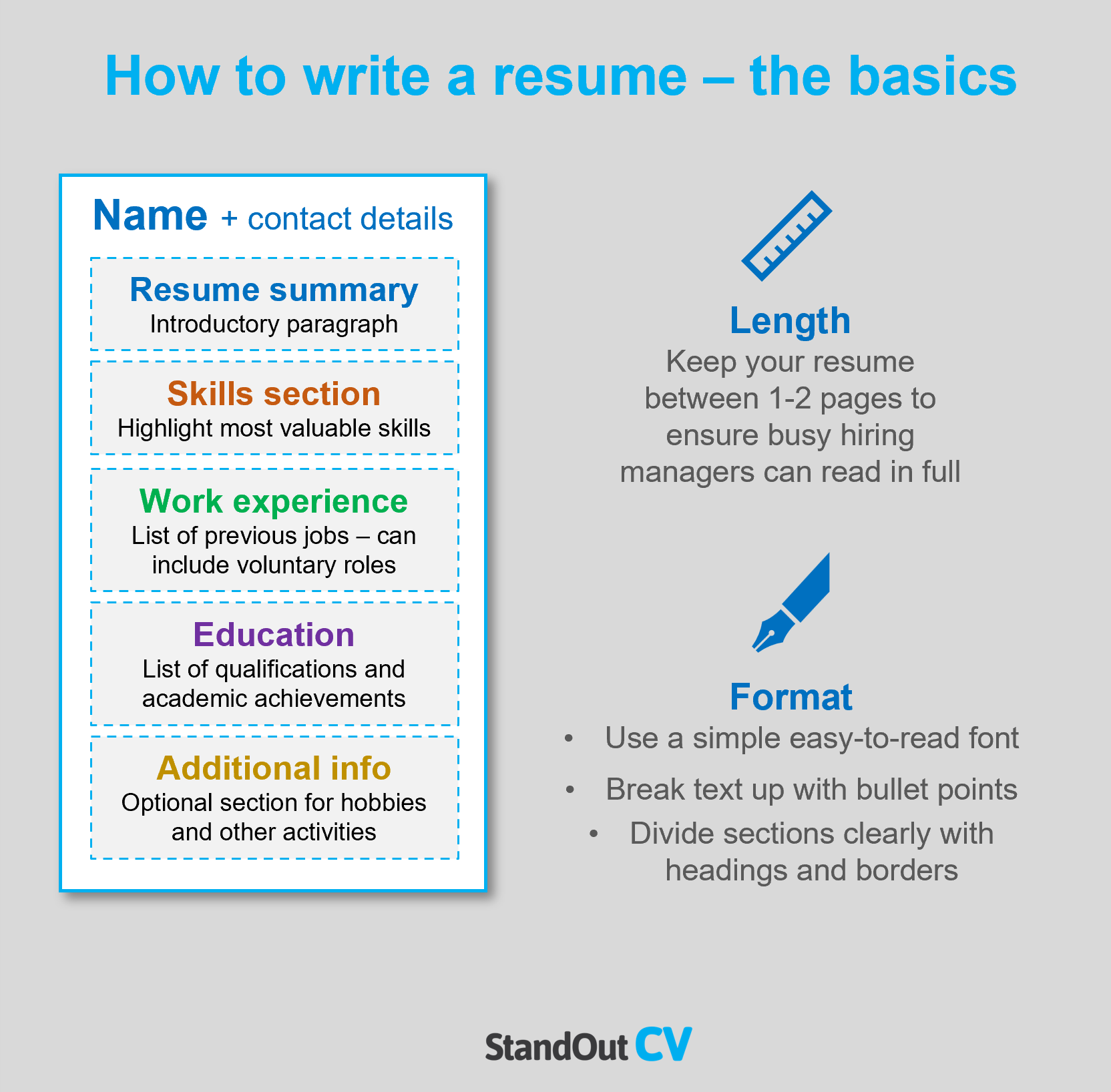 Formatting your resume
Length: Keep your resume to 2 pages or under. You've probably heard that recruiters and hiring managers don't have lots of time to read every resume, so keep yours brief if you want to ensure that they read all of the important info in yours.
Font & readability: A readable resume is crucial if you want recruiters to see your important skills. Ensure yours is easy to read by using a simple, clear font and breaking up the text with bullet points and short paragraphs.
Layout: Go with a resume design that looks good, but also allows for easy reading and navigation for employers. Ensure the page is clearly split up into sections by adding large font headings and dividing borders. Keep the color scheme simple and don't overcrowd the page.
Photos: Including a photo on your resume is not obligatory in the United States, but it may be a good idea in some regions and industries where it is customary.
Quick tip: Achieving a professional look for your resume can be difficult and time-consuming. If you want to create an attractive resume quickly, try our partner's Resume Builder and use one of their eye-catching resume templates.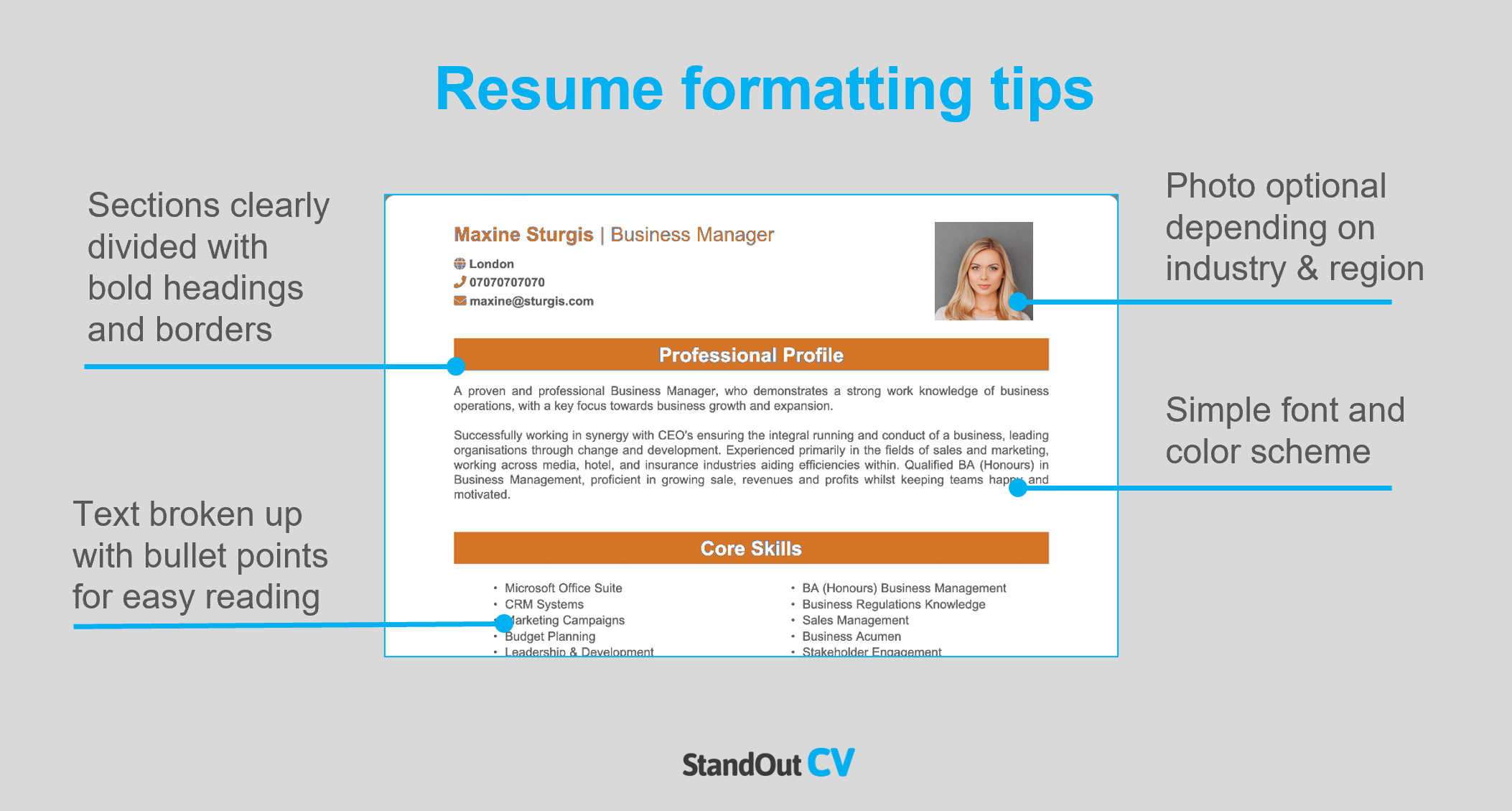 Resume layout
Include the following sections when you write your resume.
Name and contact details – Make it easy for employers to contact you, by putting these at the top.
Resume summary – An intro paragraph sitting at the top of your resume, summarizing the reasons why you should be hired.
Skills section – A short snappy list of your most important skills, that can be quickly digested
Work experience – Reverse chronological list of your previous jobs – voluntary work and college placements can be included if you have no paid experience.
Education – List your qualifications and professional training.
Additional info – An optional section for things like hobbies and interests.
Here's what to add to each section of your Transportation Manager resume.
Contact Details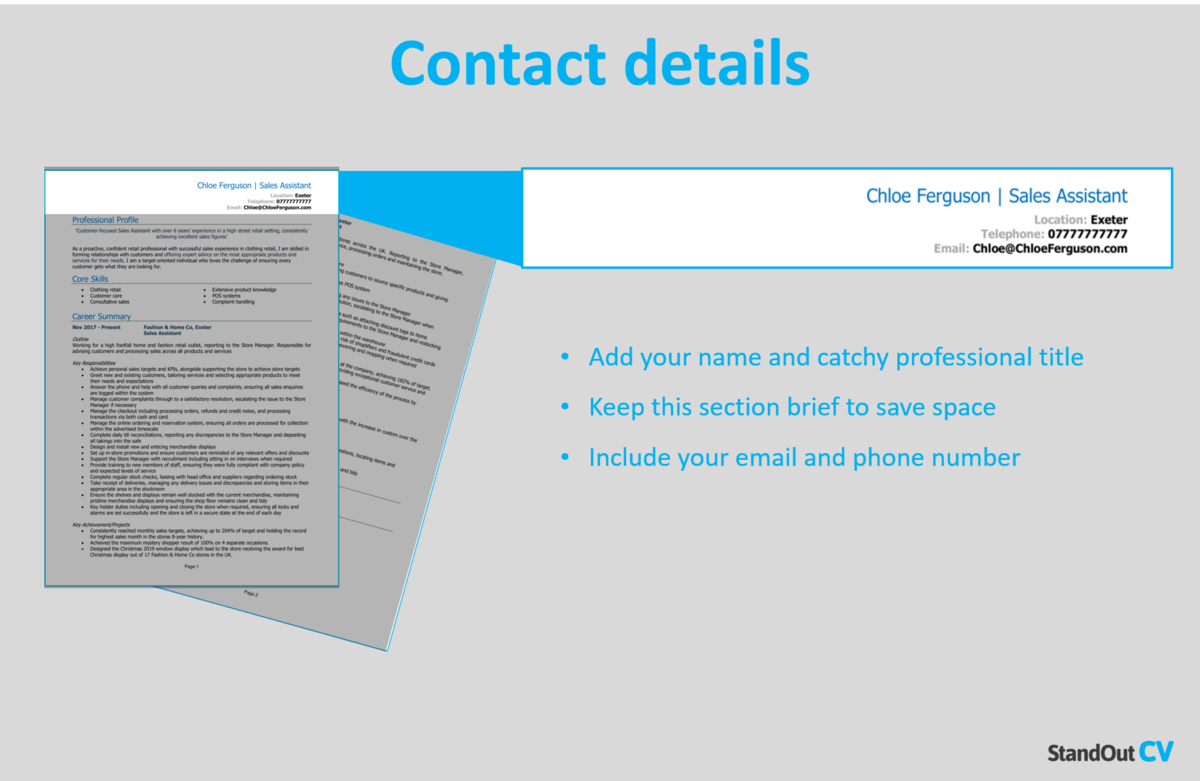 Keep your contact details short to save resume space and include the following.
Name and profession title
Cell phone number
Location – Add your local area such as Silicon Valley or New York, unless you are looking for work in a different location
Email address – Keep it professional and don't use an old address that you thought was cool in high school, but now looks a bit embarrassing.
You can add a link to your LinkedIn profile if you have one – you do not need to include personal details like date of birth or marital status.
Transportation Manager Resume Summary
Your resume summary is like an elevator pitch. It's your chance to sell yourself to employers within a short space of time.
Achieve this by summarizing your skills and expertise, whilst highlighting your abilities that closely match the jobs you are aiming for.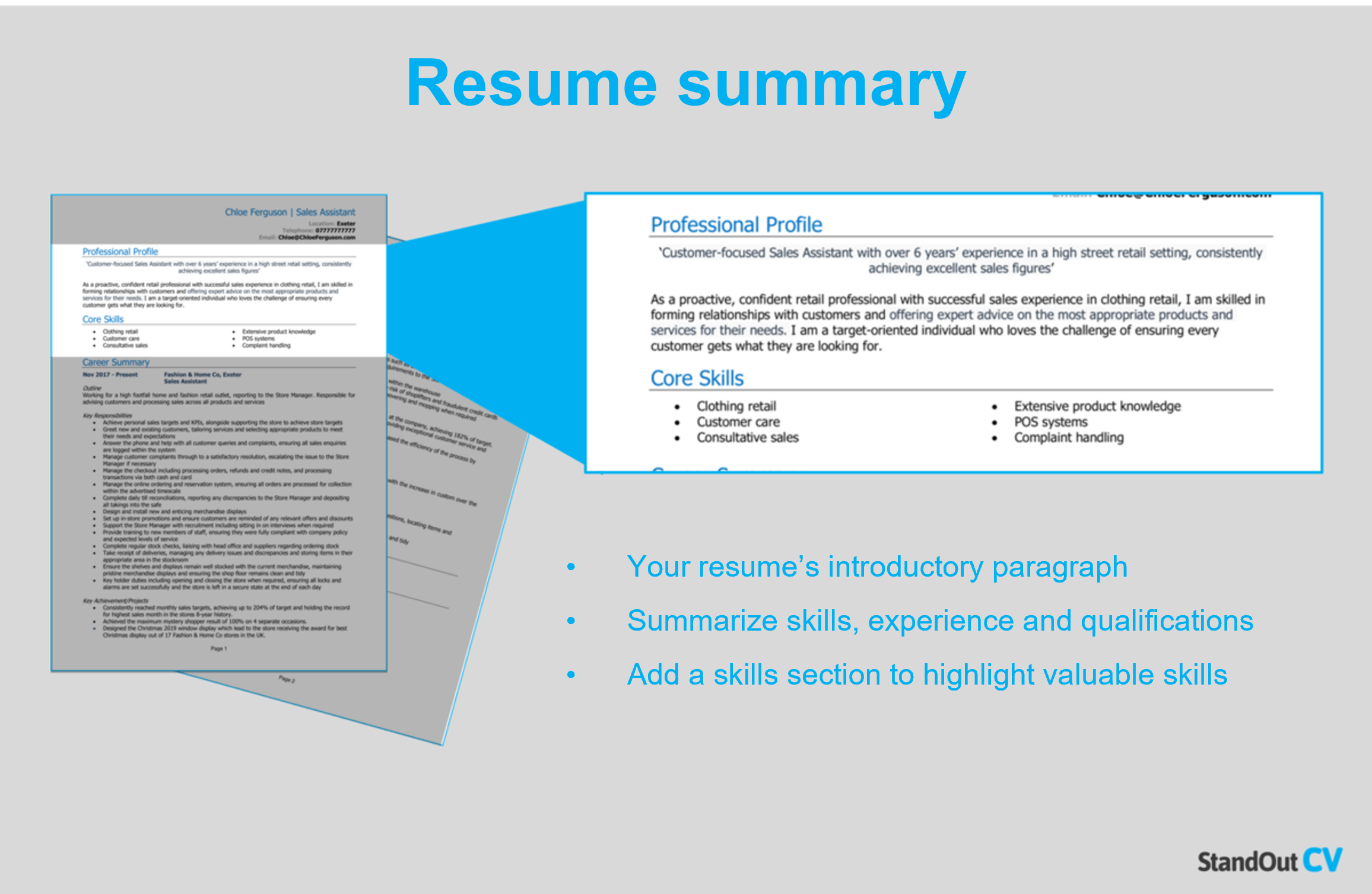 How to create a resume summary that will excite recruiters:
Keep it short: To capture a recruiter's attention and keep them interested in your resume, limit your summary to 4-7 lines as you only have a few seconds to make an impression
Tailor to target jobs: To mirror your target jobs, scrutinize the job description and include as many relevant skills as possible in your resume.
Avoid using cliches: You may be a "team player who always give 110%" but generic phrases don't tell employers much about you in reality – stick to factual information.
Transportation Manager resume summary example
Dynamic Transportation Manager with 15+ years of success in directing all aspects of shipping healthcare, F&B, and home retail goods across different U.S. regions. Adept at leveraging GPS technology to advance route planning procedures and lower delivery cadence. Adept at verifying that vehicles are properly insured, registered, and serviced in accordance with state requirements. 
What to include in your Transportation Manager resume summary?
Summary of your experience: Provide an overview of the type of work you have done in the past and the impact you have made at previous employers.
Relevant skills: Scatter your most in-demand Transportation Manager skills through your summary to ensure they are noticed quickly by hiring managers.
Qualifications: Mention any Transportation Manager qualifications that are important to your profession in the summary briefly, to show you are qualified to carry out the role.
Quick tip: Choose from hundreds of pre-written summaries across all industries, and add one to your resume with one-click in our partner's Resume Builder. All written by recruitment experts and easily tailored to suit your unique skillset and style.
Core skills section
Underneath your summary, write a core skills section to make your most relevant skills jump off the page at readers.
It should be made up of 2-3 columns of bullet points of your relevant skills.
Before you do this, look over the job description and make a list of any specific skills, specialisms or knowledge required.
Then, make sure to use your findings in your list. This will paint you as the perfect match for the role.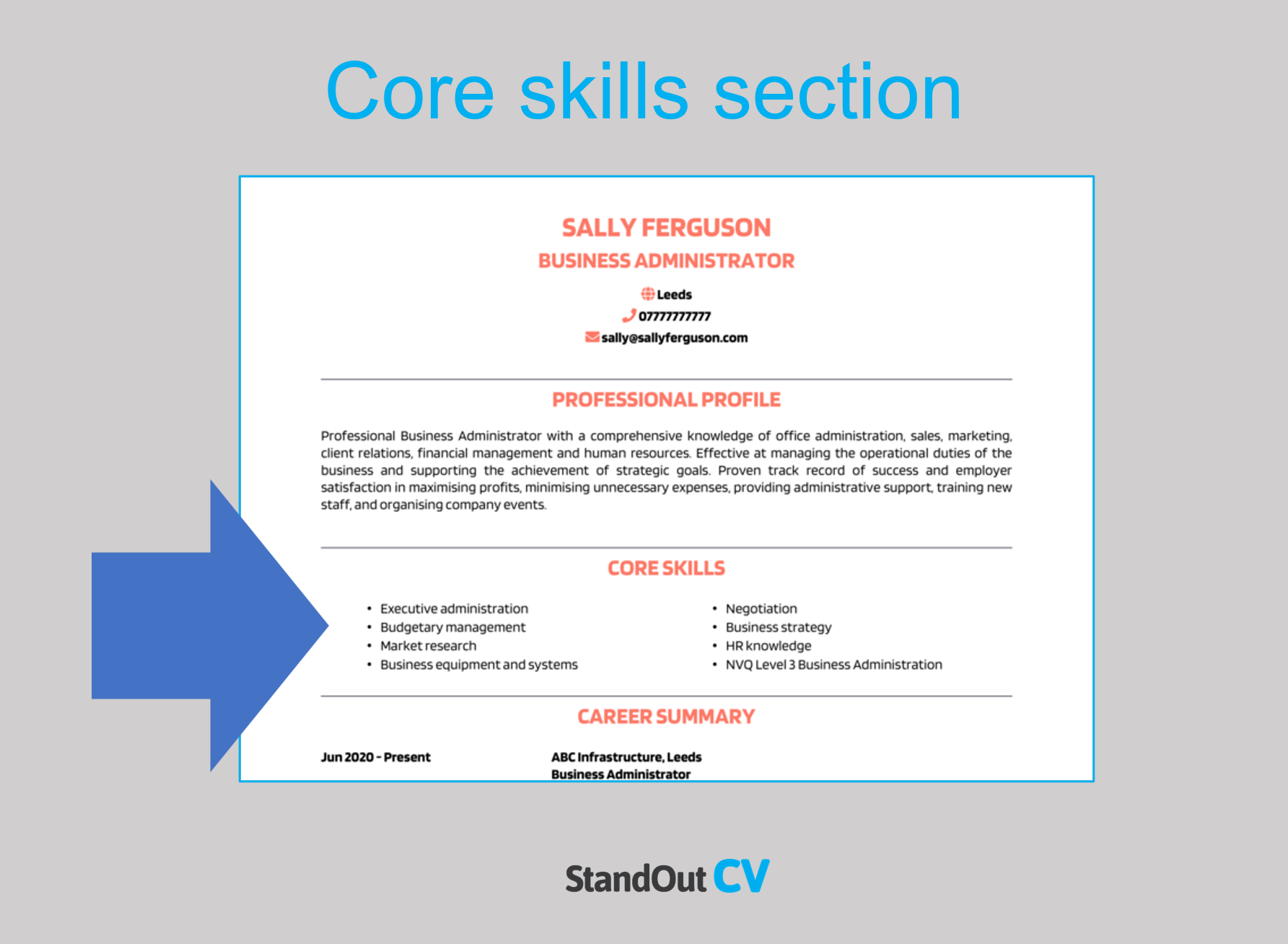 Best skills for your Transportation Manager resume
Logistics Management – Planning and optimizing transportation routes to ensure efficient and cost-effective operations.
Fleet Management – Managing a fleet of vehicles, including maintenance, fueling, and scheduling.
Budgeting and Cost Control – Creating and managing budgets to control transportation costs and maximize profitability.
Regulatory Compliance – Maintaining familiarity with federal, state, and local transportation regulations to ensure legal compliance and safety.
Team Leadership – Managing and leading transportation teams, including drivers and support staff, to achieve operational goals.
Supply Chain Coordination – Coordinating transportation activities with suppliers, customers, and other stakeholders to maintain smooth supply chain operations.
Problem Resolution – Identifying and resolving transportation-related issues to minimize disruptions and delays.
Data Analysis – Analyzing transportation data to identify trends, improve performance, and make data-driven decisions.
Negotiation – Negotiating contracts and pricing with transportation service providers to secure favorable terms.
Stakeholder Communication – Interacting with team members, clients, vendors, and other stakeholders effectively.
Quick tip: Our partner's Resume Builder contains thousands of in-demand skills for every profession that can be added to your resume in seconds – saving you time and greatly improving your chances of landing job interviews and getting hired.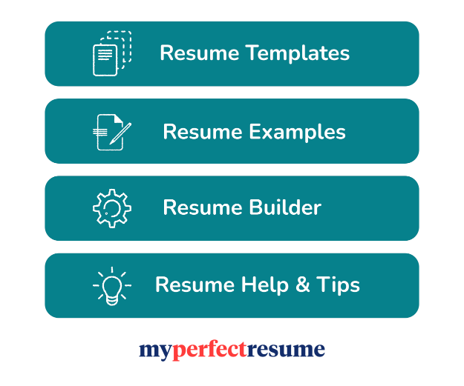 Work experience
Congratulations on successfully capturing the recruiter's interest with your attention-grabbing summary! Now, it's time to showcase your workplace impact by providing a detailed list of your previous job experiences and achievements.
If you have significant experience, consider highlighting the most recent few years to condense this section. However, for junior job seekers, it's essential to include as much relevant experience as possible, including volunteering and school work placements.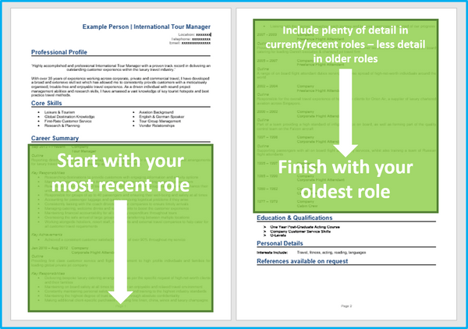 Structuring your jobs
It's easy to overwhelm readers when writing about a job you have been doing for years or even months.
Break the information up like this to keep it simple for recruiters to understand.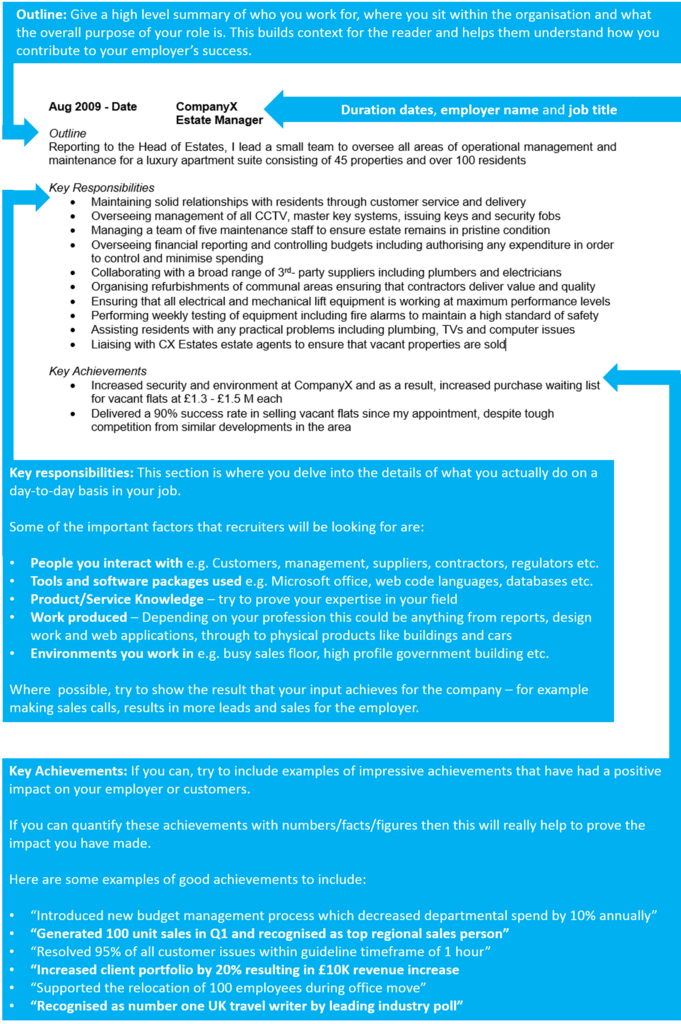 Job outline
Start with a 1-2 sentence outline of the role, summarizing what the goal of your position was, who you reported to (or managed) and the type of organization you worked for.
Key responsibilities
Then delve into the detail of your job by listing out easy-to-read bullet points which show how you apply your skills in the workplace.
Tailor these bullet points to focus on the skills and knowledge that are required in the jobs you are applying for.
Key achievements
Show employers the value you can bring to them by adding a few achievements to your jobs.
Whether you've saved the company money or improved an internal process, let recruiters know
Add some numbers to give readers a real scale of the impact, e.g. "reduced call wait time by 10%"
Example job for Transportation Manager resume
Outline
Oversee the efficient movement of medical devices and medications, and other materials by coordinating logistics and optimizing transportation processes, for an organization that is committed to the first-rate care and sensitivity of residents and family members alike.
Key Responsibilities
Coordinate transportation routes, schedules, and modes of transport align with patient demands and organizational goals.
Analyze trends to forecast inbound/outbound shipment expectations and plan for future growth.
Identify, select, and negotiate contracts with freight forwarders to facilitate business continuity.
Forge mutually beneficial relationships with third parties to ensure quality, on-time delivery.
Quick tip: Create impressive job descriptions easily in our partner's Resume Builder by adding pre-written job phrases for every industry and career stage.

Education section
Towards the bottom of your resume, add your education section.
Here you should list your professional qualifications and academic record, such as high school diplomas or college degrees.
If you have lots of work experience, you can keep this section brief (because recruiters will be more interested in your career. If you have little/no experience then you should bulk this section up with plenty of detail.
Additional information
The bottom of your resume is a place to add any "additional info"
Any other info that didn't fall into any of the previous sections can be added here.
If you have hobbies that are related to your profession or any awards or publications – add them here.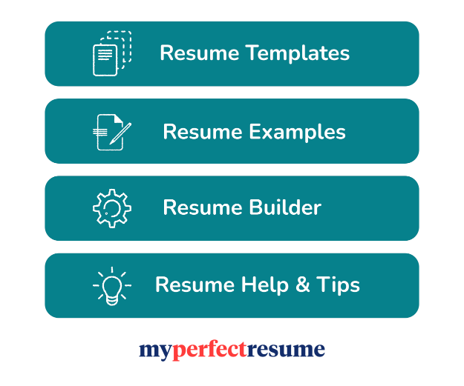 Writing your own winning Transportation Manager resume
By tailoring your resume to the specific job and industry you are targeting and ensuring that it effectively communicates your professional value, you can position yourself as a top candidate for all Transportation Manager positions.
Good luck with your job search!