Plays, musicals, comedies, tragedies, skits, there's nothing you can't do.
But acting can be a competitive gig and if you want to secure your next role you need an impressive resume that will help you take center stage.
If you're not sure how to get started with your application, let us take the lead. Below we've put together a step-by-step guide and theatre actor resume example to help you.
Contents
| | |
| --- | --- |
| How to write your Theatre Actor resume | |

Theatre Actor Resume Example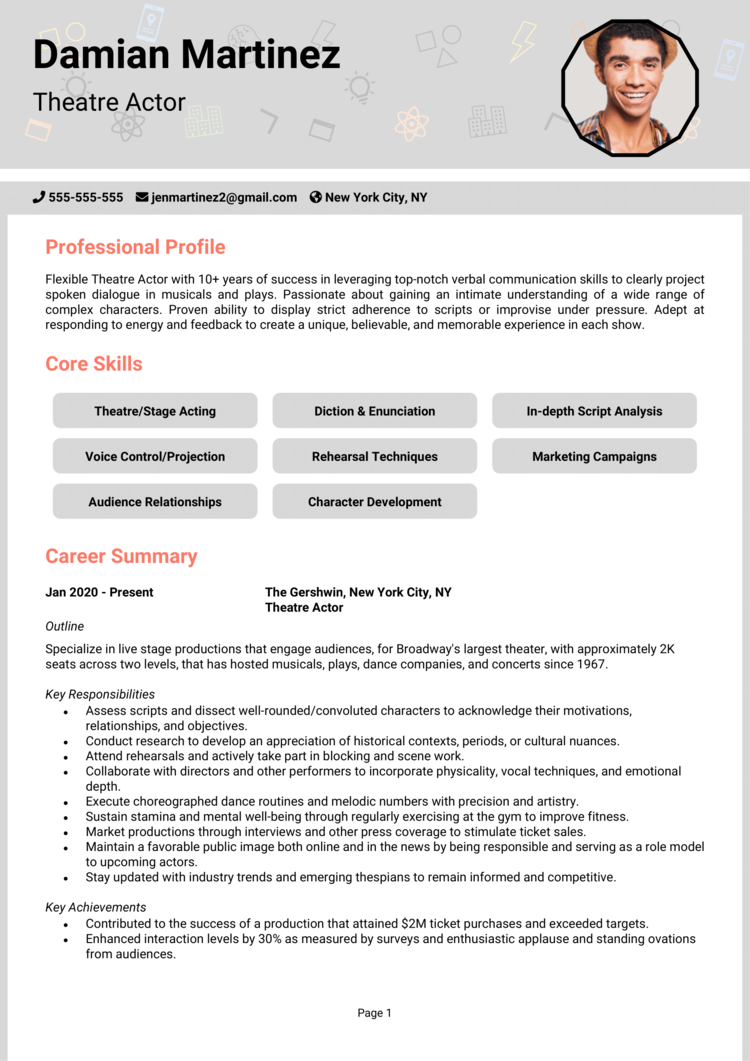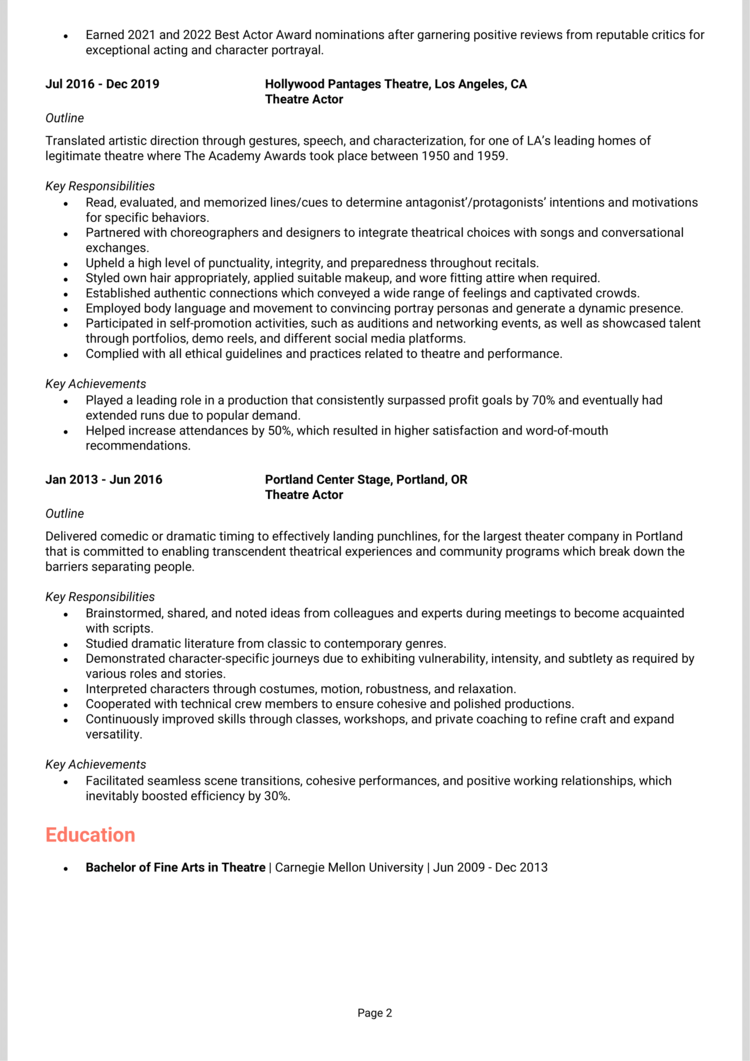 From the Theatre Actor resume example above, you can see the kind of information your resume will need to include, and the layout you will need to create for an easy-reading experience.
The rest of this guide will show you how to apply this format to your own unique situation, and create a resume that will attract the best employers in your industry.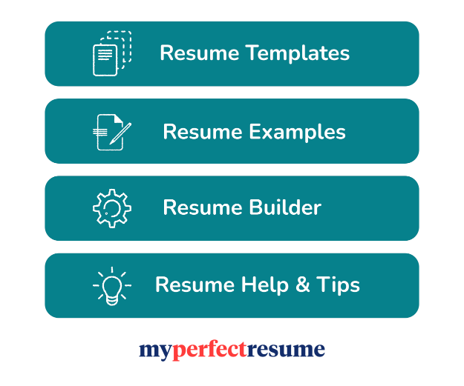 Theatre Actor resume layout and format
If you want to get noticed in the job market, you have to pay attention to the format and layout of your resume.
Essentially your resume needs to look highly polished, and provide hiring managers with an easy reading experience.
Use these resume formatting tips to get a head start on this.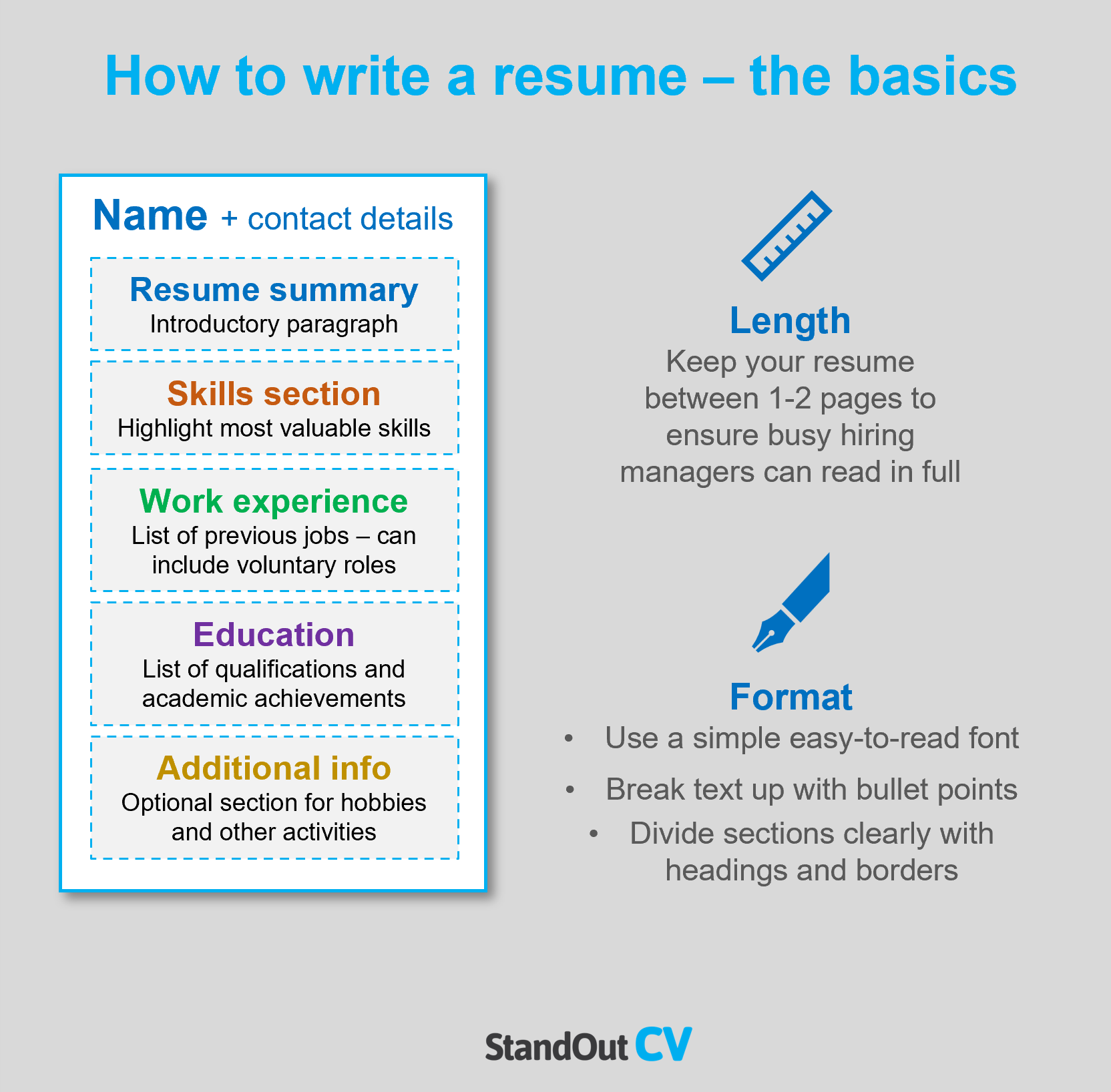 Formatting your resume
Length: Keep your resume to 2 pages or under. You've probably heard that recruiters and hiring managers don't have lots of time to read every resume, so keep yours brief if you want to ensure that they read all of the important info in yours.
Font & readability: Simplicity and a pleasant reading experience are crucial if you want to highlight your most valuable skills to recruiters. Use a clear font (avoid fancy ones) and break up the text in your resume with bullet points to ensure information can be easily consumed.
Layout: Your resume should look appealing – but don't overlook functionality when it comes to design. Organise the page into clear sections using bold headings and borders.
Photos: You are not obliged to add a photo to your resume in the USA, but it can be a nice way of adding some life to the document.
Quick tip: Achieving a professional look for your resume can be difficult and time-consuming. If you want to create an attractive resume quickly, try our partner's Resume Builder and use one of their eye-catching resume templates.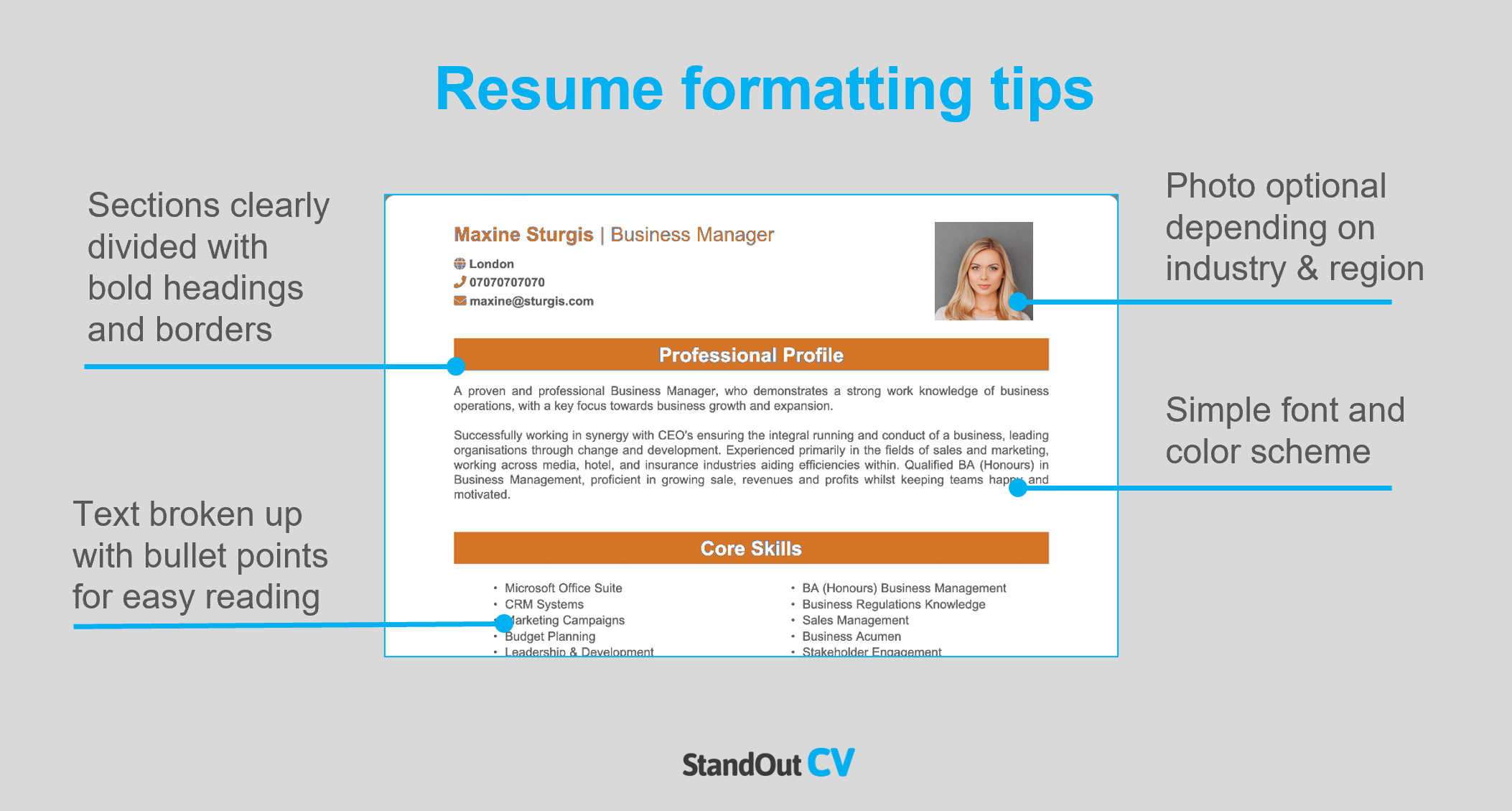 Resume layout
When you write your resume, include the sections below.
Name and contact details – Pop these at the very top to ensure recruiters know how to contact you.
Resume summary – An eye-catching paragraph which summarizes your most valuable attributes – placed near the top of your resume
Skills section – A bullet pointed list of your most in-demand skills, enabling recruiters to see your suitability from a glance.
Work experience – List some or all of your previous jobs in reverse chronological order – voluntary work and college placements can be included if you have no paid experience.
Education – A summary of your professional training and academic qualifications.
Additional info – An optional section for anything that may boost your application, such as relevant hobbies and interests
Here's what to add to each section of your Theatre Actor resume.
Contact Details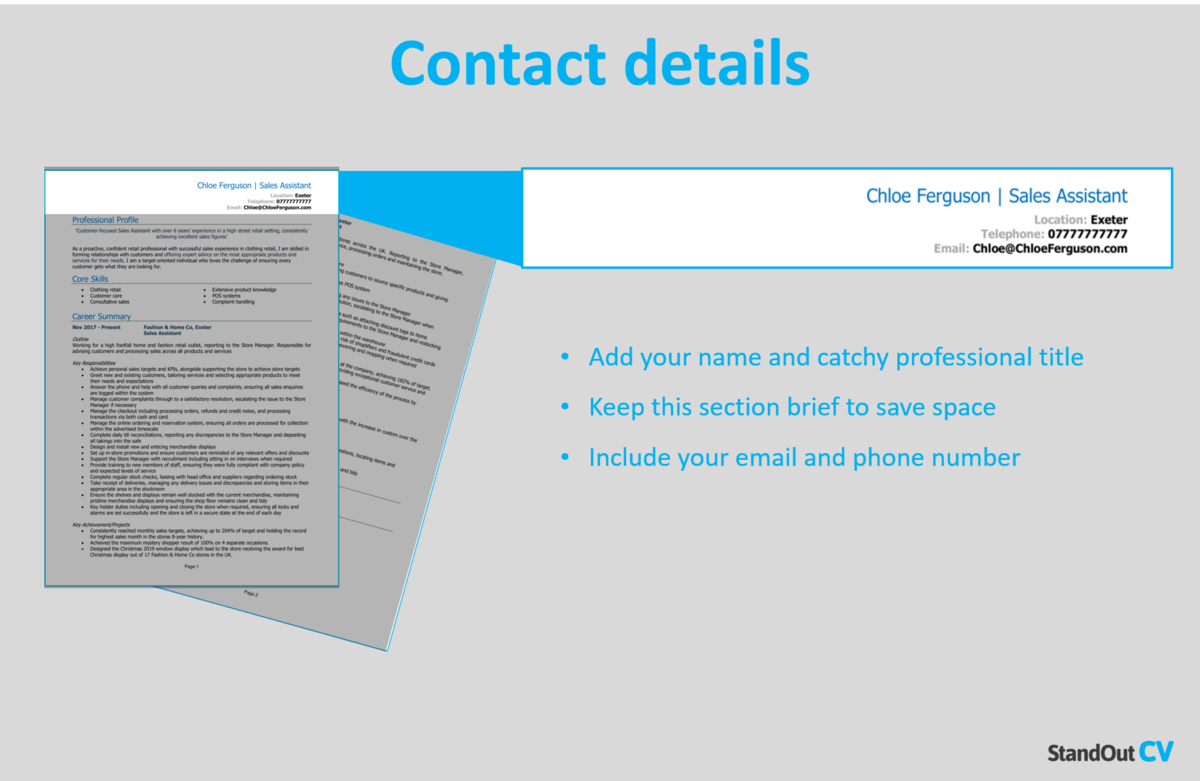 Make it easy for hiring managers to contact you by adding your contact details to the top of your resume.
Keep this section small to save space and include the following.
Name and profession title
Telephone number – Ideally your cell phone so you can answer quickly.
Location – Add your general location such as LA or New York
Email address – Use a professional looking one with no nicknames.
You can add a link to your LinkedIn profile if you have one – you do not need to include personal details like date of birth or marital status.
Theatre Actor Resume Summary
Start your resume with a bang by adding a powerful summary to the top, summarizing your most valuable skills and experience.
This short paragraph is your chance to show recruiters why you are a perfect fit for the job and encourage them to read more of your resume.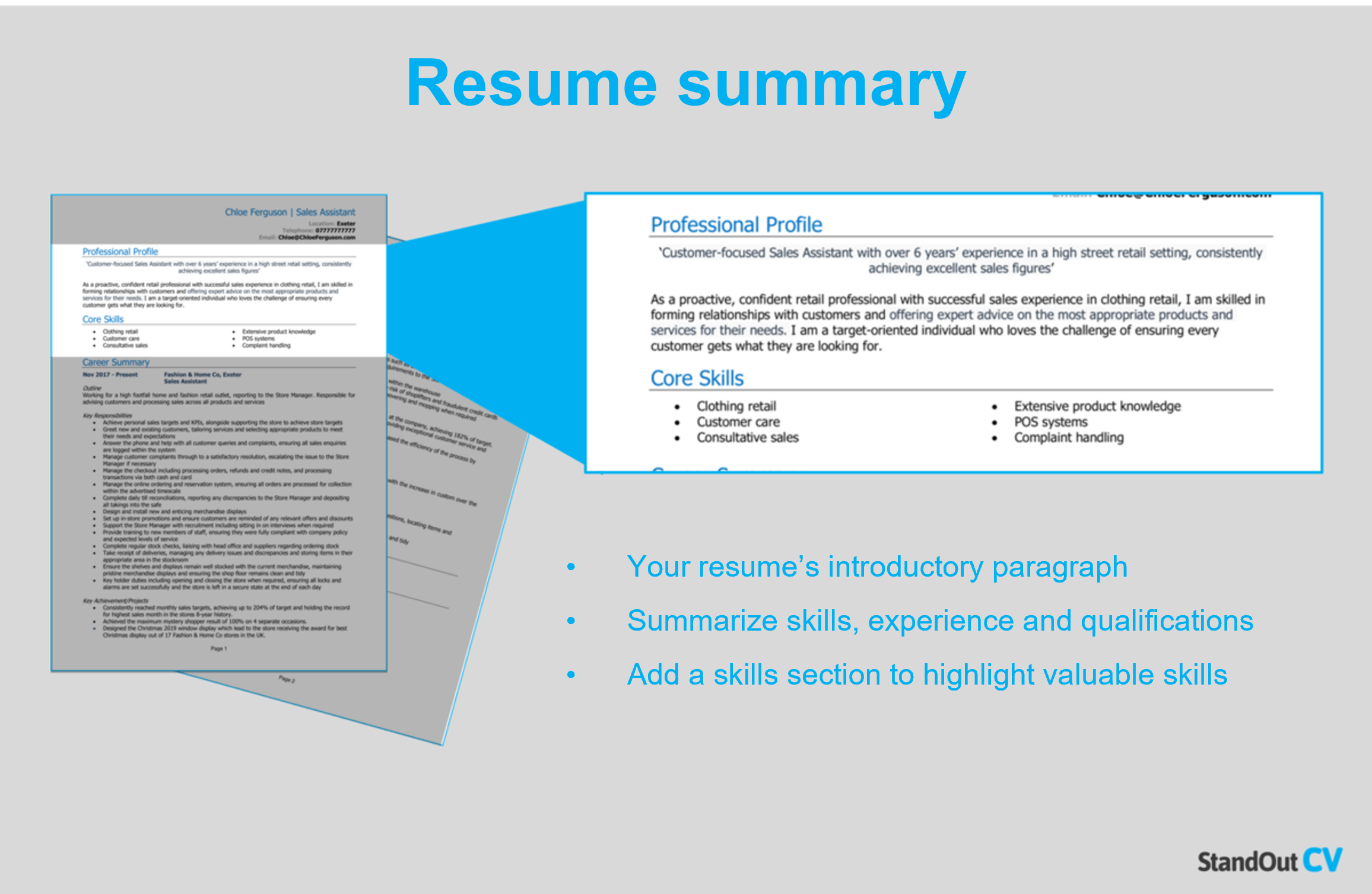 How to create a resume summary that will excite recruiters:
Keep it short: A concise and focused resume summary is essential for capturing a recruiter's attention and keeping them engaged. Limiting your summary to 4-7 lines ensures that you make a strong impression in the first few seconds of them opening the document.
Tailor to target jobs: Tailor your resume to your target jobs by studying the job description and adding as many matching skills as you can.
Avoid using cliches: To capture the attention of recruiters you must provide factual information, such as hard skills and qualifications, and avoid using empty phrases like "Go-getter who thinks outside the box."
Theatre Actor resume summary example
Flexible Theatre Actor with 10+ years of success in leveraging top-notch verbal communication skills to clearly project spoken dialogue in musicals and plays. Passionate about gaining an intimate understanding of a wide range of complex characters. Proven ability to display strict adherence to scripts or improvise under pressure. Adept at responding to energy and feedback to create a unique, believable, and memorable experience in each show.
What to include in your Theatre Actor resume summary?
Summary of your experience: Briefly describe the work you have performed in the past and the contributions you have made to the organizations you have worked for.
Relevant skills: Scatter your most in-demand Theatre Actor skills through your summary to ensure they are noticed quickly by hiring managers.
Qualifications: To make a strong impression on potential employers when applying for Theatre Actor jobs, be sure to mention any relevant qualifications in your summary.
Quick tip: Choose from hundreds of pre-written summaries across all industries, and add one to your resume with one-click in our partner's Resume Builder. All written by recruitment experts and easily tailored to suit your unique skillset and style.
Core skills section
Sitting just underneath your resume summary, your core skills section gives recruiters 4-10 of your most in-demand skills in just a glance.
As Theatre Actor jobs may get hundreds of applications, this is a great way to stand out and quickly grab hiring managers' attention.
It should be made up of 2-3 columns of bullet points and highlight attributes that are hyper-relevant to the jobs you are aiming for.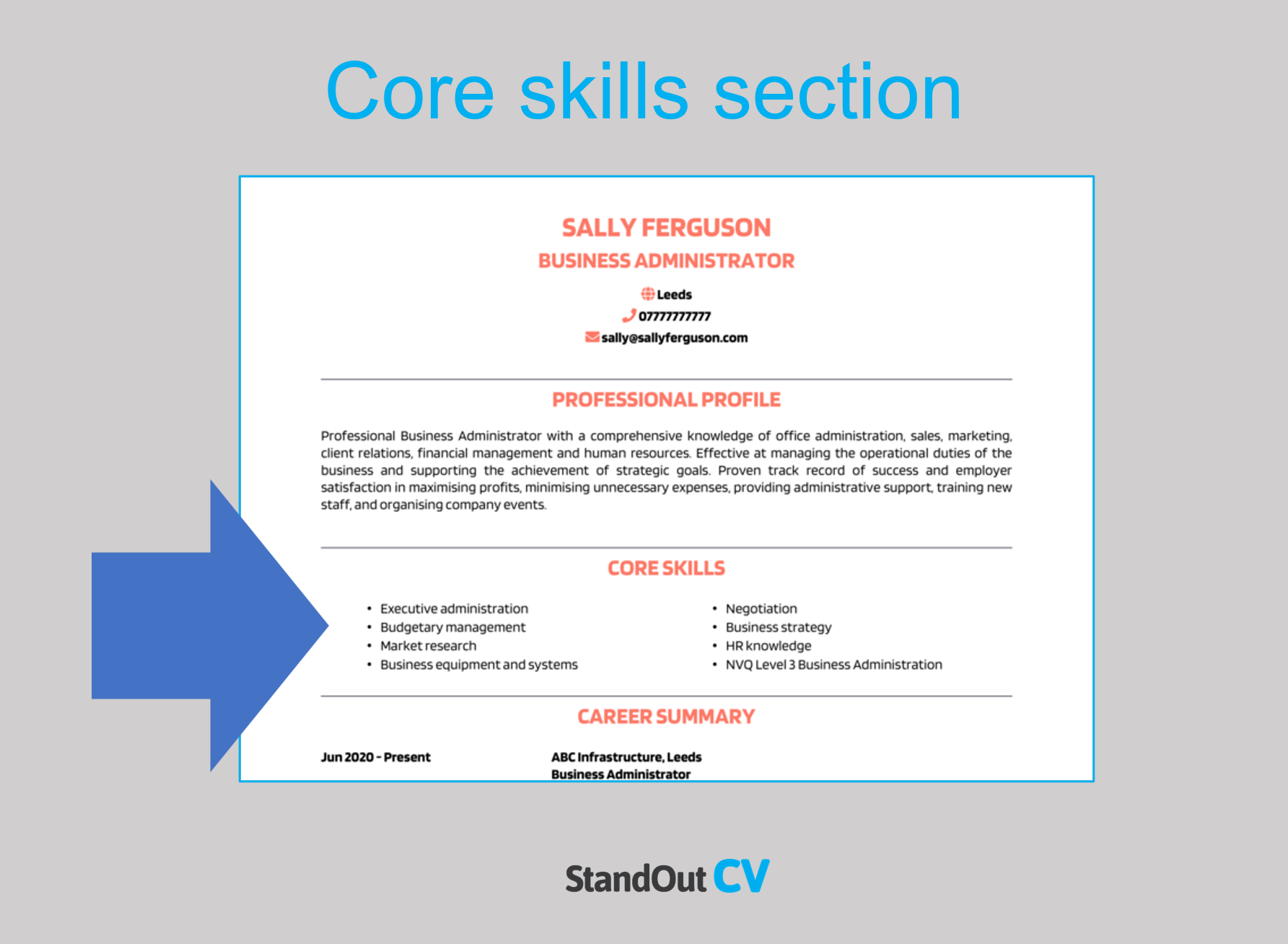 Best skills for your Theatre Actor resume
Acting Techniques – Using various acting methods and techniques to effectively portray characters on stage.
Voice Control and Projection – Controlling and projecting the voice to ensure clear and audible delivery of lines to the audience.
Movement and Physicality – Using body language and physical movements to express emotions and create dynamic performances.
Memorization – Memorizing lengthy scripts and lines to deliver consistent and polished performances.
Improvisation – Improvising lines or actions to respond to unexpected situations during live performances.
Stage Presence – Exhibiting confidence and charisma on stage, engaging the audience and commanding attention throughout the performance.
Character Development – Deeply understanding and developing complex characters, incorporating layers and nuances into their portrayal.
Emotional Range – Displaying a wide range of emotions convincingly, allowing for authentic and impactful performances.
Collaboration – Working effectively with directors, fellow actors, and production crew members, fostering a cohesive and creative working environment.
Rehearsal Dedication – Remaining committed and disciplined during rehearsals, continuously refining and perfecting the performance.
Quick tip: Our partner's Resume Builder contains thousands of in-demand skills for every profession that can be added to your resume in seconds – saving you time and greatly improving your chances of landing job interviews and getting hired.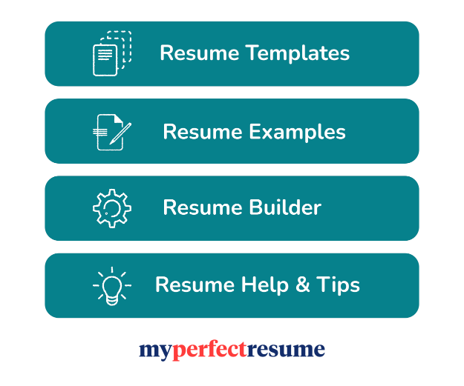 Work experience
So, you've got the recruiter interested with your catchy summary… Great work.
Now it's time to show them the impact you make in the workplace by listing out your previous jobs and what you achieved in each one.
If you have tons of experience, you can condense this part down to the last few years – if you are junior, then you should include as much possible (even volunteering and school work placements)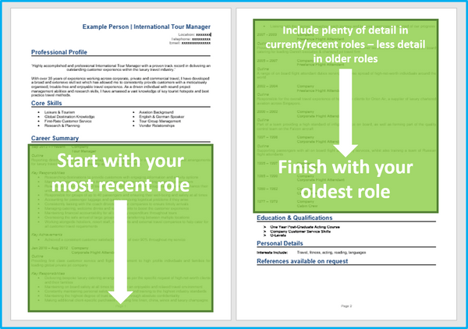 Structuring your jobs
Without a good structure, your job description can look messy and overwhelming to anyone reading them.
Make it easy for recruiters to read your work experience by structuring your roles like this.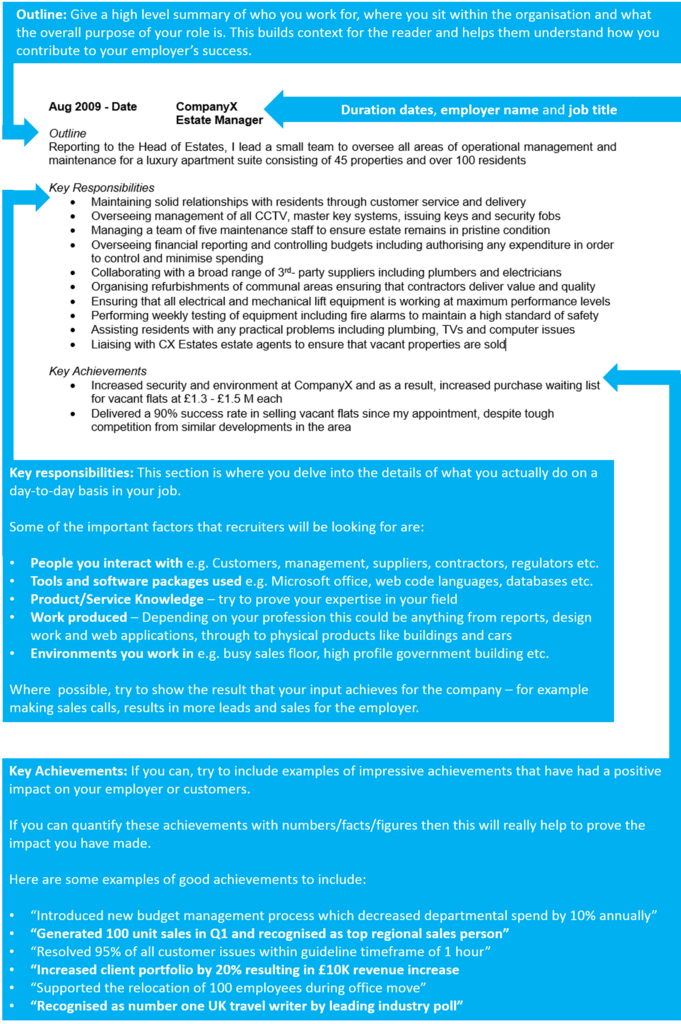 Job outline
Starting each job with a brief summary of the organization, your position within it, and the primary goal of your role can help recruiters quickly understand the context of your work.
Key responsibilities
Next, write up a punchy list of your daily duties and responsibilities, using short bullet points.
Describe how you apply your skills and contribute to the running of the employer's business – highlighting skills which are applicable to your target jobs.
Key achievements
Round off each job by adding some impressive achievements you made in the role.
Anything you've done that has made a big impact on your employer will make a good impression, think; generating revenue, saving costs, or improving a product.
Quantify your achievements with number where possible e.g. "reduced call wait time by 10%"
Example job for Theatre Actor resume
Outline
Specialize in live stage productions that engage audiences, for Broadway's largest theatre, with approximately 2K seats across two levels, that has hosted musicals, plays, dance companies, and concerts since 1967.
Key Responsibilities
Assess scripts and dissect well-rounded/convoluted characters to acknowledge their motivations, relationships, and objectives.
Conduct research to develop an appreciation of historical contexts, periods, or cultural nuances.
Attend rehearsals and actively take part in blocking and scene work.
Collaborate with directors and other performers to incorporate physicality, vocal techniques, and emotional depth.
Quick tip: Create impressive job descriptions easily in our partner's Resume Builder by adding pre-written job phrases for every industry and career stage.

Education section
Near the end of your resume add your education section.
Experienced candidates should keep it brief and focus on professional qualifications – and junior candidates can include high school diplomas, college degrees etc.
Additional information
The bottom of your resume is a place to add any "additional info"
Any other info that didn't fall into any of the previous sections can be added here.
If you have hobbies that are related to your profession or any awards or publications – add them here.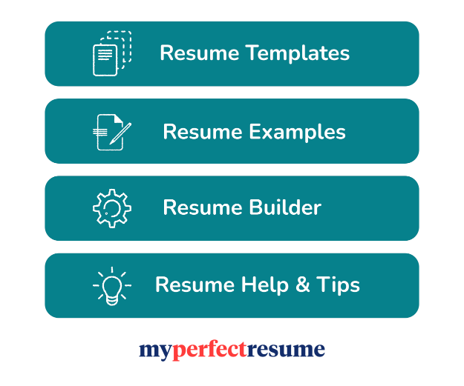 Writing your own winning Theatre Actor resume
Writing a Theatre Actor resume can be challenging but following the steps above will ensure that you land plenty of interviews.
Good luck with your job search!