You've trained hard, put in the hours and now you're ready for your next role assisting as a surgical technologist.
But when you play such an important role in the surgical process and ensuring patients are properly cared for, you need to prove you've got what it takes.
Find out how to do just that with our step-by-step instructions below, complete with a surgical technologist resume example to guide you.
Contents
| | |
| --- | --- |
| How to write a Surgical Technologist resume | |

Surgical Technologist Resume Example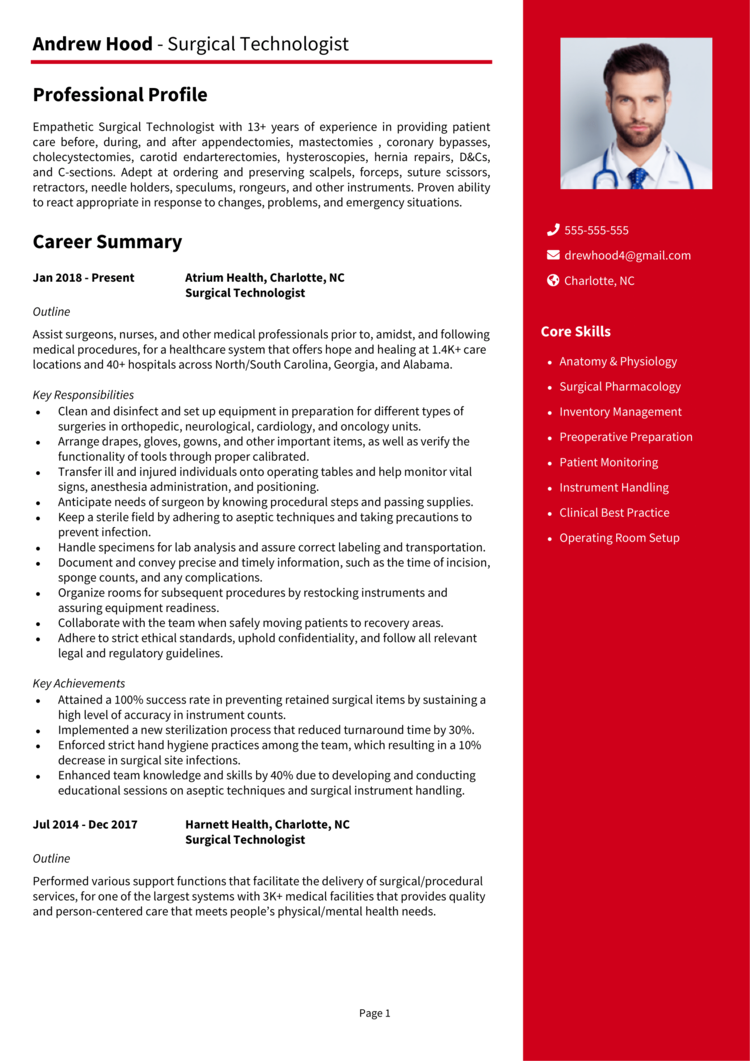 This Surgical Technologist resume example gives you a good idea of how a good Surgical Technologist resume should look and read.
The information is presented professionally and the content is well structured to ensure that time-strapped recruiters and hiring managers can find the important skills and knowledge quickly.
Refer to this example as you write your own resume.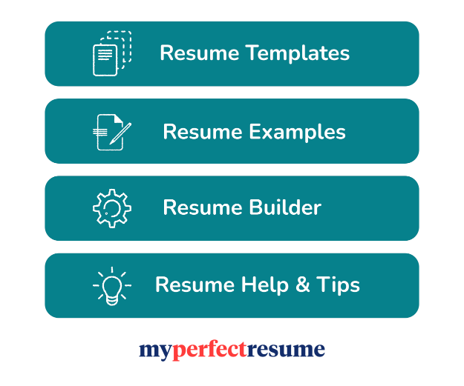 Surgical Technologist resume layout and format
Formatting is often overlooked when writing resume, but it's a crucial element of it"s success.
Creating a document that not only looks good, but is easily comprehended, is the key to gaining and holding the attention of busy hiring managers.
Use these formatting tips for best results.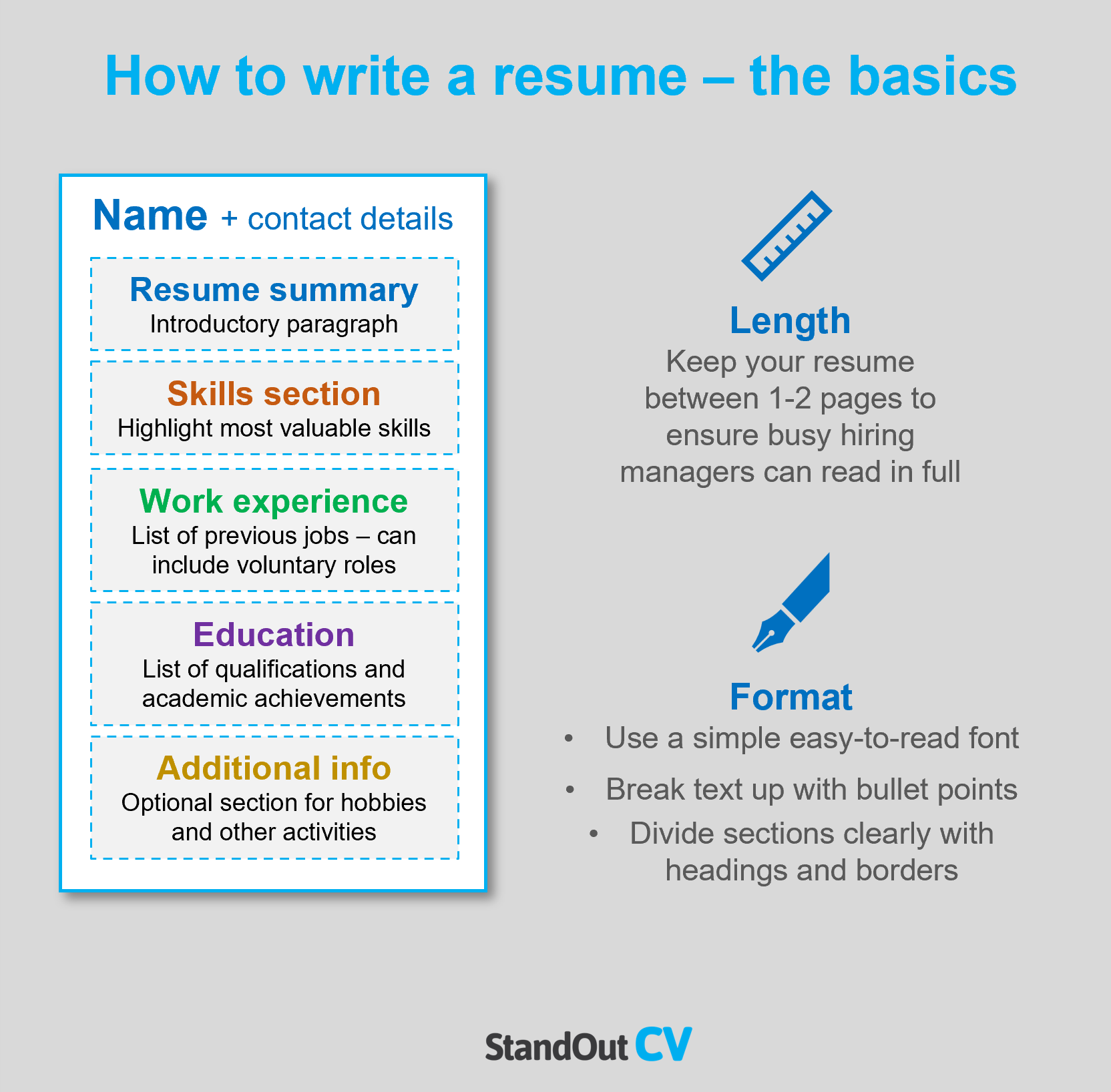 Formatting your resume
Length: As recruiters have a limited amount of time to review each resume they see, keep your resume to 2 pages or less to increase the chances of it being thoroughly reviewed.
Font & readability: Readability is the name of the game when it comes to your resume. Ensure yours is a dream to read by using a simple clear font, and breaking the text up with plenty of bullet points and short paragraphs.
Layout & Structure: While creating an attractive resume, it is crucial not to compromise functionality for design. To ensure both, use bold headings and borders to structure the page into clear sections.
Photos: Although it's not mandatory to include a photo on your resume in the United States, it may be a good idea to do so in certain regions and industries where it is preferred.
Quick tip: Achieving a professional look for your resume can be difficult and time-consuming. If you want to create an attractive resume quickly, try our partner's Resume Builder and use one of their eye-catching resume templates.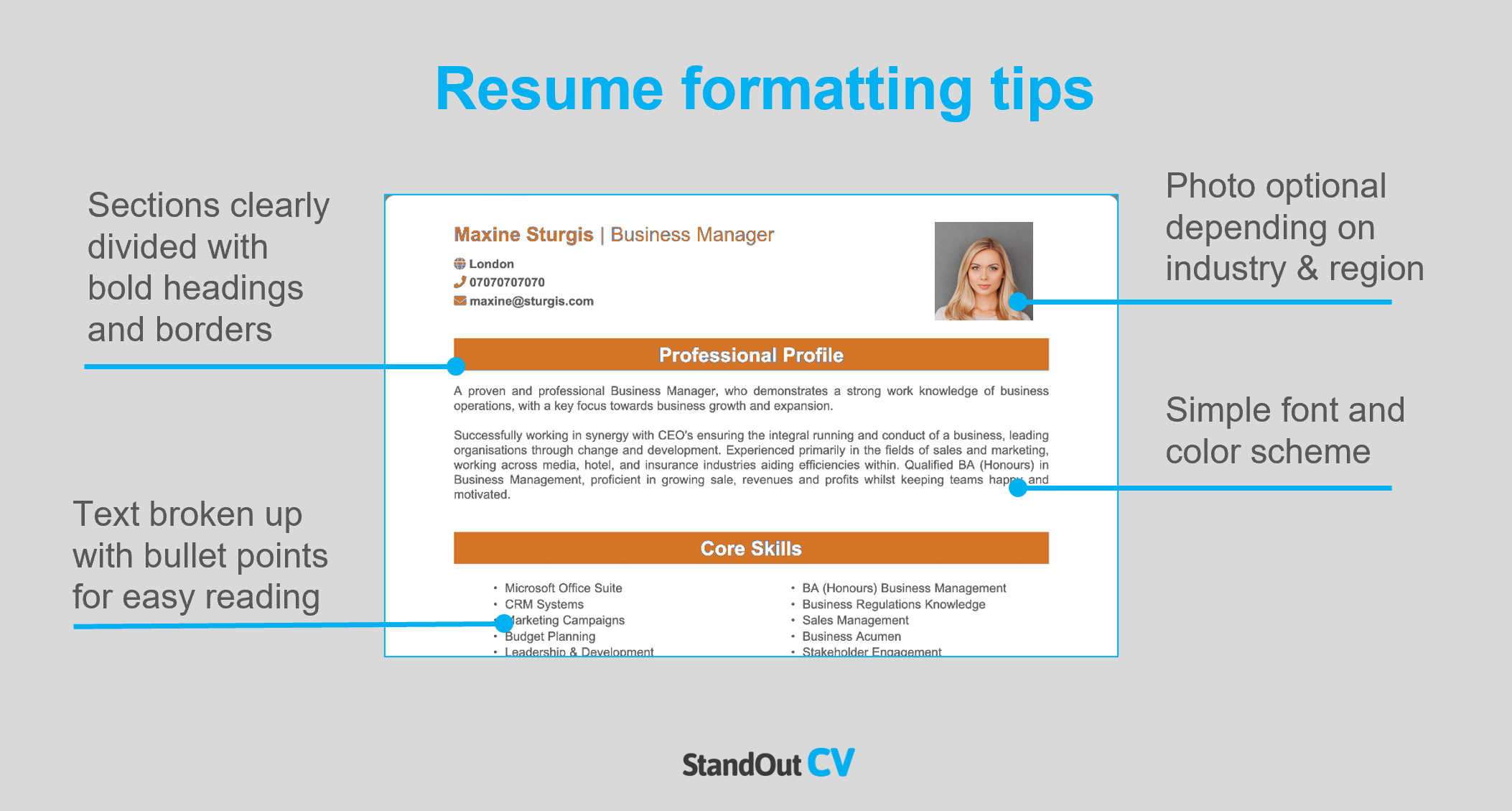 Resume layout
Add the following sections when you write your resume.
Name and contact details – Add to the very top of your resume to introduce yourself and make it super-easy for recruiters to get in touch.
Resume summary – Reel hiring managers in with an "elevator pitch" style paragraph which sums up your suitability for the job.
Skills section – A short and sharp list of your most important skills, that can be quickly skim-read.
Work experience – List your previous jobs (from newest to oldest) detailing the skills learnt and applied in each.
Education – List your qualifications and professional training.
Additional info – If it helps your application, you can add an extra section for things like hobbies and interests.
Here's what to include in each part of your resume.
Contact Details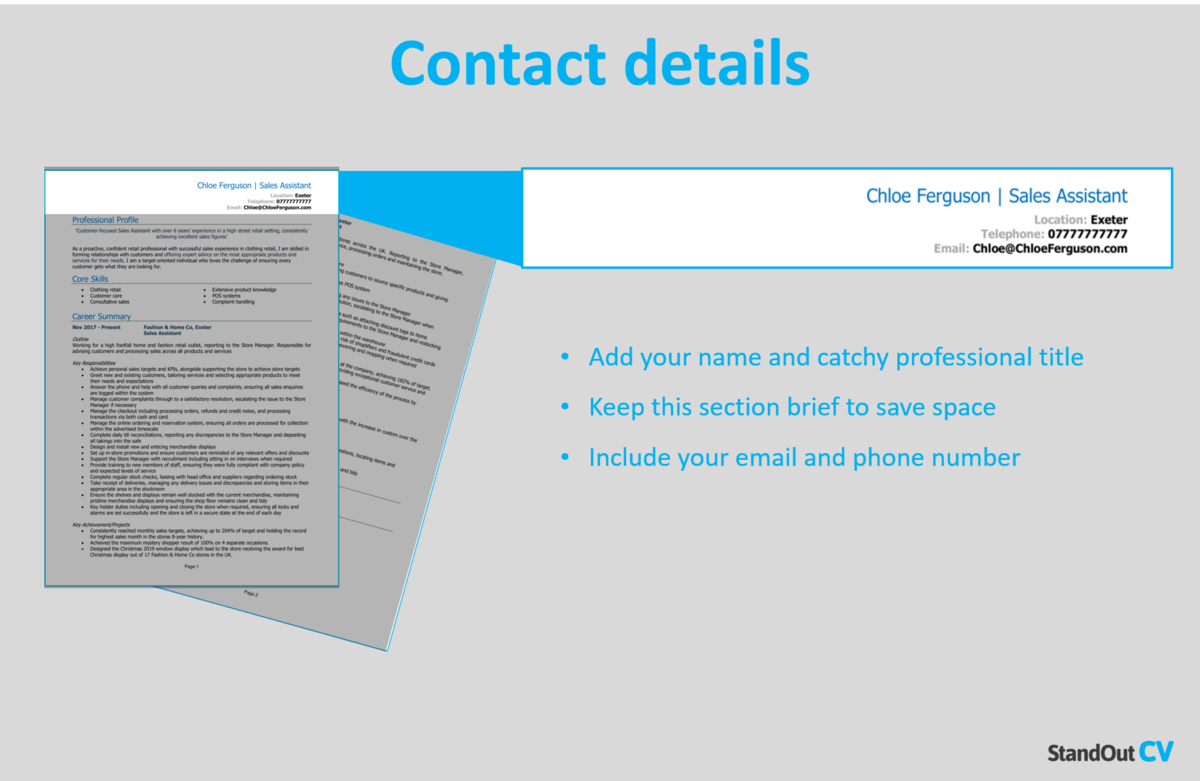 Make it easy for hiring managers to contact you by adding your contact details to the top of your resume.
Keep this section small to save space and include the following.
Name and profession title
Telephone number – Ideally your cell phone so you can answer quickly.
Location – Add your general location such as LA or New York
Email address – Use a professional looking one with no nicknames.
You can add a link to your LinkedIn profile if you have one – you do not need to include personal details like date of birth or marital status.
Surgical Technologist Resume Summary
Your resume summary is like your introduction to the recruiter or hiring manager – it should grab their attention and leave them eager to read more about you.
Achieve this by writing a snappy overview of your skills, knowledge and what value you can bring to an employer.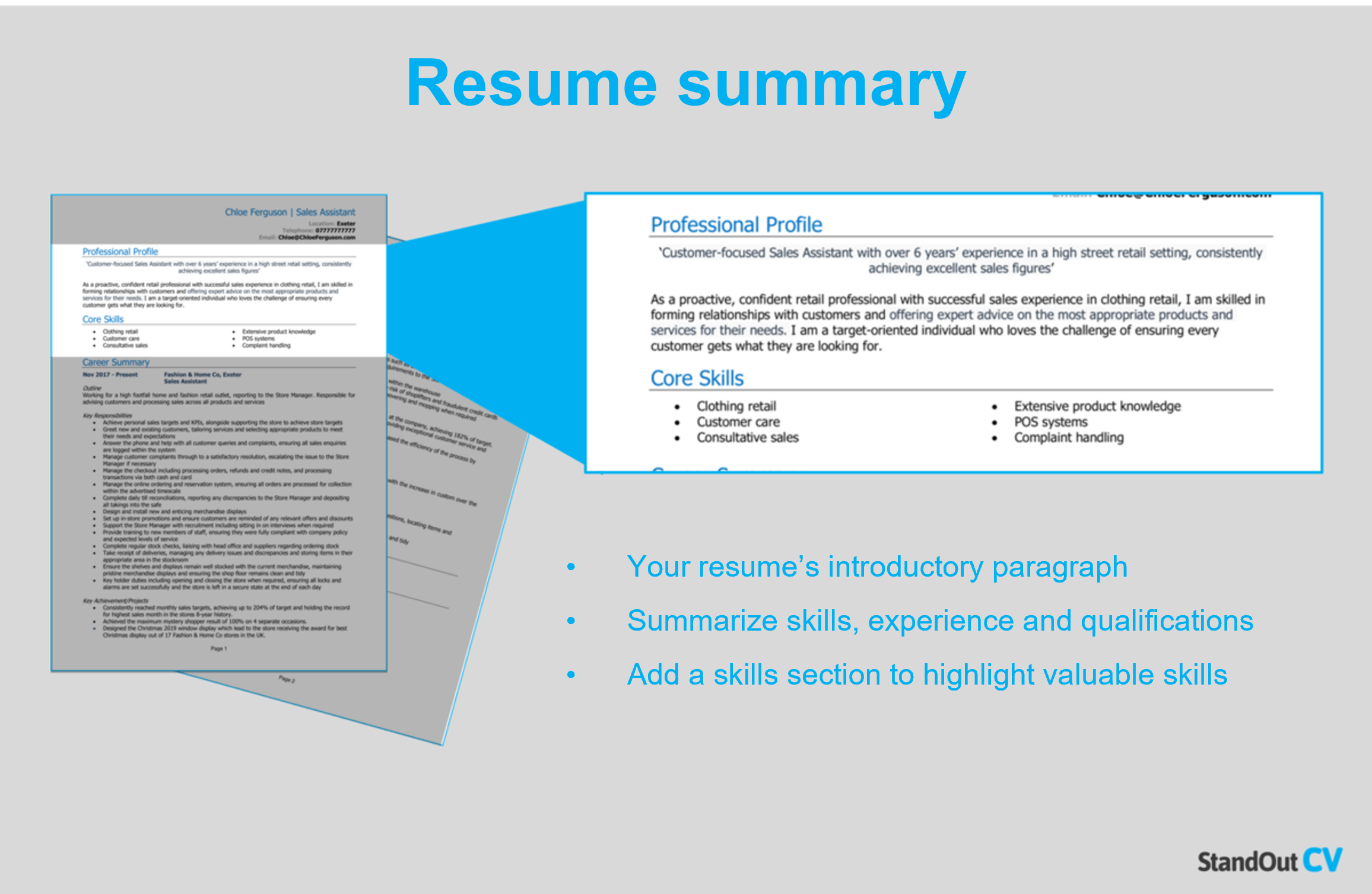 How to create a resume summary that will excite recruiters:
Keep it short: To capture a recruiter's attention and keep them interested in your resume, limit your summary to 4-7 lines as you only have a few seconds to make an impression
Tailor to target jobs: Ensure your profile makes an impact by matching it closely to the requirements of the job description, copying as many key terms as possible.
Avoid using cliches: Recruiters look for facts in resumes, such as hard skills and qualifications – so, leave out the meaningless cliches like "hard worker who works well in a team and individually"
Surgical Technologist resume summary example
Empathetic Surgical Technologist with 13+ years of experience in providing patient care before, during, and after appendectomies, mastectomies, coronary bypasses, cholecystectomies, carotid endarterectomies, hysteroscopies, hernia repairs, D&Cs, and C-sections. Adept at ordering and preserving scalpels, forceps, suture scissors, retractors, needle holders, speculums, rongeurs, and other instruments. Proven ability to react appropriate in response to changes, problems, and emergency situations.
What to include in your Surgical Technologist resume summary?
Summary of your experience: What kind of companies have you worked for in the past? And which jobs have you carried out?
Relevant skills: To quickly showcase your suitability for Surgical Technologist jobs, ensure that your summary emphasizes your most relevant skills to the jobs you are applying for.
Qualifications: Mention any Surgical Technologist qualifications that are important to your profession in the summary briefly, to show you are qualified to carry out the role.
Quick tip: Choose from hundreds of pre-written summaries across all industries, and add one to your resume with one-click in our partner's Resume Builder. All written by recruitment experts and easily tailored to suit your unique skillset and style.
Core skills section
Sitting just underneath your resume summary, your core skills section gives recruiters 4-10 of your most in-demand skills in just a glance.
As Surgical Technologist jobs may get hundreds of applications, this is a great way to stand out and quickly grab hiring managers' attention.
It should be made up of 2-3 columns of bullet points and highlight attributes that are hyper-relevant to the jobs you are aiming for.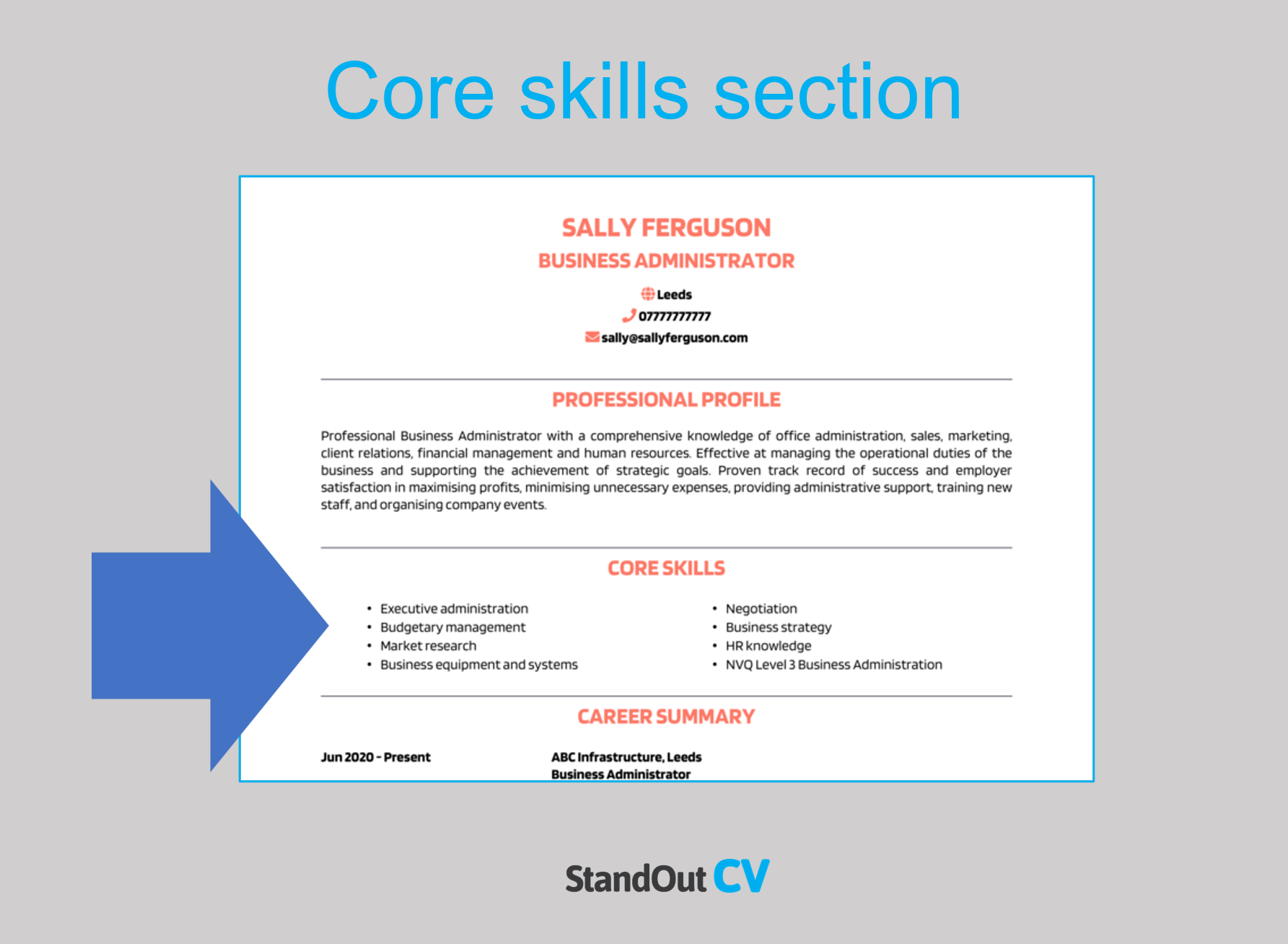 Best skills for your Surgical Technologist resume
Sterilization Techniques – Utilizing various sterilization techniques and equipment to ensure a sterile surgical environment.
Surgical Instrumentation – Handling and organizing surgical instruments, including proper identification, assembly, and maintenance.
Aseptic Techniques – Applying aseptic techniques to prevent infections and maintain a sterile field during surgical procedures.
Surgical Procedures – Utilizing knowledge of various surgical procedures, including their setup, instrumentation requirements, and assisting the surgical team during the procedure.
Anatomy and Physiology – Utilizing knowledge of human anatomy and physiology to anticipate the needs of the surgical team and assist with patient positioning.
Medical Terminology – Utilizing medical terminology, abbreviations, and surgical procedures to effectively communicate with healthcare professionals in the operating room.
Emergency Preparedness – Responding quickly and efficiently during emergency situations, including assisting with resuscitation efforts, and providing necessary equipment and supplies.
Equipment Handling – Operating and troubleshooting surgical equipment, such as surgical lights, electrocautery devices, and laparoscopic instruments.
Surgical Team Collaboration – Collaborating effectively with surgeons, nurses, and other healthcare professionals in a high-pressure surgical environment.
Surgical Accuracy – Ensuring accuracy in preparing surgical equipment, verifying surgical counts, and maintaining patient safety throughout the surgical process.
Quick tip: Our partner's Resume Builder contains thousands of in-demand skills for every profession that can be added to your resume in seconds – saving you time and greatly improving your chances of landing job interviews and getting hired.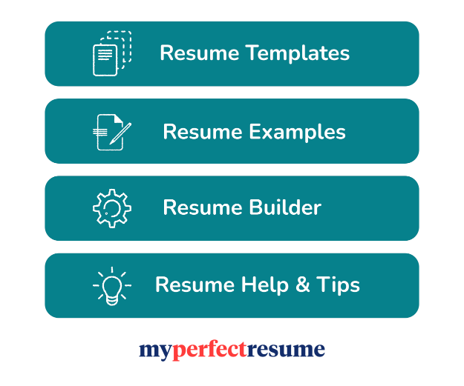 Work experience
Now that you've reeled recruiters in with your awesome summary, it's time to delve into your work experience.
Here you'll list your previous jobs (starting with your most recent and working backward) and showcase how you apply your skills in the workplace.
Provide lots of detail in recent jobs, and less in older roles.
If you have no relevant paid experience, you can include voluntary work and placements – but if you have lots of experience, you can leave out some of the really old jobs.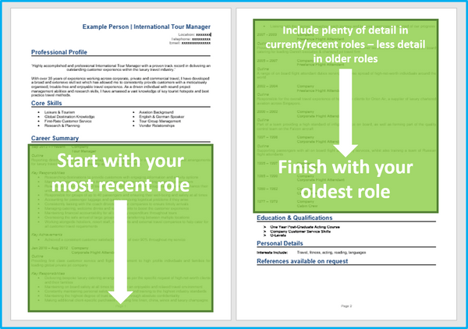 Structuring your jobs
Your job description probably includes tons of information, so it's vital to organize it well when writing about it on your resume.
Structure your jobs as like the example below to make skim-reading easy for recruiters and hiring managers.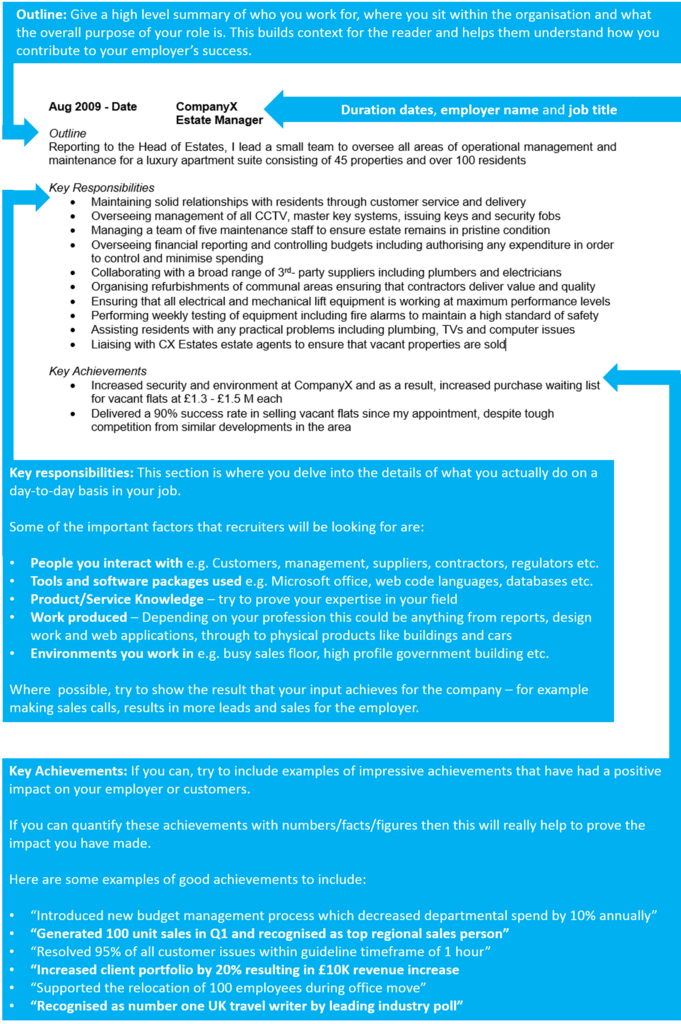 Job outline
To provide context to your jobs, begin each job with a concise summary of the organization, your role within it, and the main objectives of your position.
Key responsibilities
Then delve into the detail of your job by listing out easy-to-read bullet points which show how you apply your skills in the workplace.
Tailor these bullet points to focus on the skills and knowledge that are required in the jobs you are applying for.
Key achievements
Finish each role by highlighting some impressive achievements you made whilst in the role.
Anything that benefited the employer can be included from making financial savings, to winning new customers.
Quantify your achievements with facts and figures if you can, e.g. "reduced call wait time by 10%"
Example job for Surgical Technologist resume
Outline
Assist surgeons, nurses, and other medical professionals prior to, amidst, and following medical procedures, for a healthcare system that offers hope and healing at 1.4K+ care locations and 40+ hospitals across North/South Carolina, Georgia, and Alabama.
Key Responsibilities
Clean and disinfect and set up equipment in preparation for different types of surgeries in orthopedic, neurological, cardiology, and oncology units.
Arrange drapes, gloves, gowns, and other important items, as well as verify the functionality of tools through proper calibrated.
Transfer ill and injured individuals onto operating tables and help monitor vital signs, anesthesia administration, and positioning.
Anticipate needs of surgeon by knowing procedural steps and passing supplies.
Quick tip: Create impressive job descriptions easily in our partner's Resume Builder by adding pre-written job phrases for every industry and career stage.

Education section
Towards the bottom of your resume, add your education section.
Here you should list your professional qualifications and academic record, such as high school diplomas or college degrees.
If you have lots of work experience, you can keep this section brief (because recruiters will be more interested in your career. If you have little/no experience then you should bulk this section up with plenty of detail.
Additional information
The bottom of your resume is a place to add any "additional info"
Any other info that didn't fall into any of the previous sections can be added here.
If you have hobbies that are related to your profession or any awards or publications – add them here.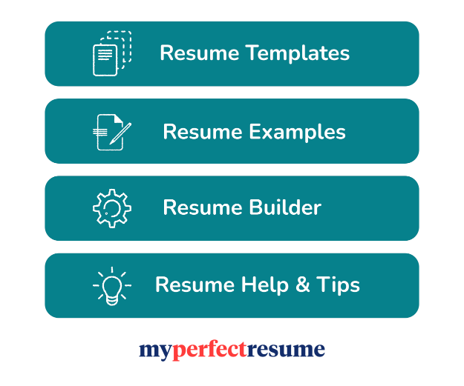 Writing your own winning Surgical Technologist resume
By tailoring your resume to the specific job and industry you are targeting and ensuring that it effectively communicates your professional value, you can position yourself as a top candidate for all Surgical Technologist positions.
Good luck with your job search!