If you want to earn some extra money and help your teacher or department, a position as a student assistant can be very beneficial.
But with plenty of students to choose from, how can you make sure the college chooses you?
Well, you can start by creating an impressive application using our step-by-step guide and student assistant resume example below.
Contents
| | |
| --- | --- |
| How to write your Student Assistant resume | |

Student Assistant Resume Example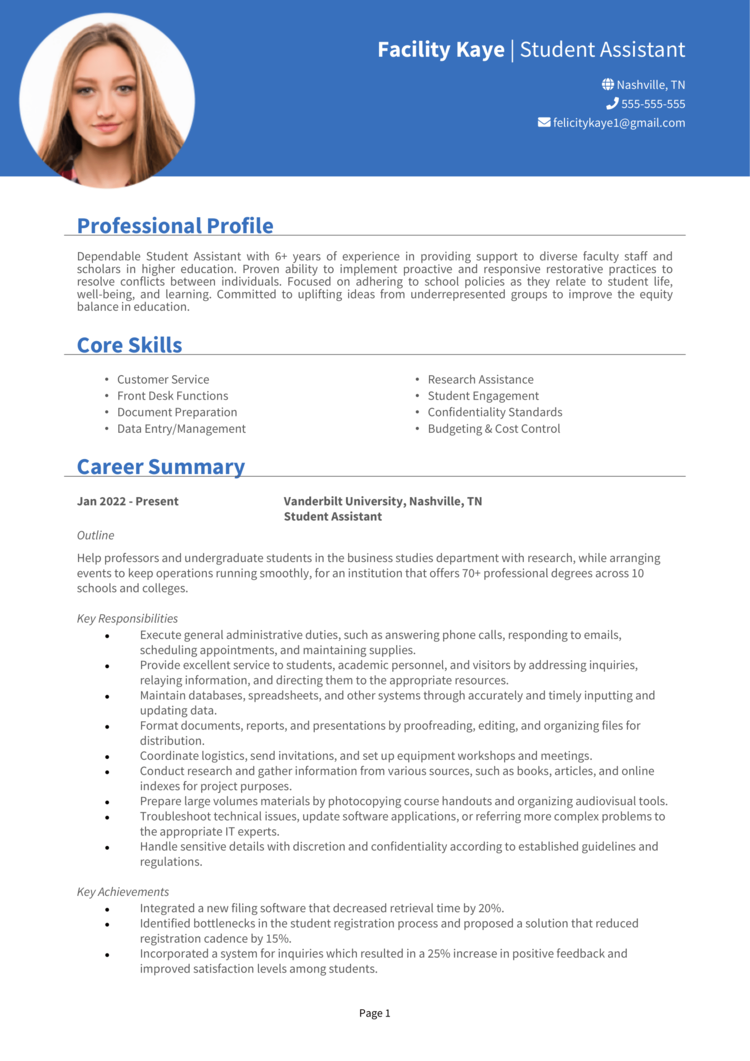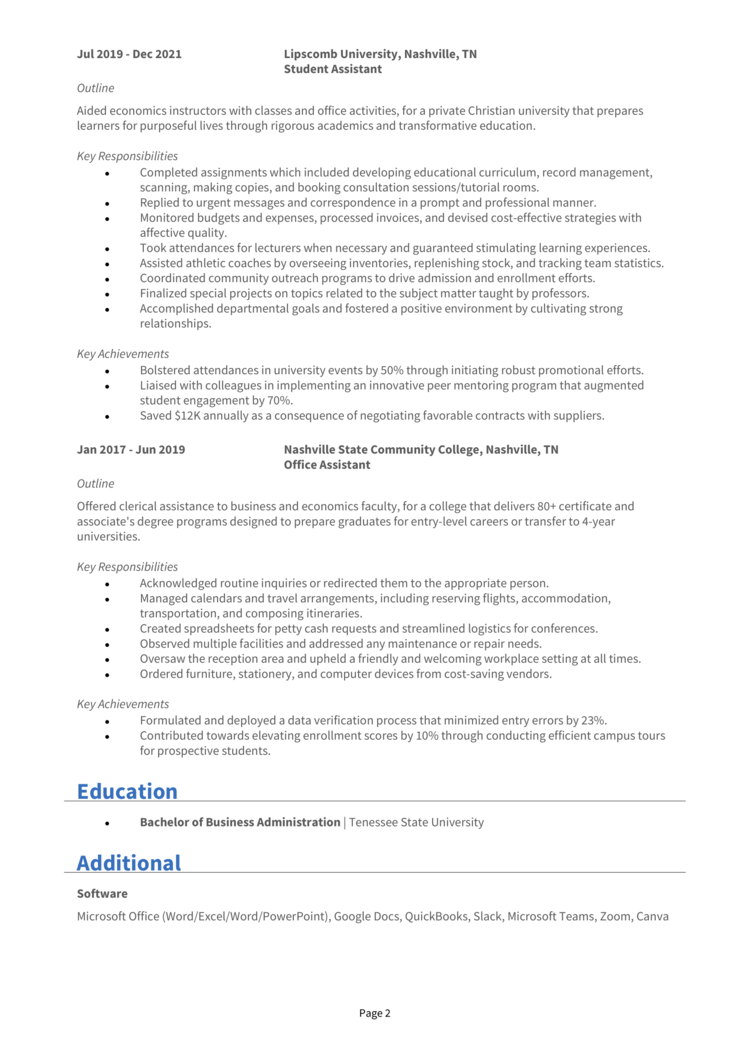 From the Student Assistant resume example above, you can see the kind of information your resume will need to include, and the layout you will need to create for an easy-reading experience.
The rest of this guide will show you how to apply this format to your own unique situation, and create a resume that will attract the best employers in your industry.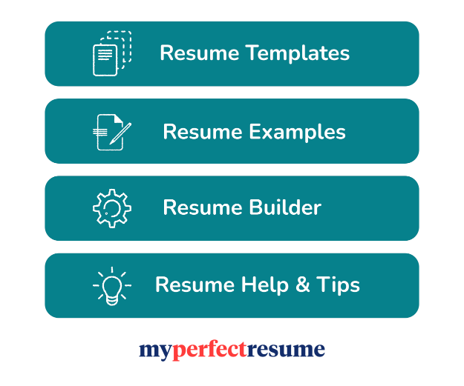 Student Assistant resume layout and format
When it comes to holding the attention of recruiting managers, the format and layout of your resume play a key role.
Your resume needs to strike a perfect balance between looking awesome, and being easy for recruiters to read (which is not always easy to achieve)
Use the following formatting tips to get started.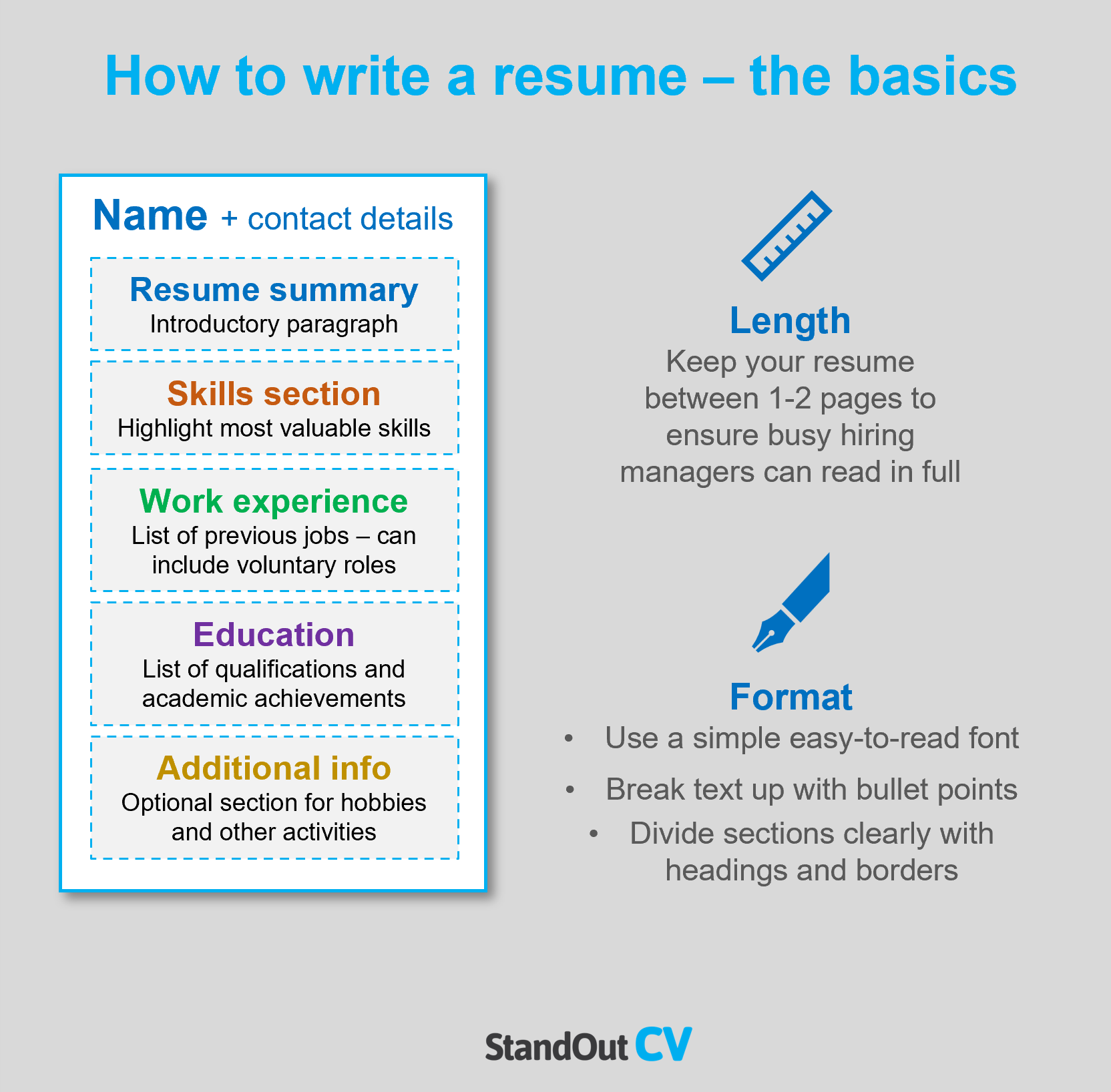 Formatting your resume
Length: To ensure that recruiters will read all of your resume, limit its length to 2 pages – as they someteimes read hundreds of resumes daily.
Font & readability: Complex fonts are a readers' worst nightmare and will leave recruiters struggling to understand your message. Use a clear simple lean font in a color that stands out against the page, and break your text up with bullet points to make the content easily digestible.
Layout: While creating an attractive resume, it is crucial not to compromise functionality for design. To ensure both, use bold headings and borders to structure the page into clear sections.
Photos: In the USA adding a photo to your resume is optional – you don't have to do it, but it can be a nice way to get your personality across.
Quick tip: Achieving a professional look for your resume can be difficult and time-consuming. If you want to create an attractive resume quickly, try our partner's Resume Builder and use one of their eye-catching resume templates.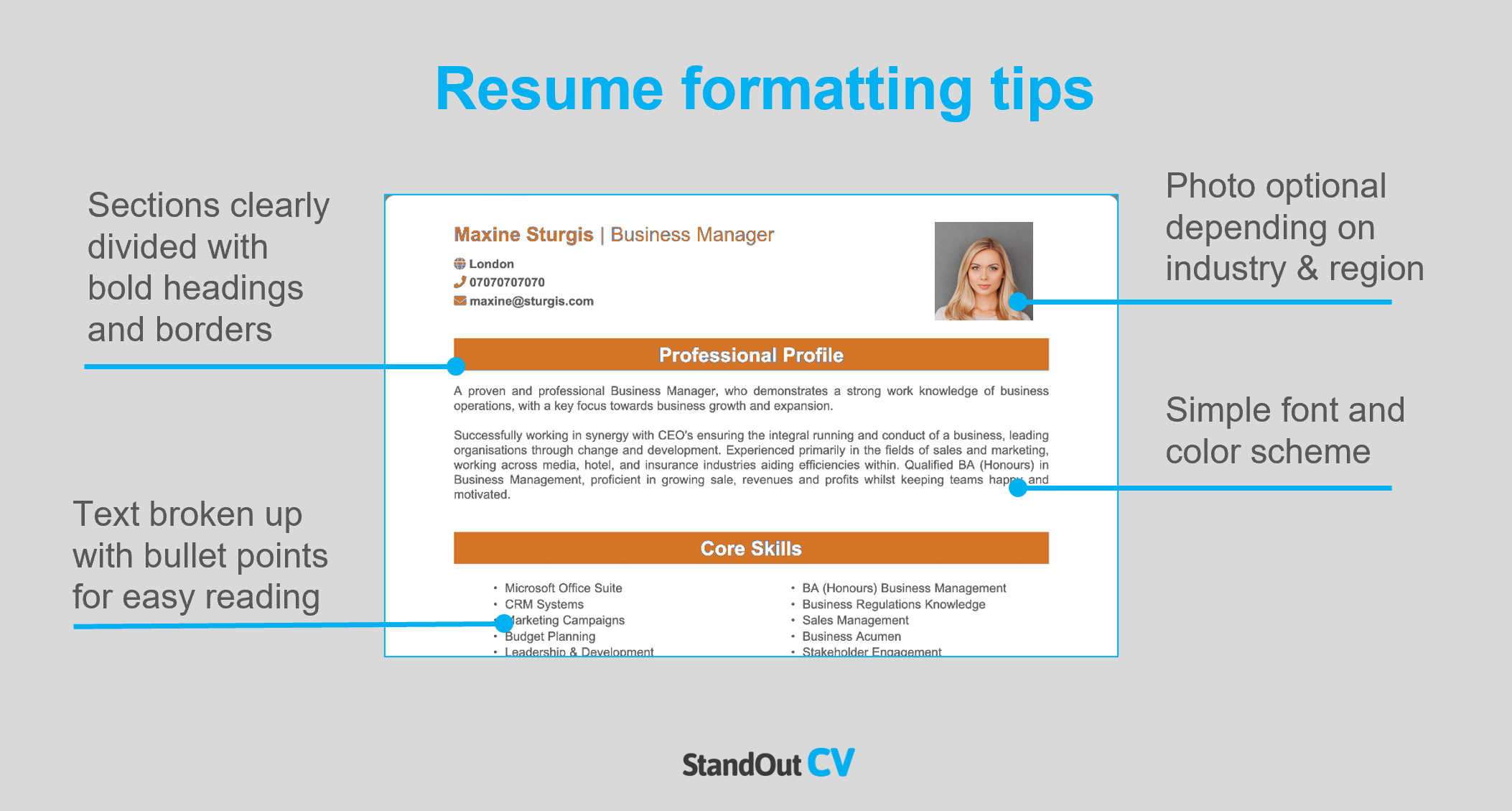 Resume layout
Add the following sections when you write your resume.
Name and contact details – Add to the very top of your resume to introduce yourself and make it super-easy for recruiters to get in touch.
Resume summary – Reel hiring managers in with an "elevator pitch" style paragraph which sums up your suitability for the job.
Skills section – A short and sharp list of your most important skills, that can be quickly skim-read.
Work experience – List your previous jobs (from newest to oldest) detailing the skills learnt and applied in each.
Education – List your qualifications and professional training.
Additional info – If it helps your application, you can add an extra section for things like hobbies and interests.
Here's what to add to each section of your Student Assistant resume.
Contact Details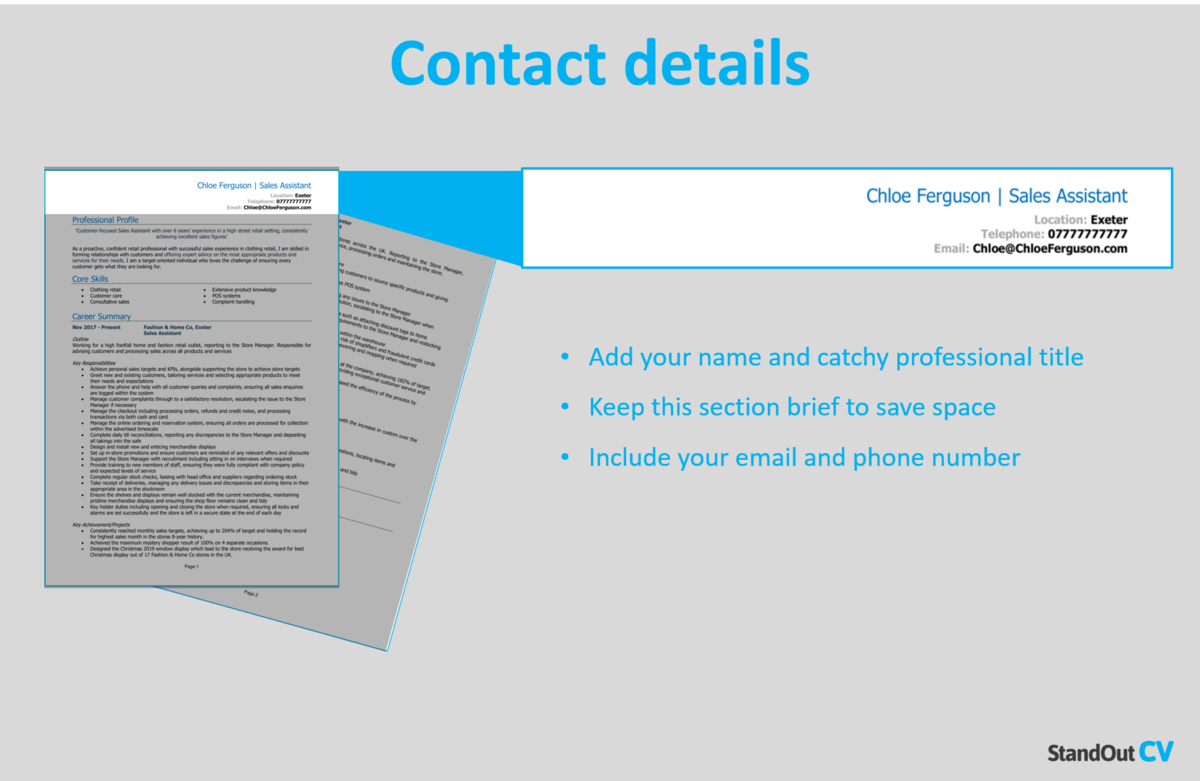 Keep your contact details short to save resume space and include the following.
Name and profession title
Cell phone number
Location – Add your local area such as Silicon Valley or New York, unless you are looking for work in a different location
Email address – Keep it professional and don't use an old address that you thought was cool in high school, but now looks a bit embarrassing.
You can add a link to your LinkedIn profile if you have one – you do not need to include personal details like date of birth or marital status.
Student Assistant Resume Summary
Grab the attention of recruiters right away by including a compelling summary at the top of your resume that summarizes your most valuable skills and experience.
This brief yet impactful section enables you to demonstrate why you're the best candidate for the job and convince recruiters to keep reading.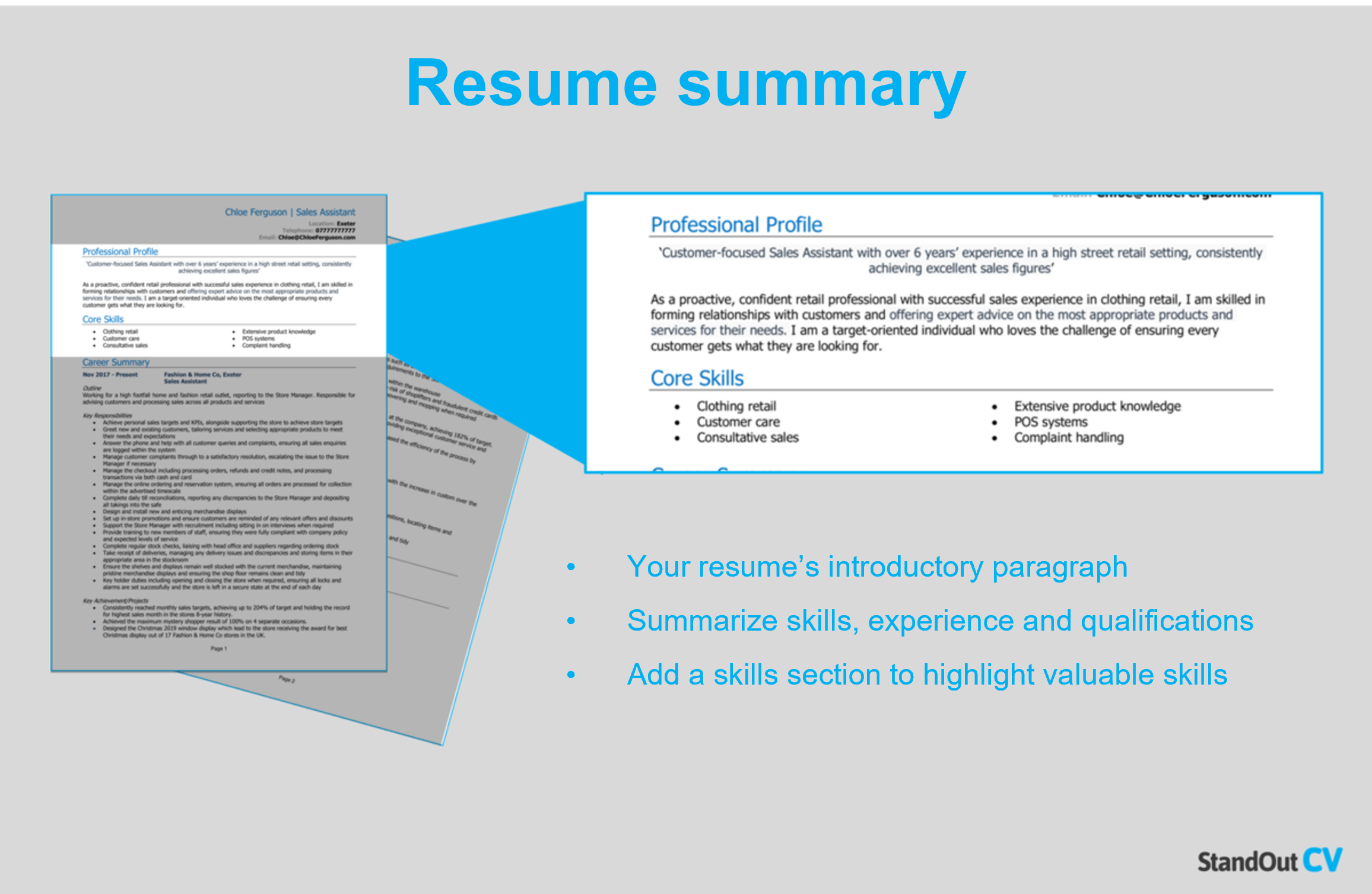 How to create a resume summary that will excite recruiters:
Keep it short: Your summary is intended to be a high-level introduction to hook readers' attention, so keep it brief (4-7 lines) – save the details for later in your resume.
Tailor to target jobs: Tailor your resume to your target jobs by studying the job description and adding as many matching skills as you can.
Avoid using cliches: To capture the attention of recruiters you must provide factual information, such as hard skills and qualifications, and avoid using empty phrases like "Go-getter who thinks outside the box."
Student Assistant resume summary example
Dependable Student Assistant with 6+ years of experience in providing support to diverse faculty staff and scholars in higher education. Proven ability to implement proactive and responsive restorative practices to resolve conflicts between individuals. Focused on adhering to school policies as they relate to student life, well-being, and learning. Committed to uplifting ideas from underrepresented groups to improve the equity balance in education.
What to include in your Student Assistant resume summary?
Summary of your experience: What kind of companies have you worked for in the past? And which jobs have you carried out?
Relevant skills: Highlight your skills which are most relevant to Student Assistant jobs, to ensure that recruiters see your most in-demand skills as soon as they open your resume.
Qualifications: Mention any Student Assistant qualifications that are important to your profession in the summary briefly, to show you are qualified to carry out the role.
Quick tip: Choose from hundreds of pre-written summaries across all industries, and add one to your resume with one-click in our partner's Resume Builder. All written by recruitment experts and easily tailored to suit your unique skillset and style.
Core skills section
Underneath your summary, write a core skills section to make your most relevant skills jump off the page at readers.
It should be made up of 2-3 columns of bullet points of your relevant skills.
Before you do this, look over the job description and make a list of any specific skills, specialisms or knowledge required.
Then, make sure to use your findings in your list. This will paint you as the perfect match for the role.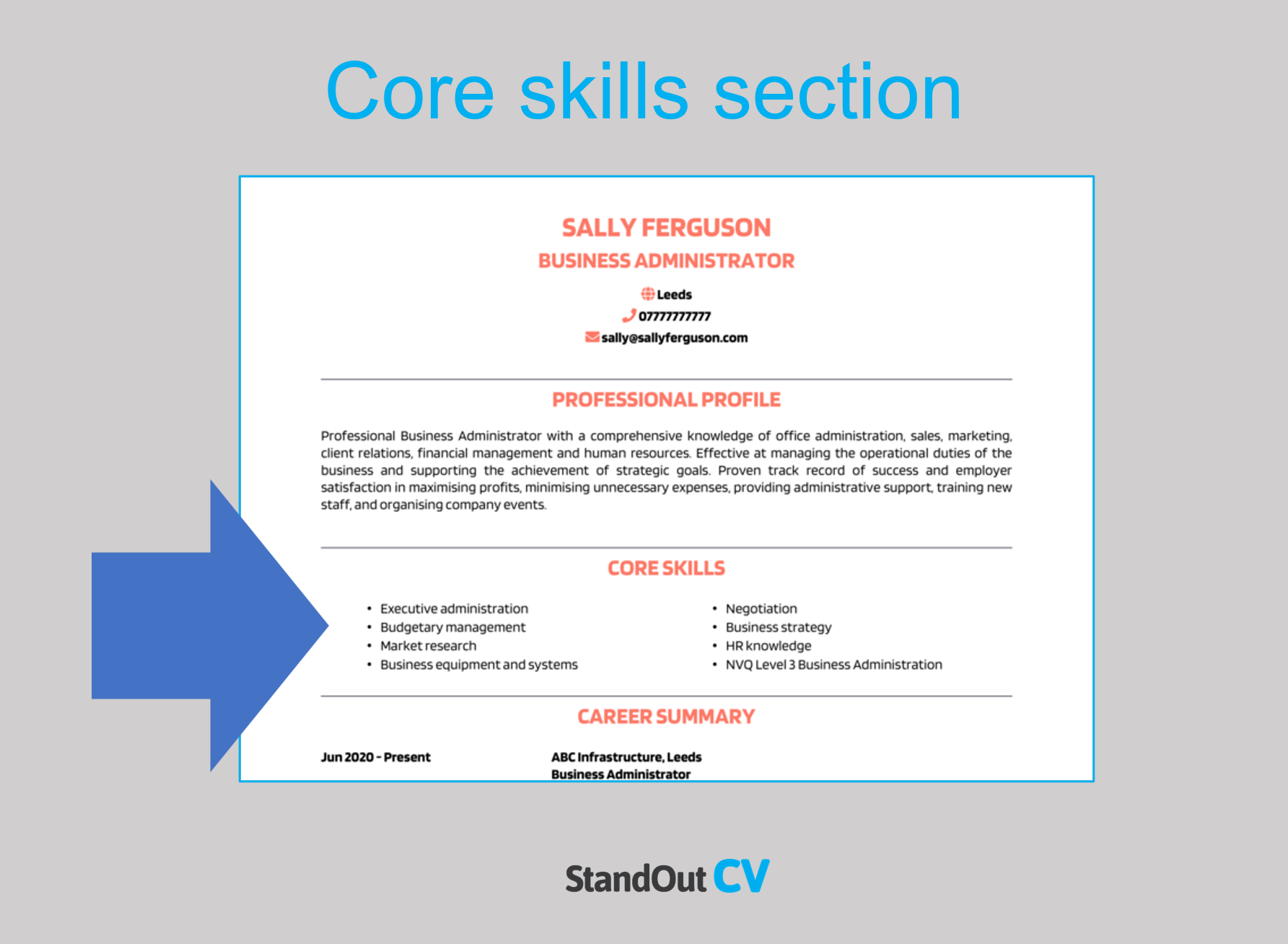 Best skills for your Student Assistant resume
Time Management – Efficiently managing academic commitments, work responsibilities, and personal activities to meet deadlines and prioritize tasks effectively.
Communication – Using clear and effective communication to interact with professors, peers, and staff members.
Organization – Keeping track of schedules, assignments, and events, ensuring a well-organized and productive academic and work life.
Research – Conducting research, gathering relevant information, and summarizing findings for academic projects and administrative tasks.
Computer Proficiency – Utilizing various computer applications, including word processing, spreadsheet, and presentation software.
Customer Service – Providing excellent customer service to students, staff, and faculty, offering assistance and resolving inquiries or issues.
Problem Resolution – Identifying challenges and devising practical solutions to support academic and administrative functions.
Teamwork – Collaborating with peers and colleagues to accomplish shared goals and contribute positively to group projects and initiatives.
Confidentiality – Respecting and maintaining the privacy and confidentiality of student and institutional information.
Quick tip: Our partner's Resume Builder contains thousands of in-demand skills for every profession that can be added to your resume in seconds – saving you time and greatly improving your chances of landing job interviews and getting hired.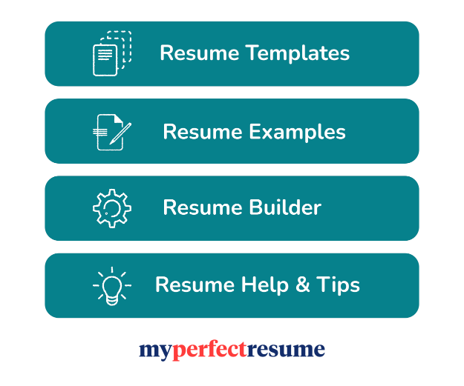 Work experience
Once you've got recruiters interested with your impactful summary, your work experience is where the real detail will lie.
Lay out your previous jobs from current to oldest, detailing what you contributed and achieved in each one.
If you're highly experienced you can cut this section down to your most recent few years of work, but if you are junior you can bulk this up with voluntary work and college placements.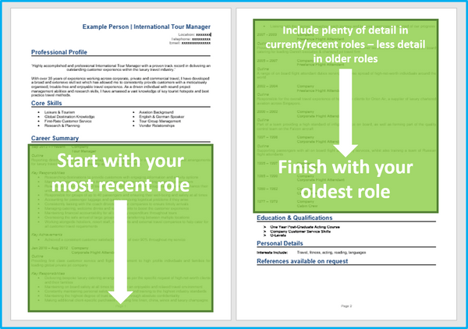 Structuring your jobs
Without a good structure, your job description can look messy and overwhelming to anyone reading them.
Make it easy for recruiters to read your work experience by structuring your roles like this.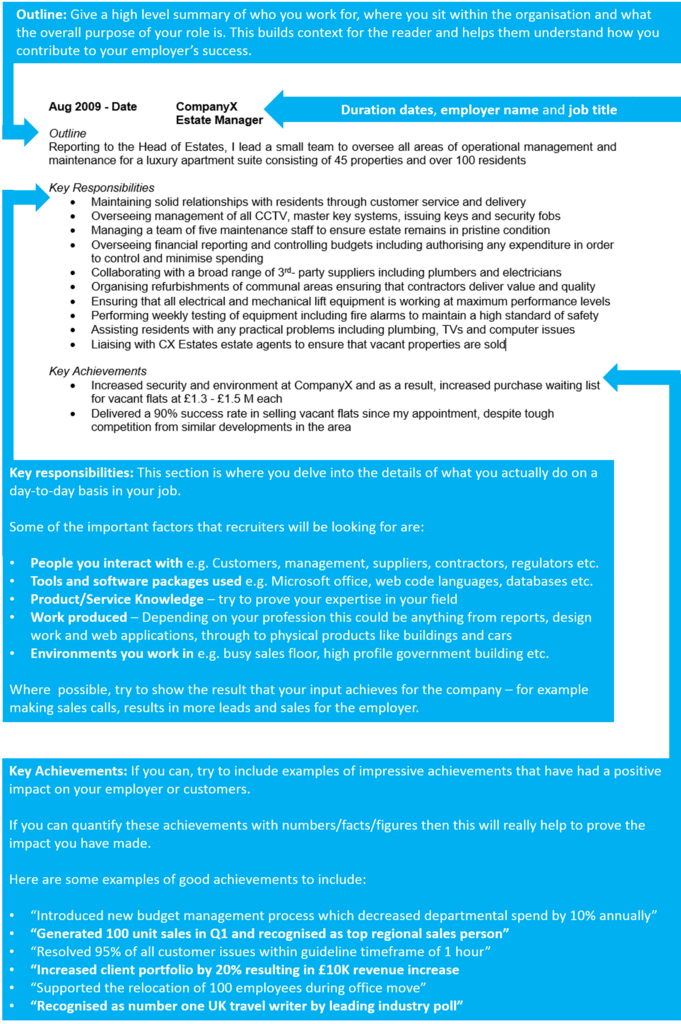 Job outline
Starting each job with a brief summary of the organization, your position within it, and the primary goal of your role can help recruiters quickly understand the context of your work.
Key responsibilities
Then delve into the detail of your job by listing out easy-to-read bullet points which show how you apply your skills in the workplace.
Tailor these bullet points to focus on the skills and knowledge that are required in the jobs you are applying for.
Key achievements
Finish each role by highlighting some impressive achievements you made whilst in the role.
Anything that benefited the employer can be included from making financial savings, to winning new customers.
Quantify your achievements with facts and figures if you can, e.g. "reduced call wait time by 10%"
Example job for Student Assistant resume
Outline
Help professors and undergraduate students in the business studies department with research, while arranging events to keep operations running smoothly, for an institution that offers 70+ professional degrees across 10 schools and colleges.
Key Responsibilities
Execute general administrative duties, such as answering phone calls, responding to emails, scheduling appointments, and maintaining supplies.
Provide excellent service to students, academic personnel, and visitors by addressing inquiries, relaying information, and directing them to the appropriate resources.
Maintain databases, spreadsheets, and other systems through accurately and timely inputting and updating data.
Format documents, reports, and presentations by proofreading, editing, and organizing files for distribution.
Quick tip: Create impressive job descriptions easily in our partner's Resume Builder by adding pre-written job phrases for every industry and career stage.

Education section
Towards the bottom of your resume, add your education section.
Here you should list your professional qualifications and academic record, such as high school diplomas or college degrees.
If you have lots of work experience, you can keep this section brief (because recruiters will be more interested in your career. If you have little/no experience then you should bulk this section up with plenty of detail.
Additional information
If you have anything else to add which is relevant to the jobs you are applying for, the additional info section is the place to add it.
Perhaps you have a hobby which involves relevant skills, or maybe you have some awards or publications worth mentioning.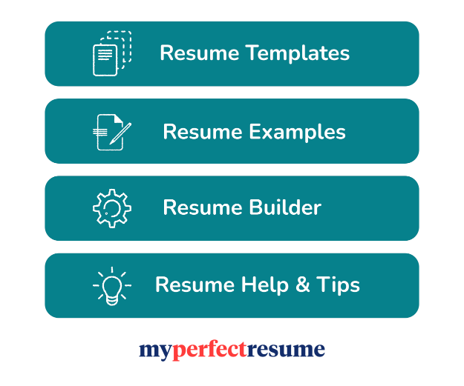 Writing your own winning Student Assistant resume
By tailoring your resume to the specific job and industry you are targeting and ensuring that it effectively communicates your professional value, you can position yourself as a top candidate for all Student Assistant positions.
Good luck with your job search!