In today's data-driven world, if you love developing mathematical or statistical models and solving real-world problems with numbers, you could be in high demand!
However, that doesn't mean you can just walk straight into your next statistician role; you still need to impress the recruiter and secure an interview.
But if you're better with numbers than words, let us help. We'll teach you how to highlight your skills and experience with our writing guide and statistician resume example.
Contents
| | |
| --- | --- |
| How to write a Statistician resume | |

Statistician Resume Example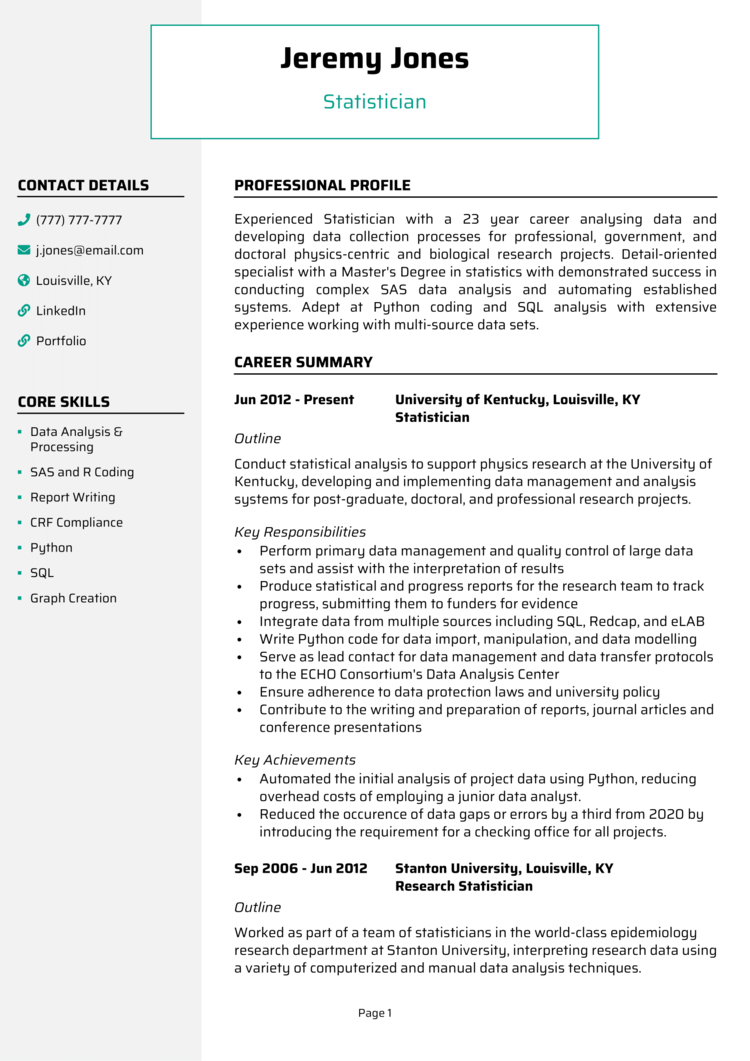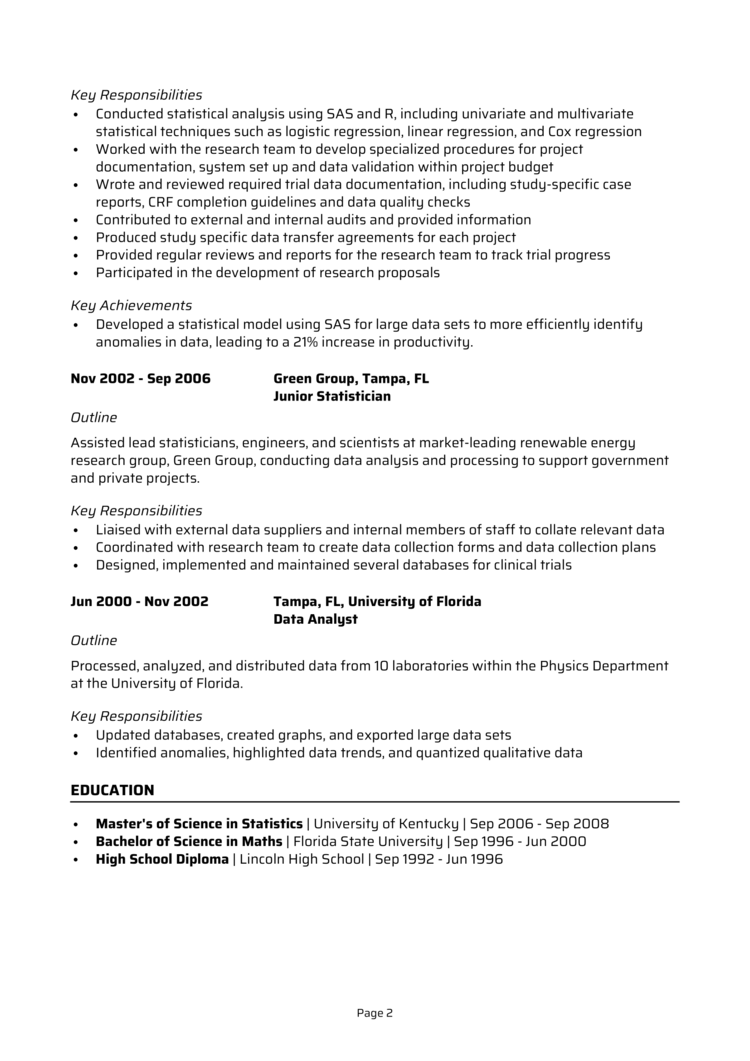 From the Statistician resume example above, you can see the kind of information your resume will need to include, and the layout you will need to create for an easy-reading experience.
The rest of this guide will show you how to apply this format to your own unique situation, and create a resume that will attract the best employers in your industry.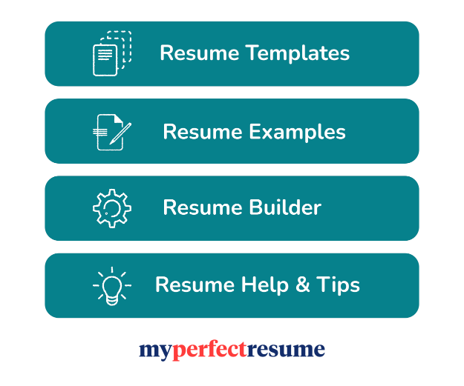 Statistician resume layout and formatting
The format and layout of your resume can make or break its success.
Sure, it's great to pack your resume with lots of impressive skills and knowledge, but if the page is not structured clearly, hiring managers will struggle to find the important stuff!
Above all, your resume should be easy-to-read and professional looking.
Follow these formatting tips to get noticed.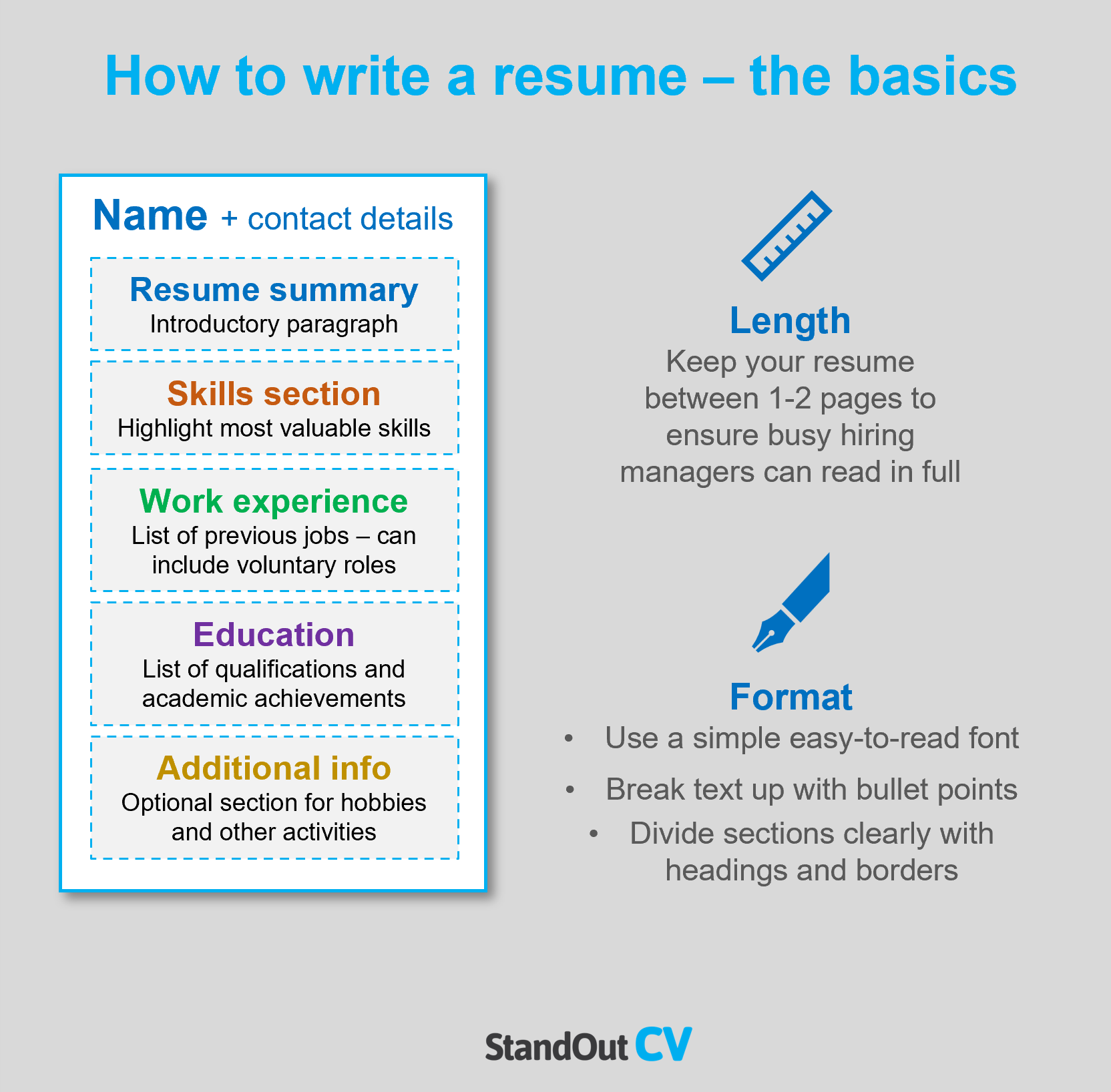 Formatting your resume
Length: Recruiters often see hundreds of resumes per day – so keep yours under 2 pages in length, if you want to ensure it gets read in full.
Font & readability: Complex fonts are a readers' worst nightmare and will leave recruiters struggling to understand your message. Use a clear simple lean font in a color that stands out against the page, and break your text up with bullet points to make the content easily digestible.
Layout & Structure: Your resume should look appealing – but don't overlook functionality when it comes to design. Organise the page into clear sections using bold headings and borders.
Photos: Although it's not mandatory to include a photo on your resume in the United States, it may be a good idea to do so in certain regions and industries where it is preferred.
Quick tip: Achieving a professional look for your resume can be difficult and time-consuming. If you want to create an attractive resume quickly, try our partner's Resume Builder and use one of their eye-catching resume templates.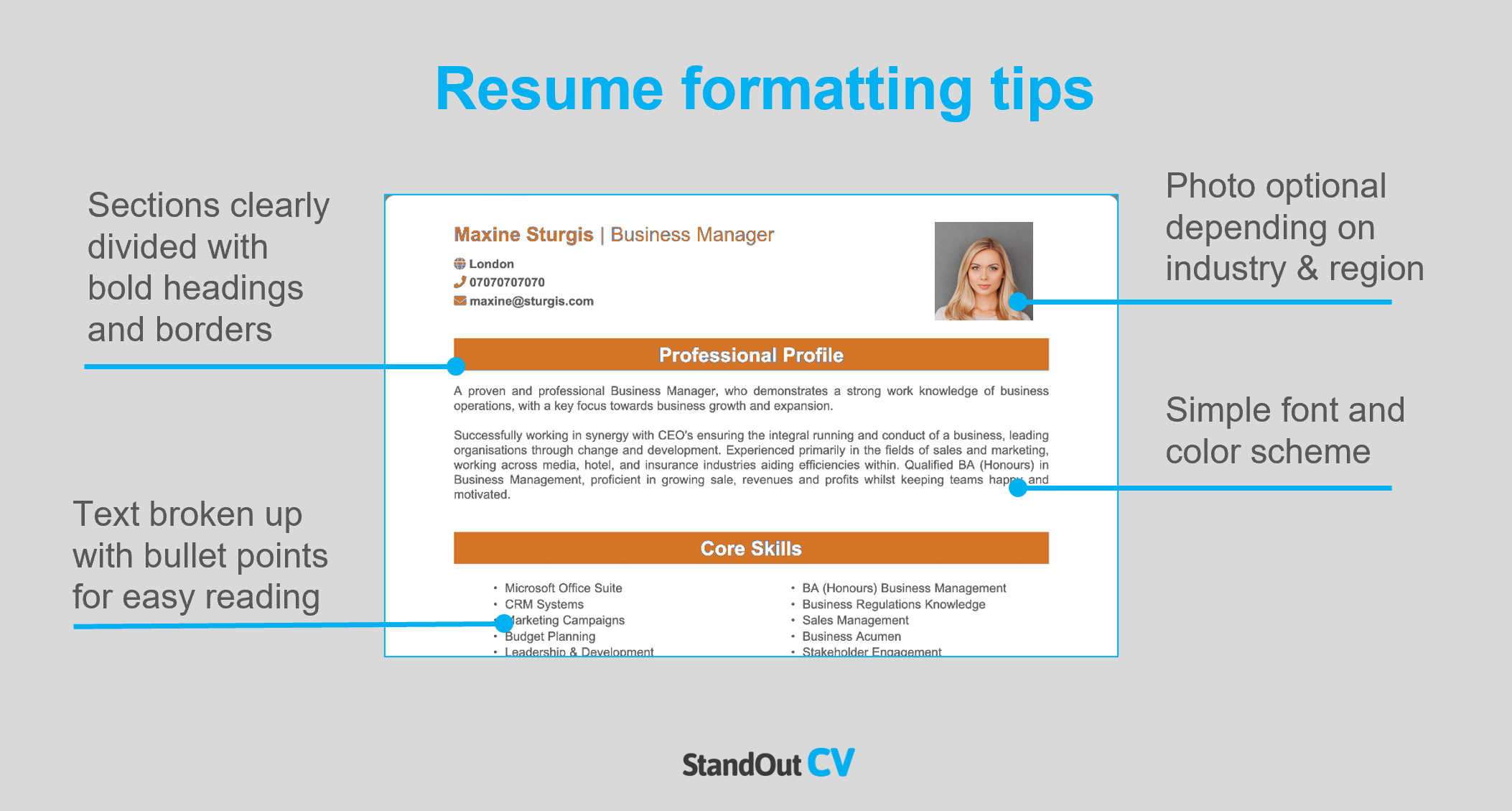 Resume layout
Organize the document into these sections when you write your resume.
Name and contact details – Employers need to know how to get in touch with you – so list your email and cell phone number here.
Resume summary – An intro paragraph at the top of the resume which summarizes your suitability for target jobs.
Skills section – A bullet-pointed list of your most relevant skills and knowledge.
Work experience – A list of your previous jobs (or at least the most relevant and recent ones)
Education – Add academic and professional qualifications that prove you can carry out the job
Additional info – If they are relevant to the jobs you are applying for, you can add an extra section for things like hobbies and interests.
Here's what to include in each part of your resume.
Contact Details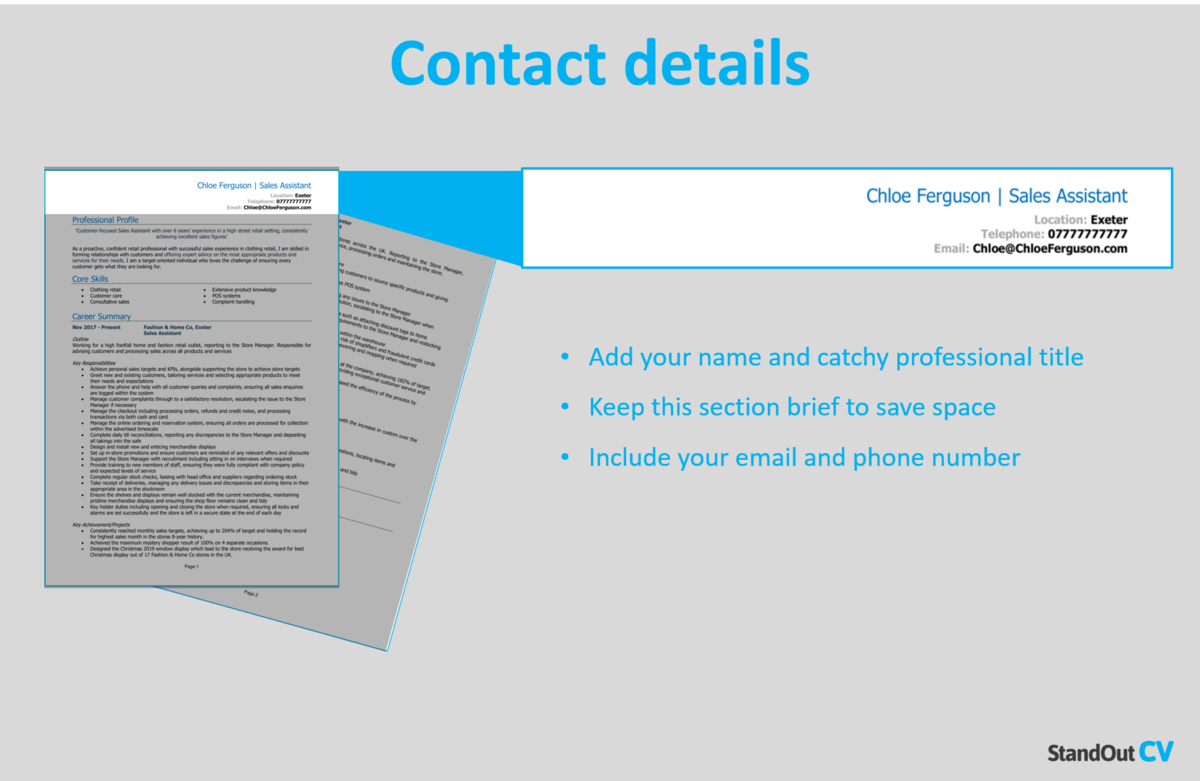 Make it easy for hiring managers to contact you by adding your contact details to the top of your resume.
Keep this section small to save space and include the following.
Name and profession title
Telephone number – Ideally your cell phone so you can answer quickly.
Location – Add your general location such as LA or New York
Email address – Use a professional looking one with no nicknames.
You can add a link to your LinkedIn profile if you have one – you do not need to include personal details like date of birth or marital status.
Statistician Resume Summary
Your resume summary is like your introduction to the recruiter or hiring manager – it should grab their attention and leave them eager to read more about you.
Achieve this by writing a snappy overview of your skills, knowledge and what value you can bring to an employer.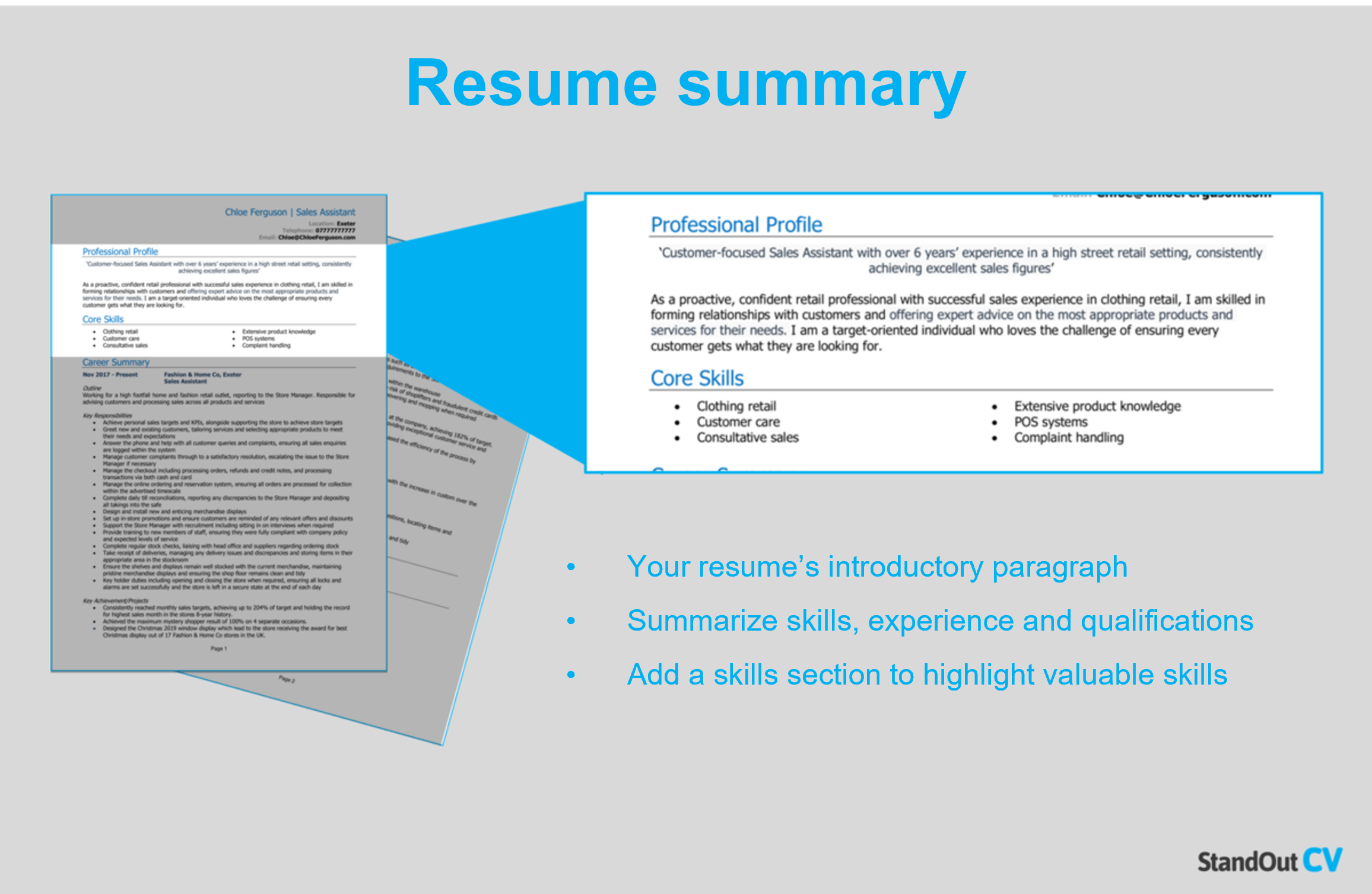 How to create a resume summary that will excite recruiters:
Keep it short: To effectively capture a recruiter's attention, it's crucial to keep your resume summary brief and to the point, limiting it to 4-7 lines as this provides enough detail without overwhelming them at this early stage.
Tailor to target jobs: Optimize your summary to match the requirements of your target jobs, by mirroring the key words from the job description as closely as possible.
Avoid using cliches: You might be a "highly motivated go-getter who thinks outside the box" but generic meaningless cliches like that don't tell employers much about you – stick to factual information in your summary.
Statistician resume summary example
Experienced Statistician with a 23-year career analyzing data and developing data collection processes for professional, government, and doctoral physics-centric and biological research projects. Detail-oriented specialist with a master's degree in statistics with demonstrated success in conducting complex SAS data analysis and automating established systems. Adept at Python coding and SQL analysis with extensive experience working with multi-source data sets.
What to include in your Statistician resume summary?
Summary of your experience: What kind of companies have you worked for in the past? And which jobs have you carried out?
Relevant skills: Skills that are highly relevant to Statistician work should be made prominent throughout your summary.
Qualifications: To make a strong impression on potential employers when applying for Statistician jobs, be sure to mention any relevant qualifications in your summary.
Quick tip: Choose from hundreds of pre-written summaries across all industries, and add one to your resume with one-click in our partner's Resume Builder. All written by recruitment experts and easily tailored to suit your unique skillset and style.
Core skills section
Your core skills section, positioned just below your resume summary, provides recruiters with a quick glance at 4-10 of your most in-demand skills.
For Statistician jobs, where hiring managers may receive hundreds of applications, this section can help you stand out and immediately grab their attention.
To be effective, this section should consist of 2-3 columns of bullet points that highlight attributes that are highly relevant to the jobs you are targeting.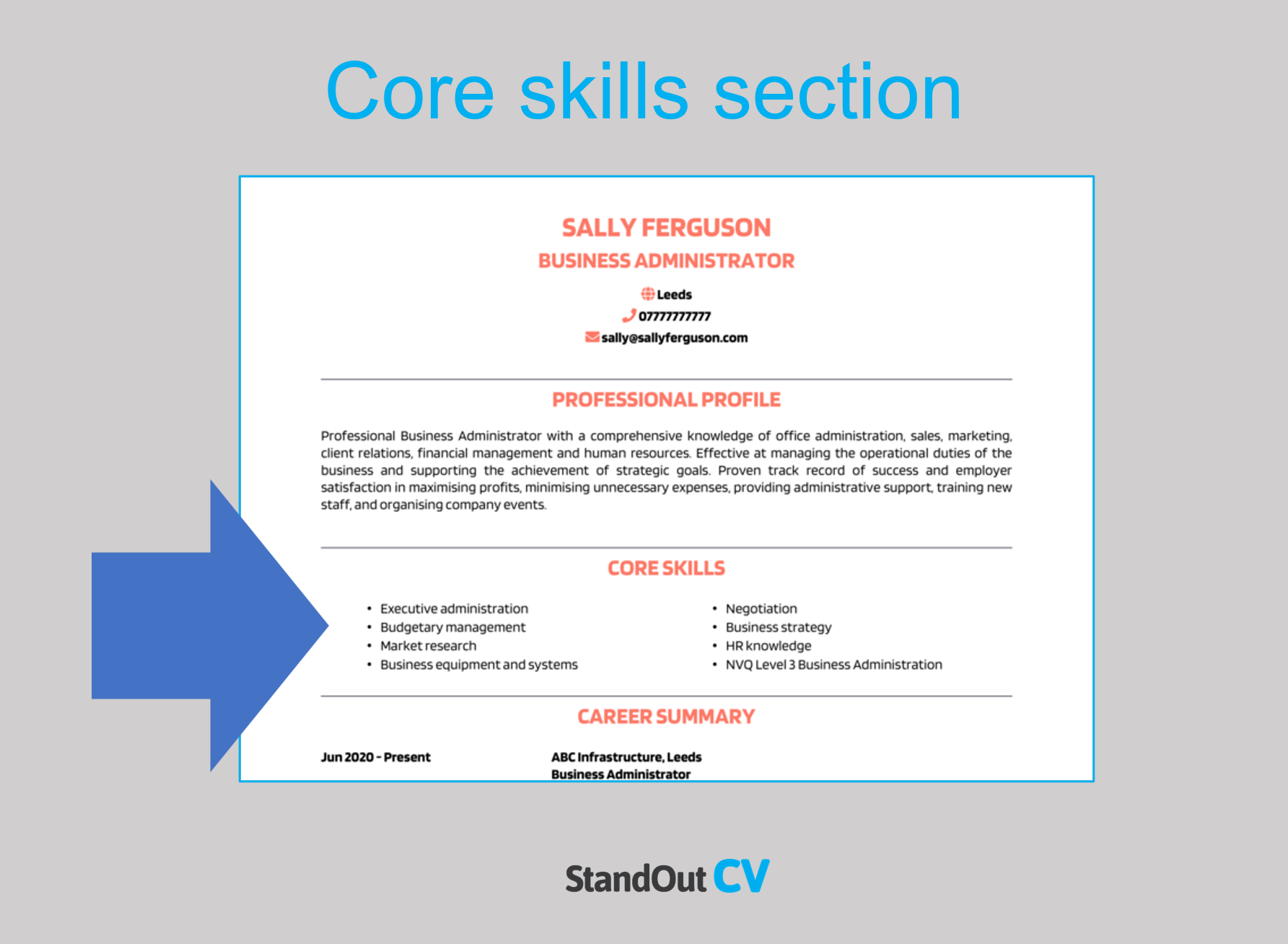 Best skills for your Statistician resume
Statistical analysis – Utilizing proficiency in statistical methods and techniques for analyzing data, such as hypothesis testing, regression analysis, and cluster analysis.
Data manipulation – Manipulating large and complex datasets using software tools like SAS, R, and Python, and to clean and preprocess data for analysis.
Programming – Utilizing experience in programming languages, such as Python and R, to develop and implement algorithms for data analysis.
Data visualization – Presenting data in a clear and concise manner using charts, graphs, and other visualization techniques.
Experimental design – Utilizing knowledge of experimental design principles to design experiments to test hypotheses and analyze the results.
Multivariate analysis – Utilizing knowledge of multivariate statistical analysis techniques, such as principal component analysis and factor analysis, and applying them in data analysis.
Sampling – Utilizing sampling techniques to design and execute effective sampling strategies for data collection.
Time series analysis – Utilizing knowledge of time series analysis techniques, such as ARIMA models, to apply them to analyze time-dependent data.
Machine learning – Utilizing machine learning algorithms, such as decision trees and neural networks, for data analysis and predictive modeling.
Stakeholder communication – Effectively communicating statistical findings to non-technical stakeholders, such as presenting data visualizations and explaining statistical concepts in layman's terms.
Quick tip: Our partner's Resume Builder contains thousands of in-demand skills for every profession that can be added to your resume in seconds – saving you time and greatly improving your chances of landing job interviews and getting hired.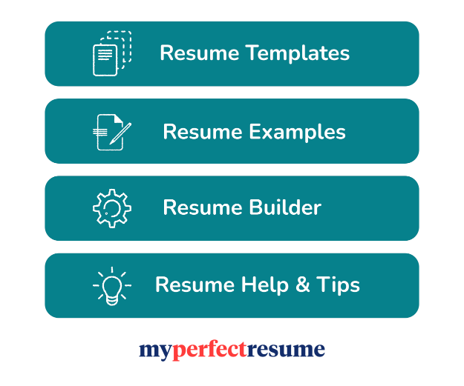 Work experience
So, you've got the recruiter interested with your catchy summary… Great work.
Now it's time to show them the impact you make in the workplace by listing out your previous jobs and what you achieved in each one.
If you have tons of experience, you can condense this part down to the last few years – if you are junior, then you should include as much possible (even volunteering and school work placements)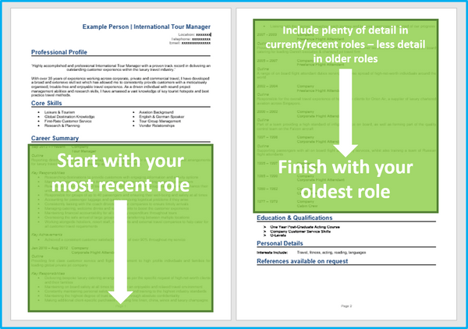 Structuring your jobs
You probably do a lot in your job, so its vital to break all of that information down into a good structure.
Structure your jobs as follows to make it easy for recruiters to skim through and pinpoint the essential info.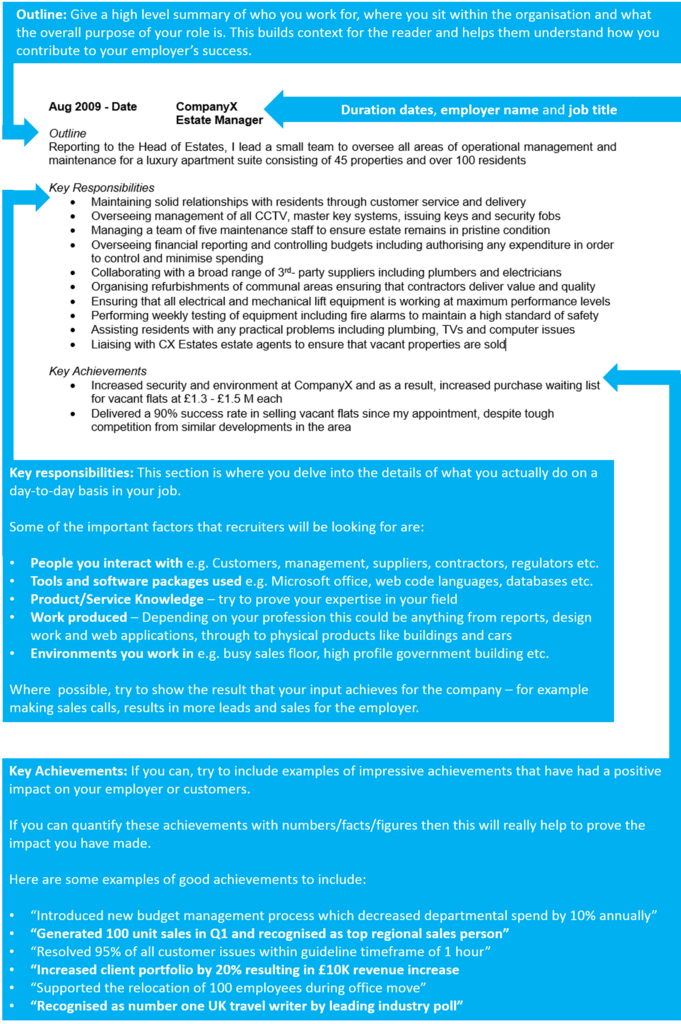 Job outline
Kick off each role with a high-level overview to summarize the focus of the job, what the organization/department does, and how you fit into the bigger picture.
Key responsibilities
Then delve into the detail of your job by listing out easy-to-read bullet points which show how you apply your skills in the workplace.
Tailor these bullet points to focus on the skills and knowledge that are required in the jobs you are applying for.
Key achievements
Show employers the value you can bring to them by adding a few achievements to your jobs.
Whether you've saved the company money or improved an internal process, let recruiters know
Add some numbers to give readers a real scale of the impact, e.g. "reduced call wait time by 10%"
Example job for Statistician resume
Outline
Conduct statistical analysis to support physics research at the University of Kentucky, developing and implementing data management and analysis systems for post-graduate, doctoral, and professional research projects.
Key Responsibilities
Perform primary data management and quality control of large data sets and assist with the interpretation of results
Produce statistical and progress reports for the research team to track progress, submitting them to funders for evidence
Integrate data from multiple sources including SQL, Redcap, and eLAB
Write Python code for data import, manipulation, and data modeling
Quick tip: Create impressive job descriptions easily in our partner's Resume Builder by adding pre-written job phrases for every industry and career stage.

Education section
Nearing the end of your resume, your education/qualifications section should be added.
In a well-structured list, add all of your qualifications and certifications that qualify you to perform a typical Statistician role.
If you have plenty of work experience, keep this section brief – if not, add lots of detail to make up for your lack of experience.
Additional information
At the end of your resume, you can add any extra information that might be relevant to the jobs you are applying for.
This could be hobbies, interests, publications, clubs or memberships.
This section is optional and doesn't need to be added if you have nothing more relevant to add.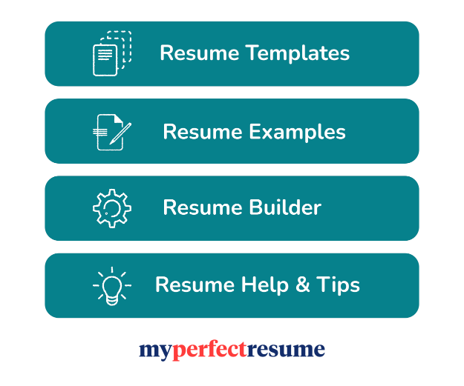 Writing your own winning Statistician resume
Crafting a strong Statistician resume can be a daunting task, but implementing the steps outlined above will significantly increase your chances of securing multiple interview opportunities.
Good luck with your job search!