Can you bring design solutions to life whilst simultaneously overseeing junior designers and helping the business to reach its wider goals?
Sure you can, you're a graphic design expert! The tricky part is proving this on an engaging application.
The good news is, we can help you perfect the content of your resume using our top tips and senior graphic designer resume example. But we'll leave the creative design elements up to you.
Contents
| | |
| --- | --- |
| How to write your Senior Graphic Designer resume | |

Senior Graphic Designer Resume Example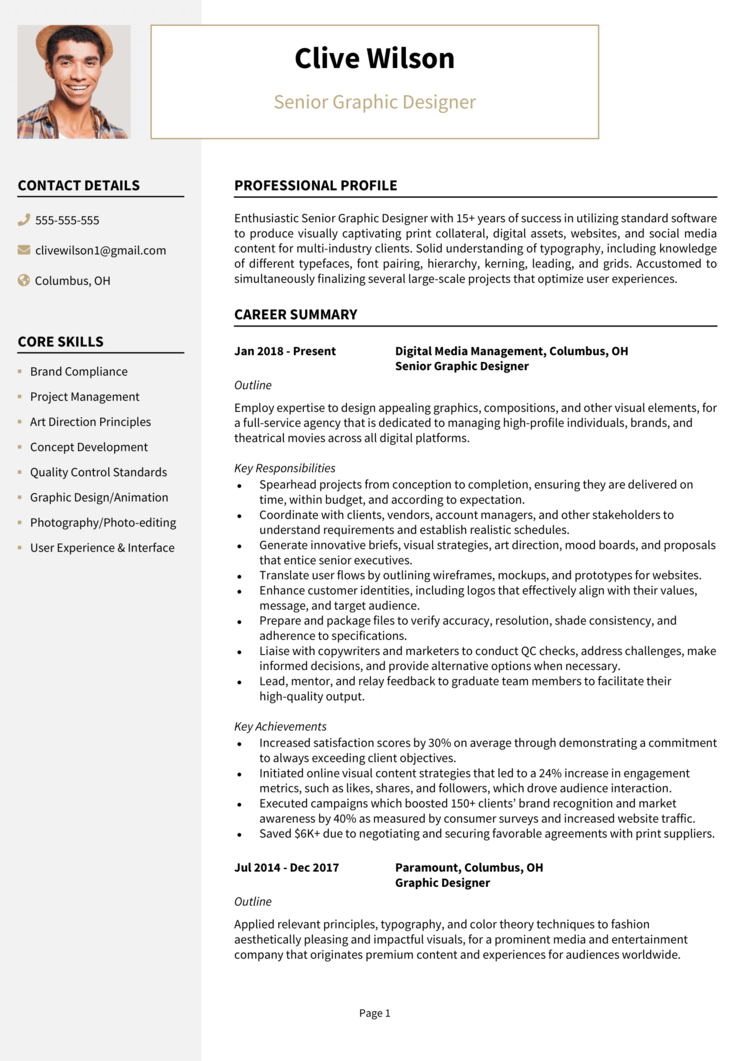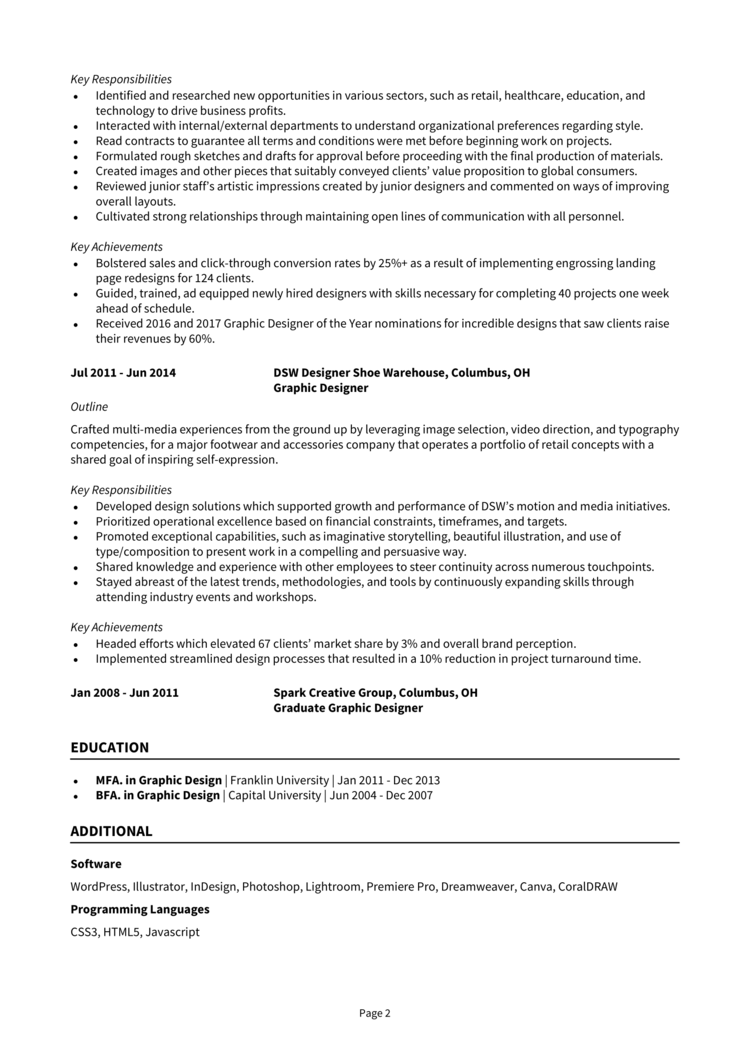 From the Senior Graphic Designer resume example above, you can see the kind of information your resume will need to include, and the layout you will need to create for an easy-reading experience.
The rest of this guide will show you how to apply this format to your own unique situation, and create a resume that will attract the best employers in your industry.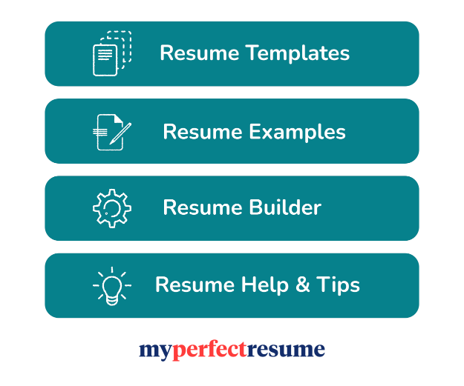 Senior Graphic Designer resume layout and format
If you want to get noticed in the job market, you have to pay attention to the format and layout of your resume.
Essentially your resume needs to look highly polished, and provide hiring managers with an easy reading experience.
Use these resume formatting tips to get a head start on this.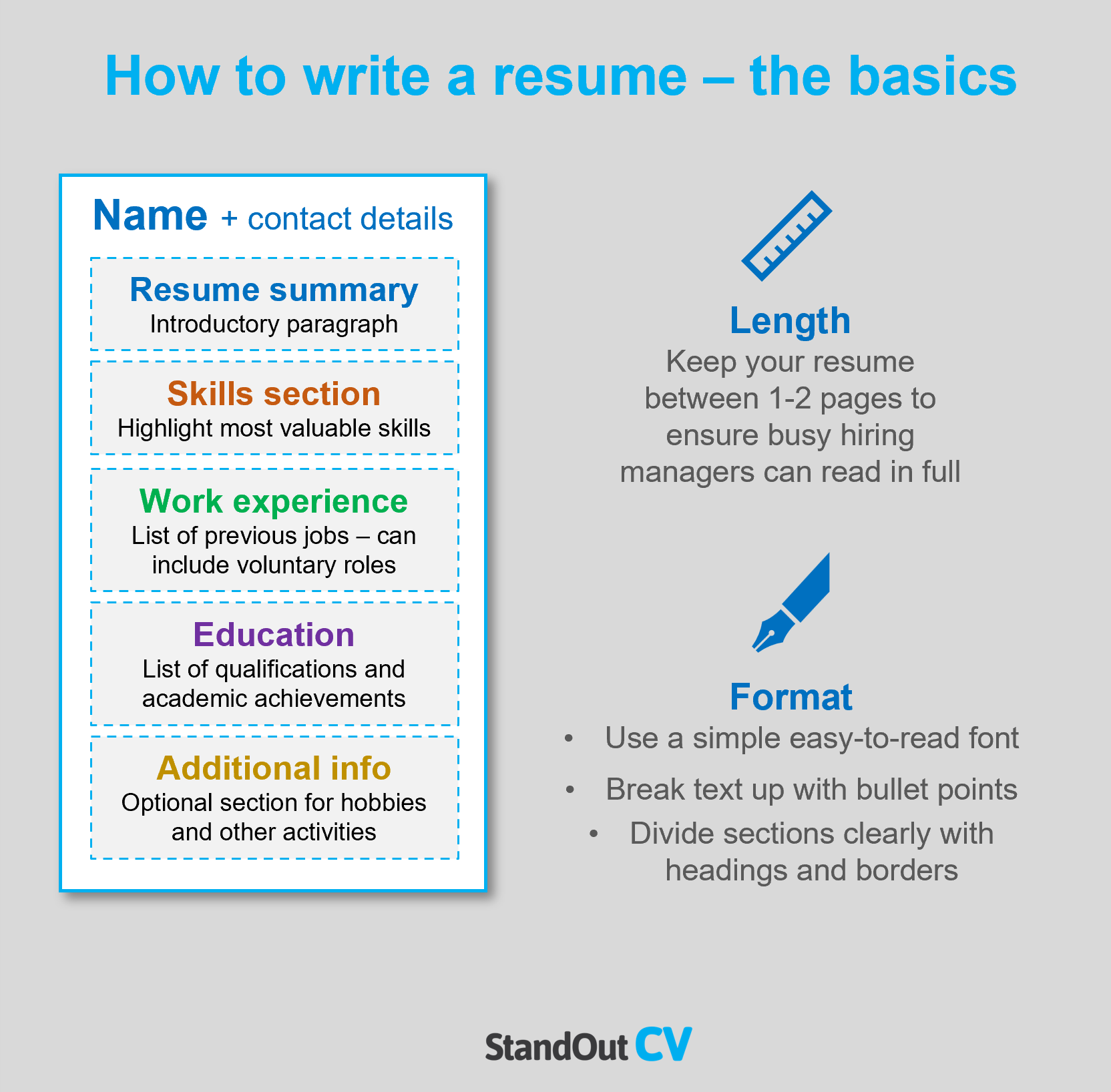 Formatting your resume
Length: Given that recruiters have to sift through tons of resumes daily, it's recommended to keep your resume brief (no more than 2 pages) to make sure it receives their full attention.
Font & readability: The key to an effective resume is its readability, so it's best to use a clear and simple font and format it with bullet points and short paragraphs to make it easy for recruiters to read through quickly.
Layout: Go with a resume design that looks good, but also allows for easy reading and navigation for employers. Ensure the page is clearly split up into sections by adding large font headings and dividing borders. Keep the color scheme simple and don't overcrowd the page.
Photos: It's not mandatory to add a photo to your resume in the USA but it if you're applying to organizations within the creative fields, it can be beneficial.
Quick tip: Achieving a professional look for your resume can be difficult and time-consuming. If you want to create an attractive resume quickly, try our partner's Resume Builder and use one of their eye-catching resume templates.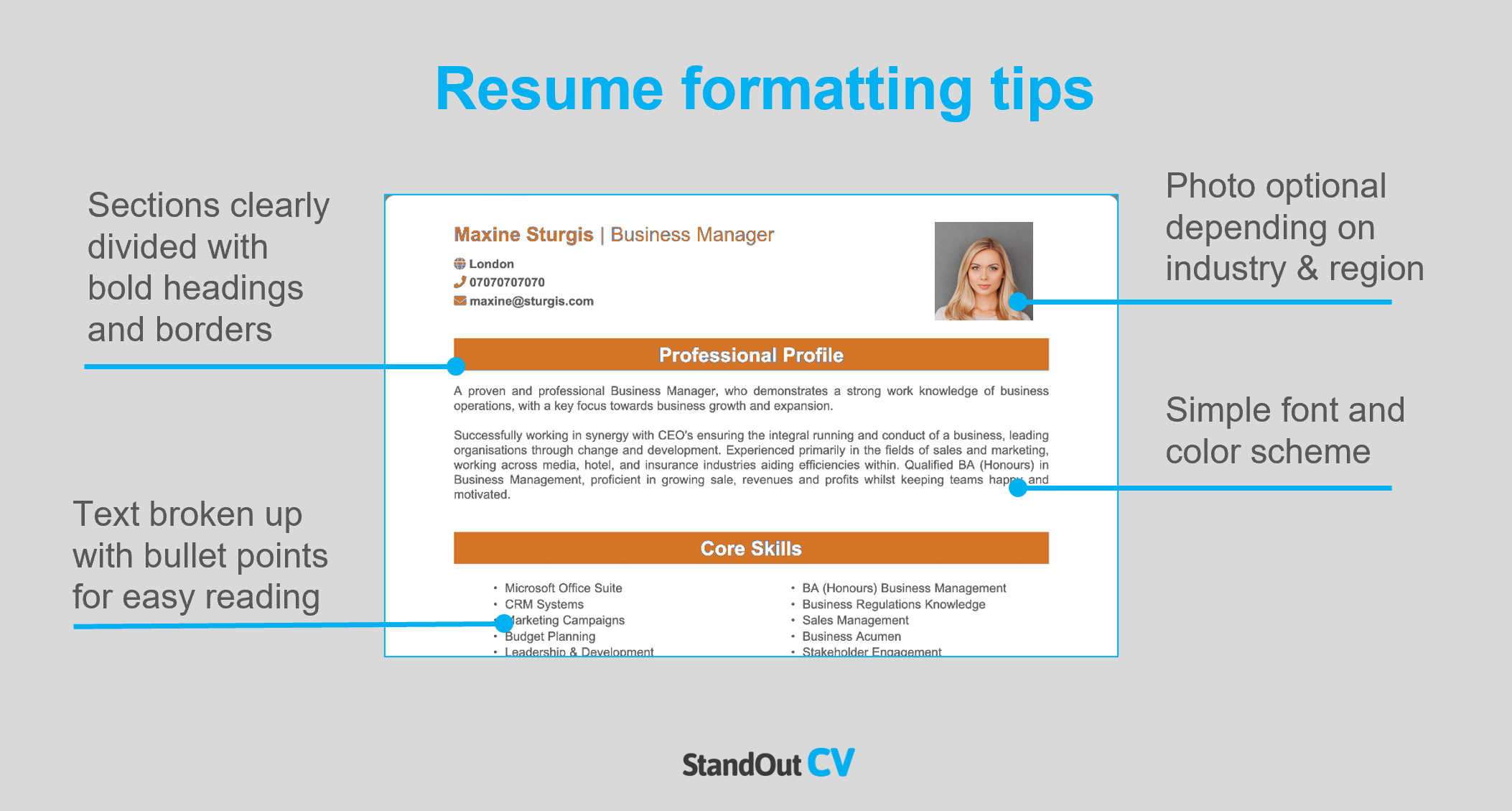 Resume layout
When you write your resume, include the sections below.
Name and contact details – Pop these at the very top to ensure recruiters know how to contact you.
Resume summary – An eye-catching paragraph which summarizes your most valuable attributes – placed near the top of your resume
Skills section – A bullet pointed list of your most in-demand skills, enabling recruiters to see your suitability from a glance.
Work experience – List some or all of your previous jobs in reverse chronological order – voluntary work and college placements can be included if you have no paid experience.
Education – A summary of your professional training and academic qualifications.
Additional info – An optional section for anything that may boost your application, such as relevant hobbies and interests
Here's what to add to each section of your Senior Graphic Designer resume.
Contact Details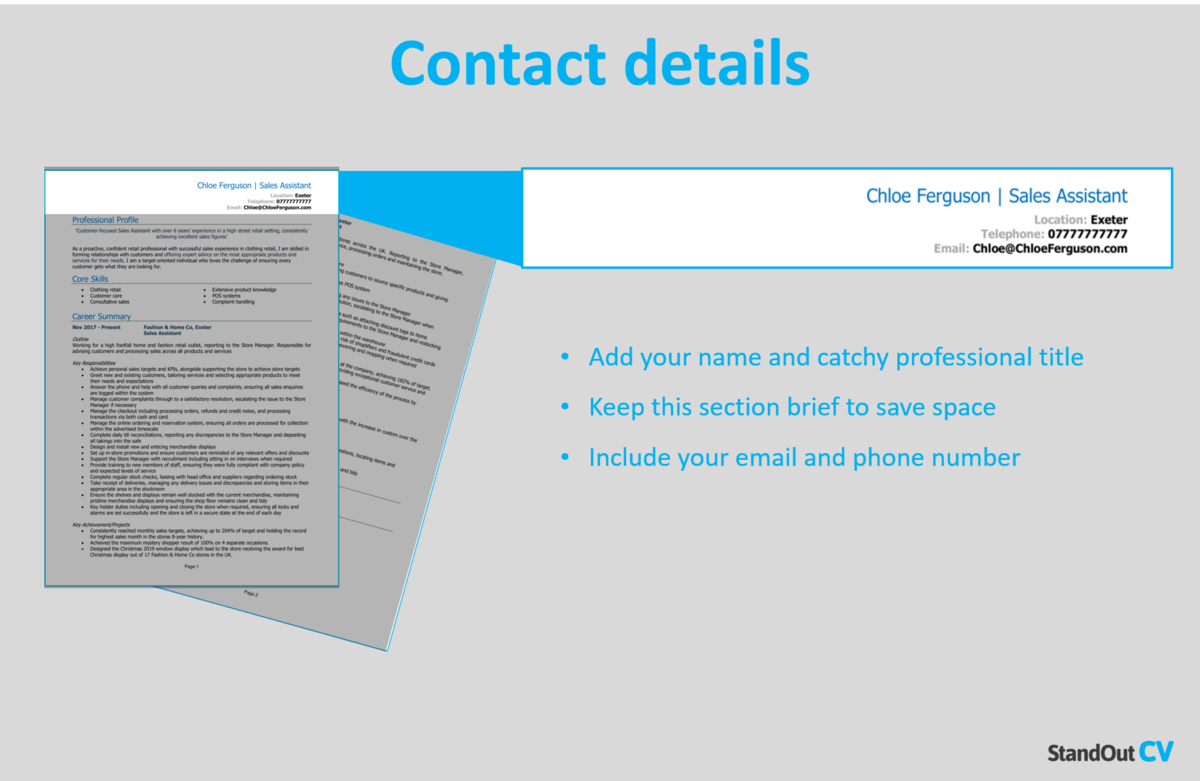 Add your name and contact details to the header of your resume, so that anybody reading can easily see how to contact you.
Name and profession title
Cell phone number – or any number you are easily reachable on
Location – Add your local area such as Washington or San Diego – not your full address as that will take up too much space.
Email address – Use a professional looking address.
You can add a link to your LinkedIn profile if you have one – you do not need to include personal details like date of birth or religion.
Senior Graphic Designer Resume Summary
The resume summary is a short paragraph at the top of your resume, and it's purpose is to grab recruiter's attention and make sure they keep reading it.
To make your summary work, ensure that you provide a high-level summary of your skills and experience – and tailor it to reflect the requirements of the jobs you are applying for.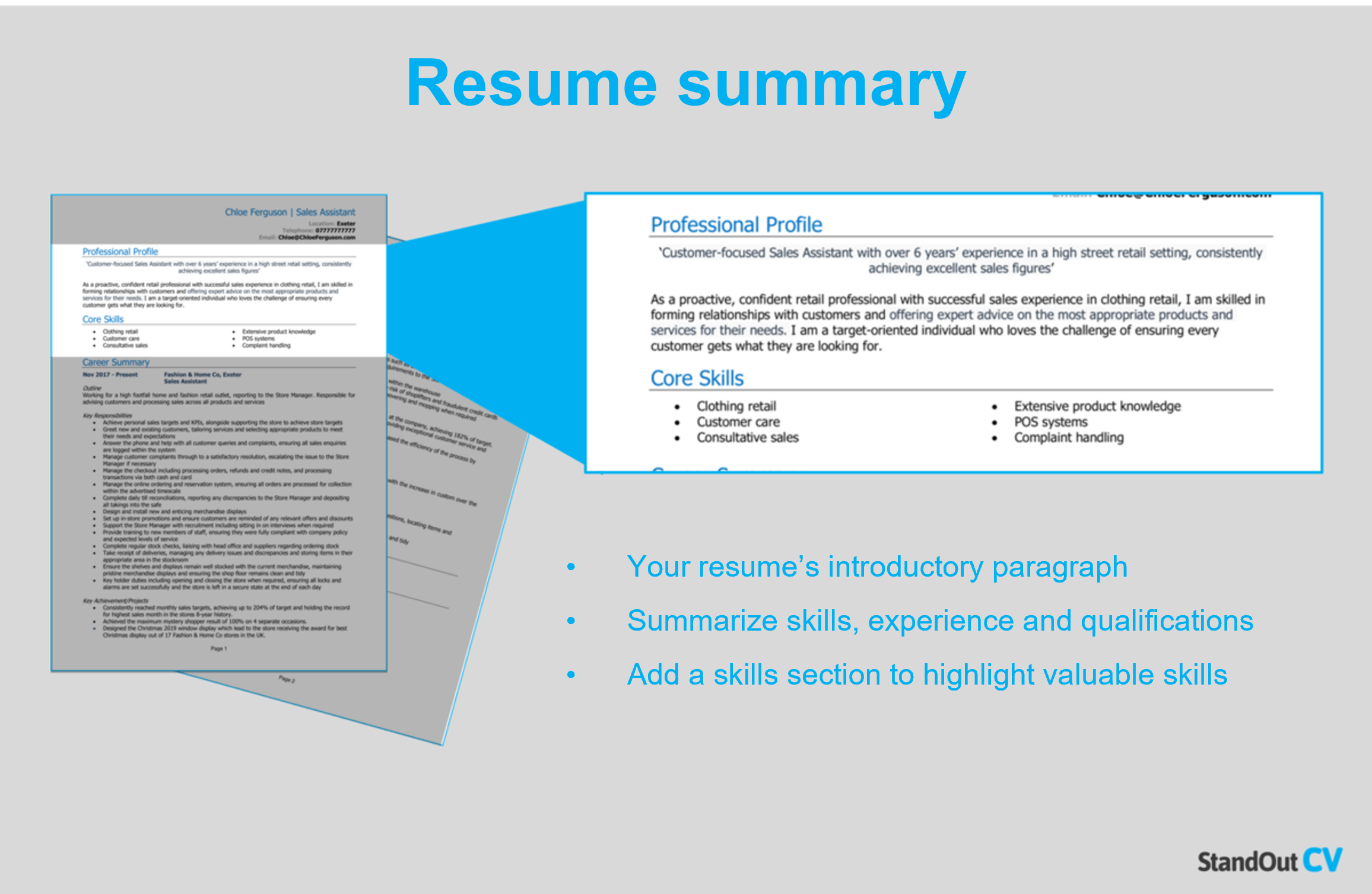 How to create a resume summary that will excite recruiters:
Keep it short: You only have a few seconds to grab a recruiters' attention and make them commit to your resume, so keep your summary between 4 – 7 lines.
Tailor to target jobs: Recruiters will be scanning for the skills and knowledge they mentioned in the job description, so add as many as you can to your summary.
Avoid using cliches: Recruiters always see cringey cliches like "hardworking guru who works well in a team or individually" – they don't mean much to anyone, so focus your summary on tangible skills and experience.
Senior Graphic Designer resume summary example
Enthusiastic Senior Graphic Designer with 15+ years of success in utilizing standard software to produce visually captivating print collateral, digital assets, websites, and social media content for multi-industry clients. Solid understanding of typography, including knowledge of different typefaces, font pairing, hierarchy, kerning, leading, and grids. Accustomed to simultaneously finalizing several large-scale projects that optimize user experiences.
What to include in your Senior Graphic Designer resume summary?
Summary of your experience: Provide a summary of the kind of work you have previously done, along with the benefits you have delivered to the organizations you worked with.
Relevant skills: Include your skills which are hyper relevant to Senior Graphic Designer jobs to instantly show your suitability.
Qualifications: If your job requires any qualifications such as a professional course or a college degree, mention it briefly in your summary.
Quick tip: Choose from hundreds of pre-written summaries across all industries, and add one to your resume with one-click in our partner's Resume Builder. All written by recruitment experts and easily tailored to suit your unique skillset and style.
Core skills section
In addition to your resume summary, your core skills section provides an easily digestible snapshot of your skills – perfect for grabbing the attention of busy hiring managers.
As Senior Graphic Designer jobs might receive a huge pile of applications, this is a great way to stand out and show off your suitability for the role.
It should be made up of 2-3 columns of bullet points and be made up of skills that are highly relevant to the jobs you are targeting.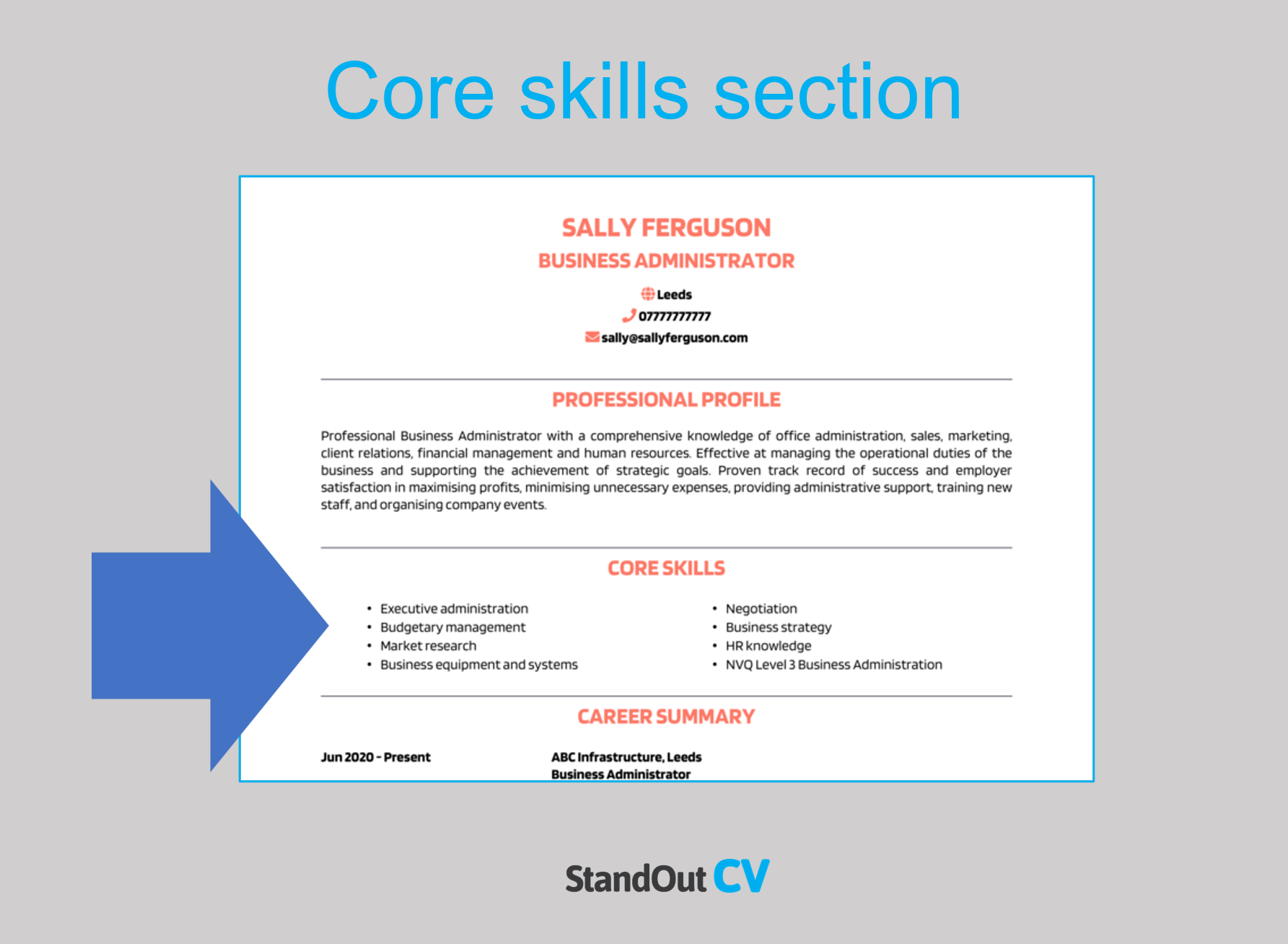 Best skills for your Senior Graphic Designer resume
Graphic Design Software – Utilizing industry-standard design software such as Adobe Creative Suite (Photoshop, Illustrator, InDesign) to create visually appealing and professional designs.
Typography – Selecting and pairing fonts creatively to enhance readability, convey messages, and evoke emotions in the designs.
Branding and Identity Design – Developing cohesive brand identities, including logos, color palettes, and brand guidelines that reflect the essence of a company or product.
Layout and Composition – Organizing elements, images, and text in a visually pleasing and balanced manner to create engaging designs.
Visual Communication – Using design elements to effectively communicate complex information and ideas in a clear and compelling way.
Illustration – Creating original illustrations and graphics to add a unique and creative touch to design projects.
Print Design – Utilizing knowledge of print production processes, including file preparation, color management, and print specifications, to ensure high-quality printed materials.
Web and Mobile Design – Designing user-friendly and responsive web and mobile interfaces, considering usability and user experience principles.
Project Management – Meeting tight deadlines and managing multiple projects concurrently while maintaining design quality.
Client Interaction and Collaboration – Effectively communicating with clients, understanding their design needs, and collaborating with cross-functional teams, such as marketing and development, to deliver successful design solutions.
Quick tip: Our partner's Resume Builder contains thousands of in-demand skills for every profession that can be added to your resume in seconds – saving you time and greatly improving your chances of landing job interviews and getting hired.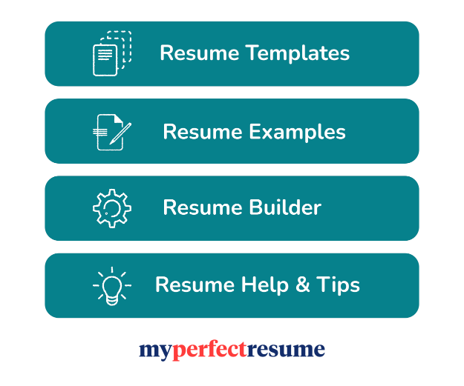 Work experience
Now that you've reeled recruiters in with your awesome summary, it's time to delve into your work experience.
Here you'll list your previous jobs (starting with your most recent and working backward) and showcase how you apply your skills in the workplace.
Provide lots of detail in recent jobs, and less in older roles.
If you have no relevant paid experience, you can include voluntary work and placements – but if you have lots of experience, you can leave out some of the really old jobs.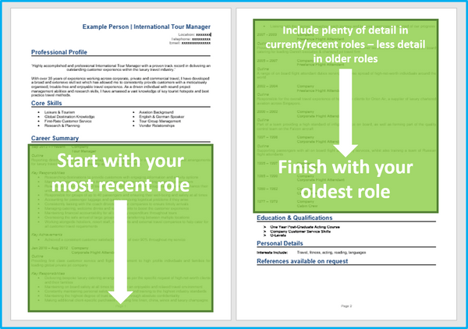 Structuring your jobs
Without a good structure, your job description can look messy and overwhelming to anyone reading them.
Make it easy for recruiters to read your work experience by structuring your roles like this.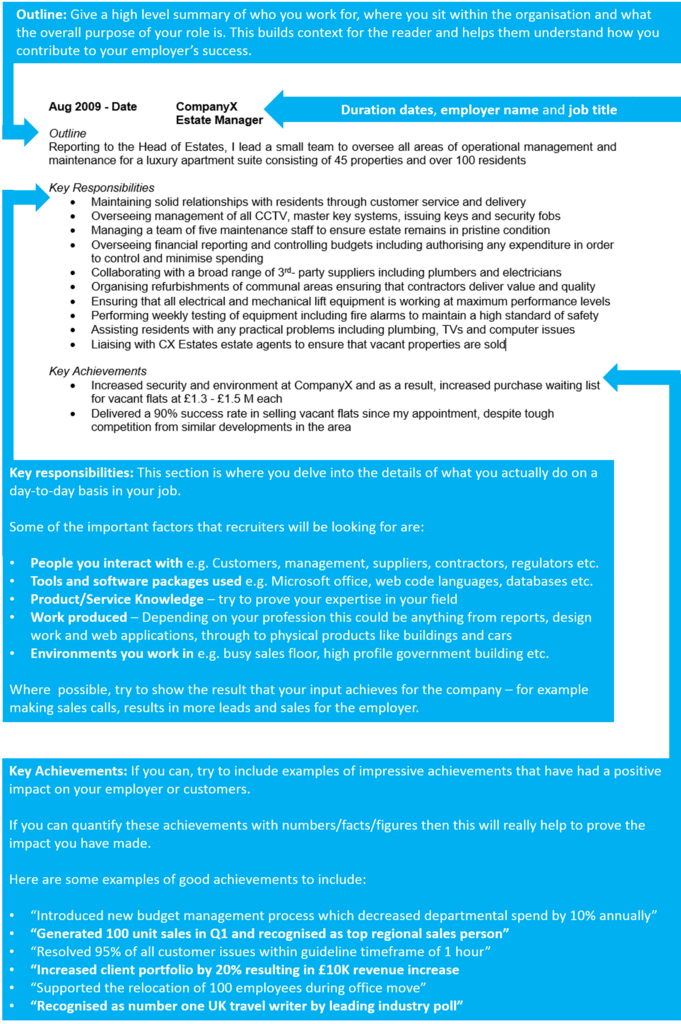 Job outline
Starting each job with a brief summary of the organization, your position within it, and the primary goal of your role can help recruiters quickly understand the context of your work.
Key responsibilities
Then delve into the detail of your job by listing out easy-to-read bullet points which show how you apply your skills in the workplace.
Tailor these bullet points to focus on the skills and knowledge that are required in the jobs you are applying for.
Key achievements
Round off each job by adding some impressive achievements you made in the role.
Anything you've done that has made a big impact on your employer will make a good impression, think; generating revenue, saving costs, or improving a product.
Quantify your achievements with number where possible e.g. "reduced call wait time by 10%"
Example job for Senior Graphic Designer resume
Outline
Employ expertise to design appealing graphics, compositions, and other visual elements, for a full-service agency that is dedicated to managing high-profile individuals, brands, and theatrical movies across all digital platforms.
Key Responsibilities
Spearhead projects from conception to completion, ensuring they are delivered on time, within budget, and according to expectation.
Coordinate with clients, vendors, account managers, and other stakeholders to understand requirements and establish realistic schedules.
Generate innovative briefs, visual strategies, art direction, mood boards, and proposals that entice senior executives.
Translate user flows by outlining wireframes, mock-ups, and prototypes for websites.
Quick tip: Create impressive job descriptions easily in our partner's Resume Builder by adding pre-written job phrases for every industry and career stage.

Education section
Nearing the end of your resume, your education/qualifications section should be added.
In a well-structured list, add all of your qualifications and certifications that qualify you to perform a typical Senior Graphic Designer role.
If you have plenty of work experience, keep this section brief – if not, add lots of detail to make up for your lack of experience.
Additional information
The additional info section is optional but can be useful if you have anything else to add that could benefit your application.
For example, you may have some hobbies and interests that are relevant to your job – or you might have awards or publications to shout about.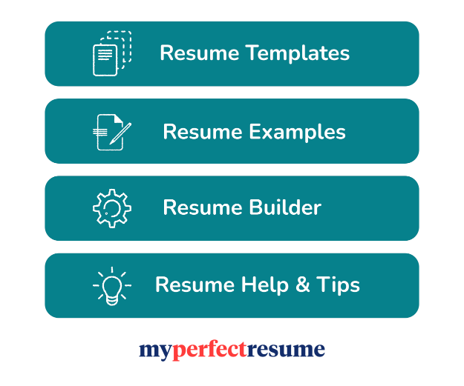 Writing your own winning Senior Graphic Designer resume
A winning Senior Graphic Designer resume should look great, read well, and sell your skillset to hiring managers.
If you follow the steps above, you should be able to bag yourself a top job in no time.
Good luck with your job search!