You're used to handling numbers and large amounts of data, but do you know how to use these to your advantage when writing your resume?
If you're ready to make the next move in your career but you need a little to get things moving, check out all our top tips in the detailed guide below.
We've also created a senior data engineer resume example to support you further.
Contents
| | |
| --- | --- |
| How to write your Senior Data Engineer resume | |

Senior Data Engineer Resume Example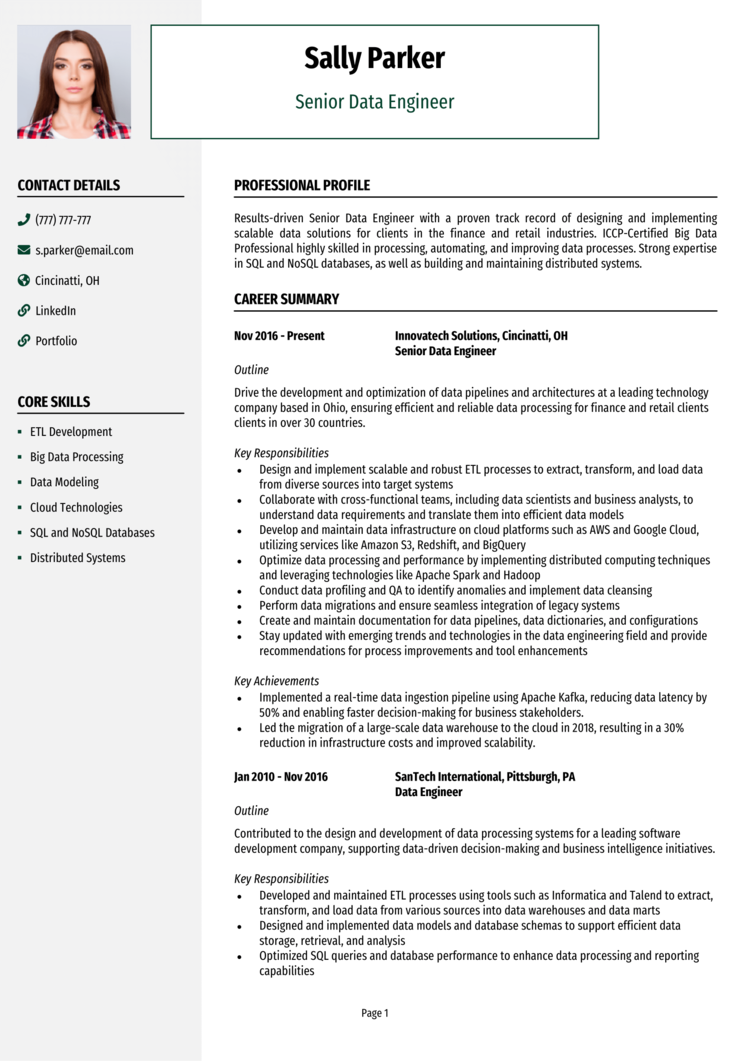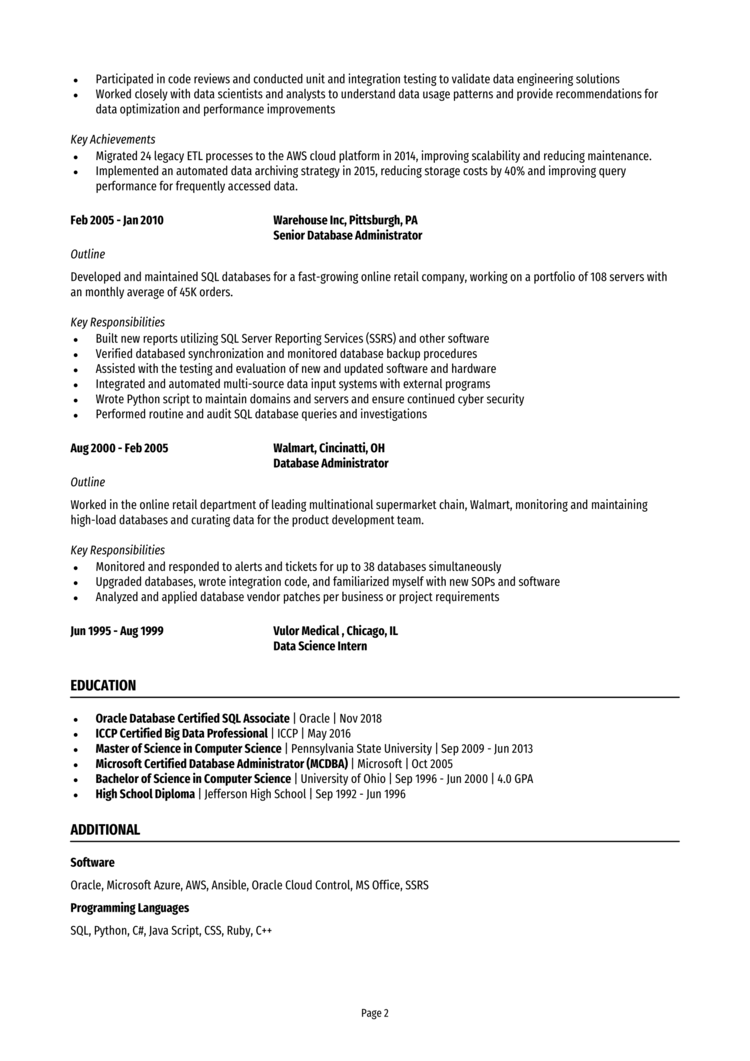 This Senior Data Engineer resume example shows you the most effective layout for a resume in today's job market, along with the type of content you need to include.
Stick closely to these guidelines as you write your own resume, to boost your chances of getting lots of responses, interviews and job offers.
Now lets dive into the details of how you write your own eye-catching resume…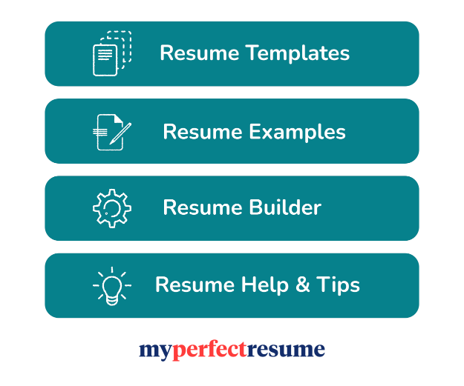 Senior Data Engineer resume layout and format
If you want to get noticed in the job market, you have to pay attention to the format and layout of your resume.
Essentially your resume needs to look highly polished, and provide hiring managers with an easy reading experience.
Use these resume formatting tips to get a head start on this.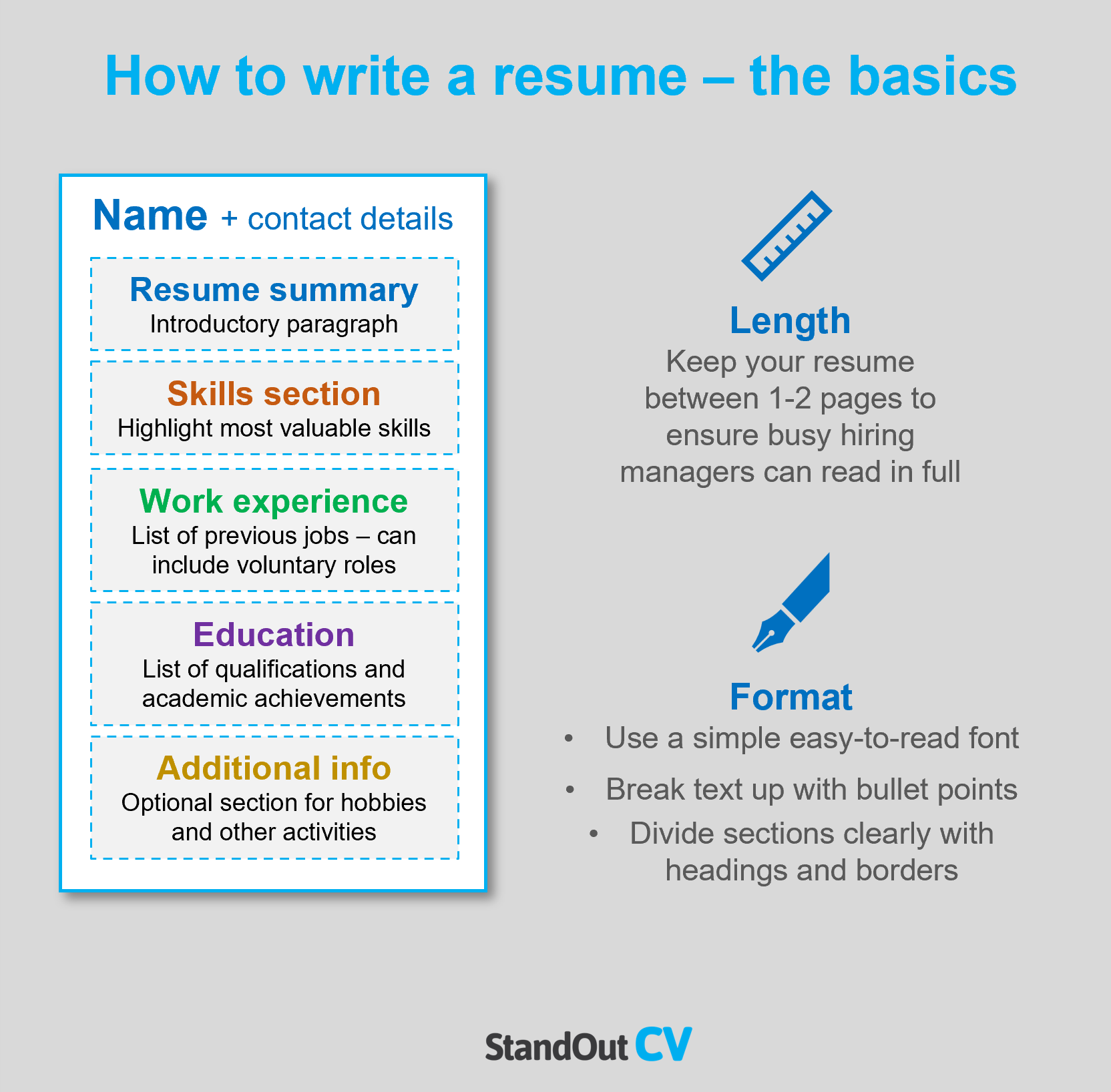 Formatting your resume
Length: Attention spans in recruitment are notoriously short, so keep your resume short and sweet. There's no exact rule for resume length, but aim for 2 pages or less if you want to ensure yours gets read in full.
Font & readability: Simplicity and a pleasant reading experience are crucial if you want to highlight your most valuable skills to recruiters. Use a clear font (avoid fancy ones) and break up the text in your resume with bullet points to ensure information can be easily consumed.
Layout: Allow recruiters to skim through your resume with ease, by dividing the page into clear sections with headings and borders. The design of your resume should be eye-catching but not overly complex – keep the style and color scheme simple and clean.
Photos: It's not mandatory to add a photo to your resume in the USA but it if you're applying to organizations within the creative fields, it can be beneficial.
Quick tip: Achieving a professional look for your resume can be difficult and time-consuming. If you want to create an attractive resume quickly, try our partner's Resume Builder and use one of their eye-catching resume templates.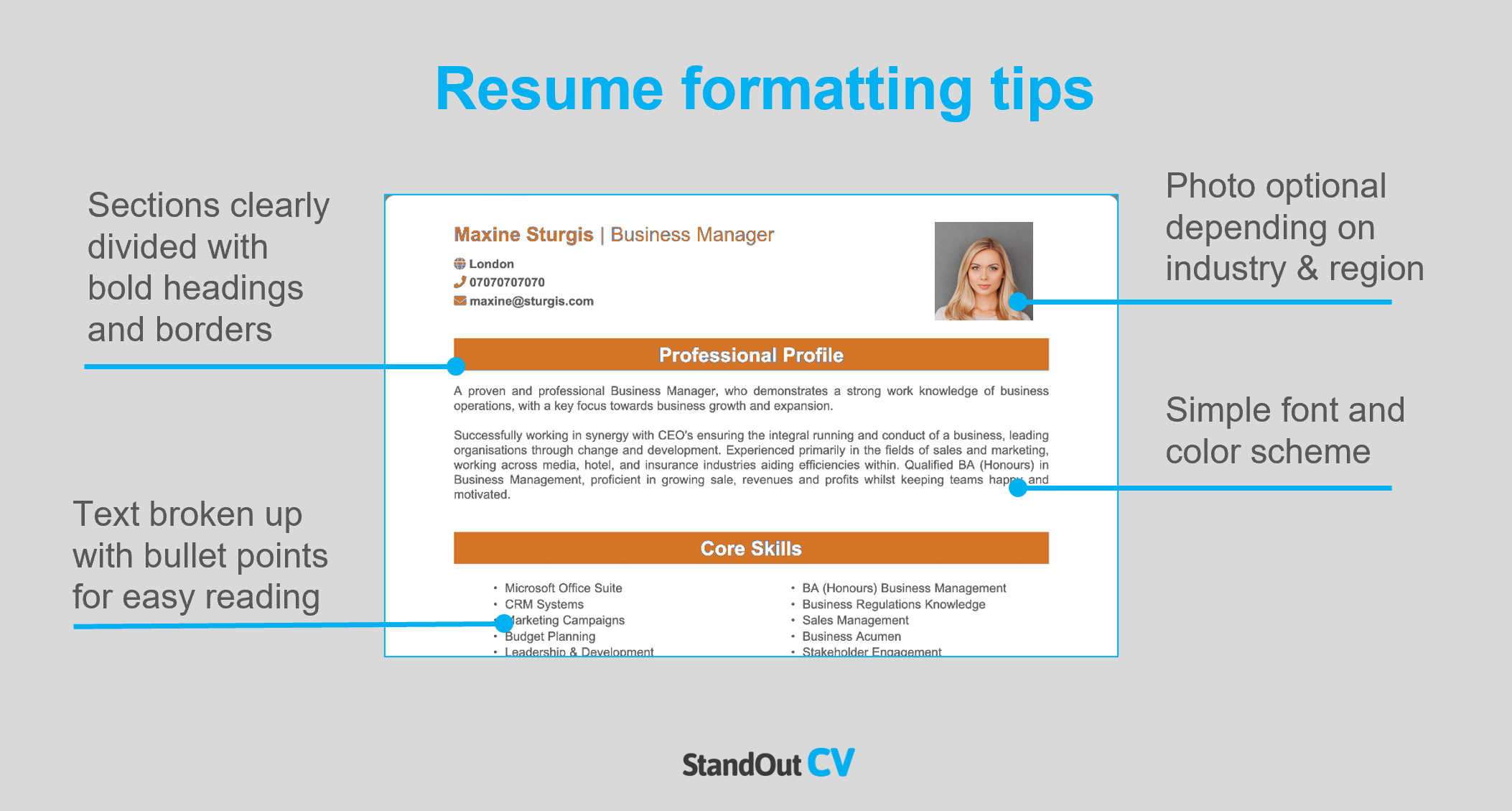 Resume layout
Here's an overview of the sections you should add when writing your resume.
Name and contact details – Stick these details at the top, so they are easy to find.
Resume summary – A punchy paragraph summarizing your skills and knowledge, enticing recruiters to read more of your resume.
Skills section – Short list of your most valuable skills, enabling recruiters to quickly spot your suitability.
Work experience – Showcase your previous employment, starting with your most recent roe and working backwards – voluntary work and college placements can be included if you have no paid experience.
Education – A summary of your most relevant qualifications and academic achievements
Additional info – An optional section for that other attributes that may boost your application, such as hobbies or clubs
Here's what to add to each section of your Senior Data Engineer resume.
Contact Details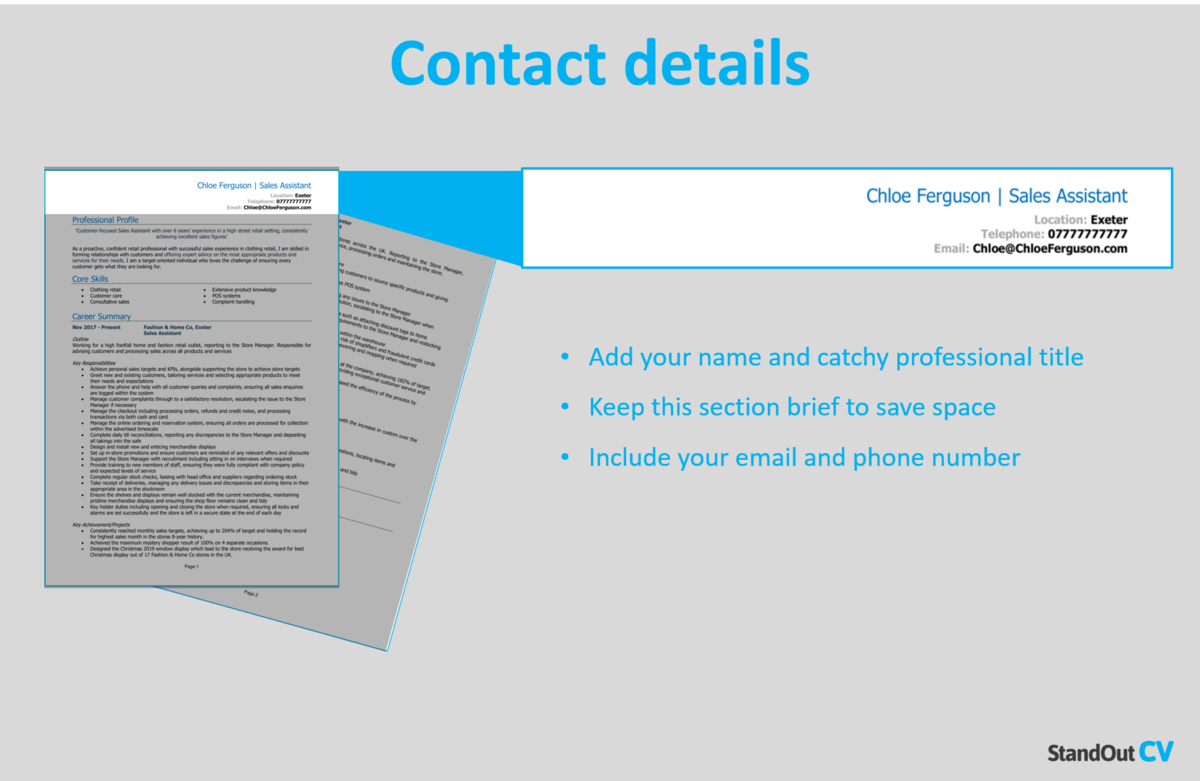 Add your name and contact details to the very top of your resume, making it easy for recruiters to get in touch
Name and profession title
Cell phone number – or another number you can answer quickly
Location – Add your local area such as San Diego or New York – not your full address as that will take up too much space.
Email address – Use your name or close variation – no nicknames from high school.
You can add a link to your LinkedIn profile if you have one – you do not need to include personal details like date of birth or marital status.
Senior Data Engineer Resume Summary
Your resume summary is like your introduction to the recruiter or hiring manager – it should grab their attention and leave them eager to read more about you.
Achieve this by writing a snappy overview of your skills, knowledge and what value you can bring to an employer.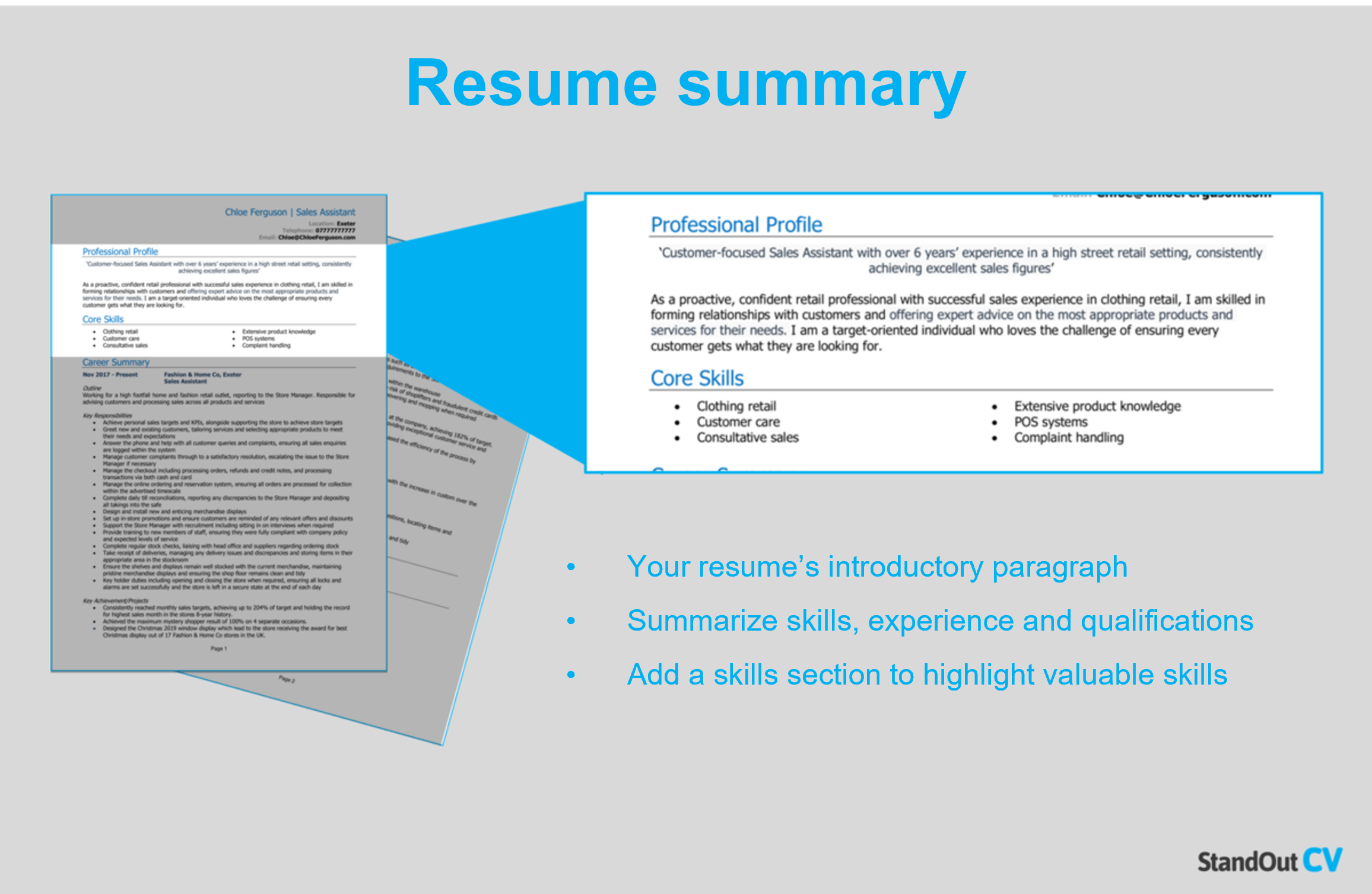 How to create a resume summary that will excite recruiters:
Keep it short: To capture a recruiter's attention and keep them interested in your resume, limit your summary to 4-7 lines as you only have a few seconds to make an impression
Tailor to target jobs: To tailor your resume to your target jobs, it's essential to closely analyze the job description and include as many relevant skills as possible.
Avoid using cliches: Recruiters look for facts in resumes, such as hard skills and qualifications – so, leave out the meaningless cliches like "hard worker who works well in a team and individually"
Senior Data Engineer resume summary example
Results-driven Senior Data Engineer with a proven track record of designing and implementing scalable data solutions for clients in the finance and retail industries. ICCP-Certified Big Data Professional highly skilled in processing, automating, and improving data processes. Strong expertise in SQL and NoSQL databases, as well as building and maintaining distributed systems.
What to include in your Senior Data Engineer resume summary?
Summary of your experience: Briefly describe the work you have performed in the past and the contributions you have made to the organizations you have worked for.
Relevant skills: Highlight your skills which are most relevant to Senior Data Engineer jobs, to ensure that recruiters see your most in-demand skills as soon as they open your resume.
Qualifications: If your job requires any qualifications such as a professional course or a college degree, mention it briefly in your summary.
Quick tip: Choose from hundreds of pre-written summaries across all industries, and add one to your resume with one-click in our partner's Resume Builder. All written by recruitment experts and easily tailored to suit your unique skillset and style.
Core skills section
Your core skills section, positioned just below your resume summary, provides recruiters with a quick glance at 4-10 of your most in-demand skills.
For Senior Data Engineer jobs, where hiring managers may receive hundreds of applications, this section can help you stand out and immediately grab their attention.
To be effective, this section should consist of 2-3 columns of bullet points that highlight attributes that are highly relevant to the jobs you are targeting.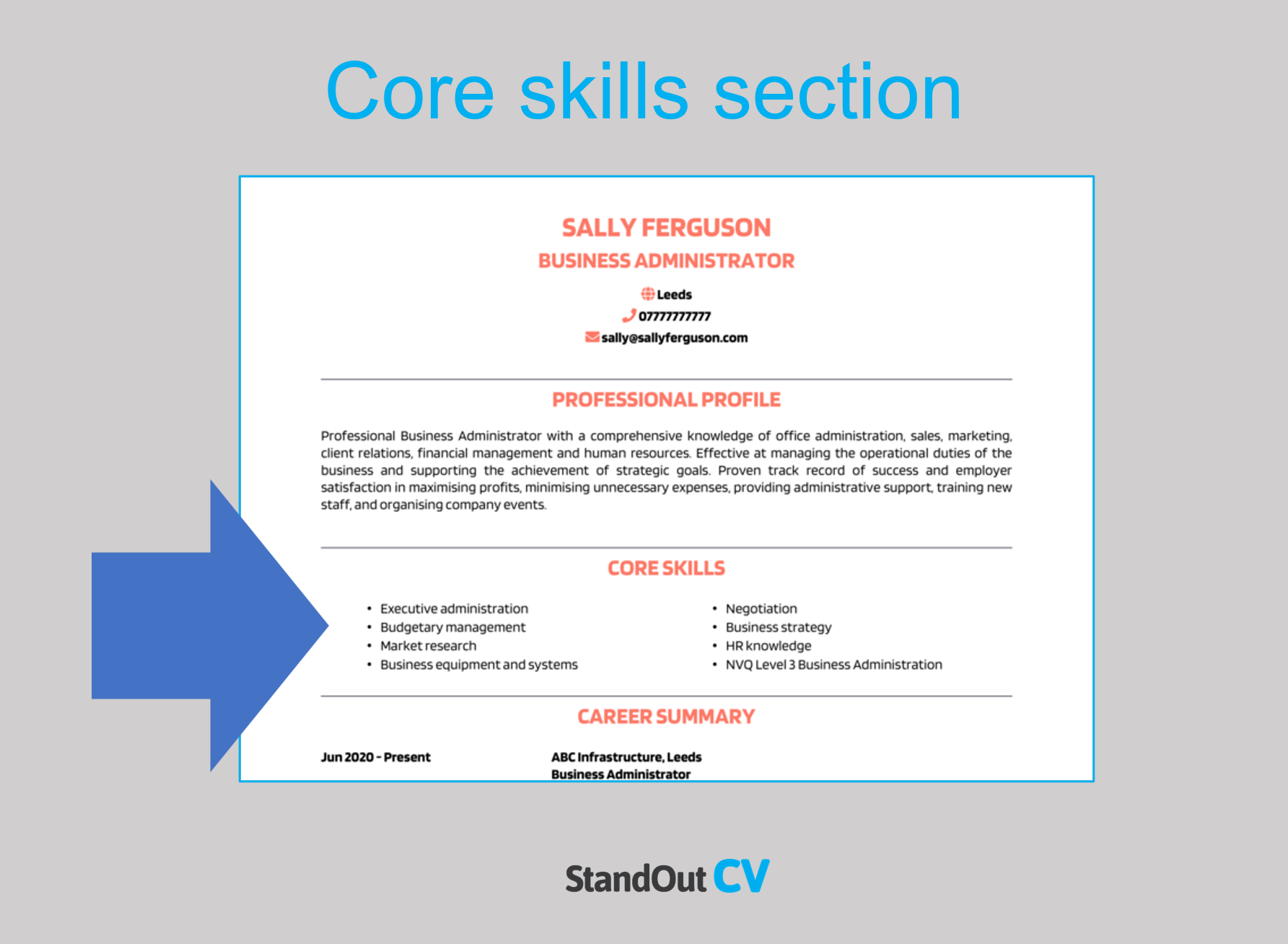 Best skills for your Senior Data Engineer resume
Data Modeling – Designing and developing data models to structure and organize data for efficient storage and retrieval in databases.
ETL (Extract, Transform, Load) Tools – Utilizing ETL tools to extract data from various sources, transform it into the desired format, and load it into data warehouses or data lakes.
Big Data Technologies – Utilizing knowledge and experience with big data technologies, such as Hadoop, Spark, and NoSQL databases, to handle large volumes of data and perform distributed processing.
Database Management – Managing and optimizing relational databases like SQL Server, Oracle, or MySQL, ensuring data integrity and performance.
Data Warehousing – Designing and building data warehouses to consolidate data from different sources for reporting and analytics purposes.
Cloud Computing Platforms – Working with cloud computing platforms like AWS, Azure, or Google Cloud for scalable and cost-effective data storage and processing.
Programming Languages – Using programming languages like Python, Java, or Scala to build data pipelines and perform data manipulation tasks.
Data Governance – Utilizing knowledge of data governance principles and practices to ensure data quality, security, and compliance with regulations.
Data Streaming – Working with real-time data streaming technologies like Apache Kafka to handle continuous data flows.
Data Security – Utilizing knowledge of data security best practices to protect sensitive information and ensure data privacy.
Quick tip: Our partner's Resume Builder contains thousands of in-demand skills for every profession that can be added to your resume in seconds – saving you time and greatly improving your chances of landing job interviews and getting hired.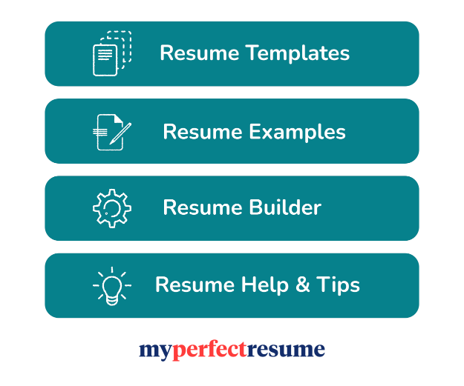 Work experience
Once you've hooked the hiring manager with your summary, you can really blow them away with you work experience.
List your previous jobs from newest to oldest to show the impact you made at each organization.
If you have years of experience, you can leave out some of the older jobs, and if you have little/no experience, you can bulk this section up with voluntary work and college placements.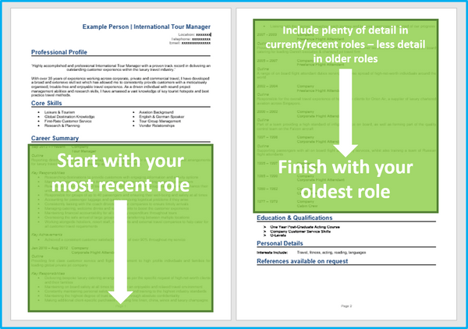 Structuring your jobs
It's easy to overwhelm readers when writing about a job you have been doing for years or even months.
Break the information up like this to keep it simple for recruiters to understand.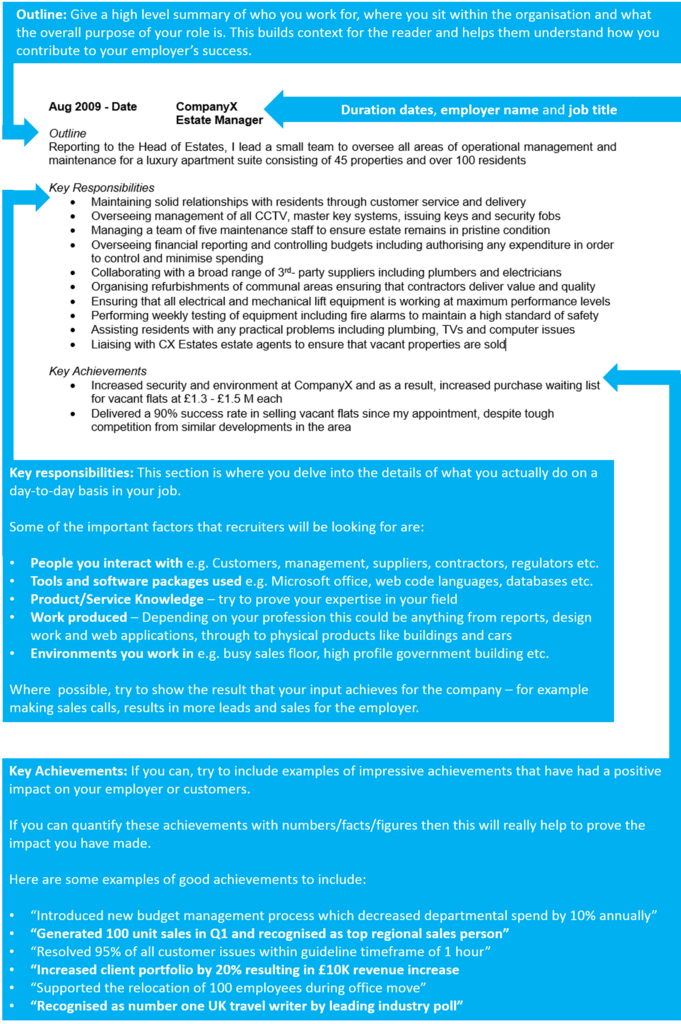 Job outline
Begin each job with a short summary of who the organization is, where you sit within it, and what the main goal of your position is.
Key responsibilities
Then delve into the detail of your job by listing out easy-to-read bullet points which show how you apply your skills in the workplace.
Tailor these bullet points to focus on the skills and knowledge that are required in the jobs you are applying for.
Key achievements
Round off each job by adding some impressive achievements you made in the role.
Anything you've done that has made a big impact on your employer will make a good impression, think; generating revenue, saving costs, or improving a product.
Quantify your achievements with number where possible e.g. "reduced call wait time by 10%"
Example job for Senior Data Engineer resume
Outline
Drive the development and optimization of data pipelines and architectures at a leading technology company based in Ohio, ensuring efficient and reliable data processing for finance and retail clients in over 30 countries.
Key Responsibilities
Design and implement scalable and robust ETL processes to extract, transform, and load data from diverse sources into target systems
Collaborate with cross-functional teams, including data scientists and business analysts, to understand data requirements and translate them into efficient data models
Develop and maintain data infrastructure on cloud platforms such as AWS and Google Cloud, utilizing services like Amazon S3, Redshift, and BigQuery
Optimize data processing and performance by implementing distributed computing techniques and leveraging technologies like Apache Spark and Hadoop
Quick tip: Create impressive job descriptions easily in our partner's Resume Builder by adding pre-written job phrases for every industry and career stage.

Education section
After your work experience, add your education section.
If you are an experienced professional, you can keep this part short – adding basic details of each qualification.
If you have little or no experience, bulk this section up by adding more detail and highlight important skills and knowledge for your target jobs.
Additional information
At the end of your resume, you can add any extra information that might be relevant to the jobs you are applying for.
This could be hobbies, interests, publications, clubs or memberships.
This section is optional and doesn't need to be added if you have nothing more relevant to add.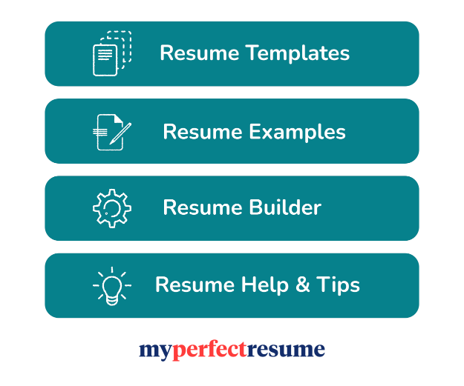 Writing your own winning Senior Data Engineer resume
Writing a Senior Data Engineer resume can be challenging but following the steps above will ensure that you land plenty of interviews.
Good luck with your job search!