You're ready to take the next step in your educational career, and your application has been accepted. The final step is landing that scholarship!
The problem?
Scholarships can be very competitive, and you need to impress the committee if you want to be considered. This means submitting an impressive and stand-out resume.
For inspiration and tips on how to write the best possible resume, check out our guide below, complete with a scholarship resume example.
Contents
| | |
| --- | --- |
| How to write a Scholarship resume | |

Scholarship Resume Example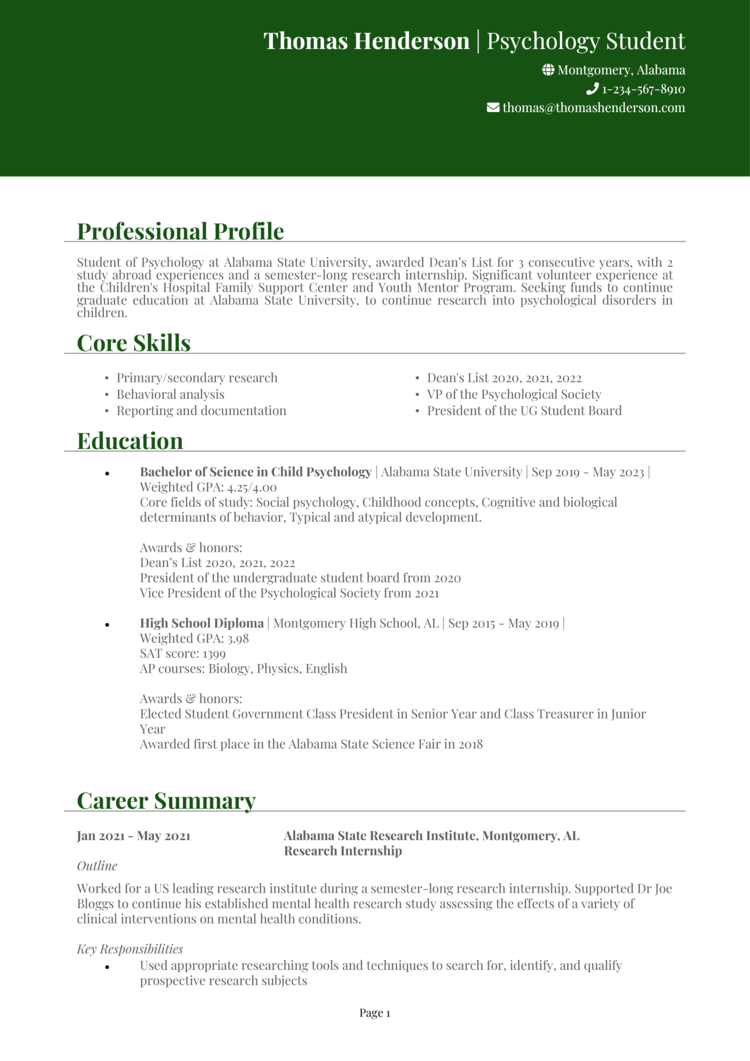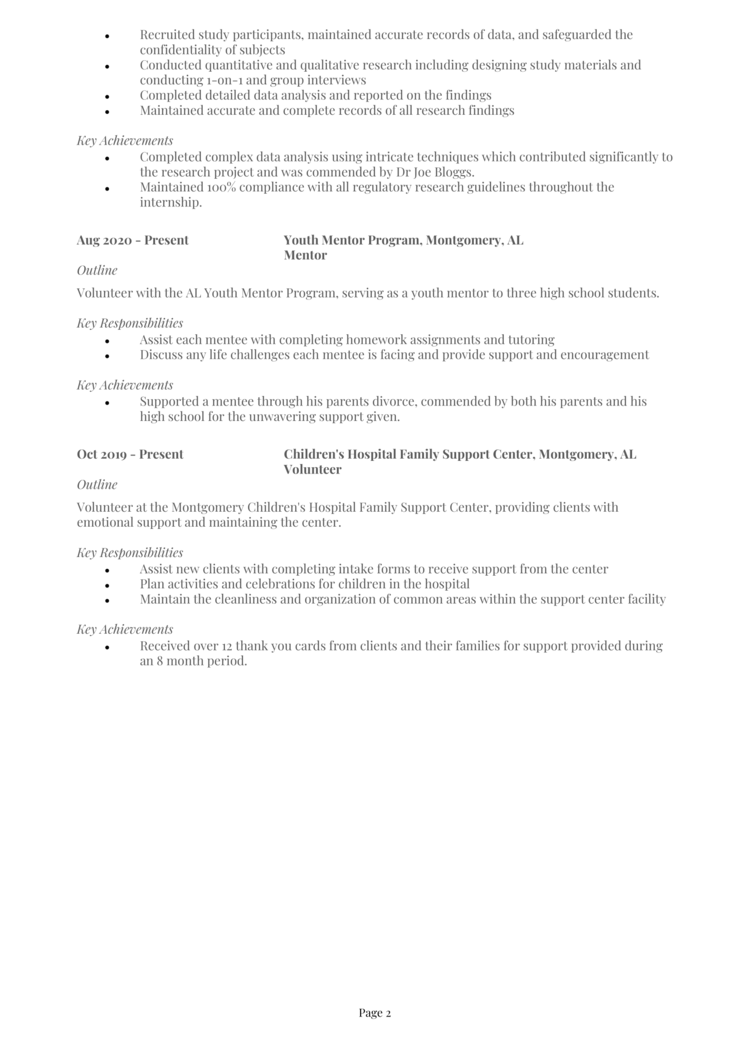 From the Scholarship resume example above, you can see the type of content your resume will need to include, and the general layout you will need to stick to.
The rest of this guide will show you how to apply this format to your own unique situation, and create a resume that will attract the best employers in your field.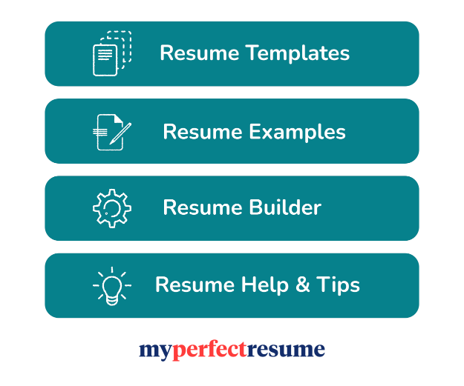 Scholarship resume layout and format
The format and layout of your resume can make or break its success.
Sure, it's great to pack your resume with lots of impressive skills and knowledge, but if the page is not structured clearly, hiring managers will struggle to find the important stuff!
Above all, your resume should be easy-to-read and professional looking.
Follow these formatting tips to get noticed.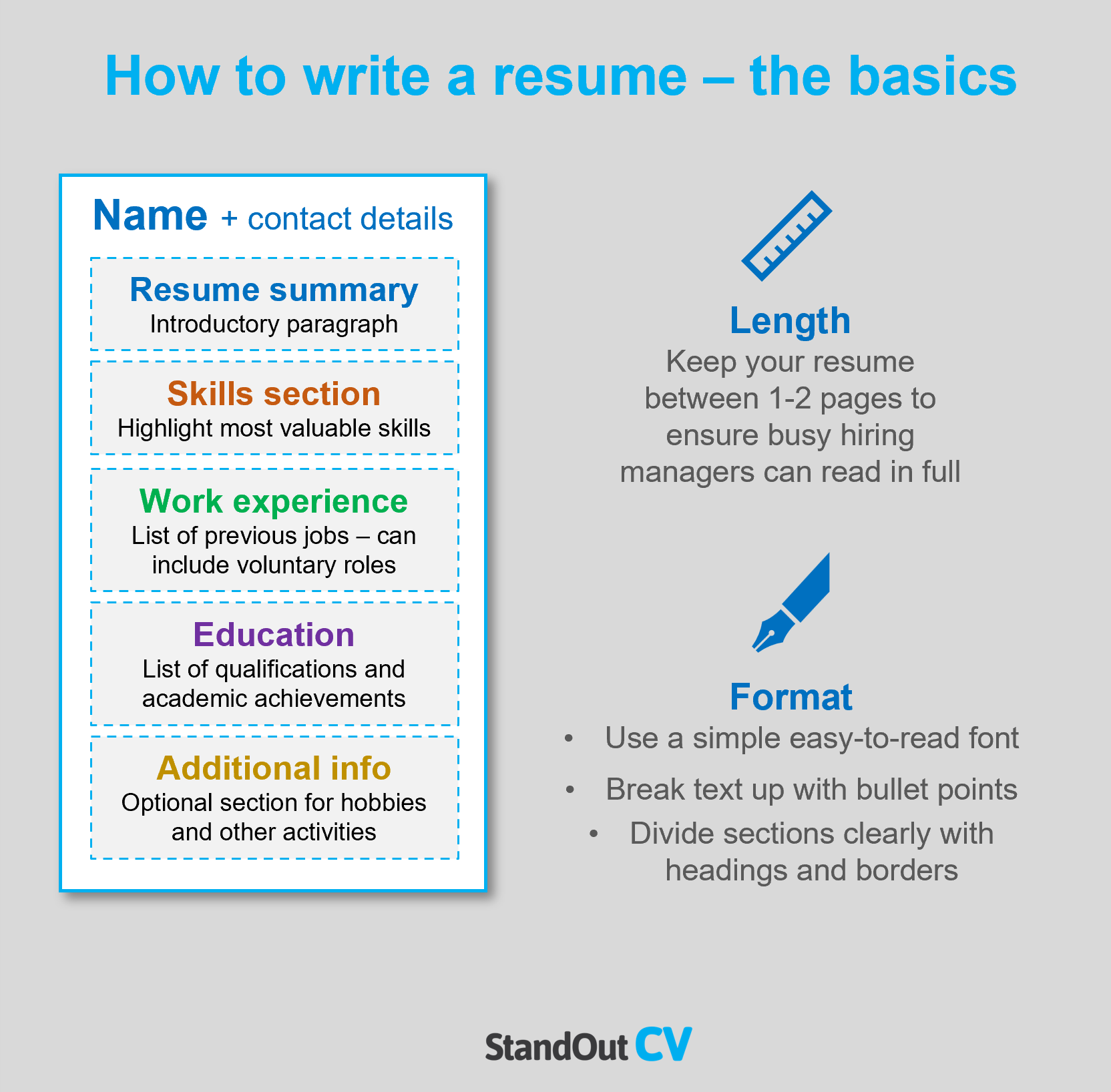 Tips for resume formatting
Length: Recruiters often see hundreds of resumes per day – so keep yours under 2 pages in length, if you want to ensure it gets read in full.
Font and text: Simplicity and a pleasant reading experience are crucial if you want to highlight your most valuable skills to recruiters. Use a clear font (avoid fancy ones) and break up the text in your resume with bullet points to ensure information can be easily consumed.
Design & structure: Hiring managers should be able to skim through your resume easily and pinpoint the information they want quickly. To help them do this, organize the page into clear sections with bold headings and dividing borders. The design should be clutter-free and professional-looking, with a calm color scheme.
Photos and images: You don't have to add a photo to your resume in the States, but some regions and industries like to see them.
Quick tip: Formatting a resume to look professional can be difficult and time-consuming. If you want to create an attractive resume quickly, try our partner's Resume Builder and use one of their eye-catching resume templates.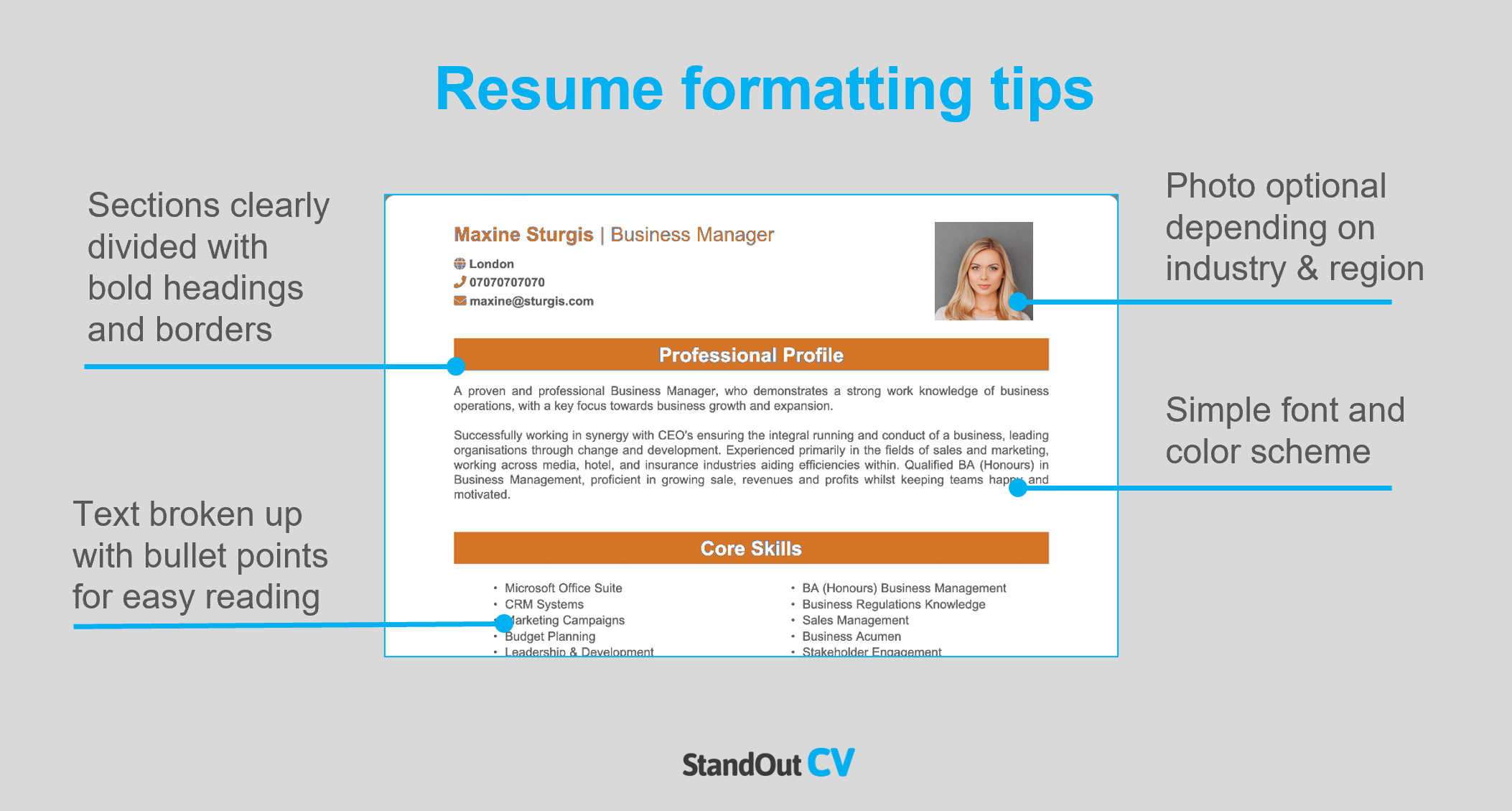 Resume layout
Add the following sections when you write your resume.
Name and contact details – Add to the very top of your resume to introduce yourself and make it super-easy for recruiters to get in touch.
Resume summary – Reel hiring managers in with an "elevator pitch" style paragraph which sums up your suitability for the job.
Skills section – A short and sharp list of your most important skills, that can be quickly skim-read.
Work experience – List your previous jobs (from newest to oldest) detailing the skills learnt and applied in each.
Education – List your qualifications and professional training.
Additional info – If it helps your application, you can add an extra section for things like hobbies and interests.
Now, here's what to include in each of these sections in your resume.
Resume Contact Details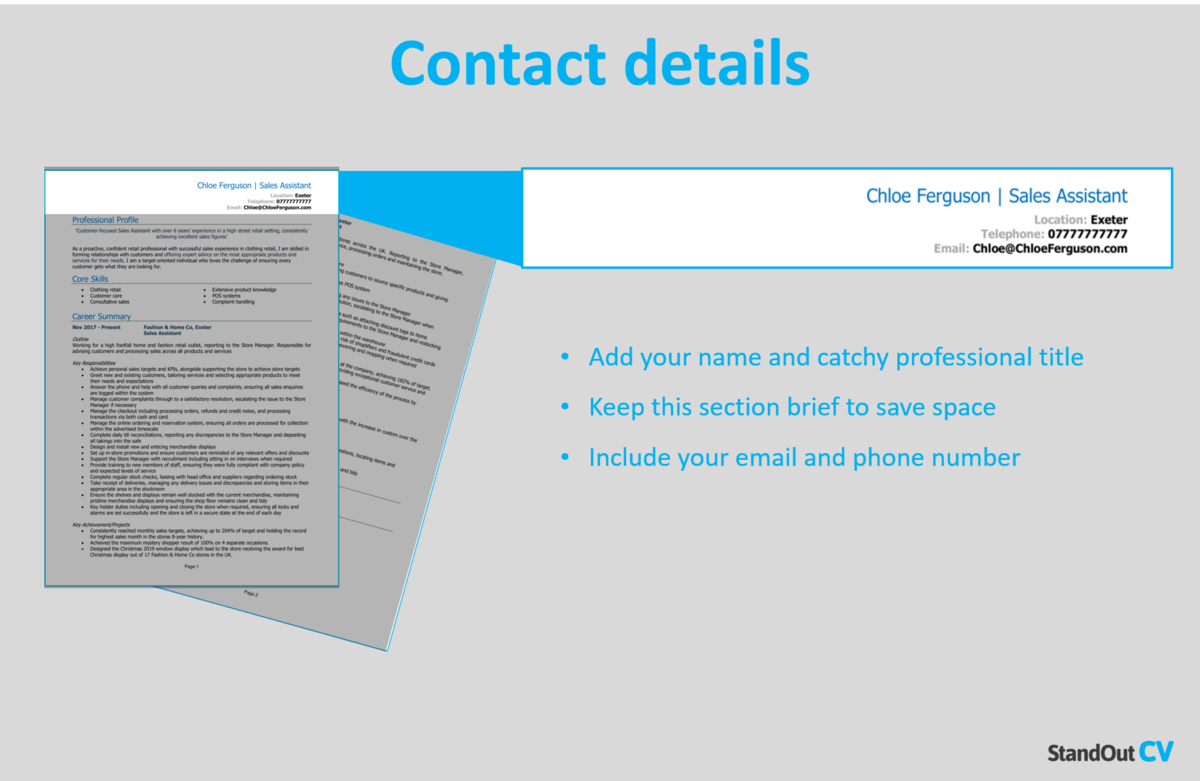 Add your name and contact details to the very top of your resume, making it easy for recruiters to get in touch
Name and profession title
Cell phone number – or another number you can answer quickly
Location – Add your local area such as San Diego or New York – not your full address as that will take up too much space.
Email address – Use your name or close variation – no nicknames from high school.
You can add a link to your LinkedIn profile if you have one – you do not need to include personal details like date of birth or marital status.
Scholarship Resume Summary
Now it's time to get into the real content of your resume, starting with the summary.
Your resume summary is a short paragraph at the top of the document, and its jobs is to catch the eye of hiring managers by summarizing all your skills and knowledge that are most important to the roles you are applying for.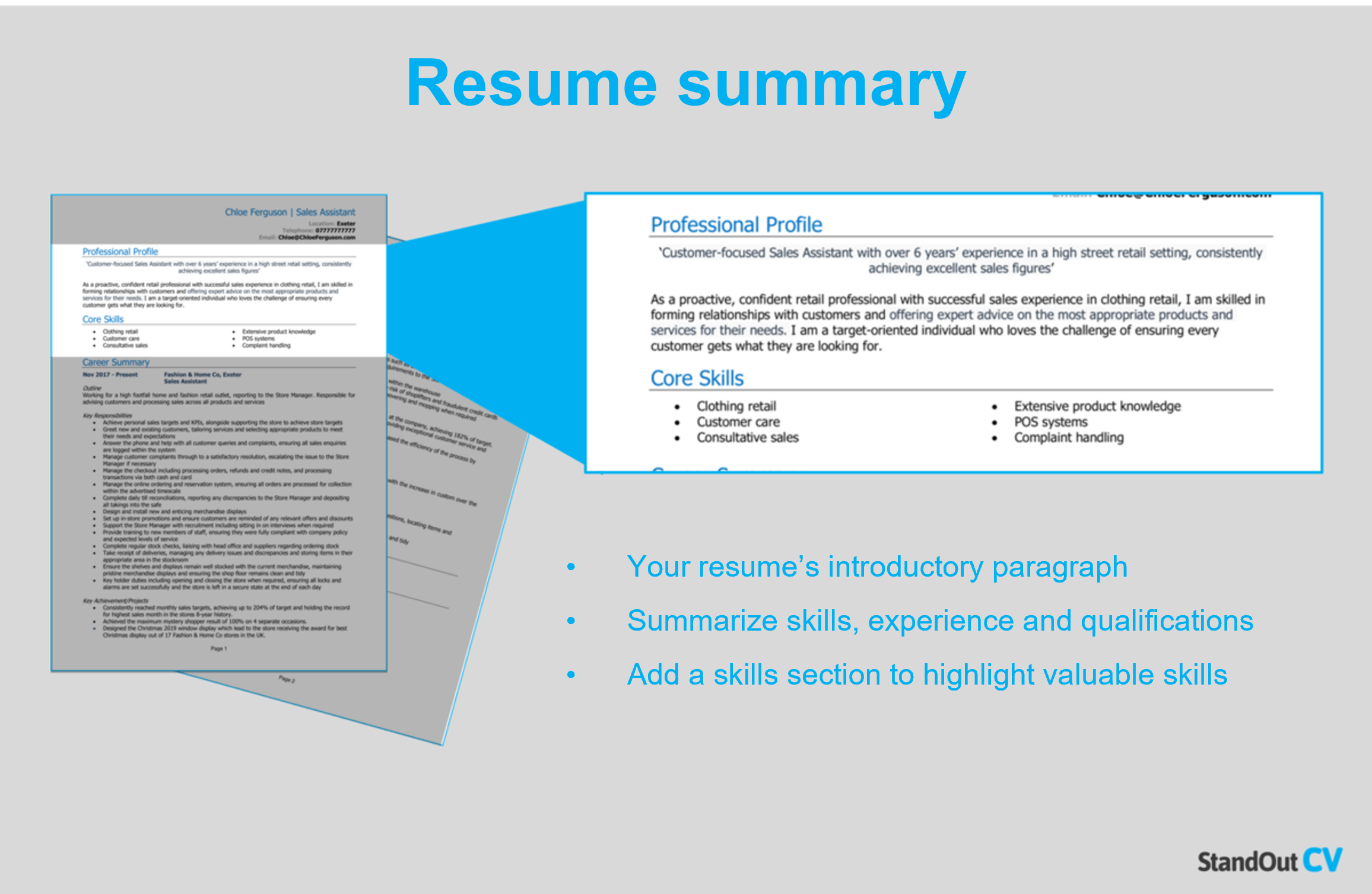 Top tips for creating an effective resume summary:
Keep it brief: Your summary is intended to be a high-level introduction to hook readers' attention, so keep it brief (4-7 lines) – save the details for later in your resume.
Tailor it: Optimize your summary to match the requirements of your target jobs, by mirroring the key words from the job description as closely as possible.
Avoid cliches: You may be a "team player who always give 110%" but generic phrases don't tell employers much about you in reality – stick to factual information.
Example resume summary for Scholarship
Student of Psychology at Alabama State University, awarded Dean's List for 3 consecutive years, with 2 study abroad experiences and a semester-long research internship. Significant volunteer experience at the Children's Hospital Family Support Center and Youth Mentor Program. Seeking funds to continue graduate education at Alabama State University, to continue research into psychological disorders in children.
What to include in your Scholarship resume summary?
Summary of your experience: What type of organizations have you worked at? What types of roles have you done and what have you contributed to previous employers?
Relevant skills: Highlight your skills which are most relevant to the Scholarship, to ensure that recruiters see your most in-demand skills as soon as they open your resume.
Important qualifications: Mention any qualifications that are important to your profession in the summary briefly, to show you are qualified for the Scholarship.
Quick tip: Choose from hundreds of pre-written summaries across all industries, and add one to your resume with one click in our partner's Resume Builder. All written by our recruitment experts and easily tailored to suit your unique skillset.
Core skills section
Sitting just underneath your resume summary, your core skills section gives recruiters 4-10 of your most in-demand skills in just a glance.
As Scholarships may get hundreds of applications, this is a great way to stand out and quickly grab hiring managers' attention.
It should be made up of 2-3 columns of bullet points and highlight attributes that are hyper-relevant to the jobs you are aiming for.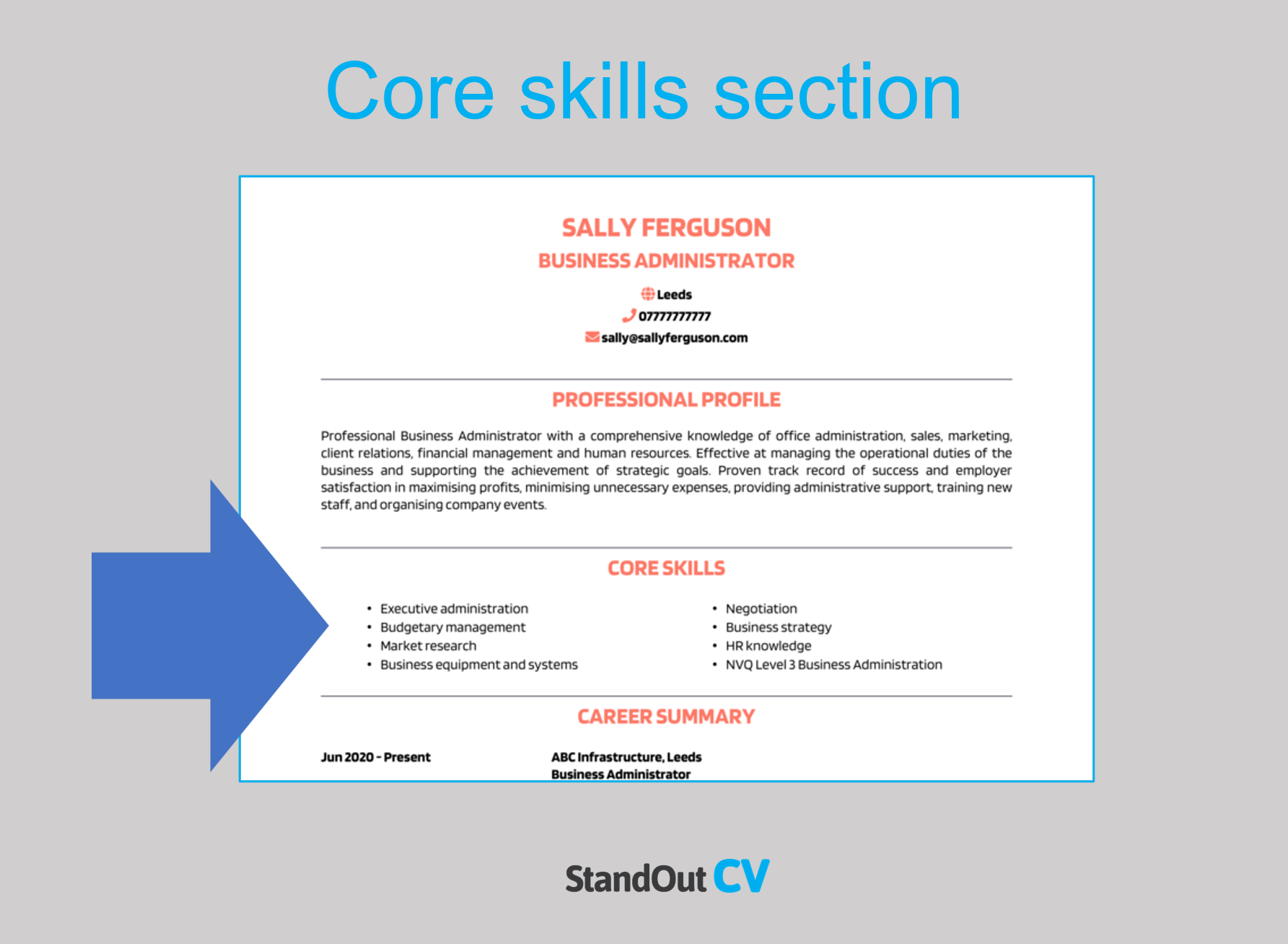 Best skills for your Scholarship resume
Awards and honors – Showcase these here, such as making the Dean's List or honor role, being President or VP or a society or student board, or winning an event or tournament.
Volunteer experience – Include your voluntary/charitable experience, as it's important to show the reader your extracurricular activities.
Internships – Highlight previous internships and how they relate to your field of study.
Certifications – If you've gained certifications in specific skills that are pertinent to your field of study, include those here.
Publications in a student journal – Highlight any publications you hold that are related to your field of study, with a link if possible.
Quick tip: Our partner's Resume Builder contains thousands of in-demand skills for every profession that can be added to your resume in seconds – saving you time and greatly improving your chances of landing job interviews.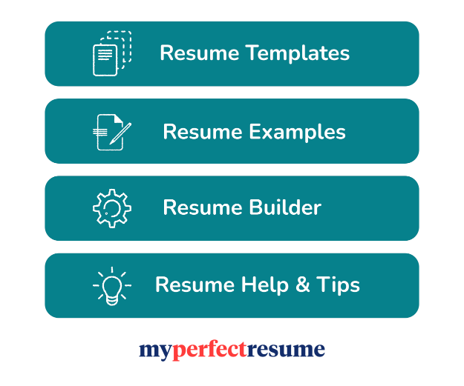 Resume work experience section
Once you've got recruiters interested with your impactful summary, your work experience is where the real detail will lie.
Lay out your previous jobs from current to oldest, detailing what you contributed and achieved in each one.
If you're highly experienced you can cut this section down to your most recent few years of work, but if you are junior you can bulk this up with voluntary work and college placements.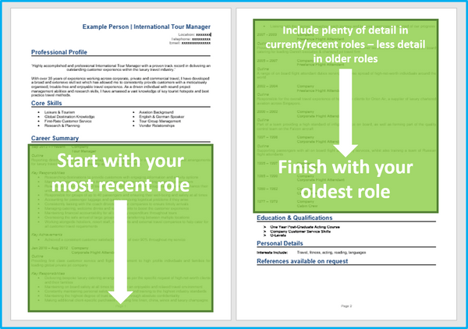 Structuring your job descriptions
Without a good structure, your job description can look messy and overwhelming to anyone reading them.
Make it easy for recruiters to read your work experience by structuring your roles like this.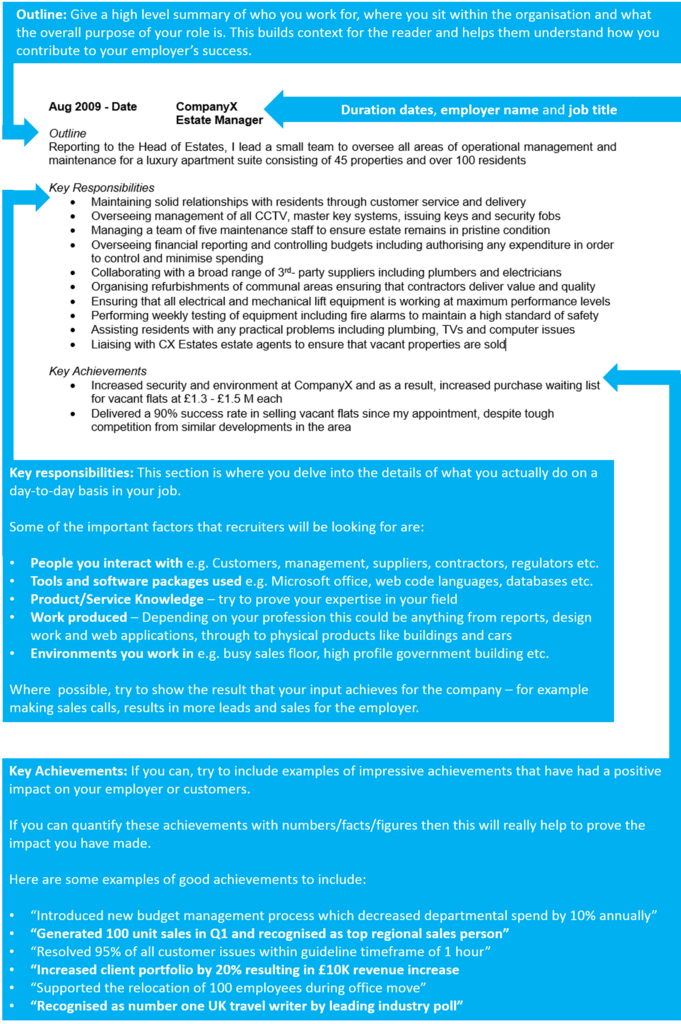 Job outline
Kick off each role with a high-level overview to summarize the focus of the job, what the organization/department does, and how you fit into the bigger picture.
Key responsibilities
Then delve into the detail of your job by listing out easy-to-read bullet points which show how you apply your skills in the workplace.
Tailor these bullet points to focus on the skills and knowledge that are required in the jobs you are applying for.
Key achievements
Finish each role by highlighting some impressive achievements you made whilst in the role.
Anything that benefited the employer can be included from making financial savings, to winning new customers.
Quantify your achievements with facts and figures if you can, e.g. "reduced call wait time by 10%"
Example job for Scholarship resume
Outline
Worked for a US leading research institute during a semester-long research internship. Supported Dr Joe Bloggs to continue his established mental health research study assessing the effects of a variety of clinical interventions on mental health conditions.
Key Responsibilities
Used appropriate researching tools and techniques to search for, identify, and qualify prospective research subjects
Recruited study participants, maintained accurate records of data, and safeguarded the confidentiality of subjects
Conducted quantitative and qualitative research including designing study materials and conducting 1-on-1 and group interviews
Completed detailed data analysis and reported on the findings
Quick tip: Create impressive job descriptions easily in our partner's Resume Builder by adding pre-written job phrases for every industry and career stage.

Education resume section
Towards the bottom of your resume, add your education section.
Here you should list your professional qualifications and academic record, such as high school diplomas or college degrees.
If you have lots of work experience, you can keep this section brief (because recruiters will be more interested in your career. If you have little/no experience then you should bulk this section up with plenty of detail.
Additional info for your resume
If you have anything else to add which is relevant to the jobs you are applying for, the additional info section is the place to add it.
Perhaps you have a hobby which involves relevant skills, or maybe you have some awards or publications worth mentioning.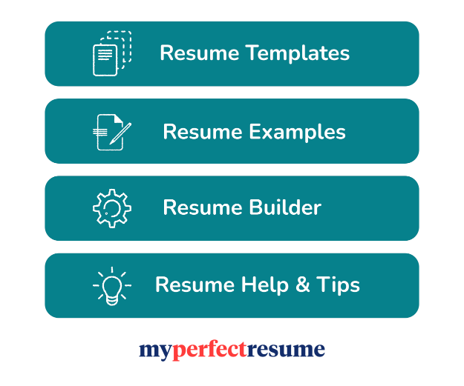 Writing your Scholarship resume
Writing a Scholarship application resume can be challenging but following the steps above will ensure that you land plenty of interviews.
If you want to speed up the process and use an attractive professional template, try out our partner's Resume Builder.
Good luck with your job search!