Employee safety is the aim of the game at all times, and you know that better than anyone.
So if you've got what it takes to ensure compliance, adhere to guidelines, and reduce accidents at work, then you could be the perfect safety coordinator.
But first, you need to prove to the hiring manager that you're a safe bet, and you can do that using our top tips and safety coordinator resume example below.
Contents
| | |
| --- | --- |
| How to write a Safety Coordinator resume | |

Safety Coordinator Resume Example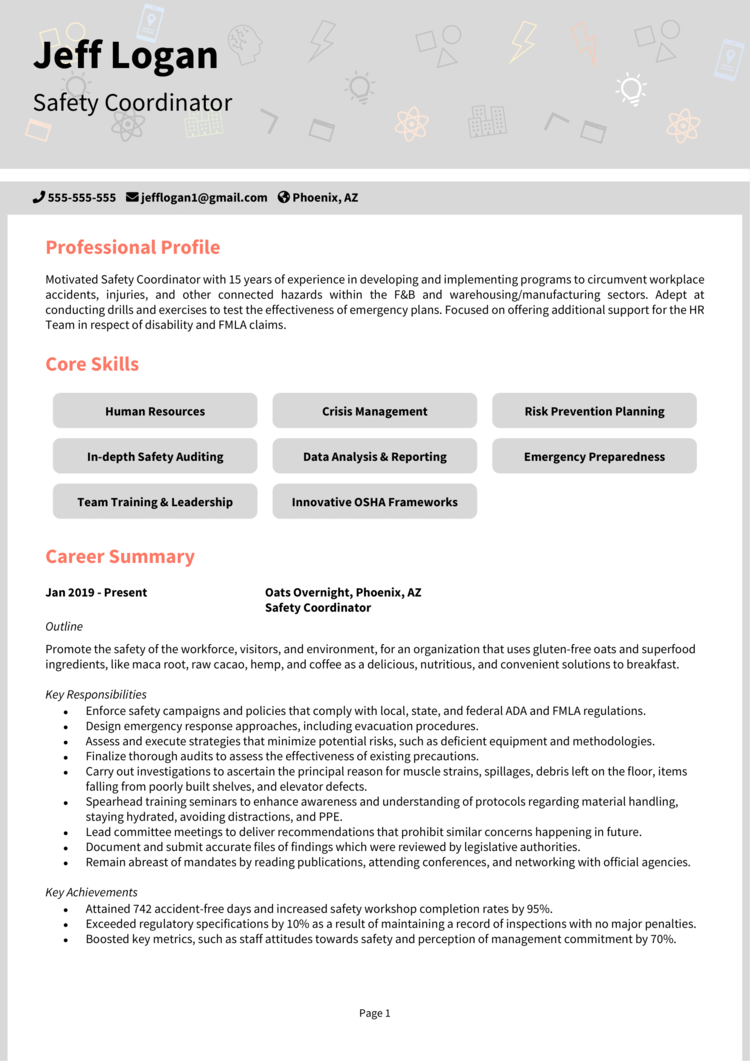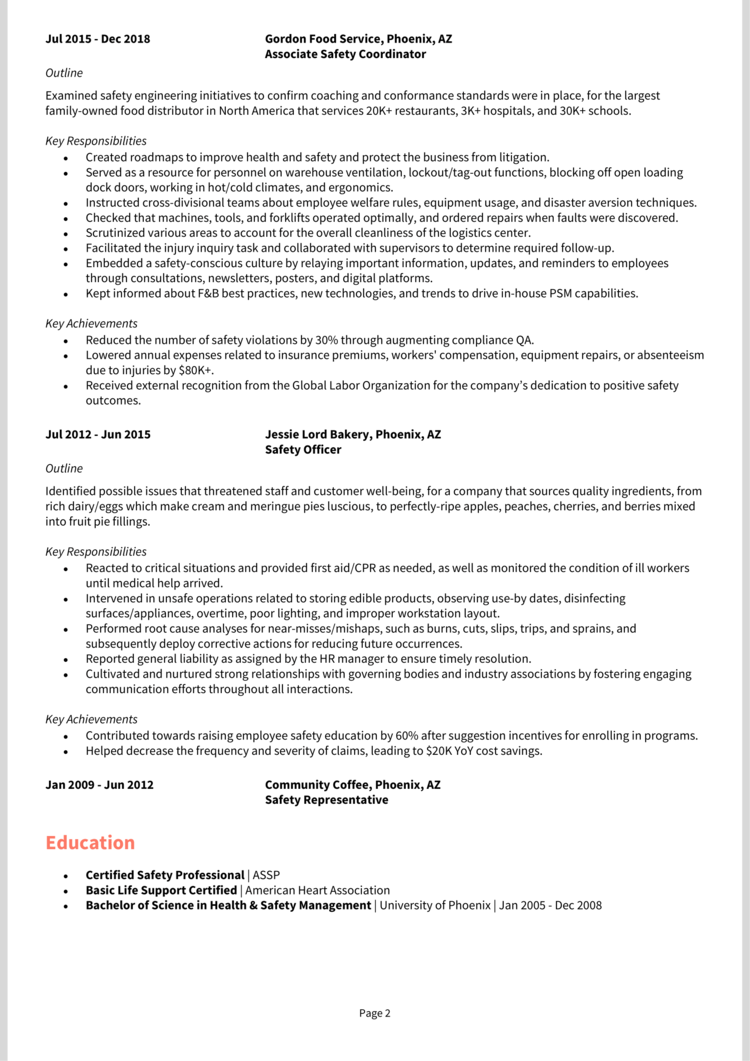 The example Safety Coordinator resume above shows you how a professional resume should look, along with the type of content it should contain.
You can see that the information is well-organized across the page and its easy for busy recruiters to see the candidate's important skills.
Keep this in mind when writing your own resume.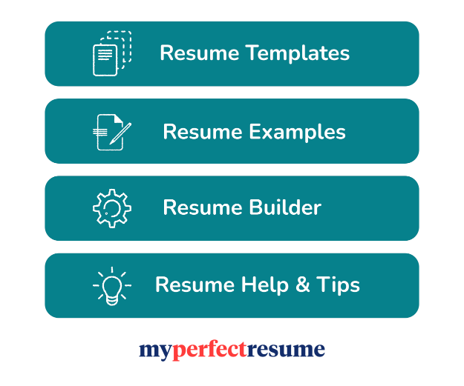 Safety Coordinator resume layout and format
Formatting is often overlooked when writing resume, but it's a crucial element of it"s success.
Creating a document that not only looks good, but is easily comprehended, is the key to gaining and holding the attention of busy hiring managers.
Use these formatting tips for best results.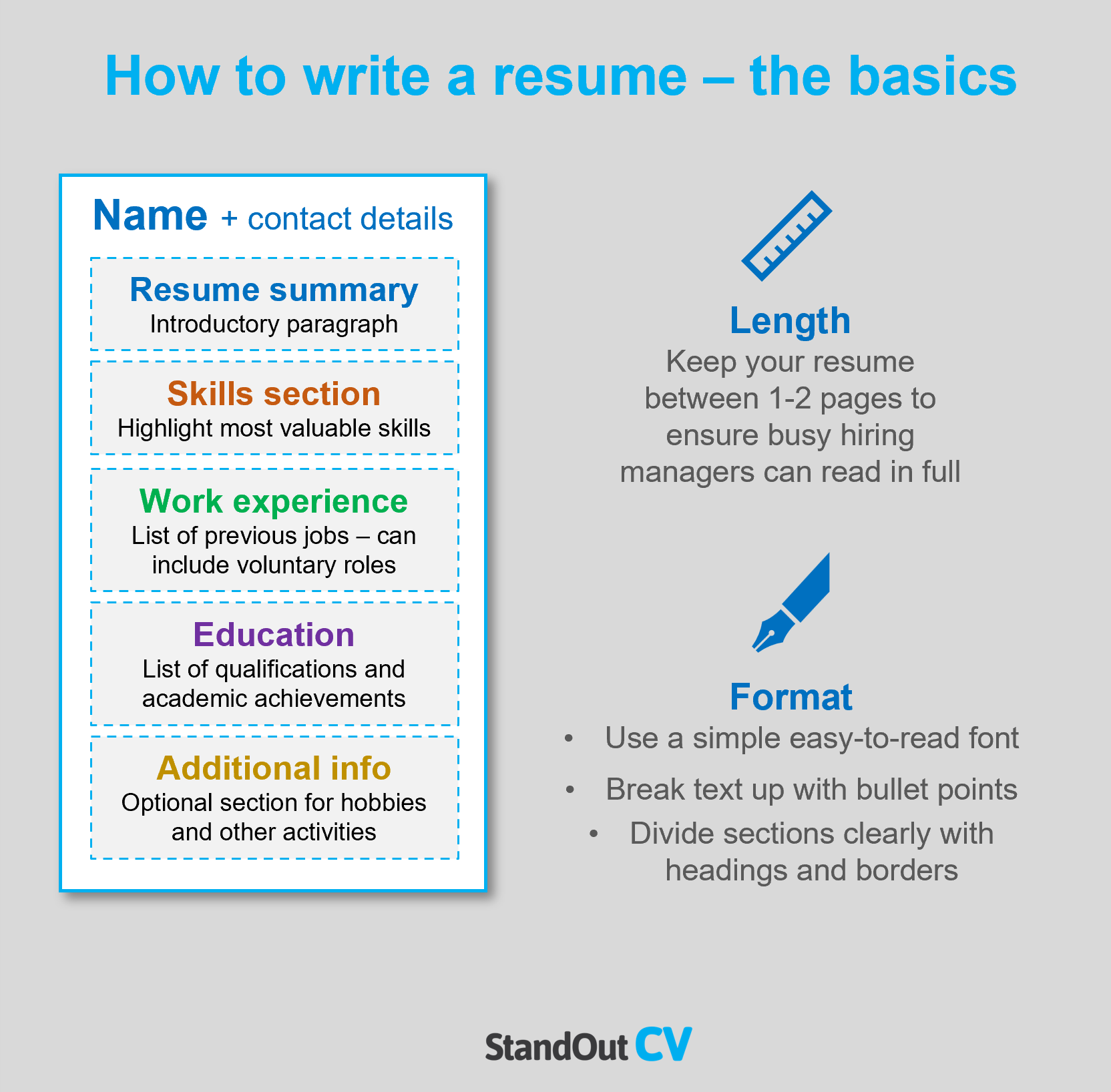 Formatting your resume
Length: As recruiters have a limited amount of time to review each resume they see, keep your resume to 2 pages or less to increase the chances of it being thoroughly reviewed.
Font & readability: To create a resume that is easily digestible for hiring managers, it's essential to use an uncomplicated font and structure your content with bullet points and short paragraphs.
Layout & Structure: Your resume should look appealing – but don't overlook functionality when it comes to design. Organise the page into clear sections using bold headings and borders.
Photos: In the USA adding a photo to your resume is optional – you don't have to do it, but it can be a nice way to get your personality across.
Quick tip: Achieving a professional look for your resume can be difficult and time-consuming. If you want to create an attractive resume quickly, try our partner's Resume Builder and use one of their eye-catching resume templates.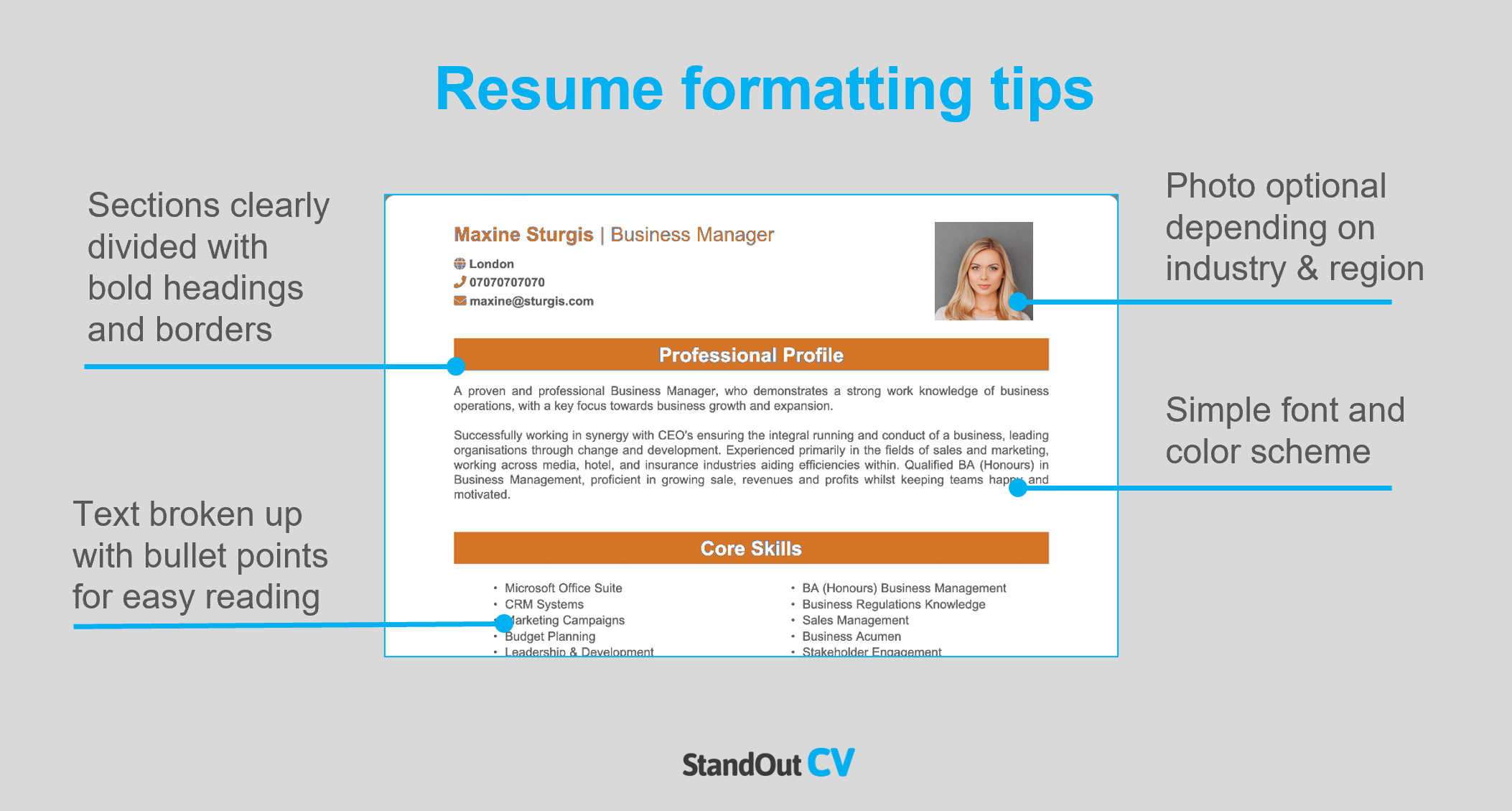 Resume layout
Organize the document into these sections when you write your resume.
Name and contact details – Employers need to know how to get in touch with you – so list your email and cell phone number here.
Resume summary – An intro paragraph at the top of the resume which summarizes your suitability for target jobs.
Skills section – A bullet-pointed list of your most relevant skills and knowledge.
Work experience – A list of your previous jobs (or at least the most relevant and recent ones)
Education – Add academic and professional qualifications that prove you can carry out the job
Additional info – If they are relevant to the jobs you are applying for, you can add an extra section for things like hobbies and interests.
Here's what to include in each part of your resume.
Contact Details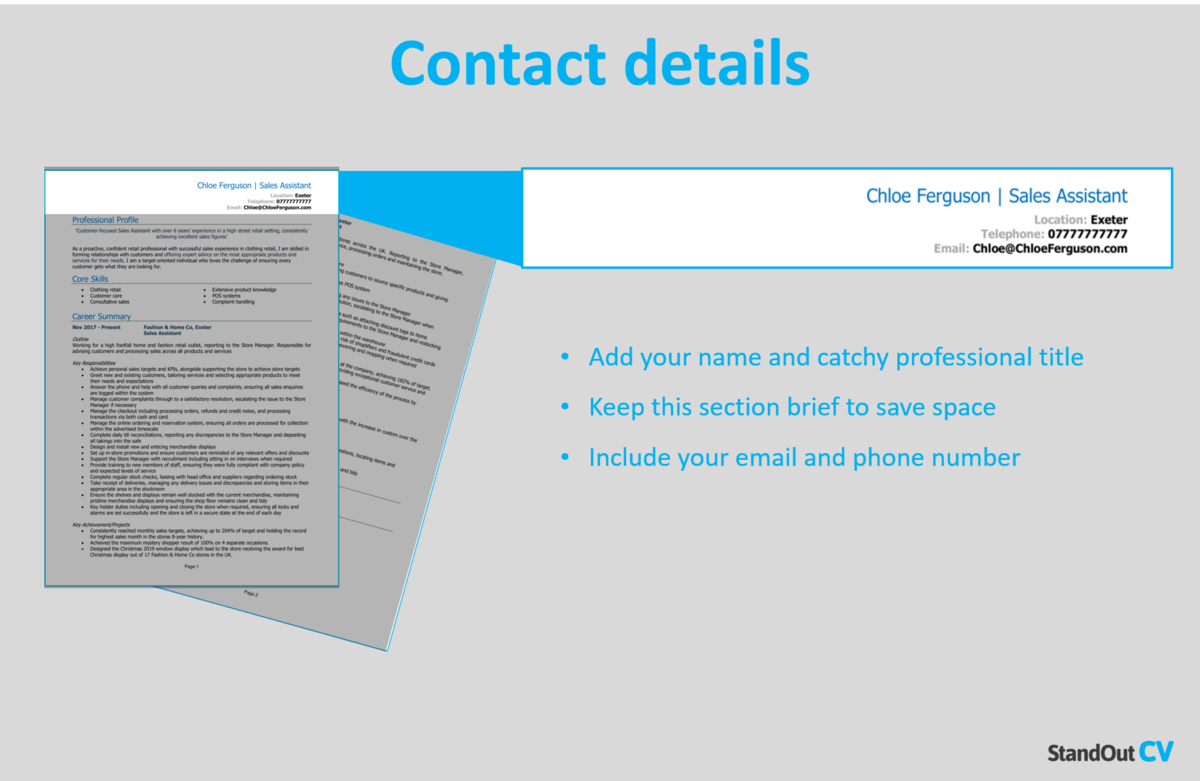 Keep your contact details short to save resume space and include the following.
Name and profession title
Cell phone number
Location – Add your local area such as Silicon Valley or New York, unless you are looking for work in a different location
Email address – Keep it professional and don't use an old address that you thought was cool in high school, but now looks a bit embarrassing.
You can add a link to your LinkedIn profile if you have one – you do not need to include personal details like date of birth or marital status.
Safety Coordinator Resume Summary
Create a strong opening for your resume by adding a compelling summary to the top that highlights your most valuable skills and experience.
This short but important paragraph is designed convince recruiters that you're the perfect candidate for the job and entice them to read more of your resume.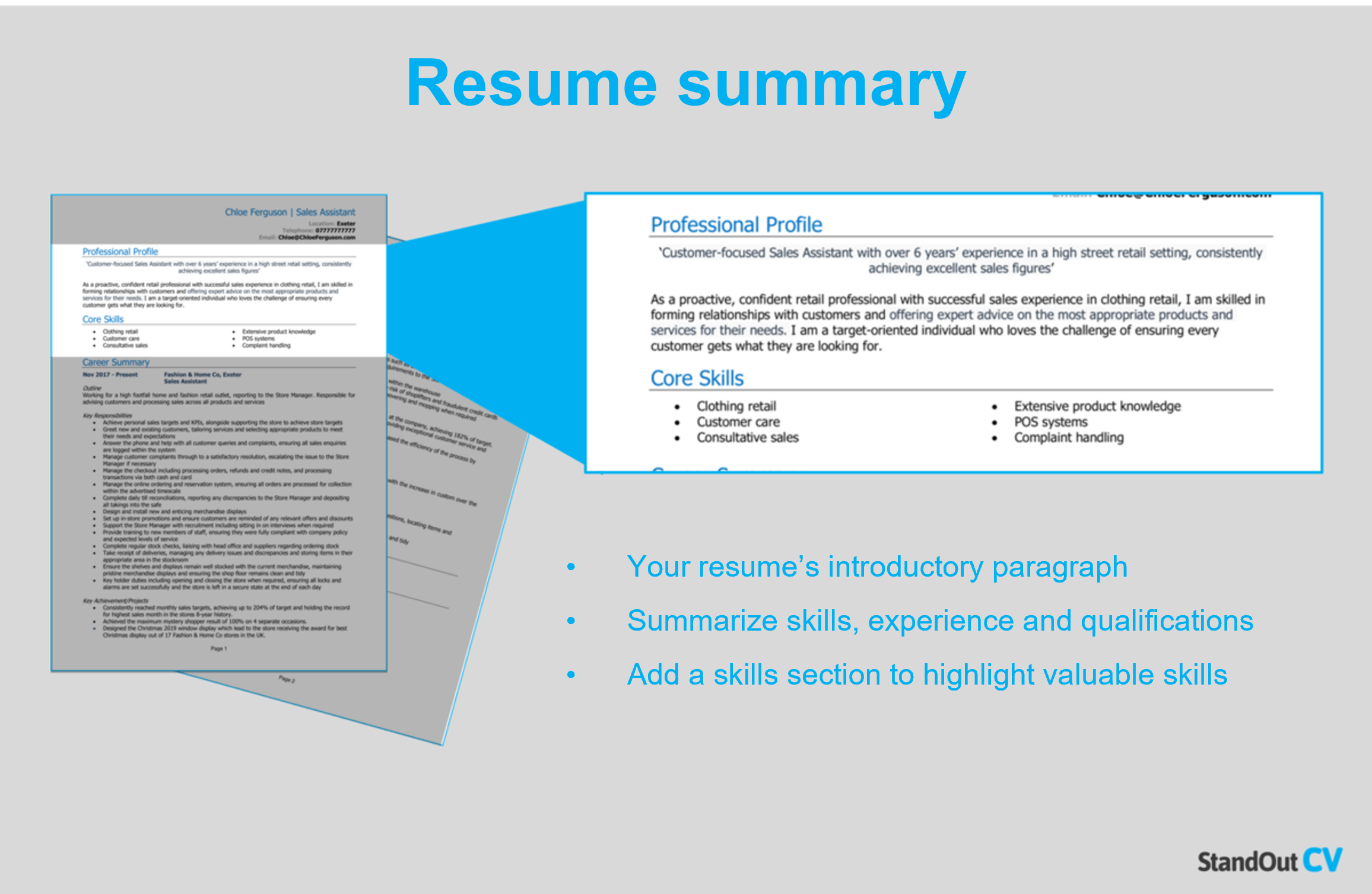 How to create a resume summary that will excite recruiters:
Keep it short: Attention spans are short in the job market, so keep your summary brief and high-level at around 4-7 lines – This is just enough to catch the eye of rushed hiring managers.
Tailor to target jobs: Optimize your summary to match the requirements of your target jobs, by mirroring the key words from the job description as closely as possible.
Avoid using cliches: Recruiters look for facts in resumes, such as hard skills and qualifications – so, leave out the meaningless cliches like "hard worker who works well in a team and individually"
Safety Coordinator resume summary example
Motivated Safety Coordinator with 15 years of experience in developing and implementing programs to circumvent workplace accidents, injuries, and other connected hazards within the F&B and warehousing/manufacturing sectors. Adept at conducting drills and exercises to test the effectiveness of emergency plans. Focused on offering additional support for the HR Team in respect of disability and FMLA claims.
What to include in your Safety Coordinator resume summary?
Summary of your experience: Provide an overview of the type of work you have done in the past and the impact you have made at previous employers.
Relevant skills: To quickly showcase your suitability for Safety Coordinator jobs, ensure that your summary emphasizes your most relevant skills to the jobs you are applying for.
Qualifications: Mention any Safety Coordinator qualifications that are important to your profession in the summary briefly, to show you are qualified to carry out the role.
Quick tip: Choose from hundreds of pre-written summaries across all industries, and add one to your resume with one-click in our partner's Resume Builder. All written by recruitment experts and easily tailored to suit your unique skillset and style.
Core skills section
Your core skills section, positioned just below your resume summary, provides recruiters with a quick glance at 4-10 of your most in-demand skills.
For Safety Coordinator jobs, where hiring managers may receive hundreds of applications, this section can help you stand out and immediately grab their attention.
To be effective, this section should consist of 2-3 columns of bullet points that highlight attributes that are highly relevant to the jobs you are targeting.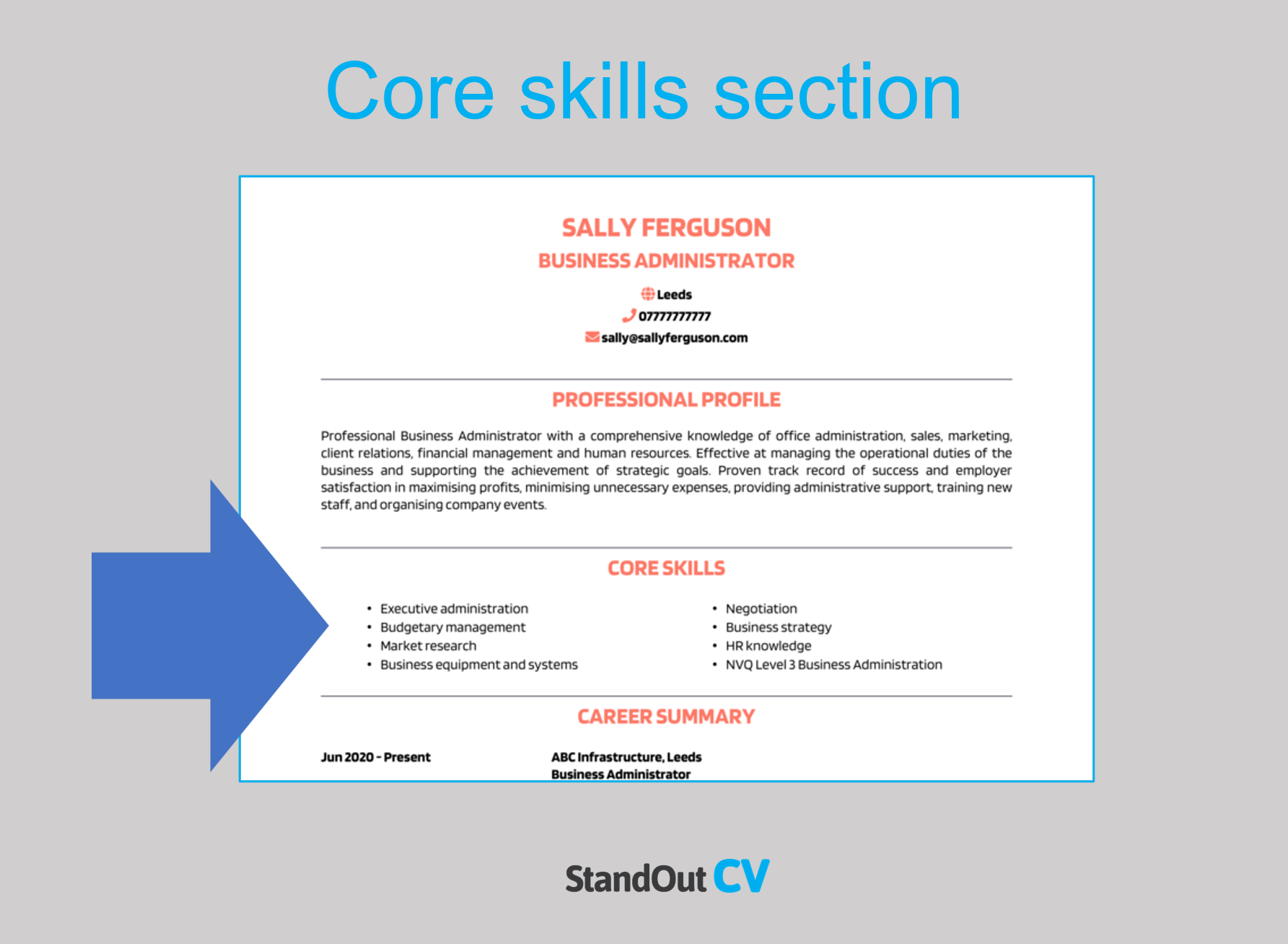 Best skills for your Safety Coordinator resume
Safety Regulations – Maintaining an in-depth knowledge of federal, state, and local safety regulations and standards to ensure compliance and promote a safe working environment.
Risk Assessment – Assessing potential hazards and risks in the workplace and developing strategies to mitigate them, including conducting thorough safety audits and inspections.
Safety Training and Education – Developing and delivering safety training programs to employees, covering topics such as hazard identification, emergency procedures, and proper use of safety equipment.
Incident Investigation – Conducting thorough investigations of workplace incidents and accidents, analyzing root causes, and implementing corrective actions to prevent future occurrences.
Emergency Preparedness – Utilizing knowledge of emergency response protocols and procedures, including evacuation plans, first aid/CPR, and crisis management, to ensure the safety and well-being of employees.
Safety Data Analysis – Collecting and analyzing safety-related data, such as incident reports and near-miss incidents, to identify trends, implement preventive measures, and measure the effectiveness of safety programs.
Safety Program Development – Developing and implementing comprehensive safety programs tailored to the specific needs of the organization, including policies, procedures, and training materials.
Safety Communications – Effectively conveying safety-related information to employees, management, and external stakeholders, as well as to promote a culture of safety throughout the organization.
Safety Inspections and Audits – Conducting regular safety inspections and audits to identify potential hazards, ensure compliance with safety regulations, and make recommendations for improvements.
Incident Response and Crisis Management – Effectively responding to and managing safety incidents and crises, including coordinating emergency response efforts, communicating with relevant parties, and facilitating post-incident debriefings and corrective actions.
Quick tip: Our partner's Resume Builder contains thousands of in-demand skills for every profession that can be added to your resume in seconds – saving you time and greatly improving your chances of landing job interviews and getting hired.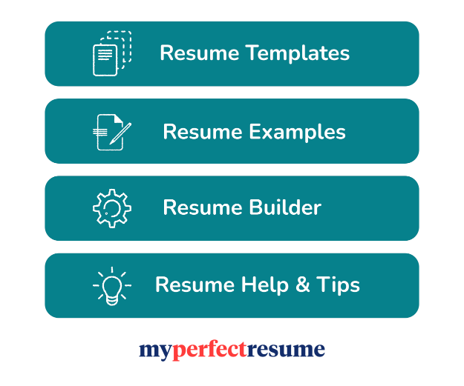 Work experience
So, you've grabbed the recruiters' attention with your summary, now it's time to show them what you're really capable of in your work experience section.
List your previous jobs from current to oldest, showing off the impact you made at each organization.
If you have tons of experience, you should just list the most recent an relevant jobs – but if you have little or no experience, add it all and even consider putting in voluntary work.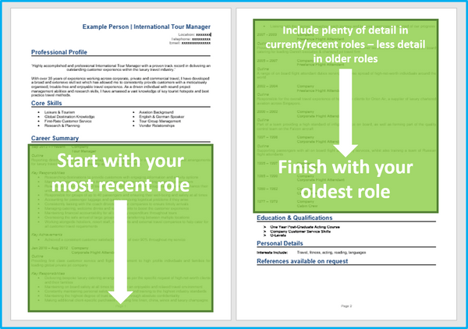 Structuring your jobs
Resume job descriptions contain lots of information, so its crucial to structure them well.
Use the structure below to ensure hiring managers can consume the information easily.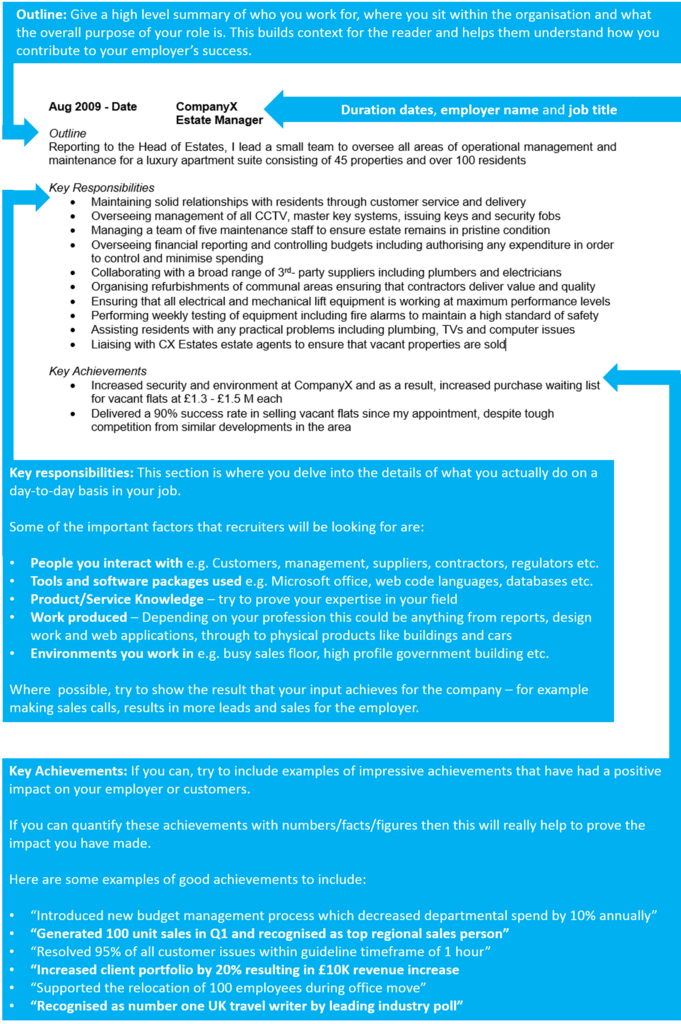 Job outline
Kick off each role with a high-level overview to summarize the focus of the job, what the organization/department does, and how you fit into the bigger picture.
Key responsibilities
Next, write up a punchy list of your daily duties and responsibilities, using short bullet points.
Describe how you apply your skills and contribute to the running of the employer's business – highlighting skills which are applicable to your target jobs.
Key achievements
Show employers the value you can bring to them by adding a few achievements to your jobs.
Whether you've saved the company money or improved an internal process, let recruiters know
Add some numbers to give readers a real scale of the impact, e.g. "reduced call wait time by 10%"
Example job for Safety Coordinator resume
Outline
Promote the safety of the workforce, visitors, and environment, for an organization that uses gluten-free oats and superfood ingredients, like maca root, raw cacao, hemp, and coffee as a delicious, nutritious, and convenient solutions to breakfast.
Key Responsibilities
Enforce safety campaigns and policies that comply with local, state, and federal ADA and FMLA regulations.
Design emergency response approaches, including evacuation procedures.
Assess and execute strategies that minimize potential risks, such as deficient equipment and methodologies.
Finalize thorough audits to assess the effectiveness of existing precautions.
Quick tip: Create impressive job descriptions easily in our partner's Resume Builder by adding pre-written job phrases for every industry and career stage.

Education section
Towards the bottom of your resume, add your education section.
Here you should list your professional qualifications and academic record, such as high school diplomas or college degrees.
If you have lots of work experience, you can keep this section brief (because recruiters will be more interested in your career. If you have little/no experience then you should bulk this section up with plenty of detail.
Additional information
The additional info section is optional but can be useful if you have anything else to add that could benefit your application.
For example, you may have some hobbies and interests that are relevant to your job – or you might have awards or publications to shout about.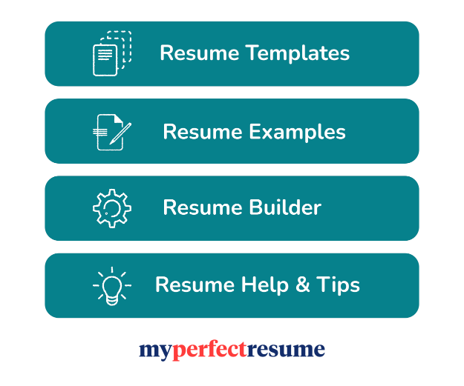 Writing your own winning Safety Coordinator resume
By tailoring your resume to the specific job and industry you are targeting and ensuring that it effectively communicates your professional value, you can position yourself as a top candidate for all Safety Coordinator positions.
Good luck with your job search!