Have you got what it takes to monitor research activities, develop and maintain records and produce reports when required?
Then you need to prove this with a resume that's as reliable as your research skills.
To help you create this, we've set out all our top writing tips and advice below, along with a research coordinator resume example to guide you.
Contents
| | |
| --- | --- |
| How to write a Research Coordinator resume | |

Research Coordinator Resume Example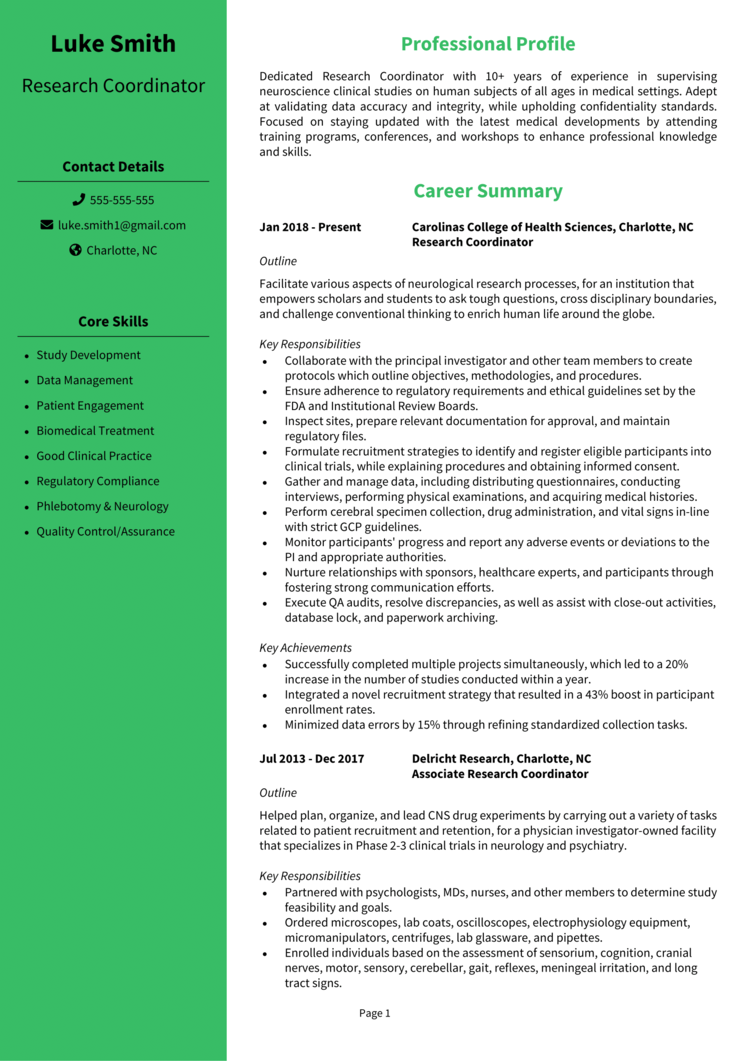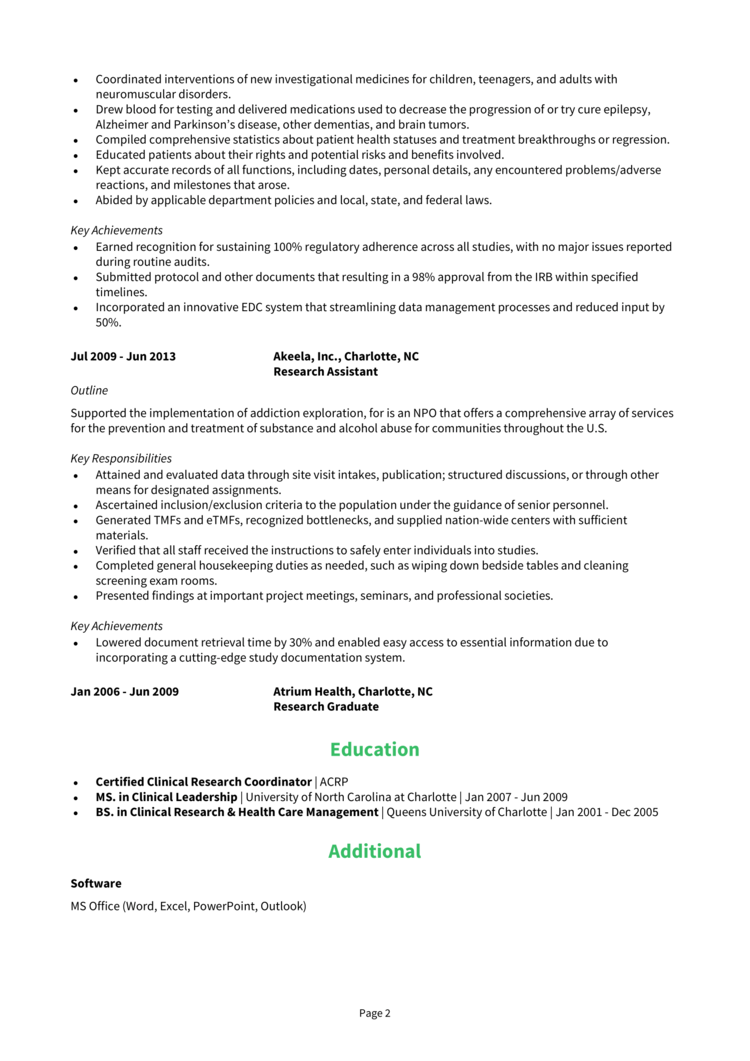 From the Research Coordinator resume example above, you can see the kind of information your resume will need to include, and the layout you will need to create for an easy-reading experience.
The rest of this guide will show you how to apply this format to your own unique situation, and create a resume that will attract the best employers in your industry.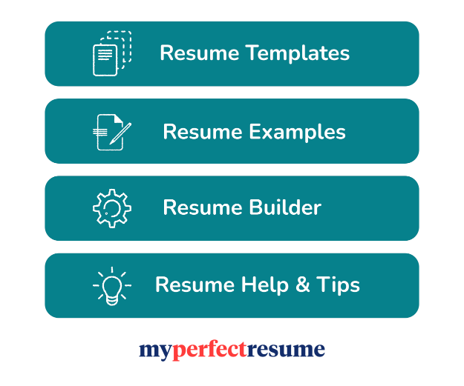 Research Coordinator resume layout and format
Formatting and structuring your resume correctly is key to landing job interviews.
Your resume needs to look attractive, but more importantly it needs to be easy for recruiters and hiring managers to read and digest the information.
These tips will help you to do that: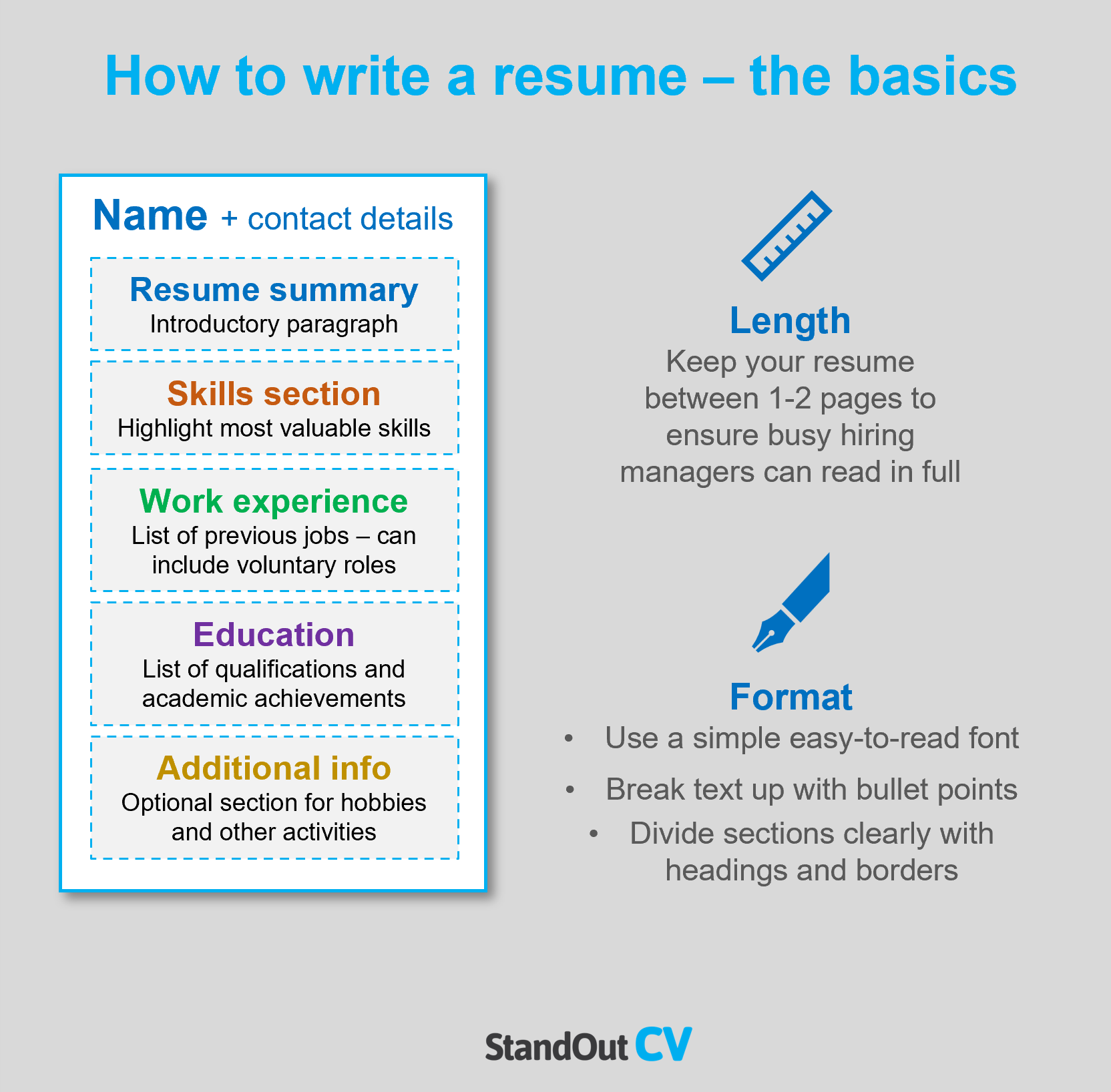 Formatting your resume
Length: As recruiters have a limited amount of time to review each resume they see, keep your resume to 2 pages or less to increase the chances of it being thoroughly reviewed.
Font & readability: Simplicity and a pleasant reading experience are crucial if you want to highlight your most valuable skills to recruiters. Use a clear font (avoid fancy ones) and break up the text in your resume with bullet points to ensure information can be easily consumed.
Layout & Structure: A visually appealing resume is important, but don't forget about functionality. To ensure a functional design, use bold headings and borders to organize the page into clear sections.
Photos: In the USA adding a photo to your resume is optional – you don't have to do it, but it can be a nice way to get your personality across.
Quick tip: Achieving a professional look for your resume can be difficult and time-consuming. If you want to create an attractive resume quickly, try our partner's Resume Builder and use one of their eye-catching resume templates.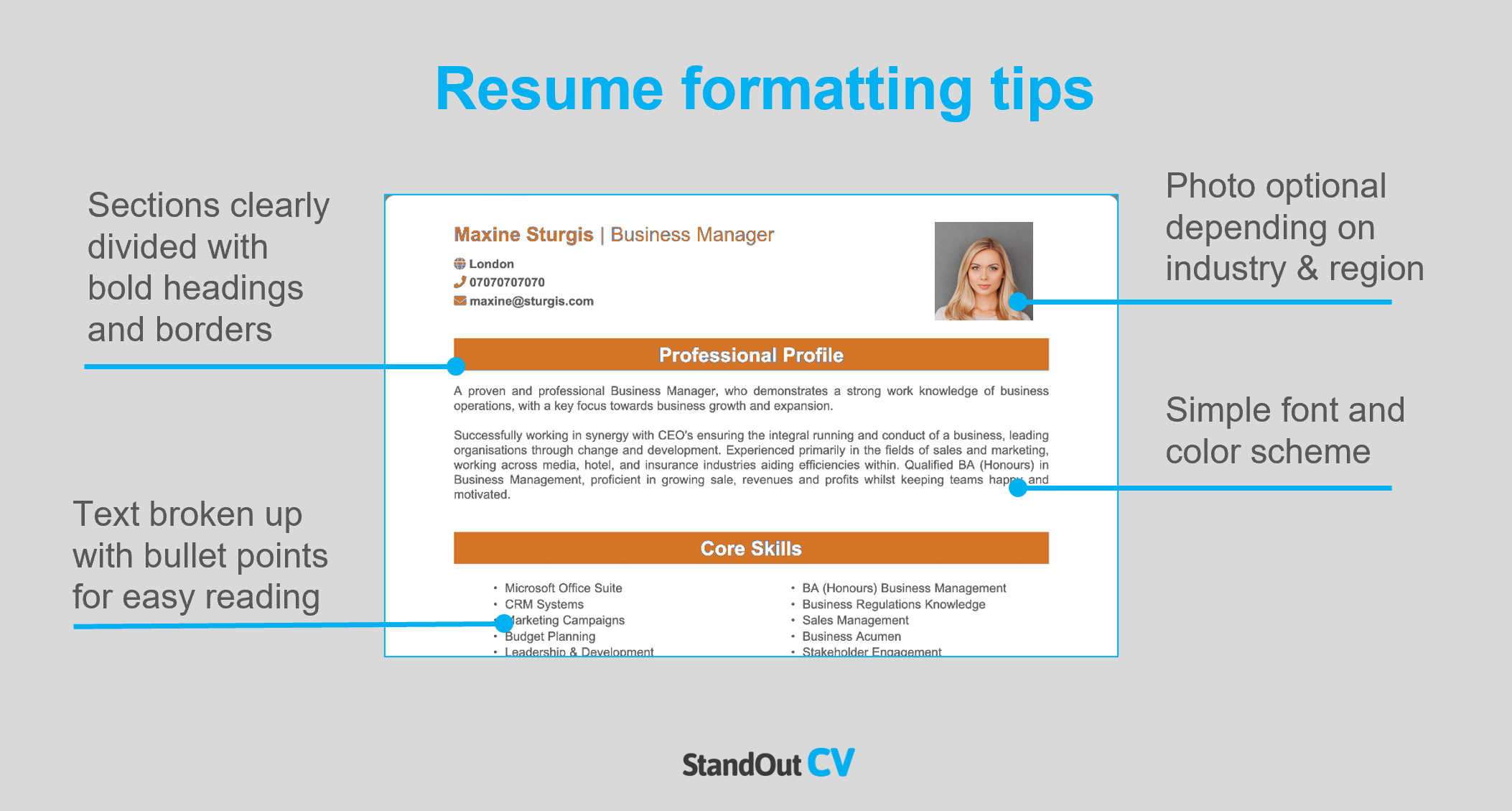 Resume layout
Organize the document into these sections when you write your resume.
Name and contact details – Employers need to know how to get in touch with you – so list your email and cell phone number here.
Resume summary – An intro paragraph at the top of the resume which summarizes your suitability for target jobs.
Skills section – A bullet-pointed list of your most relevant skills and knowledge.
Work experience – A list of your previous jobs (or at least the most relevant and recent ones)
Education – Add academic and professional qualifications that prove you can carry out the job
Additional info – If they are relevant to the jobs you are applying for, you can add an extra section for things like hobbies and interests.
Here's what to include in each part of your resume.
Contact Details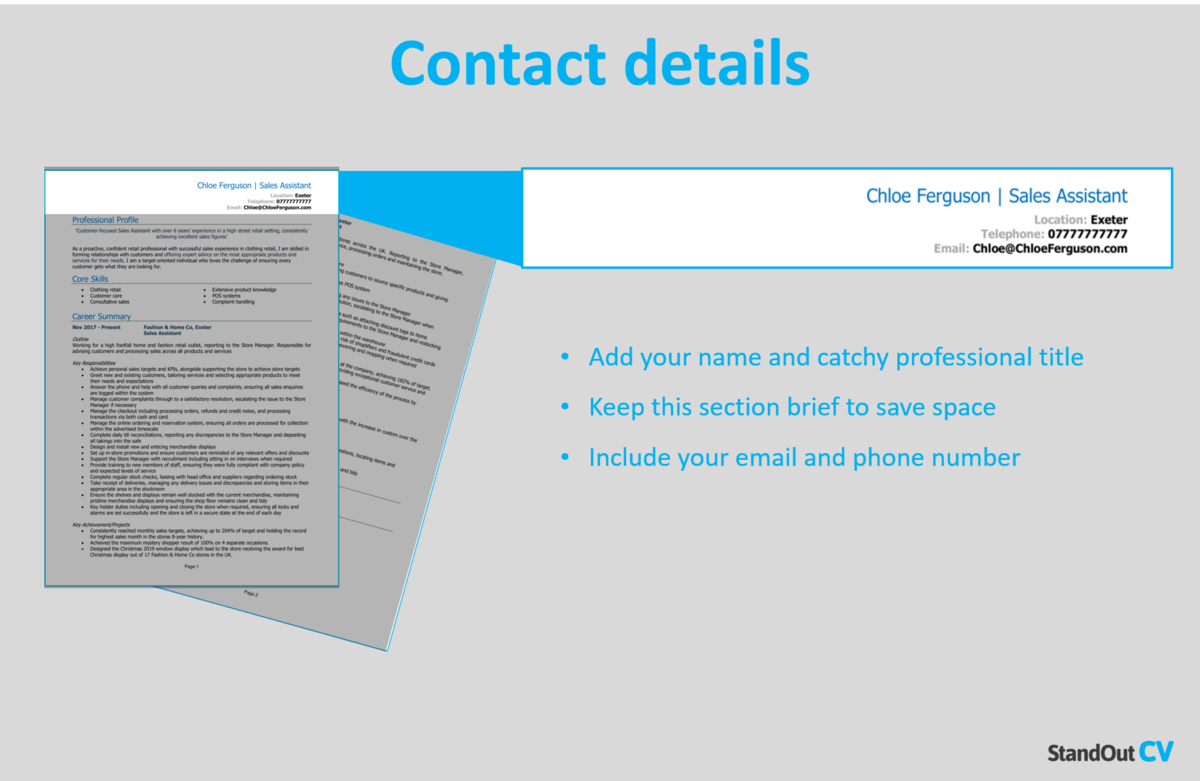 Make it easy for hiring managers to contact you by adding your contact details to the top of your resume.
Keep this section small to save space and include the following.
Name and profession title
Telephone number – Ideally your cell phone so you can answer quickly.
Location – Add your general location such as LA or New York
Email address – Use a professional looking one with no nicknames.
You can add a link to your LinkedIn profile if you have one – you do not need to include personal details like date of birth or marital status.
Research Coordinator Resume Summary
Make a strong first impression on recruiters by beginning your resume with a powerful summary that highlights your most valuable skills and experience.
This brief summary provides an opportunity to showcase why you're the ideal candidate for the job and persuade recruiters to read further into your resume.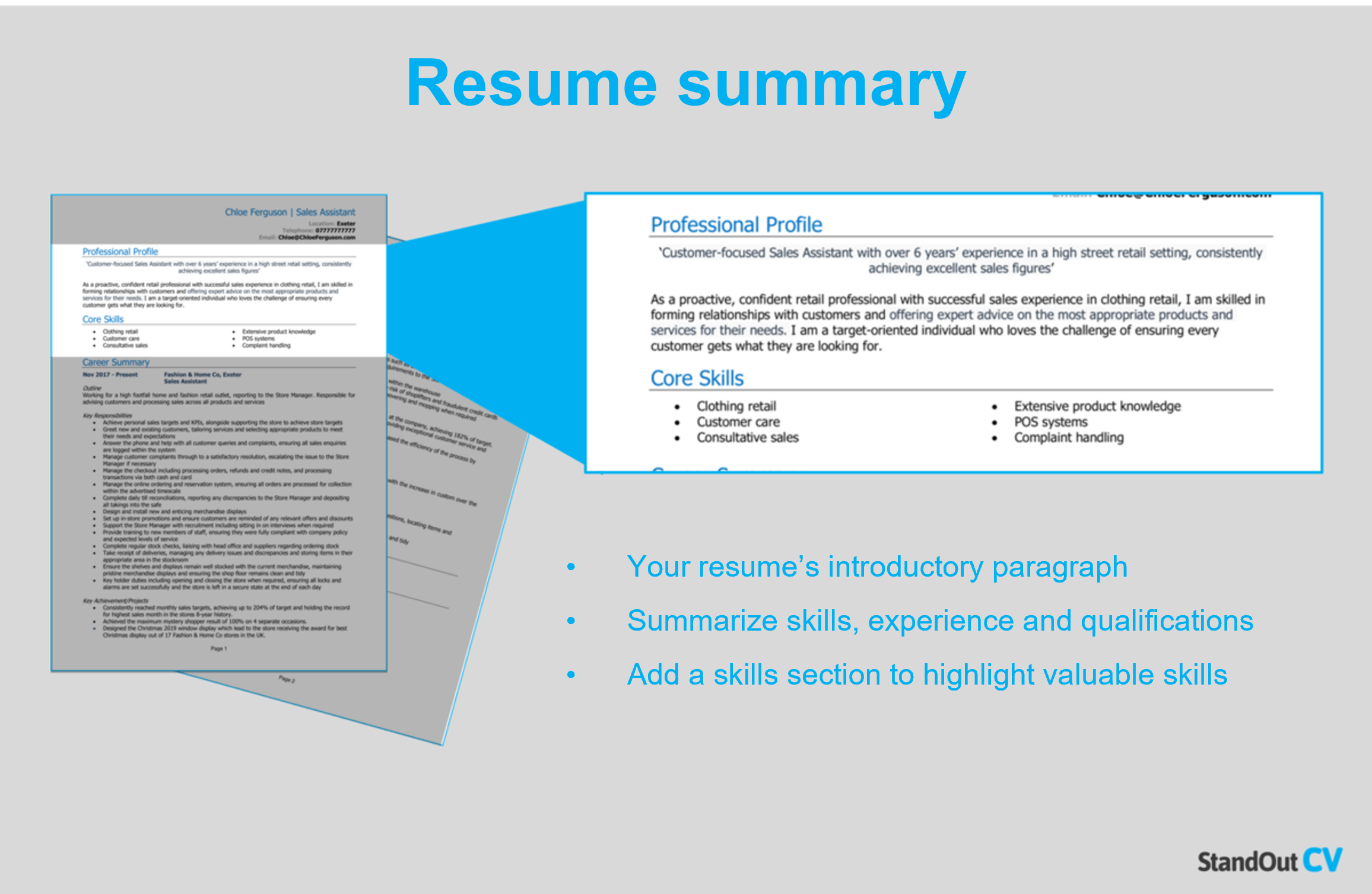 How to create a resume summary that will excite recruiters:
Keep it short: Attention spans are short in the job market, so keep your summary brief and high-level at around 4-7 lines – This is just enough to catch the eye of rushed hiring managers.
Tailor to target jobs: Ensure your profile makes an impact by matching it closely to the requirements of the job description, copying as many key terms as possible.
Avoid using cliches: You may be a "team player who always give 110%" but generic phrases don't tell employers much about you in reality – stick to factual information.
Research Coordinator resume summary example
Dedicated Research Coordinator with 10+ years of experience in supervising neuroscience clinical studies on human subjects of all ages in medical settings. Adept at validating data accuracy and integrity, while upholding confidentiality standards. Focused on staying updated with the latest medical developments by attending training programs, conferences, and workshops to enhance professional knowledge and skills.
What to include in your Research Coordinator resume summary?
Summary of your experience: Provide a summary of the kind of work you have previously done, along with the benefits you have delivered to the organizations you worked with.
Relevant skills: Scatter your most in-demand Research Coordinator skills through your summary to ensure they are noticed quickly by hiring managers.
Qualifications: If your job requires any qualifications such as a professional course or a college degree, mention it briefly in your summary.
Quick tip: Choose from hundreds of pre-written summaries across all industries, and add one to your resume with one-click in our partner's Resume Builder. All written by recruitment experts and easily tailored to suit your unique skillset and style.
Core skills section
Your core skills section, positioned just below your resume summary, provides recruiters with a quick glance at 4-10 of your most in-demand skills.
For Research Coordinator jobs, where hiring managers may receive hundreds of applications, this section can help you stand out and immediately grab their attention.
To be effective, this section should consist of 2-3 columns of bullet points that highlight attributes that are highly relevant to the jobs you are targeting.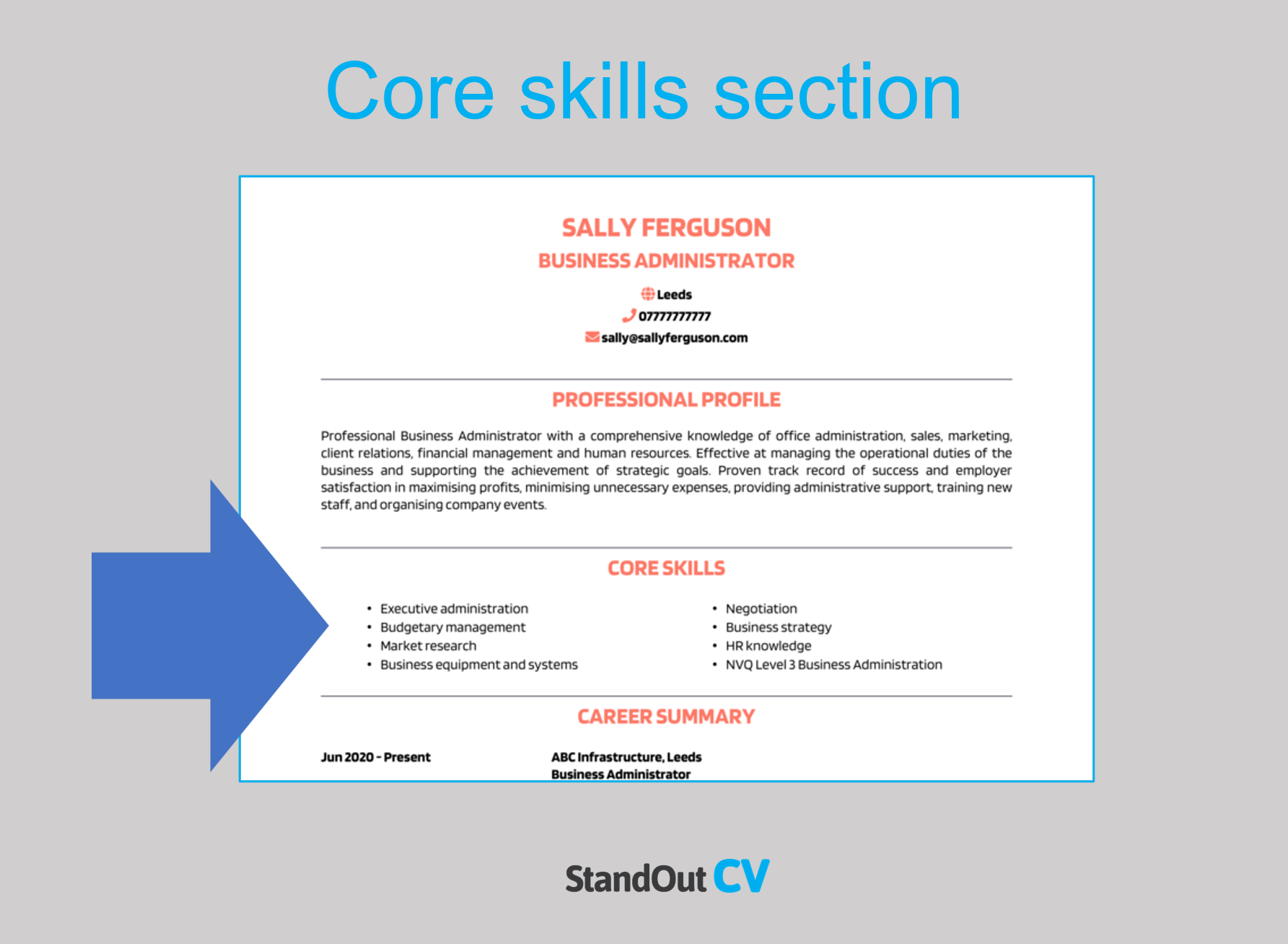 Best skills for your Research Coordinator resume
Project Management – Coordinating research projects, including planning, organizing, and monitoring project timelines and deliverables.
Regulatory Compliance – Utilizing knowledge of research regulations and protocols, including ethical guidelines, informed consent processes, and Institutional Review Board (IRB) requirements.
Data Management – Utilizing knowledge of data collection, entry, and analysis, as well as ensuring data integrity, confidentiality, and security.
Literature Review – Conducting thorough literature reviews to identify relevant research studies, gaps in knowledge, and theoretical frameworks.
Research Coordination – Coordinating various aspects of research, including participant recruitment, scheduling, and managing research materials and equipment.
Data Analysis – Utilizing statistical software and tools to analyze research data, interpret findings, and generate reports.
Research Ethics – Utilizing knowledge of ethical considerations in research, including protecting participant rights, maintaining confidentiality, and addressing conflicts of interest.
Stakeholder Communication – Interacting effectively with researchers, participants, and other stakeholders, as well as preparing reports and presentations.
Data Collection and Reporting – Ensuring accuracy and precision in research data collection, documentation, and reporting.
Problem Resolution – Identifying and resolving issues or challenges that arise during the research process, demonstrating flexibility and adaptability.
Quick tip: Our partner's Resume Builder contains thousands of in-demand skills for every profession that can be added to your resume in seconds – saving you time and greatly improving your chances of landing job interviews and getting hired.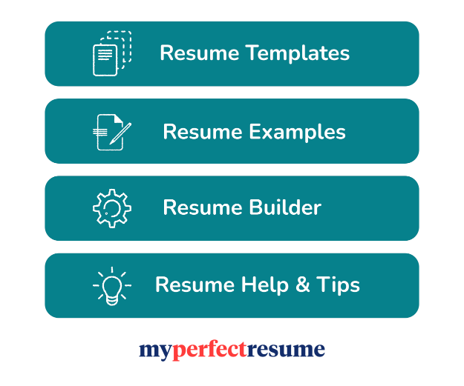 Work experience
Now that you've reeled recruiters in with your awesome summary, it's time to delve into your work experience.
Here you'll list your previous jobs (starting with your most recent and working backward) and showcase how you apply your skills in the workplace.
Provide lots of detail in recent jobs, and less in older roles.
If you have no relevant paid experience, you can include voluntary work and placements – but if you have lots of experience, you can leave out some of the really old jobs.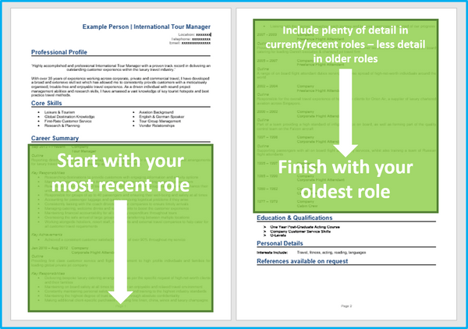 Structuring your jobs
You probably do a lot in your job, so its vital to break all of that information down into a good structure.
Structure your jobs as follows to make it easy for recruiters to skim through and pinpoint the essential info.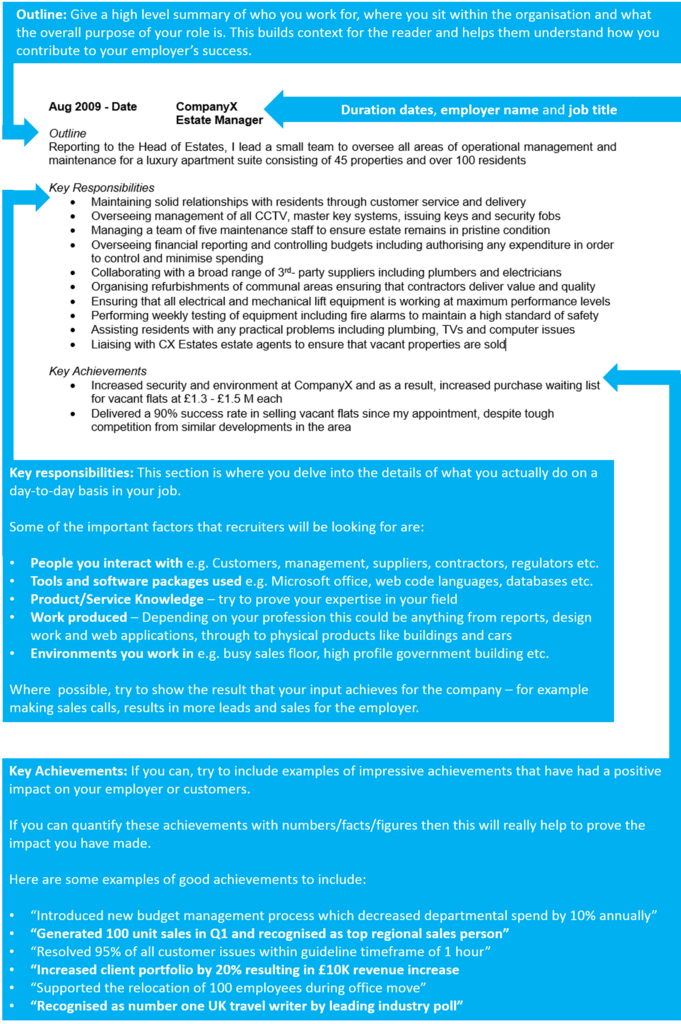 Job outline
Kick off each role with a high-level overview to summarize the focus of the job, what the organization/department does, and how you fit into the bigger picture.
Key responsibilities
Next, write up a punchy list of your daily duties and responsibilities, using short bullet points.
Describe how you apply your skills and contribute to the running of the employer's business – highlighting skills which are applicable to your target jobs.
Key achievements
Round off each job by adding some impressive achievements you made in the role.
Anything you've done that has made a big impact on your employer will make a good impression, think; generating revenue, saving costs, or improving a product.
Quantify your achievements with number where possible e.g. "reduced call wait time by 10%"
Example job for Research Coordinator resume
Outline
Facilitate various aspects of neurological research processes, for an institution that empowers scholars and students to ask tough questions, cross disciplinary boundaries, and challenge conventional thinking to enrich human life around the globe.
Key Responsibilities
Collaborate with the principal investigator and other team members to create protocols which outline objectives, methodologies, and procedures.
Ensure adherence to regulatory requirements and ethical guidelines set by the FDA and Institutional Review Boards.
Inspect sites, prepare relevant documentation for approval, and maintain regulatory files.
Formulate recruitment strategies to identify and register eligible participants into clinical trials, while explaining procedures and obtaining informed consent.
Quick tip: Create impressive job descriptions easily in our partner's Resume Builder by adding pre-written job phrases for every industry and career stage.

Education section
After your work experience, add your education section.
If you are an experienced professional, you can keep this part short – adding basic details of each qualification.
If you have little or no experience, bulk this section up by adding more detail and highlight important skills and knowledge for your target jobs.
Additional information
If you have anything else to add which is relevant to the jobs you are applying for, the additional info section is the place to add it.
Perhaps you have a hobby which involves relevant skills, or maybe you have some awards or publications worth mentioning.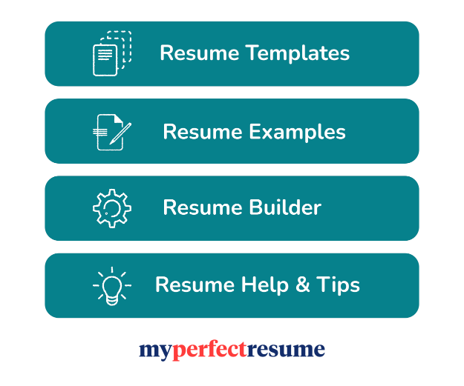 Writing your own winning Research Coordinator resume
Writing a Research Coordinator resume can be challenging but following the steps above will ensure that you land plenty of interviews.
Good luck with your job search!