Do you love helping clients to secure and complete on their dream homes?
Of course you do, that's why you became a broker. But if you want to land your next exciting position, you first need to close the deal with the hiring manager.
To help you do this, we've created a detailed writing guide, complete with a real estate broker resume example. Find out how to write a standout application below.
Contents
| | |
| --- | --- |
| How to write a Real Estate Broker resume | |

Real Estate Broker Resume Example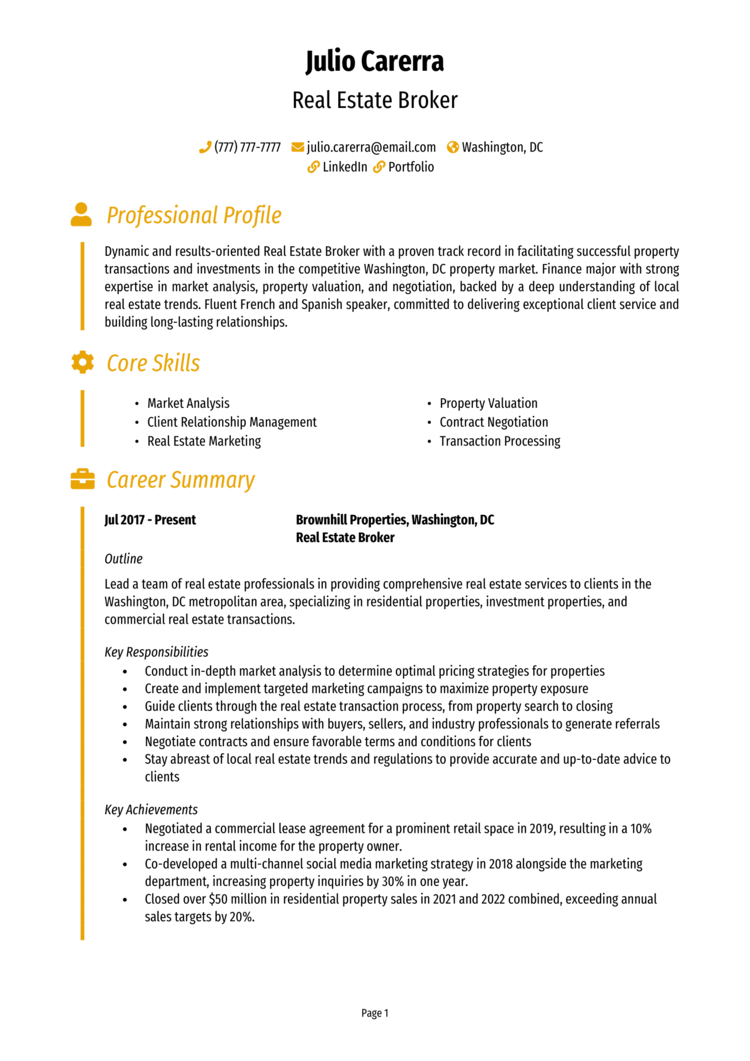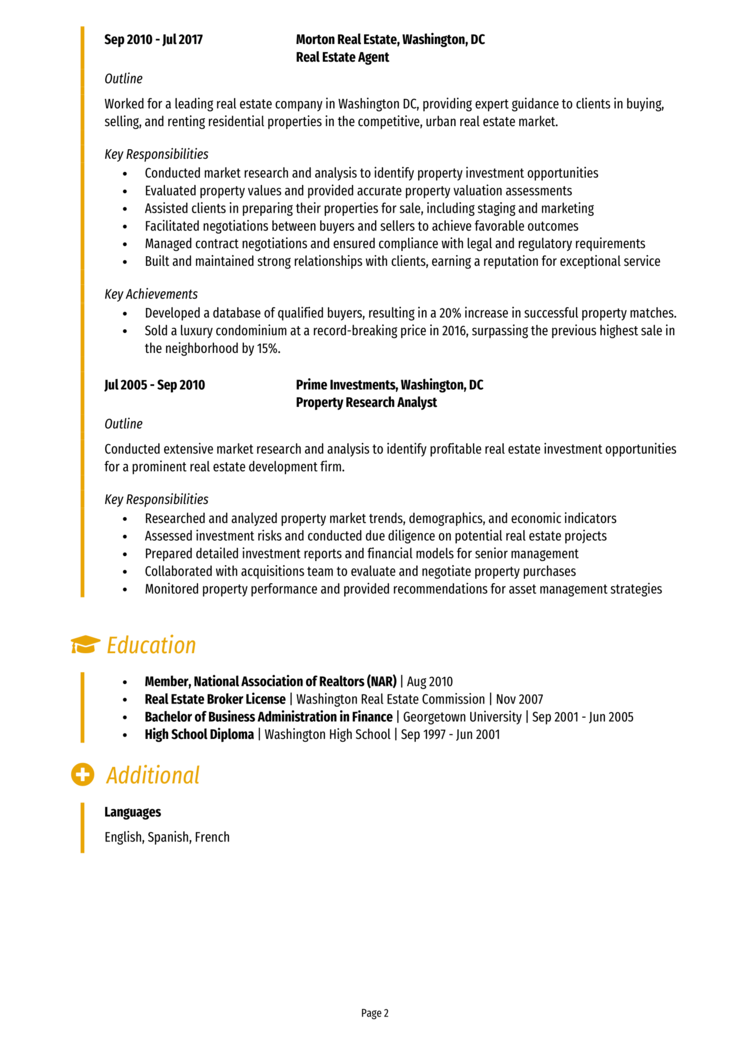 This example Real Estate Broker resume provides you with a general idea of how your resume should look, and what information recruiters expect to see.
The rest of this guide will explain how to layout your resume and create each section effectively.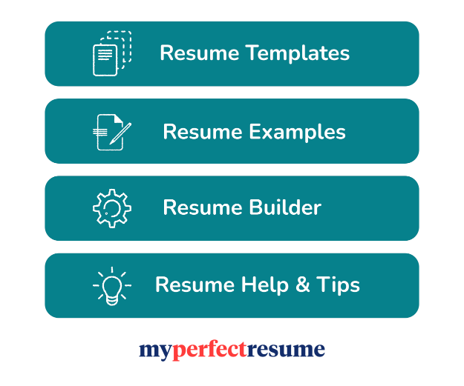 Real Estate Broker resume layout and format
Formatting is often overlooked when writing resume, but it's a crucial element of it"s success.
Creating a document that not only looks good, but is easily comprehended, is the key to gaining and holding the attention of busy hiring managers.
Use these formatting tips for best results.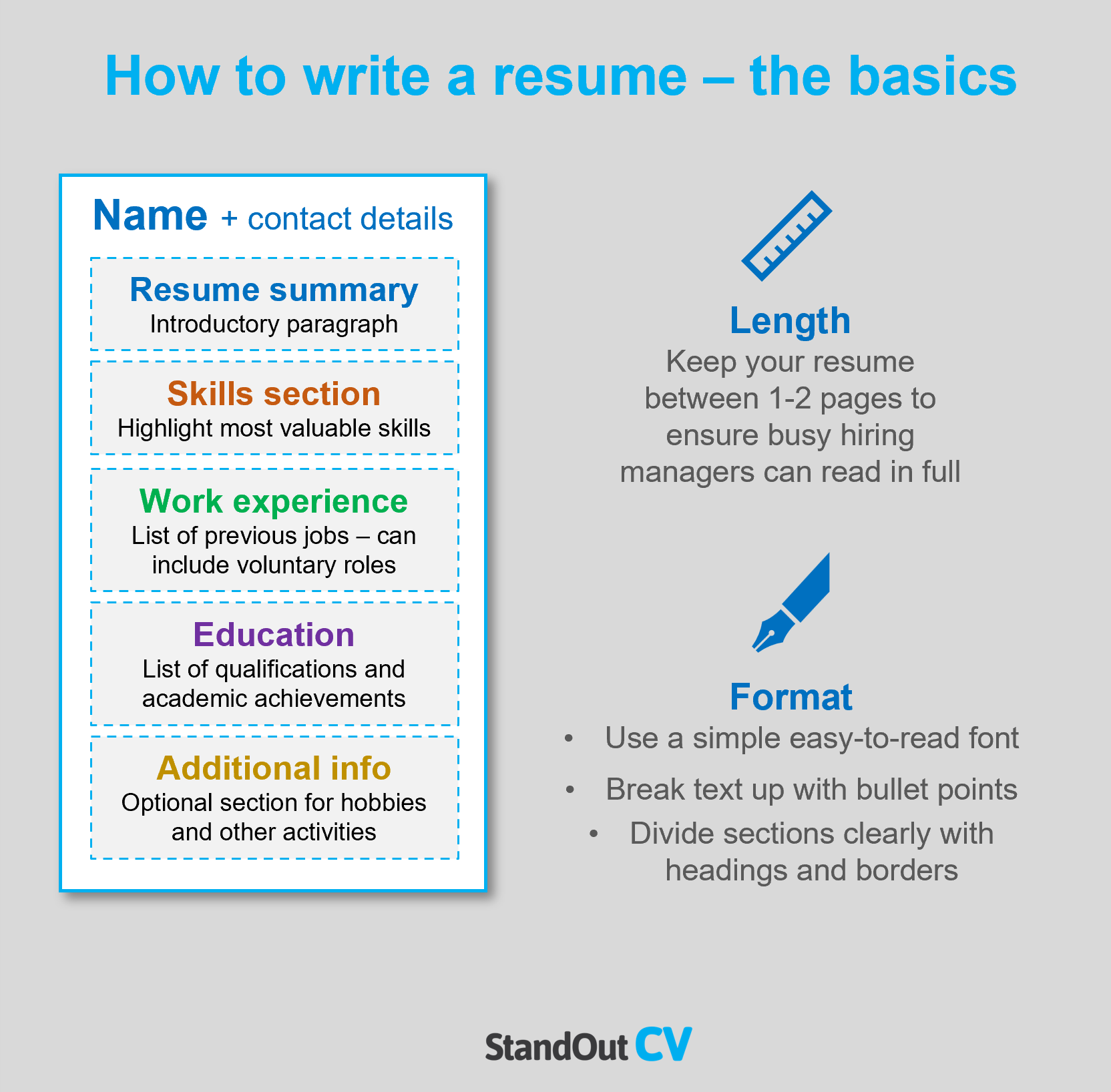 Formatting your resume
Length: Keep your resume to 2 pages or under. You've probably heard that recruiters and hiring managers don't have lots of time to read every resume, so keep yours brief if you want to ensure that they read all of the important info in yours.
Font & readability: A readable resume is crucial if you want recruiters to see your important skills. Ensure yours is easy to read by using a simple, clear font and breaking up the text with bullet points and short paragraphs.
Layout & Structure: While creating an attractive resume, it is crucial not to compromise functionality for design. To ensure both, use bold headings and borders to structure the page into clear sections.
Photos: It's not mandatory to add a photo to your resume in the USA but it if you're applying to organizations within the creative fields, it can be beneficial.
Quick tip: Achieving a professional look for your resume can be difficult and time-consuming. If you want to create an attractive resume quickly, try our partner's Resume Builder and use one of their eye-catching resume templates.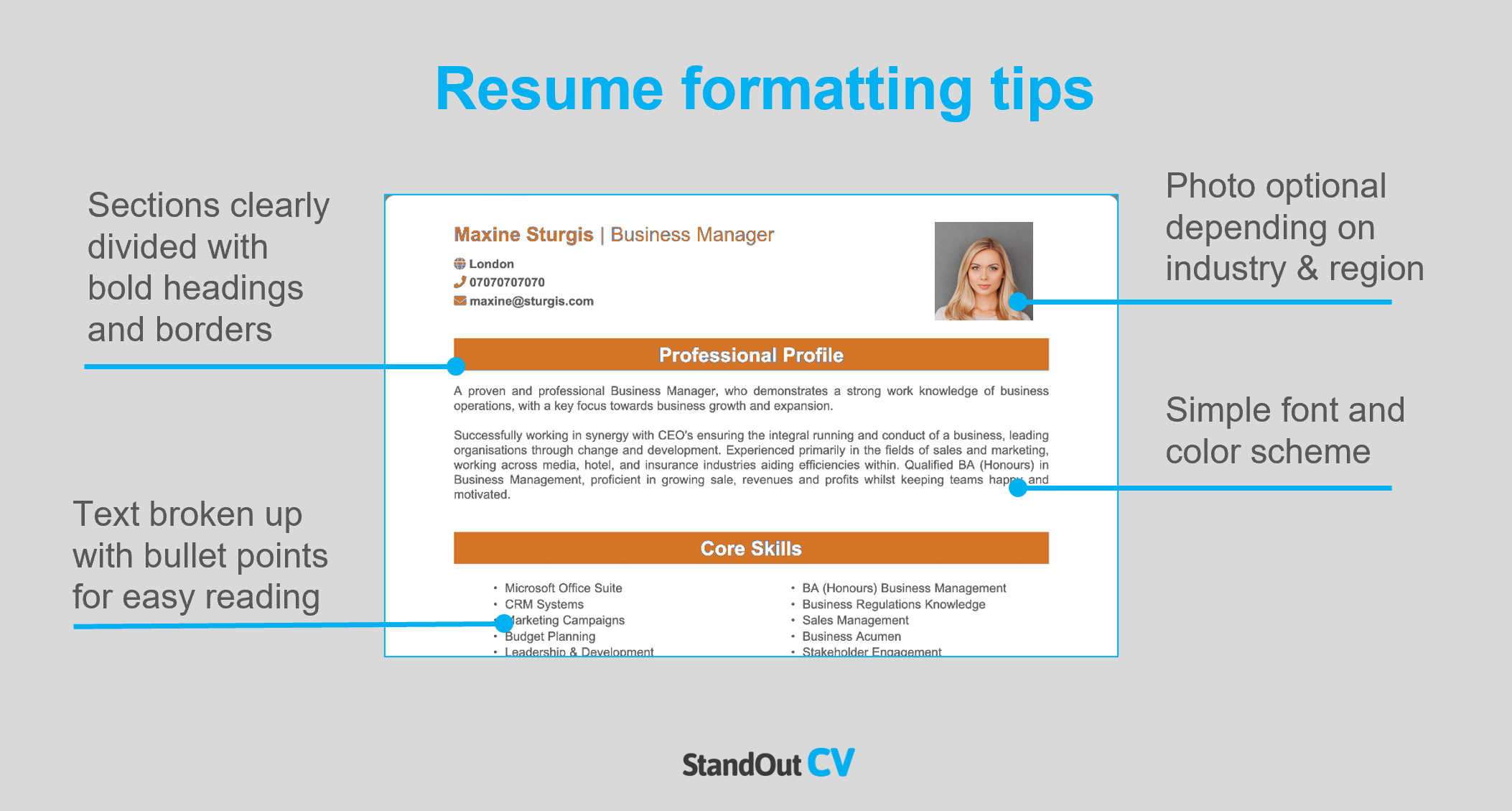 Resume layout
Your resume should include the following sections to give recruiters the information they require:
Name and Contact Details – Place your contact information at the top of your resume to make it easy for employers to get in touch with you.
Resume Summary – Write a brief introduction at the beginning of your resume that summarizes your most important qualifications and highlights why you are the ideal candidate for the job.
Skills Section – Include a concise list of your most relevant and impressive skills to quickly grab the attention of potential employers.
Work Experience – List your previous work experiences in reverse chronological order, including any volunteer work or college placements.
Education – List your educational qualifications and any professional training you have received.
Additional Information – This section is optional, but you can include details about your interests, hobbies, or any other relevant information that can make you stand out from other applicants.
Here's what to include in each part of your resume.
Contact Details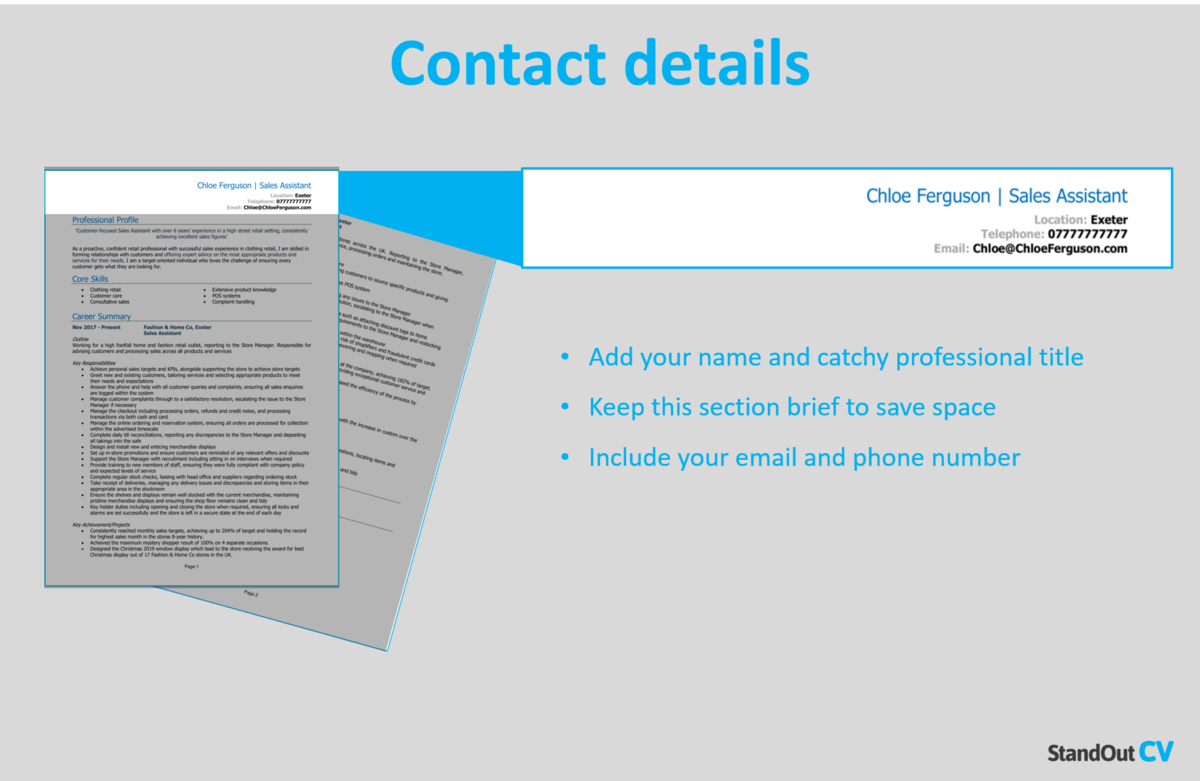 Add your name and contact details to the very top of your resume, making it easy for recruiters to get in touch
Name and profession title
Cell phone number – or another number you can answer quickly
Location – Add your local area such as San Diego or New York – not your full address as that will take up too much space.
Email address – Use your name or close variation – no nicknames from high school.
You can add a link to your LinkedIn profile if you have one – you do not need to include personal details like date of birth or marital status.
Real Estate Broker Resume Summary
Your resume summary is like your introduction to the recruiter or hiring manager – it should grab their attention and leave them eager to read more about you.
Achieve this by writing a snappy overview of your skills, knowledge and what value you can bring to an employer.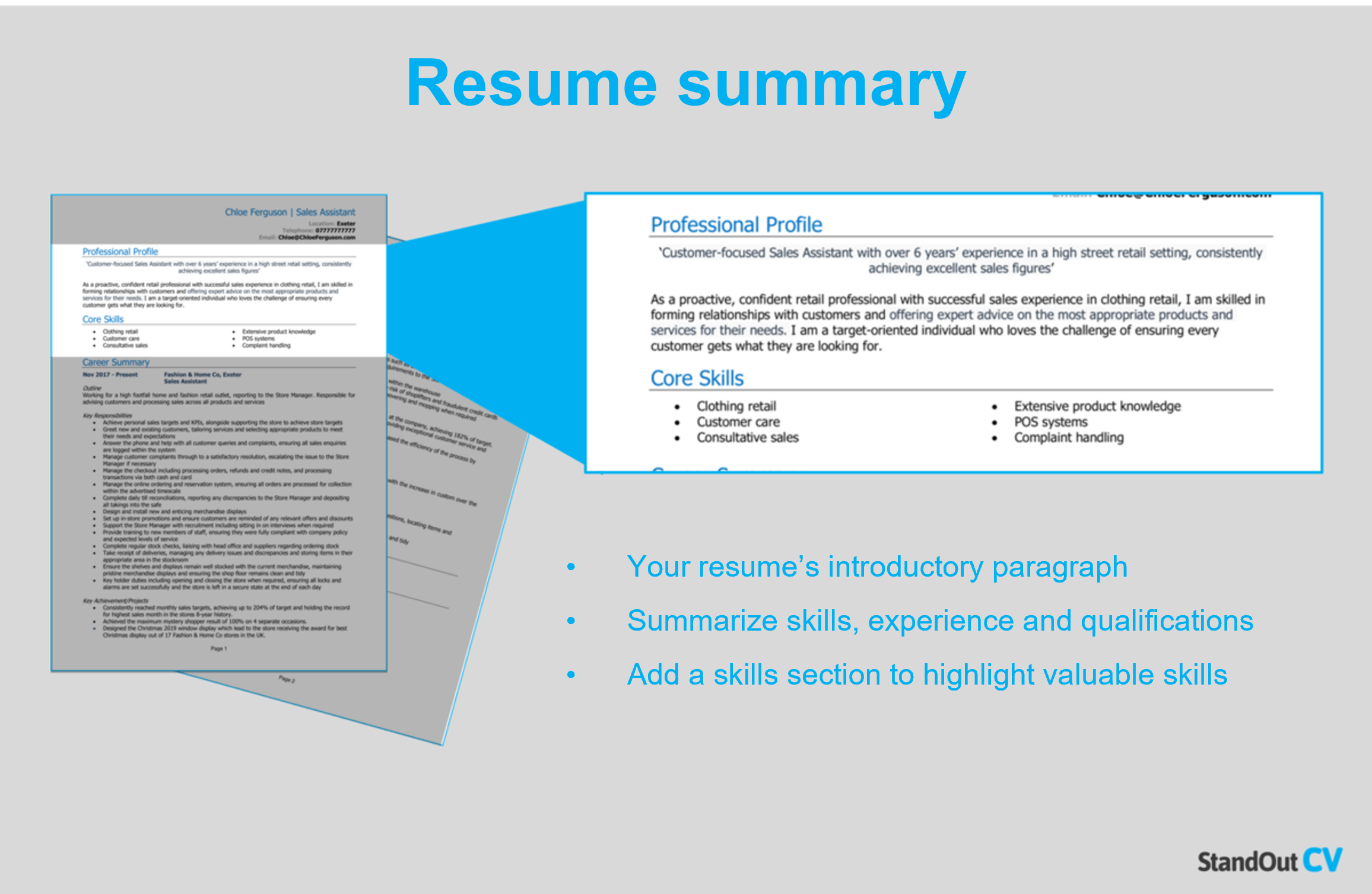 How to create a resume summary that will excite recruiters:
Keep it short: To effectively capture a recruiter's attention, it's crucial to keep your resume summary brief and to the point, limiting it to 4-7 lines as this provides enough detail without overwhelming them at this early stage.
Tailor to target jobs: Tailor your resume to your target jobs by studying the job description and adding as many matching skills as you can.
Avoid using cliches: You might be a "highly motivated go-getter who thinks outside the box" but generic meaningless cliches like that don't tell employers much about you – stick to factual information in your summary.
Real Estate Broker resume summary example
Dynamic and results-oriented Real Estate Broker with a proven track record in facilitating successful property transactions and investments in the competitive Washington, DC property market. Finance major with strong expertise in market analysis, property valuation, and negotiation, backed by a deep understanding of local real estate trends. Fluent French and Spanish speaker, committed to delivering exceptional client service and building long-lasting relationships. 
What to include in your Real Estate Broker resume summary?
Summary of your experience: Briefly describe the work you have performed in the past and the contributions you have made to the organizations you have worked for.
Relevant skills: Instantly showcase your suitability for Real Estate Broker jobs by including your skills that are highly relevant to them.
Qualifications: If your job requires any qualifications such as a professional course or a college degree, mention it briefly in your summary.
Quick tip: Choose from hundreds of pre-written summaries across all industries, and add one to your resume with one-click in our partner's Resume Builder. All written by recruitment experts and easily tailored to suit your unique skillset and style.
Core skills section
In addition to your resume summary, your core skills section provides an easily digestible snapshot of your skills – perfect for grabbing the attention of busy hiring managers.
As Real Estate Broker jobs might receive a huge pile of applications, this is a great way to stand out and show off your suitability for the role.
It should be made up of 2-3 columns of bullet points and be made up of skills that are highly relevant to the jobs you are targeting.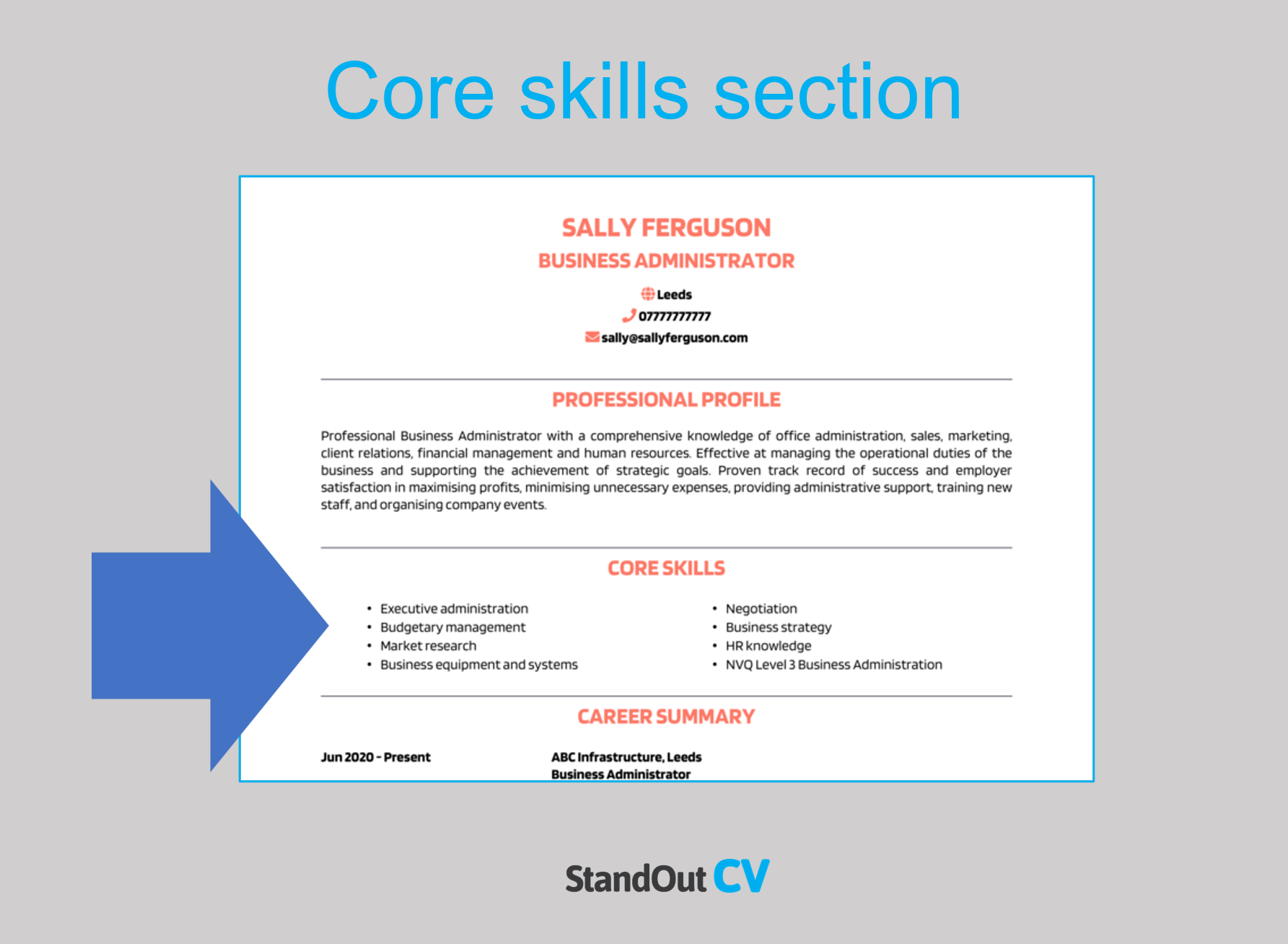 Best skills for your Real Estate Broker resume
Real Estate Market Knowledge – Maintaining an extensive understanding of local and national real estate markets, including market trends, property values, and neighborhood dynamics.
Sales and Negotiation – Effectively representing clients and securing favorable deals in real estate transactions.
Contract Management – Drafting, reviewing, and negotiating real estate contracts, including purchase agreements, lease agreements, and listing agreements.
Marketing and Advertising – Developing and implementing effective marketing strategies to promote properties and attract potential buyers or tenants.
Client Relationship Management – Building and maintaining strong relationships with clients, providing exceptional customer service and personalized guidance throughout the real estate process.
Financial Analysis – Analyzing financial statements, assessing investment opportunities, and providing financial guidance to clients in buying, selling, or investing in real estate.
Risk Management – Utilizing knowledge of risk assessment and management in real estate transactions, including identifying potential risks and implementing strategies to mitigate them.
Legal and Regulatory Compliance – Utilizing knowledge of real estate laws, regulations, and licensing requirements, ensuring compliance with legal and ethical standards in all transactions.
Communication and Presentation – Effectively interacting with clients, agents, lenders, and other parties involved in real estate transactions.
Market Research and Analysis – Conducting thorough market research, analyzing market data, and providing insights and recommendations to clients based on market conditions and trends.
Quick tip: Our partner's Resume Builder contains thousands of in-demand skills for every profession that can be added to your resume in seconds – saving you time and greatly improving your chances of landing job interviews and getting hired.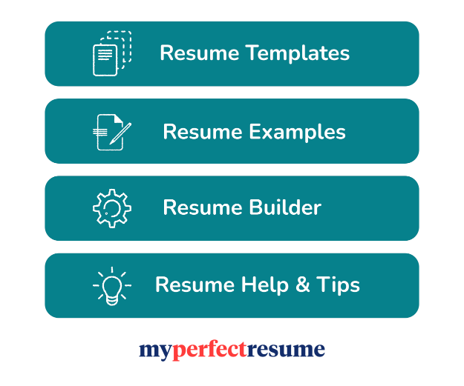 Work experience
So, you've grabbed the recruiters' attention with your summary, now it's time to show them what you're really capable of in your work experience section.
List your previous jobs from current to oldest, showing off the impact you made at each organization.
If you have tons of experience, you should just list the most recent an relevant jobs – but if you have little or no experience, add it all and even consider putting in voluntary work.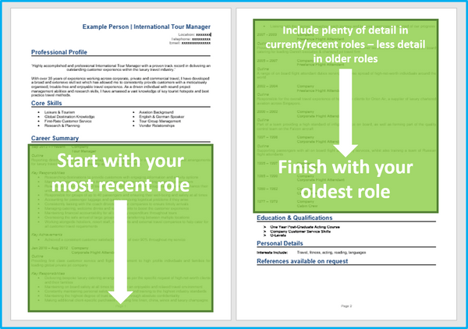 Structuring your jobs
Resume job descriptions contain lots of information, so its crucial to structure them well.
Use the structure below to ensure hiring managers can consume the information easily.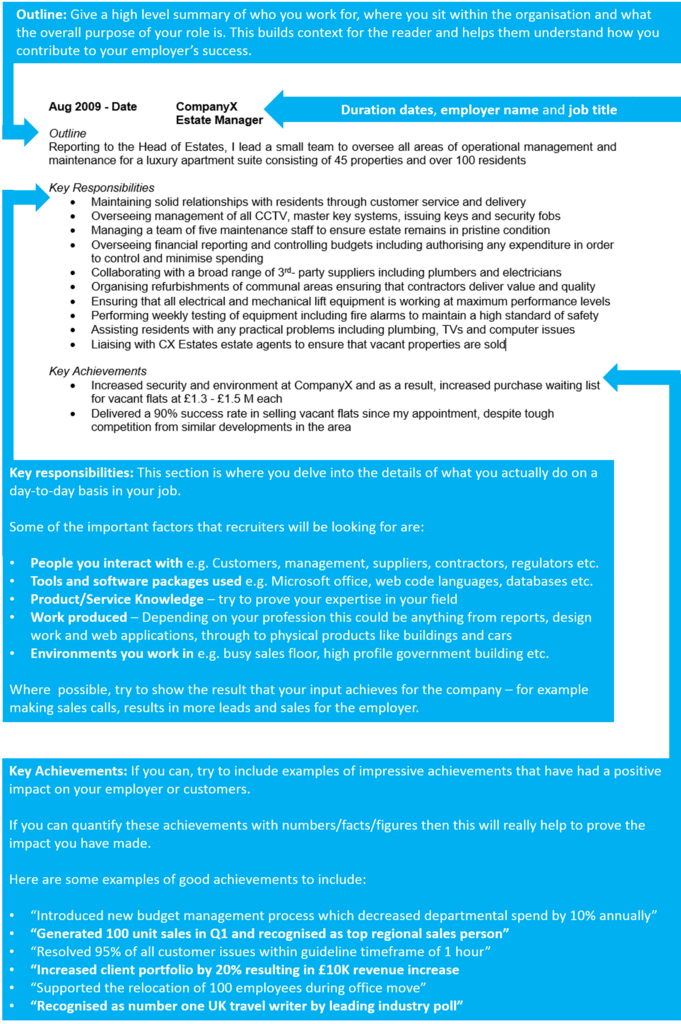 Job outline
Start with a 1-2 sentence outline of the role, summarizing what the goal of your position was, who you reported to (or managed) and the type of organization you worked for.
Key responsibilities
Next, write up a punchy list of your daily duties and responsibilities, using short bullet points.
Describe how you apply your skills and contribute to the running of the employer's business – highlighting skills which are applicable to your target jobs.
Key achievements
Round off each job by adding some impressive achievements you made in the role.
Anything you've done that has made a big impact on your employer will make a good impression, think; generating revenue, saving costs, or improving a product.
Quantify your achievements with number where possible e.g. "reduced call wait time by 10%"
Example job for Real Estate Broker resume
Outline
Lead a team of real estate professionals in providing comprehensive real estate services to clients in the Washington, DC metropolitan area, specializing in residential properties, investment properties, and commercial real estate transactions.
Key Responsibilities
Conduct in-depth market analysis to determine optimal pricing strategies for properties
Create and implement targeted marketing campaigns to maximize property exposure
Guide clients through the real estate transaction process, from property search to closing
Maintain strong relationships with buyers, sellers, and industry professionals to generate referrals
Quick tip: Create impressive job descriptions easily in our partner's Resume Builder by adding pre-written job phrases for every industry and career stage.

Education section
After your work experience, add your education section.
If you are an experienced professional, you can keep this part short – adding basic details of each qualification.
If you have little or no experience, bulk this section up by adding more detail and highlight important skills and knowledge for your target jobs.
Additional information
The additional info section is optional but can be useful if you have anything else to add that could benefit your application.
For example, you may have some hobbies and interests that are relevant to your job – or you might have awards or publications to shout about.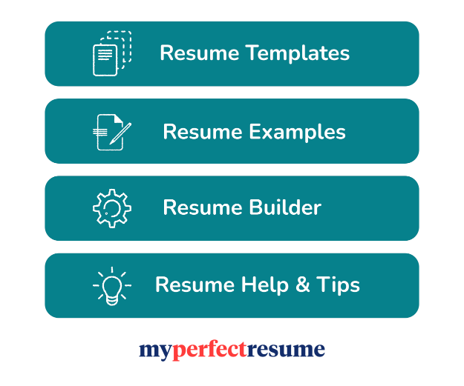 Writing your own winning Real Estate Broker resume
Crafting a strong Real Estate Broker resume can be a daunting task, but implementing the steps outlined above will significantly increase your chances of securing multiple interview opportunities.
Good luck with your job search!