When selling a property, the owners want to get as much bang for their buck as they possibly can. As a real estate appraiser, you can make this happen.
But despite being indispensable to the owners, you still need to sell your skills and showcase your own value to the hiring manager if you hope to secure your next role.
Find out how to do just that using our top tips and a real estate appraiser resume example in the guide below.
Contents
| | |
| --- | --- |
| How to write your Real Estate Appraiser resume | |

Real Estate Appraiser Resume Example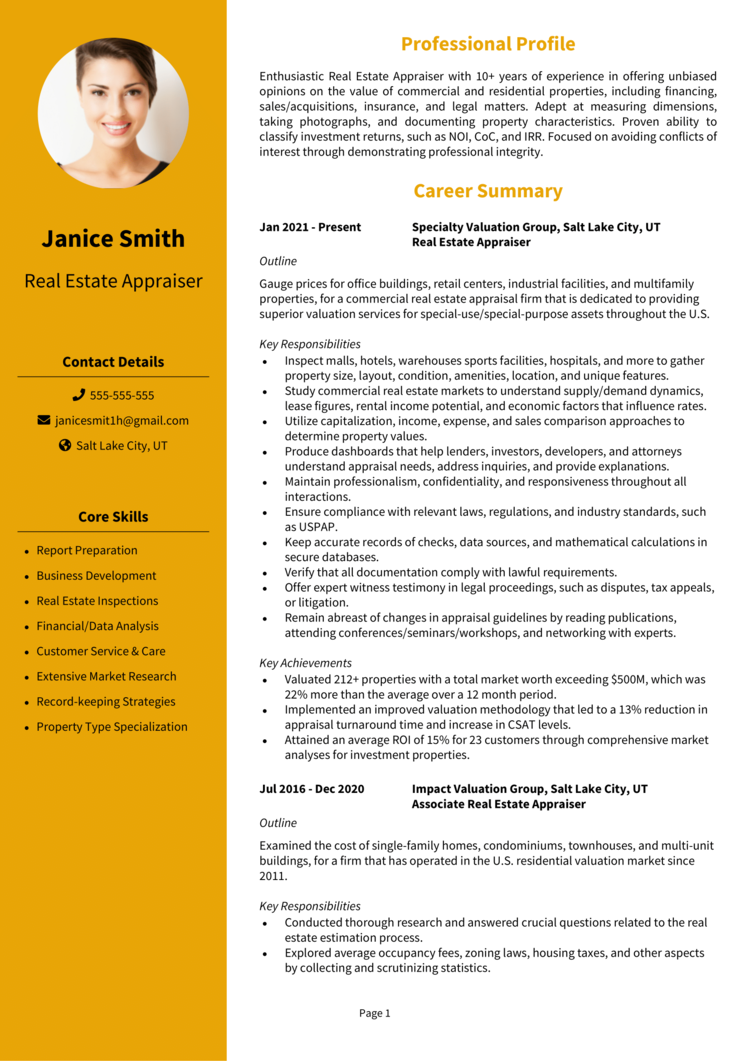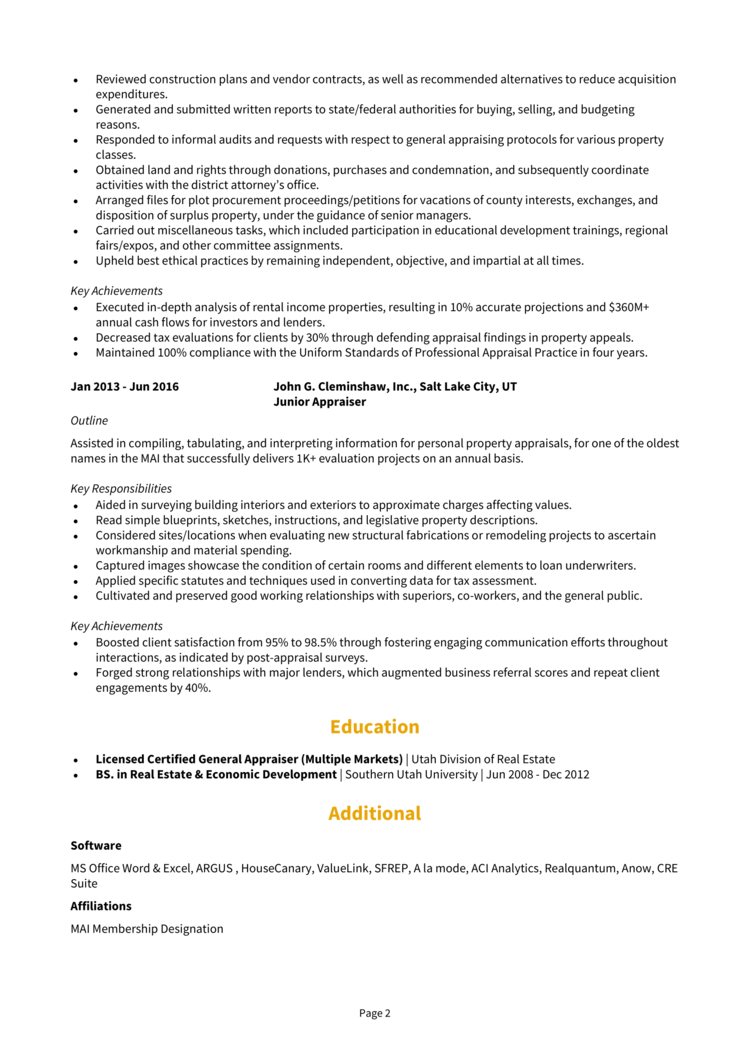 This Real Estate Appraiser resume example shows you the most effective layout for a resume in today's job market, along with the type of content you need to include.
Stick closely to these guidelines as you write your own resume, to boost your chances of getting lots of responses, interviews and job offers.
Now lets dive into the details of how you write your own eye-catching resume…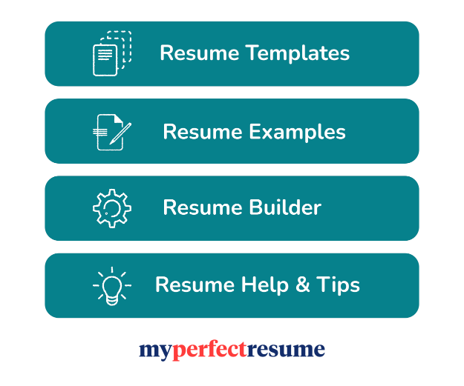 Real Estate Appraiser resume layout and format
Your resume layout and format will play a big role in helping hiring managers to take notice of your resume and stay glued to it.
Shoot for a simple yet professional look to ensure you make a strong first impression, and organize the page in a way that is easy for readers to digest the information.
The following formatting tips should help.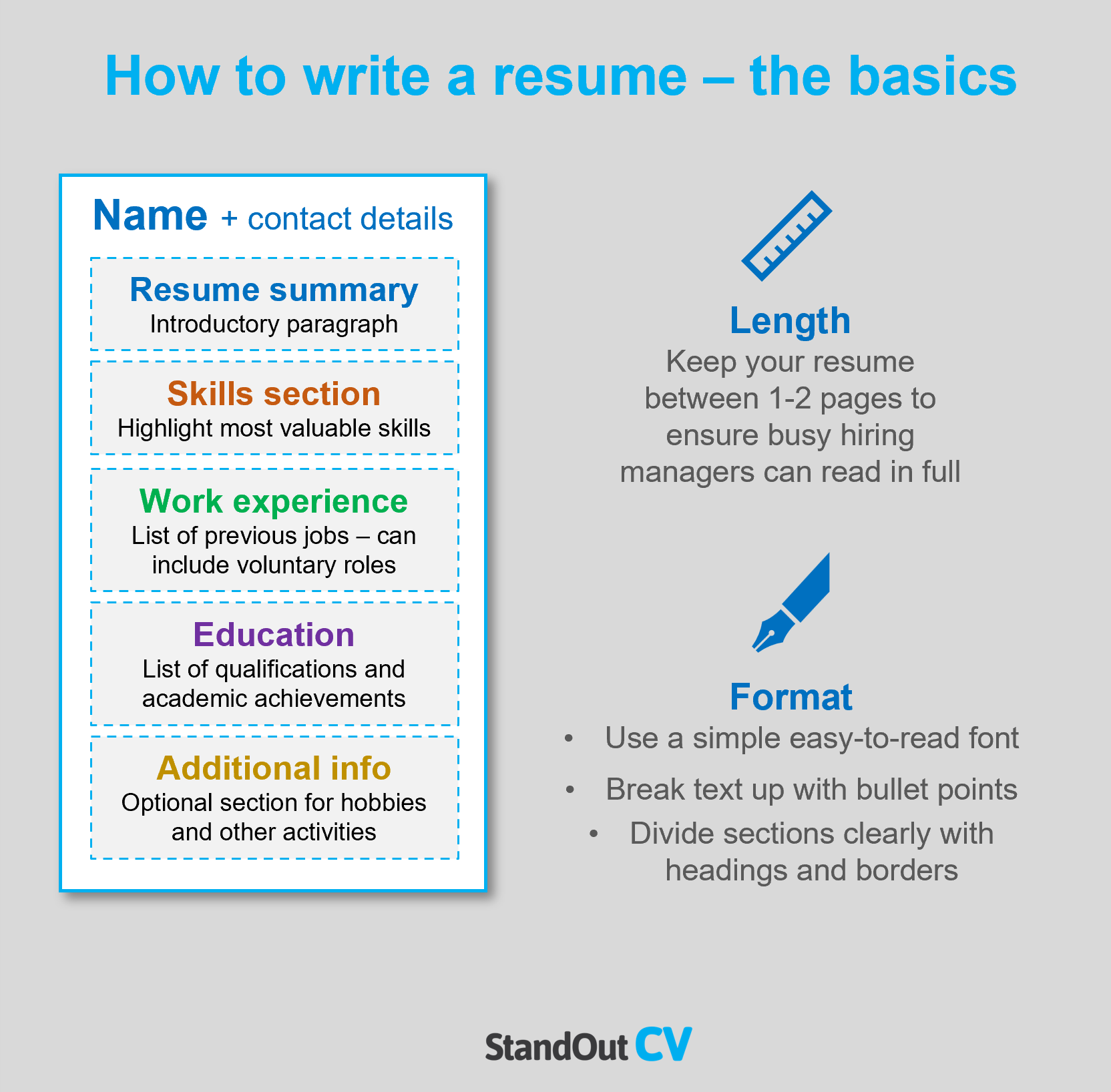 Formatting your resume
Length: Given that recruiters have to sift through tons of resumes daily, it's recommended to keep your resume brief (no more than 2 pages) to make sure it receives their full attention.
Font & readability: The key to a good resume is readability. To make your resume easy to read, use a clear and uncomplicated font, and break up the text with bullet points and short paragraphs.
Layout: Go with a resume design that looks good, but also allows for easy reading and navigation for employers. Ensure the page is clearly split up into sections by adding large font headings and dividing borders. Keep the color scheme simple and don't overcrowd the page.
Photos: You are not obliged to add a photo to your resume in the USA, but it can be a nice way of adding some life to the document.
Quick tip: Achieving a professional look for your resume can be difficult and time-consuming. If you want to create an attractive resume quickly, try our partner's Resume Builder and use one of their eye-catching resume templates.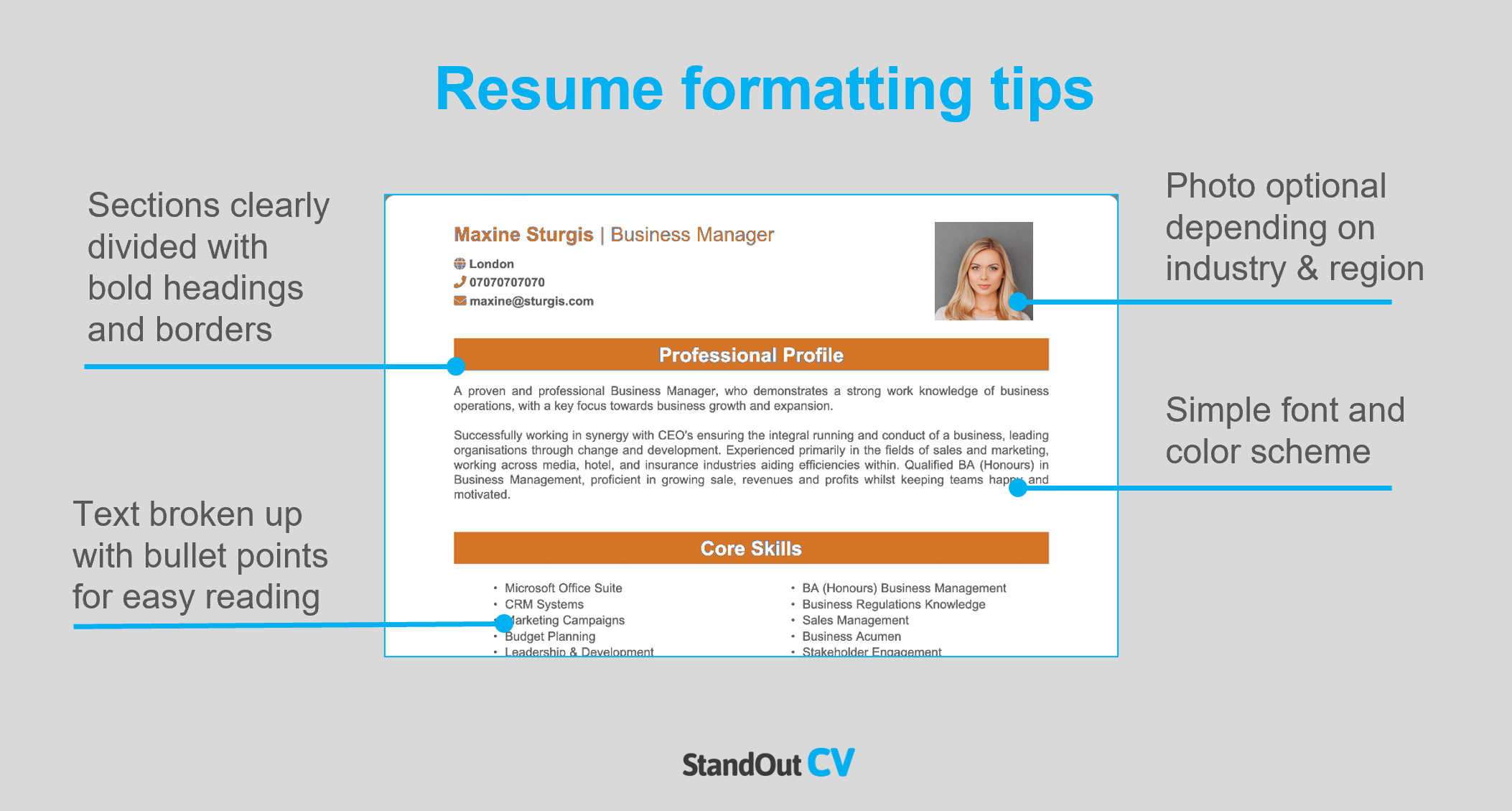 Resume layout
When you write your resume, include the sections below.
Name and contact details – Pop these at the very top to ensure recruiters know how to contact you.
Resume summary – An eye-catching paragraph which summarizes your most valuable attributes – placed near the top of your resume
Skills section – A bullet pointed list of your most in-demand skills, enabling recruiters to see your suitability from a glance.
Work experience – List some or all of your previous jobs in reverse chronological order – voluntary work and college placements can be included if you have no paid experience.
Education – A summary of your professional training and academic qualifications.
Additional info – An optional section for anything that may boost your application, such as relevant hobbies and interests
Here's what to add to each section of your Real Estate Appraiser resume.
Contact Details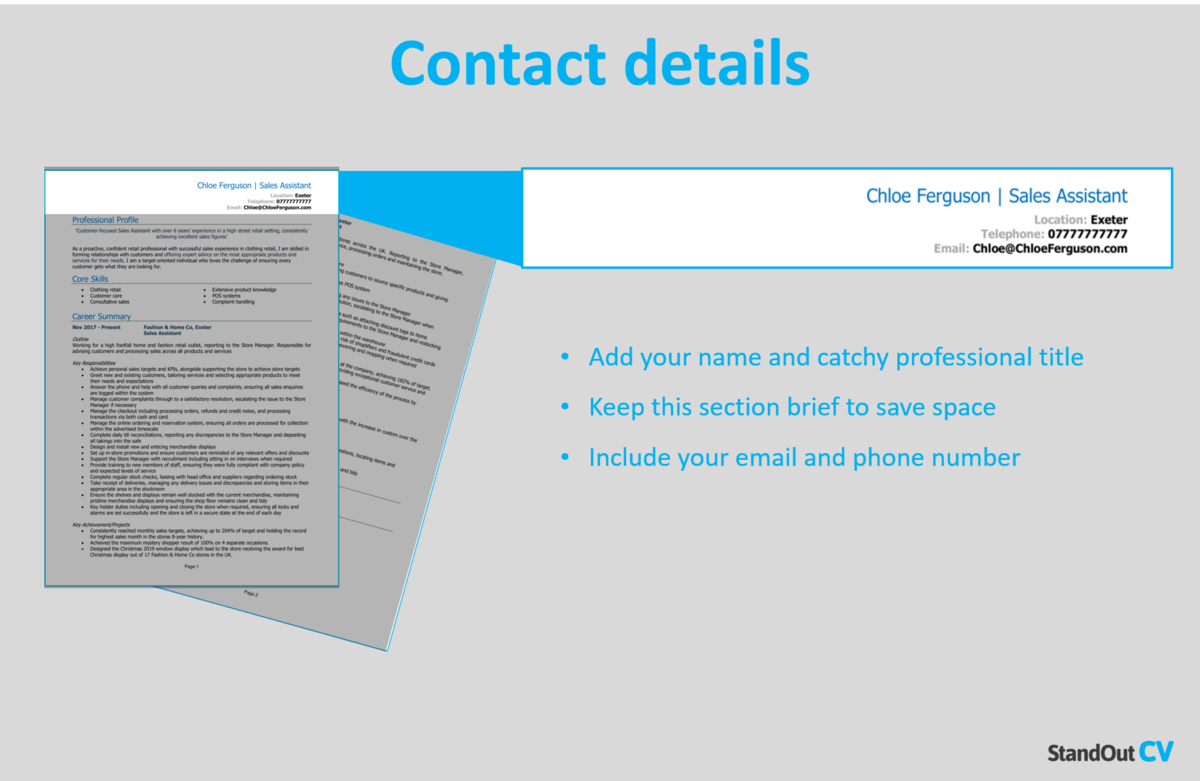 Keep your contact details short to save resume space and include the following.
Name and profession title
Cell phone number
Location – Add your local area such as Silicon Valley or New York, unless you are looking for work in a different location
Email address – Keep it professional and don't use an old address that you thought was cool in high school, but now looks a bit embarrassing.
You can add a link to your LinkedIn profile if you have one – you do not need to include personal details like date of birth or marital status.
Real Estate Appraiser Resume Summary
Start your resume with a bang by adding a powerful summary to the top, summarizing your most valuable skills and experience.
This short paragraph is your chance to show recruiters why you are a perfect fit for the job and encourage them to read more of your resume.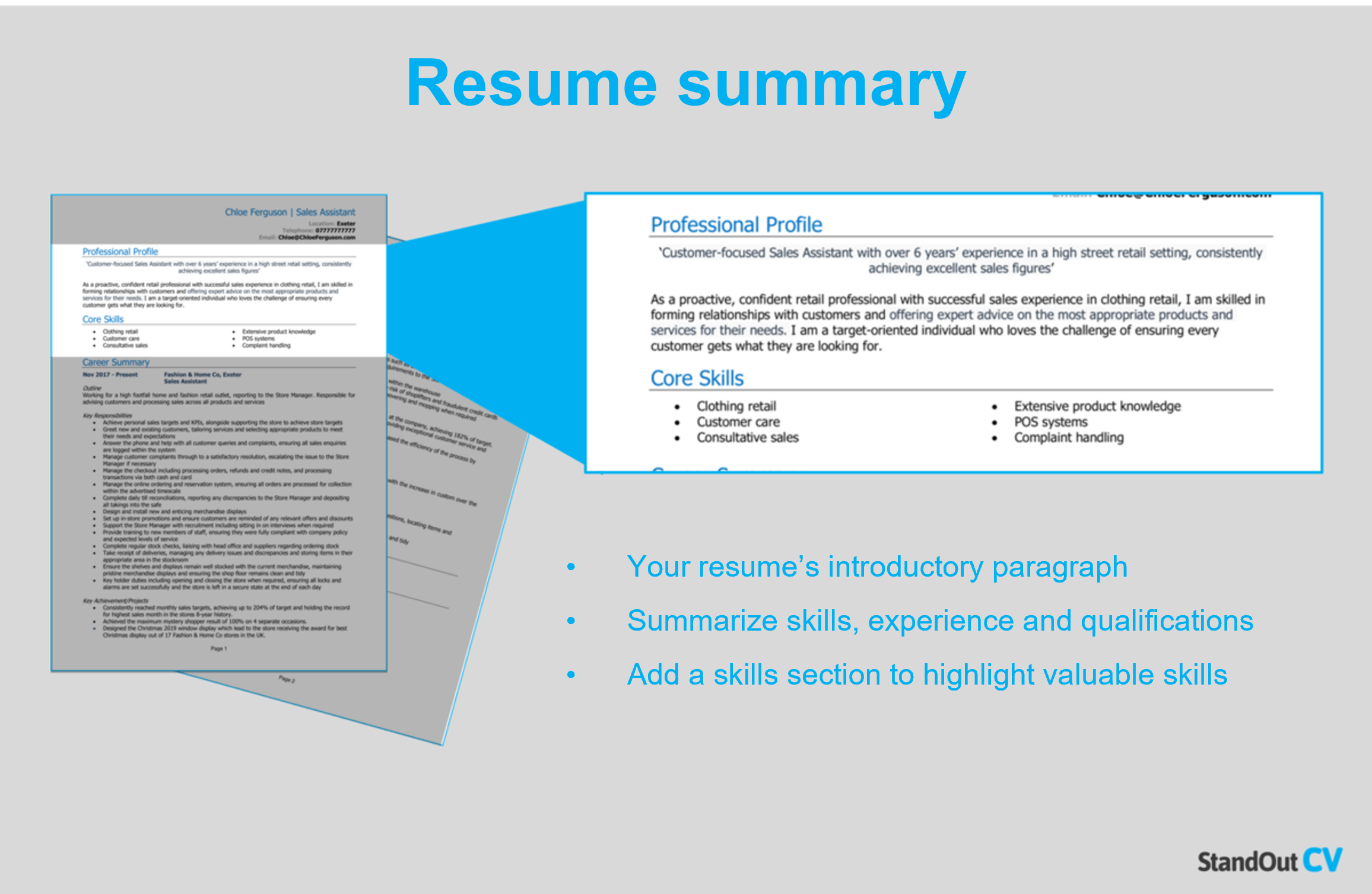 How to create a resume summary that will excite recruiters:
Keep it short: Your summary is intended to be a high-level introduction to hook readers' attention, so keep it brief (4-7 lines) – save the details for later in your resume.
Tailor to target jobs: To better align your resume with your target jobs, it's important to scrutinize the job description and identify as many relevant skills as possible to include in your resume.
Avoid using cliches: Recruiters look for facts in resumes, such as hard skills and qualifications – so, leave out the meaningless cliches like "hard worker who works well in a team and individually"
Real Estate Appraiser resume summary example
Enthusiastic Real Estate Appraiser with 10+ years of experience in offering unbiased opinions on the value of commercial and residential properties, including financing, sales/acquisitions, insurance, and legal matters. Adept at measuring dimensions, taking photographs, and documenting property characteristics. Proven ability to classify investment returns, such as NOI, CoC, and IRR. Focused on avoiding conflicts of interest through demonstrating professional integrity.
What to include in your Real Estate Appraiser resume summary?
Summary of your experience: Provide an overview of the type of work you have done in the past and the impact you have made at previous employers.
Relevant skills: Highlight your skills which are most relevant to Real Estate Appraiser jobs, to ensure that recruiters see your most in-demand skills as soon as they open your resume.
Qualifications: To make a strong impression on potential employers when applying for Real Estate Appraiser jobs, be sure to mention any relevant qualifications in your summary.
Quick tip: Choose from hundreds of pre-written summaries across all industries, and add one to your resume with one-click in our partner's Resume Builder. All written by recruitment experts and easily tailored to suit your unique skillset and style.
Core skills section
In addition to your resume summary, your core skills section provides an easily digestible snapshot of your skills – perfect for grabbing the attention of busy hiring managers.
As Real Estate Appraiser jobs might receive a huge pile of applications, this is a great way to stand out and show off your suitability for the role.
It should be made up of 2-3 columns of bullet points and be made up of skills that are highly relevant to the jobs you are targeting.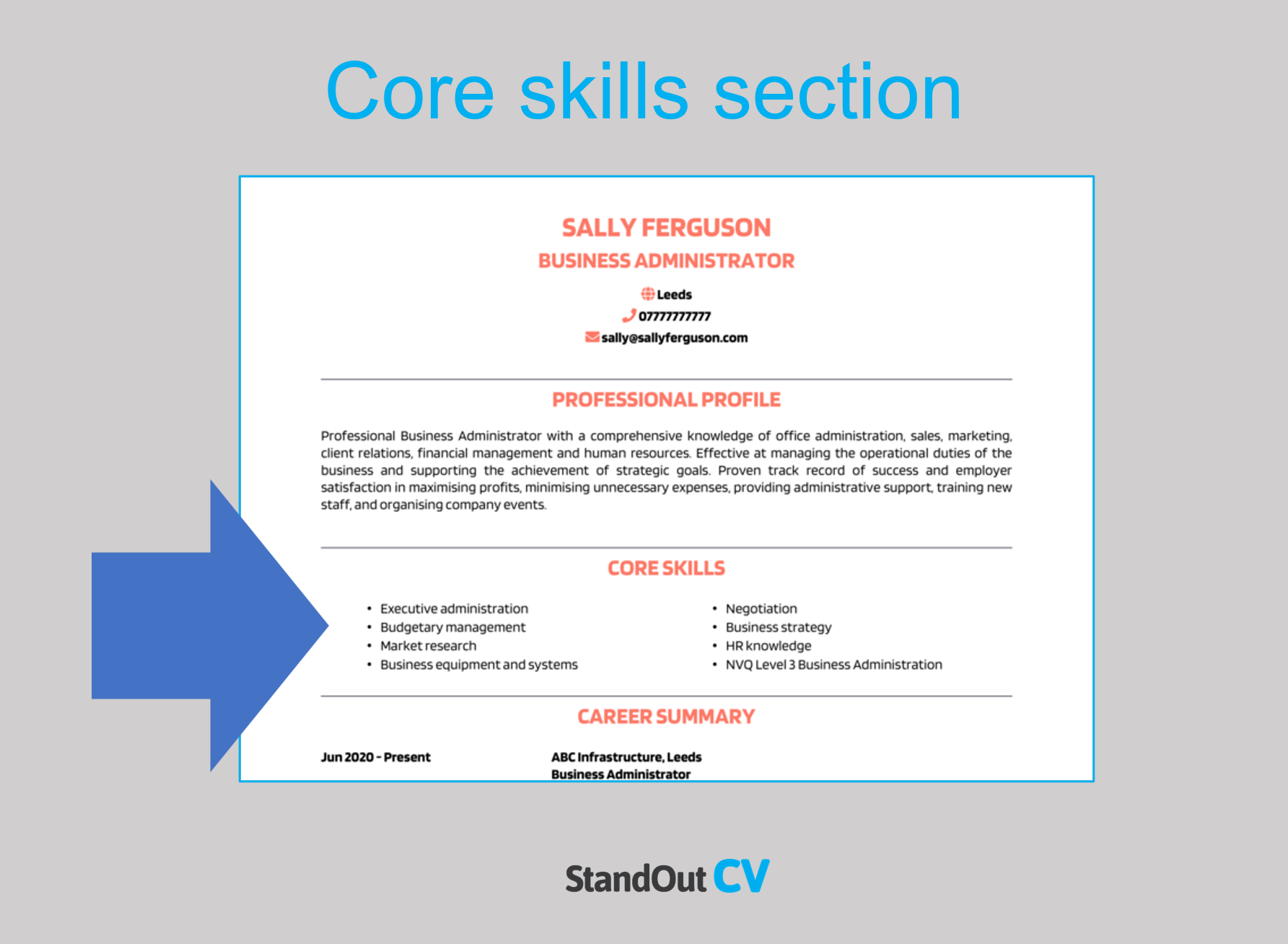 Best skills for your Real Estate Appraiser resume
Property Valuation – Evaluating the market value of residential or commercial properties based on various factors, such as location, condition, and comparable sales data.
Appraisal Methods – Utilizing different appraisal approaches, such as the sales comparison approach, income approach, and cost approach, to determine property values accurately.
Real Estate Regulations – Utilizing knowledge of federal, state, and local real estate regulations and appraisal standards to ensure compliance with industry guidelines.
Data Analysis – Collecting and analyzing data, including property information, market trends, and economic indicators, to support appraisal conclusions.
Geographic Information Systems (GIS) – Utilizing GIS tools and mapping software to analyze geographic data and assess property location influences on value.
Real Estate Market Trends – Maintaining knowledge of real estate market dynamics, including supply and demand, property appreciation, and economic factors impacting property values.
Property Inspection – Conducting thorough property inspections, examining the interior and exterior condition of properties to assess their overall quality.
Report Writing – Preparing comprehensive and detailed appraisal reports that communicate the property's value and supporting analysis.
Financial Analysis – Utilizing knowledge of financial principles, such as cash flow analysis, return on investment (ROI), and capitalization rates, to evaluate income-producing properties.
Real Estate Appraisal Software – Using specialized real estate appraisal software to streamline data collection, analysis, and report generation.
Quick tip: Our partner's Resume Builder contains thousands of in-demand skills for every profession that can be added to your resume in seconds – saving you time and greatly improving your chances of landing job interviews and getting hired.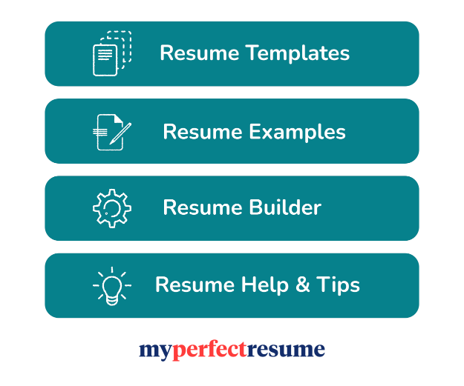 Work experience
Once you've hooked the hiring manager with your summary, you can really blow them away with you work experience.
List your previous jobs from newest to oldest to show the impact you made at each organization.
If you have years of experience, you can leave out some of the older jobs, and if you have little/no experience, you can bulk this section up with voluntary work and college placements.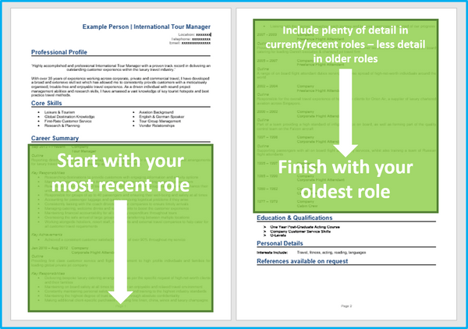 Structuring your jobs
Without a good structure, your job description can look messy and overwhelming to anyone reading them.
Make it easy for recruiters to read your work experience by structuring your roles like this.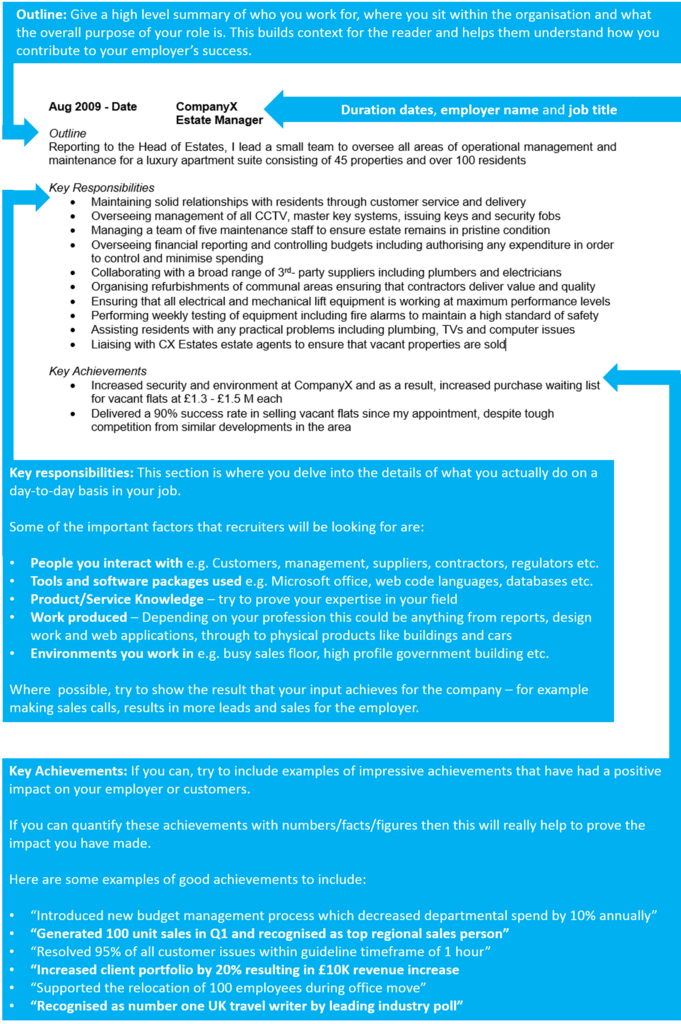 Job outline
Each role description should begin with a qucik summary of the job and company, along with how the job fits into the strucuture of the organization.
Key responsibilities
Next, write up a punchy list of your daily duties and responsibilities, using short bullet points.
Describe how you apply your skills and contribute to the running of the employer's business – highlighting skills which are applicable to your target jobs.
Key achievements
Round off each job by adding some impressive achievements you made in the role.
Anything you've done that has made a big impact on your employer will make a good impression, think; generating revenue, saving costs, or improving a product.
Quantify your achievements with number where possible e.g. "reduced call wait time by 10%"
Example job for Real Estate Appraiser resume
Outline
Gauge prices for office buildings, retail centers, industrial facilities, and multifamily properties, for a commercial real estate appraisal firm that is dedicated to providing superior valuation services for special-use/special-purpose assets throughout the U.S.
Key Responsibilities
Inspect malls, hotels, warehouses sports facilities, hospitals, and more to gather property size, layout, condition, amenities, location, and unique features.
Study commercial real estate markets to understand supply/demand dynamics, lease figures, rental income potential, and economic factors that influence rates.
Utilize capitalization, income, expense, and sales comparison approaches to determine property values.
Produce dashboards that help lenders, investors, developers, and attorneys understand appraisal needs, address inquiries, and provide explanations.
Quick tip: Create impressive job descriptions easily in our partner's Resume Builder by adding pre-written job phrases for every industry and career stage.

Education section
Nearing the end of your resume, your education/qualifications section should be added.
In a well-structured list, add all of your qualifications and certifications that qualify you to perform a typical Real Estate Appraiser role.
If you have plenty of work experience, keep this section brief – if not, add lots of detail to make up for your lack of experience.
Additional information
The additional info section is optional but can be useful if you have anything else to add that could benefit your application.
For example, you may have some hobbies and interests that are relevant to your job – or you might have awards or publications to shout about.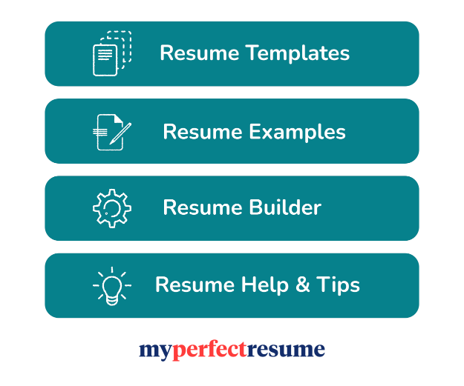 Writing your own winning Real Estate Appraiser resume
By tailoring your resume to the specific job and industry you are targeting and ensuring that it effectively communicates your professional value, you can position yourself as a top candidate for all Real Estate Appraiser positions.
Good luck with your job search!