Are you looking for your next role as a quality assurance analyst? Then you need to get your resume past the keen eye of the hiring manager.
This means creating an application that highlights your analytical skills, as well as your organization and attention to detail.
We can help you do just that. Make the most of our top writing tips and quality assurance analyst resume example below.
Contents
| | |
| --- | --- |
| How to write your Quality Assurance Analyst resume | |

Quality Assurance Analyst Resume Example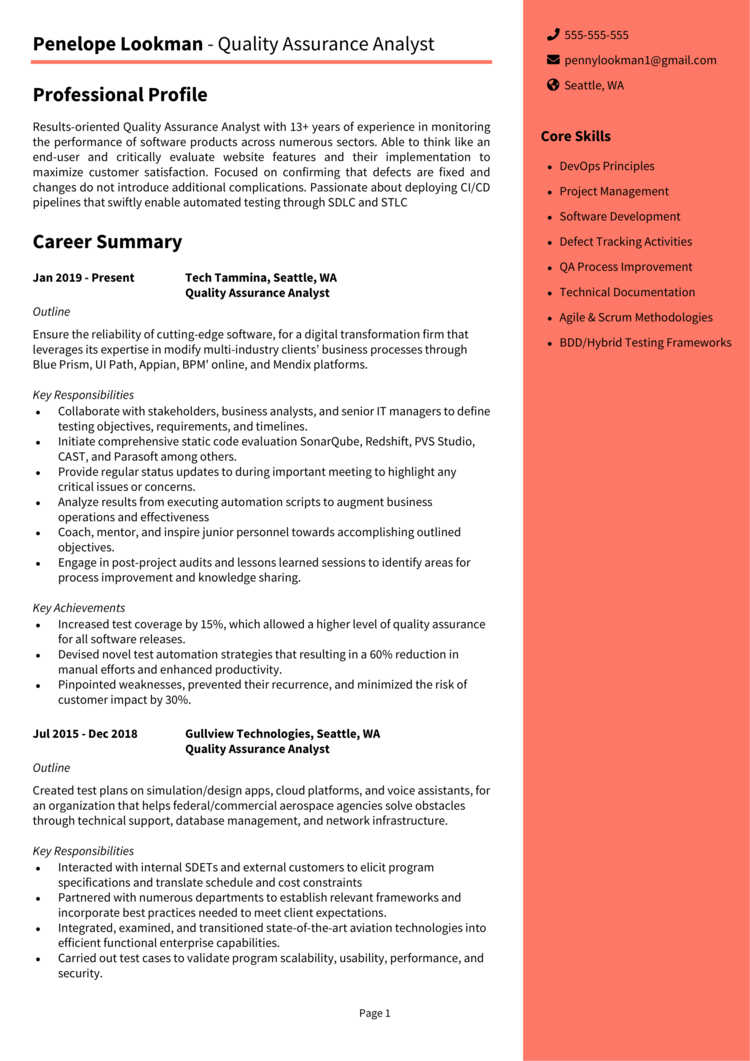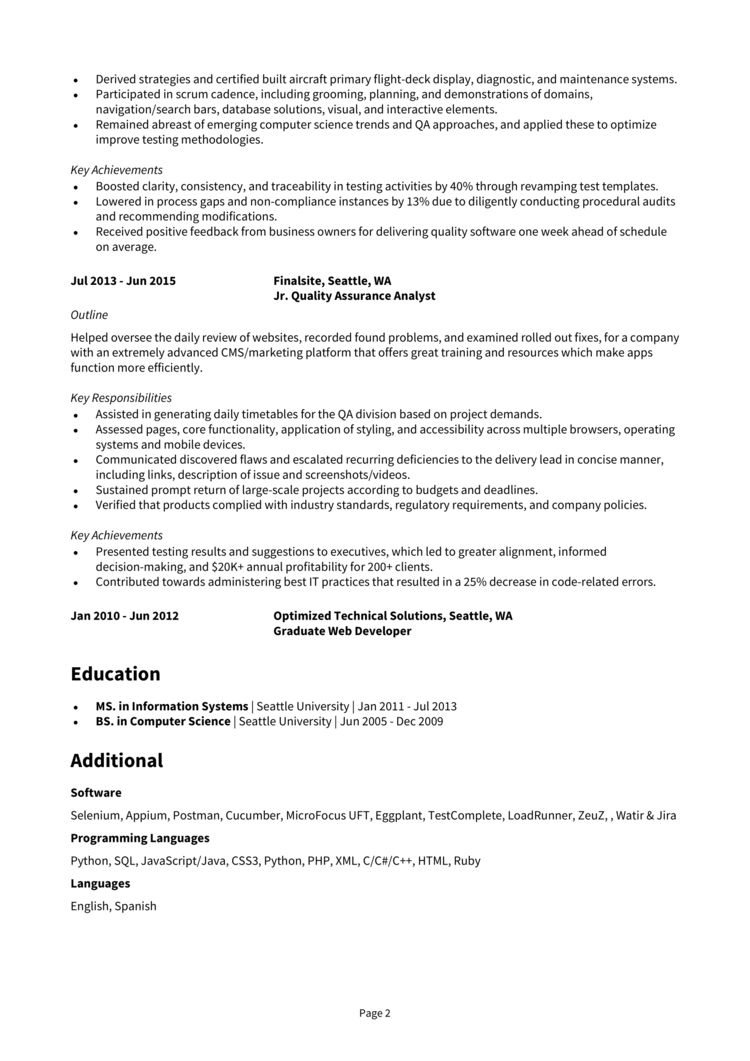 This example Quality Assurance Analyst resume is well-structured to provide a pleasant reading experience for recruiters, and contains all of the crucial information they want to see.
The rest of the guide will show you exactly how you can achieve this in your own resume.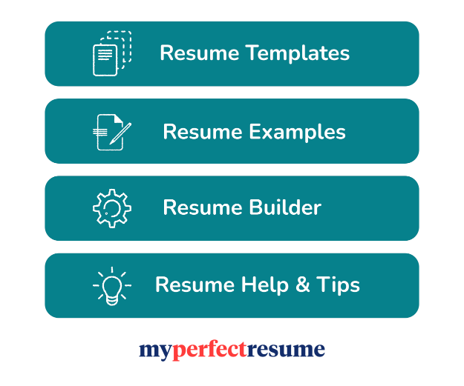 Quality Assurance Analyst resume layout and format
If you want to get noticed in the job market, you have to pay attention to the format and layout of your resume.
Essentially your resume needs to look highly polished, and provide hiring managers with an easy reading experience.
Use these resume formatting tips to get a head start on this.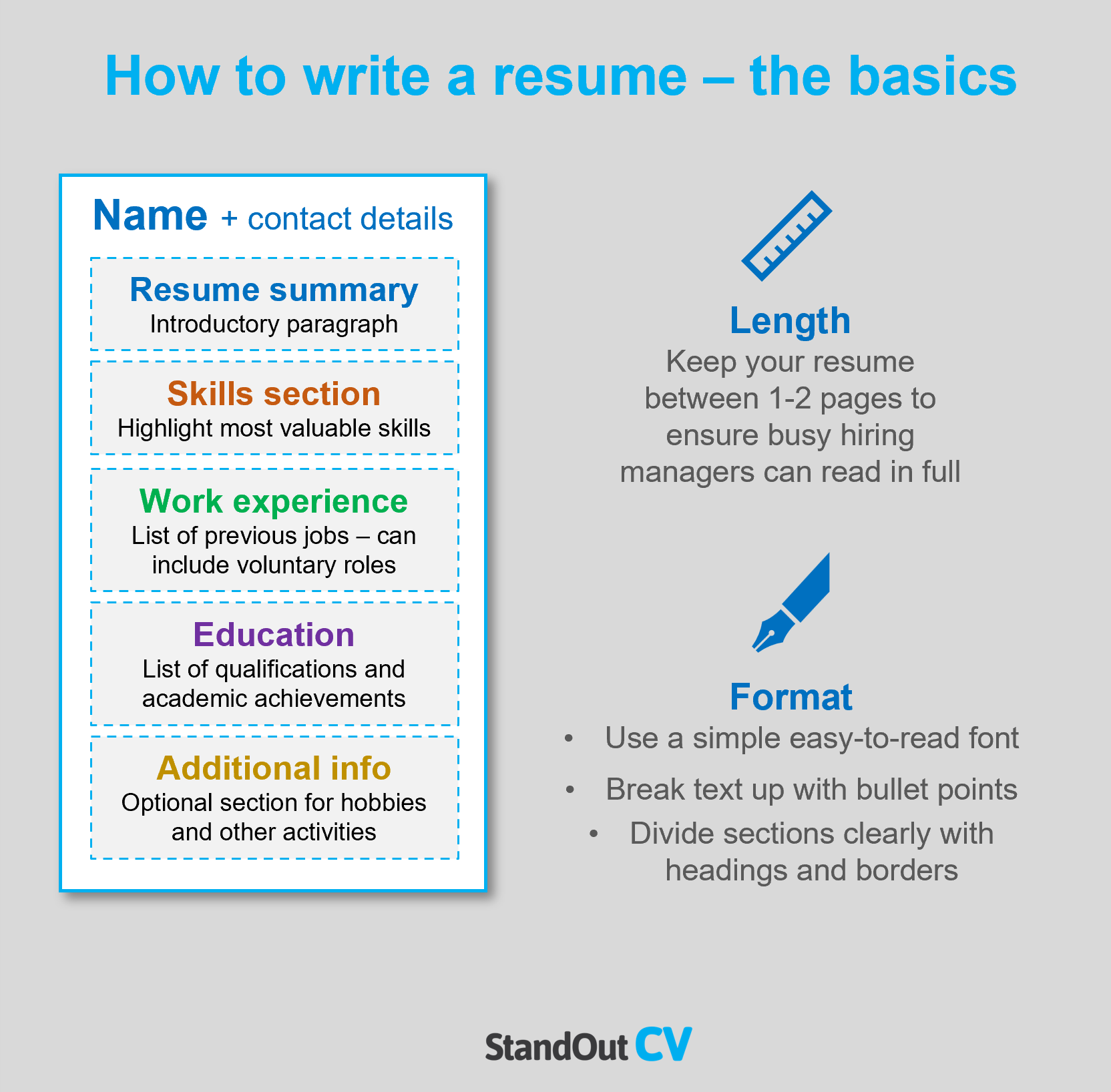 Formatting your resume
Length: Recruiters often see hundreds of resumes per day – so keep yours under 2 pages in length, if you want to ensure it gets read in full.
Font & readability: Readability is the name of the game when it comes to your resume. Ensure yours is a dream to read by using a simple clear font, and breaking the text up with plenty of bullet points and short paragraphs.
Layout: Your resume's design must strike a balance between aesthetics and functionality. Using bold headings and borders to organize the page into clear sections is an effective way to achieve both.
Photos: It's not mandatory to add a photo to your resume in the USA but it if you're applying to organizations within the creative fields, it can be beneficial.
Quick tip: Achieving a professional look for your resume can be difficult and time-consuming. If you want to create an attractive resume quickly, try our partner's Resume Builder and use one of their eye-catching resume templates.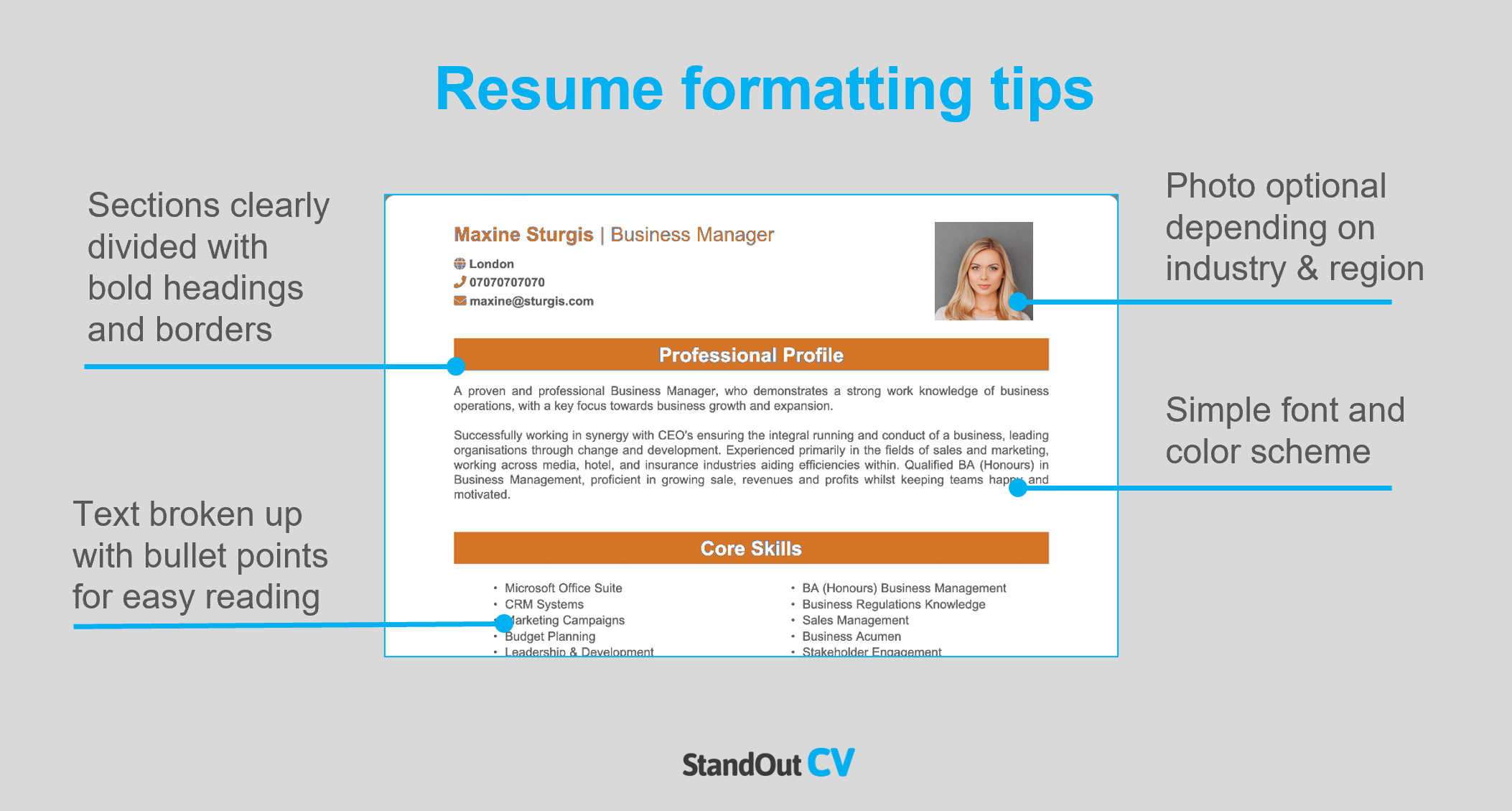 Resume layout
Divide the page into these sections when you write your own resume.
Name and contact details – Simply state who you are, and how to get in touch with you.
Resume summary – An introductory paragraph at the very top of your resume which summarizes your skills, experience and suitability for your target jobs.
Core skills section – A bullet-pointed list of your skills that relate most to your target jobs.
Work experience – A list of your current and previous jobs, including all of your responsibilities and achievements.
Education – A section that showcases all of your education and academic achievements.
Additional info (optional) – Here you can add an extra section for things like hobbies and interests, or anything else that might be relevant to your target jobs.
Here's what to add to each section of your Quality Assurance Analyst resume.
Contact Details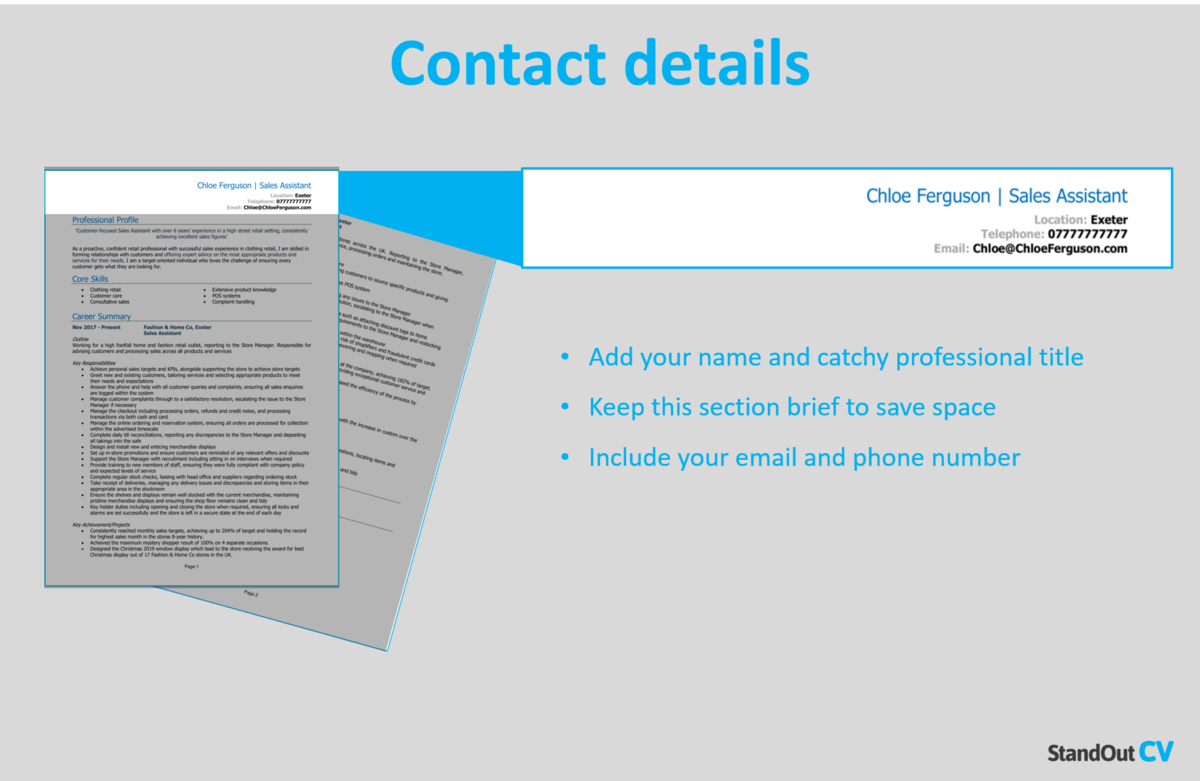 Add your name and contact details to the header of your resume, so that anybody reading can easily see how to contact you.
Name and profession title
Cell phone number – or any number you are easily reachable on
Location – Add your local area such as Washington or San Diego – not your full address as that will take up too much space.
Email address – Use a professional looking address.
You can add a link to your LinkedIn profile if you have one – you do not need to include personal details like date of birth or religion.
Quality Assurance Analyst Resume Summary
Your resume summary is like an elevator pitch. It's your chance to sell yourself to employers within a short space of time.
Achieve this by summarizing your skills and expertise, whilst highlighting your abilities that closely match the jobs you are aiming for.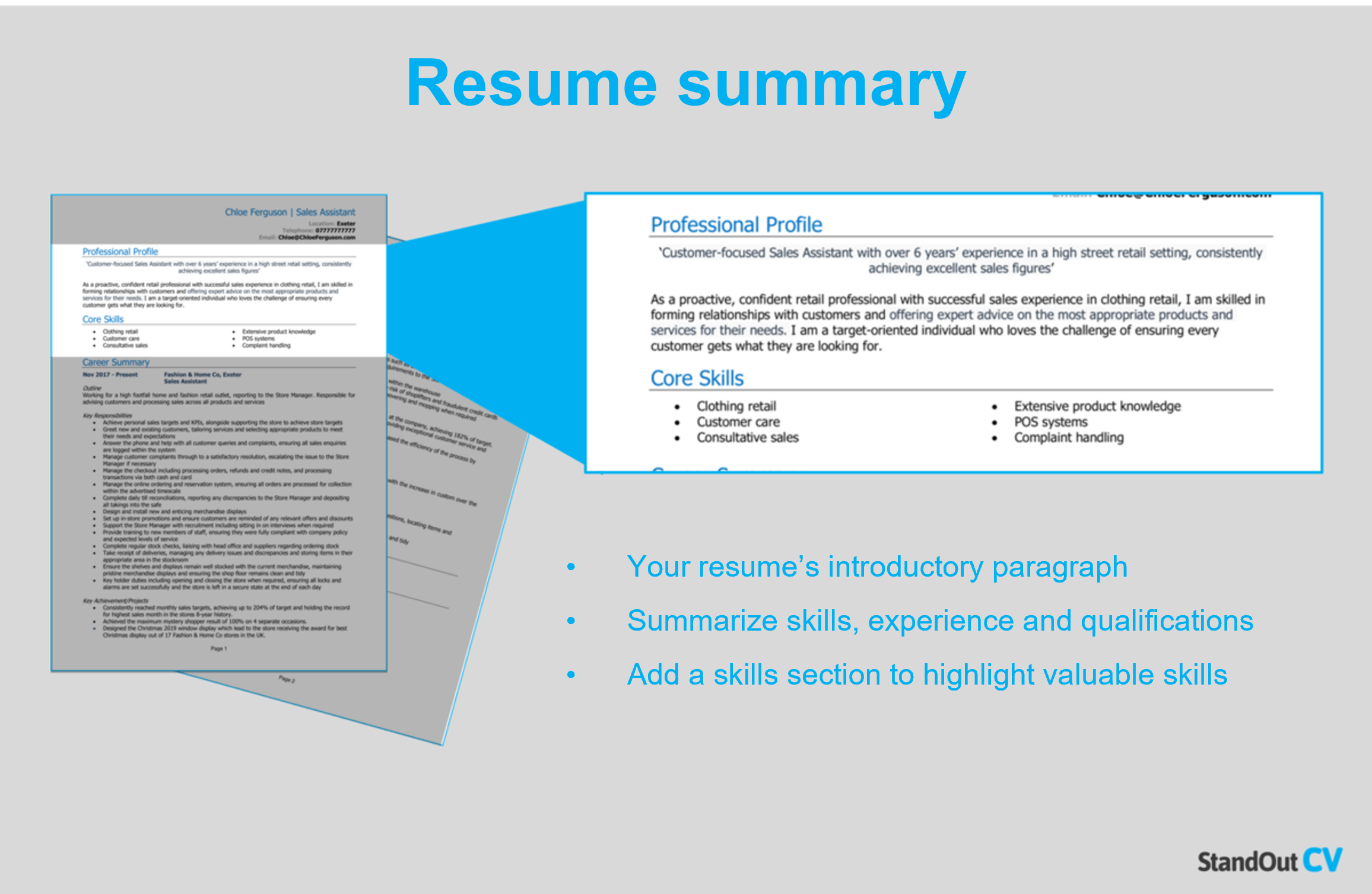 How to create a resume summary that will excite recruiters:
Keep it short: To effectively capture a recruiter's attention, it's crucial to keep your resume summary brief and to the point, limiting it to 4-7 lines as this provides enough detail without overwhelming them at this early stage.
Tailor to target jobs: By carefully reviewing the job description and incorporating as many relevant skills as possible, you can customize your resume to better match your target jobs.
Avoid using cliches: To capture the attention of recruiters you must provide factual information, such as hard skills and qualifications, and avoid using empty phrases like "Go-getter who thinks outside the box."
Quality Assurance Analyst resume summary example
Results-oriented Quality Assurance Analyst with 13+ years of experience in monitoring the performance of software products across numerous sectors. Able to think like an end-user and critically evaluate website features and their implementation to maximize customer satisfaction. Focused on confirming that defects are fixed, and changes do not introduce additional complications. Passionate about deploying CI/CD pipelines that swiftly enable automated testing through SDLC and STLC.
What to include in your Quality Assurance Analyst resume summary?
Summary of your experience: Summarize the type of work you have done in the past and the ways in which you have contributed to the success of your previous employers.
Relevant skills: Scatter your most in-demand Quality Assurance Analyst skills through your summary to ensure they are noticed quickly by hiring managers.
Qualifications: Mention any Quality Assurance Analyst qualifications that are important to your profession in the summary briefly, to show you are qualified to carry out the role.
Quick tip: Choose from hundreds of pre-written summaries across all industries, and add one to your resume with one-click in our partner's Resume Builder. All written by recruitment experts and easily tailored to suit your unique skillset and style.
Core skills section
In addition to your resume summary, your core skills section provides an easily digestible snapshot of your skills – perfect for grabbing the attention of busy hiring managers.
As Quality Assurance Analyst jobs might receive a huge pile of applications, this is a great way to stand out and show off your suitability for the role.
It should be made up of 2-3 columns of bullet points and be made up of skills that are highly relevant to the jobs you are targeting.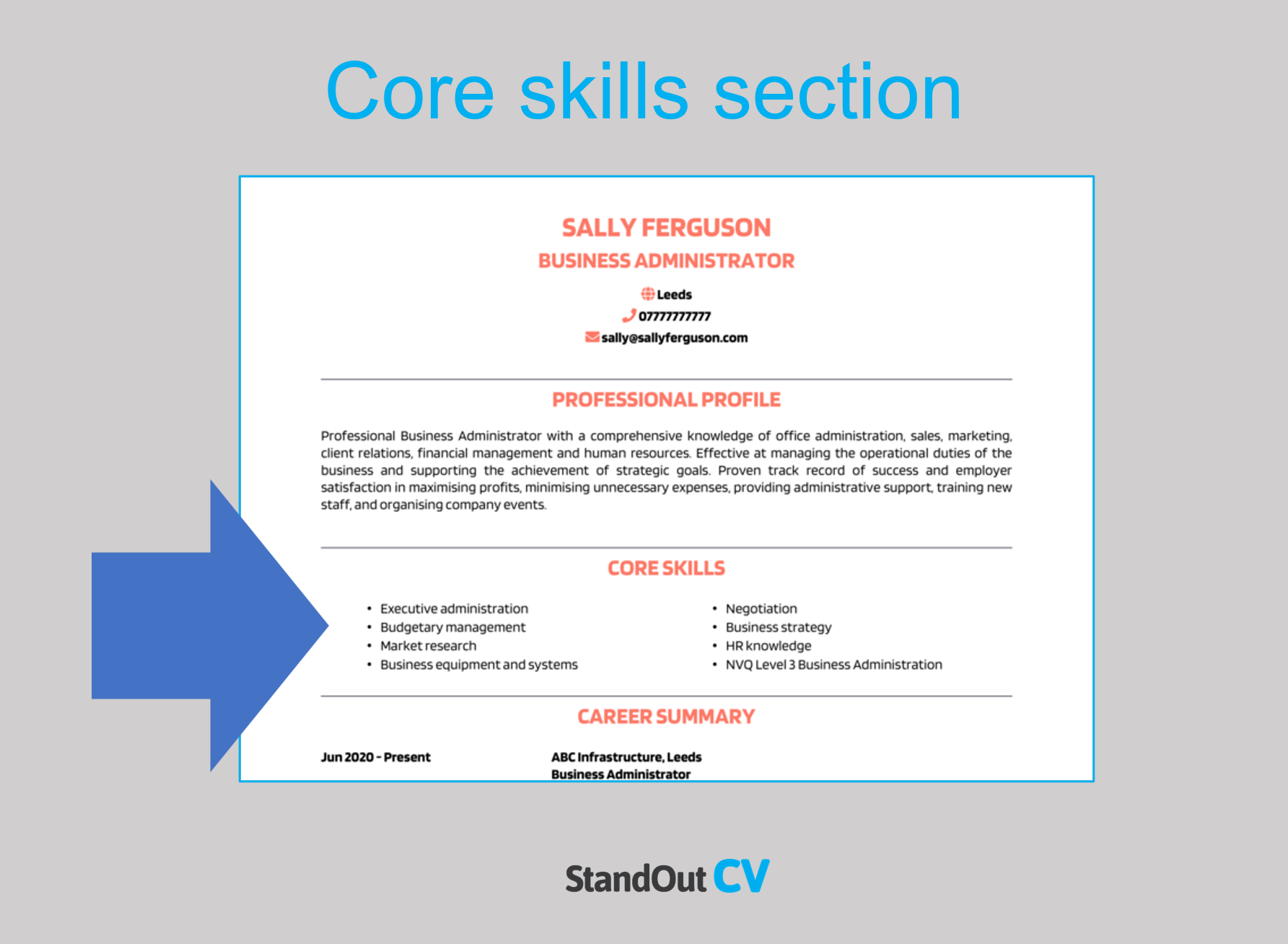 Best skills for your Quality Assurance Analyst resume
Software Testing – Designing and executing test cases to assess the functionality, performance, and reliability of software applications.
Test Automation – Developing and implementing automated test scripts using testing frameworks and tools to improve testing efficiency and accuracy.
Regression Testing – Performing regression tests to ensure that new software updates or changes do not negatively impact existing functionalities.
Defect Tracking – Identifying, documenting, and tracking software defects using bug tracking tools to facilitate efficient issue resolution.
Test Documentation – Creating comprehensive test plans, test scripts, and test reports for clear communication and reference.
SQL and Database Testing – Utilizing knowledge of Structured Query Language (SQL) to perform database testing and validate data integrity.
Cross-Browser and Cross-Platform Testing – Testing applications across different web browsers and platforms to ensure compatibility.
Performance Testing – Utilizing performance testing methodologies and tools to assess software performance under varying load conditions.
Agile Methodology – Working within Agile development environments and participating in Agile ceremonies, such as sprint planning and daily stand-ups.
Analysis – Interpreting testing results, identifying patterns, and providing valuable insights to improve software quality.
Quick tip: Our partner's Resume Builder contains thousands of in-demand skills for every profession that can be added to your resume in seconds – saving you time and greatly improving your chances of landing job interviews and getting hired.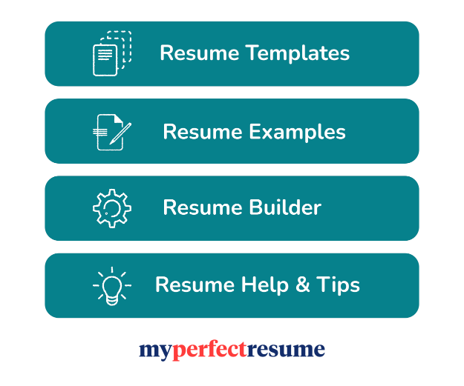 Work experience
Congratulations on successfully capturing the recruiter's interest with your attention-grabbing summary! Now, it's time to showcase your workplace impact by providing a detailed list of your previous job experiences and achievements.
If you have significant experience, consider highlighting the most recent few years to condense this section. However, for junior job seekers, it's essential to include as much relevant experience as possible, including volunteering and school work placements.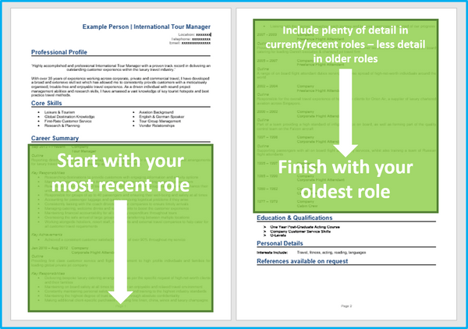 Structuring your jobs
Without a good structure, your job description can look messy and overwhelming to anyone reading them.
Make it easy for recruiters to read your work experience by structuring your roles like this.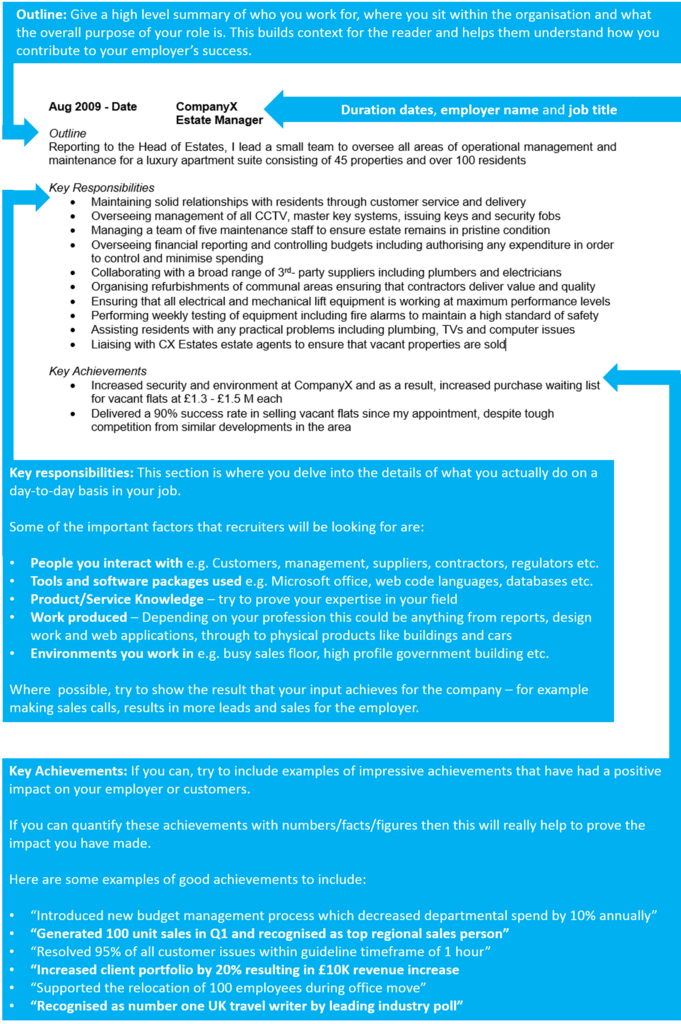 Job outline
Begin each job with a short summary of who the organization is, where you sit within it, and what the main goal of your position is.
Key responsibilities
Next, write up a punchy list of your daily duties and responsibilities, using short bullet points.
Describe how you apply your skills and contribute to the running of the employer's business – highlighting skills which are applicable to your target jobs.
Key achievements
Show employers the value you can bring to them by adding a few achievements to your jobs.
Whether you've saved the company money or improved an internal process, let recruiters know
Add some numbers to give readers a real scale of the impact, e.g. "reduced call wait time by 10%"
Example job for Quality Assurance Analyst resume
Outline
Ensure the reliability of cutting-edge software, for a digital transformation firm that leverages its expertise in modify multi-industry clients' business processes through Blue Prism, UI Path, Appian, BPM' online, and Mendix platforms.
Key Responsibilities
Collaborate with stakeholders, business analysts, and senior IT managers to define testing objectives, requirements, and timelines.
Initiate comprehensive static code evaluation SonarQube, Redshift, PVS Studio, CAST, and Parasoft among others.
Provide regular status updates to during important meeting to highlight any critical issues or concerns.
Analyze results from executing automation scripts to augment business operations and effectiveness
Quick tip: Create impressive job descriptions easily in our partner's Resume Builder by adding pre-written job phrases for every industry and career stage.

Education section
Nearing the end of your resume, your education/qualifications section should be added.
In a well-structured list, add all of your qualifications and certifications that qualify you to perform a typical Quality Assurance Analyst role.
If you have plenty of work experience, keep this section brief – if not, add lots of detail to make up for your lack of experience.
Additional information
The additional info section is optional but can be useful if you have anything else to add that could benefit your application.
For example, you may have some hobbies and interests that are relevant to your job – or you might have awards or publications to shout about.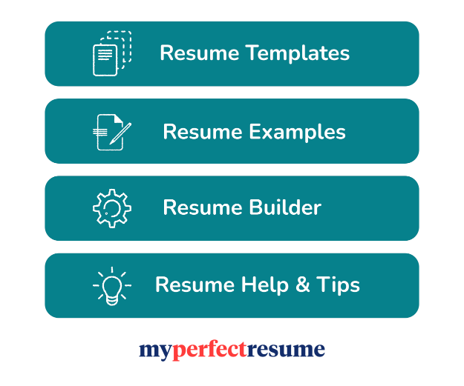 Writing your own winning Quality Assurance Analyst resume
Writing a Quality Assurance Analyst resume can be challenging but following the steps above will ensure that you land plenty of interviews.
Good luck with your job search!