Whether looking for supplies or merchandise, choosing the right products from the right providers is a key concern for lots of organizations. That's where you come in.
You can take the hard work out of making important buying decisions, you just need to prove it to the recruiter with a resume that's as strong as your negotiation skills.
Below, we'll teach you how to write an impressive application and share a detailed purchasing agent resume example to guide you.
Contents
| | |
| --- | --- |
| How to write a Purchasing Agent resume | |

Purchasing Agent Resume Example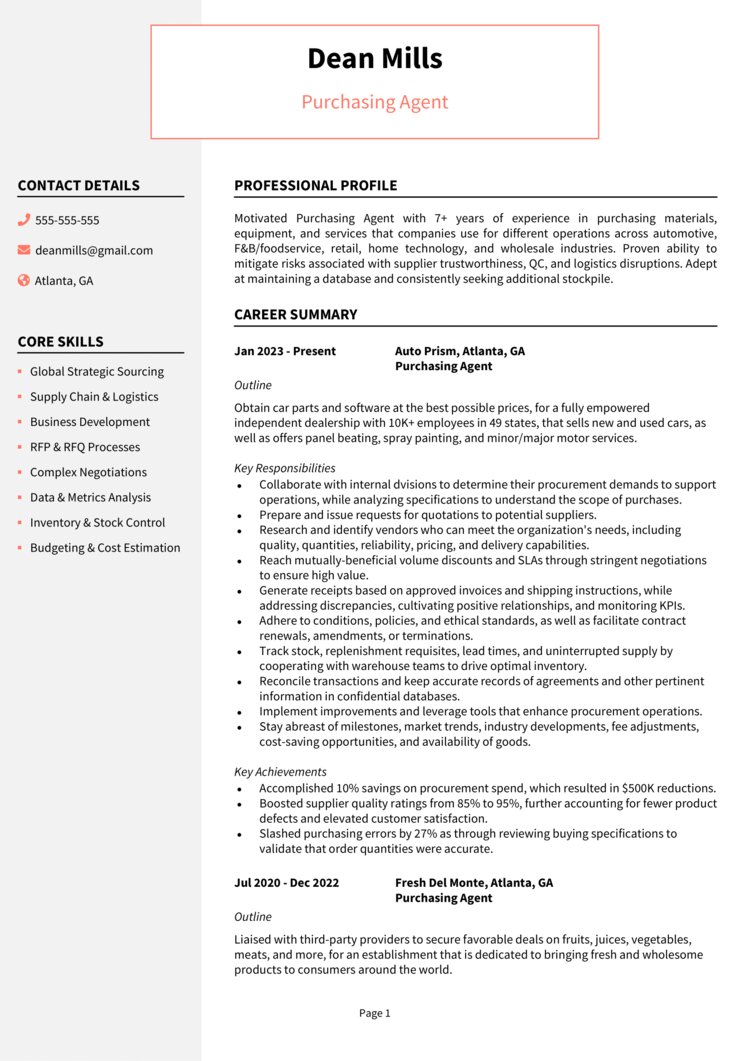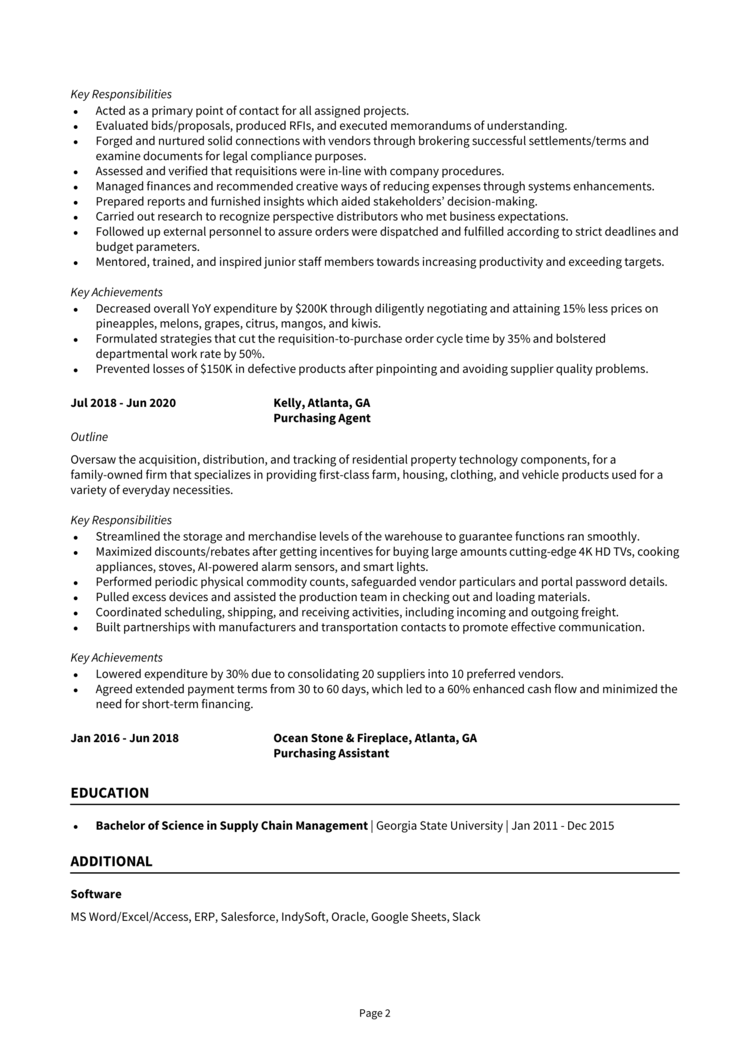 This Purchasing Agent resume example gives you a good idea of how a good Purchasing Agent resume should look and read.
The information is presented professionally and the content is well structured to ensure that time-strapped recruiters and hiring managers can find the important skills and knowledge quickly.
Refer to this example as you write your own resume.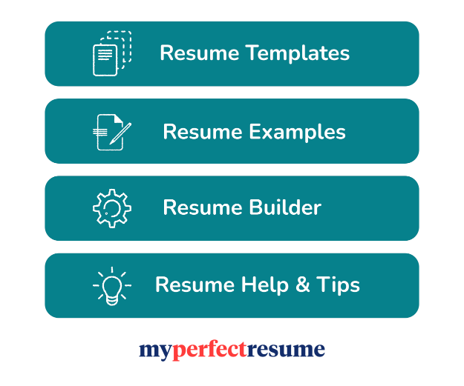 Purchasing Agent resume layout and format
When it comes to holding the attention of recruiting managers, the format and layout of your resume play a key role.
Your resume needs to strike a perfect balance between looking awesome, and being easy for recruiters to read (which is not always easy to achieve)
Use the following formatting tips to get started.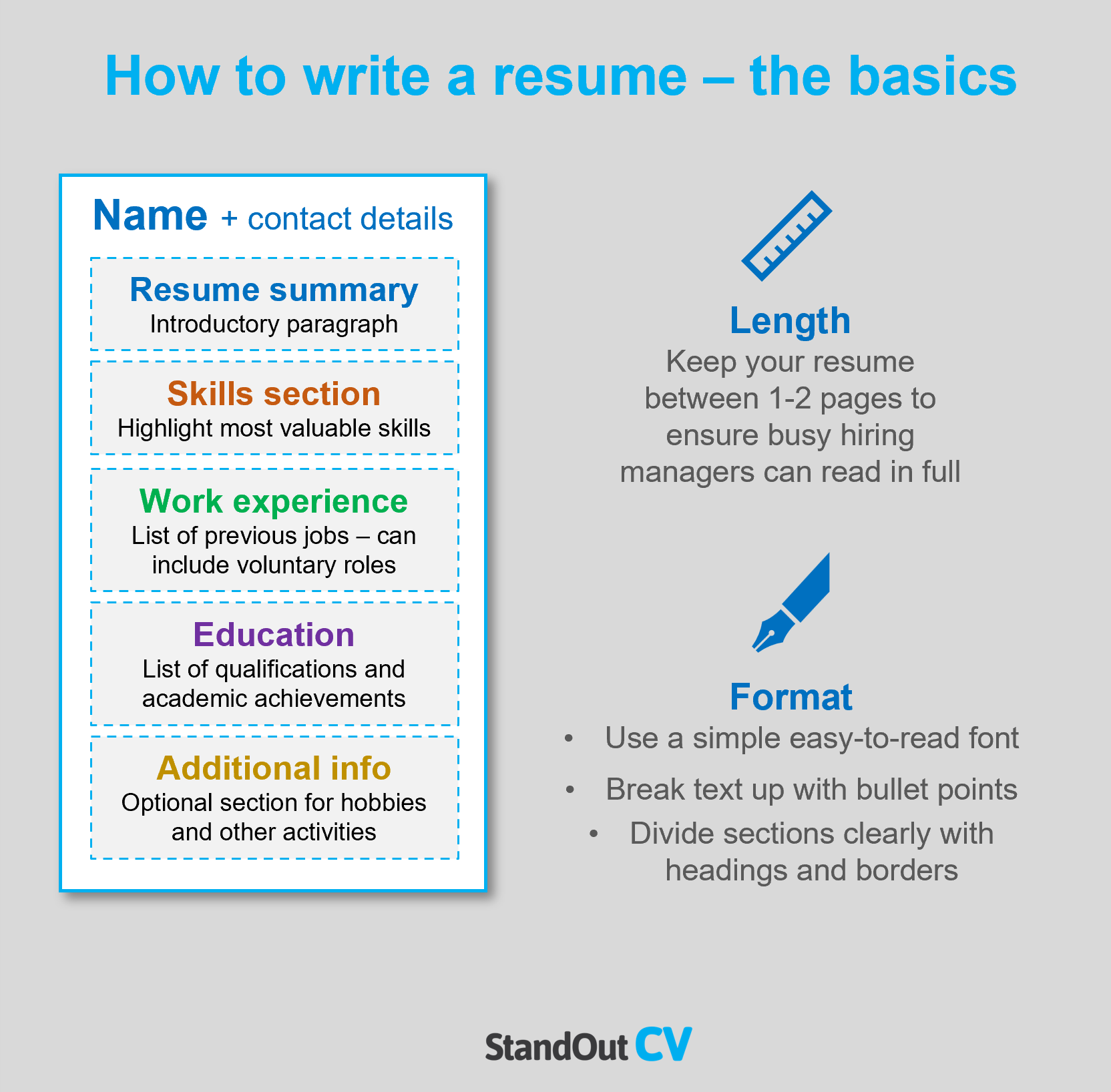 Formatting your resume
Length: To ensure that recruiters will read all of your resume, limit its length to 2 pages – as they someteimes read hundreds of resumes daily.
Font & readability: Simplicity and a pleasant reading experience are crucial if you want to highlight your most valuable skills to recruiters. Use a clear font (avoid fancy ones) and break up the text in your resume with bullet points to ensure information can be easily consumed.
Layout & Structure: Your resume's design must strike a balance between aesthetics and functionality. Using bold headings and borders to organize the page into clear sections is an effective way to achieve both.
Photos: It's not mandatory to add a photo to your resume in the USA but it if you're applying to organizations within the creative fields, it can be beneficial.
Quick tip: Achieving a professional look for your resume can be difficult and time-consuming. If you want to create an attractive resume quickly, try our partner's Resume Builder and use one of their eye-catching resume templates.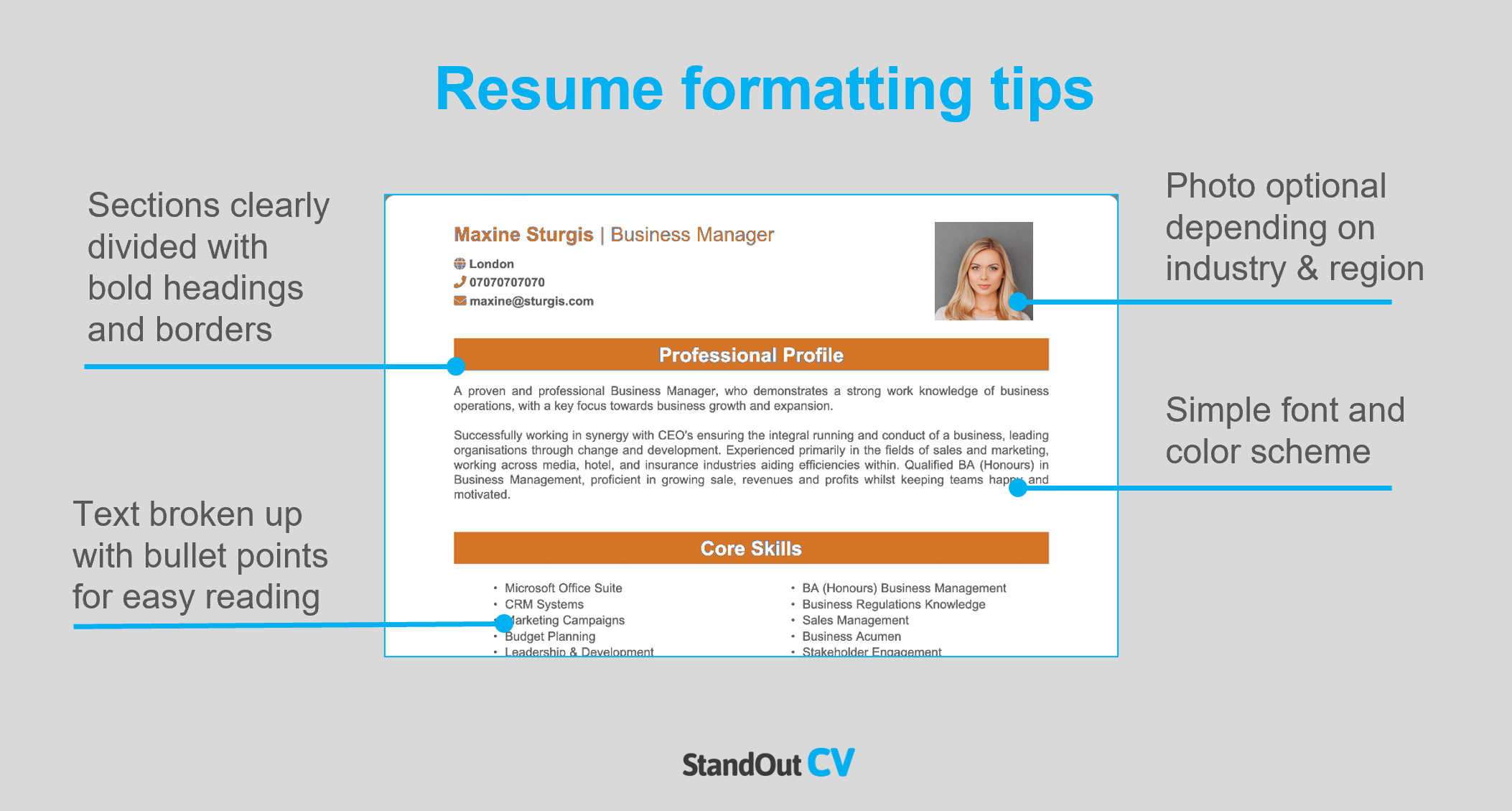 Resume layout
Divide the page into these sections when you write your own resume.
Name and contact details – Simply state who you are, and how to get in touch with you.
Resume summary – An introductory paragraph at the very top of your resume which summarizes your skills, experience and suitability for your target jobs.
Core skills section – A bullet-pointed list of your skills that relate most to your target jobs.
Work experience – A list of your current and previous jobs, including all of your responsibilities and achievements.
Education – A section that showcases all of your education and academic achievements.
Additional info (optional) – Here you can add an extra section for things like hobbies and interests, or anything else that might be relevant to your target jobs.
Here's what to include in each part of your resume.
Contact Details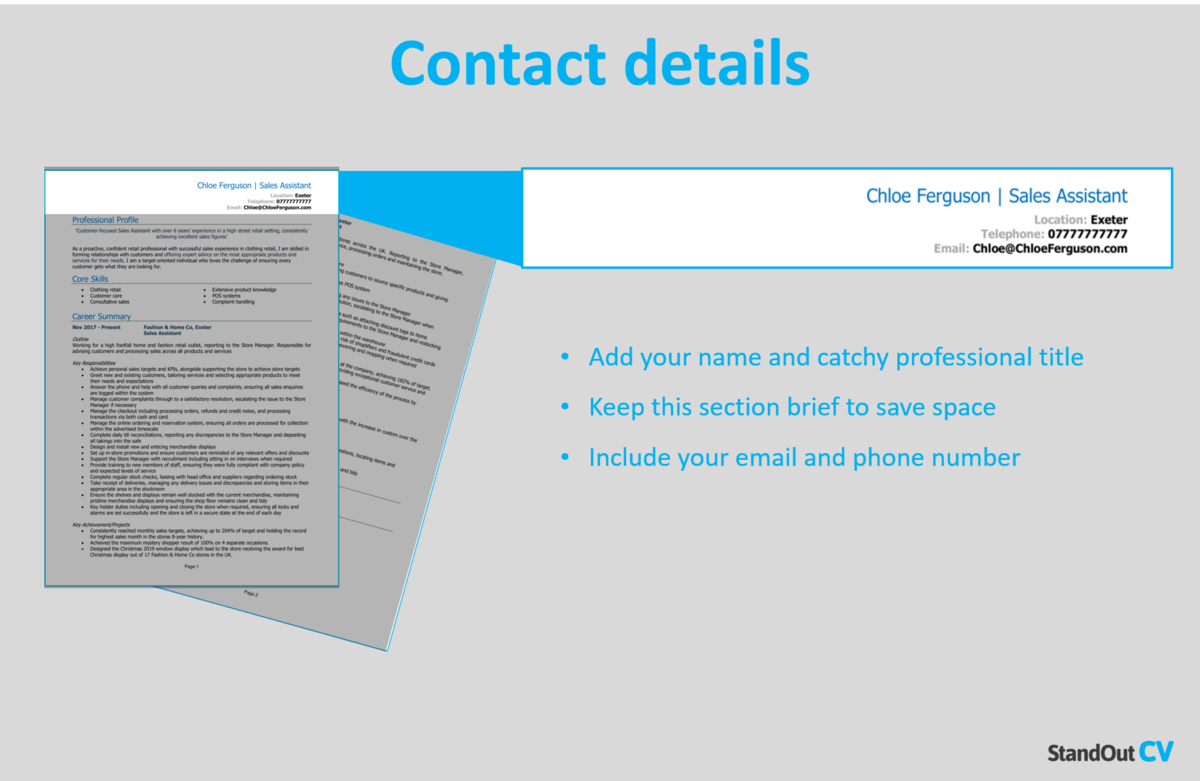 Add your name and contact details to the very top of your resume, making it easy for recruiters to get in touch
Name and profession title
Cell phone number – or another number you can answer quickly
Location – Add your local area such as San Diego or New York – not your full address as that will take up too much space.
Email address – Use your name or close variation – no nicknames from high school.
You can add a link to your LinkedIn profile if you have one – you do not need to include personal details like date of birth or marital status.
Purchasing Agent Resume Summary
Now it's time to get into the real content of your resume, starting with the summary.
Your resume summary is a short paragraph at the top of the document, and its jobs is to catch the eye of hiring managers by summarizing all your skills and knowledge that are most important to the roles you are applying for.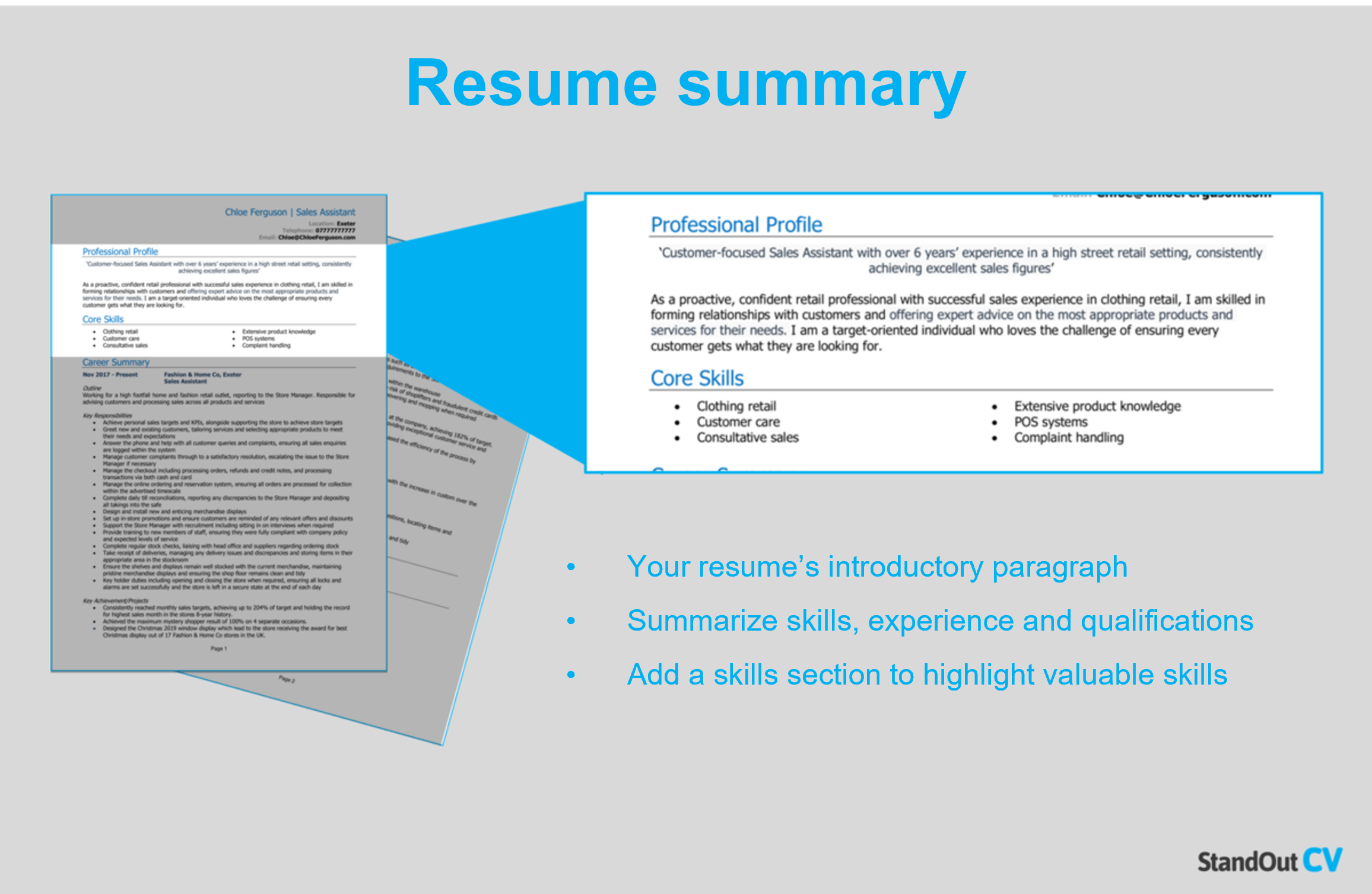 How to create a resume summary that will excite recruiters:
Keep it short: To effectively capture a recruiter's attention, it's crucial to keep your resume summary brief and to the point, limiting it to 4-7 lines as this provides enough detail without overwhelming them at this early stage.
Tailor to target jobs: Ensure your profile makes an impact by matching it closely to the requirements of the job description, copying as many key terms as possible.
Avoid using cliches: To capture the attention of recruiters you must provide factual information, such as hard skills and qualifications, and avoid using empty phrases like "Go-getter who thinks outside the box."
Purchasing Agent resume summary example
Motivated Purchasing Agent with 7+ years of experience in purchasing materials, equipment, and services that companies use for different operations across automotive, F&B/food service, retail, home technology, and wholesale industries. Proven ability to mitigate risks associated with supplier trustworthiness, QC, and logistics disruptions. Adept at maintaining a database and consistently seeking additional stockpile.
What to include in your Purchasing Agent resume summary?
Summary of your experience: Summarize the type of work you have done in the past and the benefits you have delivered for the organizations you worked at.
Relevant skills: Highlight your skills which are most relevant to Purchasing Agent jobs, to ensure that recruiters see your most in-demand skills as soon as they open your resume.
Qualifications: To make a strong impression on potential employers when applying for Purchasing Agent jobs, be sure to mention any relevant qualifications in your summary.
Quick tip: Choose from hundreds of pre-written summaries across all industries, and add one to your resume with one-click in our partner's Resume Builder. All written by recruitment experts and easily tailored to suit your unique skillset and style.
Core skills section
In addition to your resume summary, your core skills section provides an easily digestible snapshot of your skills – perfect for grabbing the attention of busy hiring managers.
As Purchasing Agent jobs might receive a huge pile of applications, this is a great way to stand out and show off your suitability for the role.
It should be made up of 2-3 columns of bullet points and be made up of skills that are highly relevant to the jobs you are targeting.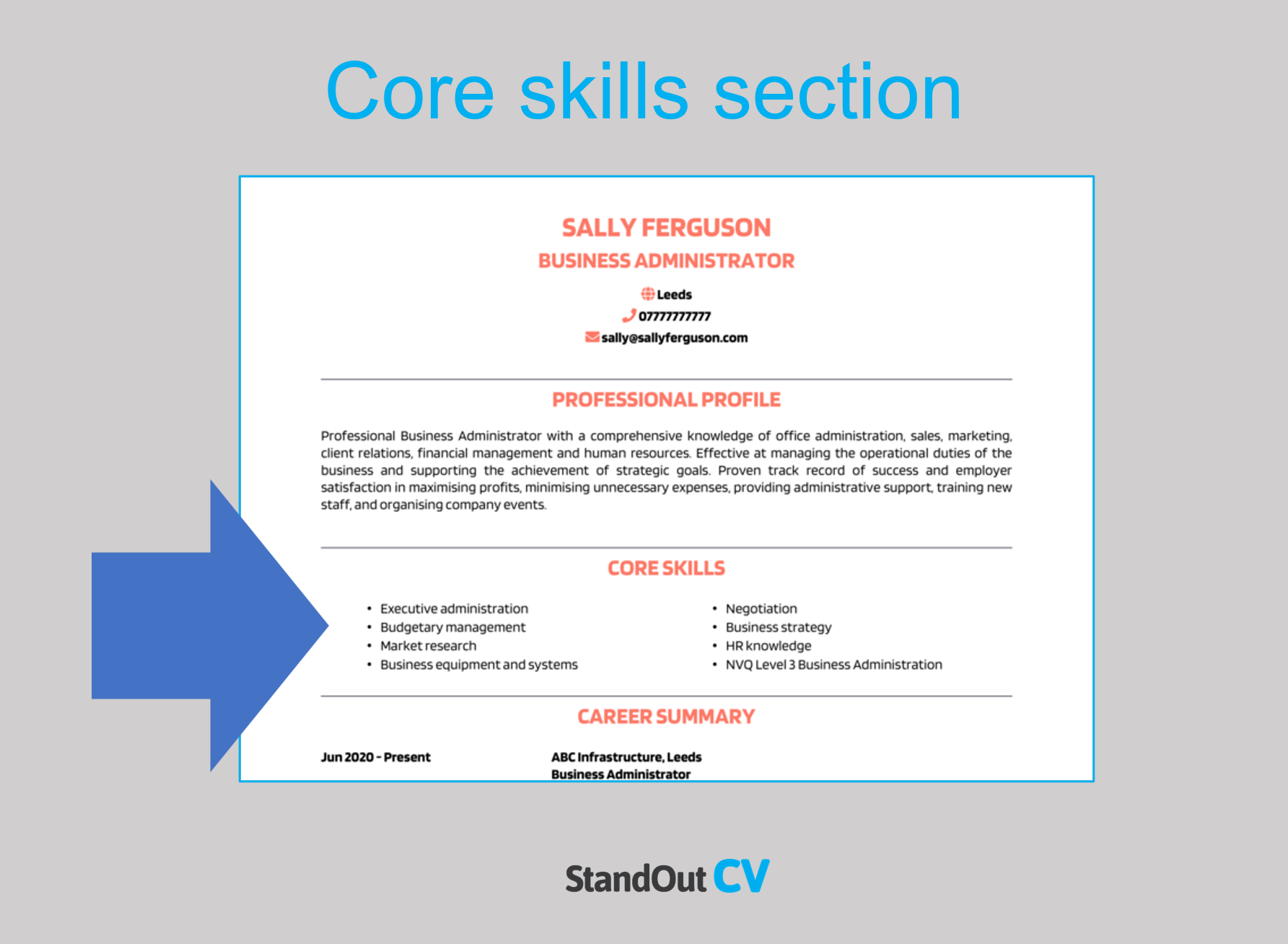 Best skills for your Purchasing Agent resume
Vendor Management – Identifying, evaluating, and maintaining relationships with reliable and cost-effective suppliers, negotiating favorable terms and conditions to ensure timely delivery of goods and services.
Contract Negotiation – Negotiating contracts and purchase agreements, including price, terms, quality standards, and delivery schedules, while mitigating risks and maximizing value for the organization.
Supply Chain Management – Utilizing knowledge of supply chain processes, including demand forecasting, inventory management, and logistics, to optimize procurement operations and maintain efficient inventory levels.
Market Research and Analysis – Conducting market research and analysis to identify industry trends, track pricing fluctuations, and evaluate supplier capabilities and performance to make informed purchasing decisions.
Cost Analysis – Analyzing cost structures, identifying cost-saving opportunities, and implementing strategies to optimize procurement spend, ensuring budget compliance and maximizing cost-efficiency.
Contract Management – Managing supplier contracts, including monitoring compliance, resolving contractual disputes, and ensuring adherence to legal and regulatory requirements.
Risk Management – Utilizing knowledge of risk assessment and mitigation techniques to identify potential supply chain disruptions, evaluate supplier risks, and implement contingency plans to ensure continuity of operations.
Data Analysis – Analyzing procurement data, generating reports, and utilizing data-driven insights to drive strategic decision-making and identify opportunities for process improvement and cost savings.
Technical Proficiency – Utilizing purchasing software and tools to streamline procurement processes, track inventory, and analyze purchasing metrics.
Quick tip: Our partner's Resume Builder contains thousands of in-demand skills for every profession that can be added to your resume in seconds – saving you time and greatly improving your chances of landing job interviews and getting hired.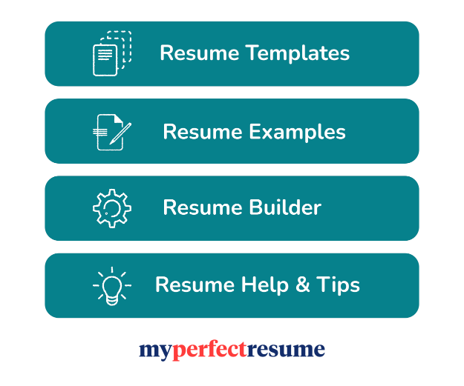 Work experience
Once you've got recruiters interested with your impactful summary, your work experience is where the real detail will lie.
Lay out your previous jobs from current to oldest, detailing what you contributed and achieved in each one.
If you're highly experienced you can cut this section down to your most recent few years of work, but if you are junior you can bulk this up with voluntary work and college placements.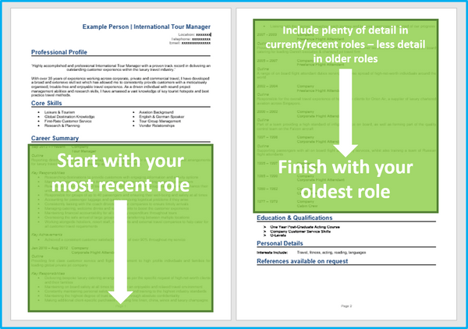 Structuring your jobs
Without a good structure, your job description can look messy and overwhelming to anyone reading them.
Make it easy for recruiters to read your work experience by structuring your roles like this.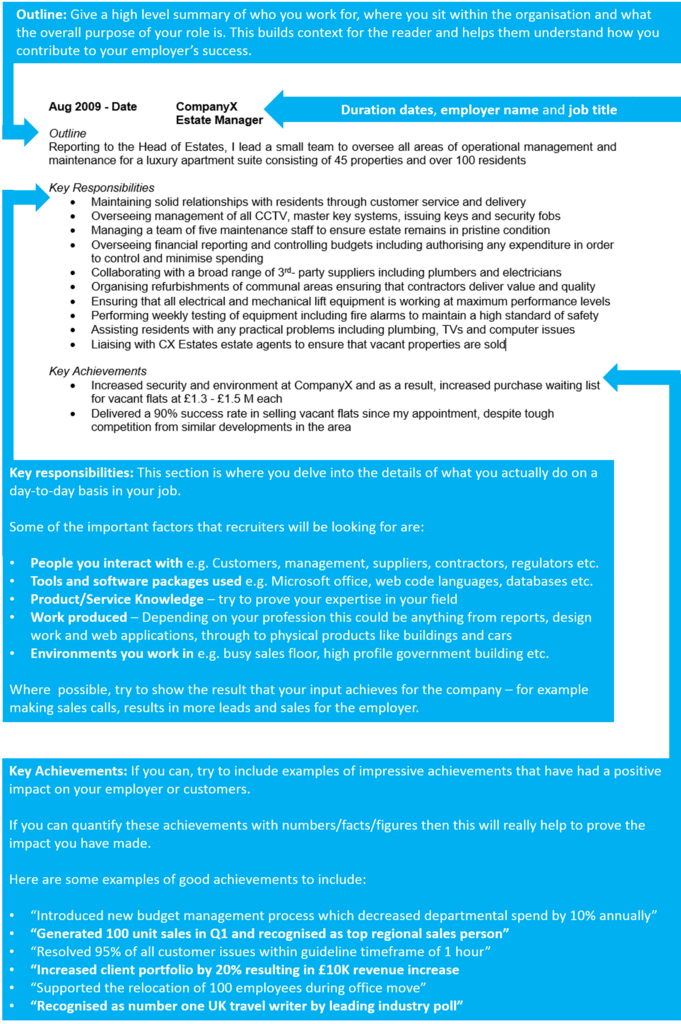 Job outline
Starting each job with a brief summary of the organization, your position within it, and the primary goal of your role can help recruiters quickly understand the context of your work.
Key responsibilities
Next, write up a punchy list of your daily duties and responsibilities, using short bullet points.
Describe how you apply your skills and contribute to the running of the employer's business – highlighting skills which are applicable to your target jobs.
Key achievements
Round off each job by adding some impressive achievements you made in the role.
Anything you've done that has made a big impact on your employer will make a good impression, think; generating revenue, saving costs, or improving a product.
Quantify your achievements with number where possible e.g. "reduced call wait time by 10%"
Example job for Purchasing Agent resume
Outline
Obtain car parts and software at the best possible prices, for a fully empowered independent dealership with 10K+ employees in 49 states, that sells new and used cars, as well as offers panel beating, spray painting, and minor/major motor services.
Key Responsibilities
Collaborate with internal divisions to determine their procurement demands to support operations, while analyzing specifications to understand the scope of purchases.
Prepare and issue requests for quotations to potential suppliers.
Research and identify vendors who can meet the organization's needs, including quality, quantities, reliability, pricing, and delivery capabilities.
Reach mutually beneficial volume discounts and SLAs through stringent negotiations to ensure high value.
Quick tip: Create impressive job descriptions easily in our partner's Resume Builder by adding pre-written job phrases for every industry and career stage.

Education section
After your work experience, add your education section.
If you are an experienced professional, you can keep this part short – adding basic details of each qualification.
If you have little or no experience, bulk this section up by adding more detail and highlight important skills and knowledge for your target jobs.
Additional information
At the end of your resume, you can add any extra information that might be relevant to the jobs you are applying for.
This could be hobbies, interests, publications, clubs or memberships.
This section is optional and doesn't need to be added if you have nothing more relevant to add.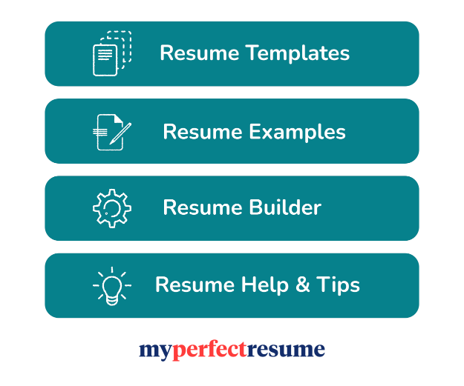 Writing your own winning Purchasing Agent resume
Writing a Purchasing Agent resume can be challenging but following the steps above will ensure that you land plenty of interviews.
Good luck with your job search!