You're great at finding the right products, analyzing potential suppliers, and negotiating contracts, and you've got some pretty impressive experience behind you.
But if you want to take the next step in your procurement career, you need to get this down on paper.
To help you do that, check out our procurement analyst resume example below, along with our accompanying top tips and resume writing advice.
Contents
| | |
| --- | --- |
| How to write your Procurement Analyst resume | |

Procurement Analyst Resume Example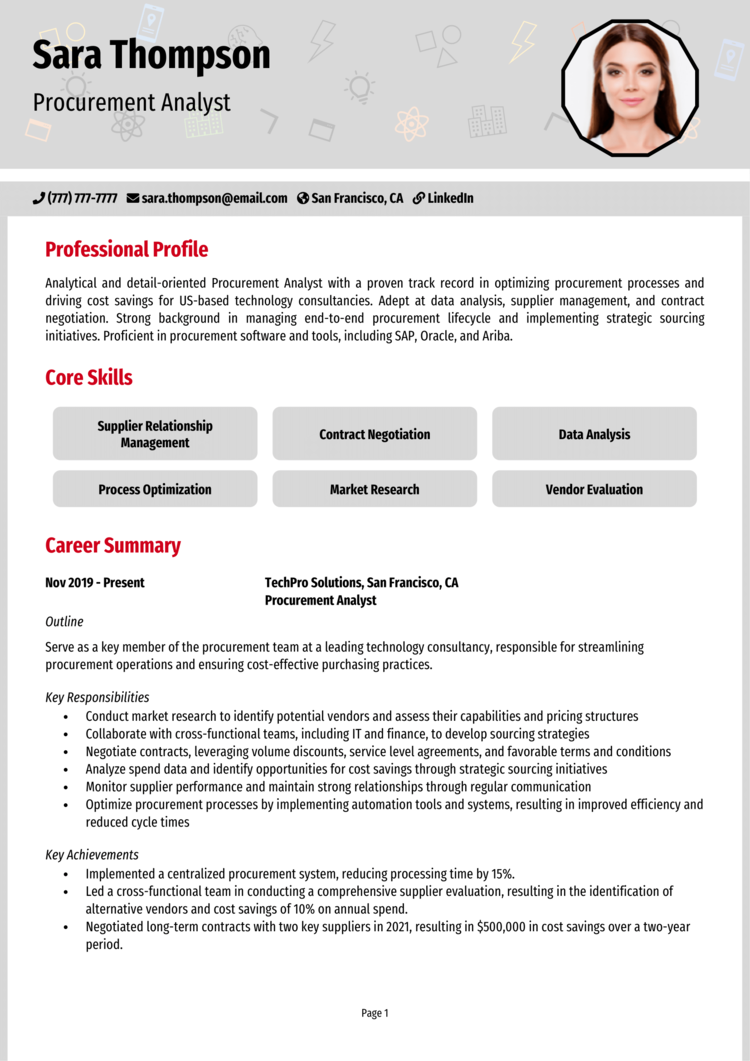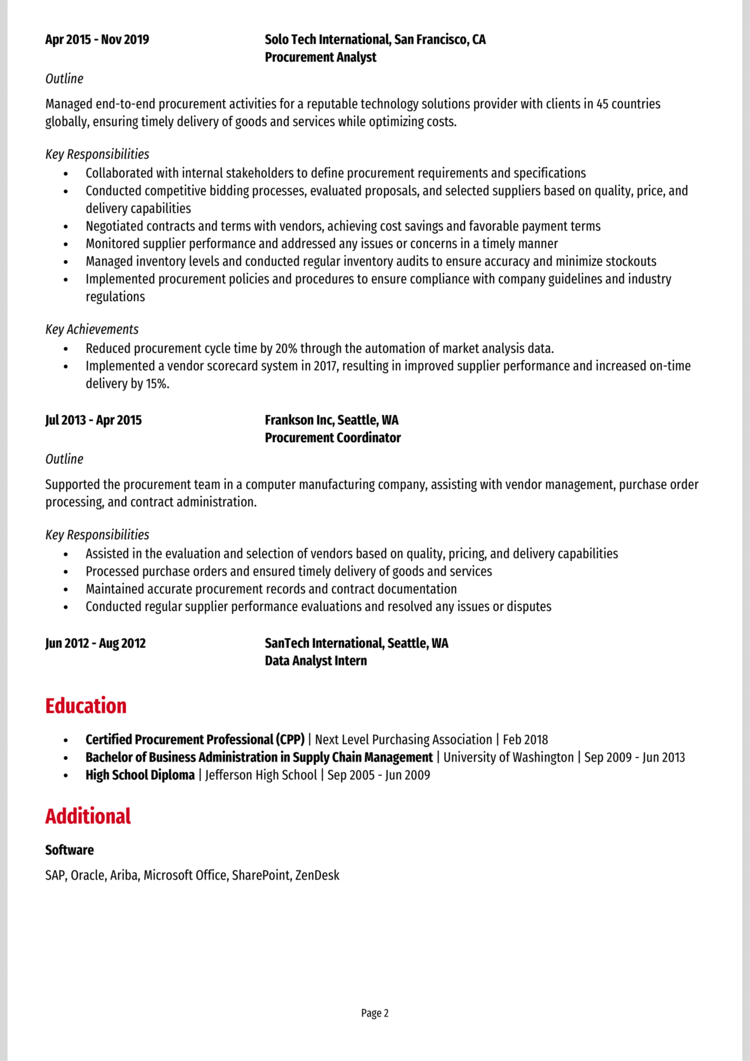 This example Procurement Analyst resume gives you a general idea of how to structure your own resume, along with the type of content you need to include.
Sticking with this resume format will help you to get noticed by employers and ensure that they can quickly see the benefit of hiring you.
Now, lets walk through a step-by-step guide on how to write your own winning resume.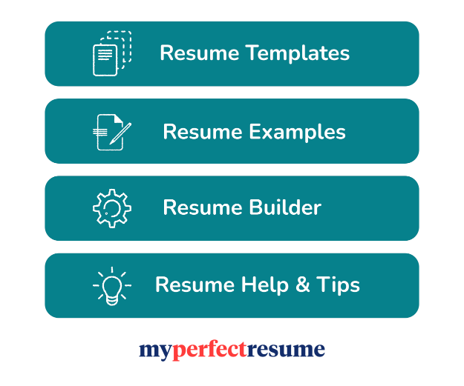 Procurement Analyst resume layout and format
The format and layout of your resume can make or break its success.
Sure, it's great to pack your resume with lots of impressive skills and knowledge, but if the page is not structured clearly, hiring managers will struggle to find the important stuff!
Above all, your resume should be easy-to-read and professional looking.
Follow these formatting tips to get noticed.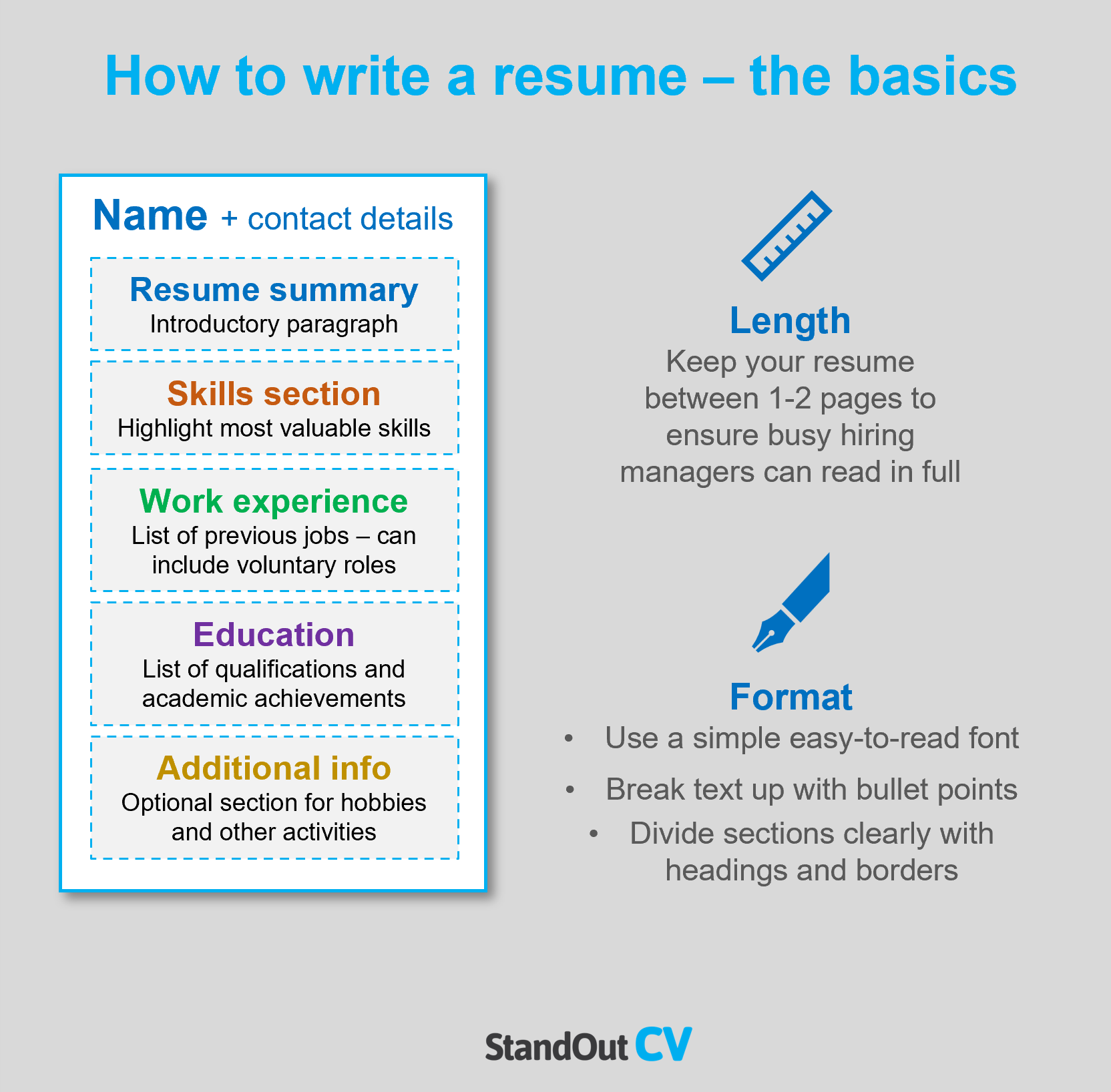 Formatting your resume
Length: As recruiters have a limited amount of time to review each resume they see, keep your resume to 2 pages or less to increase the chances of it being thoroughly reviewed.
Font & readability: Complex fonts are a readers' worst nightmare and will leave recruiters struggling to understand your message. Use a clear simple lean font in a color that stands out against the page, and break your text up with bullet points to make the content easily digestible.
Layout: Your resume's design must strike a balance between aesthetics and functionality. Using bold headings and borders to organize the page into clear sections is an effective way to achieve both.
Photos: While a photo is not usually necessary on your resume in the United States, it may be beneficial to include one in regions and industries where it is customary.
Quick tip: Achieving a professional look for your resume can be difficult and time-consuming. If you want to create an attractive resume quickly, try our partner's Resume Builder and use one of their eye-catching resume templates.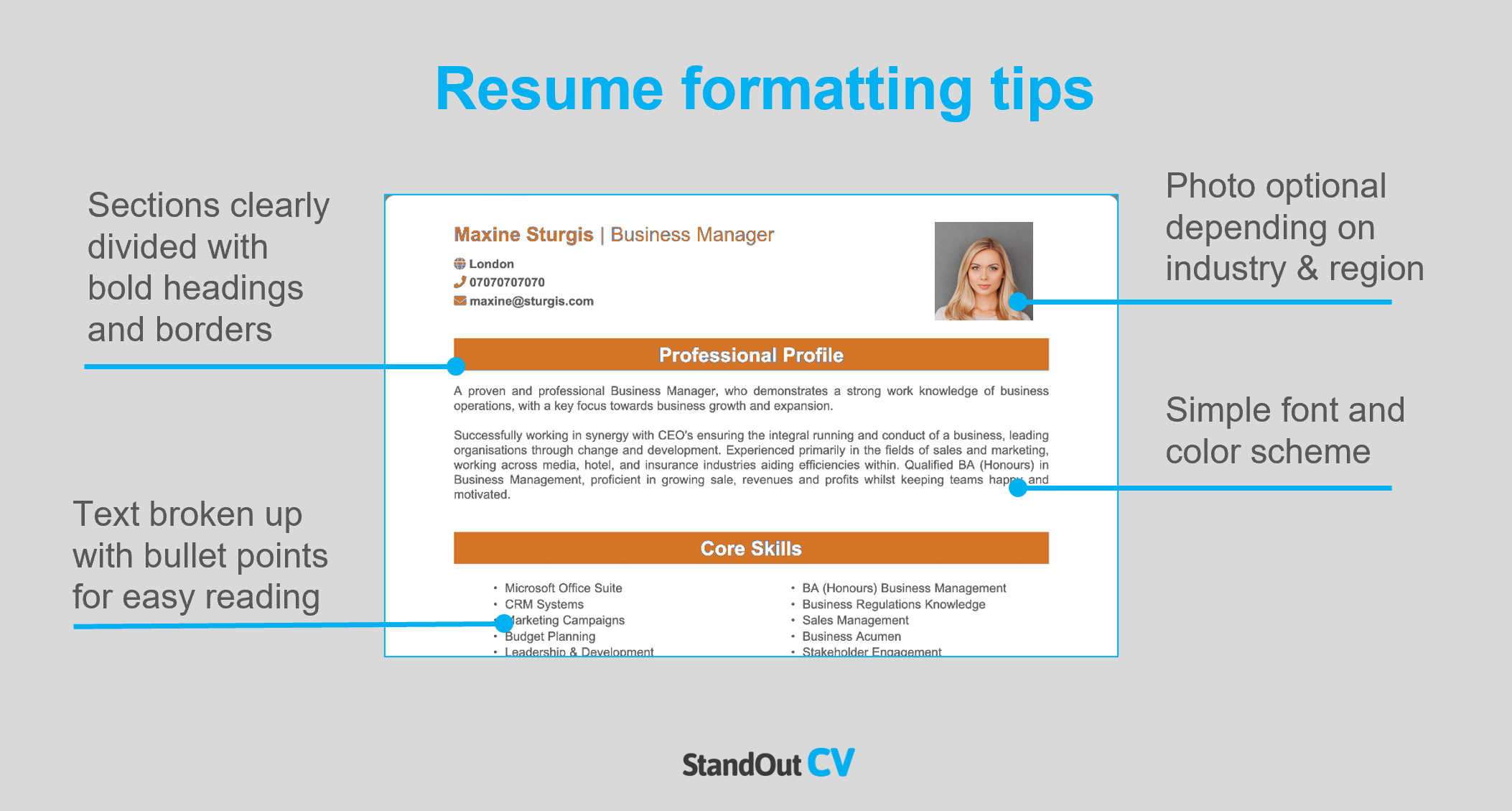 Resume layout
When you write your resume, include the sections below.
Name and contact details – Pop these at the very top to ensure recruiters know how to contact you.
Resume summary – An eye-catching paragraph which summarizes your most valuable attributes – placed near the top of your resume
Skills section – A bullet pointed list of your most in-demand skills, enabling recruiters to see your suitability from a glance.
Work experience – List some or all of your previous jobs in reverse chronological order – voluntary work and college placements can be included if you have no paid experience.
Education – A summary of your professional training and academic qualifications.
Additional info – An optional section for anything that may boost your application, such as relevant hobbies and interests
Here's what to add to each section of your Procurement Analyst resume.
Contact Details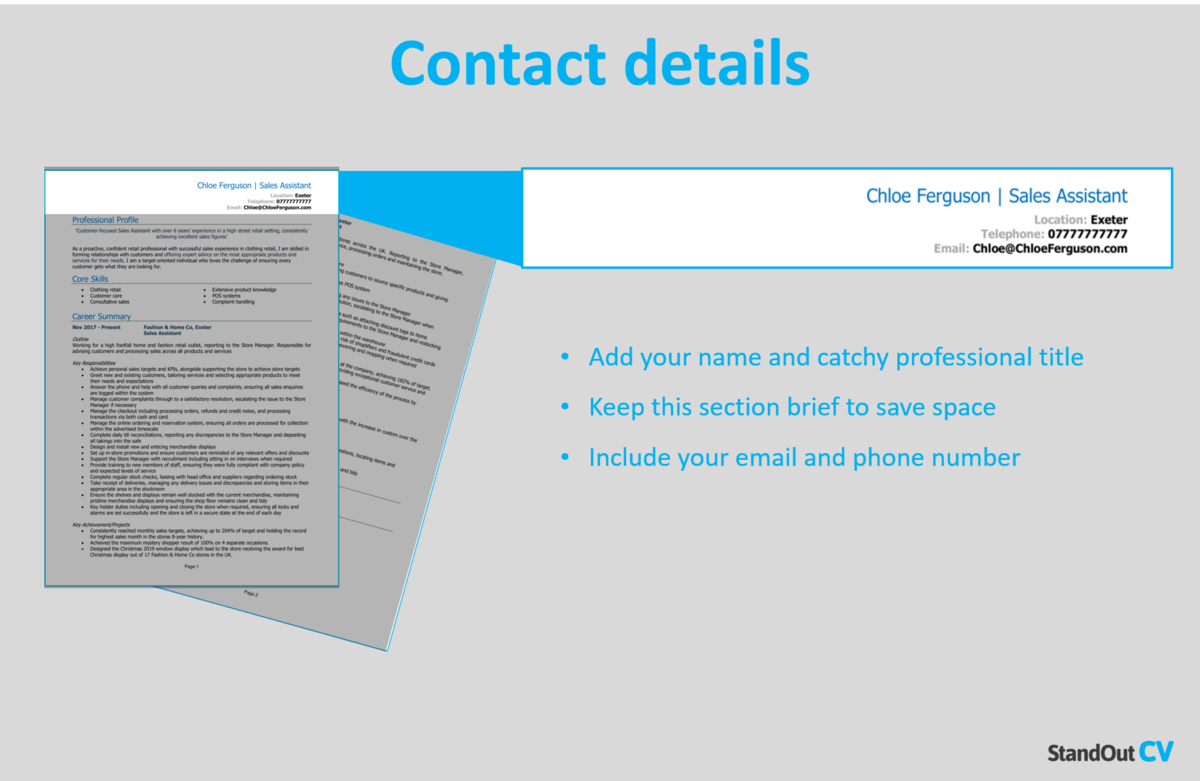 Add your name and contact details to the very top of your resume, making it easy for recruiters to get in touch
Name and profession title
Cell phone number – or another number you can answer quickly
Location – Add your local area such as San Diego or New York – not your full address as that will take up too much space.
Email address – Use your name or close variation – no nicknames from high school.
You can add a link to your LinkedIn profile if you have one – you do not need to include personal details like date of birth or marital status.
Procurement Analyst Resume Summary
The resume summary is a short paragraph at the top of your resume, and it's purpose is to grab recruiter's attention and make sure they keep reading it.
To make your summary work, ensure that you provide a high-level summary of your skills and experience – and tailor it to reflect the requirements of the jobs you are applying for.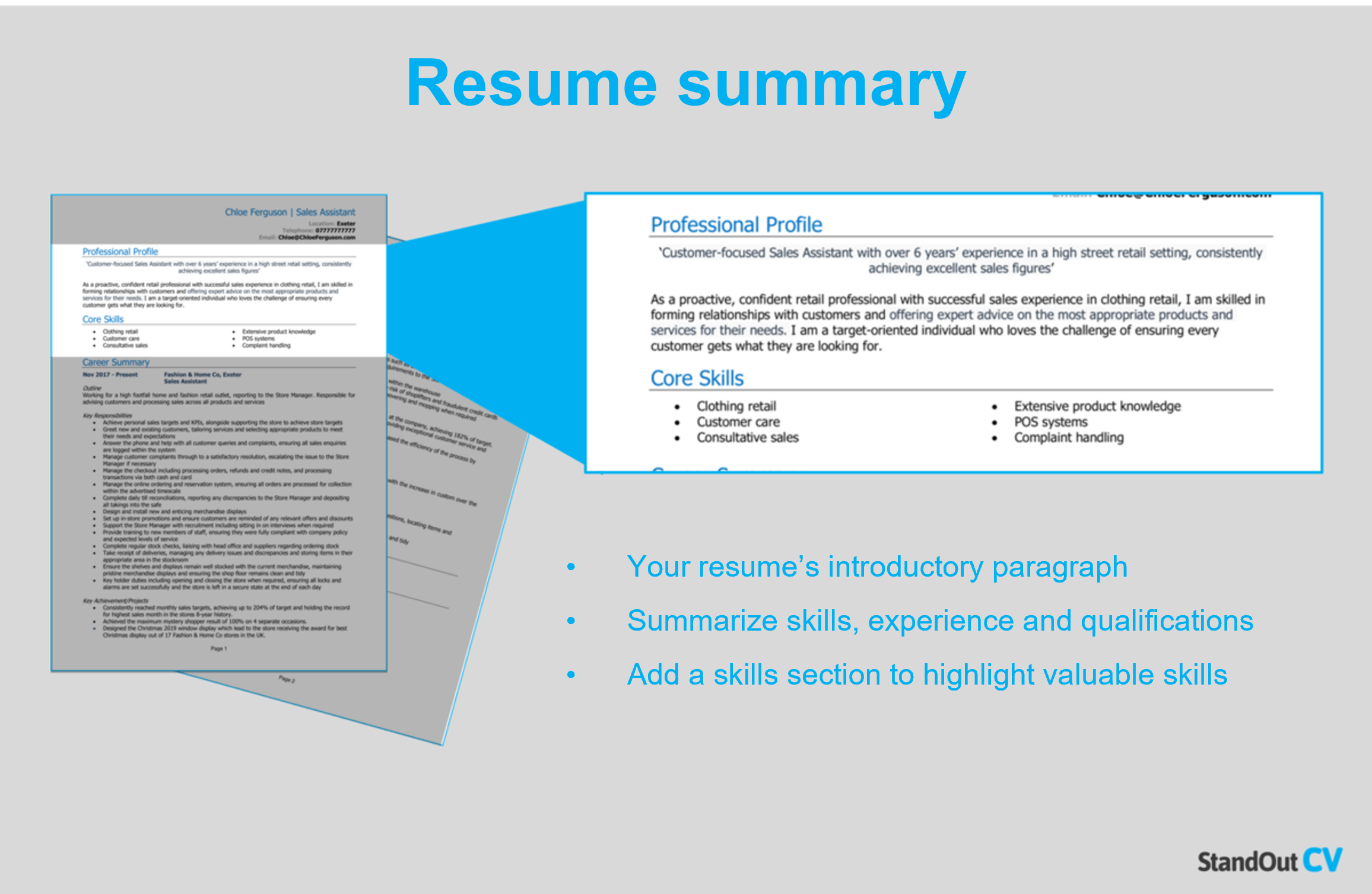 How to create a resume summary that will excite recruiters:
Keep it short: A concise and focused resume summary is essential for capturing a recruiter's attention and keeping them engaged. Limiting your summary to 4-7 lines ensures that you make a strong impression in the first few seconds of them opening the document.
Tailor to target jobs: Ensure your profile makes an impact by matching it closely to the requirements of the job description, copying as many key terms as possible.
Avoid using cliches: To capture the attention of recruiters you must provide factual information, such as hard skills and qualifications, and avoid using empty phrases like "Go-getter who thinks outside the box."
Procurement Analyst resume summary example
Analytical and detail-oriented Procurement Analyst with a proven track record in optimizing procurement processes and driving cost savings for US-based technology consultancies. Adept at data analysis, supplier management, and contract negotiation. Strong background in managing end-to-end procurement lifecycle and implementing strategic sourcing initiatives. Proficient in procurement software and tools, including SAP, Oracle, and Ariba.
What to include in your Procurement Analyst resume summary?
Summary of your experience: What type of organizations have you worked at? What types of roles have you done and what have you contributed to previous employers?
Relevant skills: To quickly showcase your suitability for Procurement Analyst jobs, ensure that your summary emphasizes your most relevant skills to the jobs you are applying for.
Qualifications: Mention any Procurement Analyst qualifications that are important to your profession in the summary briefly, to show you are qualified to carry out the role.
Quick tip: Choose from hundreds of pre-written summaries across all industries, and add one to your resume with one-click in our partner's Resume Builder. All written by recruitment experts and easily tailored to suit your unique skillset and style.
Core skills section
Next, you should create a bullet pointed list of your core skills, formatted into 2-3 columns.
Here, you should focus on including the most important skills or knowledge listed in the job advertisement.
This will instantly prove that you're an ideal candidate, even if a recruiter only has time to briefly scan your resume.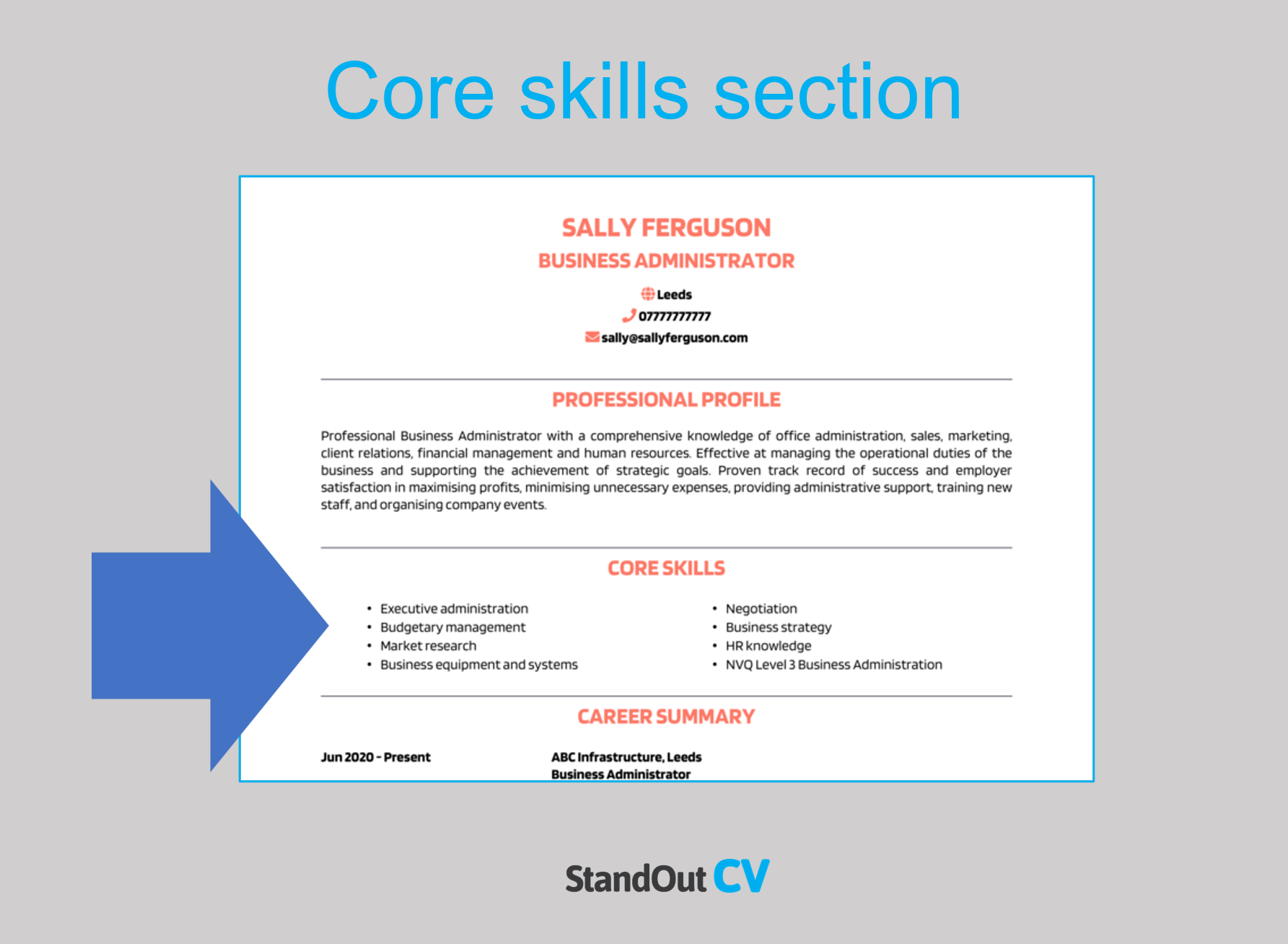 Best skills for your Procurement Analyst resume
Data Analysis – Analyzing procurement data, such as spending patterns, supplier performance, and contract terms, to identify cost-saving opportunities and improve procurement strategies.
Market Research – Conducting market research to identify potential suppliers, compare prices, and assess the quality of products and services.
Financial Analysis – Assessing financial data related to procurement, such as budgeting, cost analysis, and forecasting, to ensure optimal allocation of resources.
Contract Management – Utilizing knowledge of contract terms, negotiation techniques, and legal considerations to draft and manage contracts with suppliers effectively.
Vendor Evaluation – Evaluating vendor capabilities, financial stability, and reputation to select reliable and competitive suppliers.
Procurement Software – Utilizing procurement software and tools to streamline procurement processes, manage supplier databases, and track purchasing activities.
Supply Chain Management – Utilizing knowledge of supply chain dynamics to ensure timely delivery of goods and materials, manage inventory levels, and mitigate supply chain risks.
Compliance and Regulations – Utilizing knowledge of procurement regulations and compliance standards to ensure adherence to legal requirements and ethical practices.
Stakeholder and Supplier Collaborating – Collaborating with internal stakeholders and external suppliers, facilitating effective procurement processes.
Negotiation – Negotiating pricing, terms, and conditions with suppliers to achieve favorable agreements and cost savings for the organization.
Quick tip: Our partner's Resume Builder contains thousands of in-demand skills for every profession that can be added to your resume in seconds – saving you time and greatly improving your chances of landing job interviews and getting hired.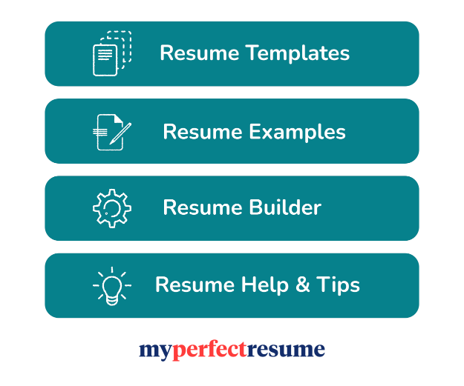 Work experience
Once you've hooked the hiring manager with your summary, you can really blow them away with you work experience.
List your previous jobs from newest to oldest to show the impact you made at each organization.
If you have years of experience, you can leave out some of the older jobs, and if you have little/no experience, you can bulk this section up with voluntary work and college placements.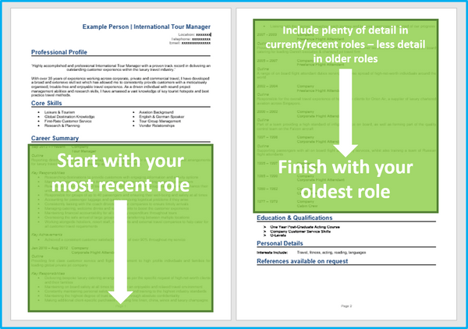 Structuring your jobs
It's easy to overwhelm readers when writing about a job you have been doing for years or even months.
Break the information up like this to keep it simple for recruiters to understand.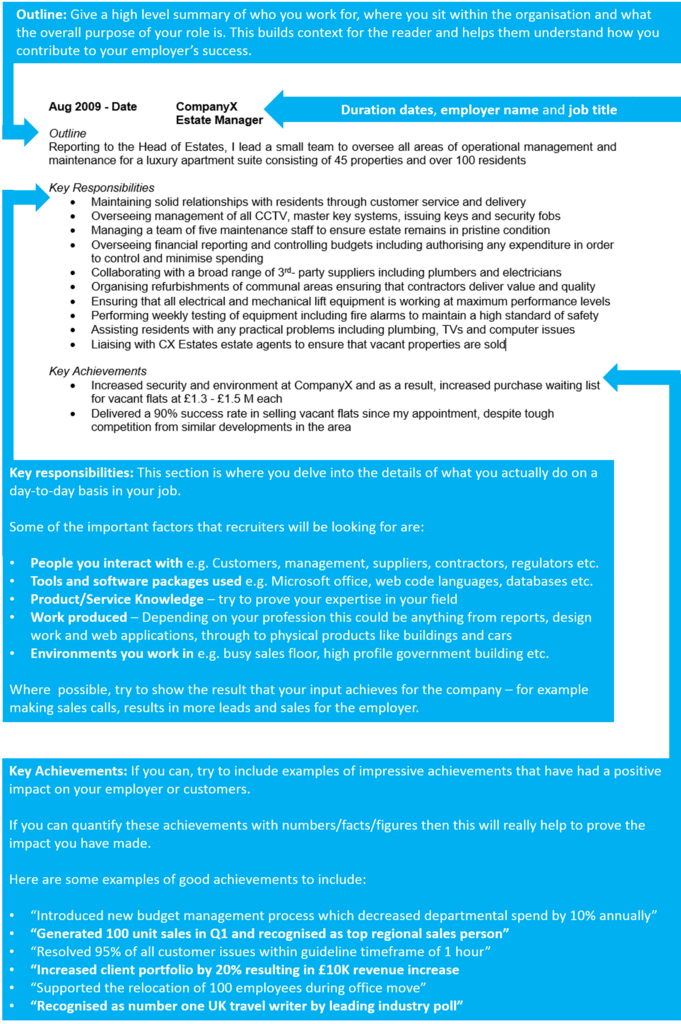 Job outline
Kick off each role with a high-level overview to summarize the focus of the job, what the organization/department does, and how you fit into the bigger picture.
Key responsibilities
Then delve into the detail of your job by listing out easy-to-read bullet points which show how you apply your skills in the workplace.
Tailor these bullet points to focus on the skills and knowledge that are required in the jobs you are applying for.
Key achievements
Round off each job by adding some impressive achievements you made in the role.
Anything you've done that has made a big impact on your employer will make a good impression, think; generating revenue, saving costs, or improving a product.
Quantify your achievements with number where possible e.g. "reduced call wait time by 10%"
Example job for Procurement Analyst resume
Outline
Serve as a key member of the procurement team at a leading technology consultancy, responsible for streamlining procurement operations and ensuring cost-effective purchasing practices.
Key Responsibilities
Conduct market research to identify potential vendors and assess their capabilities and pricing structures
Collaborate with cross-functional teams, including IT and finance, to develop sourcing strategies
Negotiate contracts, leveraging volume discounts, service level agreements, and favorable terms and conditions
Analyze spend data and identify opportunities for cost savings through strategic sourcing initiatives
Quick tip: Create impressive job descriptions easily in our partner's Resume Builder by adding pre-written job phrases for every industry and career stage.

Education section
Nearing the end of your resume, your education/qualifications section should be added.
In a well-structured list, add all of your qualifications and certifications that qualify you to perform a typical Procurement Analyst role.
If you have plenty of work experience, keep this section brief – if not, add lots of detail to make up for your lack of experience.
Additional information
The bottom of your resume is a place to add any "additional info".
Any other info that didn't fall into any of the previous sections can be added here.
If you have hobbies that are related to your profession or any awards or publications – add them here.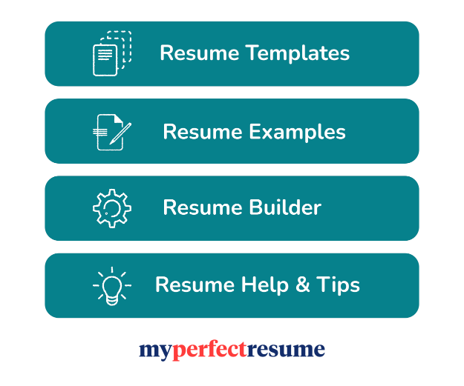 Writing your own winning Procurement Analyst resume
Crafting a strong Procurement Analyst resume can be a daunting task, but implementing the steps outlined above will significantly increase your chances of securing multiple interview opportunities.
Good luck with your job search!