Do you want to help provide better care and support for both physical therapists and their patients going through treatment?
Sure you do, that's why you trained to be a therapy technician. But if you want to land your next position, then you need to prove you've got what it takes.
Check out our step-by-step writing guide, complete with physical therapy technician resume example to find out how to do just that.
Contents
| | |
| --- | --- |
| How to write your Physical Therapy Technician resume | |

Physical Therapy Technician Resume Example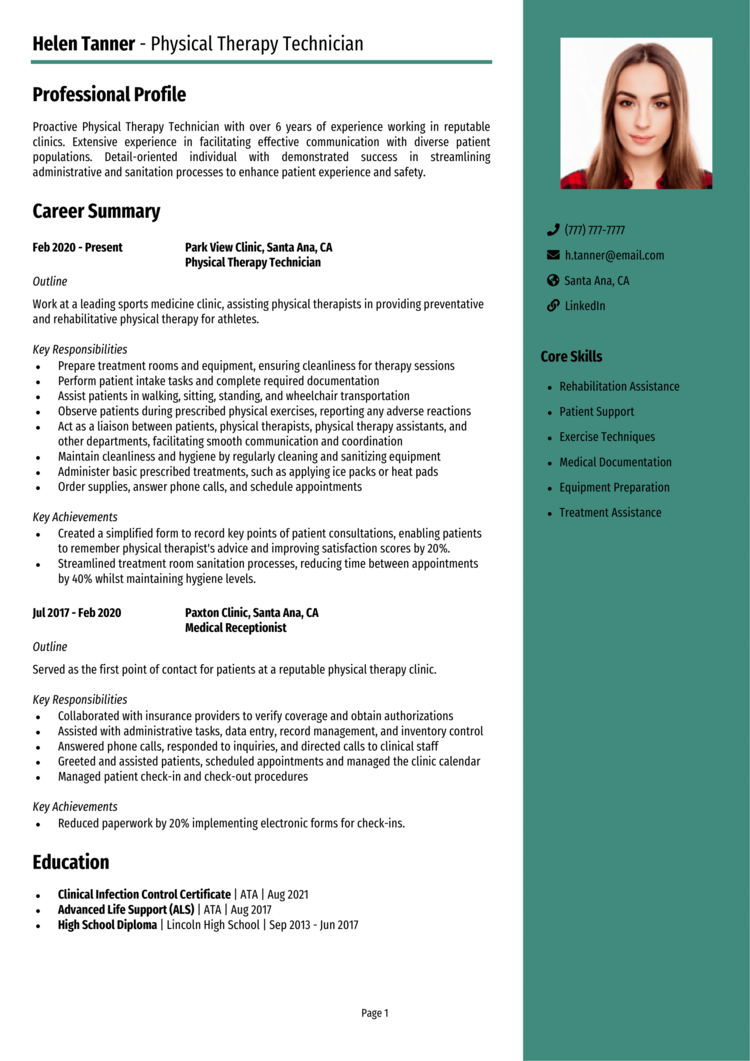 This example Physical Therapy Technician resume gives you a general idea of how to structure your own resume, along with the type of content you need to include.
Sticking with this resume format will help you to get noticed by employers and ensure that they can quickly see the benefit of hiring you.
Now, lets walk through a step-by-step guide on how to write your own winning resume.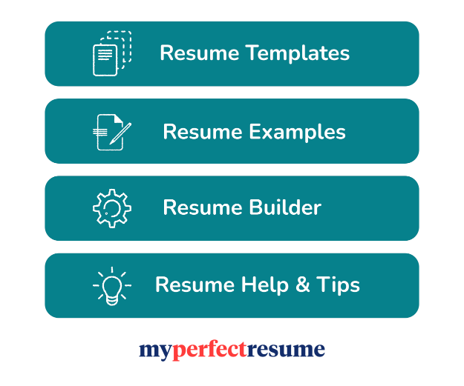 Physical Therapy Technician resume layout and format
Your resume layout and format will play a big role in helping hiring managers to take notice of your resume and stay glued to it.
Shoot for a simple yet professional look to ensure you make a strong first impression, and organize the page in a way that is easy for readers to digest the information.
The following formatting tips should help.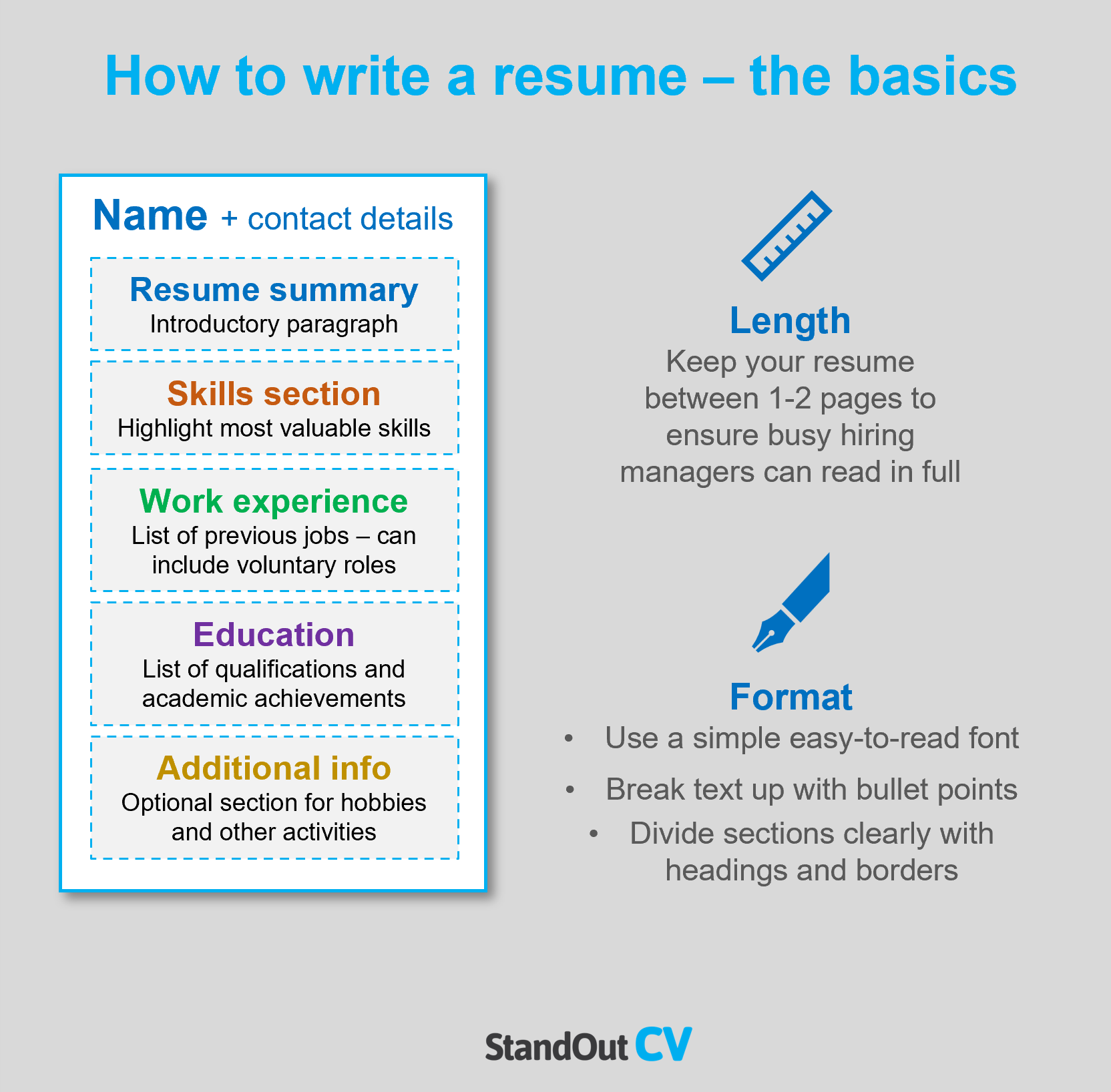 Formatting your resume
Length: Keep your resume to 2 pages or under. You've probably heard that recruiters and hiring managers don't have lots of time to read every resume, so keep yours brief if you want to ensure that they read all of the important info in yours.
Font & readability: To create a resume that is easily digestible for hiring managers, it's essential to use an uncomplicated font and structure your content with bullet points and short paragraphs.
Layout: A visually appealing resume is important, but don't forget about functionality. To ensure a functional design, use bold headings and borders to organize the page into clear sections.
Photos: You don't have to add a photo to your resume in the States, but some regions and industries like to see them.
Quick tip: Achieving a professional look for your resume can be difficult and time-consuming. If you want to create an attractive resume quickly, try our partner's Resume Builder and use one of their eye-catching resume templates.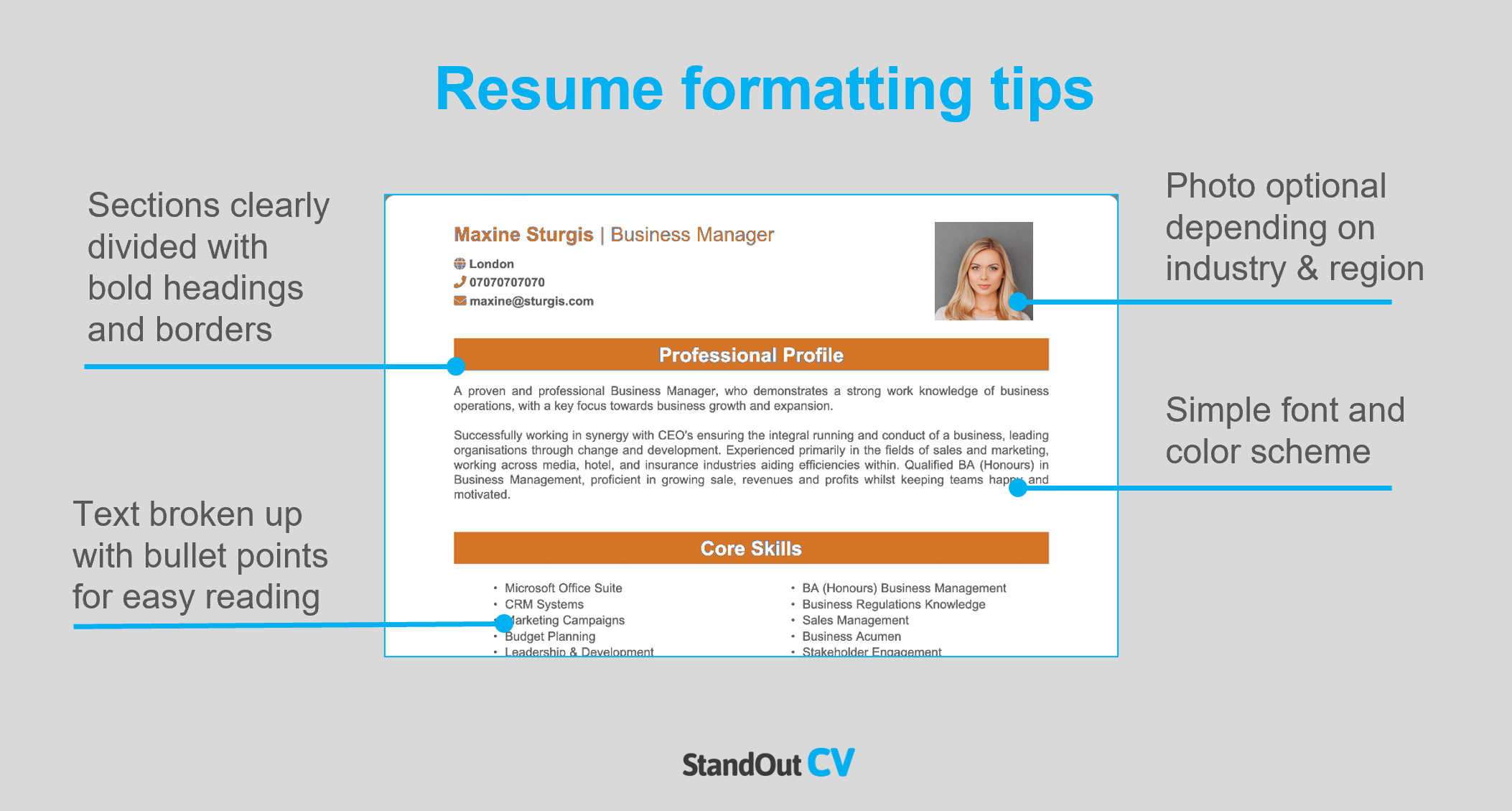 Resume layout
Here's an overview of the sections you should add when writing your resume.
Name and contact details – Stick these details at the top, so they are easy to find.
Resume summary – A punchy paragraph summarizing your skills and knowledge, enticing recruiters to read more of your resume.
Skills section – Short list of your most valuable skills, enabling recruiters to quickly spot your suitability.
Work experience – Showcase your previous employment, starting with your most recent roe and working backwards – voluntary work and college placements can be included if you have no paid experience.
Education – A summary of your most relevant qualifications and academic achievements
Additional info – An optional section for that other attributes that may boost your application, such as hobbies or clubs
Here's what to add to each section of your Physical Therapy Technician resume.
Contact Details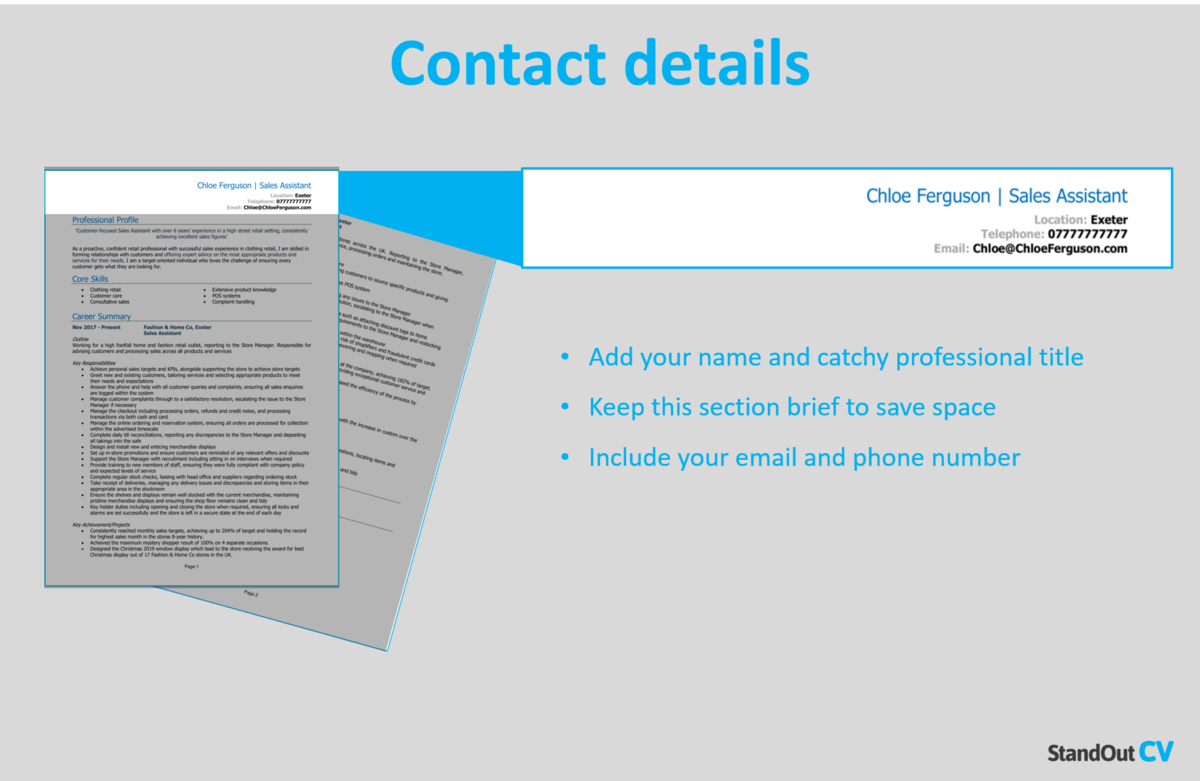 Keep your contact details short to save resume space and include the following.
Name and profession title
Cell phone number
Location – Add your local area such as Silicon Valley or New York, unless you are looking for work in a different location
Email address – Keep it professional and don't use an old address that you thought was cool in high school, but now looks a bit embarrassing.
You can add a link to your LinkedIn profile if you have one – you do not need to include personal details like date of birth or marital status.
Physical Therapy Technician Resume Summary
Now it's time to get into the real content of your resume, starting with the summary.
Your resume summary is a short paragraph at the top of the document, and its jobs is to catch the eye of hiring managers by summarizing all your skills and knowledge that are most important to the roles you are applying for.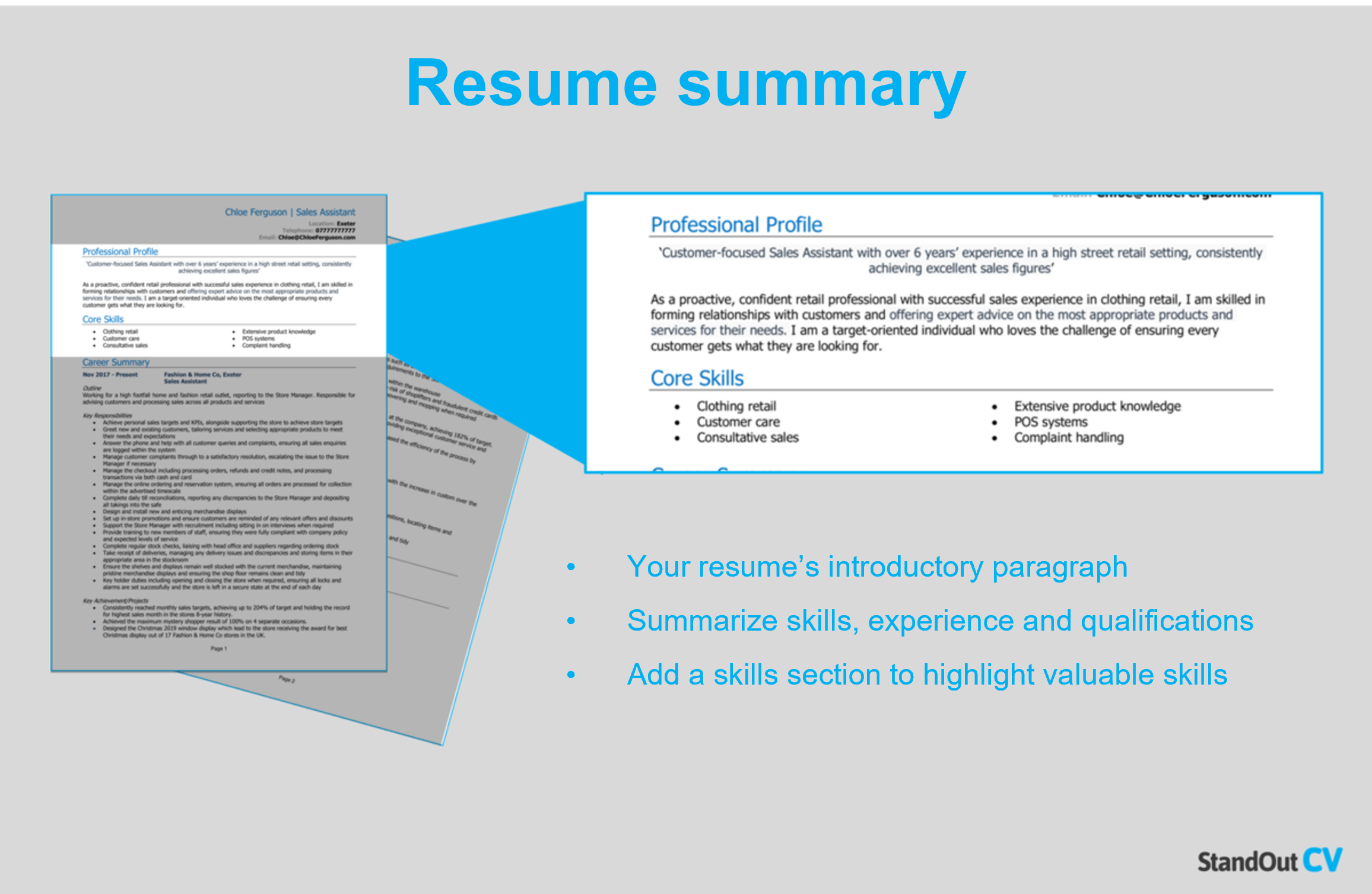 How to create a resume summary that will excite recruiters:
Keep it short: Your summary is intended to be a high-level introduction to hook readers' attention, so keep it brief (4-7 lines) – save the details for later in your resume.
Tailor to target jobs: To make your resume more relevant to your target jobs, analyze the job description and include as many matching skills as possible.
Avoid using cliches: Although you may believe that you're a "team player who always gives 110%," these kinds of cliches don't communicate much about your skills and qualifications to potential employers. It's more effective to stick to factual information in your resume.
Physical Therapy Technician resume summary example
Proactive Physical Therapy Technician with over 6 years of experience working in reputable clinics. Extensive experience in facilitating effective communication with diverse patient populations. Detail-oriented individual with demonstrated success in streamlining administrative and sanitation processes to enhance patient experience and safety.
What to include in your Physical Therapy Technician resume summary?
Summary of your experience: Briefly describe the work you have performed in the past and the contributions you have made to the organizations you have worked for.
Relevant skills: Scatter your most in-demand Physical Therapy Technician skills through your summary to ensure they are noticed quickly by hiring managers.
Qualifications: Showcase your level of education with a quick mention of any qualifications that are essential for the Physical Therapy Technician roles you are applying to.
Quick tip: Choose from hundreds of pre-written summaries across all industries, and add one to your resume with one-click in our partner's Resume Builder. All written by recruitment experts and easily tailored to suit your unique skillset and style.
Core skills section
Underneath your summary, write a core skills section to make your most relevant skills jump off the page at readers.
It should be made up of 2-3 columns of bullet points of your relevant skills.
Before you do this, look over the job description and make a list of any specific skills, specialisms or knowledge required.
Then, make sure to use your findings in your list. This will paint you as the perfect match for the role.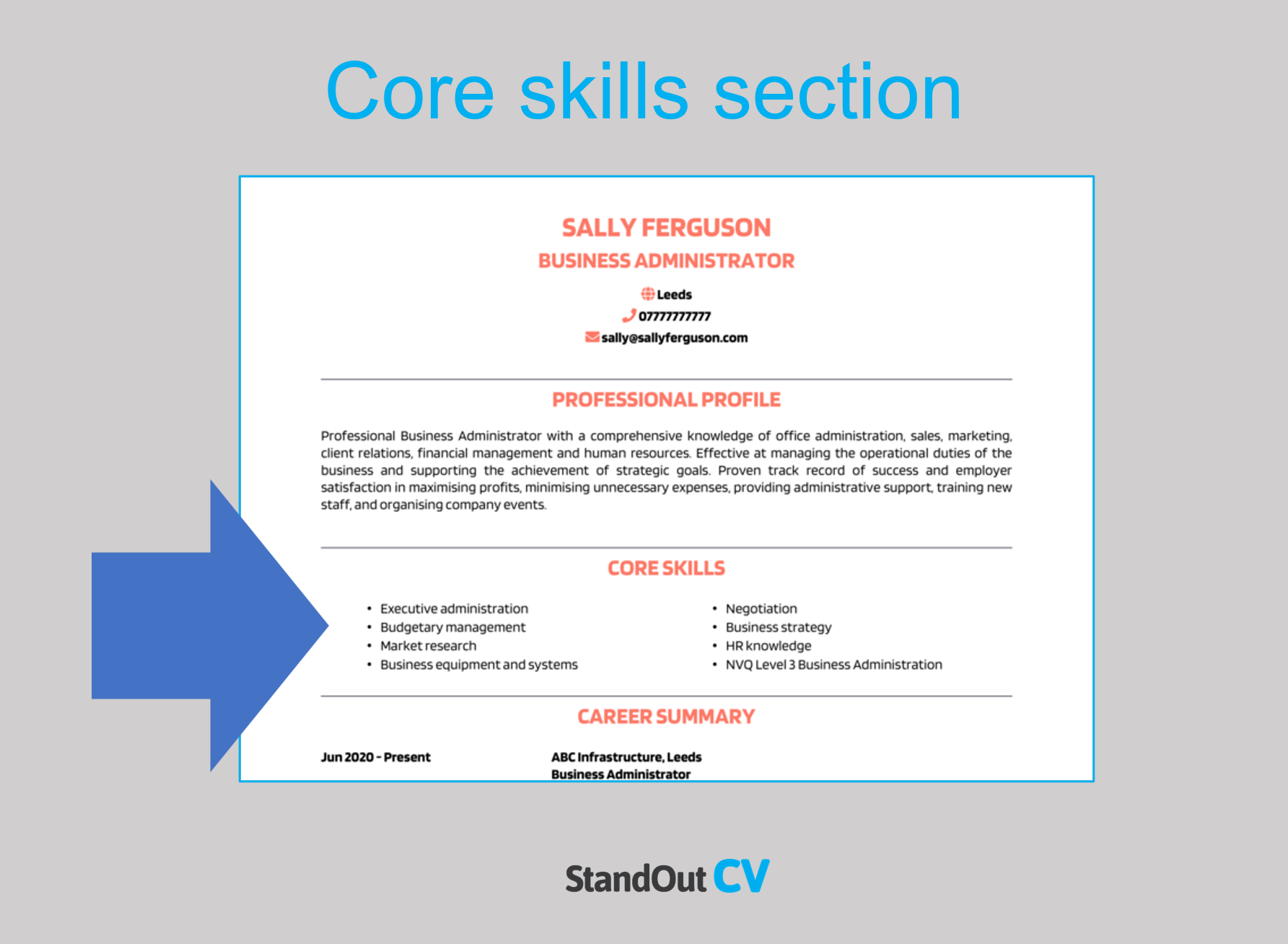 Best skills for your Physical Therapy Technician resume
Therapeutic Modalities – Operating therapeutic equipment and applying modalities such as heat, cold, ultrasound, and electrical stimulation to assist with patient treatment.
Exercise Prescription – Utilizing knowledge of therapeutic exercises to assist patients in performing exercises prescribed by physical therapists to improve strength, flexibility, and mobility.
Patient Assessment – Assisting physical therapists with patient evaluations, gathering relevant information, and documenting patient progress and responses to treatment.
Patient Care Techniques – Safely transferring and positioning patients, providing support during gait training, and assisting with ambulation and mobility aids.
Medical Terminology – Utilizing knowledge of medical terminology specific to physical therapy, allowing for effective communication with healthcare professionals and patients.
Injury Rehabilitation – Utilizing knowledge of common musculoskeletal injuries and conditions to assist in implementing treatment plans to aid in patient recovery.
Medical Records Management – Maintaining accurate and organized medical records, ensuring confidentiality and compliance with healthcare regulations.
Equipment Maintenance – Properly maintaining and cleaning therapeutic equipment to ensure its functionality and safety for patient use.
Patient Communication – Interacting effectively with patients, families, and other healthcare professionals.
Patient Education – Educating patients on home exercise programs, injury prevention techniques, and self-management strategies to enhance their overall well-being.
Quick tip: Our partner's Resume Builder contains thousands of in-demand skills for every profession that can be added to your resume in seconds – saving you time and greatly improving your chances of landing job interviews and getting hired.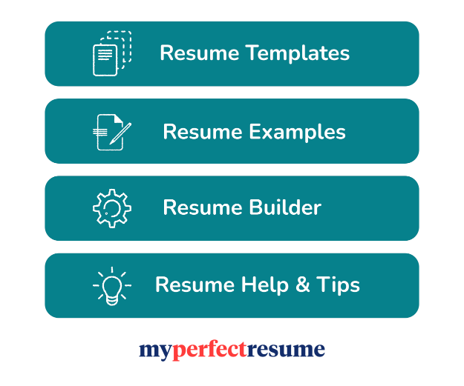 Work experience
Congratulations on successfully capturing the recruiter's interest with your attention-grabbing summary! Now, it's time to showcase your workplace impact by providing a detailed list of your previous job experiences and achievements.
If you have significant experience, consider highlighting the most recent few years to condense this section. However, for junior job seekers, it's essential to include as much relevant experience as possible, including volunteering and school work placements.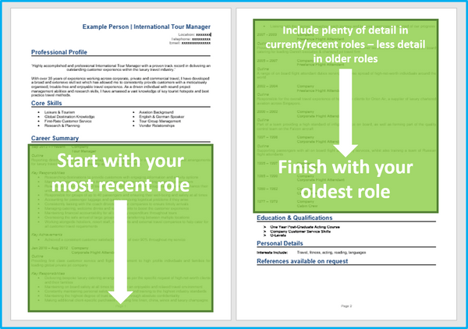 Structuring your jobs
Your job description probably includes tons of information, so it's vital to organize it well when writing about it on your resume.
Structure your jobs as like the example below to make skim-reading easy for recruiters and hiring managers.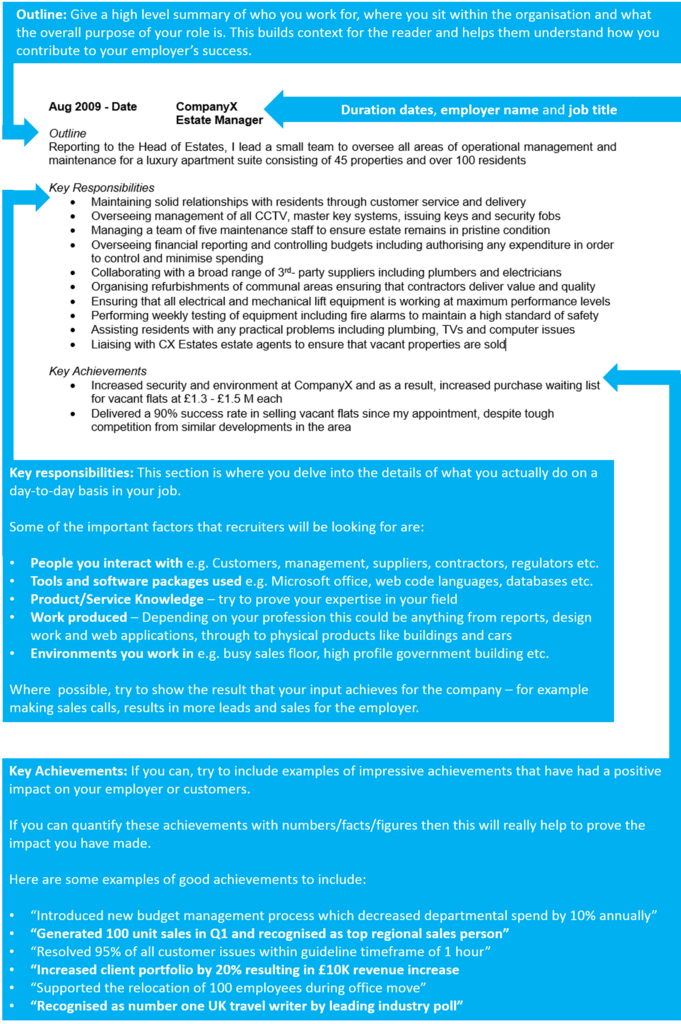 Job outline
Each role description should begin with a qucik summary of the job and company, along with how the job fits into the strucuture of the organization.
Key responsibilities
List your notable responsibilities in short sharp bullet points to demonstrate your input and how you contributed to the organization's success.
Highlight the skills that are most important to the roles you are applying for.
Key achievements
Finish each role by highlighting some impressive achievements you made whilst in the role.
Anything that benefited the employer can be included from making financial savings, to winning new customers.
Quantify your achievements with facts and figures if you can, e.g. "reduced call wait time by 10%"
Example job for Physical Therapy Technician resume
Outline
Work at a leading sports medicine clinic, assisting physical therapists in providing preventative and rehabilitative physical therapy for athletes.
Key Responsibilities
Prepare treatment rooms and equipment, ensuring cleanliness for therapy sessions
Perform patient intake tasks and complete required documentation
Assist patients in walking, sitting, standing, and wheelchair transportation
Observe patients during prescribed physical exercises, reporting any adverse reactions
Quick tip: Create impressive job descriptions easily in our partner's Resume Builder by adding pre-written job phrases for every industry and career stage.

Education section
Towards the bottom of your resume, add your education section.
Here you should list your professional qualifications and academic record, such as high school diplomas or college degrees.
If you have lots of work experience, you can keep this section brief (because recruiters will be more interested in your career. If you have little/no experience then you should bulk this section up with plenty of detail.
Additional information
At the end of your resume, you can add any extra information that might be relevant to the jobs you are applying for.
This could be hobbies, interests, publications, clubs or memberships.
This section is optional and doesn't need to be added if you have nothing more relevant to add.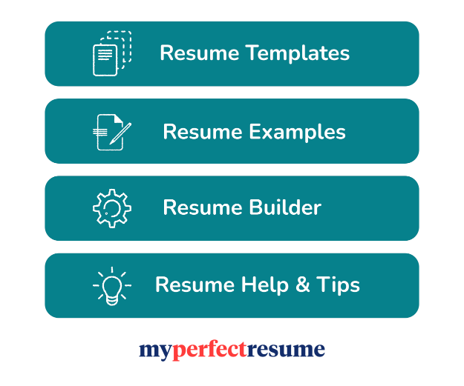 Writing your own winning Physical Therapy Technician resume
Writing a Physical Therapy Technician resume can be challenging but following the steps above will ensure that you land plenty of interviews.
Good luck with your job search!