A role as an owner operator can give you more freedom, but it does require you to ensure a steady stream of clients.
To do this, you need a resume that's going to sell your skills and professional qualities and win you the contract.
Find out how to create an impressive application using our step-by-step guide and owner operator resume example below.
Contents
| | |
| --- | --- |
| How to write a Owner Operator resume | |

Owner Operator Resume Example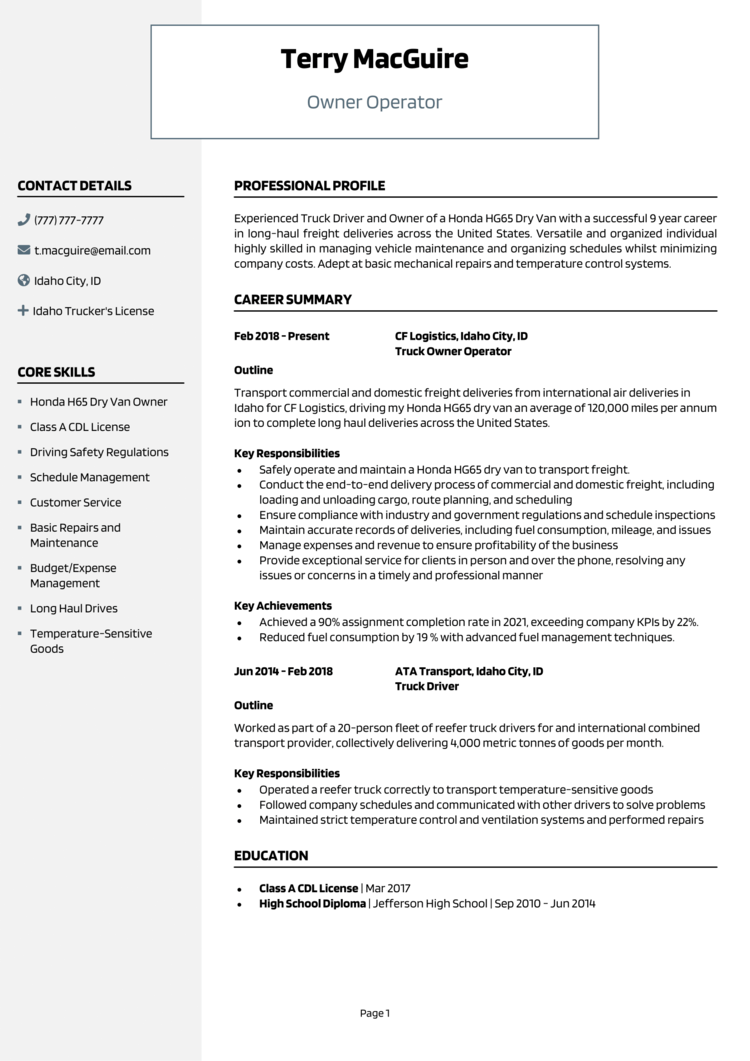 This Owner Operator resume example shows you the most effective layout for a resume in today's job market, along with the type of content you need to include.
Stick closely to these guidelines as you write your own resume, to boost your chances of getting lots of responses, interviews and job offers.
Now lets dive into the details of how you write your own eye-catching resume…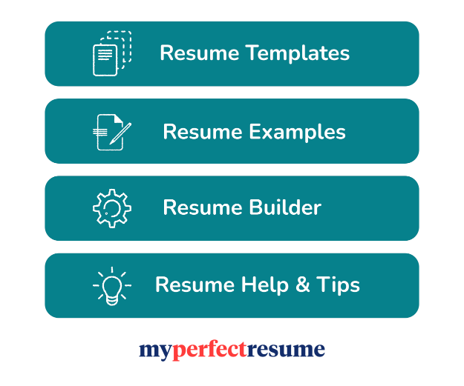 Owner Operator resume layout and formatting
If you want to get noticed in the job market, you have to pay attention to the format and layout of your resume.
Essentially your resume needs to look highly polished, and provide hiring managers with an easy reading experience.
Use these resume formatting tips to get a head start on this.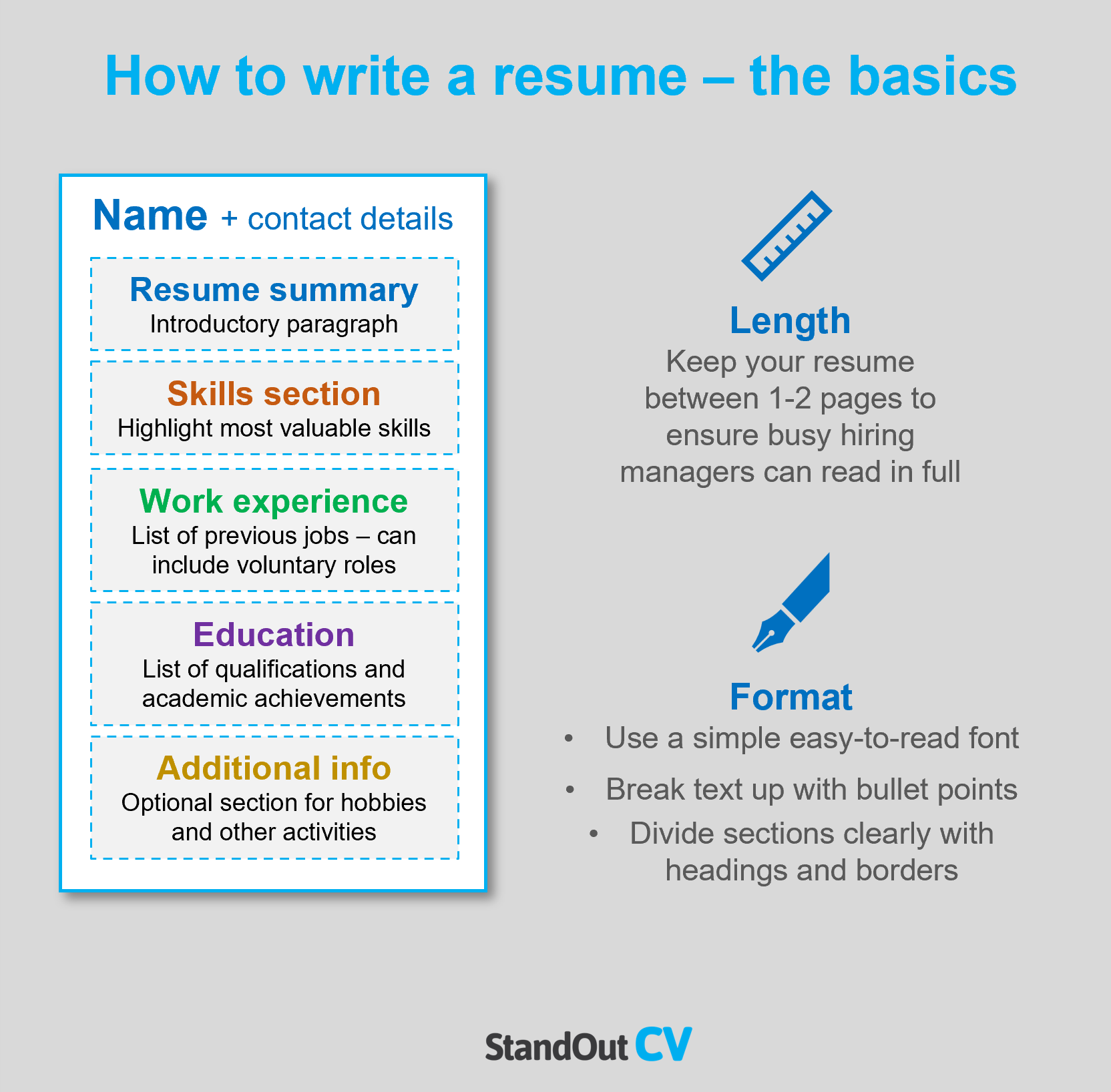 Formatting your resume
Length: Think that submitting a 10 page resume will impress recruiters? Unfortunately it won't… Even if you've got tons of experience to brag about, recruiters don't have time to read essays, so keep it brief – around 2 pages is the sweet spot.
Font & readability: Nobody likes to read huge unbroken paragraphs of text – and recruiters are no different. Break your resume text up with bullet points and use a clear simple font.
Layout & Structure: While creating an attractive resume, it is crucial not to compromise functionality for design. To ensure both, use bold headings and borders to structure the page into clear sections.
Photos: You don't have to add a photo to your resume in the States, but some regions and industries like to see them.
Quick tip: Achieving a professional look for your resume can be difficult and time-consuming. If you want to create an attractive resume quickly, try our partner's Resume Builder and use one of their eye-catching resume templates.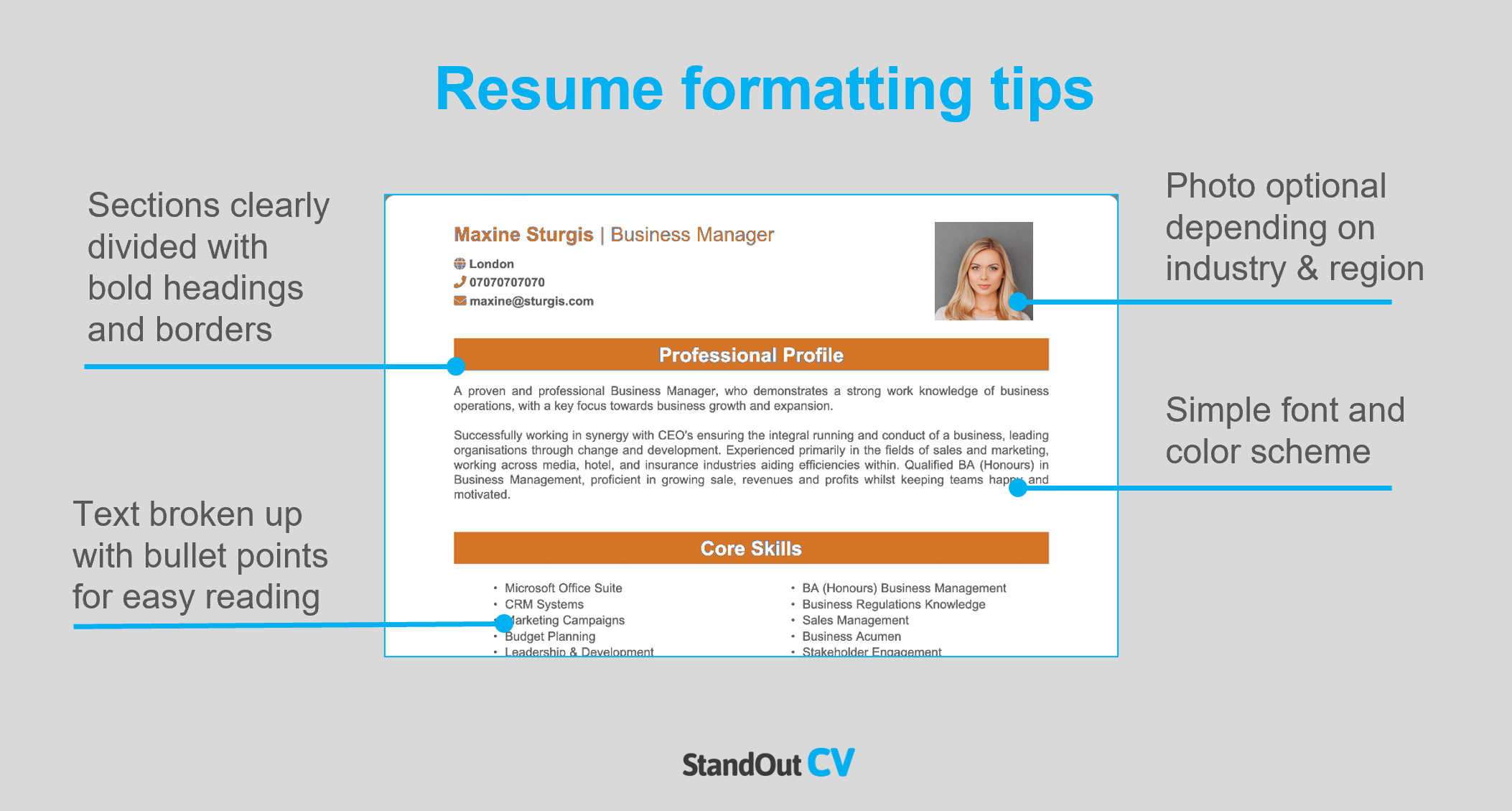 Resume layout
Organize the document into these sections when you write your resume.
Name and contact details – Employers need to know how to get in touch with you – so list your email and cell phone number here.
Resume summary – An intro paragraph at the top of the resume which summarizes your suitability for target jobs.
Skills section – A bullet-pointed list of your most relevant skills and knowledge.
Work experience – A list of your previous jobs (or at least the most relevant and recent ones)
Education – Add academic and professional qualifications that prove you can carry out the job
Additional info – If they are relevant to the jobs you are applying for, you can add an extra section for things like hobbies and interests.
Here's what to include in each part of your resume.
Contact Details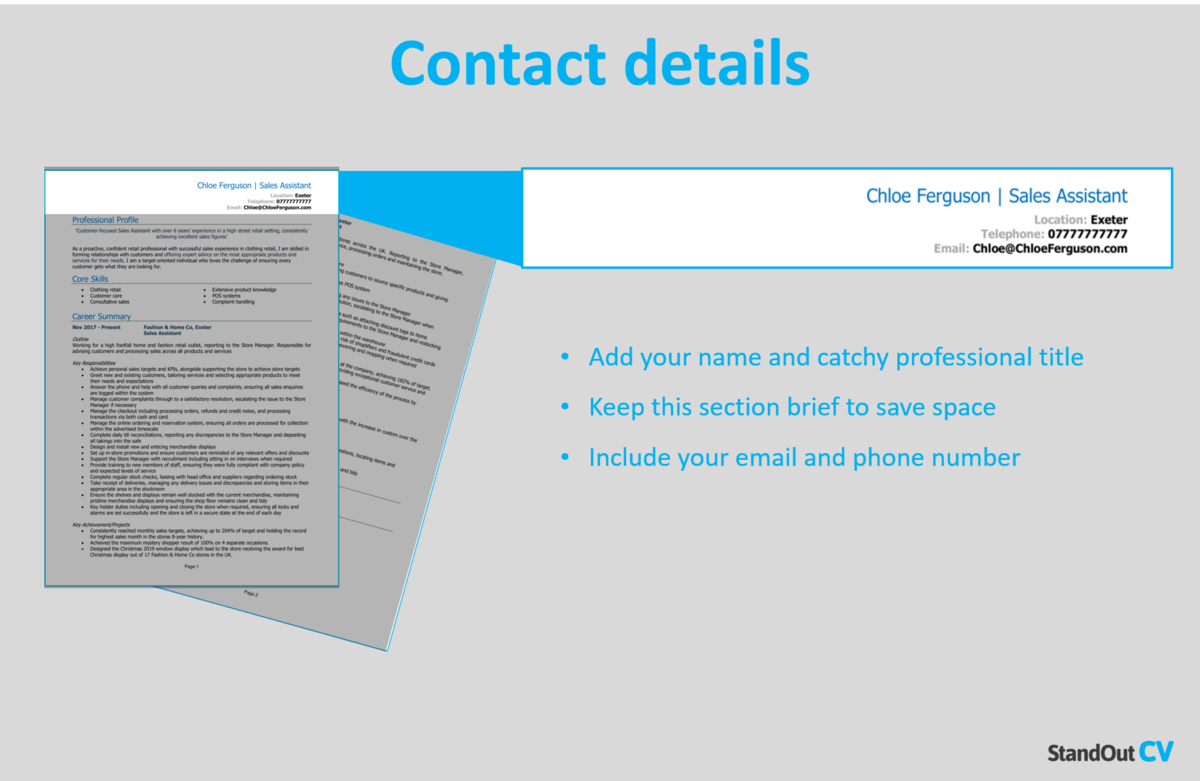 Add your name and contact details to the very top of your resume, making it easy for recruiters to get in touch
Name and profession title
Cell phone number – or another number you can answer quickly
Location – Add your local area such as San Diego or New York – not your full address as that will take up too much space.
Email address – Use your name or close variation – no nicknames from high school.
You can add a link to your LinkedIn profile if you have one – you do not need to include personal details like date of birth or marital status.
Owner Operator Resume Summary
Make a strong first impression on recruiters by beginning your resume with a powerful summary that highlights your most valuable skills and experience.
This brief summary provides an opportunity to showcase why you're the ideal candidate for the job and persuade recruiters to read further into your resume.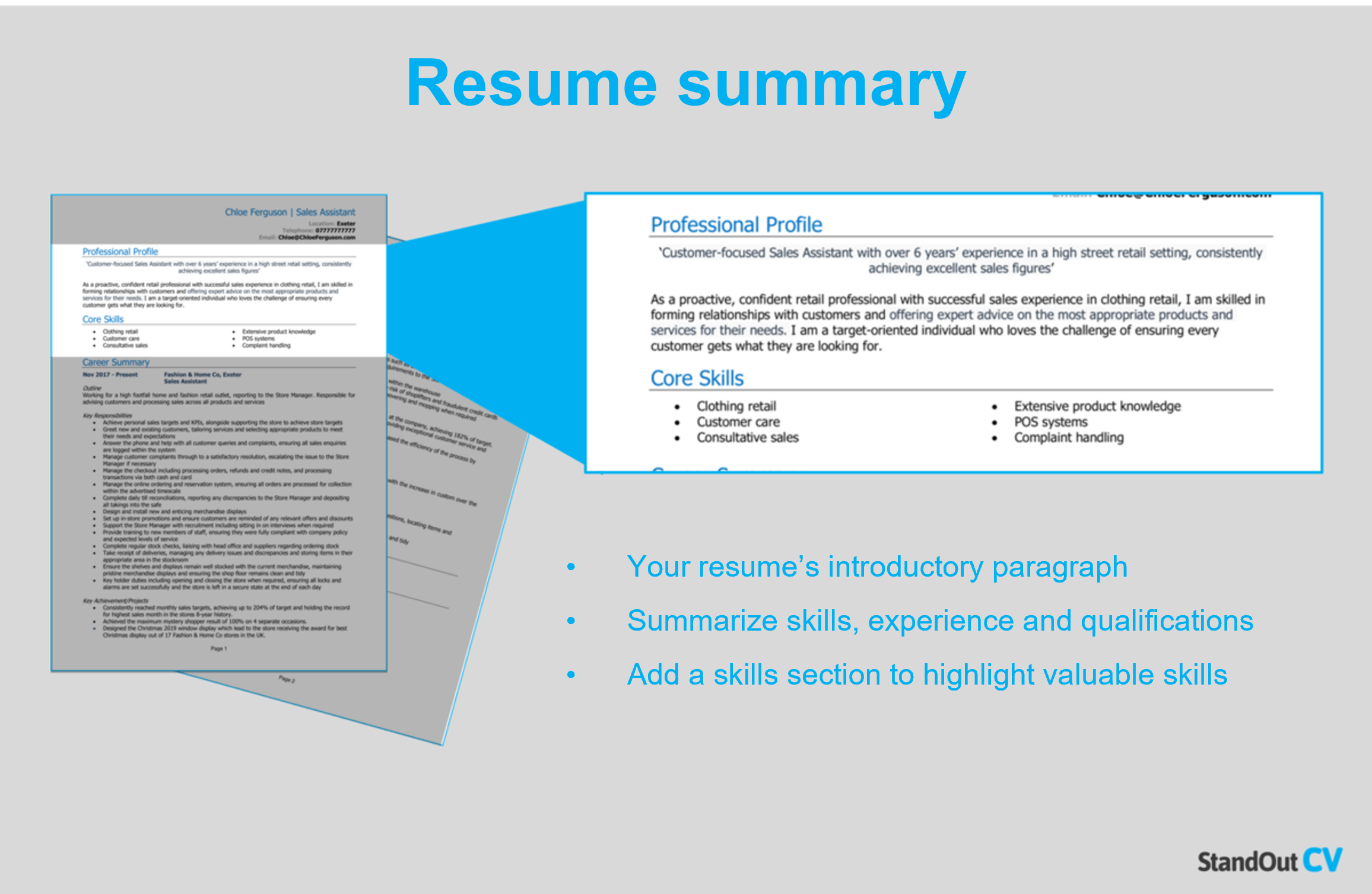 How to create a resume summary that will excite recruiters:
Keep it short: Aim for a short punchy paragraph of 4-7 lines. This is just enough info to showcase why you'd make the perfect hire, without going into excessive detail and overwhelming busy recruiters at such an early stage in the resume.
Tailor to target jobs: Tailor your resume to your target jobs by studying the job description and adding as many matching skills as you can.
Avoid using cliches: Recruiters look for facts in resumes, such as hard skills and qualifications – so, leave out the meaningless cliches like "hard worker who works well in a team and individually"
Owner Operator resume summary example
Experienced Truck Driver and Owner of a Honda HG65 Dry Van with a successful 9-year career in long-haul freight deliveries across the United States. Versatile and organized individual highly skilled in managing vehicle maintenance and organizing schedules whilst minimizing company costs. Adept at basic mechanical repairs and temperature control systems.
What to include in your Owner Operator resume summary?
Summary of your experience: Summarize the type of work you have done in the past and the ways in which you have contributed to the success of your previous employers.
Relevant skills: Highlight your skills which are most relevant to Owner Operator jobs, to ensure that recruiters see your most in-demand skills as soon as they open your resume.
Qualifications: Showcase your level of education with a quick mention of any qualifications that are essential for the Owner Operator roles you are applying to.
Quick tip: Choose from hundreds of pre-written summaries across all industries, and add one to your resume with one-click in our partner's Resume Builder. All written by recruitment experts and easily tailored to suit your unique skillset and style.
Core skills section
In addition to your resume summary, your core skills section provides an easily digestible snapshot of your skills – perfect for grabbing the attention of busy hiring managers.
As Owner Operator jobs might receive a huge pile of applications, this is a great way to stand out and show off your suitability for the role.
It should be made up of 2-3 columns of bullet points and be made up of skills that are highly relevant to the jobs you are targeting.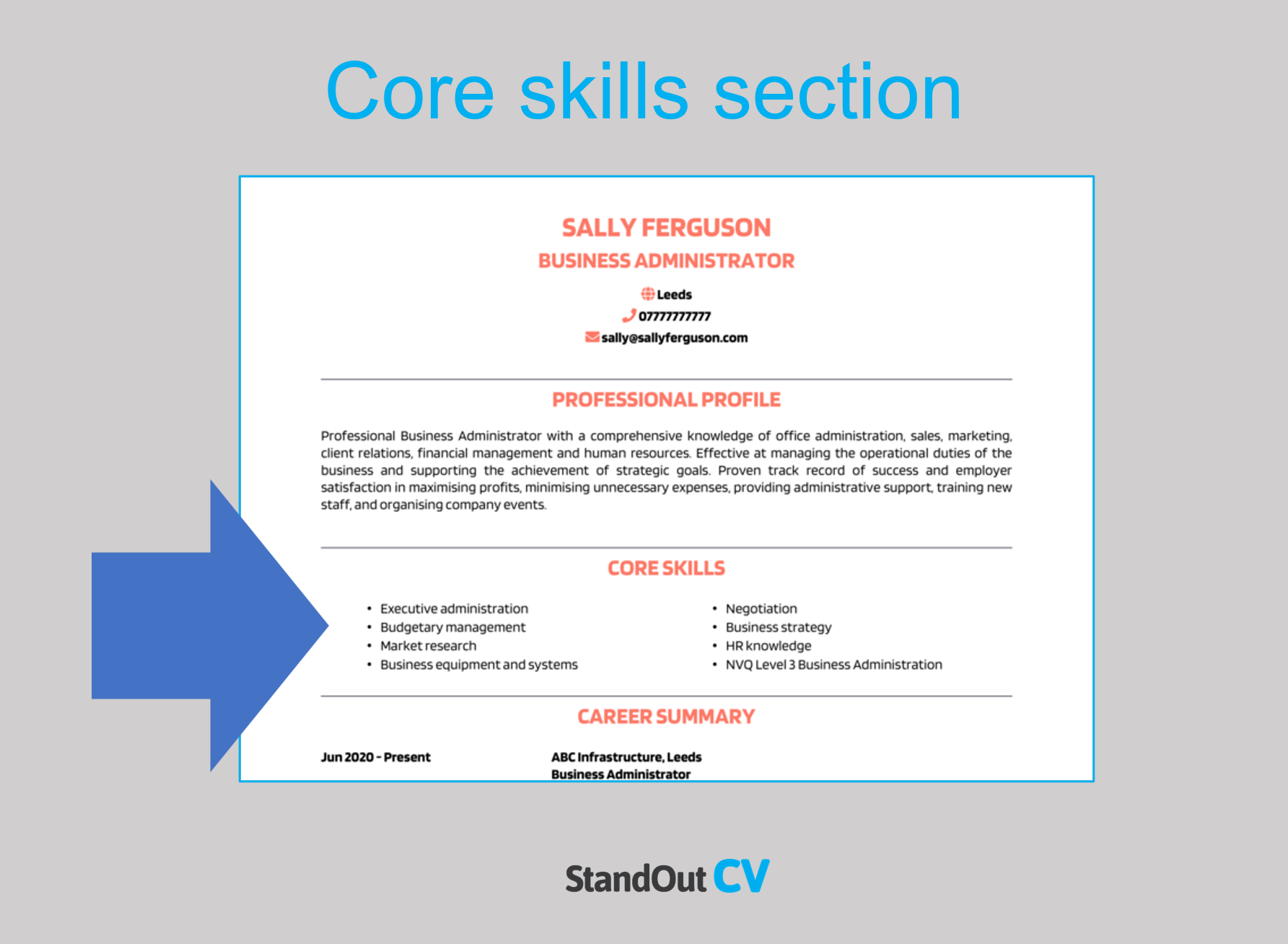 Best skills for your Owner Operator resume
Driving expertise – Utilizing expertise in driving commercial vehicles safely and efficiently, including navigating difficult road and weather conditions.
Vehicle maintenance – Utilizing knowledge of vehicle maintenance and repair, including performing routine maintenance tasks and identifying and addressing mechanical issues.
Business management – Managing all aspects of the business, including accounting, billing, and record-keeping.
Customer service – Utilizing strong customer service skills to interact with clients, understand their needs, and provide high-quality service.
Issue resolution – Quickly and effectively addressing and solving problems that may arise during delivery, such as finding alternative routes or resolving customer complaints, while ensuring that deliveries are made on time and unexpected delays or issues are managed appropriately.
Navigation – Remaining familiar with navigation systems and maps to plan the most efficient and safe routes for deliveries.
Safety compliance – Utilizing knowledge of federal and state safety regulations to ensure that the vehicle and driver are compliant with all applicable laws.
Financial management – Managing finances effectively, including budgeting, forecasting, and financial planning.
Business growth – Identifying opportunities for growth and expansion and making strategic decisions that benefit the business.
Quick tip: Our partner's Resume Builder contains thousands of in-demand skills for every profession that can be added to your resume in seconds – saving you time and greatly improving your chances of landing job interviews and getting hired.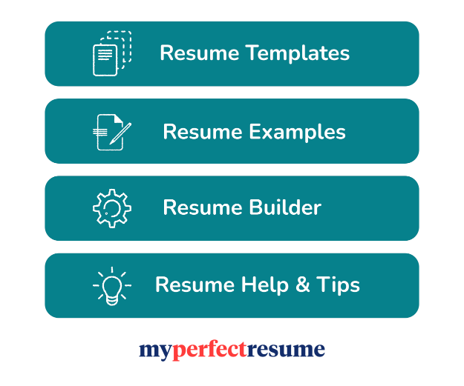 Work experience
So, you've got the recruiter interested with your catchy summary… Great work.
Now it's time to show them the impact you make in the workplace by listing out your previous jobs and what you achieved in each one.
If you have tons of experience, you can condense this part down to the last few years – if you are junior, then you should include as much possible (even volunteering and school work placements)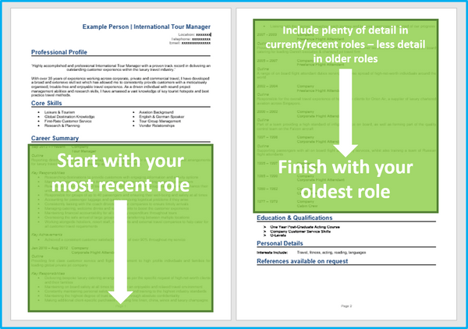 Structuring your jobs
You probably do a lot in your job, so its vital to break all of that information down into a good structure.
Structure your jobs as follows to make it easy for recruiters to skim through and pinpoint the essential info.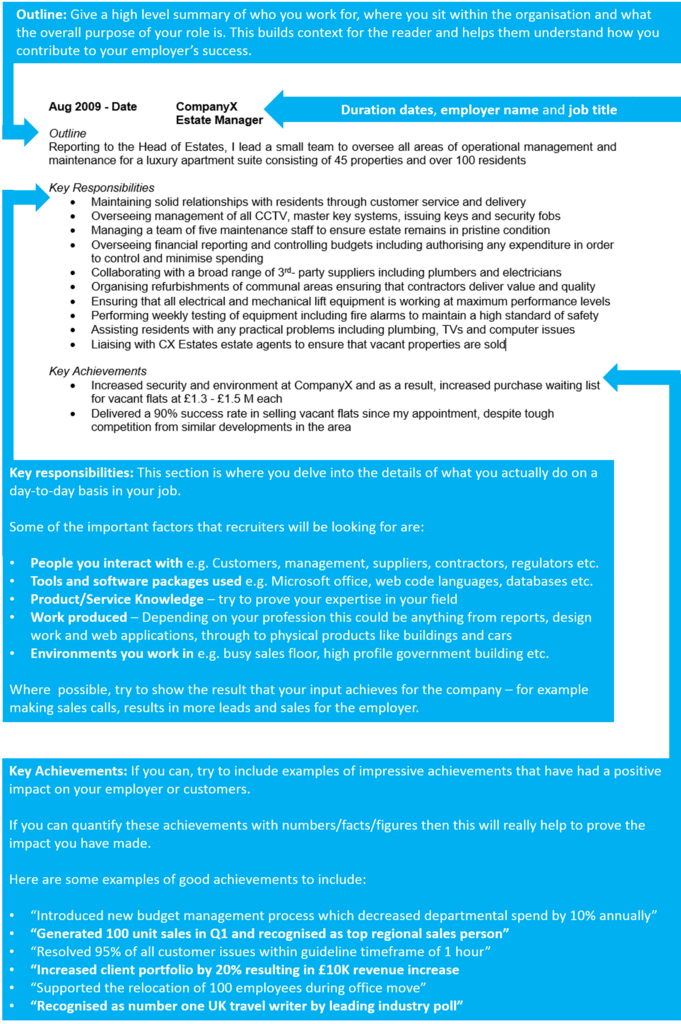 Job outline
Begin each job with a short summary of who the organization is, where you sit within it, and what the main goal of your position is.
Key responsibilities
Then delve into the detail of your job by listing out easy-to-read bullet points which show how you apply your skills in the workplace.
Tailor these bullet points to focus on the skills and knowledge that are required in the jobs you are applying for.
Key achievements
Show employers the value you can bring to them by adding a few achievements to your jobs.
Whether you've saved the company money or improved an internal process, let recruiters know
Add some numbers to give readers a real scale of the impact, e.g. "reduced call wait time by 10%"
Example job for Owner Operator resume
Outline
Transport commercial and domestic freight deliveries from international air deliveries in Idaho for CF Logistics, driving my Honda HG65 dry van an average of 120,000 miles per annum to complete long haul deliveries across the United States.
Key Responsibilities
Safely operate and maintain a Honda HG65 dry van to transport freight.
Conduct the end-to-end delivery process of commercial and domestic freight, including loading and unloading cargo, route planning, and scheduling.
Ensure compliance with industry and government regulations and schedule inspections.
Maintain accurate records of deliveries, including fuel consumption, mileage, and issues.
Quick tip: Create impressive job descriptions easily in our partner's Resume Builder by adding pre-written job phrases for every industry and career stage.

Education section
Nearing the end of your resume, your education/qualifications section should be added.
In a well-structured list, add all of your qualifications and certifications that qualify you to perform a typical Owner Operator role.
If you have plenty of work experience, keep this section brief – if not, add lots of detail to make up for your lack of experience.
Additional information
If you have anything else to add which is relevant to the jobs you are applying for, the additional info section is the place to add it.
Perhaps you have a hobby which involves relevant skills, or maybe you have some awards or publications worth mentioning.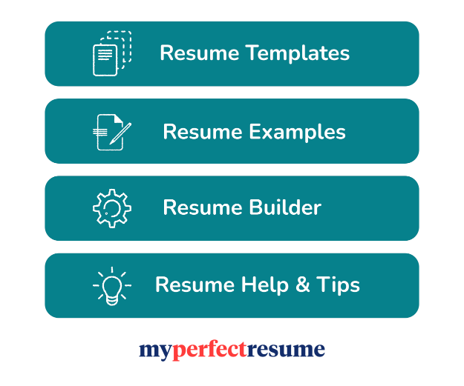 Writing your own winning Owner Operator resume
Following the steps in this guide will help you to create a winning Owner Operator resume and bag lots of interviews.
Good luck with your job search!