Do you love your local community and want to be a part of planning events and connecting local businesses?
Then a role as an outreach coordinator is perfect for you.
In order to secure such a wonderful position, you need to prove to the recruiter that you've got the right skills and qualities to be successful in the role. Find out how to do that with our top tips and outreach coordinator resume example below.
Contents
| | |
| --- | --- |
| How to write a Outreach Coordinator resume | |

Outreach Coordinator Resume Example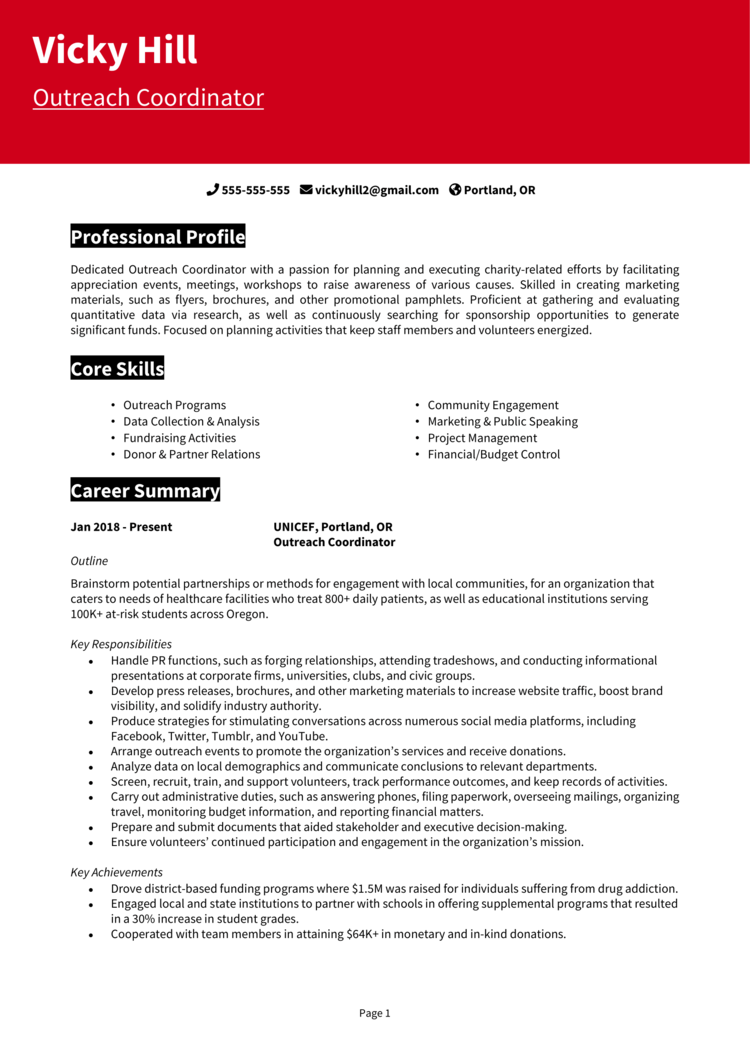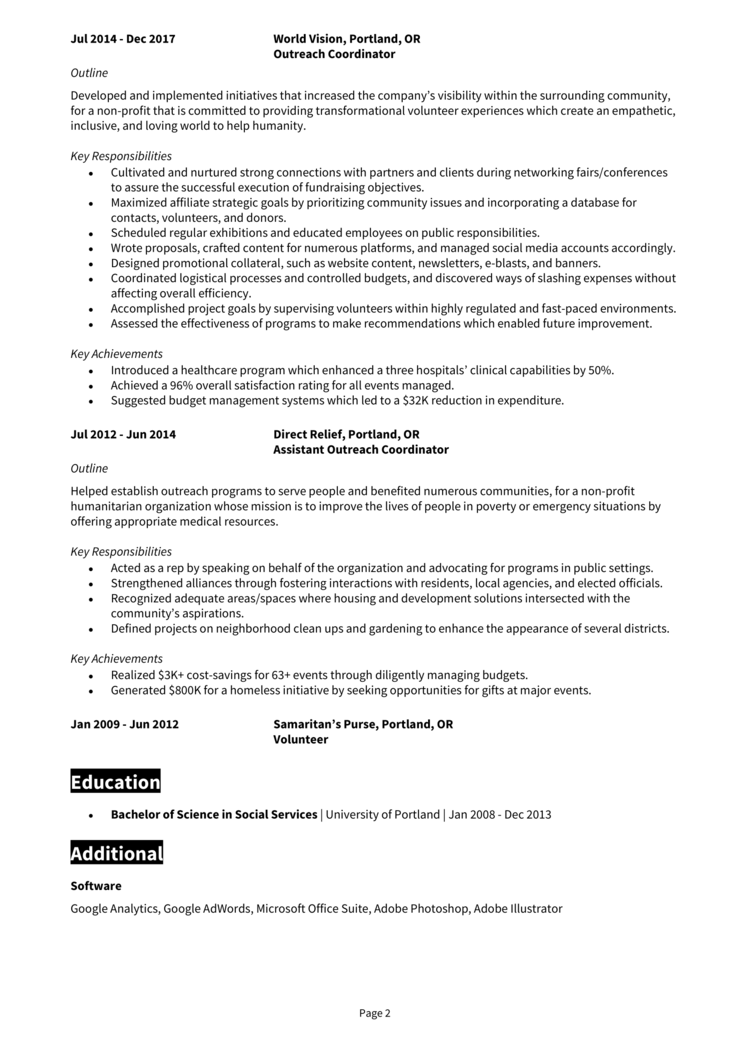 This example Outreach Coordinator resume is well-structured to provide a pleasant reading experience for recruiters, and contains all of the crucial information they want to see.
The rest of the guide will show you exactly how you can achieve this in your own resume.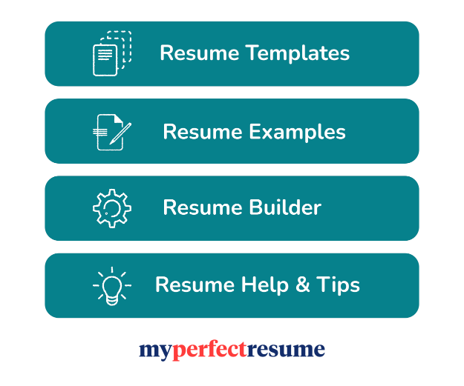 Outreach Coordinator resume layout and formatting
The format and layout of your resume can make or break its success.
Sure, it's great to pack your resume with lots of impressive skills and knowledge, but if the page is not structured clearly, hiring managers will struggle to find the important stuff!
Above all, your resume should be easy-to-read and professional looking.
Follow these formatting tips to get noticed.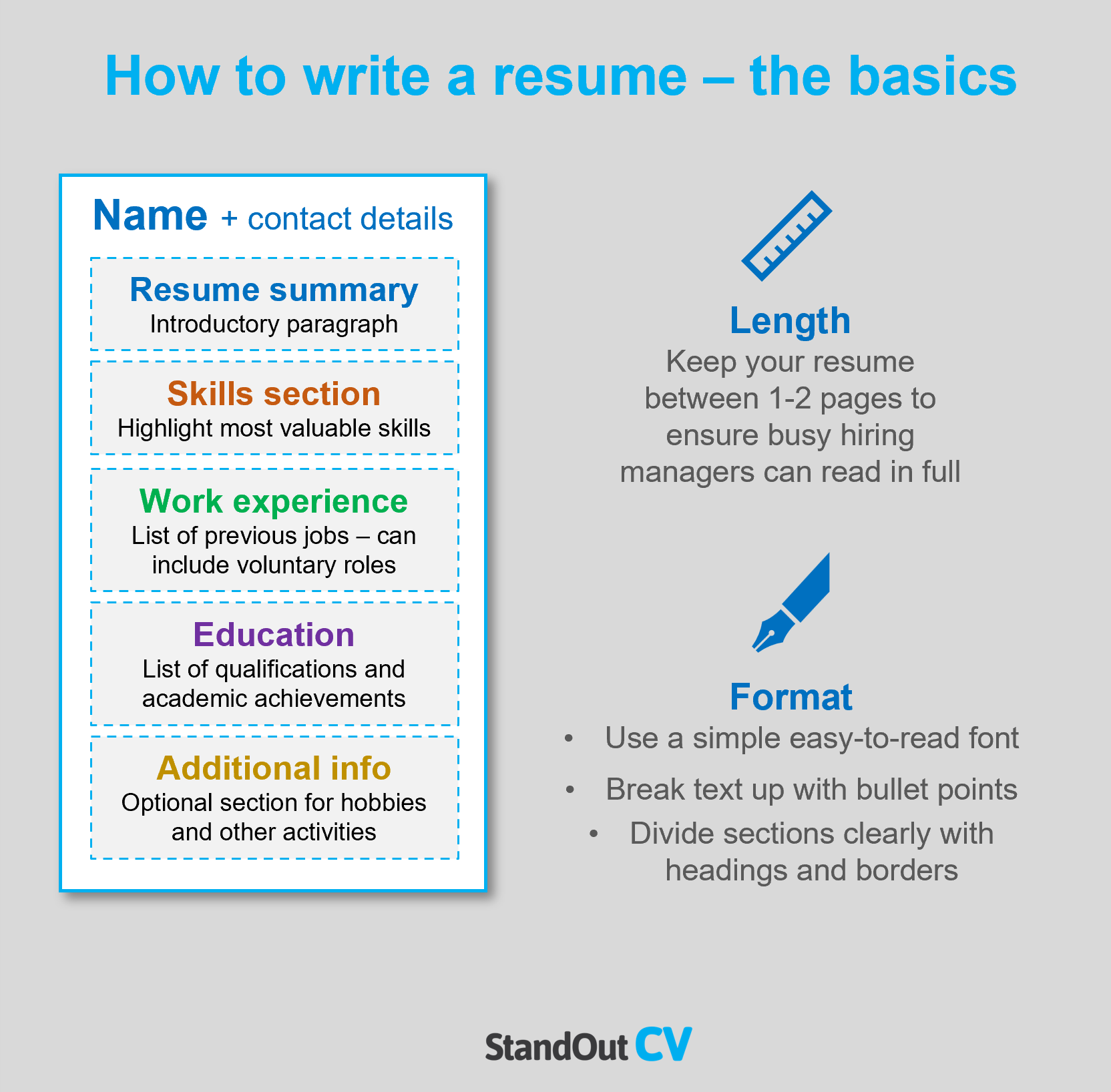 Formatting your resume
Length: To ensure that recruiters will read all of your resume, limit its length to 2 pages – as they someteimes read hundreds of resumes daily.
Font & readability: The key to an effective resume is its readability, so it's best to use a clear and simple font and format it with bullet points and short paragraphs to make it easy for recruiters to read through quickly.
Layout & Structure: Go with a resume design that looks good, but also allows for easy reading and navigation for employers. Ensure the page is clearly split up into sections by adding large font headings and dividing borders. Keep the color scheme simple and don't overcrowd the page.
Photos: It's not mandatory to add a photo to your resume in the USA but it if you're applying to organizations within the creative fields, it can be beneficial.
Quick tip: Achieving a professional look for your resume can be difficult and time-consuming. If you want to create an attractive resume quickly, try our partner's Resume Builder and use one of their eye-catching resume templates.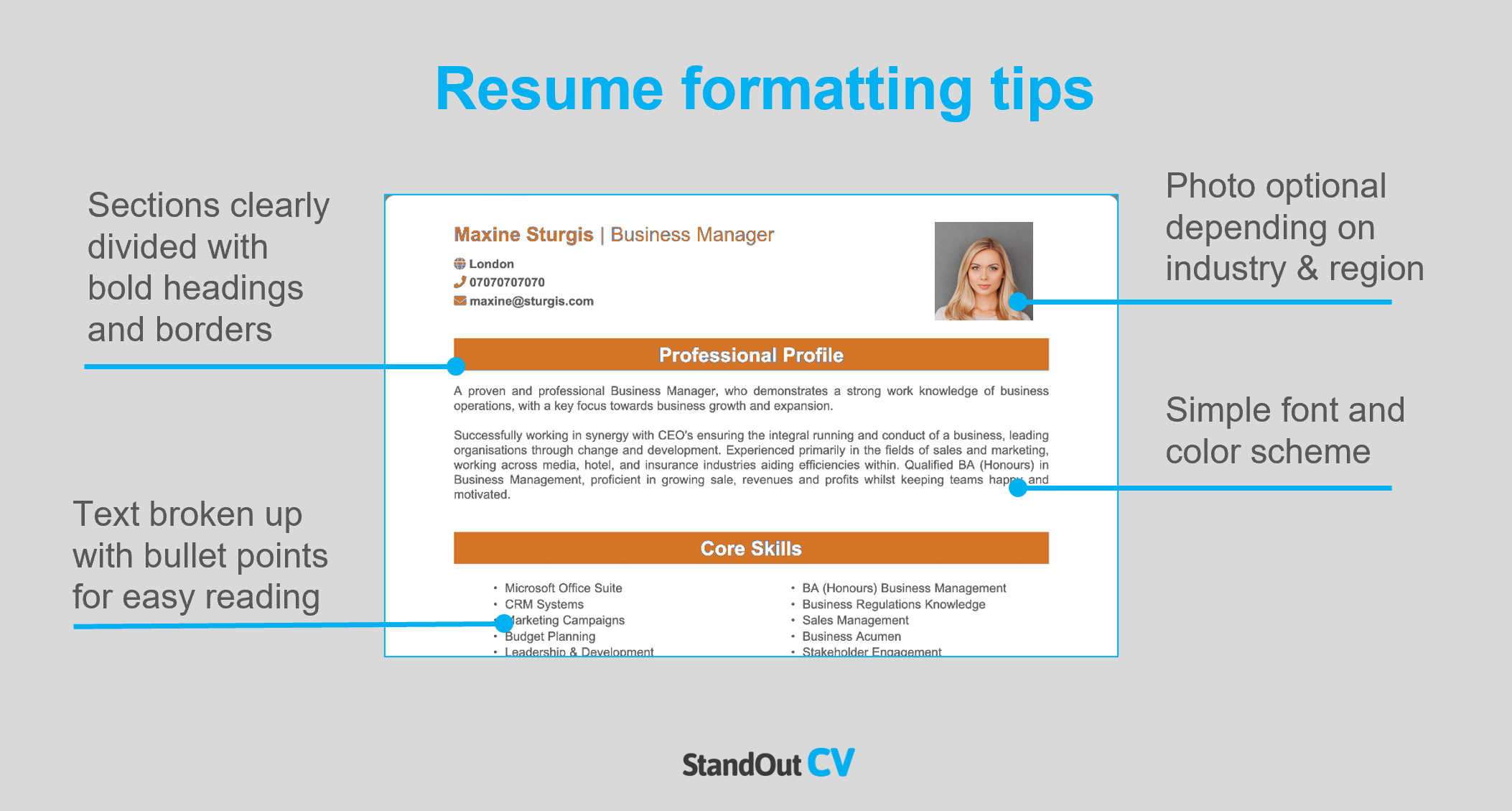 Resume layout
Include the following sections when you write your resume.
Name and contact details – Make it easy for employers to contact you, by putting these at the top.
Resume summary – An intro paragraph sitting at the top of your resume, summarizing the reasons why you should be hired.
Skills section – A short snappy list of your most important skills, that can be quickly digested
Work experience – Reverse chronological list of your previous jobs – voluntary work and college placements can be included if you have no paid experience.
Education – List your qualifications and professional training.
Additional info – An optional section for things like hobbies and interests.
Here's what to include in each part of your resume.
Contact Details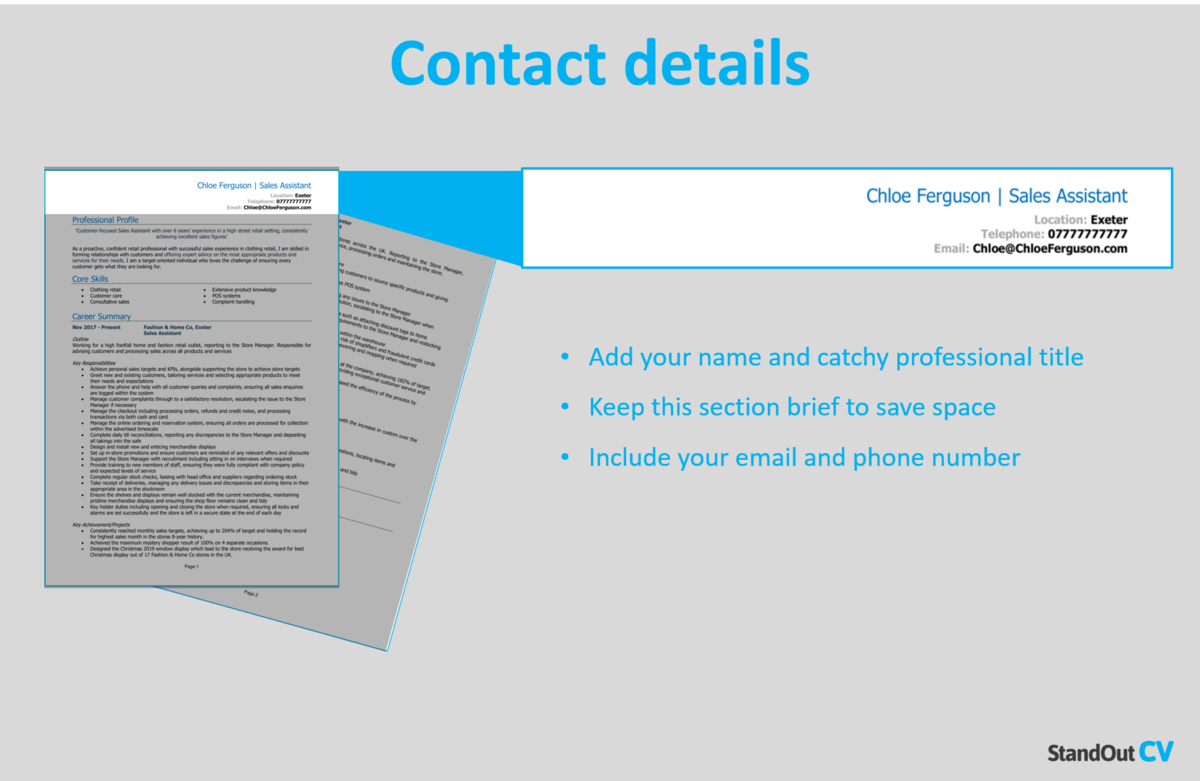 Add your name and contact details to the very top of your resume, making it easy for recruiters to get in touch
Name and profession title
Cell phone number – or another number you can answer quickly
Location – Add your local area such as San Diego or New York – not your full address as that will take up too much space.
Email address – Use your name or close variation – no nicknames from high school.
You can add a link to your LinkedIn profile if you have one – you do not need to include personal details like date of birth or marital status.
Outreach Coordinator Resume Summary
Your resume summary is like your introduction to the recruiter or hiring manager – it should grab their attention and leave them eager to read more about you.
Achieve this by writing a snappy overview of your skills, knowledge and what value you can bring to an employer.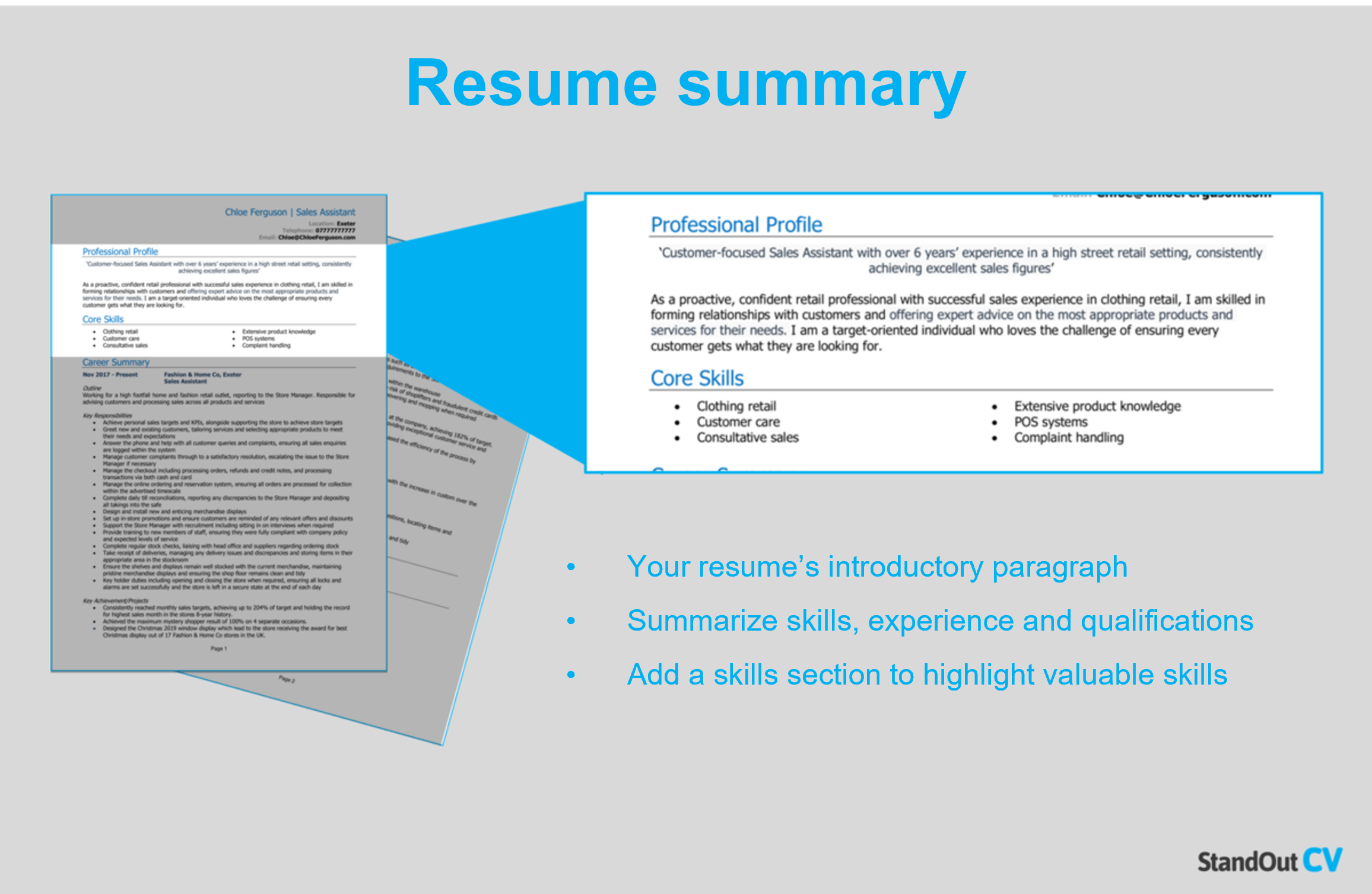 How to create a resume summary that will excite recruiters:
Keep it short: Your summary is intended to be a high-level introduction to hook readers' attention, so keep it brief (4-7 lines) – save the details for later in your resume.
Tailor to target jobs: To better align your resume with your target jobs, it's important to scrutinize the job description and identify as many relevant skills as possible to include in your resume.
Avoid using cliches: Recruiters look for facts in resumes, such as hard skills and qualifications – so, leave out the meaningless cliches like "hard worker who works well in a team and individually"
Outreach Coordinator resume summary example
Dedicated Outreach Coordinator with a passion for planning and executing charity-related efforts by facilitating appreciation events, meetings, workshops to raise awareness of various causes. Skilled in creating marketing materials, such as flyers, brochures, and other promotional pamphlets. Proficient at gathering and evaluating quantitative data via research, as well as continuously searching for sponsorship opportunities to generate significant funds. Focused on planning activities that keep staff members and volunteers energized.
What to include in your Outreach Coordinator resume summary?
Summary of your experience: Provide an overview of the type of work you have done in the past and the impact you have made at previous employers.
Relevant skills: Skills that are highly relevant to Outreach Coordinator work should be made prominent throughout your summary.
Qualifications: To make a strong impression on potential employers when applying for Outreach Coordinator jobs, be sure to mention any relevant qualifications in your summary.
Quick tip: Choose from hundreds of pre-written summaries across all industries, and add one to your resume with one-click in our partner's Resume Builder. All written by recruitment experts and easily tailored to suit your unique skillset and style.
Core skills section
Underneath your summary, write a core skills section to make your most relevant skills jump off the page at readers.
It should be made up of 2-3 columns of bullet points of your relevant skills.
Before you do this, look over the job description and make a list of any specific skills, specialisms or knowledge required.
Then, make sure to use your findings in your list. This will paint you as the perfect match for the role.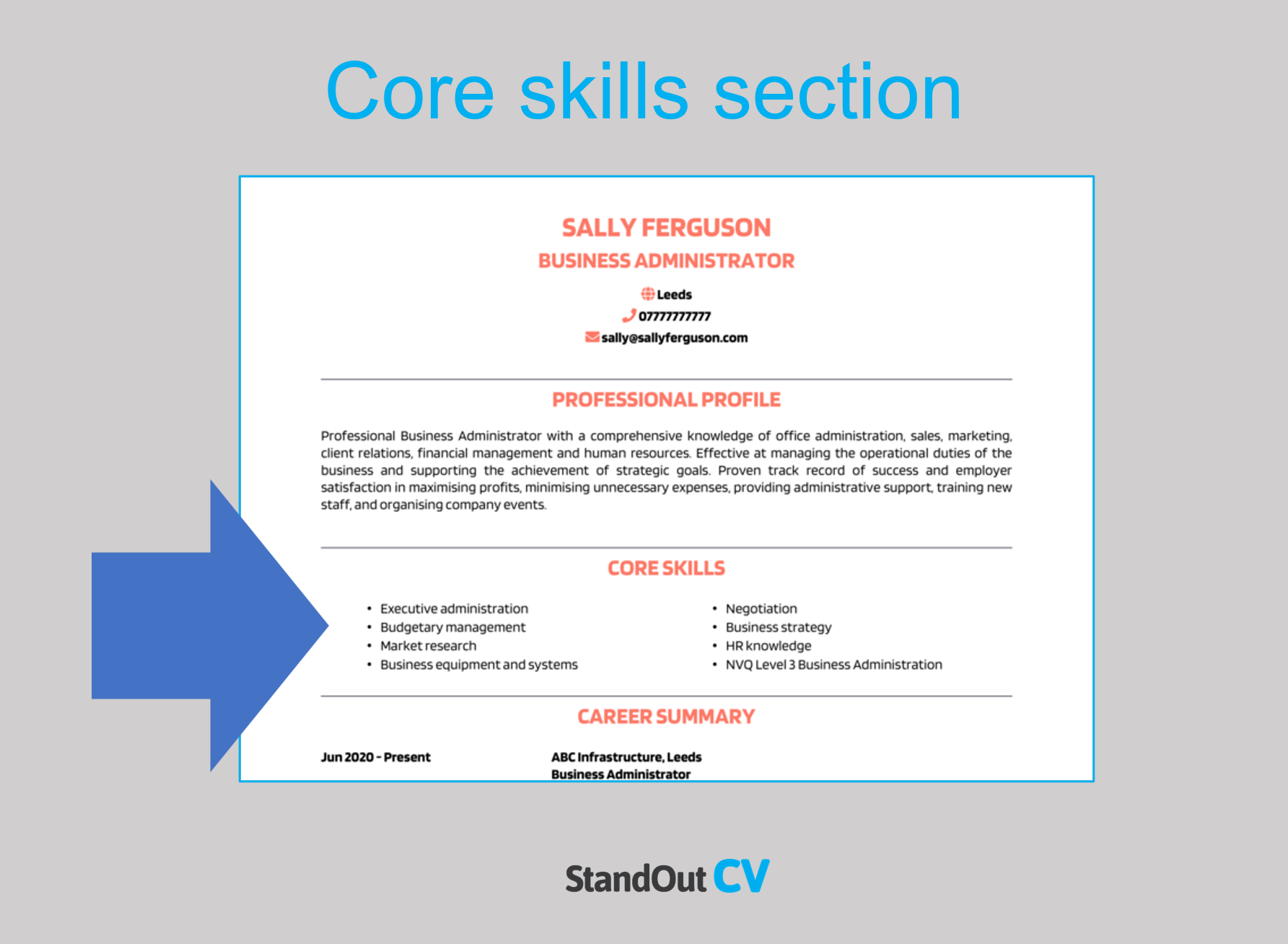 Best skills for your Outreach Coordinator resume
Relationship building – Developing and maintaining strong relationships with community leaders, organizations, and stakeholders to promote outreach initiatives.
Effective communication – Utilizing excellent communication skills to effectively communicate the organization's mission and goals to external stakeholders.
Public speaking – Speaking confidently and effectively in front of large groups, such as at community events or meetings.
Event planning – Utilizing knowledge of event planning and coordination to organize and execute outreach events and initiatives.
Marketing and branding – Utilizing knowledge of marketing and branding concepts to develop promotional materials and messaging to effectively reach target audiences.
Project management – Managing projects from conception to completion, including planning, budgeting, and execution.
Research and analysis – Researching and analyzing data to identify outreach opportunities and to evaluate the success of outreach initiatives.
Data management – Utilizing knowledge of data management techniques to track and report on outreach efforts and their impact.
Cultural competence – Utilizing knowledge of cultural nuances and diversity to effectively engage with diverse communities and populations.
Cross functional collaboration – Working effectively in a team and collaborate with internal departments to ensure that outreach initiatives align with the organization's mission and goals.
Quick tip: Our partner's Resume Builder contains thousands of in-demand skills for every profession that can be added to your resume in seconds – saving you time and greatly improving your chances of landing job interviews and getting hired.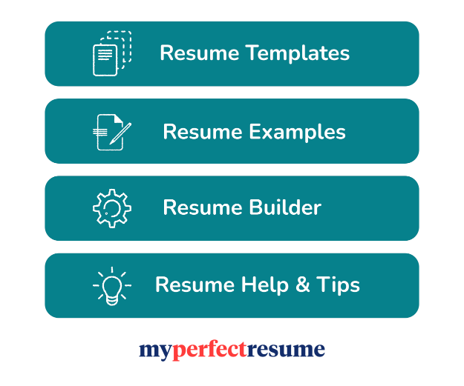 Work experience
So, you've grabbed the recruiters' attention with your summary, now it's time to show them what you're really capable of in your work experience section.
List your previous jobs from current to oldest, showing off the impact you made at each organization.
If you have tons of experience, you should just list the most recent an relevant jobs – but if you have little or no experience, add it all and even consider putting in voluntary work.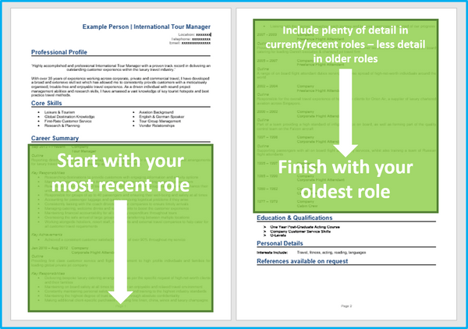 Structuring your jobs
Resume job descriptions contain lots of information, so its crucial to structure them well.
Use the structure below to ensure hiring managers can consume the information easily.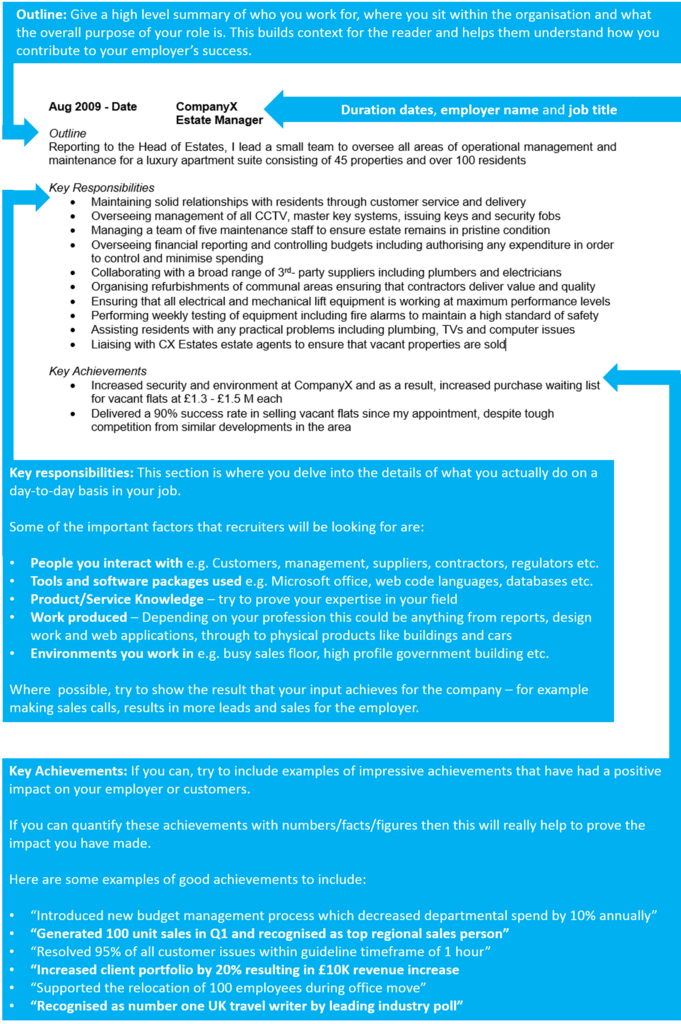 Job outline
Starting each job with a brief summary of the organization, your position within it, and the primary goal of your role can help recruiters quickly understand the context of your work.
Key responsibilities
Then delve into the detail of your job by listing out easy-to-read bullet points which show how you apply your skills in the workplace.
Tailor these bullet points to focus on the skills and knowledge that are required in the jobs you are applying for.
Key achievements
Show employers the value you can bring to them by adding a few achievements to your jobs.
Whether you've saved the company money or improved an internal process, let recruiters know
Add some numbers to give readers a real scale of the impact, e.g. "reduced call wait time by 10%"
Example job for Outreach Coordinator resume
Outline
Brainstorm potential partnerships or methods for engagement with local communities, for an organization that caters to needs of healthcare facilities who treat 800+ daily patients, as well as educational institutions serving 100K+ at-risk students across Oregon.
Key Responsibilities
Handle PR functions, such as forging relationships, attending tradeshows, and conducting informational presentations at corporate firms, universities, clubs, and civic groups.
Develop press releases, brochures, and other marketing materials to increase website traffic, boost brand visibility, and solidify industry authority.
Produce strategies for stimulating conversations across numerous social media platforms, including Facebook, Twitter, Tumblr, and YouTube.
Arrange outreach events to promote the organization's services and receive donations.
Quick tip: Create impressive job descriptions easily in our partner's Resume Builder by adding pre-written job phrases for every industry and career stage.

Education section
After your work experience, add your education section.
If you are an experienced professional, you can keep this part short – adding basic details of each qualification.
If you have little or no experience, bulk this section up by adding more detail and highlight important skills and knowledge for your target jobs.
Additional information
If you have anything else to add which is relevant to the jobs you are applying for, the additional info section is the place to add it.
Perhaps you have a hobby which involves relevant skills, or maybe you have some awards or publications worth mentioning.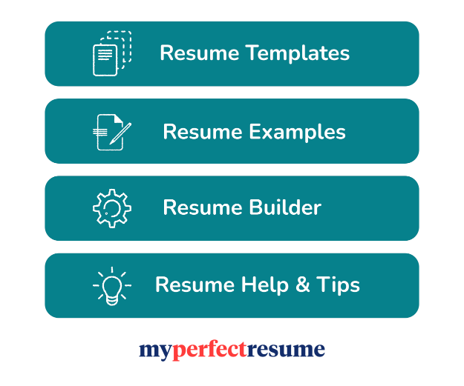 Writing your own winning Outreach Coordinator resume
Crafting a strong Outreach Coordinator resume can be a daunting task, but implementing the steps outlined above will significantly increase your chances of securing multiple interview opportunities.
Good luck with your job search!