You're dedicated, passionate, and you live to improve the lives of others. Now you're ready for your next role in a nonprofit organization.
But taking on such an important position requires strong leadership skills, as well as experience in the sector. It also requires a standout application that's going to secure you an interview.
To help you create an interview-winning resume, check out all our top tips, along with a nonprofit executive director resume example below.
Contents
| | |
| --- | --- |
| How to write a Nonprofit Executive Director resume | |

Nonprofit Executive Director Resume Example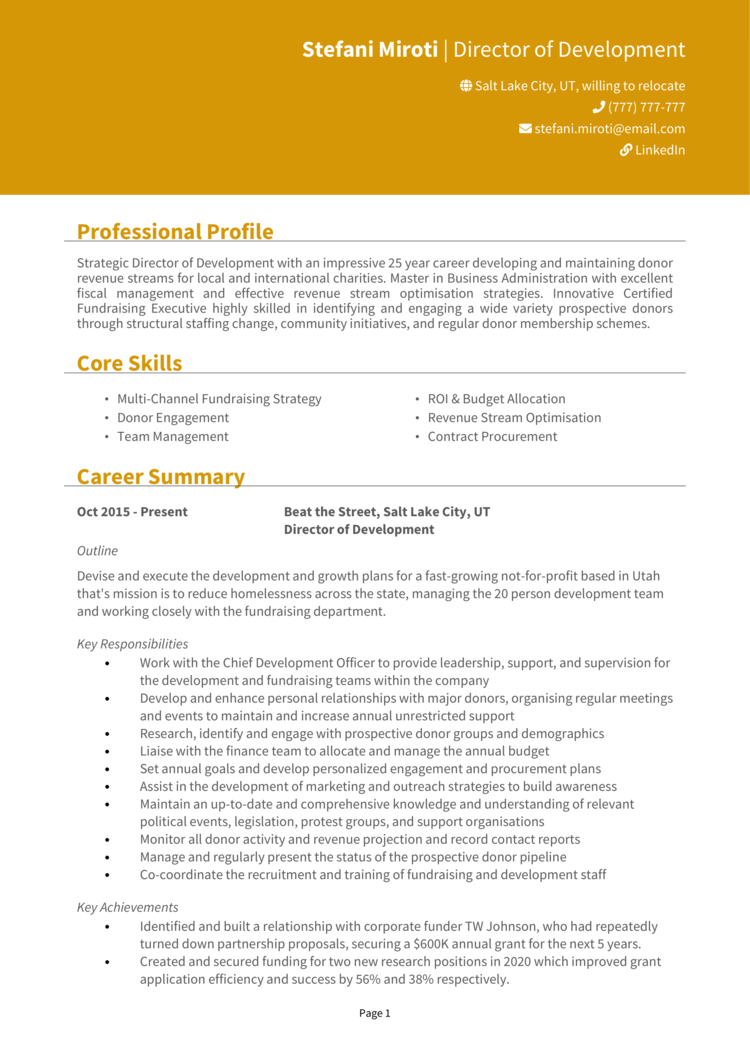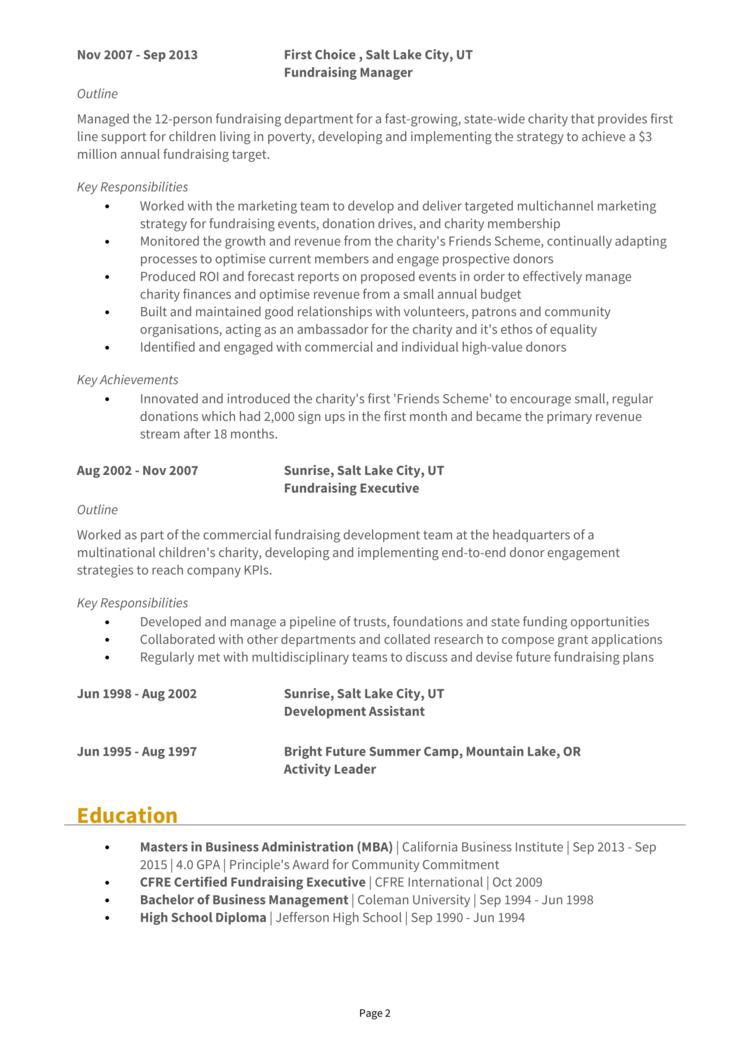 This example Nonprofit Executive Director resume provides you with a general idea of how your resume should look, and what information recruiters expect to see.
The rest of this guide will explain how to layout your resume and create each section effectively.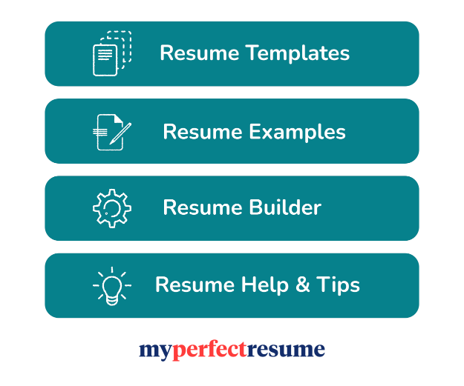 Nonprofit Executive Director resume layout and format
When it comes to holding the attention of recruiting managers, the format and layout of your resume play a key role.
Your resume needs to strike a perfect balance between looking awesome, and being easy for recruiters to read (which is not always easy to achieve)
Use the following formatting tips to get started.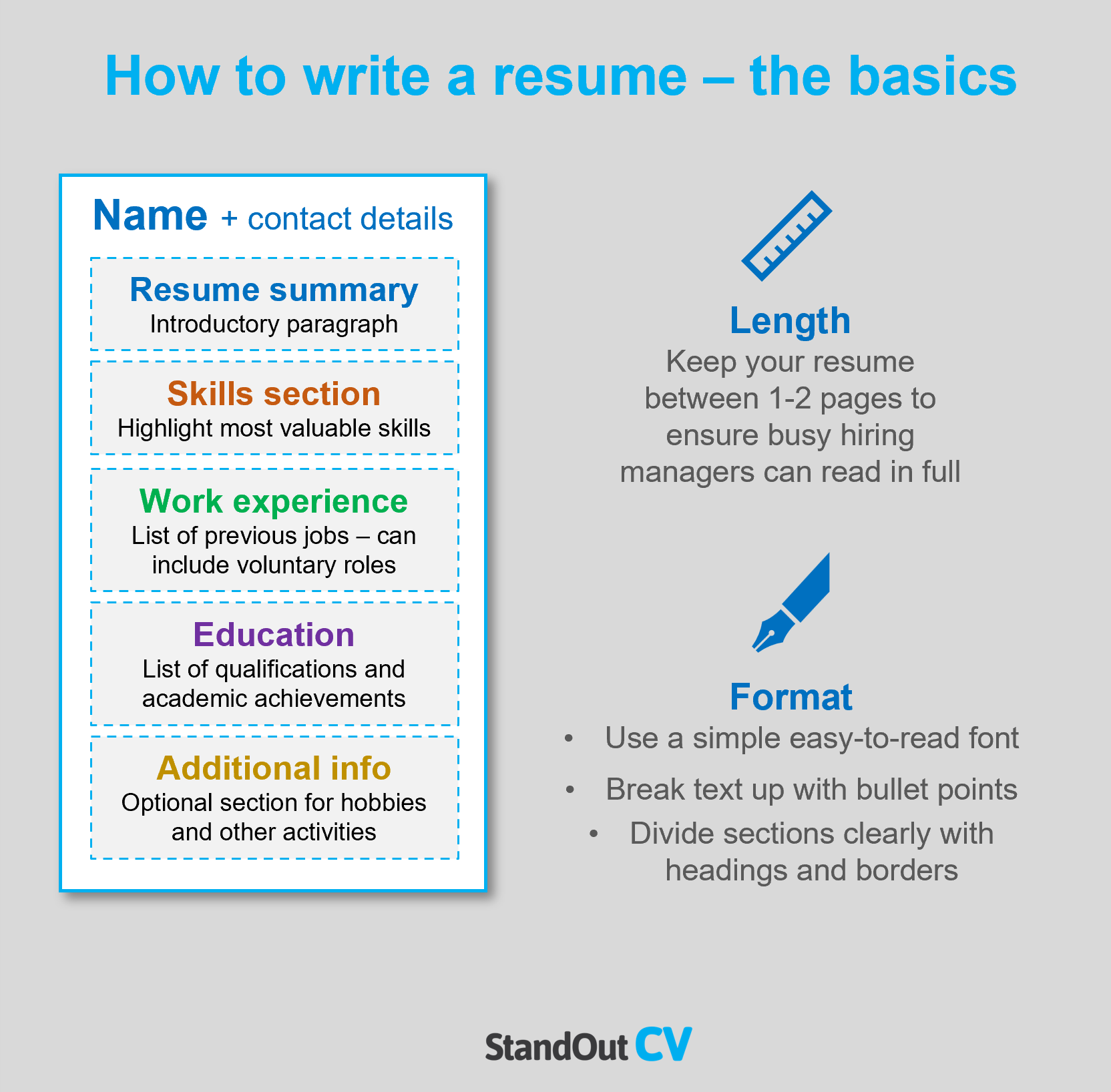 Formatting your resume
Length: To ensure that your resume gets proper attention from recruiters, it is best to keep it at 2 pages or less. Recruiters are often inundated with hundreds of resumes to review on a daily basis, so they want to read each one quickly as possible.
Font & readability: Simplicity and a pleasant reading experience are crucial if you want to highlight your most valuable skills to recruiters. Use a clear font (avoid fancy ones) and break up the text in your resume with bullet points to ensure information can be easily consumed.
Layout & Structure: A visually appealing resume is important, but don't forget about functionality. To ensure a functional design, use bold headings and borders to organize the page into clear sections.
Photos: Although it's not mandatory to include a photo on your resume in the United States, it may be a good idea to do so in certain regions and industries where it is preferred.
Quick tip: Achieving a professional look for your resume can be difficult and time-consuming. If you want to create an attractive resume quickly, try our partner's Resume Builder and use one of their eye-catching resume templates.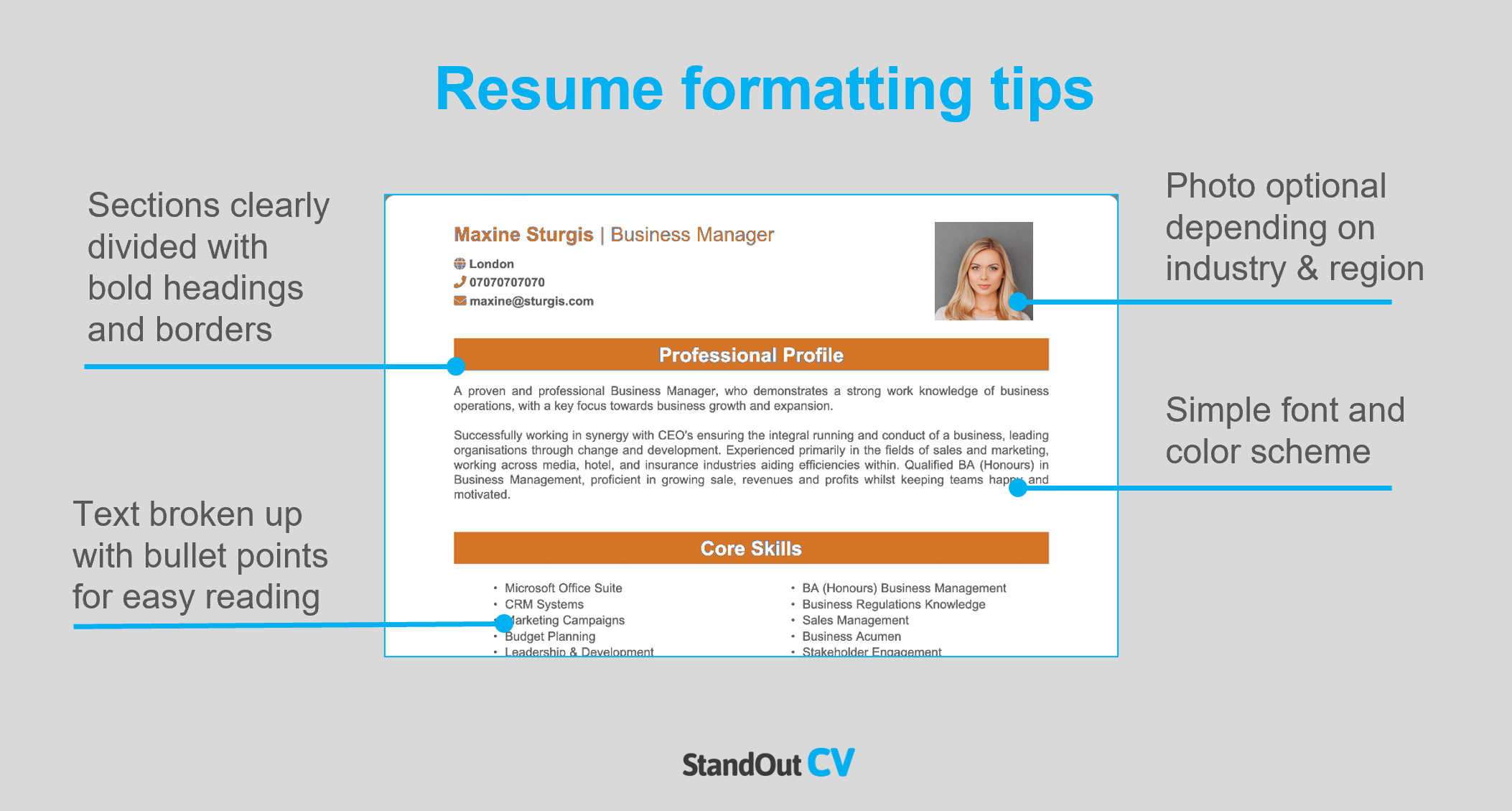 Resume layout
Add the following sections when you write your resume.
Name and contact details – Add to the very top of your resume to introduce yourself and make it super-easy for recruiters to get in touch.
Resume summary – Reel hiring managers in with an "elevator pitch" style paragraph which sums up your suitability for the job.
Skills section – A short and sharp list of your most important skills, that can be quickly skim-read.
Work experience – List your previous jobs (from newest to oldest) detailing the skills learnt and applied in each.
Education – List your qualifications and professional training.
Additional info – If it helps your application, you can add an extra section for things like hobbies and interests.
Here's what to include in each part of your resume.
Contact Details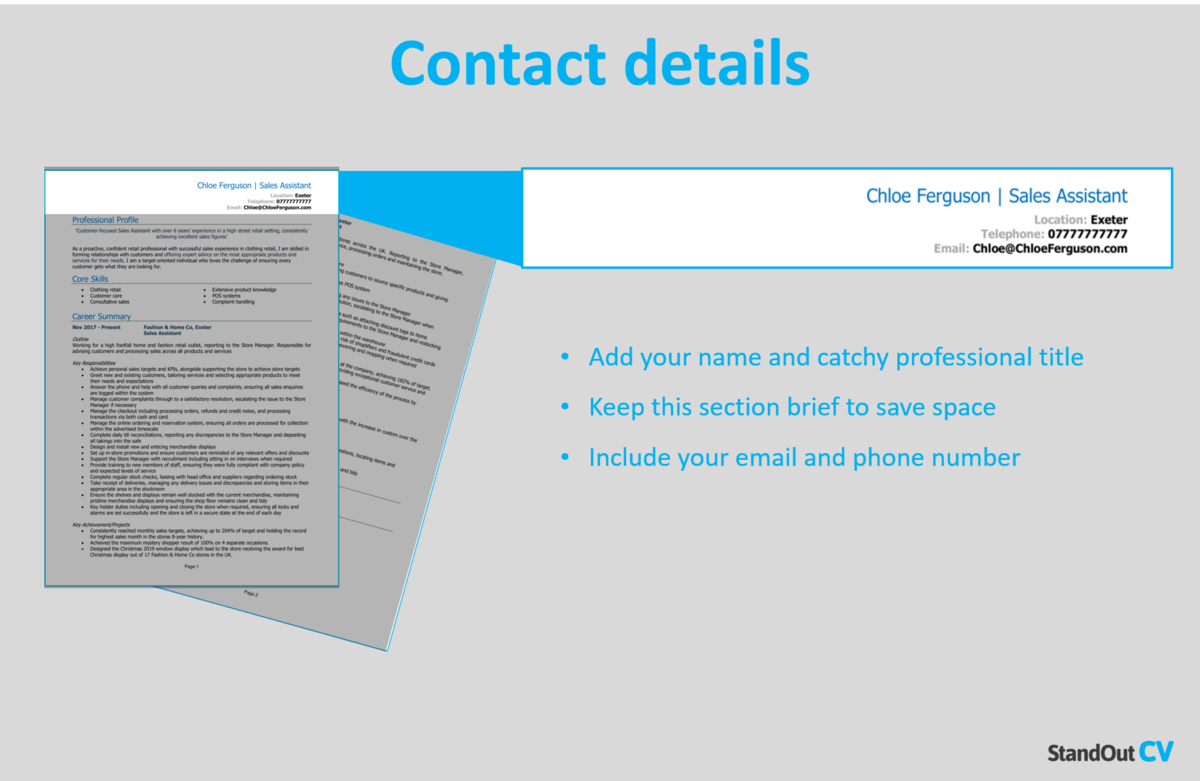 Add your name and contact details to the very top of your resume, making it easy for recruiters to get in touch
Name and profession title
Cell phone number – or another number you can answer quickly
Location – Add your local area such as San Diego or New York – not your full address as that will take up too much space.
Email address – Use your name or close variation – no nicknames from high school.
You can add a link to your LinkedIn profile if you have one – you do not need to include personal details like date of birth or marital status.
Nonprofit Executive Director Resume Summary
Start your resume with a bang by adding a powerful summary to the top, summarizing your most valuable skills and experience.
This short paragraph is your chance to show recruiters why you are a perfect fit for the job and encourage them to read more of your resume.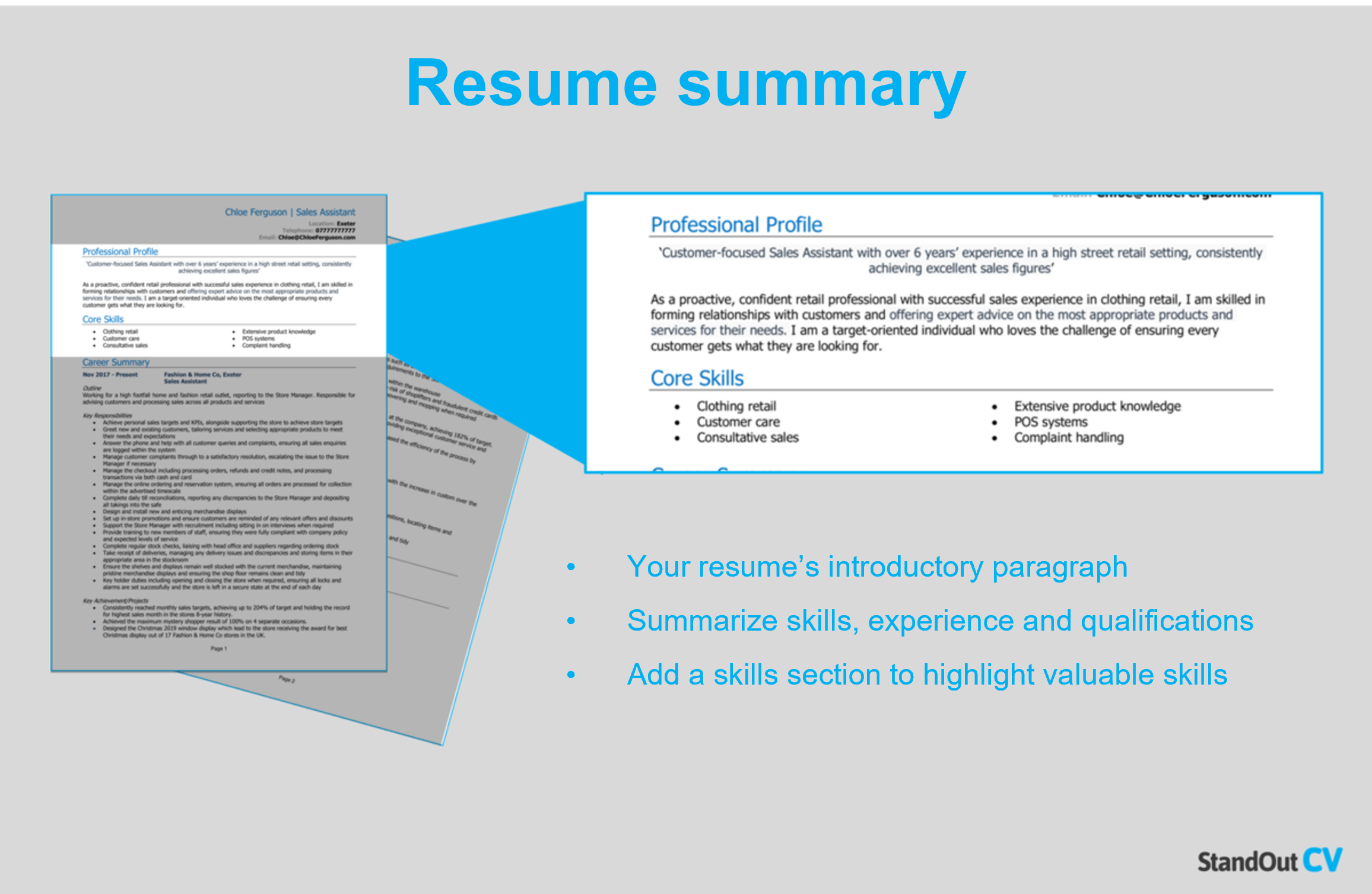 How to create a resume summary that will excite recruiters:
Keep it short: To capture a recruiter's attention and keep them interested in your resume, limit your summary to 4-7 lines as you only have a few seconds to make an impression
Tailor to target jobs: Optimize your summary to match the requirements of your target jobs, by mirroring the key words from the job description as closely as possible.
Avoid using cliches: Although you may believe that you're a "team player who always gives 110%," these kinds of cliches don't communicate much about your skills and qualifications to potential employers. It's more effective to stick to factual information in your resume.
Nonprofit Executive Director resume summary example
Strategic Director of Development with an impressive 25-year career developing and maintaining donor revenue streams for local and international charities. Holds a master's in business administration with excellent fiscal management and effective revenue stream optimization strategies. Innovative Certified Fundraising Executive highly skilled in identifying and engaging a wide variety prospective donors through structural staffing change, community initiatives, and regular donor membership schemes.
What to include in your Nonprofit Executive Director resume summary?
Summary of your experience: Provide a summary of the kind of work you have previously done, along with the benefits you have delivered to the organizations you worked with.
Relevant skills: Highlight your skills which are most relevant to Nonprofit Executive Director jobs, to ensure that recruiters see your most in-demand skills as soon as they open your resume.
Qualifications: Showcase your level of education with a quick mention of any qualifications that are essential for the Nonprofit Executive Director roles you are applying to.
Quick tip: Choose from hundreds of pre-written summaries across all industries, and add one to your resume with one-click in our partner's Resume Builder. All written by recruitment experts and easily tailored to suit your unique skillset and style.
Core skills section
Underneath your summary, write a core skills section to make your most relevant skills jump off the page at readers.
It should be made up of 2-3 columns of bullet points of your relevant skills.
Before you do this, look over the job description and make a list of any specific skills, specialisms or knowledge required.
Then, make sure to use your findings in your list. This will paint you as the perfect match for the role.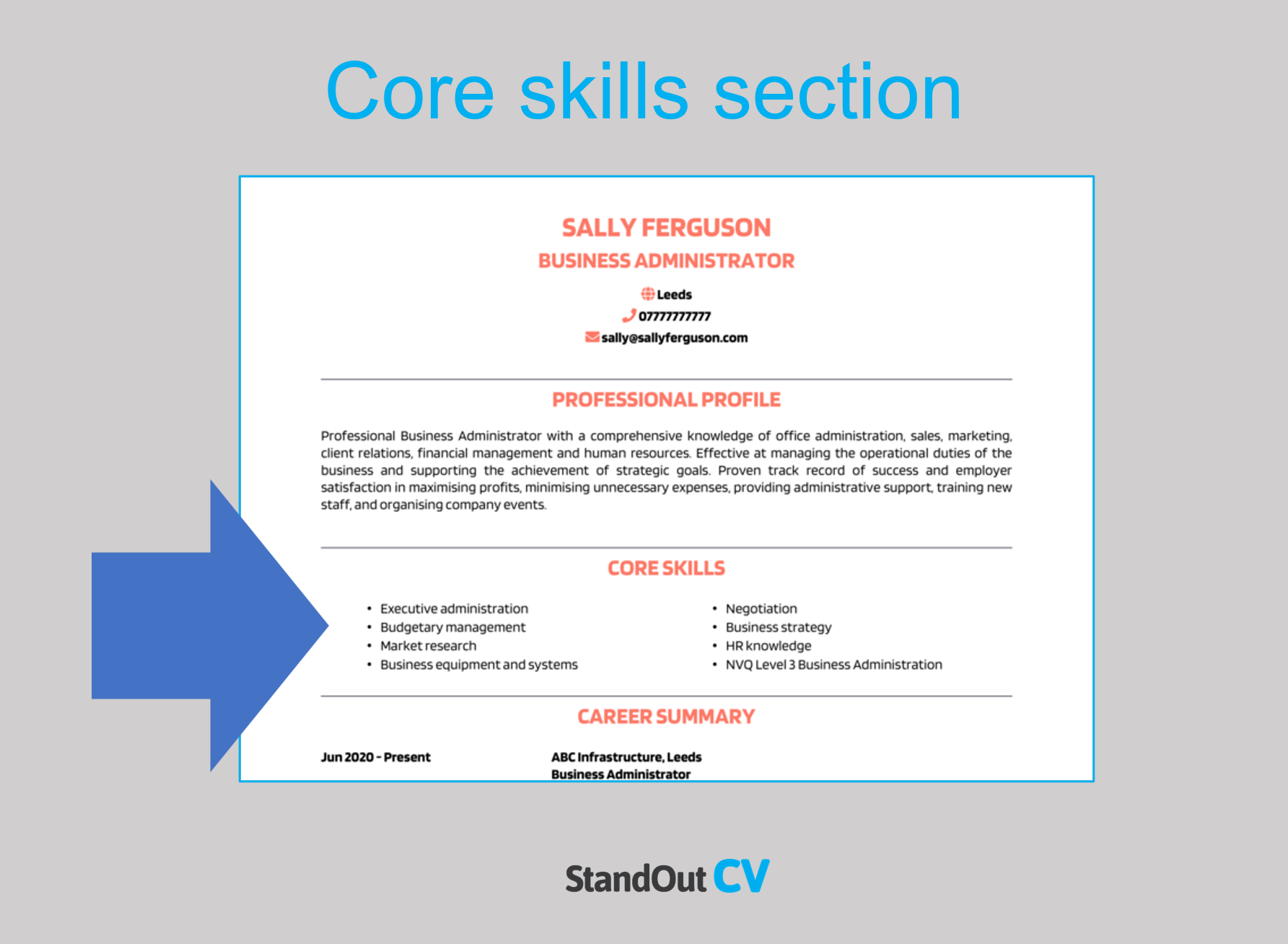 Best skills for your Nonprofit Executive Director resume
Strategic Planning – Developing and implementing strategic plans to guide the organization's mission and vision, ensuring alignment with its goals and objectives.
Fundraising and Development – Implementing a range of fundraising strategies and techniques, including grant writing, donor cultivation, corporate sponsorships, and fundraising events, to secure financial resources for the organization.
Financial Management – Financial planning, budgeting, and oversight, including tracking income and expenses, managing cash flow, and ensuring compliance with financial regulations and reporting requirements.
Board Governance – Utilizing knowledge of nonprofit governance principles and experience in working with a board of directors, including board recruitment, engagement, and effective communication.
Program Management – Designing, implementing, and evaluating programs and services that align with the organization's mission and meet the needs of its target beneficiaries.
Community Engagement – Building and maintaining relationships with stakeholders, community partners, and supporters to promote the organization's mission, raise awareness, and foster collaboration.
Advocacy and Public Relations – Advocating for the organization's cause, representing its interests to policymakers and the media, and effectively communicating its impact to the public.
Team Leadership – Leading and motivating a diverse team, providing guidance, support, and professional development opportunities to maximize individual and collective performance.
Strategic Partnerships – Forming strategic partnerships and collaborations with other organizations, government agencies, and community groups to leverage resources, expand reach, and achieve shared goals.
Compliance and Risk Management – Utilizing knowledge of legal and regulatory requirements for nonprofit organizations, including tax-exempt status, reporting obligations, and risk management practices to ensure compliance and mitigate potential risks.
Quick tip: Our partner's Resume Builder contains thousands of in-demand skills for every profession that can be added to your resume in seconds – saving you time and greatly improving your chances of landing job interviews and getting hired.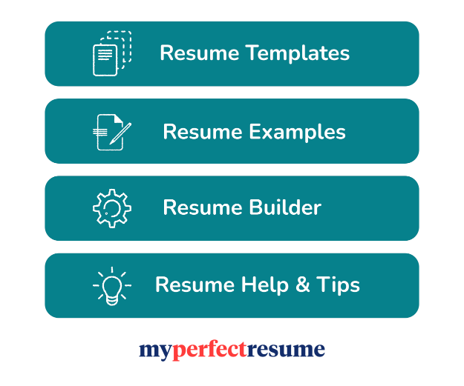 Work experience
Now that you've reeled recruiters in with your awesome summary, it's time to delve into your work experience.
Here you'll list your previous jobs (starting with your most recent and working backward) and showcase how you apply your skills in the workplace.
Provide lots of detail in recent jobs, and less in older roles.
If you have no relevant paid experience, you can include voluntary work and placements – but if you have lots of experience, you can leave out some of the really old jobs.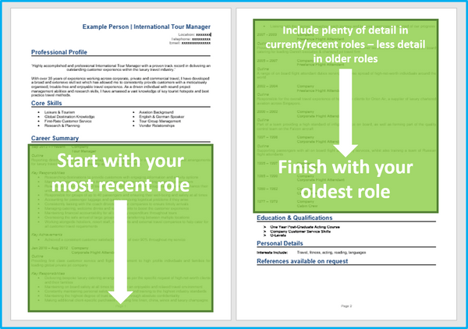 Structuring your jobs
Resume job descriptions contain lots of information, so its crucial to structure them well.
Use the structure below to ensure hiring managers can consume the information easily.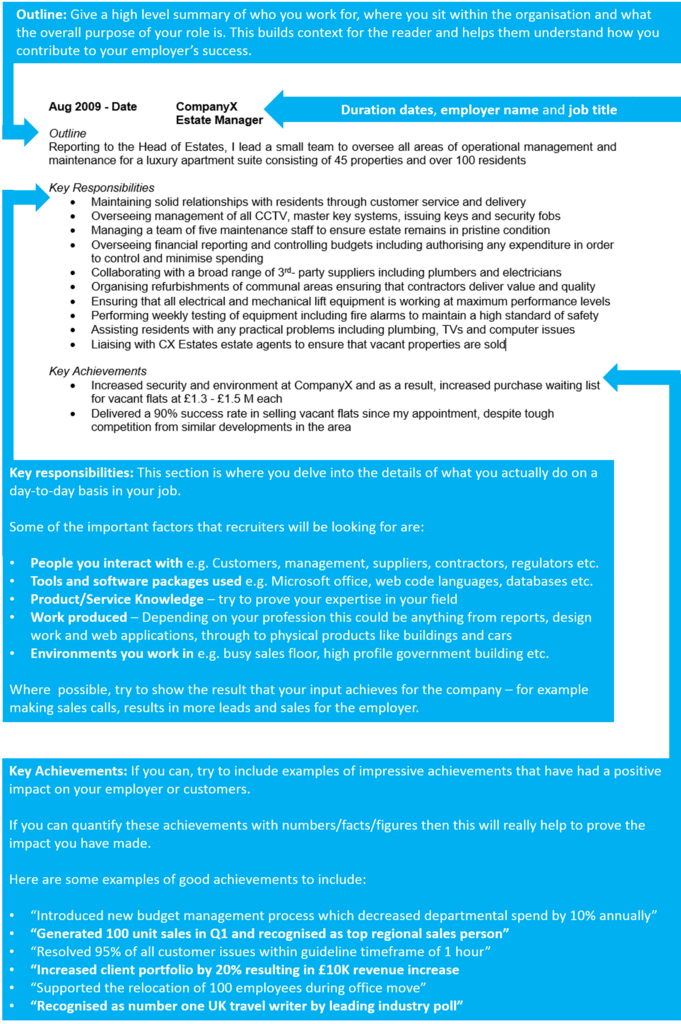 Job outline
Start with a 1-2 sentence outline of the role, summarizing what the goal of your position was, who you reported to (or managed) and the type of organization you worked for.
Key responsibilities
List your notable responsibilities in short sharp bullet points to demonstrate your input and how you contributed to the organization's success.
Highlight the skills that are most important to the roles you are applying for.
Key achievements
Show employers the value you can bring to them by adding a few achievements to your jobs.
Whether you've saved the company money or improved an internal process, let recruiters know
Add some numbers to give readers a real scale of the impact, e.g. "reduced call wait time by 10%"
Example job for Nonprofit Executive Director resume
Outline
Devise and execute the development and growth plans for a fast-growing not-for-profit based in Utah that's mission is to reduce homelessness across the state, managing the 20-person development team and working closely with the fundraising department.
Key Responsibilities
Work with the Chief Development Officer to provide leadership, support, and supervision for the development and fundraising teams within the company
Develop and enhance personal relationships with major donors, organising regular meetings and events to maintain and increase annual unrestricted support
Research, identify and engage with prospective donor groups and demographics
Liaise with the finance team to allocate and manage the annual budget
Quick tip: Create impressive job descriptions easily in our partner's Resume Builder by adding pre-written job phrases for every industry and career stage.

Education section
Nearing the end of your resume, your education/qualifications section should be added.
In a well-structured list, add all of your qualifications and certifications that qualify you to perform a typical Nonprofit Executive Director role.
If you have plenty of work experience, keep this section brief – if not, add lots of detail to make up for your lack of experience.
Additional information
The bottom of your resume is a place to add any "additional info"
Any other info that didn't fall into any of the previous sections can be added here.
If you have hobbies that are related to your profession or any awards or publications – add them here.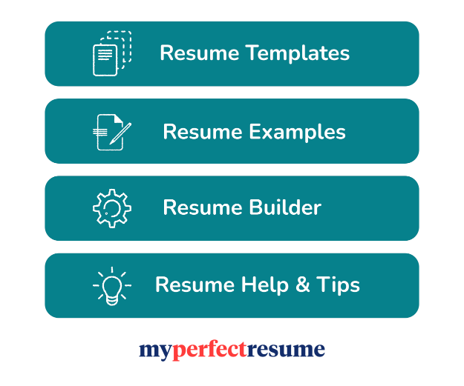 Writing your own winning Nonprofit Executive Director resume
By tailoring your resume to the specific job and industry you are targeting and ensuring that it effectively communicates your professional value, you can position yourself as a top candidate for all Nonprofit Executive Director positions.
Good luck with your job search!