Are you looking for your next position as a professional mover?
Then you need to create a persuasive resume that showcases your key skills like customer service, time management, and physical strength.
Find out how to highlight these skills and more using our writing guide and mover resume example below.
Contents
| | |
| --- | --- |
| How to write a Mover resume | |

Mover Resume Example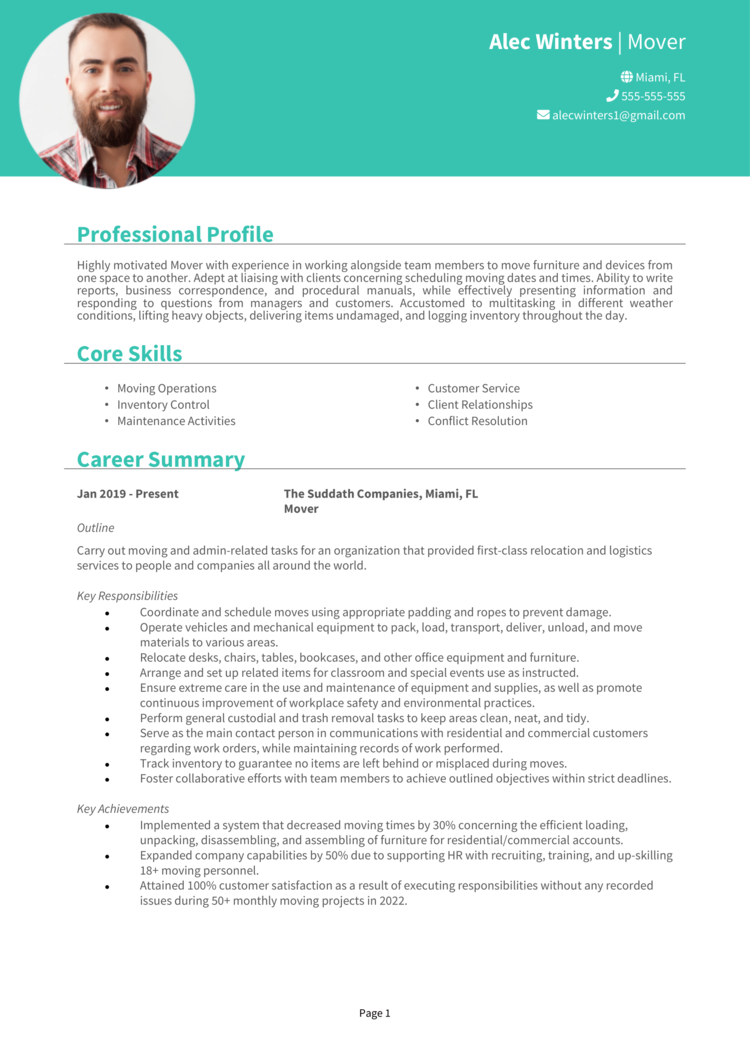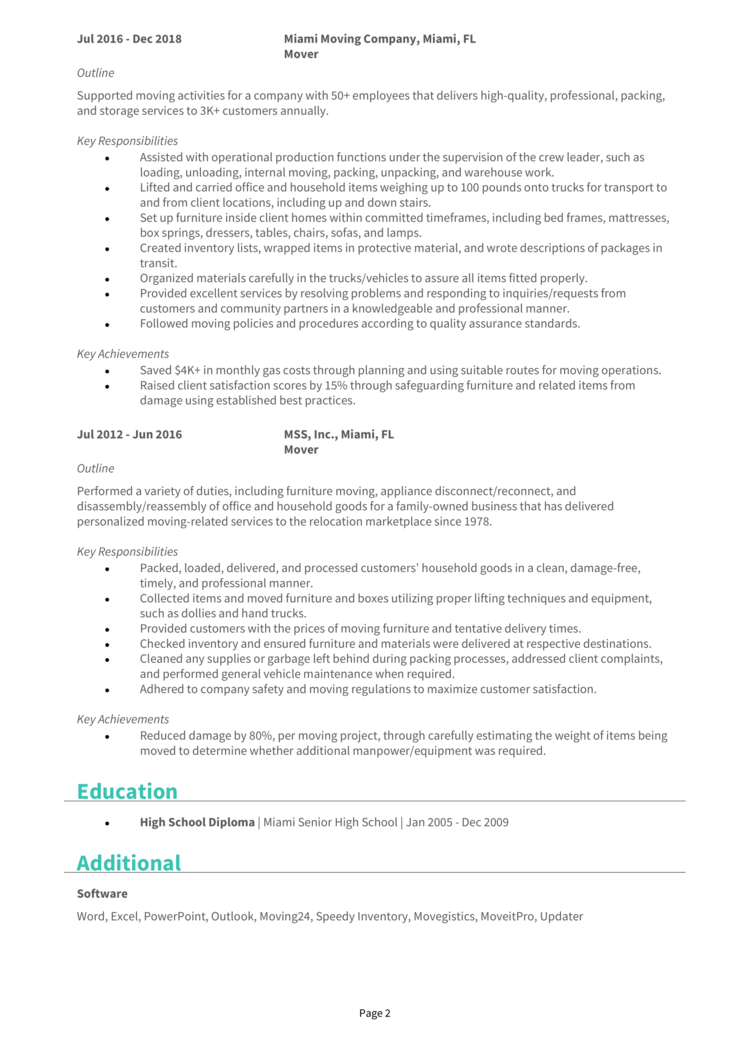 This Mover resume example gives you a good idea of how a good Mover resume should look and read.
The information is presented professionally and the content is well structured to ensure that time-strapped recruiters and hiring managers can find the important skills and knowledge quickly.
Refer to this example as you write your own resume.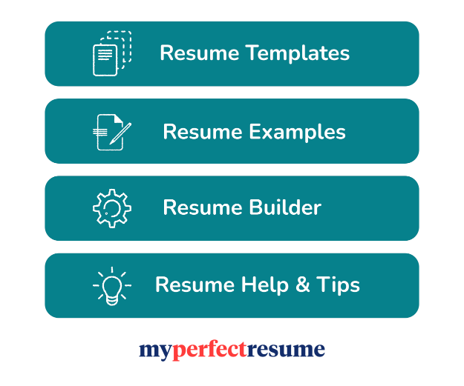 Mover resume layout and format
Formatting is often overlooked when writing resume, but it's a crucial element of it"s success.
Creating a document that not only looks good, but is easily comprehended, is the key to gaining and holding the attention of busy hiring managers.
Use these formatting tips for best results.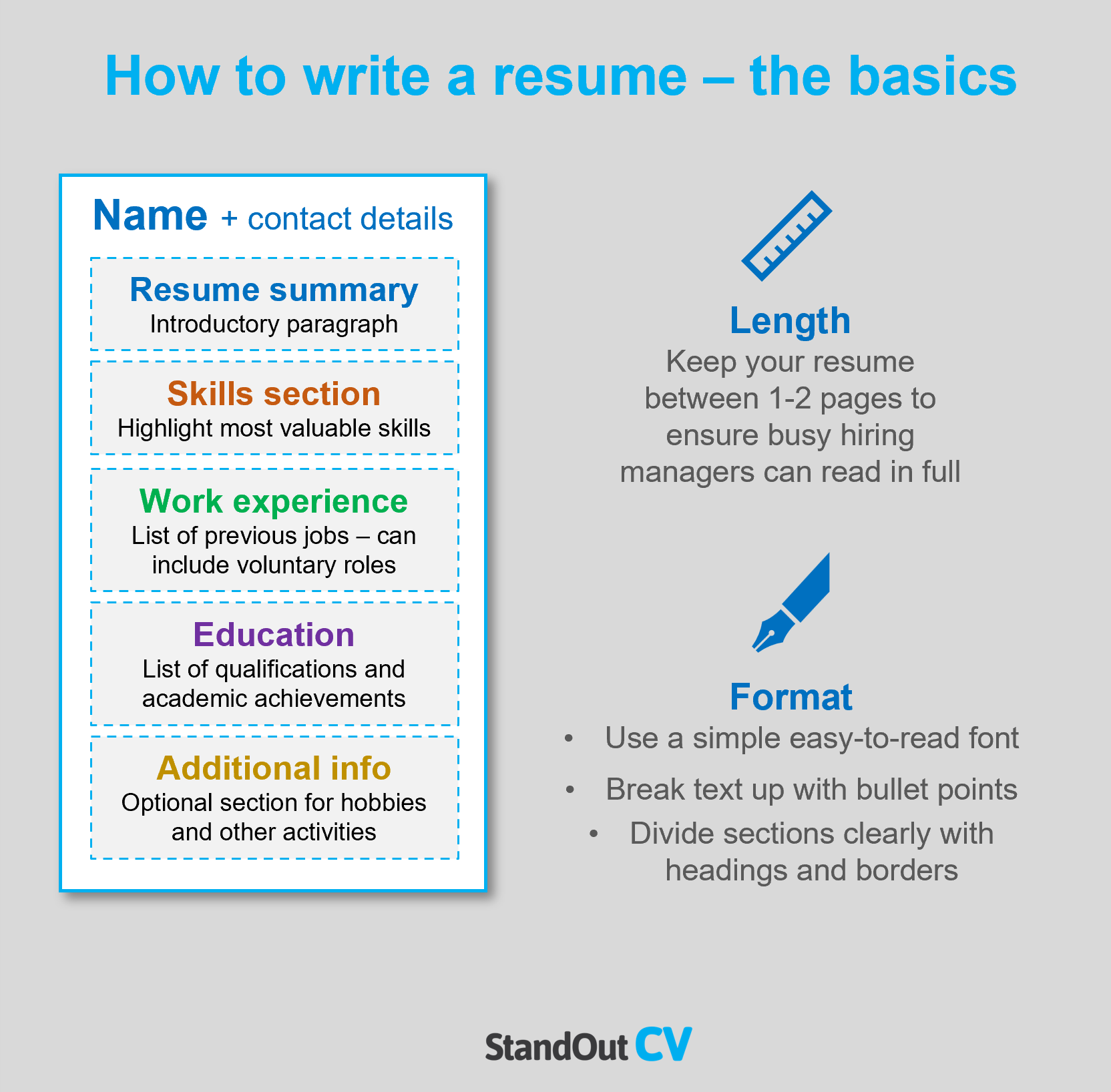 Formatting your resume for success
Length: Keep your resume to 2 pages or under. You've probably heard that recruiters and hiring managers don't have lots of time to read every resume, so keep yours brief if you want to ensure that they read all of the important info in yours.
Font & readability: Readability is the name of the game when it comes to your resume. Ensure yours is a dream to read by using a simple clear font, and breaking the text up with plenty of bullet points and short paragraphs.
Layout & Structure: Your resume should look appealing – but don't overlook functionality when it comes to design. Organise the page into clear sections using bold headings and borders.
Photos: In the USA adding a photo to your resume is optional – you don't have to do it, but it can be a nice way to get your personality across.
Quick tip: Achieving a professional look for your resume can be difficult and time-consuming. If you want to create an attractive resume quickly, try our partner's Resume Builder and use one of their eye-catching resume templates.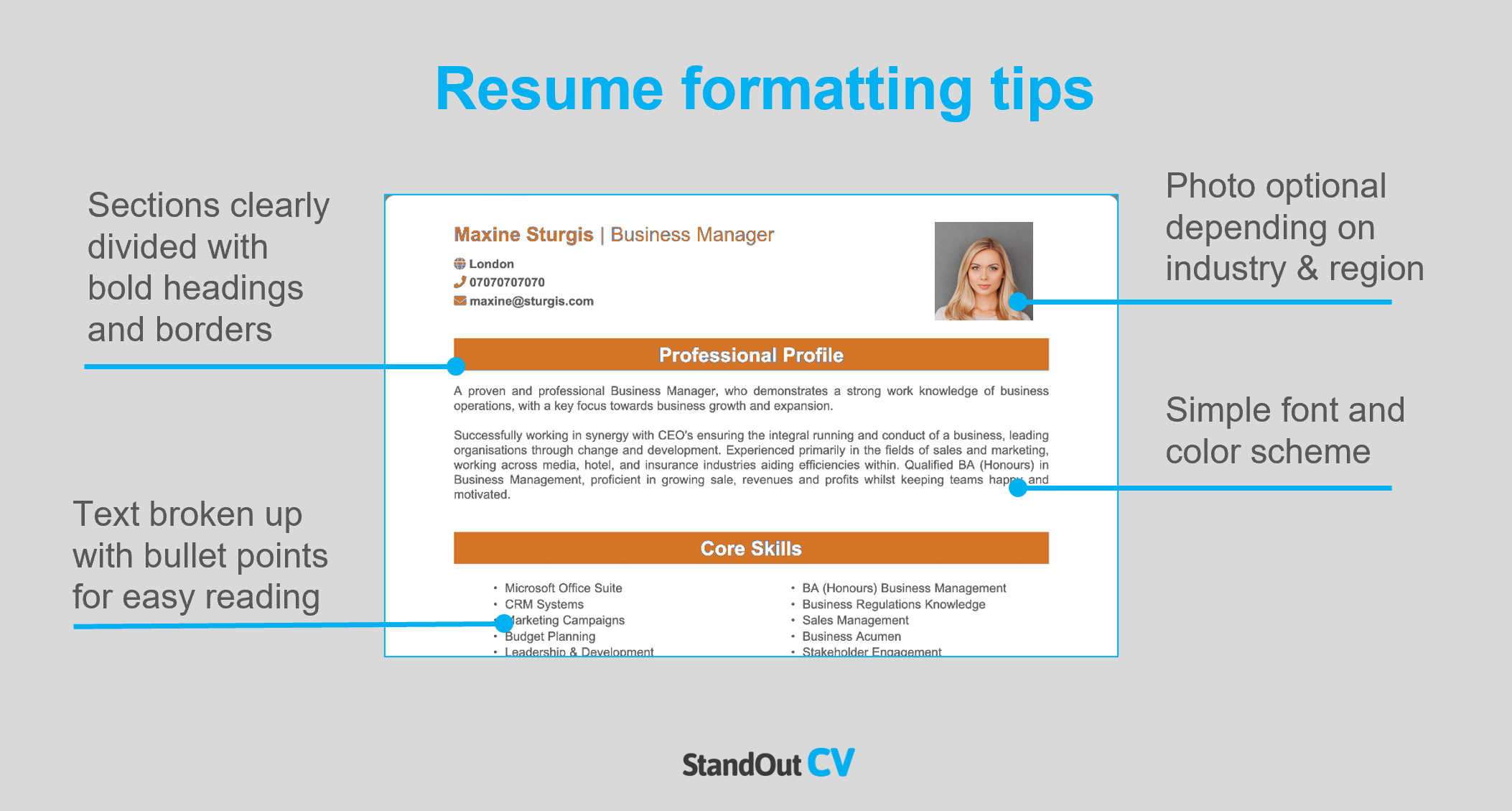 Resume layout
Include the following sections when you write your resume.
Name and contact details – Make it easy for employers to contact you, by putting these at the top.
Resume summary – An intro paragraph sitting at the top of your resume, summarizing the reasons why you should be hired.
Skills section – A short snappy list of your most important skills, that can be quickly digested
Work experience – Reverse chronological list of your previous jobs – voluntary work and college placements can be included if you have no paid experience.
Education – List your qualifications and professional training.
Additional info – An optional section for things like hobbies and interests.
Here's what to include in each part of your resume.
Contact Details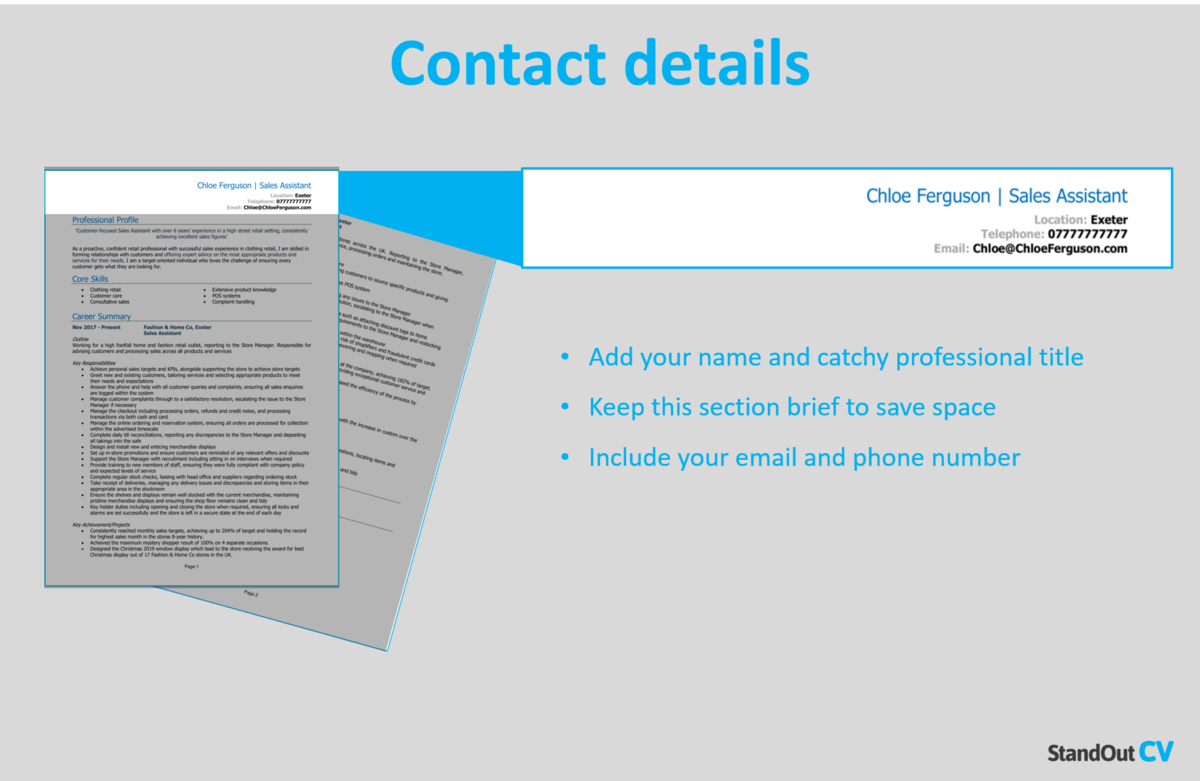 Add your name and contact details to the very top of your resume, making it easy for recruiters to get in touch
Name and profession title
Cell phone number – or another number you can answer quickly
Location – Add your local area such as San Diego or New York – not your full address as that will take up too much space.
Email address – Use your name or close variation – no nicknames from high school.
You can add a link to your LinkedIn profile if you have one – you do not need to include personal details like date of birth or marital status.
Mover Resume Summary
Your resume summary is like an elevator pitch. It's your chance to sell yourself to employers within a short space of time.
Achieve this by summarizing your skills and expertise, whilst highlighting your abilities that closely match the jobs you are aiming for.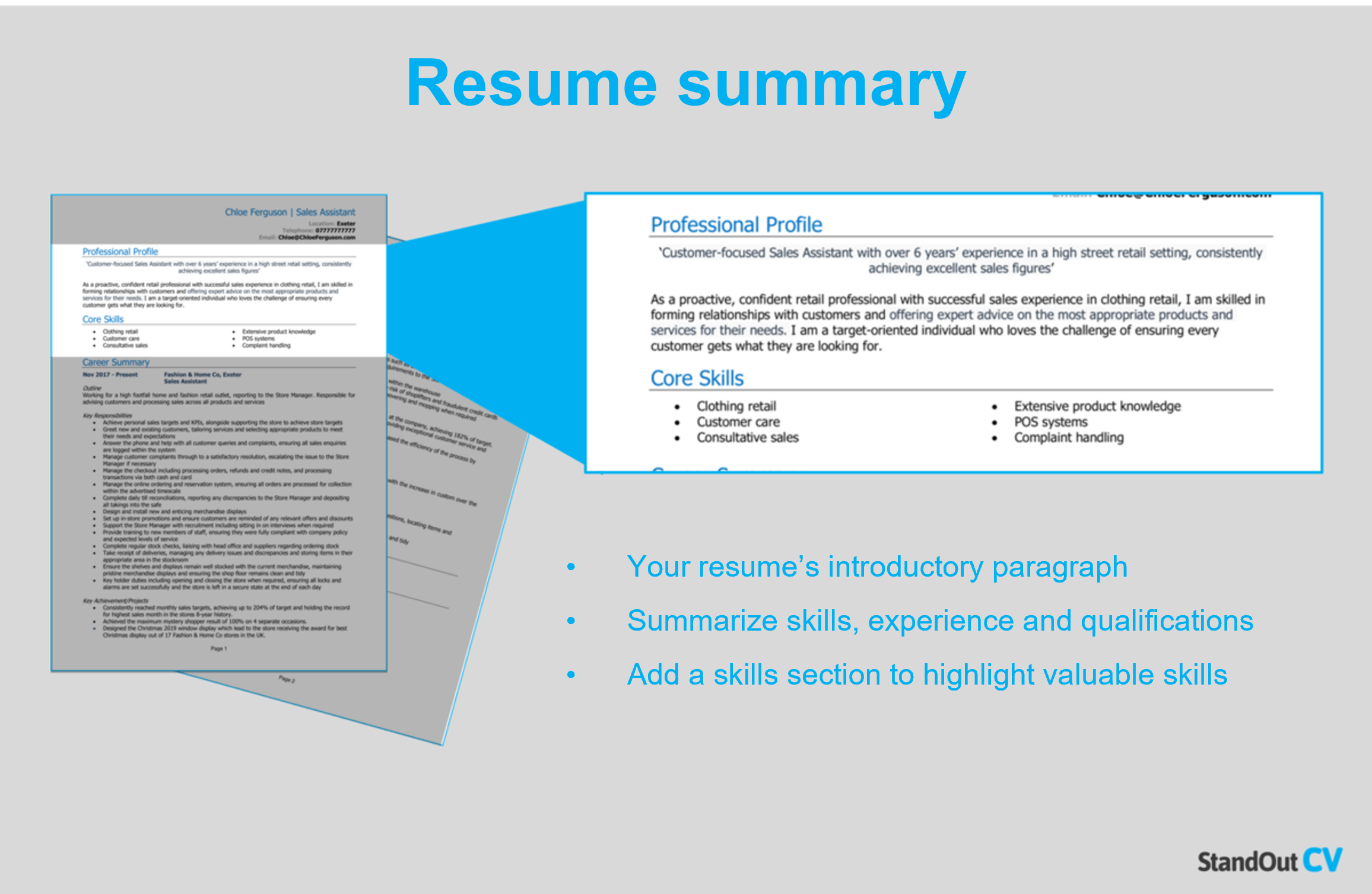 How to create a resume summary that will get you noticed:
Keep it short: You only have a few seconds to grab a recruiters' attention and make them commit to your resume, so keep your summary between 4 – 7 lines.
Tailor to target jobs: Ensure your profile makes an impact by matching it closely to the requirements of the job description, copying as many key terms as possible.
Avoid using cliches: Recruiters always see cringey cliches like "hardworking guru who works well in a team or individually" – they don't mean much to anyone, so focus your summary on tangible skills and experience.
Example resume summary for Mover
Highly motivated Mover with experience in working alongside team members to move furniture and devices from one space to another. Adept at liaising with clients concerning scheduling moving dates and times. Ability to write reports, business correspondence, and procedural manuals, while effectively presenting information and responding to questions from managers and customers. Accustomed to multitasking in different weather conditions, lifting heavy objects, delivering items undamaged, and logging inventory throughout the day.
What to include in your Mover resume summary?
Summary of experience: What type of organizations have you worked at? What types of roles have you done and what have you contributed to previous employers?
Relevant skills: Incorporate your highly relevant skills for Mover jobs to exhibit your suitability as soon as your resume is opened.
Qualifications: If your job requires any qualifications such as a professional course or a college degree, mention it briefly in your summary.
Quick tip: Choose from hundreds of pre-written summaries across all industries, and add one to your resume with one-click in our partner's Resume Builder. All written by recruitment experts and easily tailored to suit your unique skillset and style.
Core skills section
Next, you should create a bullet pointed list of your core skills, formatted into 2-3 columns.
Here, you should focus on including the most important skills or knowledge listed in the job advertisement.
This will instantly prove that you're an ideal candidate, even if a recruiter only has time to briefly scan your resume.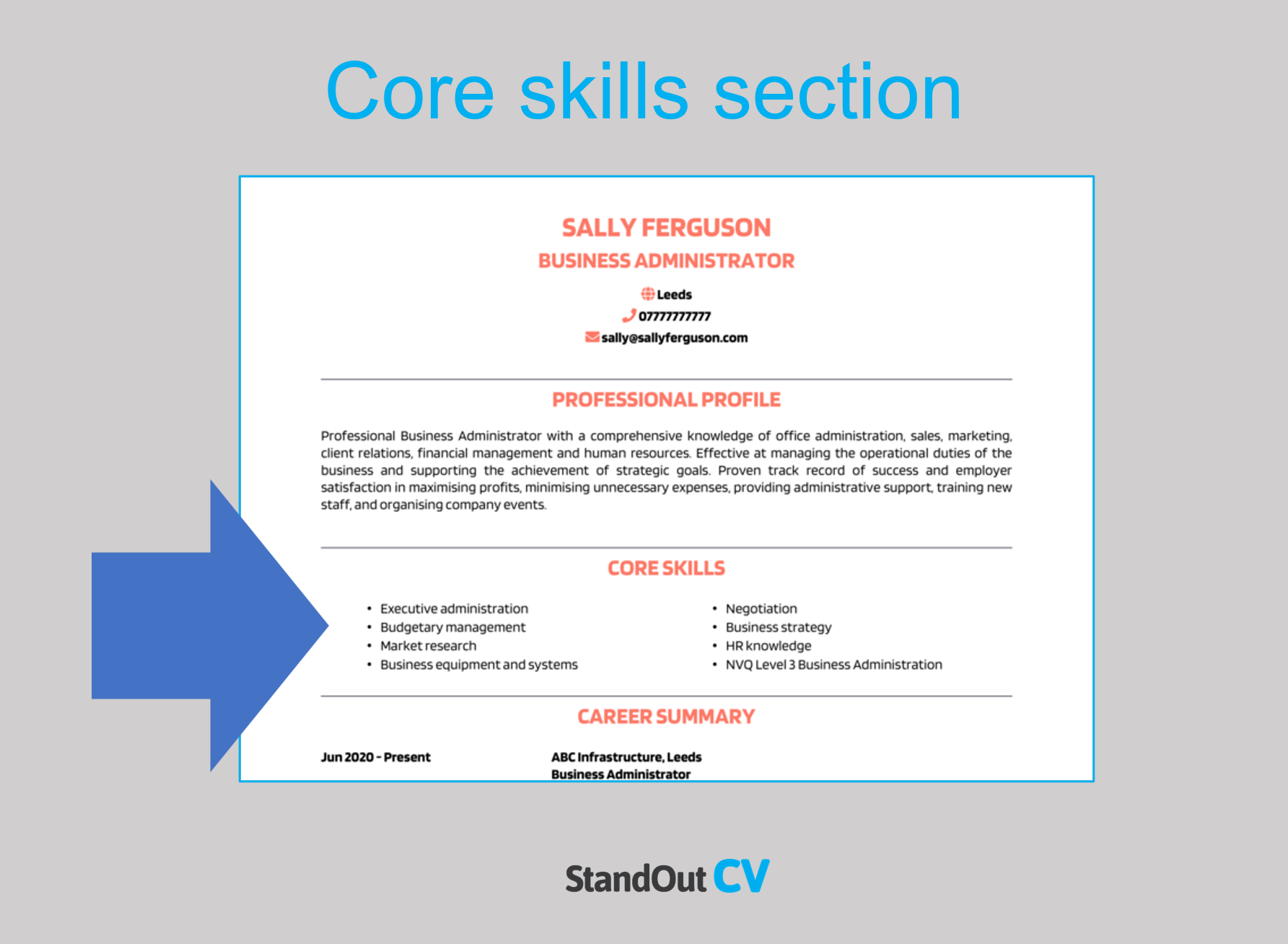 Best skills for your Mover resume
Physical Fitness – maintaining a level of physically fitness, as the job requires lifting and moving heavy furniture and equipment.
Organization and Time Management – managing multiple tasks and responsibilities, prioritizing and delegating as necessary, and maintaining schedules for timely and efficient moves.
Driving and Navigation – maintaining an up-to-date knowledge of driving laws and safety regulations, as well as proficiency in navigating roads and using GPS systems to efficiently transport items.
Fragile Item Transportation – carefully handling fragile and valuable items, ensuring that they are transported safely and that they arrive at their destination in the same condition as they were when they were picked up.
Communication and Customer Service – communicating effectively with customers, including listening to their needs, providing clear and accurate information, and delivering exceptional customer service throughout the move.
Quick tip: Our partner's Resume Builder contains thousands of in-demand skills for every profession that can be added to your resume in seconds – saving you time and greatly improving your chances of landing job interviews and getting hired.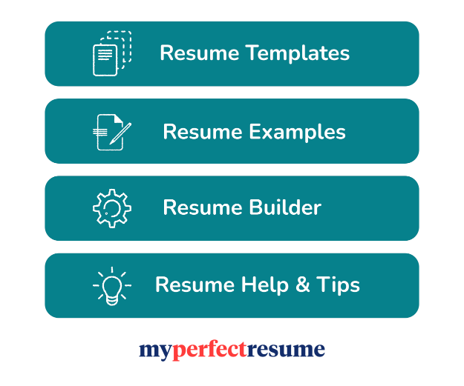 Work experience
So, you've grabbed the recruiters' attention with your summary, now it's time to show them what you're really capable of in your work experience section.
List your previous jobs from current to oldest, showing off the impact you made at each organization.
If you have tons of experience, you should just list the most recent an relevant jobs – but if you have little or no experience, add it all and even consider putting in voluntary work.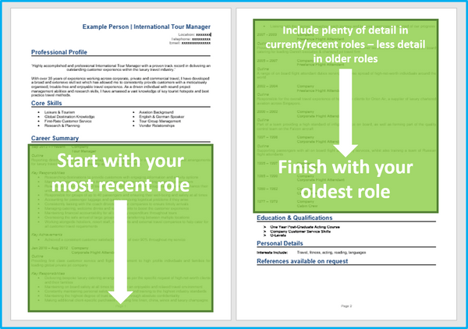 Structuring your jobs
It's easy to overwhelm readers when writing about a job you have been doing for years or even months.
Break the information up like this to keep it simple for recruiters to understand.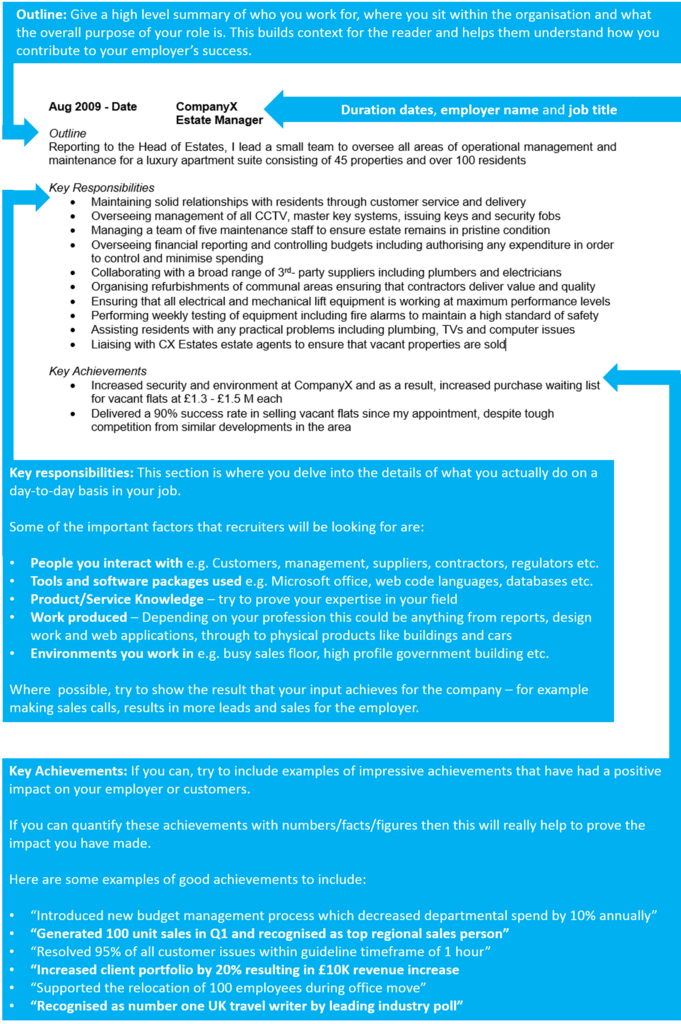 Job outline
Each role description should begin with a qucik summary of the job and company, along with how the job fits into the strucuture of the organization.
Key responsibilities
The bulk of the role description should be comprised of bullet points that explain all of your duties in the job.
Keep the sentences short and simple to make them easy for recruiters to digest.
Key achievements
Finish each role by highlighting some impressive achievements you made whilst in the role.
Anything that benefited the employer can be included from making financial savings, to winning new customers.
Quantify your achievements with facts and figures if you can, e.g. "reduced call wait time by 10%"
Example job for Mover resume
Outline
Carry out moving and admin-related tasks for an organization that provided first-class relocation and logistics services to people and companies all around the world.
Key Responsibilities
Coordinate and schedule moves using appropriate padding and ropes to prevent damage.
Operate vehicles and mechanical equipment to pack, load, transport, deliver, unload, and move materials to various areas.
Relocate desks, chairs, tables, bookcases, and other office equipment and furniture.
Arrange and set up related items for classroom and special events use as instructed.
Quick tip: Create impressive job descriptions easily in our partner's Resume Builder by adding pre-written job phrases for every industry and career stage.

Education section
Near the end of your resume add your education section
Experienced candidates should keep it brief and focus on professional qualifications – and junior candidates can include high school diplomas, college degrees etc.
Additional information
The bottom of your resume is a place to add any "additional info"
Any other info that didn't fall into any of the previous sections can be added here.
If you have hobbies that are related to your profession or any awards or publications – add them here.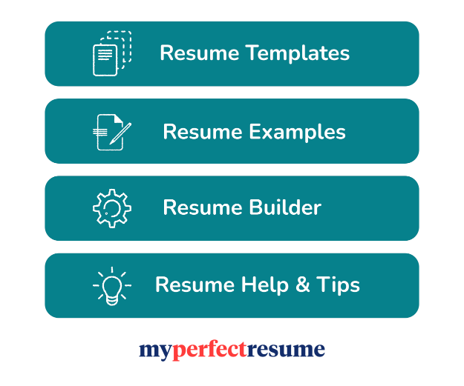 Writing your own Mover resume
Following the steps in this guide will help you to create a winning Mover resume and bag lots of interviews.
If you want some more help through the process, try our partner's Resume Builder for expert guidance and tons of pre-written resume content.
Good luck with your job search!