Whether you're looking for your first or fifth position as a minister, you need to prove to the hiring manager that you've got the skills and credentials to successfully lead a congregation.
To help you do this, we've put together a resume writing guide that will take you through each step of the process in detail.
We've also put together a minister resume example to inspire your own. You can check these out below.
Contents
| | |
| --- | --- |
| How to write your Minister resume | |

Minister Resume Example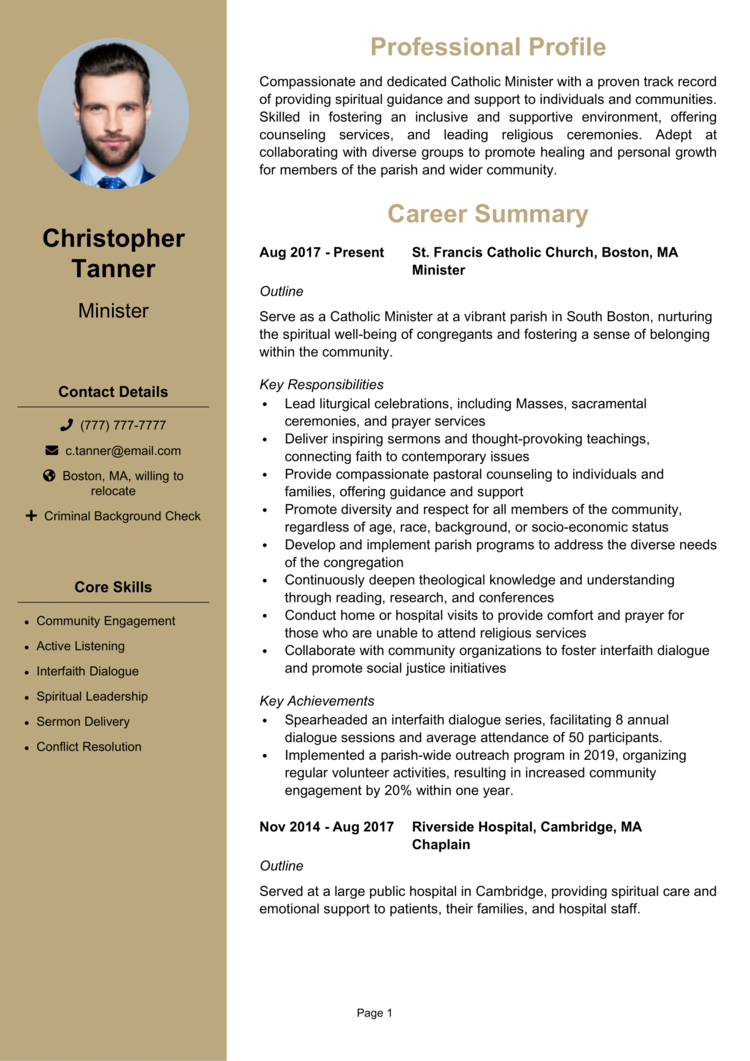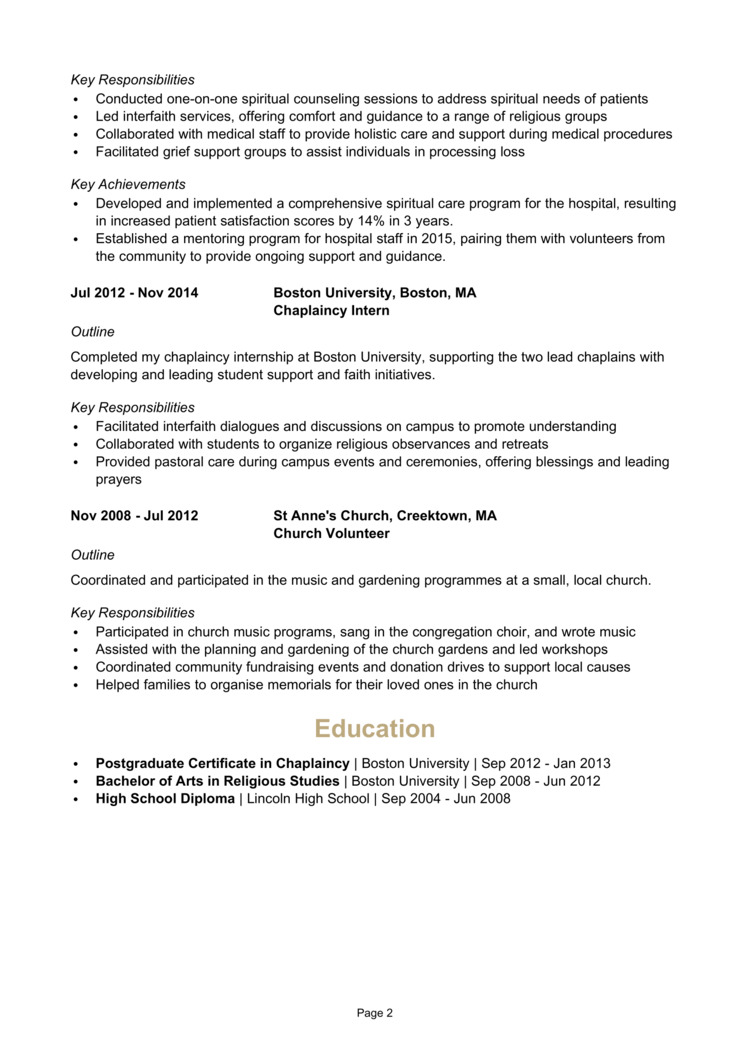 This Minister resume example shows you the most effective layout for a resume in today's job market, along with the type of content you need to include.
Stick closely to these guidelines as you write your own resume, to boost your chances of getting lots of responses, interviews and job offers.
Now lets dive into the details of how you write your own eye-catching resume…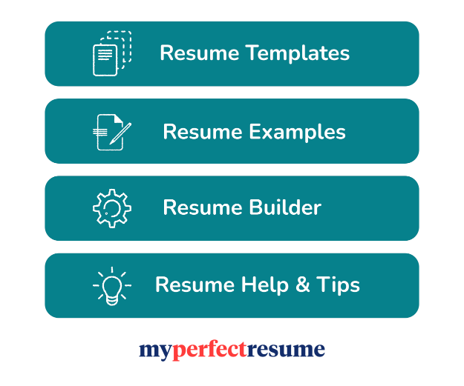 Minister resume layout and format
Formatting and structuring your resume correctly is key to landing job interviews.
Your resume needs to look attractive, but more importantly it needs to be easy for recruiters and hiring managers to read and digest the information.
These tips will help you to do that: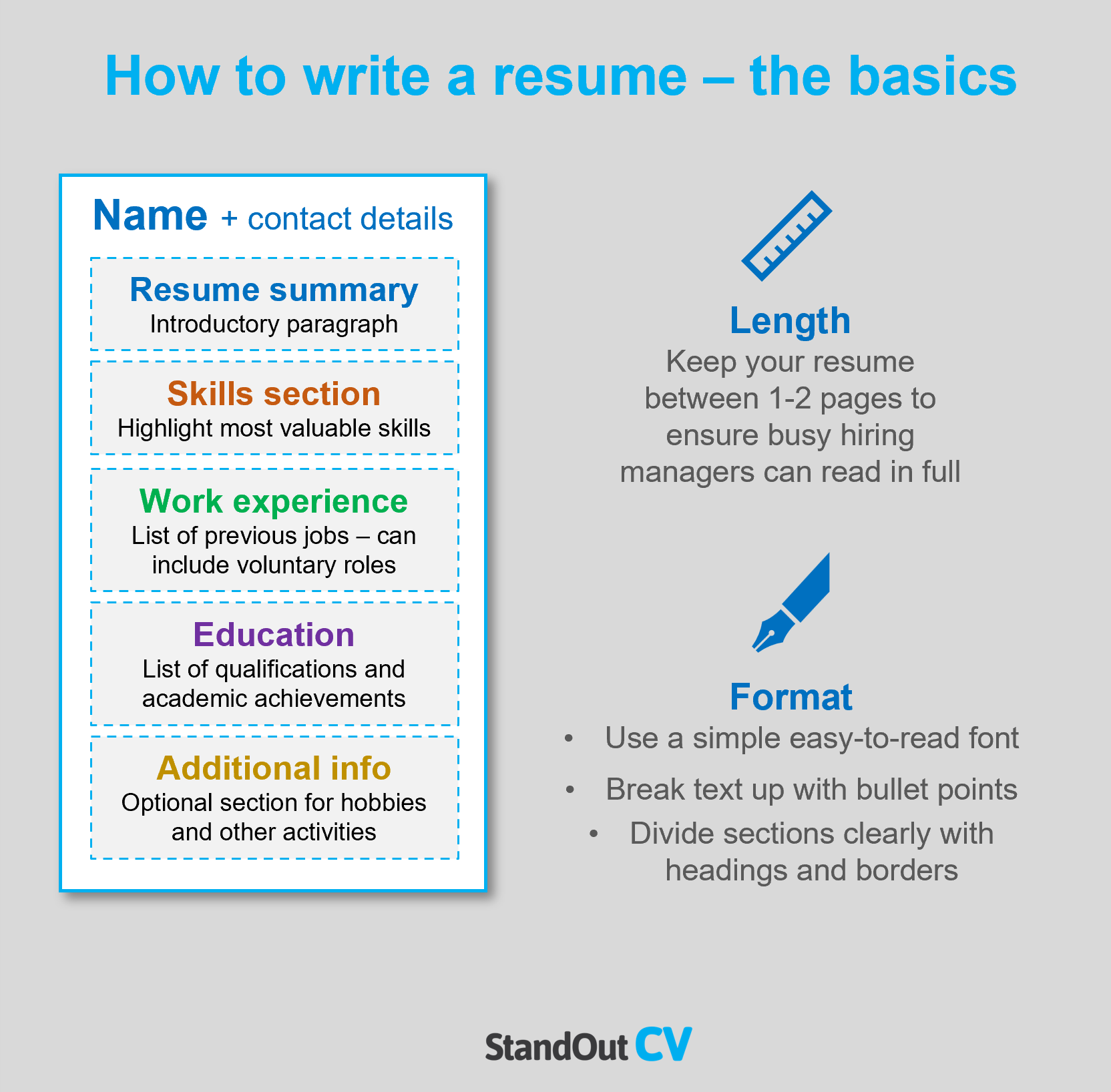 Formatting your resume
Length: To ensure that recruiters will read all of your resume, limit its length to 2 pages – as they someteimes read hundreds of resumes daily.
Font & readability: Complex fonts are a readers' worst nightmare and will leave recruiters struggling to understand your message. Use a clear simple lean font in a color that stands out against the page, and break your text up with bullet points to make the content easily digestible.
Layout: Allow recruiters to skim through your resume with ease, by dividing the page into clear sections with headings and borders. The design of your resume should be eye-catching but not overly complex – keep the style and color scheme simple and clean.
Photos: In the USA adding a photo to your resume is optional – you don't have to do it, but it can be a nice way to get your personality across.
Quick tip: Achieving a professional look for your resume can be difficult and time-consuming. If you want to create an attractive resume quickly, try our partner's Resume Builder and use one of their eye-catching resume templates.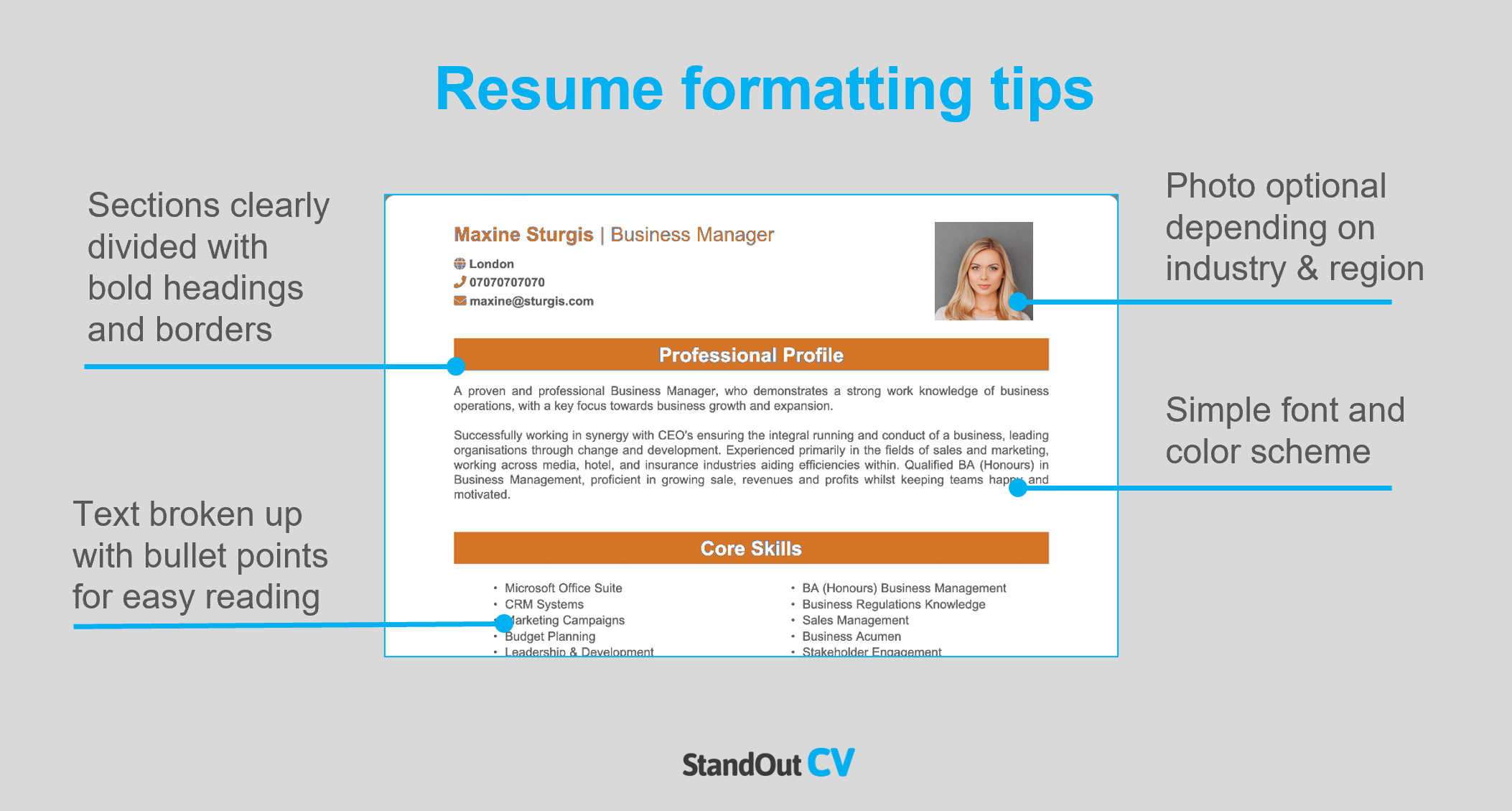 Resume layout
Divide the page into these sections when you write your own resume.
Name and contact details – Simply state who you are, and how to get in touch with you.
Resume summary – An introductory paragraph at the very top of your resume which summarizes your skills, experience and suitability for your target jobs.
Core skills section – A bullet-pointed list of your skills that relate most to your target jobs.
Work experience – A list of your current and previous jobs, including all of your responsibilities and achievements.
Education – A section that showcases all of your education and academic achievements.
Additional info (optional) – Here you can add an extra section for things like hobbies and interests, or anything else that might be relevant to your target jobs.
Here's what to add to each section of your Minister resume.
Contact Details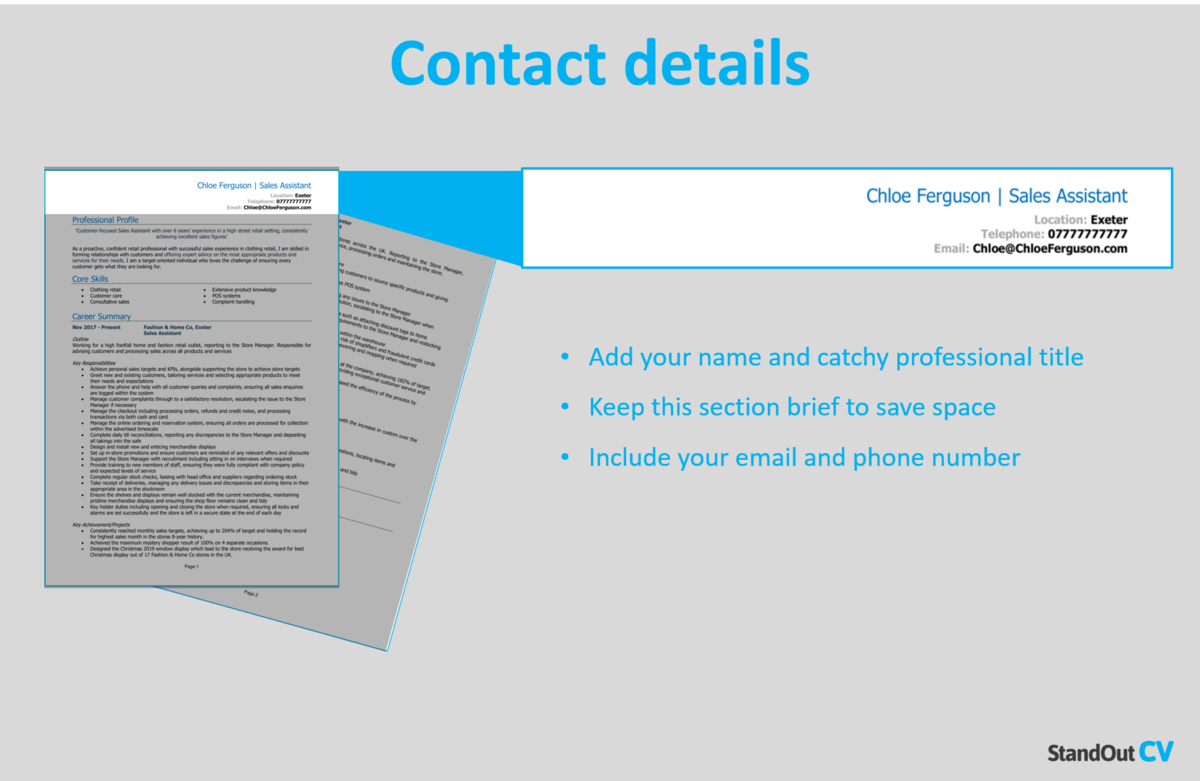 Keep your contact details short to save resume space and include the following.
Name and profession title
Cell phone number
Location – Add your local area such as Silicon Valley or New York, unless you are looking for work in a different location
Email address – Keep it professional and don't use an old address that you thought was cool in high school, but now looks a bit embarrassing.
You can add a link to your LinkedIn profile if you have one – you do not need to include personal details like date of birth or marital status.
Minister Resume Summary
Create a strong opening for your resume by adding a compelling summary to the top that highlights your most valuable skills and experience.
This short but important paragraph is designed convince recruiters that you're the perfect candidate for the job and entice them to read more of your resume.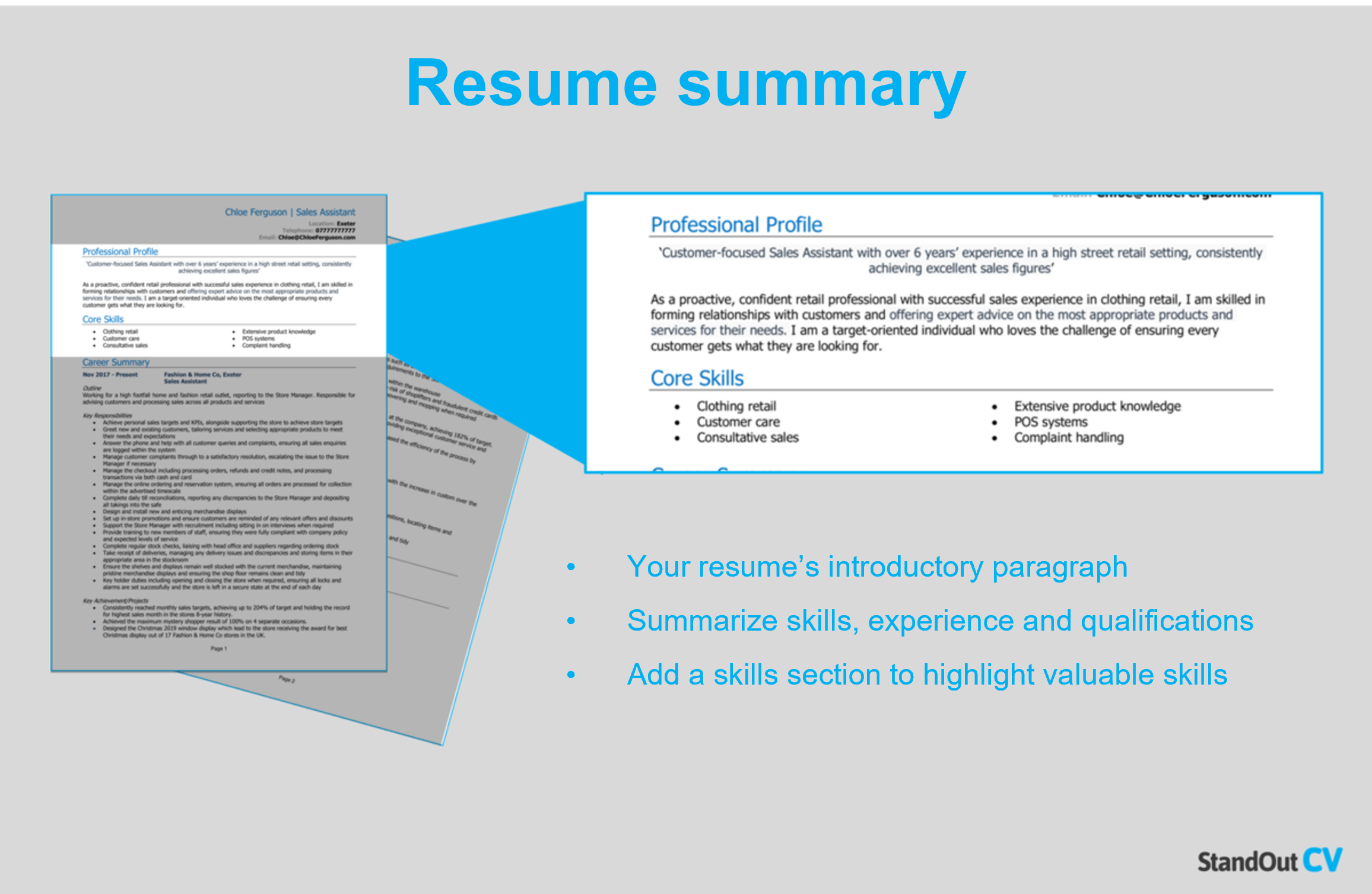 How to create a resume summary that will excite recruiters:
Keep it short: You only have a few seconds to grab a recruiters' attention and make them commit to your resume, so keep your summary between 4 – 7 lines.
Tailor to target jobs: Recruiters will be scanning for the skills and knowledge they mentioned in the job description, so add as many as you can to your summary.
Avoid using cliches: Although you may believe that you're a "team player who always gives 110%," these kinds of cliches don't communicate much about your skills and qualifications to potential employers. It's more effective to stick to factual information in your resume.
Minister resume summary example
Compassionate and dedicated Catholic Minister with a proven track record of providing spiritual guidance and support to individuals and communities. Skilled in fostering an inclusive and supportive environment, offering counseling services, and leading religious ceremonies. Adept at collaborating with diverse groups to promote healing and personal growth for members of the parish and wider community.
What to include in your Minister resume summary?
Summary of your experience: Provide an overview of the type of work you have done in the past and the impact you have made at previous employers.
Relevant skills: Highlight your skills which are most relevant to Minister jobs, to ensure that recruiters see your most in-demand skills as soon as they open your resume.
Qualifications: If your job requires any qualifications such as a professional course or a college degree, mention it briefly in your summary.
Quick tip: Choose from hundreds of pre-written summaries across all industries, and add one to your resume with one-click in our partner's Resume Builder. All written by recruitment experts and easily tailored to suit your unique skillset and style.
Core skills section
Next, you should create a bullet pointed list of your core skills, formatted into 2-3 columns.
Here, you should focus on including the most important skills or knowledge listed in the job advertisement.
This will instantly prove that you're an ideal candidate, even if a recruiter only has time to briefly scan your resume.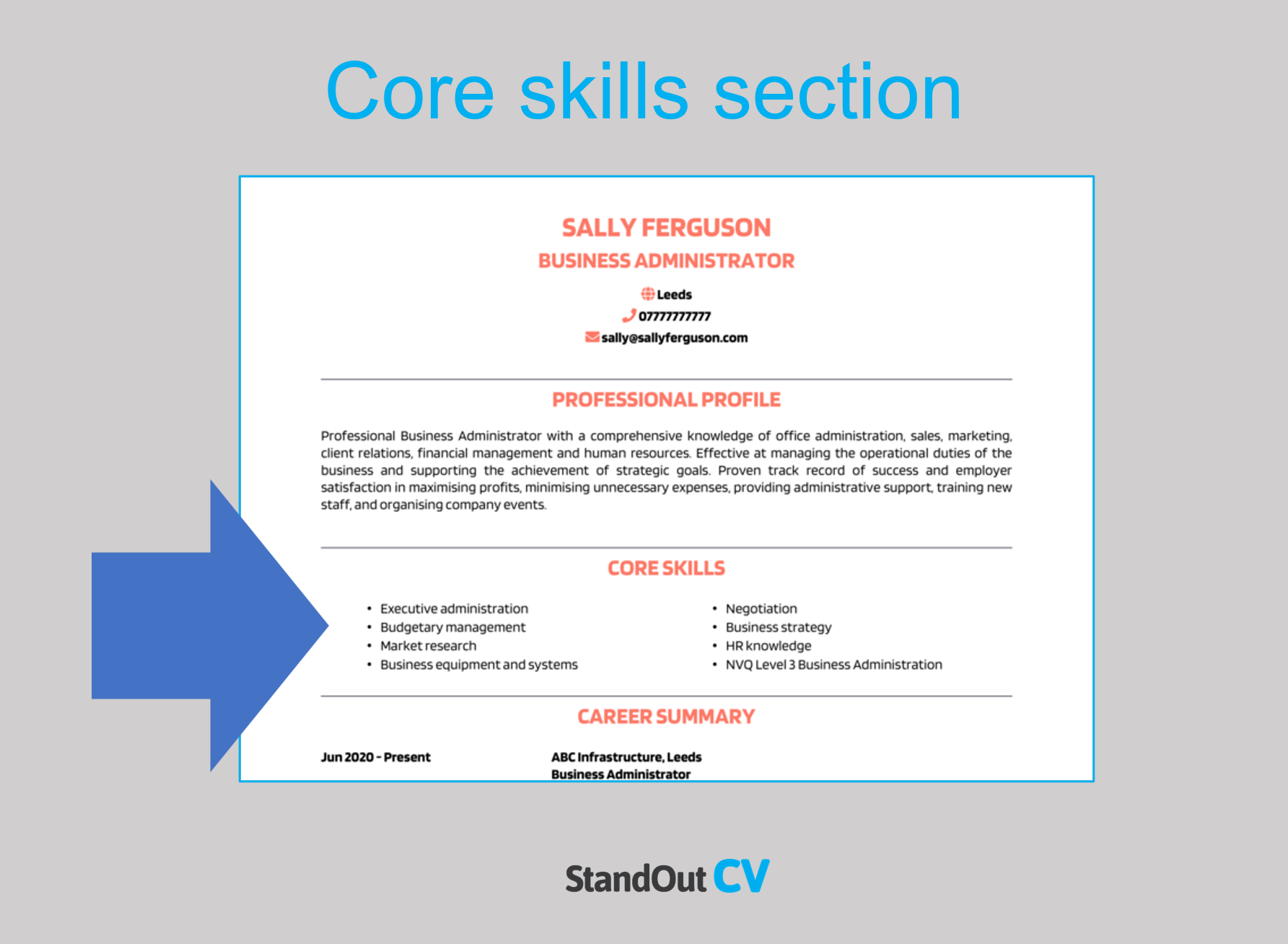 Best skills for your Minister resume
Public Speaking – Delivering sermons, speeches, and presentations with clarity, confidence, and effective communication.
Theological Knowledge – Maintaining a deep understanding of religious scriptures, doctrines, and teachings to provide meaningful spiritual guidance.
Counseling – Offering empathetic and supportive counseling to individuals facing personal, emotional, or spiritual challenges.
Leadership and Organization – Managing and leading religious communities, organizing events, and overseeing various activities.
Pastoral Care – Providing pastoral support, visiting the sick, offering comfort during difficult times, and celebrating life events.
Teaching and Facilitation – Leading religious education classes, workshops, and study groups to foster spiritual growth.
Conflict Resolution – Addressing and mediating conflicts within the congregation to promote unity and harmony.
Community Outreach – Engaging with the local community, collaborating with other organizations, and aiding those in need.
Ceremony Officiation – Conducting weddings, funerals, baptisms, and other religious ceremonies with reverence and respect.
Biblical Interpretation – Interpreting sacred texts and applying their teachings to contemporary life and societal issues.
Quick tip: Our partner's Resume Builder contains thousands of in-demand skills for every profession that can be added to your resume in seconds – saving you time and greatly improving your chances of landing job interviews and getting hired.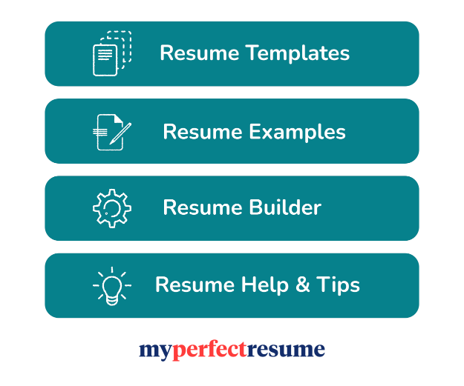 Work experience
Congratulations on successfully capturing the recruiter's interest with your attention-grabbing summary! Now, it's time to showcase your workplace impact by providing a detailed list of your previous job experiences and achievements.
If you have significant experience, consider highlighting the most recent few years to condense this section. However, for junior job seekers, it's essential to include as much relevant experience as possible, including volunteering and school work placements.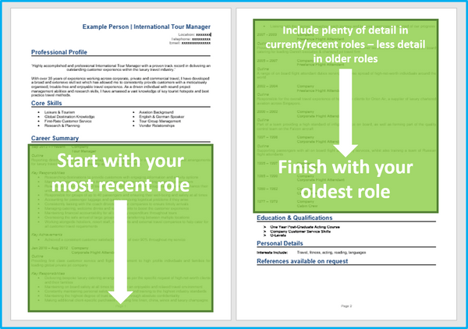 Structuring your jobs
Without a good structure, your job description can look messy and overwhelming to anyone reading them.
Make it easy for recruiters to read your work experience by structuring your roles like this.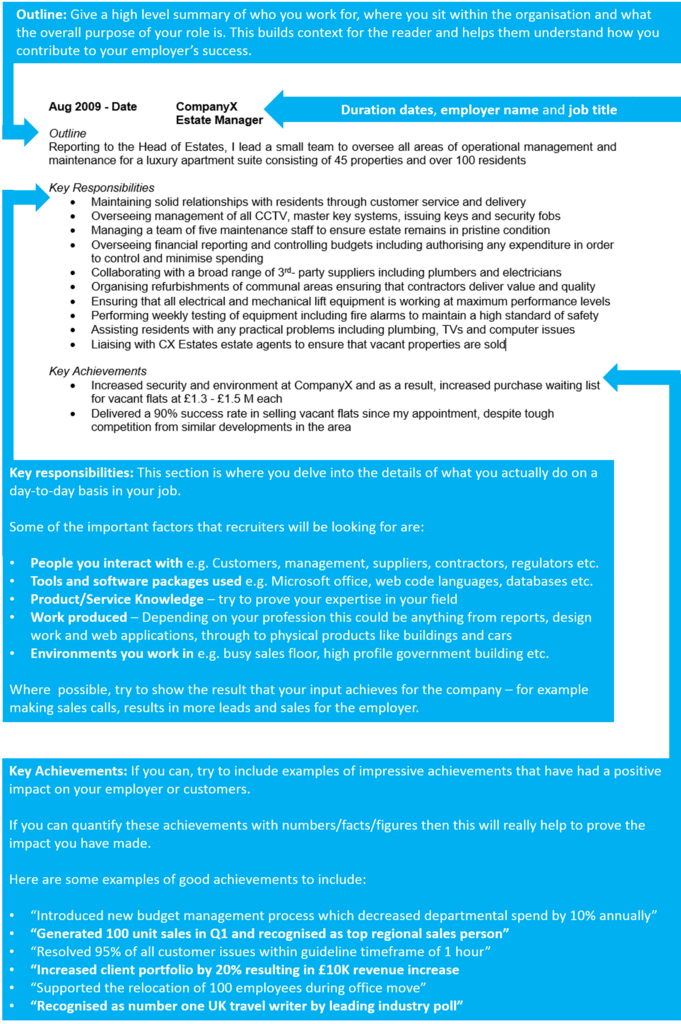 Job outline
Starting each job with a brief summary of the organization, your position within it, and the primary goal of your role can help recruiters quickly understand the context of your work.
Key responsibilities
The bulk of the role description should be comprised of bullet points that explain all of your duties in the job.
Keep the sentences short and simple to make them easy for recruiters to digest.
Key achievements
Finish each role by highlighting some impressive achievements you made whilst in the role.
Anything that benefited the employer can be included from making financial savings, to winning new customers.
Quantify your achievements with facts and figures if you can, e.g. "reduced call wait time by 10%"
Example job for Minister resume
Outline
Serve as a Catholic Minister at a vibrant parish in South Boston, nurturing the spiritual well-being of congregants and fostering a sense of belonging within the community.
Key Responsibilities
Lead liturgical celebrations, including Masses, sacramental ceremonies, and prayer services
Deliver inspiring sermons and thought-provoking teachings, connecting faith to contemporary issues
Provide compassionate pastoral counseling to individuals and families, offering guidance and support
Promote diversity and respect for all members of the community, regardless of age, race, background, or socio-economic status
Quick tip: Create impressive job descriptions easily in our partner's Resume Builder by adding pre-written job phrases for every industry and career stage.

Education section
Nearing the end of your resume, your education/qualifications section should be added.
In a well-structured list, add all of your qualifications and certifications that qualify you to perform a typical Minister role.
If you have plenty of work experience, keep this section brief – if not, add lots of detail to make up for your lack of experience.
Additional information
The bottom of your resume is a place to add any "additional info"
Any other info that didn't fall into any of the previous sections can be added here.
If you have hobbies that are related to your profession or any awards or publications – add them here.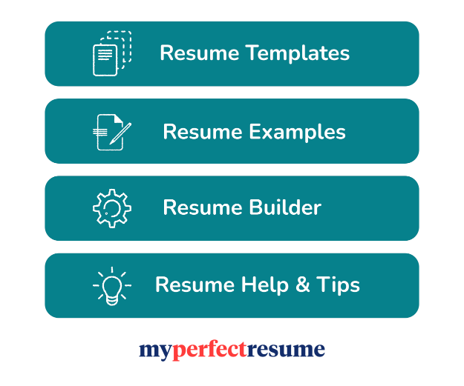 Writing your own winning Minister resume
A winning Minister resume should look great, read well, and sell your skillset to hiring managers.
If you follow the steps above, you should be able to bag yourself a top job in no time.
Good luck with your job search!