When it comes to diagnosing and treating speech, language, and cognitive disorders, you know what you're talking about.
But the challenging part is getting this all down in writing on your resume.
So, to help you do this and secure your next pathologist role, we've put together this detailed writing guide, complete with a medical speech-language pathologist resume example.
Contents
| | |
| --- | --- |
| How to write your Medical SLP resume | |

Medical SLP Resume Example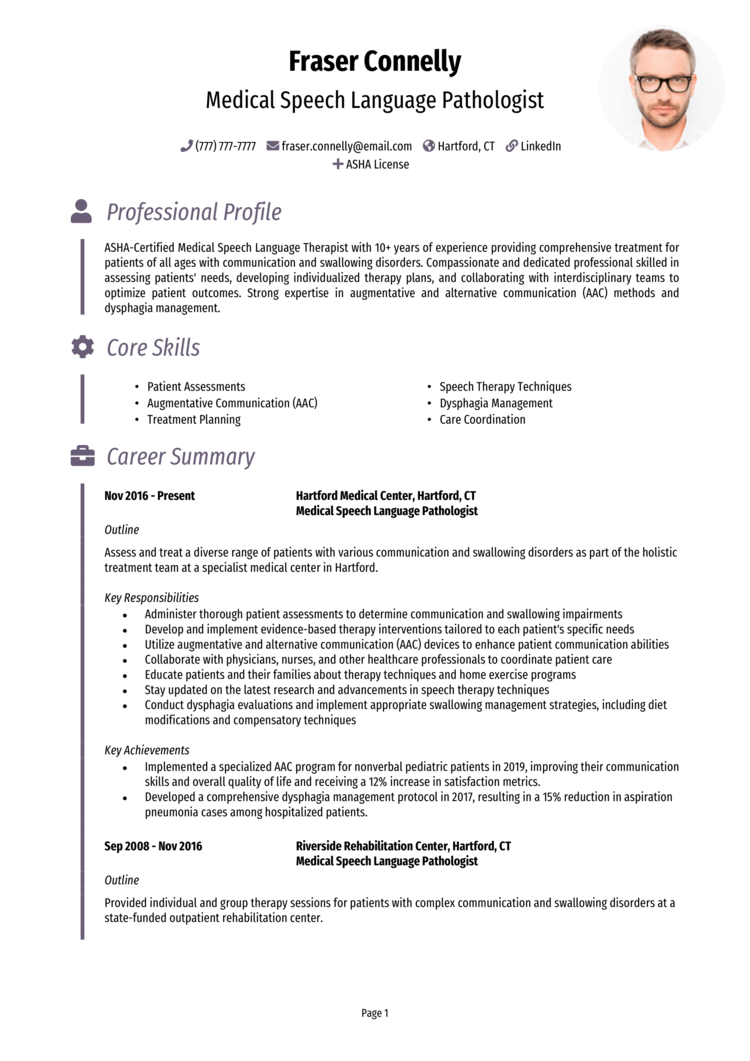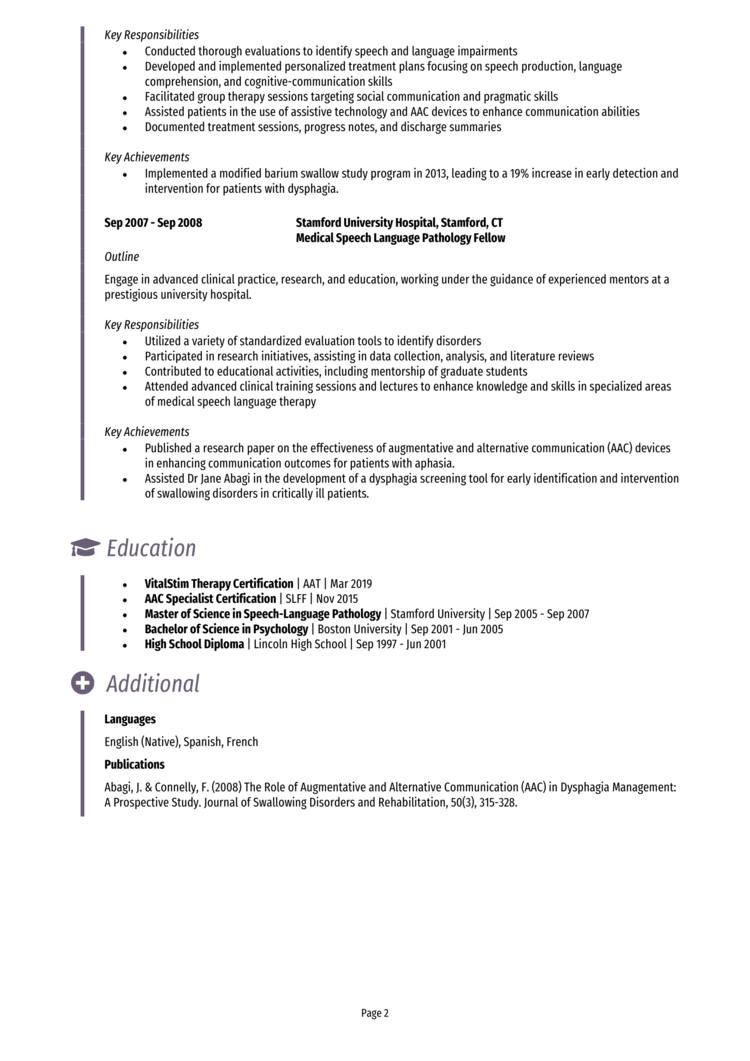 This example Medical SLP resume is well-structured to provide a pleasant reading experience for recruiters, and contains all of the crucial information they want to see.
The rest of the guide will show you exactly how you can achieve this in your own resume.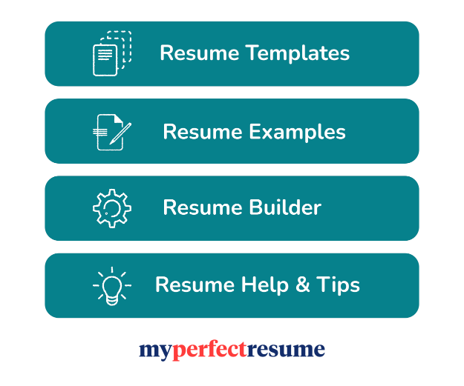 Medical SLP resume layout and format
Your resume layout and format will play a big role in helping hiring managers to take notice of your resume and stay glued to it.
Shoot for a simple yet professional look to ensure you make a strong first impression, and organize the page in a way that is easy for readers to digest the information.
The following formatting tips should help.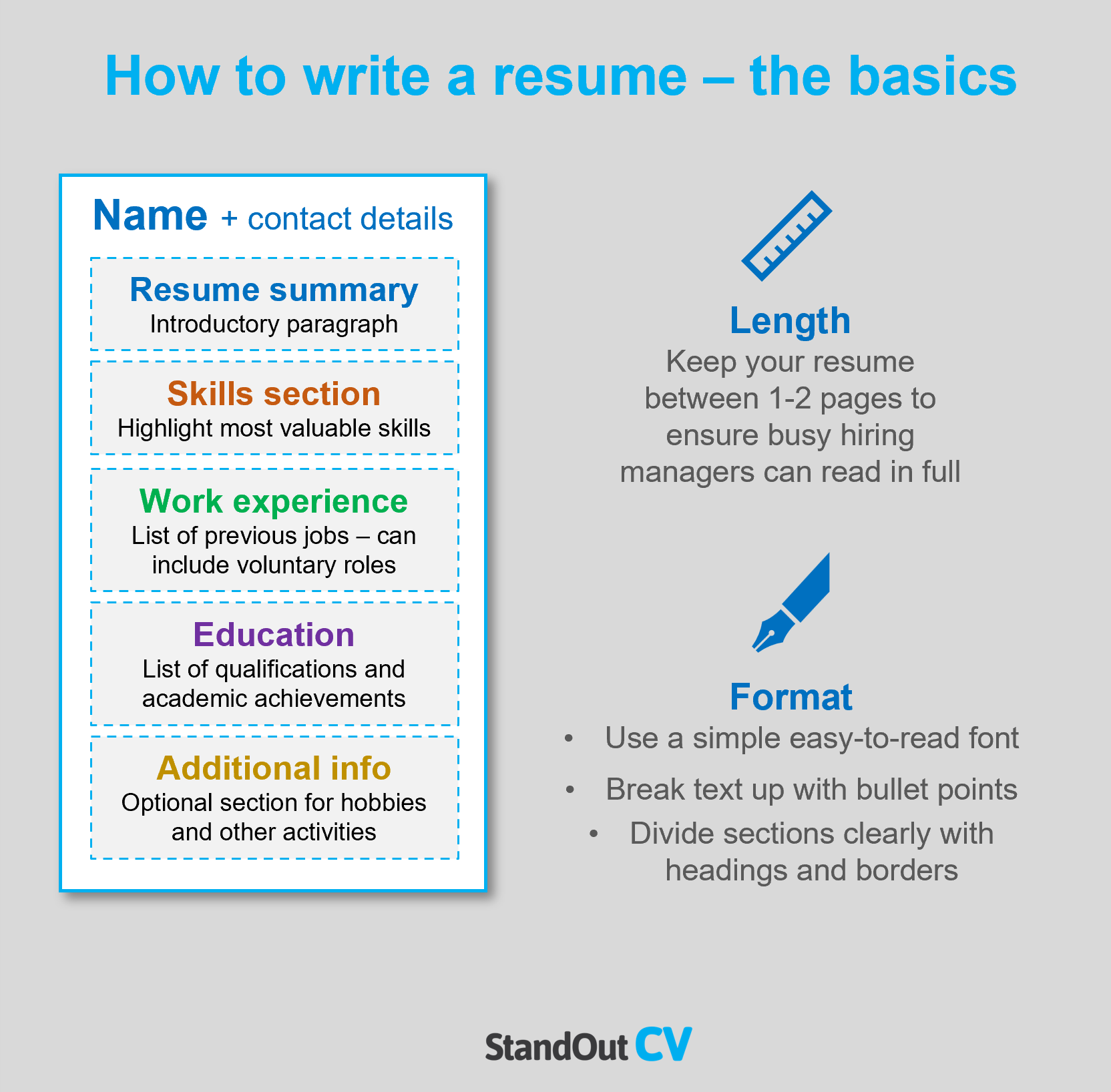 Formatting your resume
Length: Given that recruiters have to sift through tons of resumes daily, it's recommended to keep your resume brief (no more than 2 pages) to make sure it receives their full attention.
Font & readability: The key to a good resume is readability. To make your resume easy to read, use a clear and uncomplicated font, and break up the text with bullet points and short paragraphs.
Layout: A visually appealing resume is important, but don't forget about functionality. To ensure a functional design, use bold headings and borders to organize the page into clear sections.
Photos: Including a photo on your resume is not obligatory in the United States, but it may be a good idea in some regions and industries where it is customary.
Quick tip: Achieving a professional look for your resume can be difficult and time-consuming. If you want to create an attractive resume quickly, try our partner's Resume Builder and use one of their eye-catching resume templates.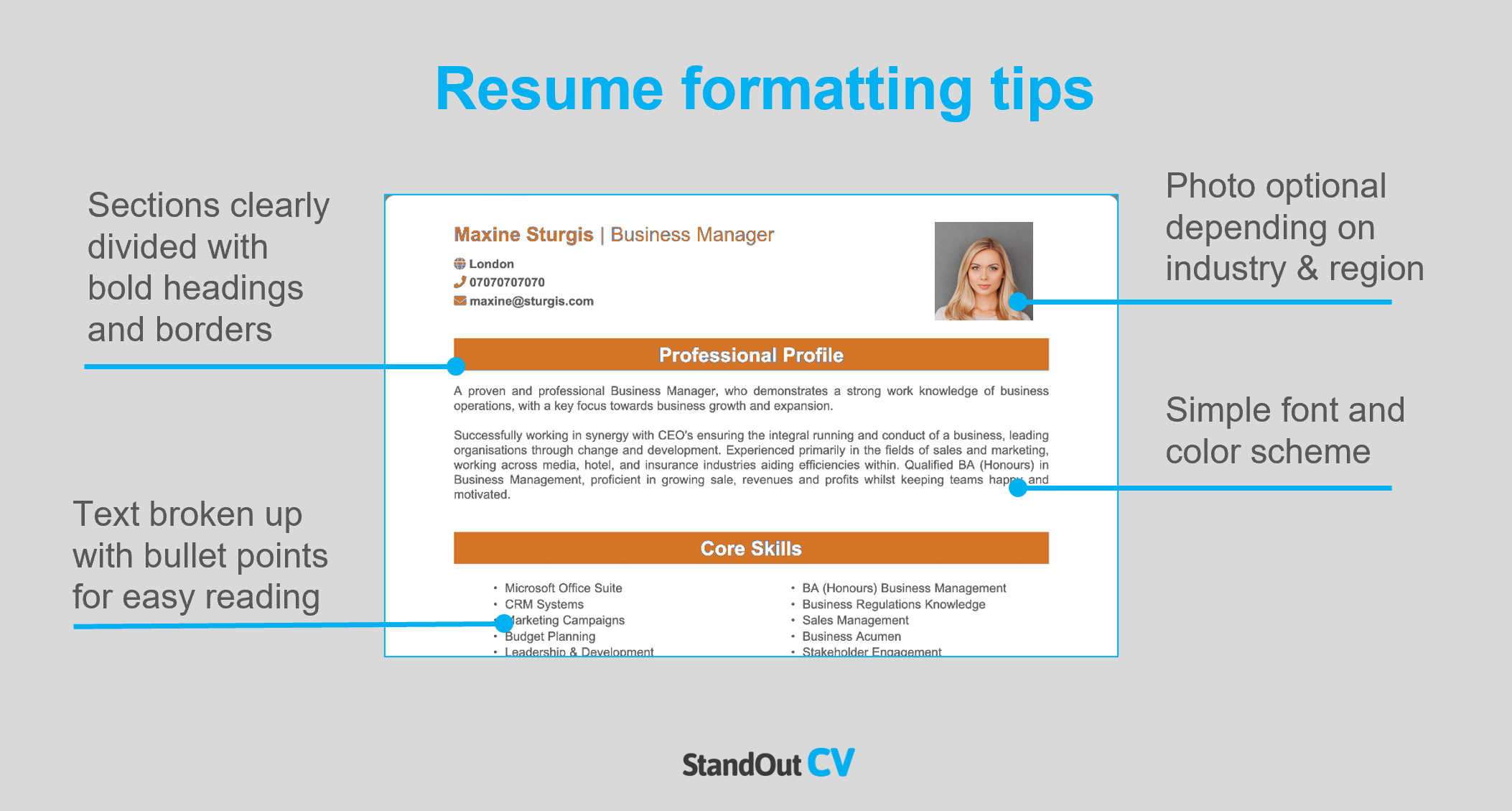 Resume layout
Add the following sections when you write your resume.
Name and contact details – Add to the very top of your resume to introduce yourself and make it super-easy for recruiters to get in touch.
Resume summary – Reel hiring managers in with an "elevator pitch" style paragraph which sums up your suitability for the job.
Skills section – A short and sharp list of your most important skills, that can be quickly skim-read.
Work experience – List your previous jobs (from newest to oldest) detailing the skills learnt and applied in each.
Education – List your qualifications and professional training.
Additional info – If it helps your application, you can add an extra section for things like hobbies and interests.
Here's what to add to each section of your Medical SLP resume.
Contact Details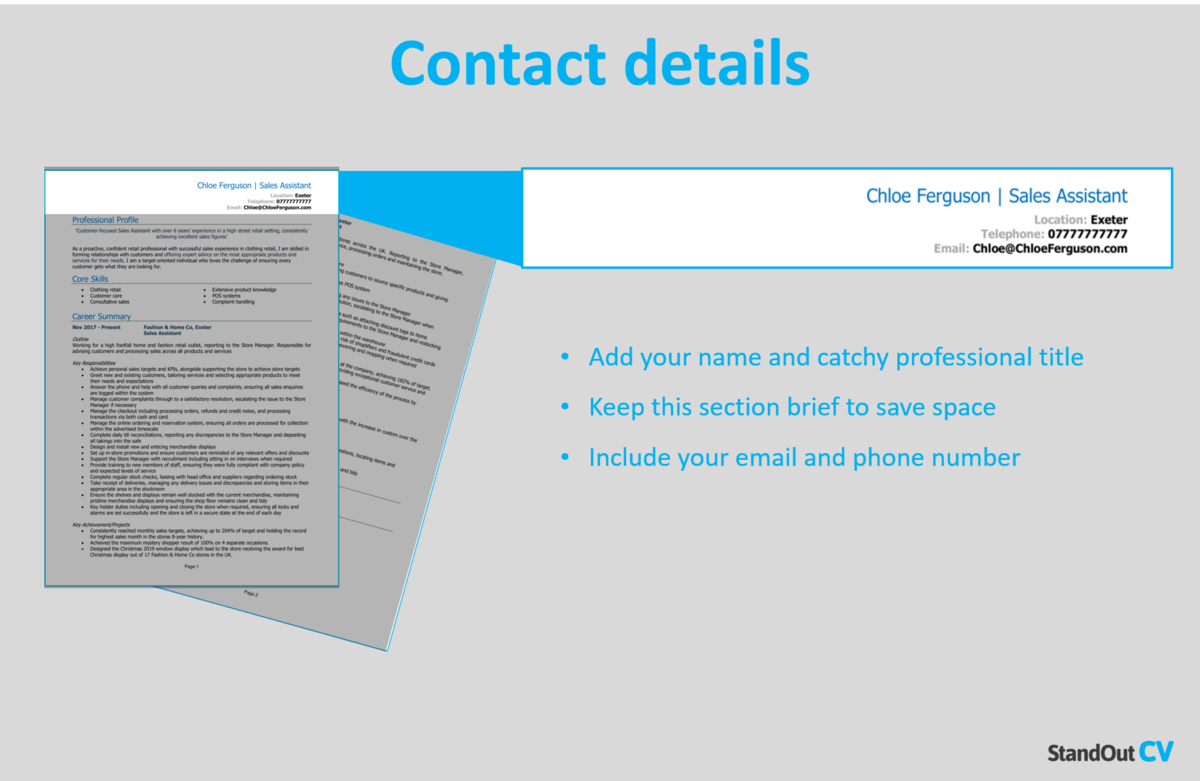 Keep your contact details short to save resume space and include the following.
Name and profession title
Cell phone number
Location – Add your local area such as Silicon Valley or New York, unless you are looking for work in a different location
Email address – Keep it professional and don't use an old address that you thought was cool in high school, but now looks a bit embarrassing.
You can add a link to your LinkedIn profile if you have one – you do not need to include personal details like date of birth or marital status.
Medical SLP Resume Summary
Now it's time to get into the real content of your resume, starting with the summary.
Your resume summary is a short paragraph at the top of the document, and its jobs is to catch the eye of hiring managers by summarizing all your skills and knowledge that are most important to the roles you are applying for.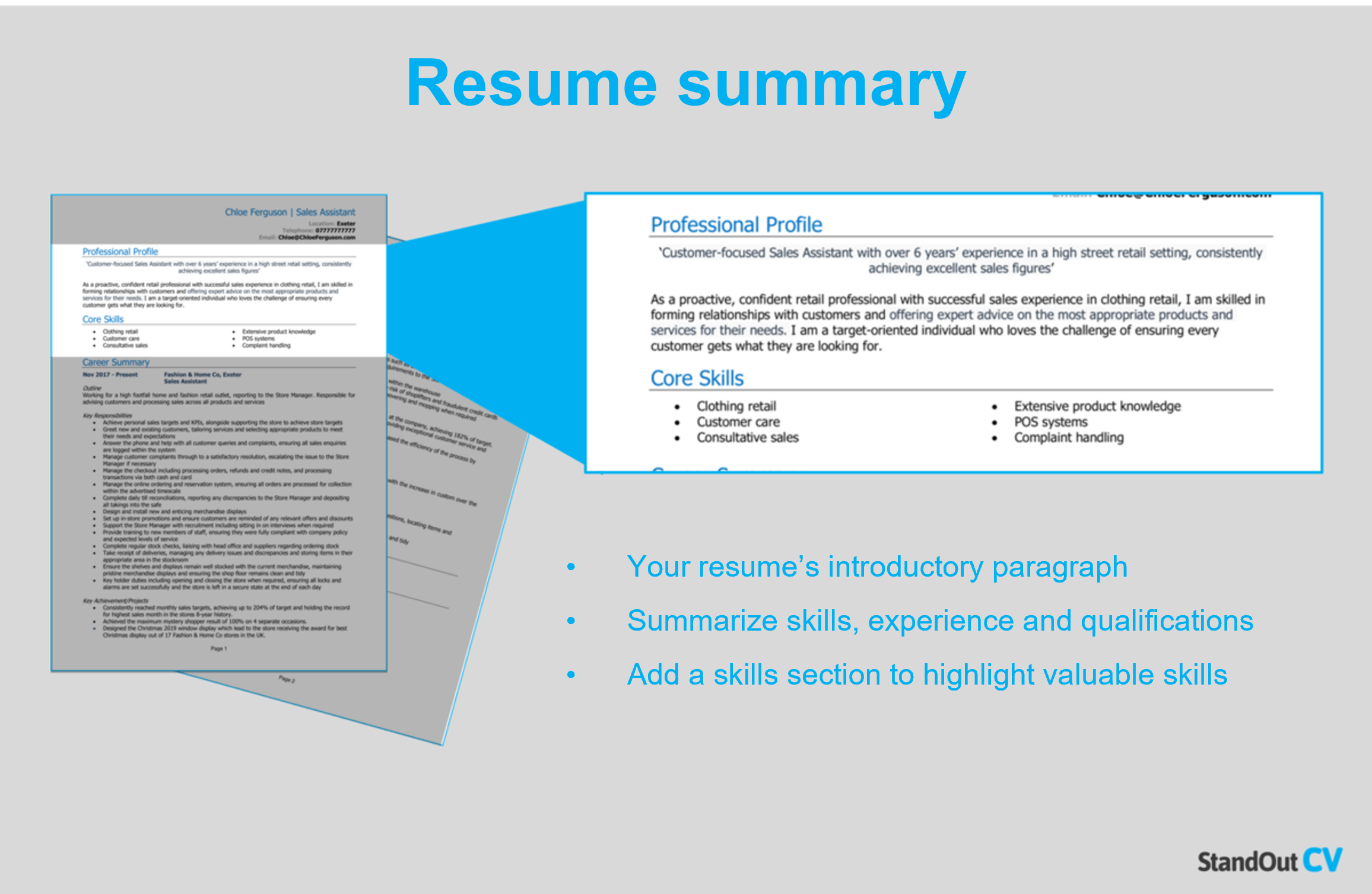 How to create a resume summary that will excite recruiters:
Keep it short: A concise and focused resume summary is essential for capturing a recruiter's attention and keeping them engaged. Limiting your summary to 4-7 lines ensures that you make a strong impression in the first few seconds of them opening the document.
Tailor to target jobs: To make your resume more relevant to your target jobs, analyze the job description and include as many matching skills as possible.
Avoid using cliches: Although you may believe that you're a "team player who always gives 110%," these kinds of cliches don't communicate much about your skills and qualifications to potential employers. It's more effective to stick to factual information in your resume.
Medical SLP resume summary example
ASHA-Certified Medical Speech Language Pathologist with 10+ years of experience providing comprehensive treatment for patients of all ages with communication and swallowing disorders. Compassionate and dedicated professional skilled in assessing patients' needs, developing individualized therapy plans, and collaborating with interdisciplinary teams to optimize patient outcomes. Strong expertise in augmentative and alternative communication (AAC) methods and dysphagia management.
What to include in your Medical SLP resume summary?
Summary of your experience: Summarize the type of work you have done in the past and the ways in which you have contributed to the success of your previous employers.
Relevant skills: Scatter your most in-demand Medical SLP skills through your summary to ensure they are noticed quickly by hiring managers.
Qualifications: Mention any Medical SLP qualifications that are important to your profession in the summary briefly, to show you are qualified to carry out the role.
Quick tip: Choose from hundreds of pre-written summaries across all industries, and add one to your resume with one-click in our partner's Resume Builder. All written by recruitment experts and easily tailored to suit your unique skillset and style.
Core skills section
Underneath your summary, write a core skills section to make your most relevant skills jump off the page at readers.
It should be made up of 2-3 columns of bullet points of your relevant skills.
Before you do this, look over the job description and make a list of any specific skills, specialisms or knowledge required.
Then, make sure to use your findings in your list. This will paint you as the perfect match for the role.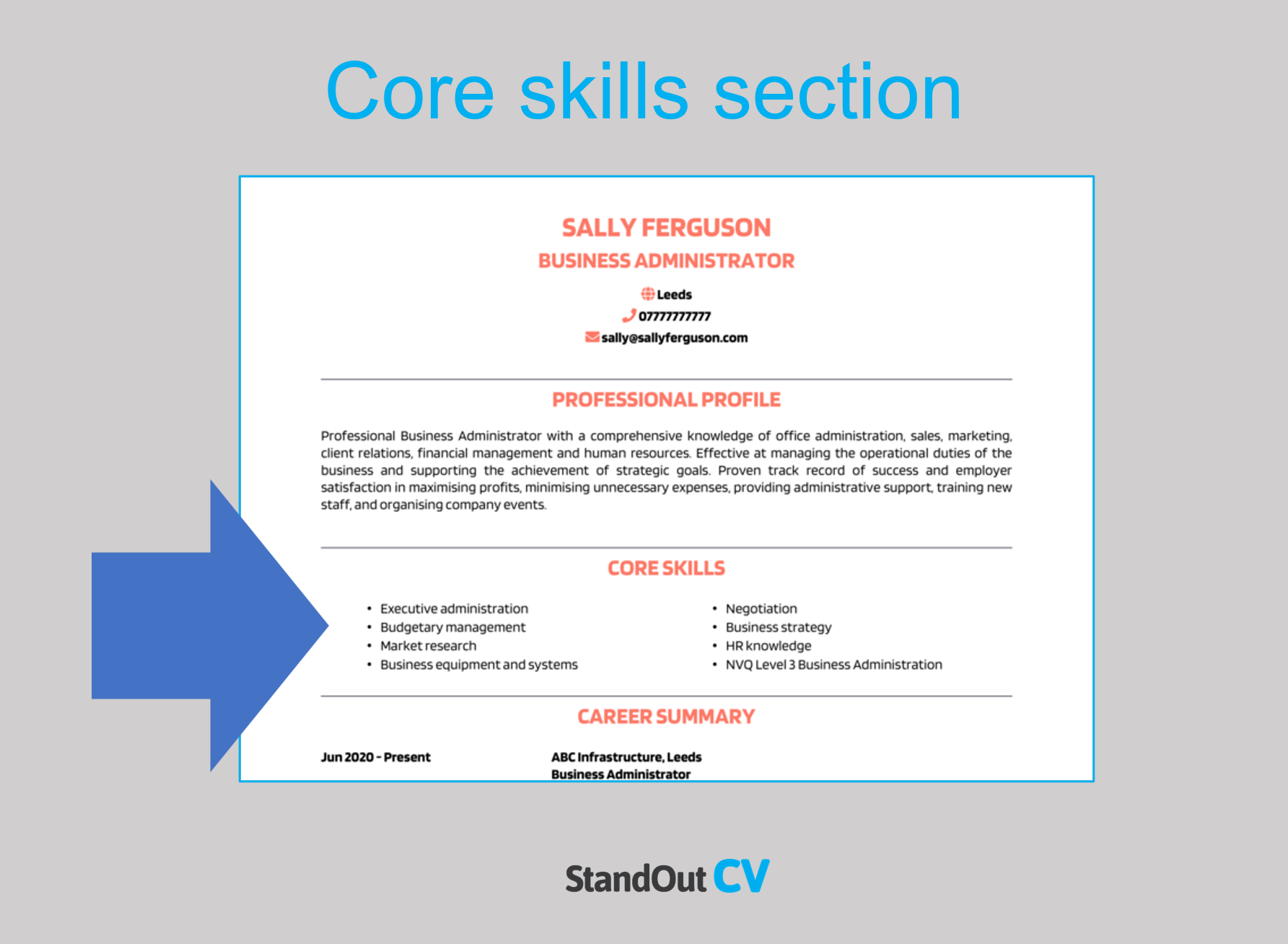 Best skills for your Medical SLP resume
Communication Assessment – Conducting thorough evaluations to assess patients' speech, language, and communication disorders.
Treatment Planning – Developing personalized treatment plans to address patients' specific communication challenges.
Swallowing Disorders Management – Evaluating and treating dysphagia (swallowing disorders) to improve patients' safety and nutrition.
Voice Therapy – Providing voice therapy and help patients improve vocal quality and function.
Augmentative and Alternative Communication (AAC) – Implementing AAC methods and technologies to assist patients with complex communication needs.
Cognitive-Communication Therapy – Providing interventions to address cognitive-communication deficits after strokes or traumatic brain injuries.
Fluency Disorders – Treating fluency disorders such as stuttering to enhance patients' speech fluency.
Pediatric Language Development – Utilizing knowledge of typical language development in children and experience in helping children with language delays.
Dysarthria Management – Managing dysarthria, a motor speech disorder, to improve patients' speech clarity and intelligibility.
Interdisciplinary Collaboration – Working collaboratively with other healthcare professionals, such as physicians and occupational therapists, to provide comprehensive care for patients.
Quick tip: Our partner's Resume Builder contains thousands of in-demand skills for every profession that can be added to your resume in seconds – saving you time and greatly improving your chances of landing job interviews and getting hired.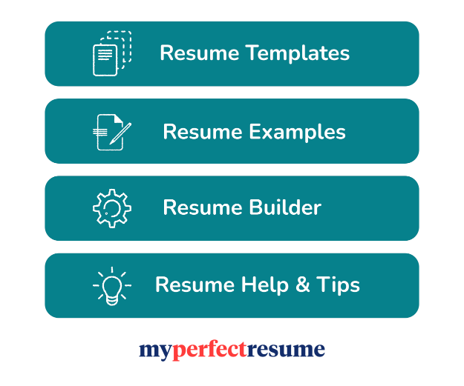 Work experience
So, you've grabbed the recruiters' attention with your summary, now it's time to show them what you're really capable of in your work experience section.
List your previous jobs from current to oldest, showing off the impact you made at each organization.
If you have tons of experience, you should just list the most recent an relevant jobs – but if you have little or no experience, add it all and even consider putting in voluntary work.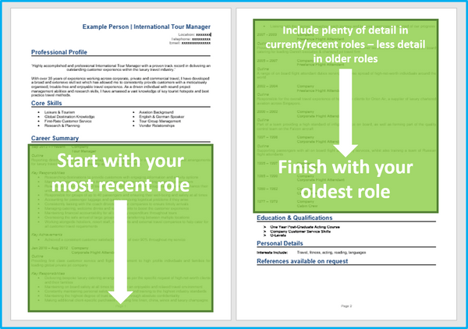 Structuring your jobs
Your job description probably includes tons of information, so it's vital to organize it well when writing about it on your resume.
Structure your jobs as like the example below to make skim-reading easy for recruiters and hiring managers.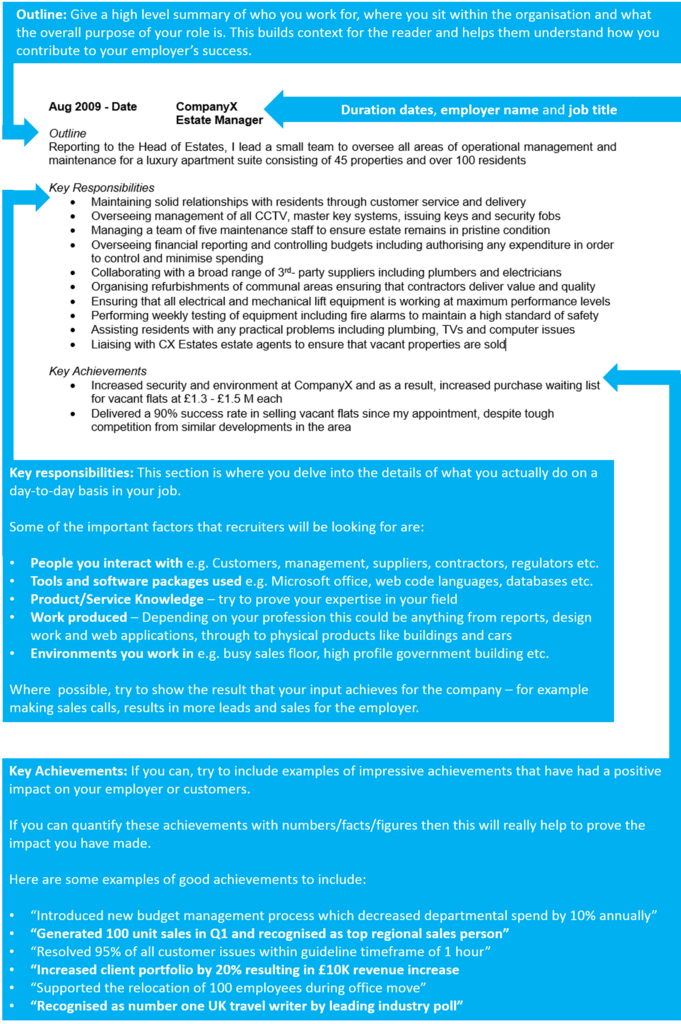 Job outline
Starting each job with a brief summary of the organization, your position within it, and the primary goal of your role can help recruiters quickly understand the context of your work.
Key responsibilities
The bulk of the role description should be comprised of bullet points that explain all of your duties in the job.
Keep the sentences short and simple to make them easy for recruiters to digest.
Key achievements
Finish each role by highlighting some impressive achievements you made whilst in the role.
Anything that benefited the employer can be included from making financial savings, to winning new customers.
Quantify your achievements with facts and figures if you can, e.g. "reduced call wait time by 10%"
Example job for Medical SLP resume
Outline
Assess and treat a diverse range of patients with various communication and swallowing disorders as part of the holistic treatment team at a specialist medical center in Hartford.
Key Responsibilities
Administer thorough patient assessments to determine communication and swallowing impairments
Develop and implement evidence-based therapy interventions tailored to each patient's specific needs
Utilize augmentative and alternative communication (AAC) devices to enhance patient communication abilities
Collaborate with physicians, nurses, and other healthcare professionals to coordinate patient care
Quick tip: Create impressive job descriptions easily in our partner's Resume Builder by adding pre-written job phrases for every industry and career stage.

Education section
Near the end of your resume add your education section.
Experienced candidates should keep it brief and focus on professional qualifications – and junior candidates can include high school diplomas, college degrees etc.
Additional information
The additional info section is optional but can be useful if you have anything else to add that could benefit your application.
For example, you may have some hobbies and interests that are relevant to your job – or you might have awards or publications to shout about.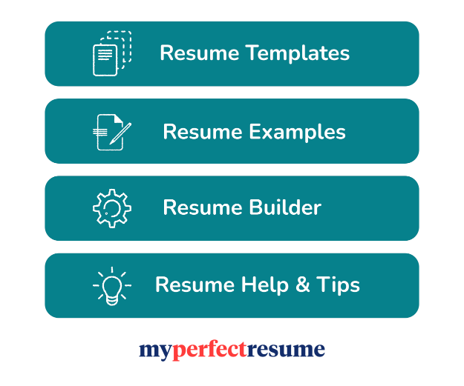 Writing your own winning Medical SLP resume
By tailoring your resume to the specific job and industry you are targeting and ensuring that it effectively communicates your professional value, you can position yourself as a top candidate for all Medical Speech Language Pathologist positions.
Good luck with your job search!