You're a maths whizz and you prefer to deal with numbers rather than letters. But that's tricky when you've got to write an impressive resume.
Sure, you should use some numbers to quantify your achievements, but written content is going to make up the majority of your application, and it needs to be good.
So, to help you perfect your resume and get back to dealing with numbers, we've created a detailed writing guide and math tutor resume example to inspire you.
Contents
| | |
| --- | --- |
| How to write a Math Tutor resume | |

Math Tutor Resume Example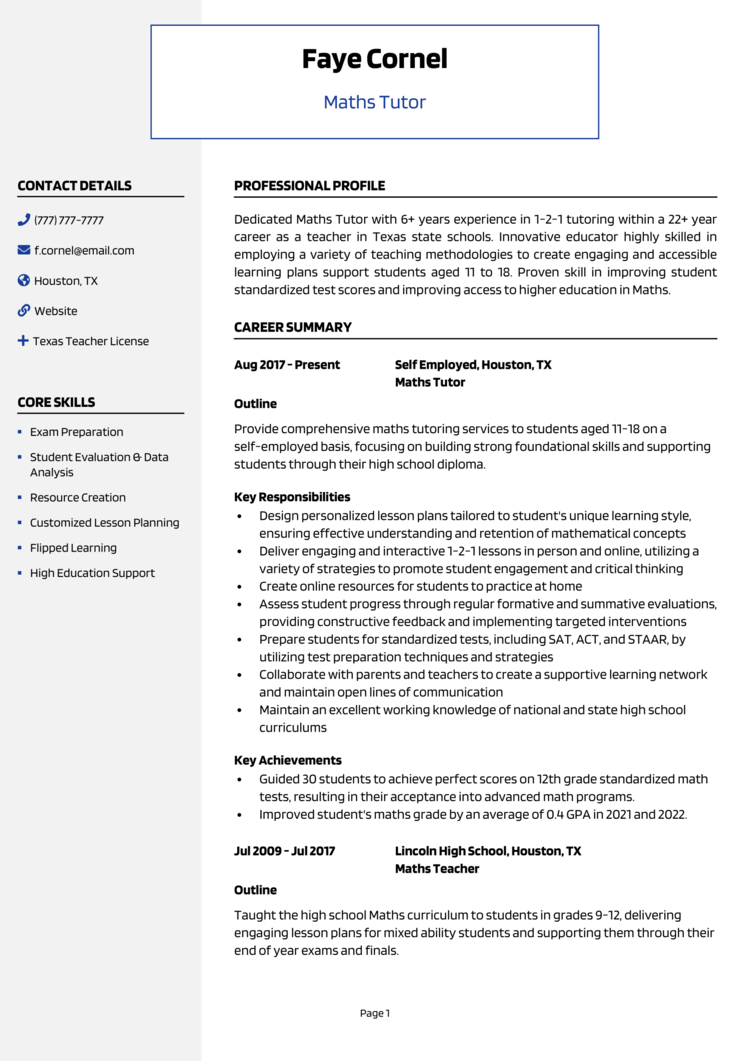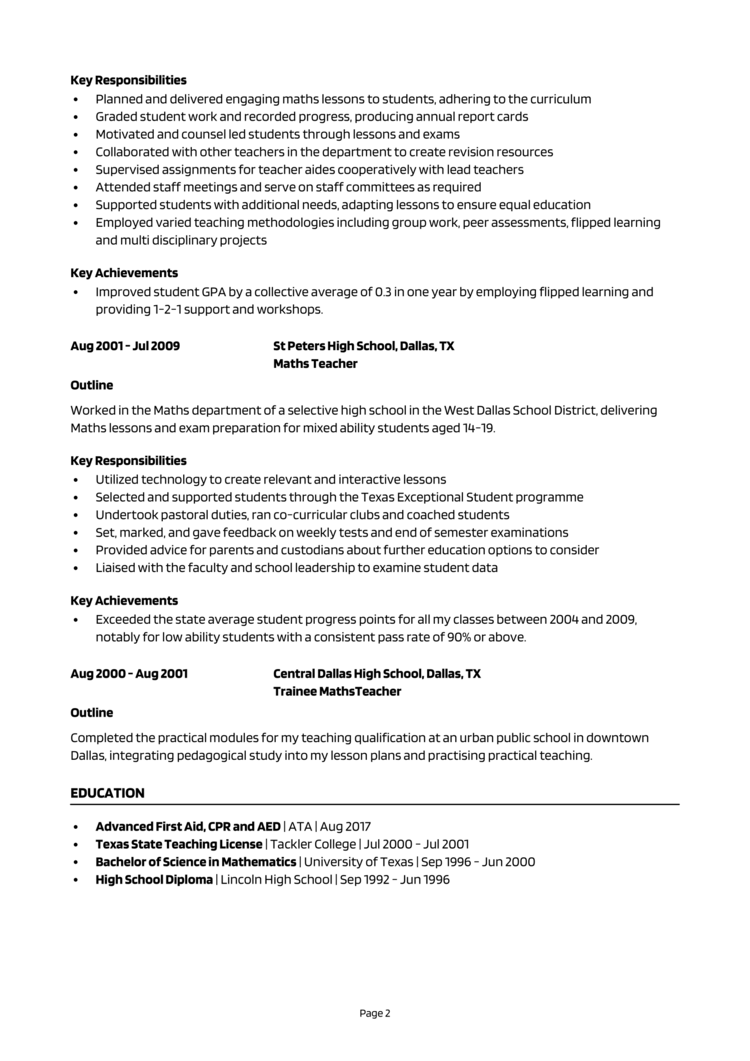 The example Math Tutor resume above shows you how a professional resume should look, along with the type of content it should contain.
You can see that the information is well-organized across the page and its easy for busy recruiters to see the candidate's important skills.
Keep this in mind when writing your own resume.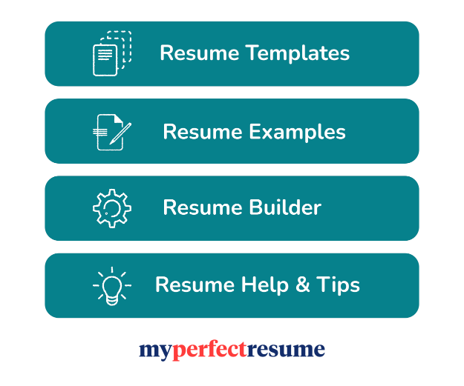 Math Tutor resume layout and format
When it comes to holding the attention of recruiting managers, the format and layout of your resume play a key role.
Your resume needs to strike a perfect balance between looking awesome, and being easy for recruiters to read (which is not always easy to achieve)
Use the following formatting tips to get started.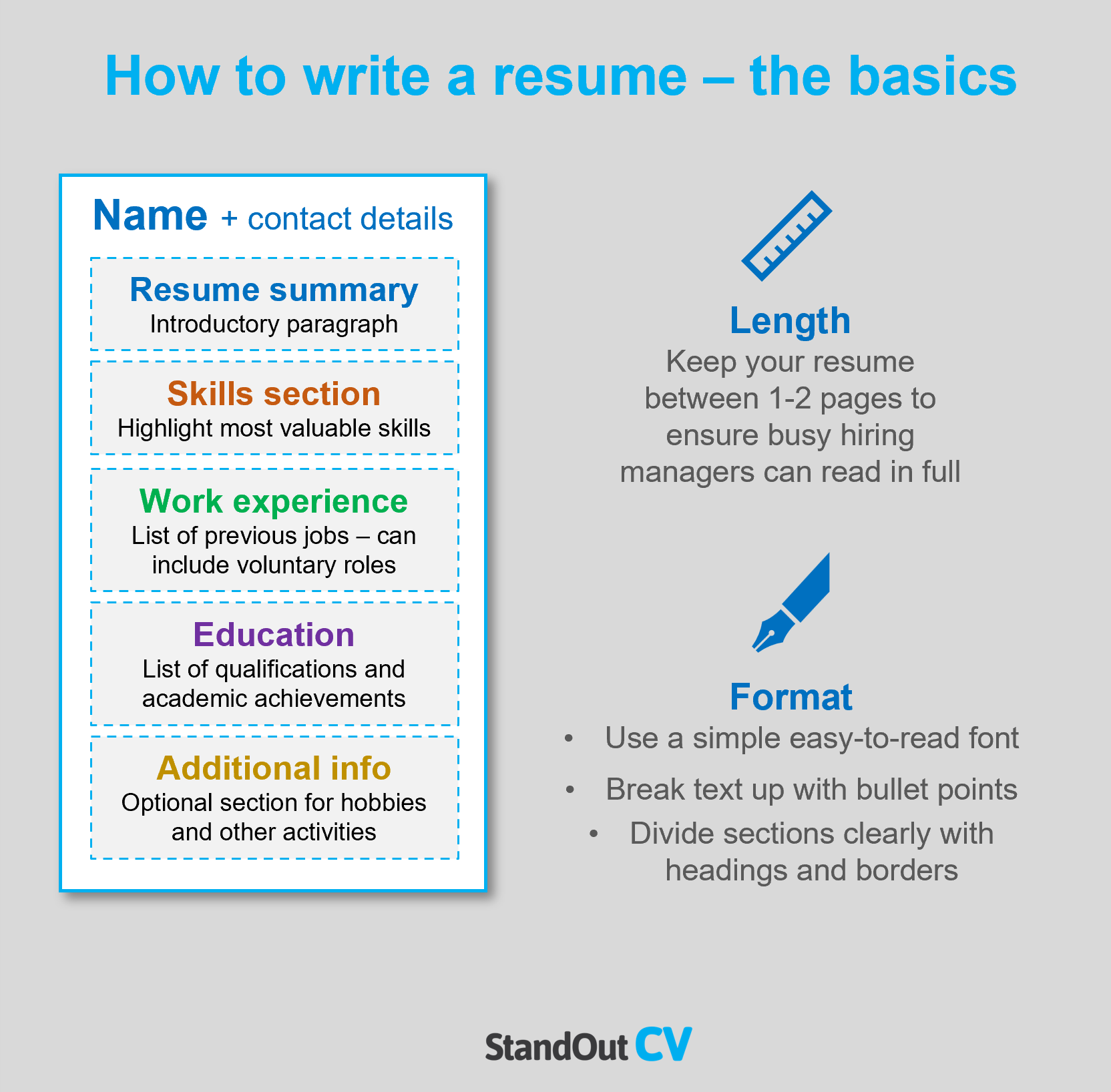 Formatting your resume
Length: As recruiters have a limited amount of time to review each resume they see, keep your resume to 2 pages or less to increase the chances of it being thoroughly reviewed.
Font & readability: The key to an effective resume is its readability, so it's best to use a clear and simple font and format it with bullet points and short paragraphs to make it easy for recruiters to read through quickly.
Layout & Structure: Go with a resume design that looks good, but also allows for easy reading and navigation for employers. Ensure the page is clearly split up into sections by adding large font headings and dividing borders. Keep the color scheme simple and don't overcrowd the page.
Photos: It's not mandatory to add a photo to your resume in the USA but it if you're applying to organizations within the creative fields, it can be beneficial.
Quick tip: Achieving a professional look for your resume can be difficult and time-consuming. If you want to create an attractive resume quickly, try our partner's Resume Builder and use one of their eye-catching resume templates.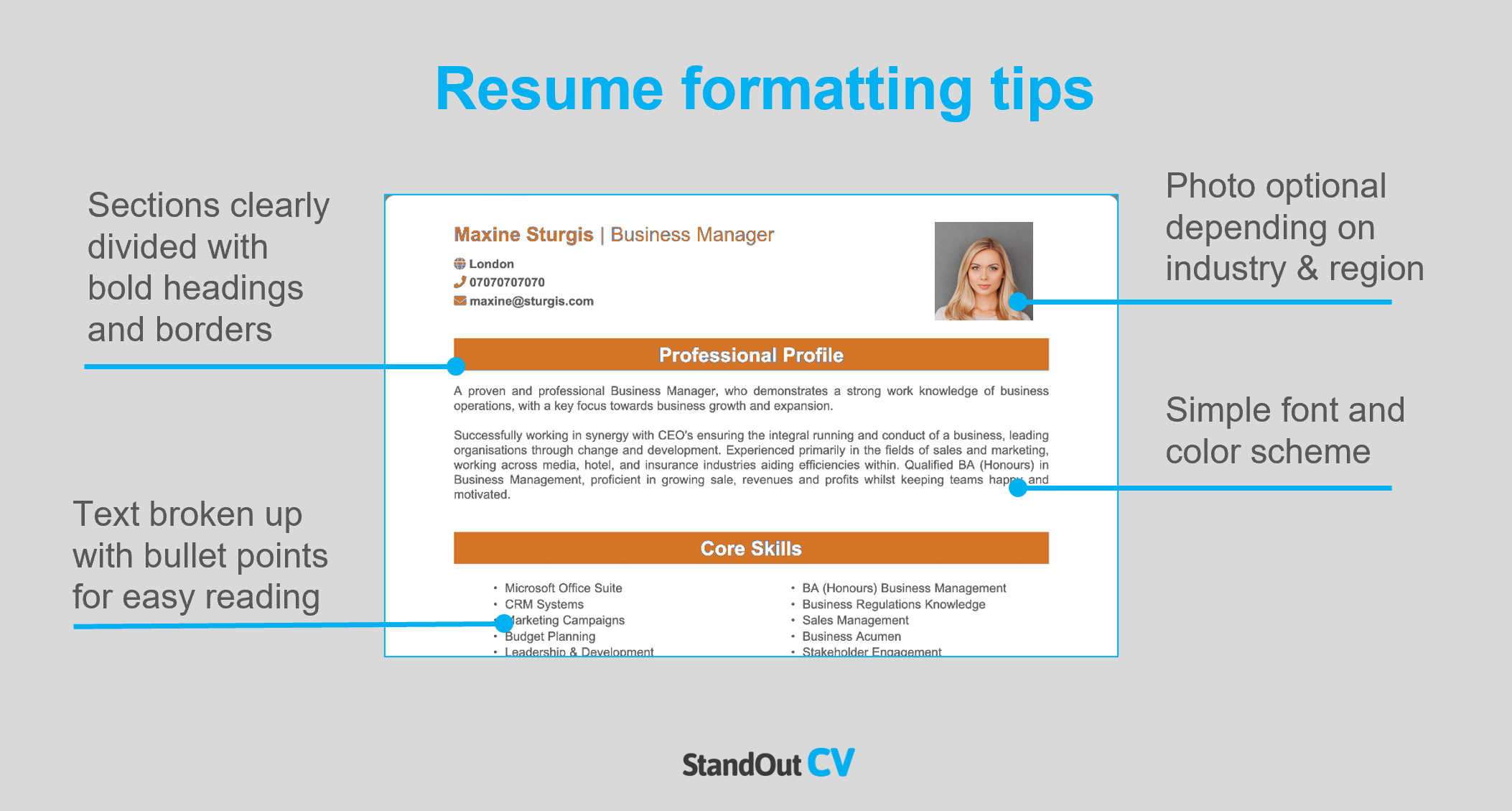 Resume layout
Organize the document into these sections when you write your resume.
Name and contact details – Employers need to know how to get in touch with you – so list your email and cell phone number here.
Resume summary – An intro paragraph at the top of the resume which summarizes your suitability for target jobs.
Skills section – A bullet-pointed list of your most relevant skills and knowledge.
Work experience – A list of your previous jobs (or at least the most relevant and recent ones)
Education – Add academic and professional qualifications that prove you can carry out the job
Additional info – If they are relevant to the jobs you are applying for, you can add an extra section for things like hobbies and interests.
Here's what to include in each part of your resume.
Contact Details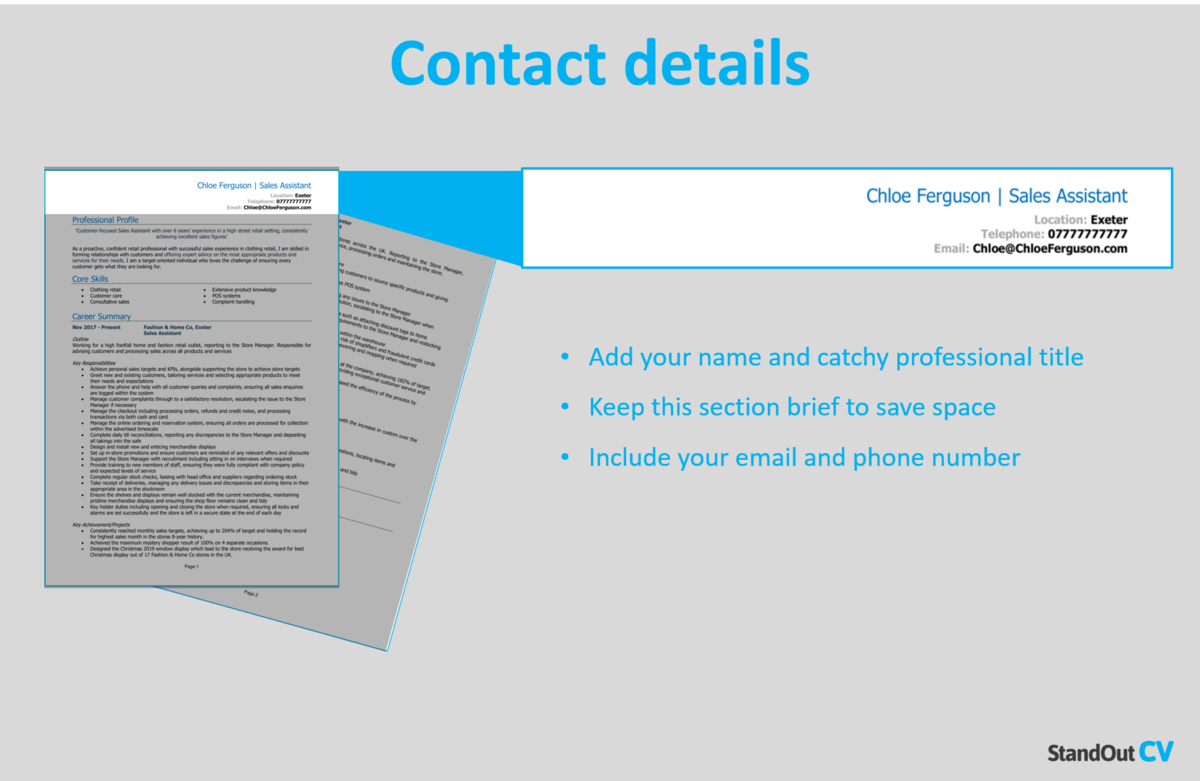 Keep your contact details short to save resume space and include the following.
Name and profession title
Cell phone number
Location – Add your local area such as Silicon Valley or New York, unless you are looking for work in a different location
Email address – Keep it professional and don't use an old address that you thought was cool in high school, but now looks a bit embarrassing.
You can add a link to your LinkedIn profile if you have one – you do not need to include personal details like date of birth or marital status.
Math Tutor Resume Summary
Grab the attention of recruiters right away by including a compelling summary at the top of your resume that summarizes your most valuable skills and experience.
This brief yet impactful section enables you to demonstrate why you're the best candidate for the job and convince recruiters to keep reading.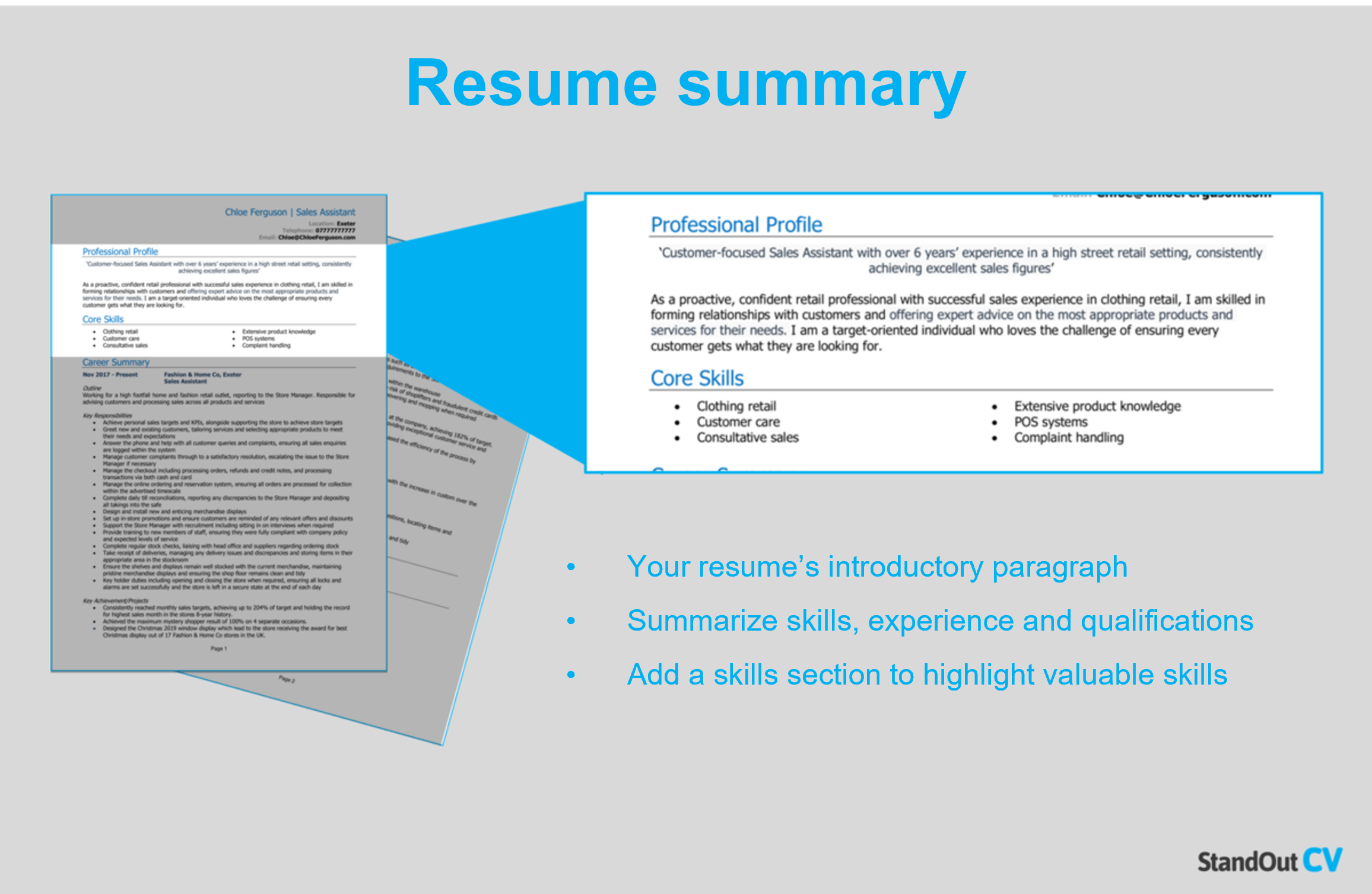 How to create a resume summary that will excite recruiters:
Keep it short: Attention spans are short in the job market, so keep your summary brief and high-level at around 4-7 lines – This is just enough to catch the eye of rushed hiring managers.
Tailor to target jobs: To better align your resume with your target jobs, it's important to scrutinize the job description and identify as many relevant skills as possible to include in your resume.
Avoid using cliches: Although you may believe that you're a "team player who always gives 110%," these kinds of cliches don't communicate much about your skills and qualifications to potential employers. It's more effective to stick to factual information in your resume.
Math Tutor resume summary example
Dedicated Math Tutor with 6+ years' experience in 1-2-1 tutoring within a 22+ year career as a teacher in Texas state schools. Innovative educator highly skilled in employing a variety of teaching methodologies to create engaging and accessible learning plans support students aged 11 to 18. Proven skill in improving student standardized test scores and improving access to higher education in Math.
What to include in your Math Tutor resume summary?
Summary of your experience: Provide an overview of the type of work you have done in the past and the impact you have made at previous employers.
Relevant skills: Incorporate your highly relevant skills for Math Tutor jobs to exhibit your suitability as soon as your resume is opened.
Qualifications: To make a strong impression on potential employers when applying for Math Tutor jobs, be sure to mention any relevant qualifications in your summary.
Quick tip: Choose from hundreds of pre-written summaries across all industries, and add one to your resume with one-click in our partner's Resume Builder. All written by recruitment experts and easily tailored to suit your unique skillset and style.
Core skills section
Next, you should create a bullet pointed list of your core skills, formatted into 2-3 columns.
Here, you should focus on including the most important skills or knowledge listed in the job advertisement.
This will instantly prove that you're an ideal candidate, even if a recruiter only has time to briefly scan your resume.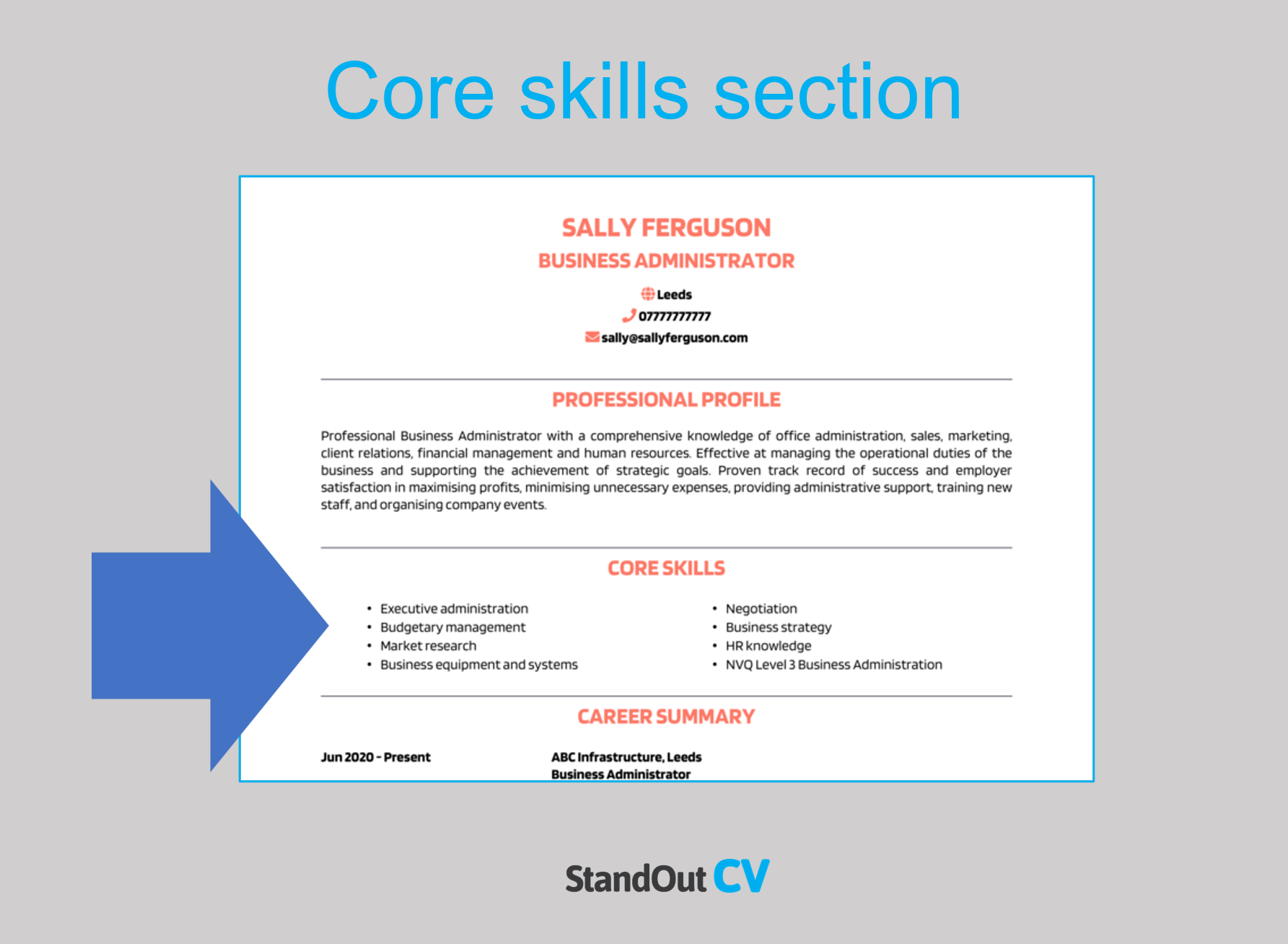 Best skills for your Math Tutor resume
Subject Matter Expertise – Maintaining an in-depth knowledge of various math topics, including algebra, geometry, calculus, statistics, and more, to effectively teach and explain concepts to students.
Math Problem Resolution – Solving complex math problems, analyzing different approaches, and guiding students in developing effective problem-solving strategies.
Adaptive Teaching – Tailoring tutoring methods and techniques to meet the unique learning styles and needs of individual students, adjusting the pace and level of instruction accordingly.
Student Communication – Explaining mathematical concepts clearly, asking probing questions, actively listening to students, and providing feedback in a constructive and supportive manner.
Patience and Empathy – Remaining patient and empathetic towards students who may struggle with math, supporting their learning journey and building their confidence.
Scheduling and Organization – Planning and organizing tutoring sessions, preparing materials, and effectively managing time to cover the necessary topics within the allocated timeframe.
Problem Identification – Identifying specific areas of weakness or difficulty for students and developing targeted strategies to address those challenges.
Differentiation – Adapting instructional methods and materials to accommodate students with diverse learning needs, including visual, auditory, and kinesthetic learners.
Assessment and Progress Monitoring – Assessing student understanding, tracking progress, and identifying areas that require additional focus or review.
Technological Proficiency – Utilizing educational technology tools, math-related software, and online learning platforms to enhance the tutoring experience and facilitate remote learning, if applicable.
Quick tip: Our partner's Resume Builder contains thousands of in-demand skills for every profession that can be added to your resume in seconds – saving you time and greatly improving your chances of landing job interviews and getting hired.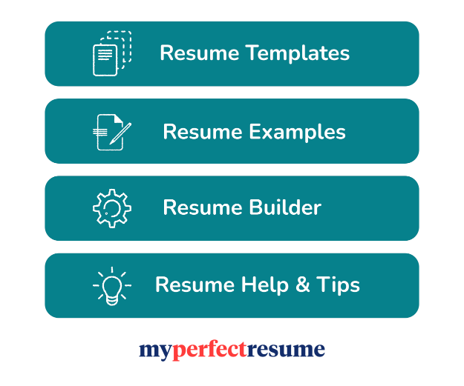 Work experience
Once you've hooked the hiring manager with your summary, you can really blow them away with you work experience.
List your previous jobs from newest to oldest to show the impact you made at each organization.
If you have years of experience, you can leave out some of the older jobs, and if you have little/no experience, you can bulk this section up with voluntary work and college placements.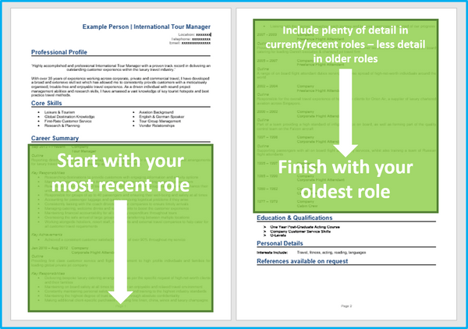 Structuring your jobs
Your job description probably includes tons of information, so it's vital to organize it well when writing about it on your resume.
Structure your jobs as like the example below to make skim-reading easy for recruiters and hiring managers.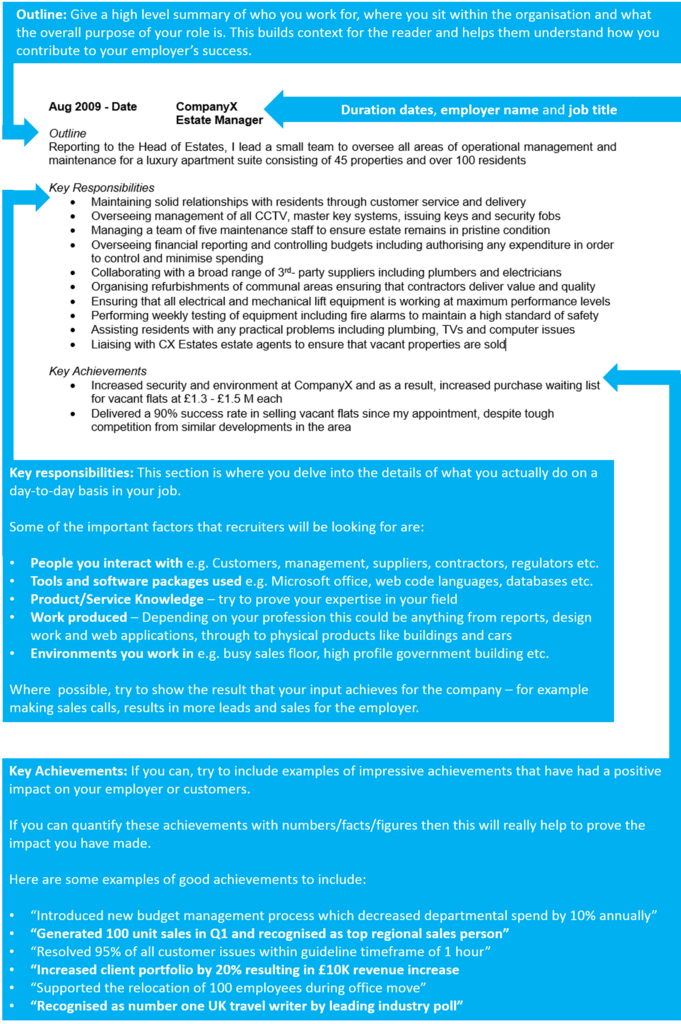 Job outline
Each role description should begin with a qucik summary of the job and company, along with how the job fits into the strucuture of the organization.
Key responsibilities
The bulk of the role description should be comprised of bullet points that explain all of your duties in the job.
Keep the sentences short and simple to make them easy for recruiters to digest.
Key achievements
Show employers the value you can bring to them by adding a few achievements to your jobs.
Whether you've saved the company money or improved an internal process, let recruiters know
Add some numbers to give readers a real scale of the impact, e.g. "reduced call wait time by 10%"
Example job for Math Tutor resume
Outline
Provide comprehensive math tutoring services to students aged 11-18 on a self-employed basis, focusing on building strong foundational skills and supporting students through their high school diploma.
Key Responsibilities
Design personalized lesson plans tailored to student's unique learning style, ensuring effective understanding and retention of mathematical concepts
Deliver engaging and interactive 1-2-1 lessons in person and online, utilizing a variety of strategies to promote student engagement and critical thinking
Create online resources for students to practice at home
Assess student progress through regular formative and summative evaluations, providing constructive feedback and implementing targeted interventions
Quick tip: Create impressive job descriptions easily in our partner's Resume Builder by adding pre-written job phrases for every industry and career stage.

Education section
Near the end of your resume add your education section.
Experienced candidates should keep it brief and focus on professional qualifications – and junior candidates can include high school diplomas, college degrees etc.
Additional information
The bottom of your resume is a place to add any "additional info"
Any other info that didn't fall into any of the previous sections can be added here.
If you have hobbies that are related to your profession or any awards or publications – add them here.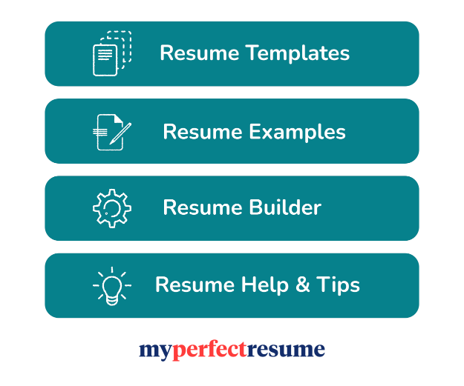 Writing your own winning Math Tutor resume
A winning Math Tutor resume should look great, read well, and sell your skillset to hiring managers.
If you follow the steps above, you should be able to bag yourself a top job in no time.
Good luck with your job search!