If you're organized and good at administrative tasks, a career as a loan officer assistant could really pay off.
But in order to land the position, you need to successfully fill out the most important paperwork of all, your resume.
Find out how to write a strong application with our comprehensive guide below; making use of our loan officer assistant resume example to inspire you.
Contents
| | |
| --- | --- |
| How to write your Loan Officer Assistant resume | |

Loan Officer Assistant Resume Example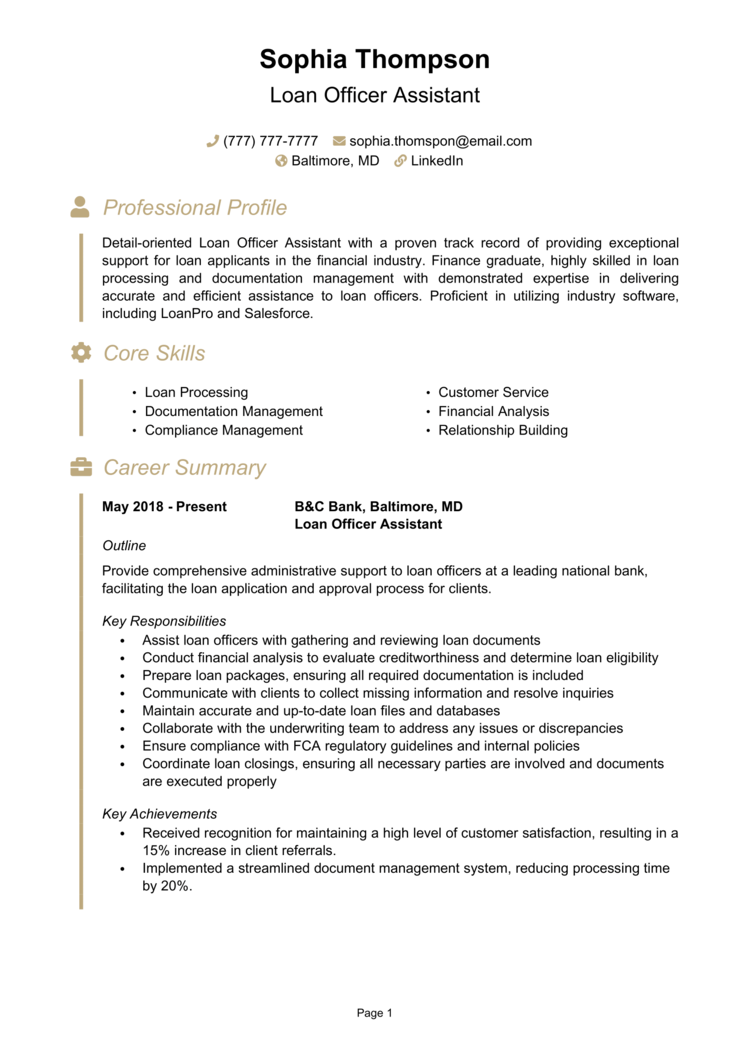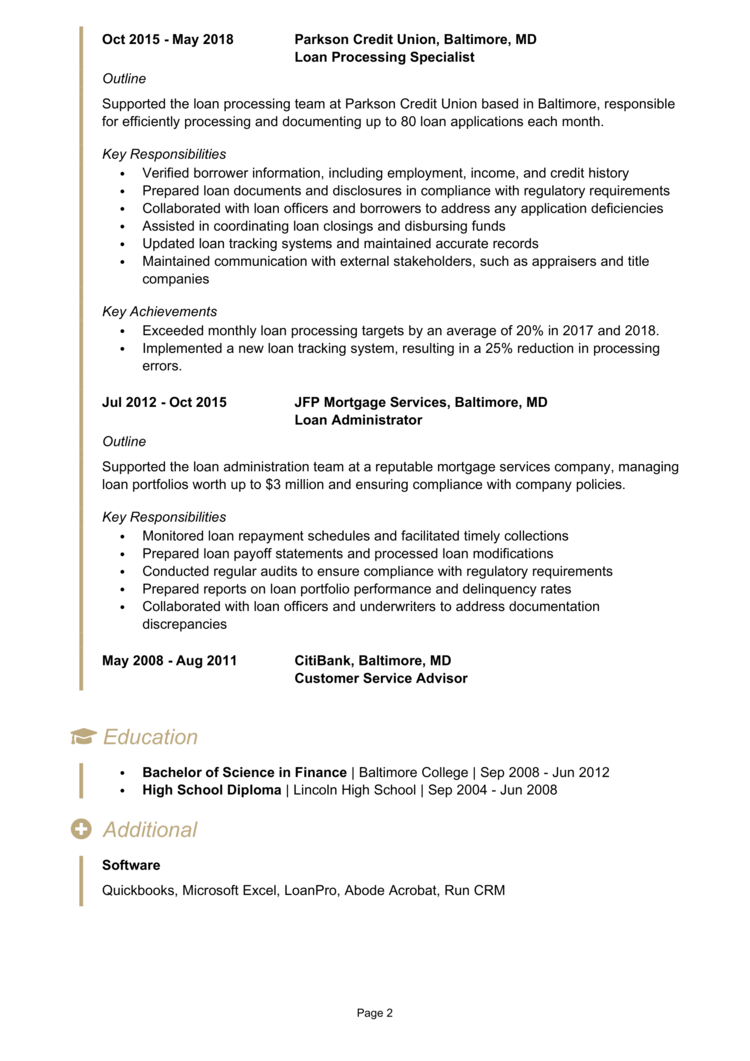 This example Loan Officer Assistant resume provides you with a general idea of how your resume should look, and what information recruiters expect to see.
The rest of this guide will explain how to layout your resume and create each section effectively.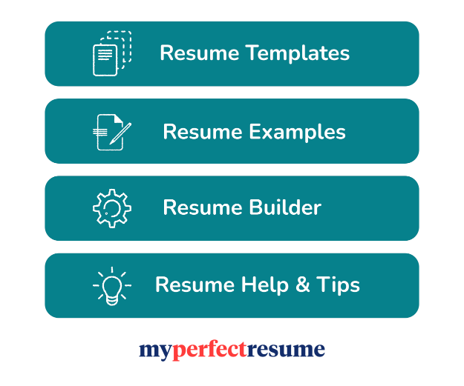 Loan Officer Assistant resume layout and format
The format and layout of your resume can make or break its success.
Sure, it's great to pack your resume with lots of impressive skills and knowledge, but if the page is not structured clearly, hiring managers will struggle to find the important stuff!
Above all, your resume should be easy-to-read and professional looking.
Follow these formatting tips to get noticed.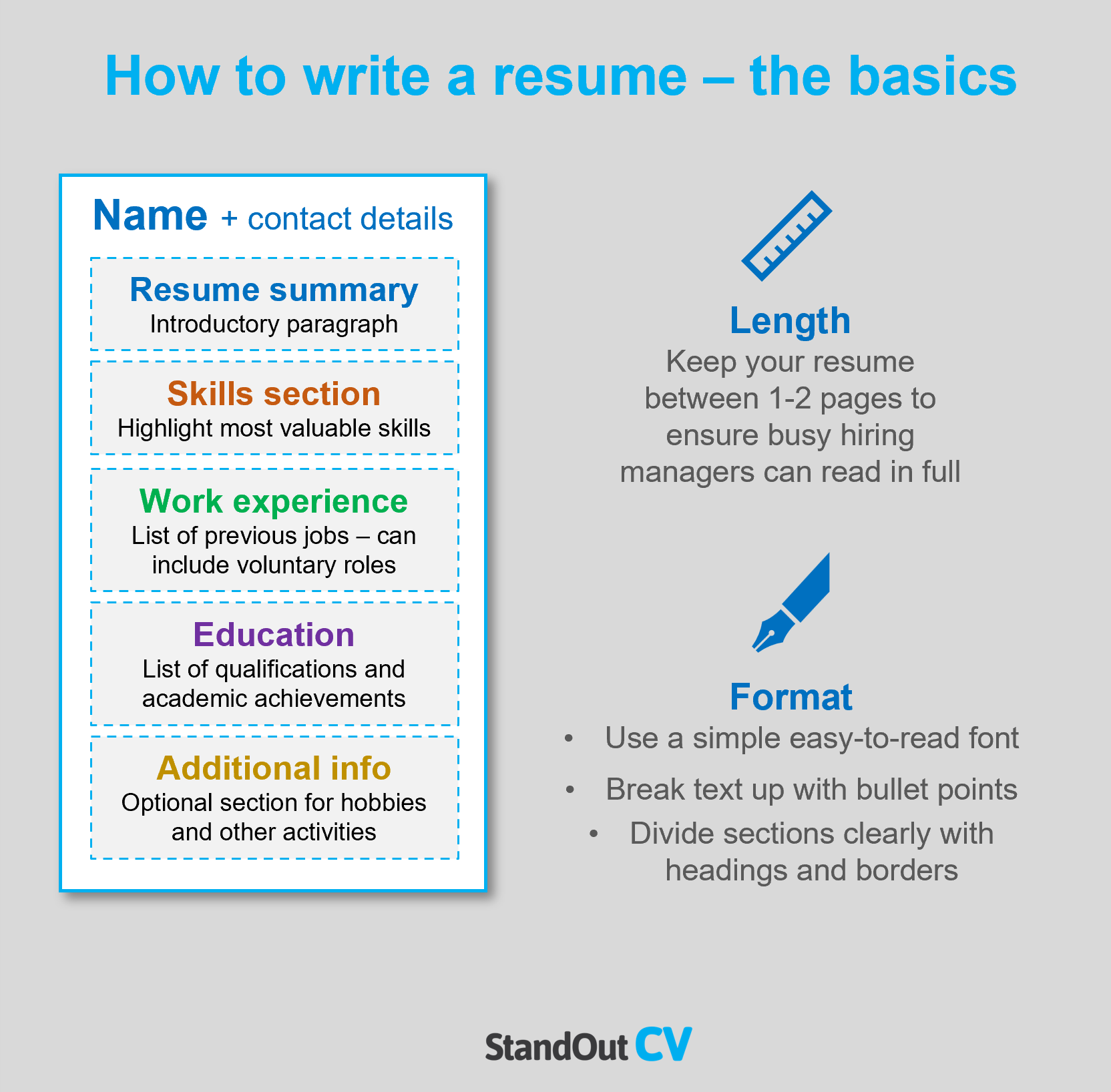 Formatting your resume
Length: To ensure that your resume gets proper attention from recruiters, it is best to keep it at 2 pages or less. Recruiters are often inundated with hundreds of resumes to review on a daily basis, so they want to read each one quickly as possible.
Font & readability: Nobody likes to read huge unbroken paragraphs of text – and recruiters are no different. Break your resume text up with bullet points and use a clear simple font.
Layout: When it comes to designing your resume, it's essential to make it visually appealing, but it's equally important not to overlook functionality. To achieve this, you should organize the page into clear sections using bold headings and borders.
Photos: While a photo is not usually necessary on your resume in the United States, it may be beneficial to include one in regions and industries where it is customary.
Quick tip: Achieving a professional look for your resume can be difficult and time-consuming. If you want to create an attractive resume quickly, try our partner's Resume Builder and use one of their eye-catching resume templates.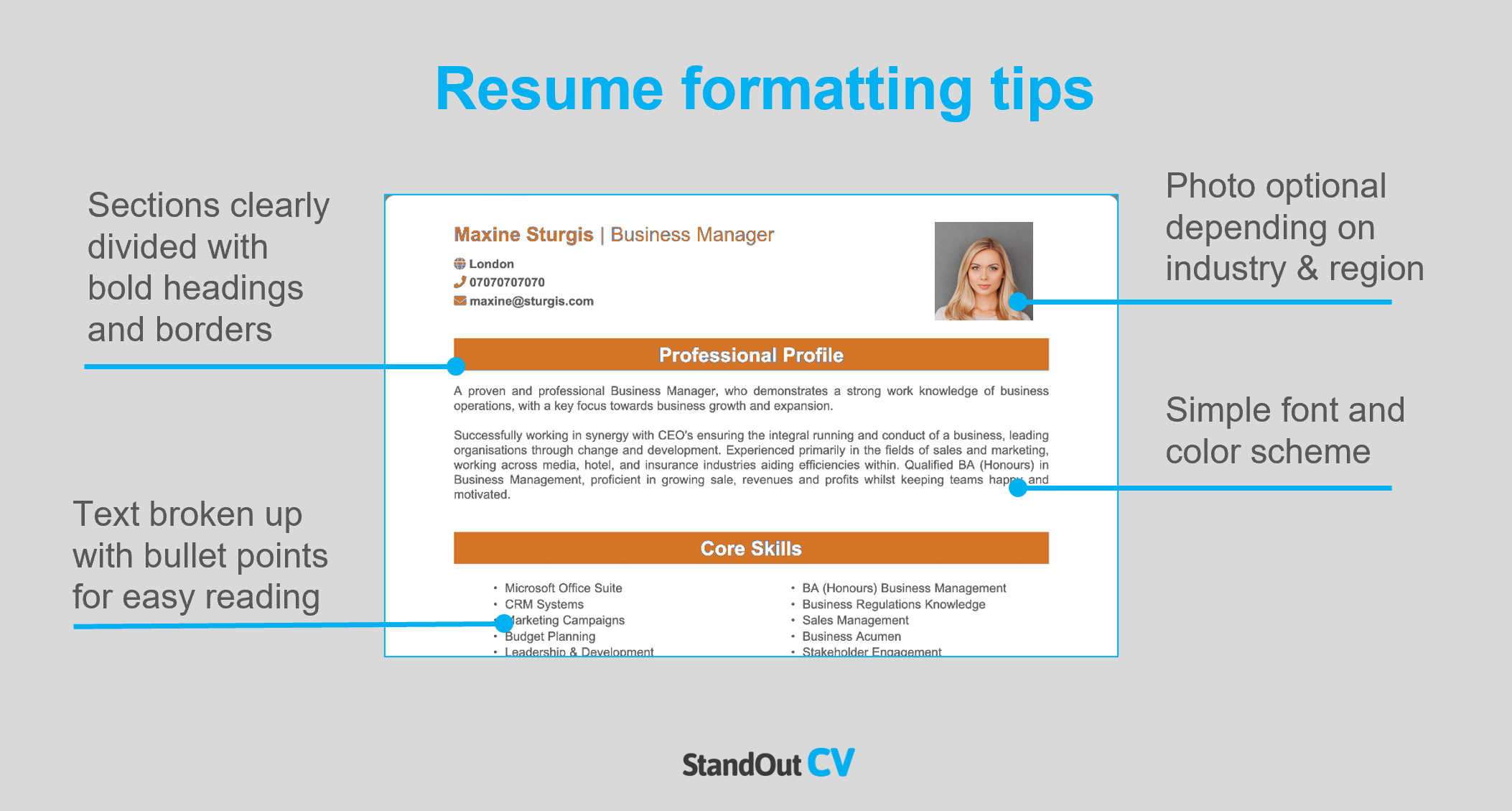 Resume layout
Your resume should include the following sections to give recruiters the information they require:
Name and Contact Details – Place your contact information at the top of your resume to make it easy for employers to get in touch with you.
Resume Summary – Write a brief introduction at the beginning of your resume that summarizes your most important qualifications and highlights why you are the ideal candidate for the job.
Skills Section – Include a concise list of your most relevant and impressive skills to quickly grab the attention of potential employers.
Work Experience – List your previous work experiences in reverse chronological order, including any volunteer work or college placements.
Education – List your educational qualifications and any professional training you have received.
Additional Information – This section is optional, but you can include details about your interests, hobbies, or any other relevant information that can make you stand out from other applicants.
Here's what to add to each section of your Loan Officer Assistant resume.
Contact Details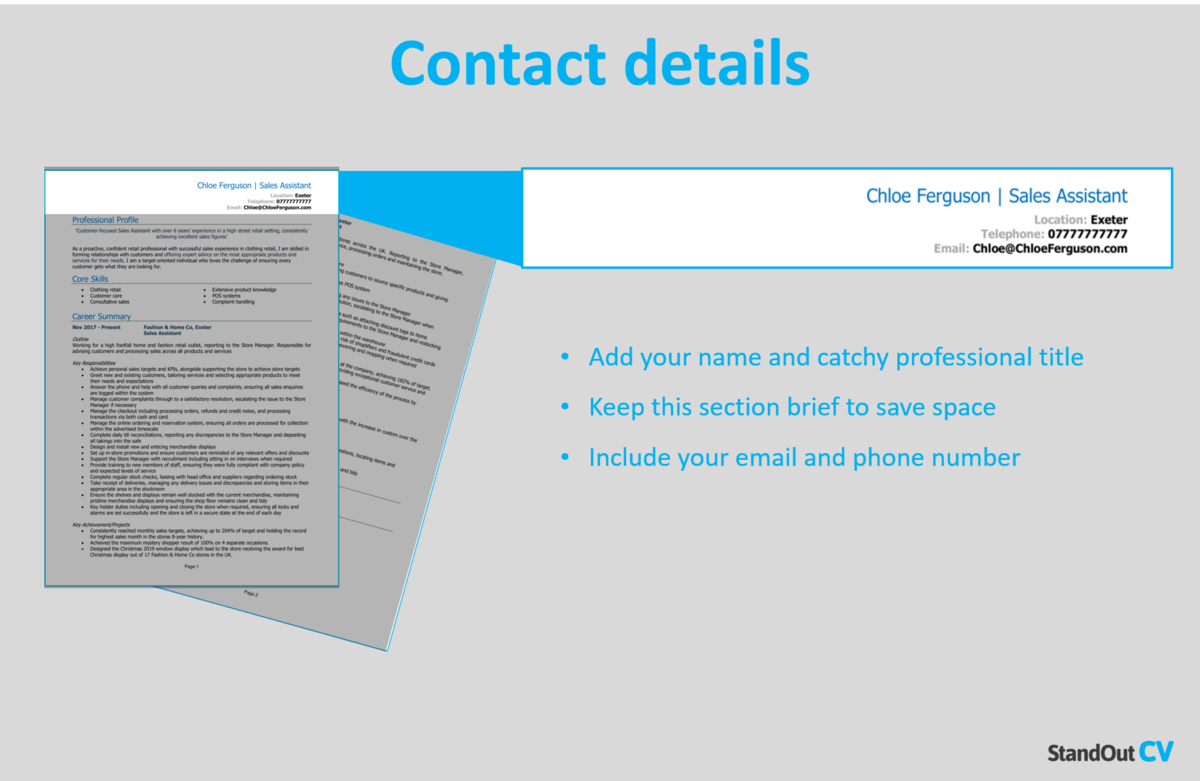 Add your name and contact details to the header of your resume, so that anybody reading can easily see how to contact you.
Name and profession title
Cell phone number – or any number you are easily reachable on
Location – Add your local area such as Washington or San Diego – not your full address as that will take up too much space.
Email address – Use a professional looking address.
You can add a link to your LinkedIn profile if you have one – you do not need to include personal details like date of birth or religion.
Loan Officer Assistant Resume Summary
Start your resume with a bang by adding a powerful summary to the top, summarizing your most valuable skills and experience.
This short paragraph is your chance to show recruiters why you are a perfect fit for the job and encourage them to read more of your resume.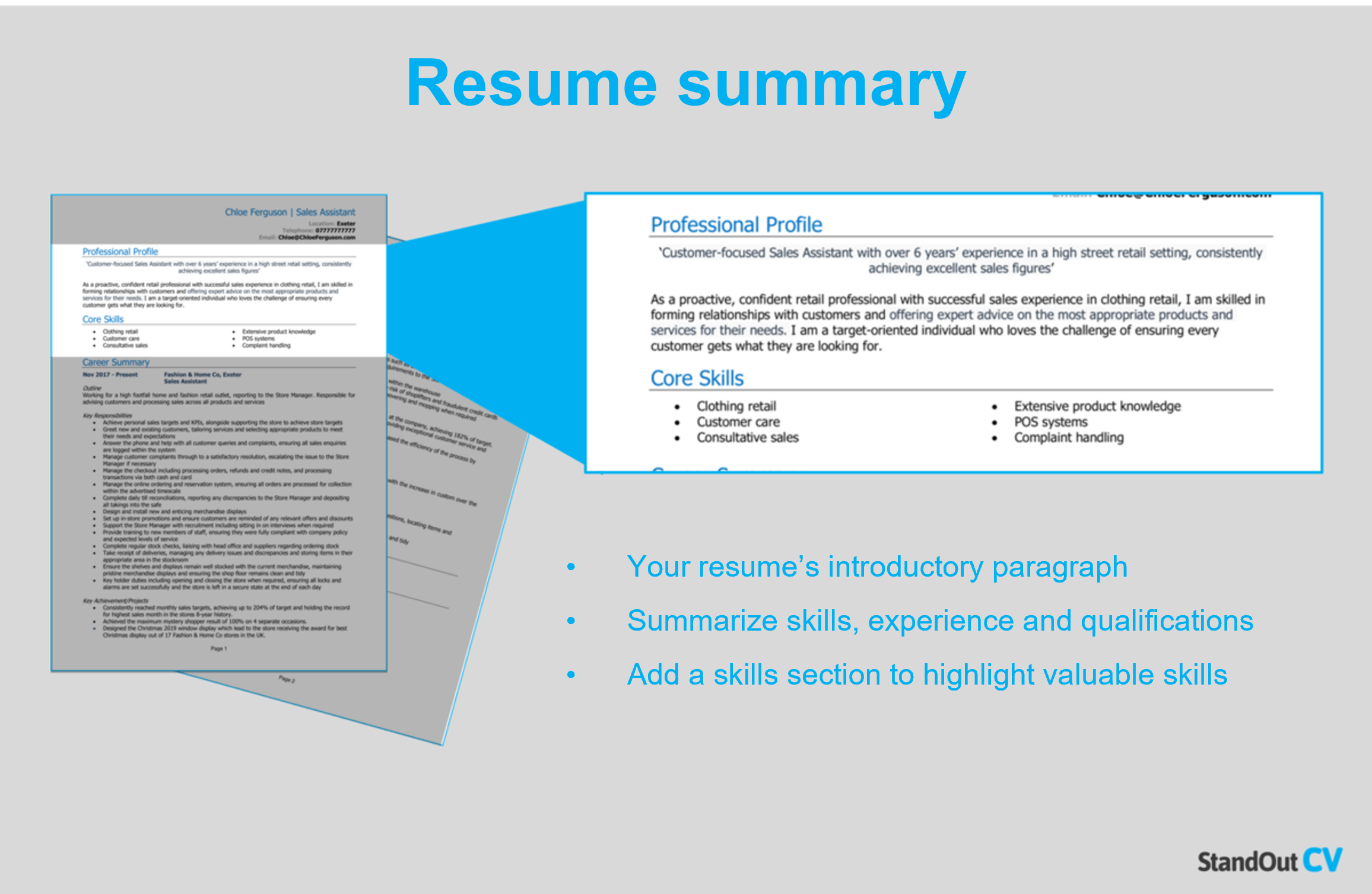 How to create a resume summary that will excite recruiters:
Keep it short: You only have a few seconds to grab a recruiters' attention and make them commit to your resume, so keep your summary between 4 – 7 lines.
Tailor to target jobs: To better align your resume with your target jobs, it's important to scrutinize the job description and identify as many relevant skills as possible to include in your resume.
Avoid using cliches: Although you may believe that you're a "team player who always gives 110%," these kinds of cliches don't communicate much about your skills and qualifications to potential employers. It's more effective to stick to factual information in your resume.
Loan Officer Assistant resume summary example
Detail-oriented Loan Officer Assistant with a proven track record of providing exceptional support for loan applicants in the financial industry. Finance graduate, highly skilled in loan processing and documentation management with demonstrated expertise in delivering accurate and efficient assistance to loan officers. Proficient in utilizing industry software, including LoanPro and Salesforce.
What to include in your Loan Officer Assistant resume summary?
Summary of your experience: Briefly describe the work you have performed in the past and the contributions you have made to the organizations you have worked for.
Relevant skills: Skills that are highly relevant to Loan Officer Assistant work should be made prominent throughout your summary.
Qualifications: If your job requires any qualifications such as a professional course or a college degree, mention it briefly in your summary.
Quick tip: Choose from hundreds of pre-written summaries across all industries, and add one to your resume with one-click in our partner's Resume Builder. All written by recruitment experts and easily tailored to suit your unique skillset and style.
Core skills section
Underneath your summary, write a core skills section to make your most relevant skills jump off the page at readers.
It should be made up of 2-3 columns of bullet points of your relevant skills.
Before you do this, look over the job description and make a list of any specific skills, specialisms or knowledge required.
Then, make sure to use your findings in your list. This will paint you as the perfect match for the role.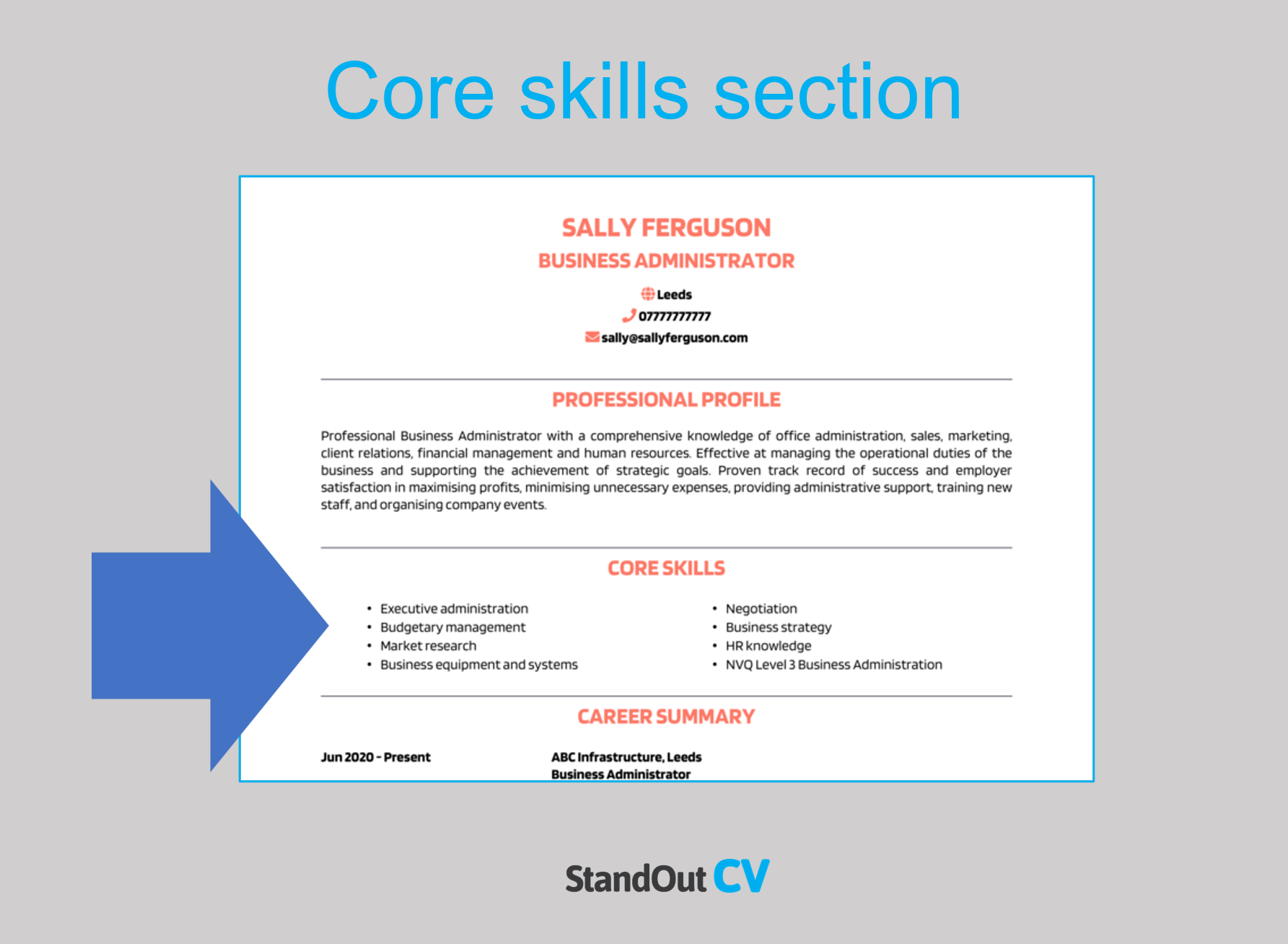 Best skills for your Loan Officer Assistant resume
Loan Application Processing – Processing loan applications, verifying information, and ensuring compliance with lending guidelines and regulations.
Client Relationship Management – Building and maintaining positive relationships with clients, assisting them throughout the loan application process, and providing excellent customer service.
Financial Analysis – Analyzing financial statements, credit reports, and other relevant documents to assess borrowers' creditworthiness and determine appropriate loan options.
Loan Documentation – Preparing and reviewing loan documents, including disclosures, agreements, and contracts, to ensure accuracy and compliance.
Stakeholder Communication – Communicating effectively with clients, lenders, and other stakeholders involved in the loan process.
Loan Processing Operations – Managing multiple loan applications and prioritizing tasks to meet deadlines and ensure a smooth loan processing experience.
Compliance Knowledge – Staying up to date with lending regulations and compliance requirements to ensure that loan applications adhere to legal and industry standards.
Problem Resolution – Identifying and resolving potential issues or challenges that may arise during the loan application process.
Software Proficiency – Utilizing loan management software and other relevant tools to streamline loan processing tasks and maintain accurate records.
Sales Support – Assisting loan officers in marketing and promoting loan products, identifying potential leads, and supporting sales efforts to achieve loan production goals.
Quick tip: Our partner's Resume Builder contains thousands of in-demand skills for every profession that can be added to your resume in seconds – saving you time and greatly improving your chances of landing job interviews and getting hired.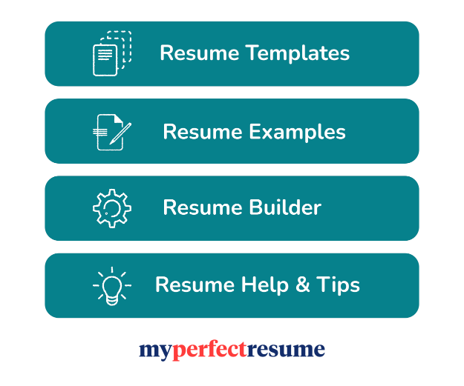 Work experience
Once you've got recruiters interested with your impactful summary, your work experience is where the real detail will lie.
Lay out your previous jobs from current to oldest, detailing what you contributed and achieved in each one.
If you're highly experienced you can cut this section down to your most recent few years of work, but if you are junior you can bulk this up with voluntary work and college placements.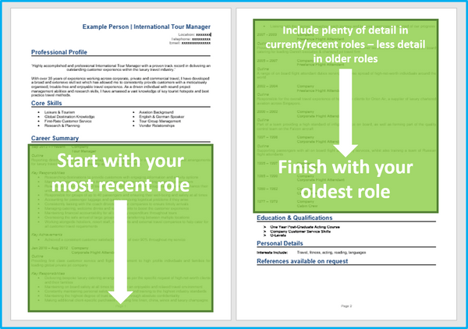 Structuring your jobs
Without a good structure, your job description can look messy and overwhelming to anyone reading them.
Make it easy for recruiters to read your work experience by structuring your roles like this.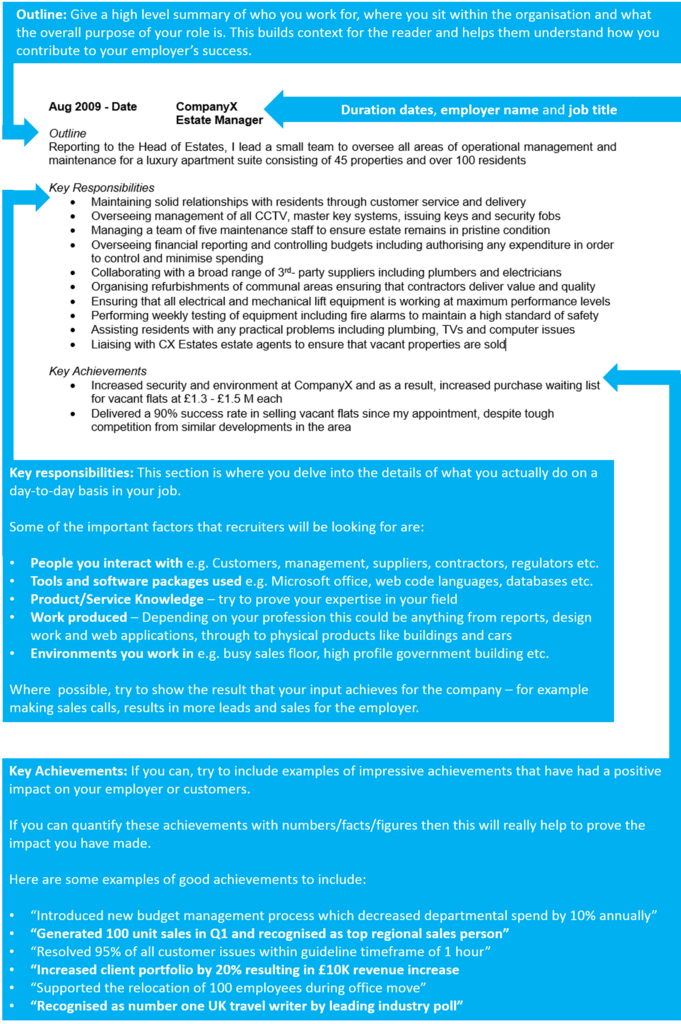 Job outline
Begin each job with a short summary of who the organization is, where you sit within it, and what the main goal of your position is.
Key responsibilities
The bulk of the role description should be comprised of bullet points that explain all of your duties in the job.
Keep the sentences short and simple to make them easy for recruiters to digest.
Key achievements
Finish each role by highlighting some impressive achievements you made whilst in the role.
Anything that benefited the employer can be included from making financial savings, to winning new customers.
Quantify your achievements with facts and figures if you can, e.g. "reduced call wait time by 10%"
Example job for Loan Officer Assistant resume
Outline
Provide comprehensive administrative support to loan officers at a leading national bank, facilitating the loan application and approval process for clients.
Key Responsibilities
Assist loan officers with gathering and reviewing loan documents
Conduct financial analysis to evaluate creditworthiness and determine loan eligibility
Prepare loan packages, ensuring all required documentation is included
Communicate with clients to collect missing information and resolve inquiries
Quick tip: Create impressive job descriptions easily in our partner's Resume Builder by adding pre-written job phrases for every industry and career stage.

Education section
Towards the bottom of your resume, add your education section.
Here you should list your professional qualifications and academic record, such as high school diplomas or college degrees.
If you have lots of work experience, you can keep this section brief (because recruiters will be more interested in your career. If you have little/no experience then you should bulk this section up with plenty of detail.
Additional information
The bottom of your resume is a place to add any "additional info"
Any other info that didn't fall into any of the previous sections can be added here.
If you have hobbies that are related to your profession or any awards or publications – add them here.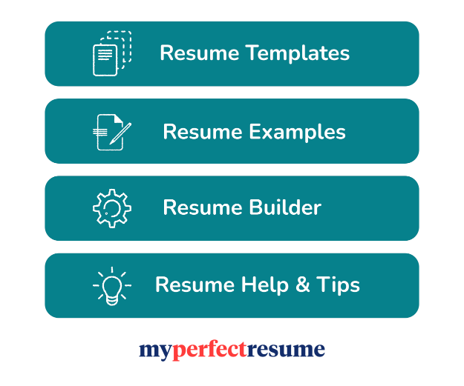 Writing your own winning Loan Officer Assistant resume
A winning Loan Officer Assistant resume should look great, read well, and sell your skillset to hiring managers.
If you follow the steps above, you should be able to bag yourself a top job in no time.
Good luck with your job search!