Do you need a resume that will showcase your ability to juggle multiple properties and tenants and secure you an interview?
Then we've got the key to your success.
Check out our writing guide below, packed with top tips and advice and complete with a leasing manager resume example.
Contents
| | |
| --- | --- |
| How to write a Leasing Manager resume | |

Leasing Manager Resume Example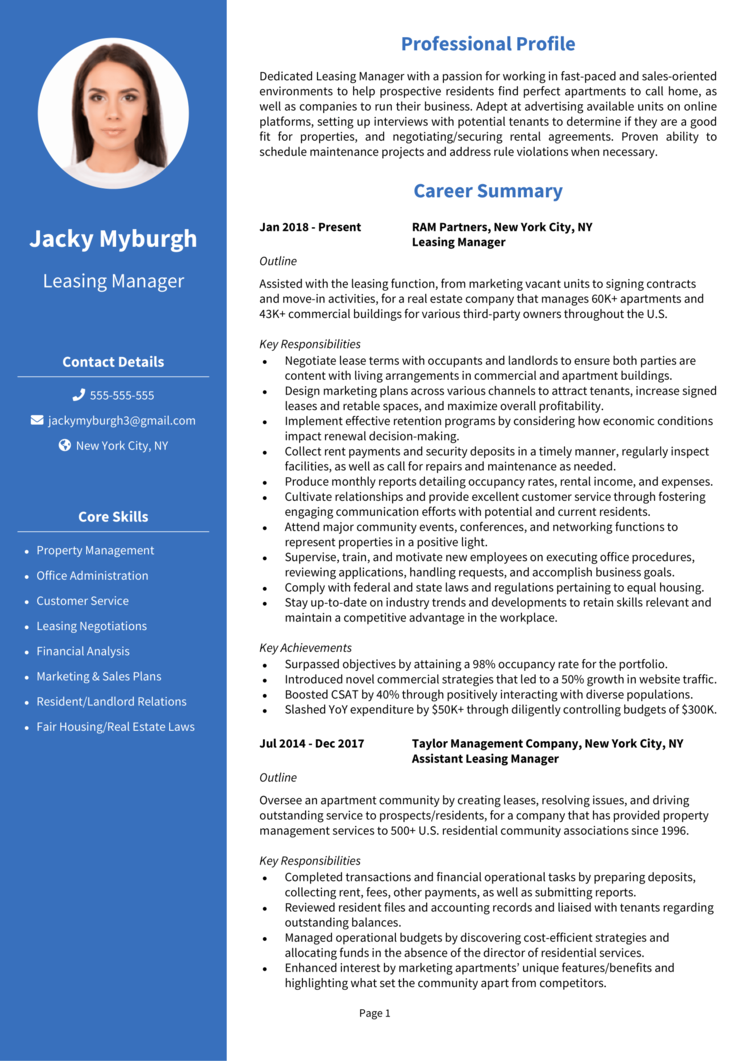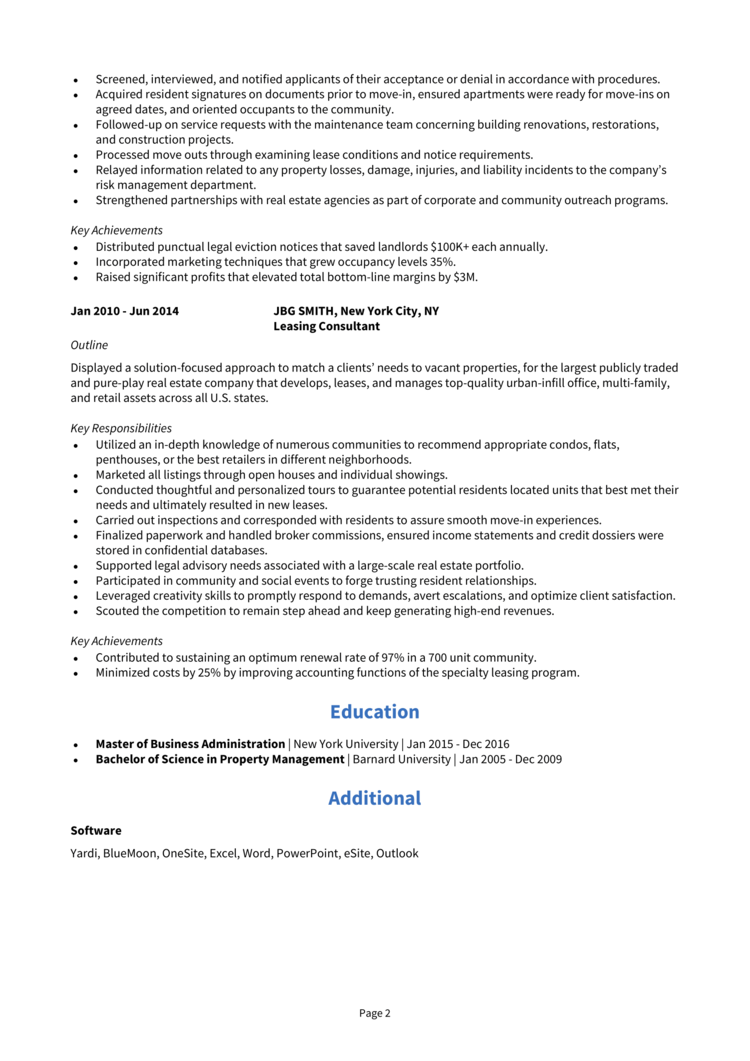 From the Leasing Manager resume example above, you can see the kind of information your resume will need to include, and the layout you will need to create for an easy-reading experience.
The rest of this guide will show you how to apply this format to your own unique situation, and create a resume that will attract the best employers in your industry.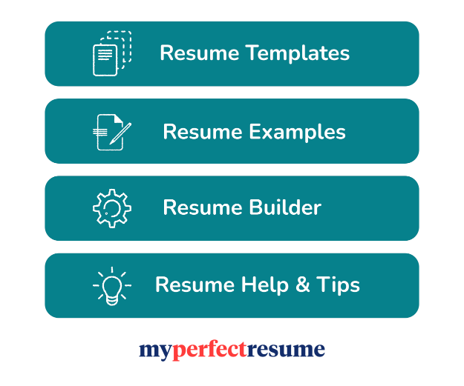 Leasing Manager resume layout and formatting
Formatting and structuring your resume correctly is key to landing job interviews.
Your resume needs to look attractive, but more importantly it needs to be easy for recruiters and hiring managers to read and digest the information.
These tips will help you to do that: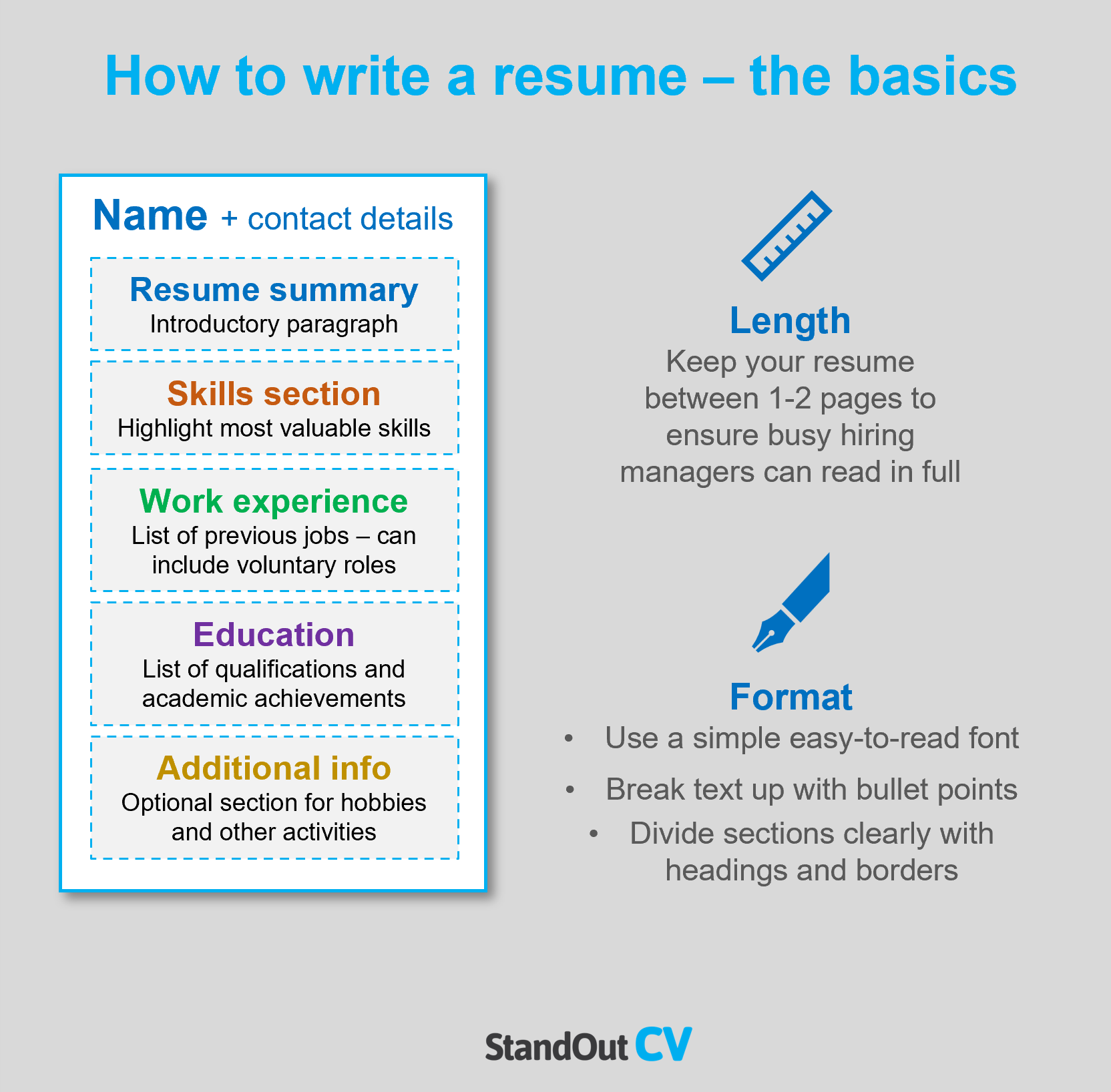 Formatting your resume
Length: To ensure that your resume gets proper attention from recruiters, it is best to keep it at 2 pages or less. Recruiters are often inundated with hundreds of resumes to review on a daily basis, so they want to read each one quickly as possible.
Font & readability: Complex fonts are a readers' worst nightmare and will leave recruiters struggling to understand your message. Use a clear simple lean font in a color that stands out against the page, and break your text up with bullet points to make the content easily digestible.
Layout & Structure: Your resume's design must strike a balance between aesthetics and functionality. Using bold headings and borders to organize the page into clear sections is an effective way to achieve both.
Photos: While a photo is not usually necessary on your resume in the United States, it may be beneficial to include one in regions and industries where it is customary.
Quick tip: Achieving a professional look for your resume can be difficult and time-consuming. If you want to create an attractive resume quickly, try our partner's Resume Builder and use one of their eye-catching resume templates.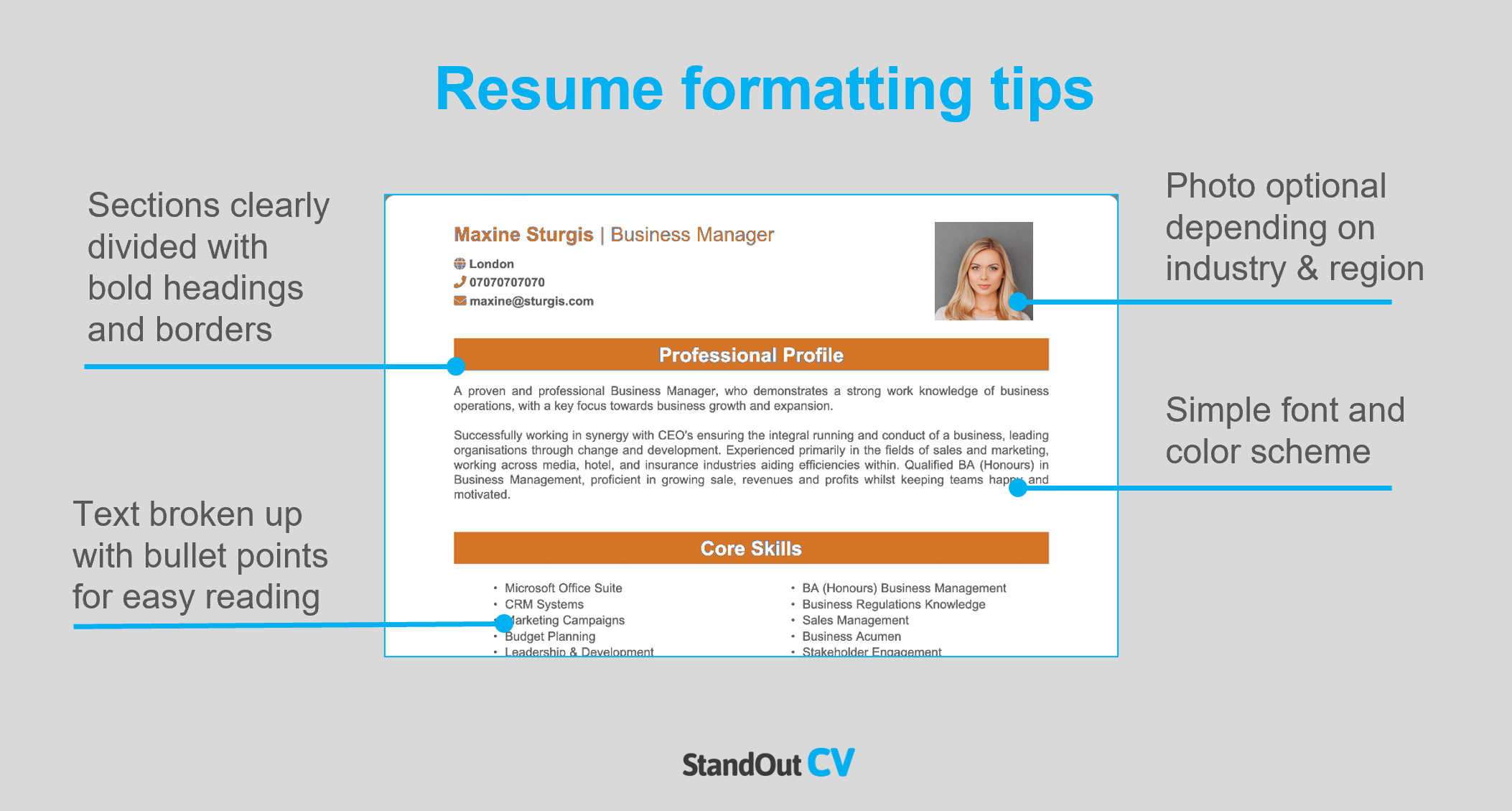 Resume layout
Organize the document into these sections when you write your resume.
Name and contact details – Employers need to know how to get in touch with you – so list your email and cell phone number here.
Resume summary – An intro paragraph at the top of the resume which summarizes your suitability for target jobs.
Skills section – A bullet-pointed list of your most relevant skills and knowledge.
Work experience – A list of your previous jobs (or at least the most relevant and recent ones)
Education – Add academic and professional qualifications that prove you can carry out the job
Additional info – If they are relevant to the jobs you are applying for, you can add an extra section for things like hobbies and interests.
Here's what to include in each part of your resume.
Contact Details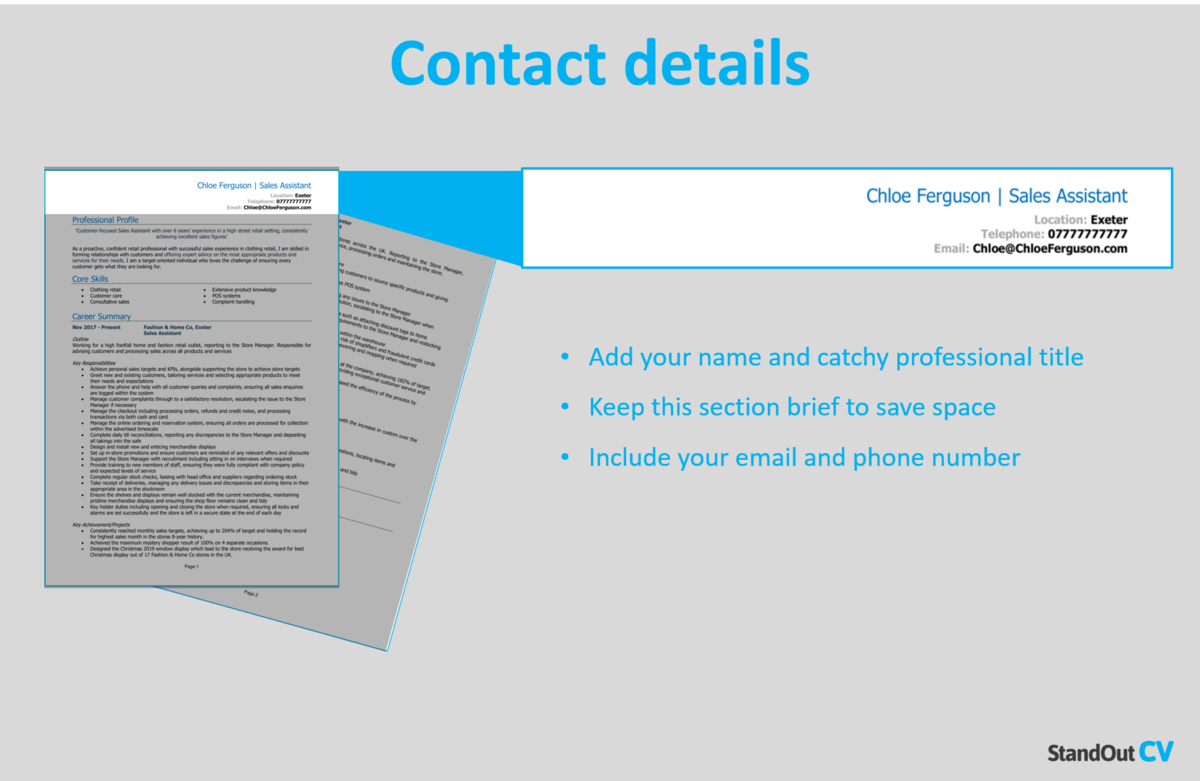 Add your name and contact details to the header of your resume, so that anybody reading can easily see how to contact you.
Name and profession title
Cell phone number – or any number you are easily reachable on
Location – Add your local area such as Washington or San Diego – not your full address as that will take up too much space.
Email address – Use a professional looking address.
You can add a link to your LinkedIn profile if you have one – you do not need to include personal details like date of birth or religion.
Leasing Manager Resume Summary
Your resume summary is like your introduction to the recruiter or hiring manager – it should grab their attention and leave them eager to read more about you.
Achieve this by writing a snappy overview of your skills, knowledge and what value you can bring to an employer.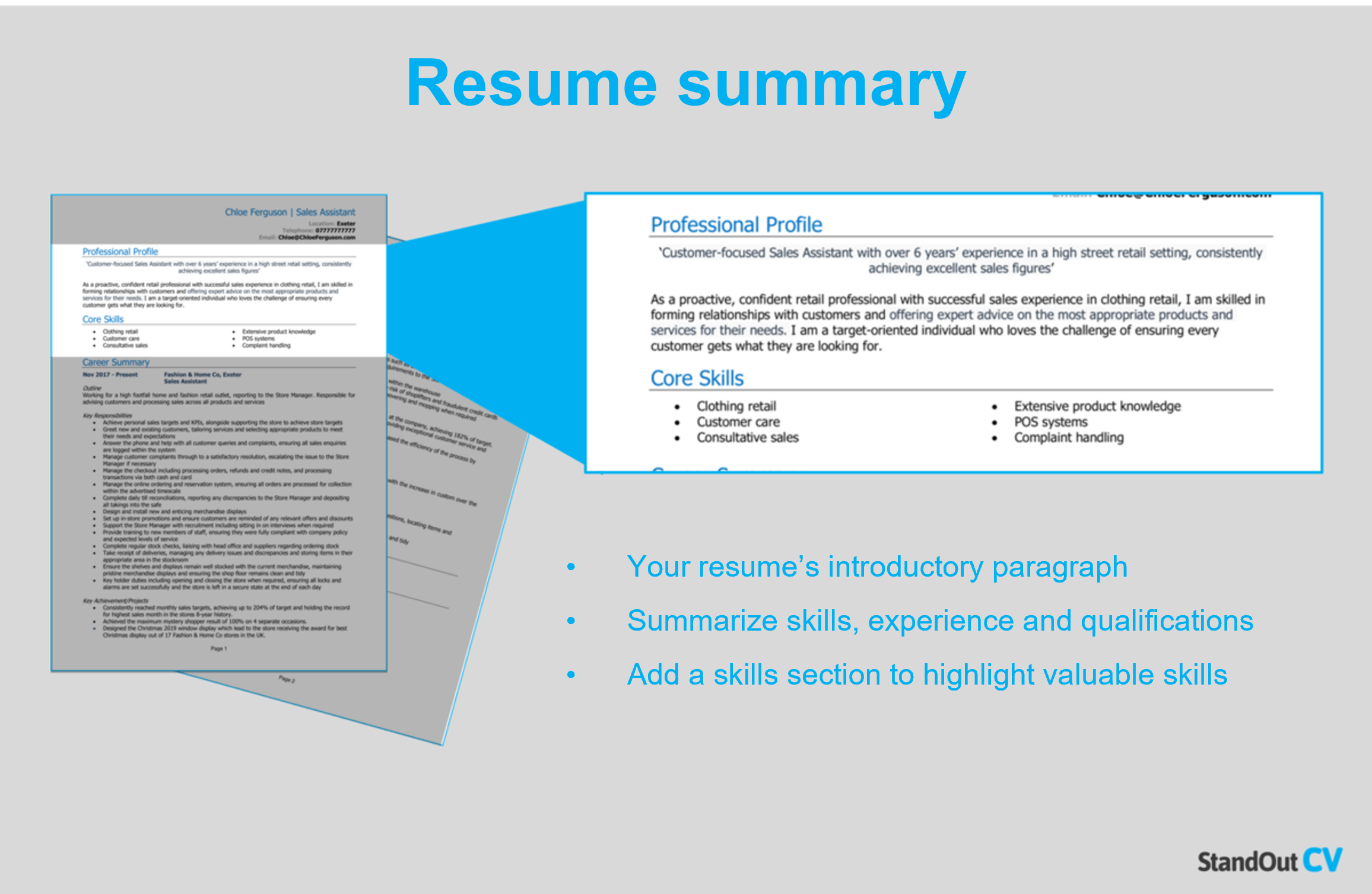 How to create a resume summary that will excite recruiters:
Keep it short: You only have a few seconds to grab a recruiters' attention and make them commit to your resume, so keep your summary between 4 – 7 lines.
Tailor to target jobs: By carefully reviewing the job description and incorporating as many relevant skills as possible, you can customize your resume to better match your target jobs.
Avoid using cliches: You might be a "highly motivated go-getter who thinks outside the box" but generic meaningless cliches like that don't tell employers much about you – stick to factual information in your summary.
Leasing Manager resume summary example
Dedicated Leasing Manager with a passion for working in fast-paced and sales-oriented environments to help prospective residents find perfect apartments to call home, as well as companies to run their business. Adept at advertising available units on online platforms, setting up interviews with potential tenants to determine if they are a good fit for properties, and negotiating/securing rental agreements. Proven ability to schedule maintenance projects and address rule violations when necessary.
What to include in your Leasing Manager resume summary?
Summary of your experience: Summarize the type of work you have done in the past and the ways in which you have contributed to the success of your previous employers.
Relevant skills: To quickly showcase your suitability for Leasing Manager jobs, ensure that your summary emphasizes your most relevant skills to the jobs you are applying for.
Qualifications: Showcase your level of education with a quick mention of any qualifications that are essential for the Leasing Manager roles you are applying to.
Quick tip: Choose from hundreds of pre-written summaries across all industries, and add one to your resume with one-click in our partner's Resume Builder. All written by recruitment experts and easily tailored to suit your unique skillset and style.
Core skills section
Sitting just underneath your resume summary, your core skills section gives recruiters 4-10 of your most in-demand skills in just a glance.
As Leasing Manager jobs may get hundreds of applications, this is a great way to stand out and quickly grab hiring managers' attention.
It should be made up of 2-3 columns of bullet points and highlight attributes that are hyper-relevant to the jobs you are aiming for.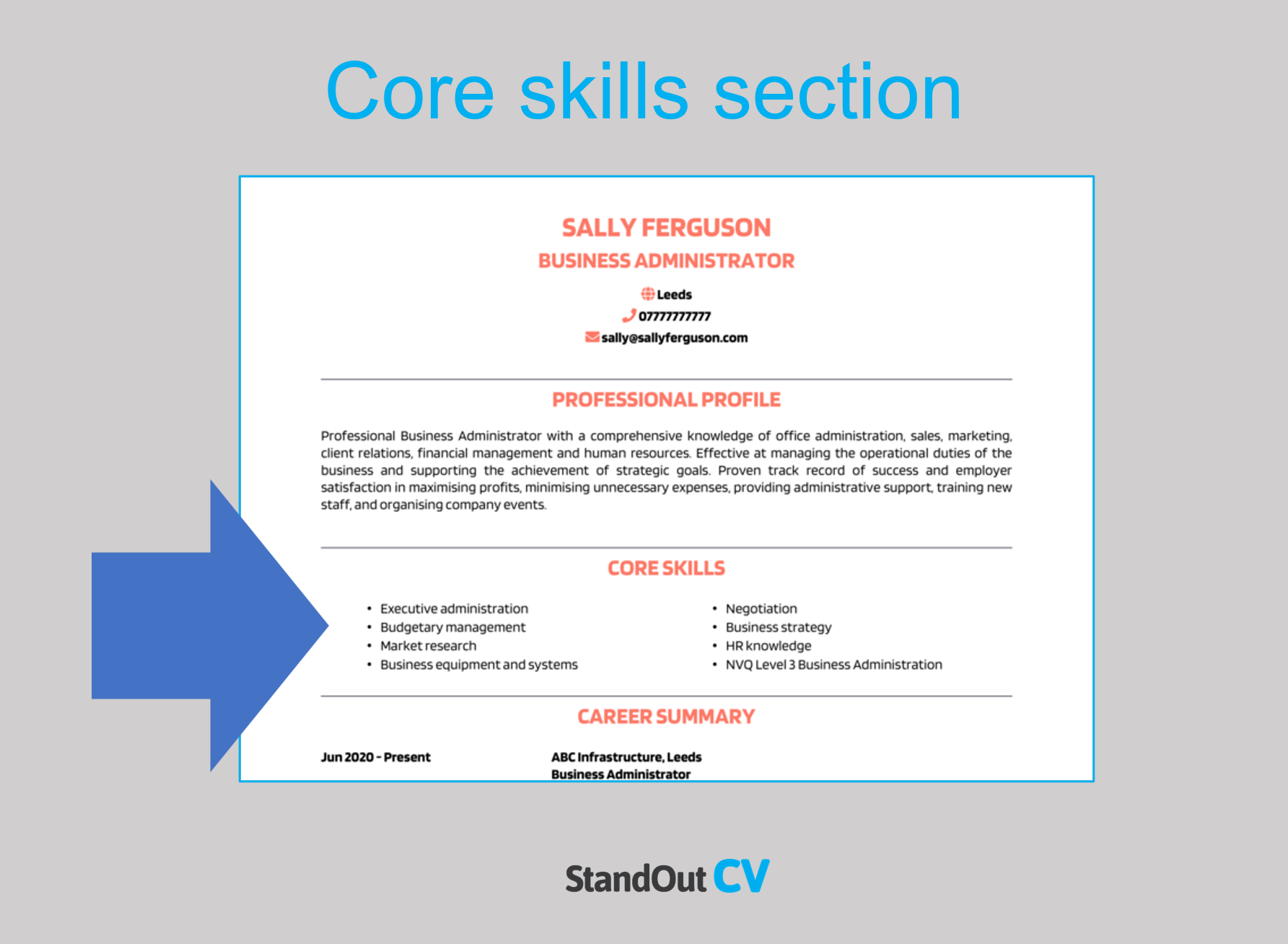 Best skills for your Leasing Manager resume
Property management – Managing all aspects of a property, including leasing, maintenance, and tenant relations, to ensure efficient and effective operations.
Sales and marketing – Utilizing knowledge of sales and marketing techniques, including advertising and promotions, to attract and retain tenants and to meet occupancy goals.
Tenant relations – Building and maintaining positive relationships with tenants, including addressing tenant concerns and resolving conflicts, to promote tenant satisfaction and retention.
Lease administration – Utilizing knowledge of lease administration procedures, including lease negotiations and lease renewals, to ensure compliance with lease terms and legal requirements.
Financial management – Managing financial aspects of a property, including budgeting, rent collection, and accounts payable/receivable, to ensure financial stability and profitability.
Legal compliance – Utilizing knowledge of legal compliance requirements, including fair housing laws and landlord-tenant laws, to ensure compliance with relevant regulations and laws.
Contract negotiation – Negotiating contracts with vendors, contractors, and other parties, to secure favorable terms and ensure high-quality services.
Project management – Managing property-related projects, including renovations and repairs, to ensure timely completion and high-quality work.
Data analysis – Analyzing and interpreting data related to property operations, including occupancy rates and financial performance, to identify trends and opportunities for improvement.
Quick tip: Our partner's Resume Builder contains thousands of in-demand skills for every profession that can be added to your resume in seconds – saving you time and greatly improving your chances of landing job interviews and getting hired.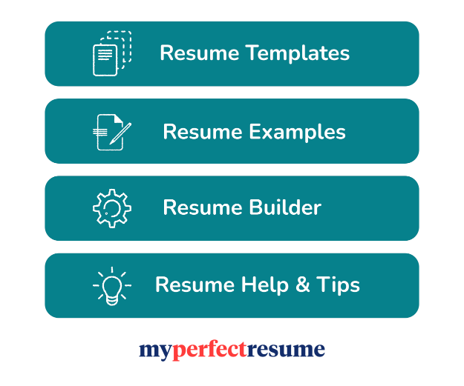 Work experience
Once you've hooked the hiring manager with your summary, you can really blow them away with you work experience.
List your previous jobs from newest to oldest to show the impact you made at each organization.
If you have years of experience, you can leave out some of the older jobs, and if you have little/no experience, you can bulk this section up with voluntary work and college placements.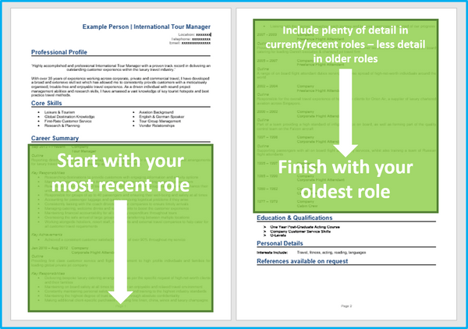 Structuring your jobs
Without a good structure, your job description can look messy and overwhelming to anyone reading them.
Make it easy for recruiters to read your work experience by structuring your roles like this.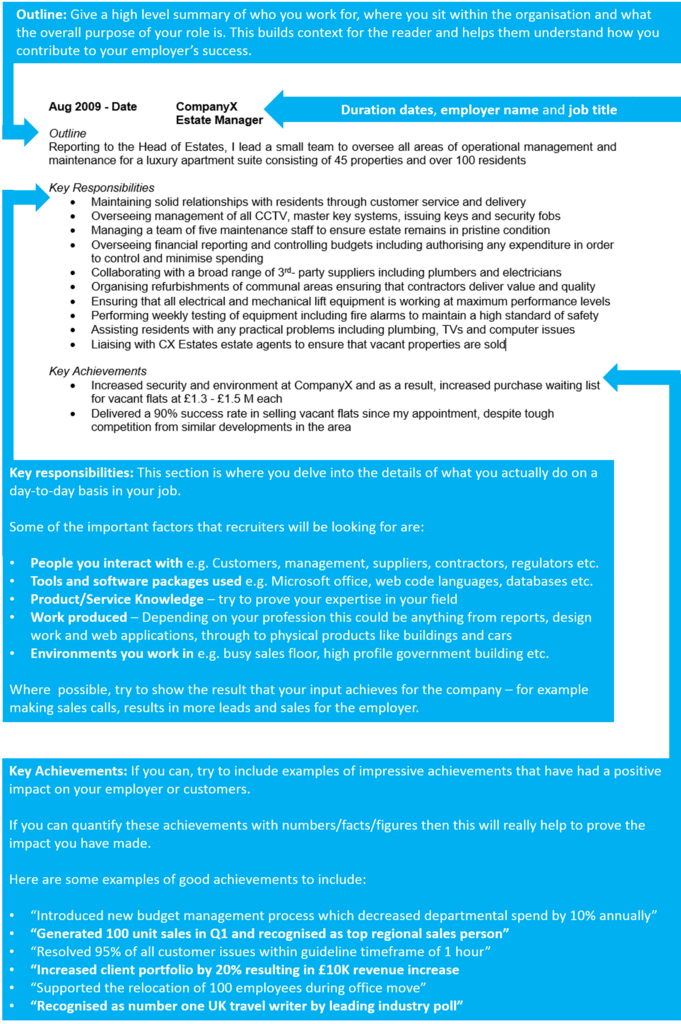 Job outline
Kick off each role with a high-level overview to summarize the focus of the job, what the organization/department does, and how you fit into the bigger picture.
Key responsibilities
Next, write up a punchy list of your daily duties and responsibilities, using short bullet points.
Describe how you apply your skills and contribute to the running of the employer's business – highlighting skills which are applicable to your target jobs.
Key achievements
Show employers the value you can bring to them by adding a few achievements to your jobs.
Whether you've saved the company money or improved an internal process, let recruiters know
Add some numbers to give readers a real scale of the impact, e.g. "reduced call wait time by 10%"
Example job for Leasing Manager resume
Outline
Assisted with the leasing function, from marketing vacant units to signing contracts and move-in activities, for a real estate company that manages 60K+ apartments and 43K+ commercial buildings for various third-party owners throughout the U.S.
Key Responsibilities
Negotiate lease terms with occupants and landlords to ensure both parties are content with living arrangements in commercial and apartment buildings.
Design marketing plans across various channels to attract tenants, increase signed leases and rentable spaces, and maximize overall profitability.
Implement effective retention programs by considering how economic conditions impact renewal decision-making.
Collect rent payments and security deposits in a timely manner, regularly inspect facilities, as well as call for repairs and maintenance as needed.
Quick tip: Create impressive job descriptions easily in our partner's Resume Builder by adding pre-written job phrases for every industry and career stage.

Education section
Near the end of your resume add your education section
Experienced candidates should keep it brief and focus on professional qualifications – and junior candidates can include high school diplomas, college degrees etc.
Additional information
At the end of your resume, you can add any extra information that might be relevant to the jobs you are applying for.
This could be hobbies, interests, publications, clubs or memberships.
This section is optional and doesn't need to be added if you have nothing more relevant to add.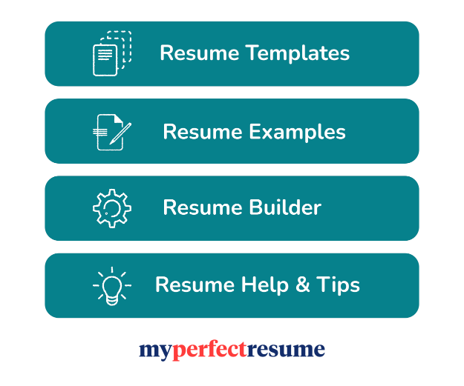 Writing your own winning Leasing Manager resume
By tailoring your resume to the specific job and industry you are targeting and ensuring that it effectively communicates your professional value, you can position yourself as a top candidate for all Leasing Manager positions.
Good luck with your job search!