You can help to build entire structures using iron components, yet creating an impressive job application feels like a huge undertaking.
Well, the good news is we can help. In the guide below, we'll take you through each section of the application, sharing a whole host of handy writing tips.
We'll also show you how to structure your information for maximum impact with our ironworker resume example.
Contents
| | |
| --- | --- |
| How to write your Ironworker resume | |

Ironworker Resume Example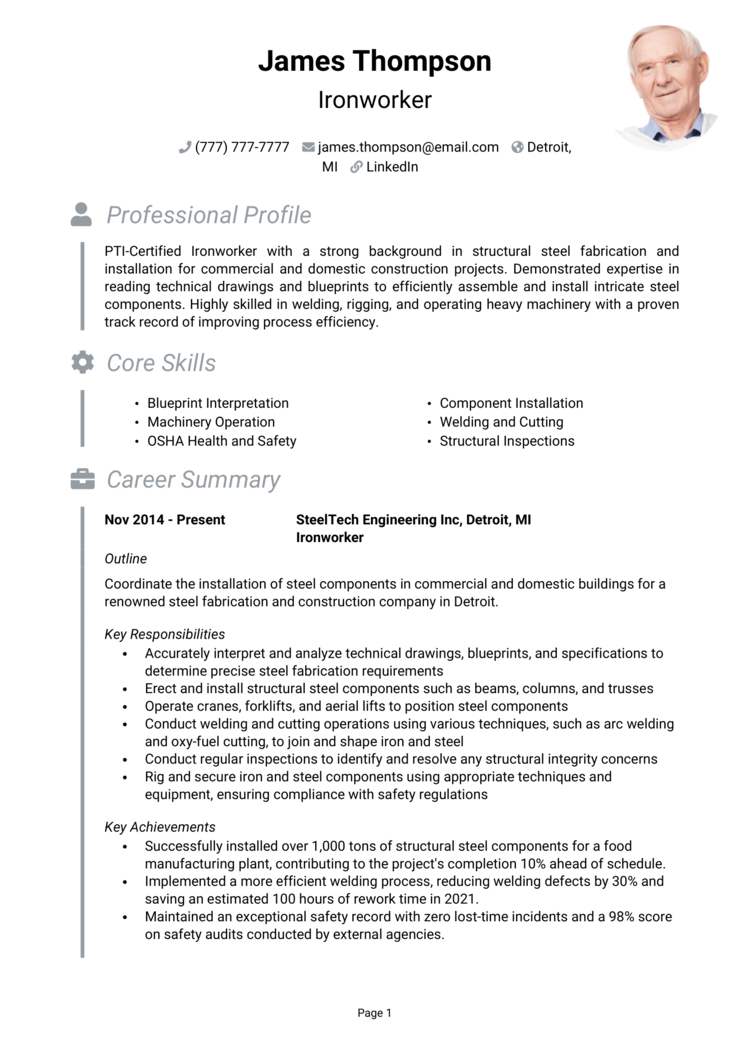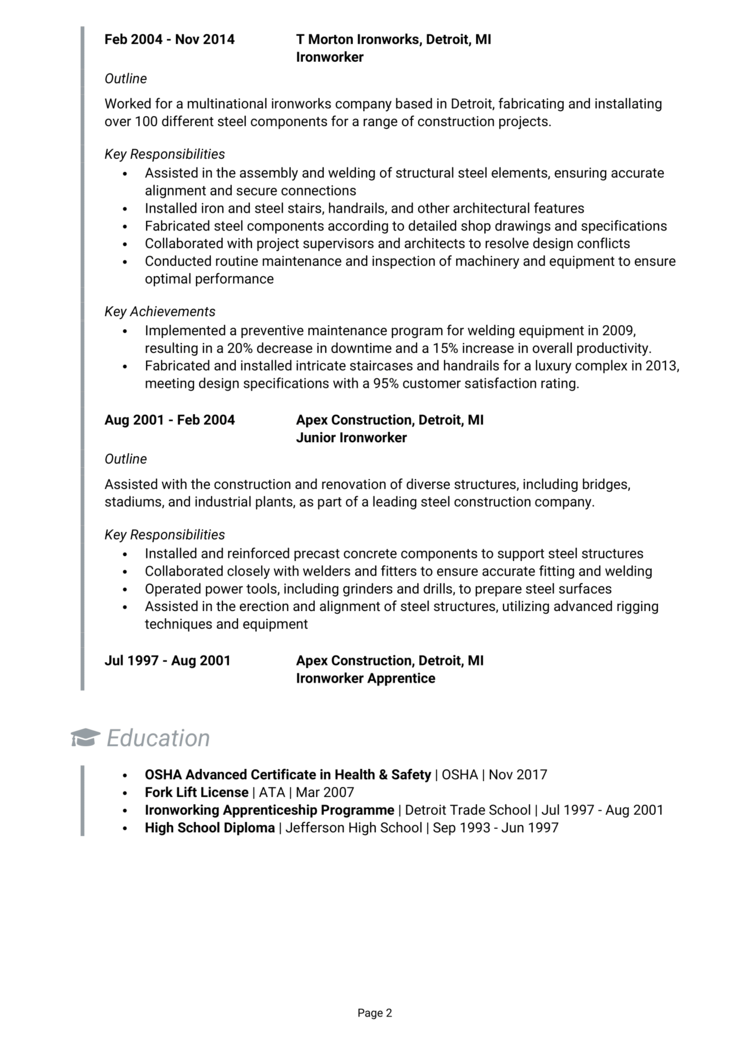 From the Ironworker resume example above, you can see the kind of information your resume will need to include, and the layout you will need to create for an easy-reading experience.
The rest of this guide will show you how to apply this format to your own unique situation, and create a resume that will attract the best employers in your industry.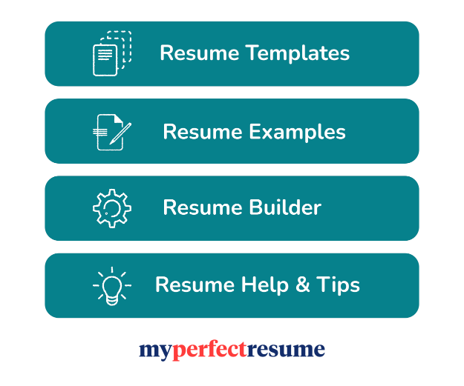 Ironworker resume layout and format
Your resume layout and format will play a big role in helping hiring managers to take notice of your resume and stay glued to it.
Shoot for a simple yet professional look to ensure you make a strong first impression, and organize the page in a way that is easy for readers to digest the information.
The following formatting tips should help.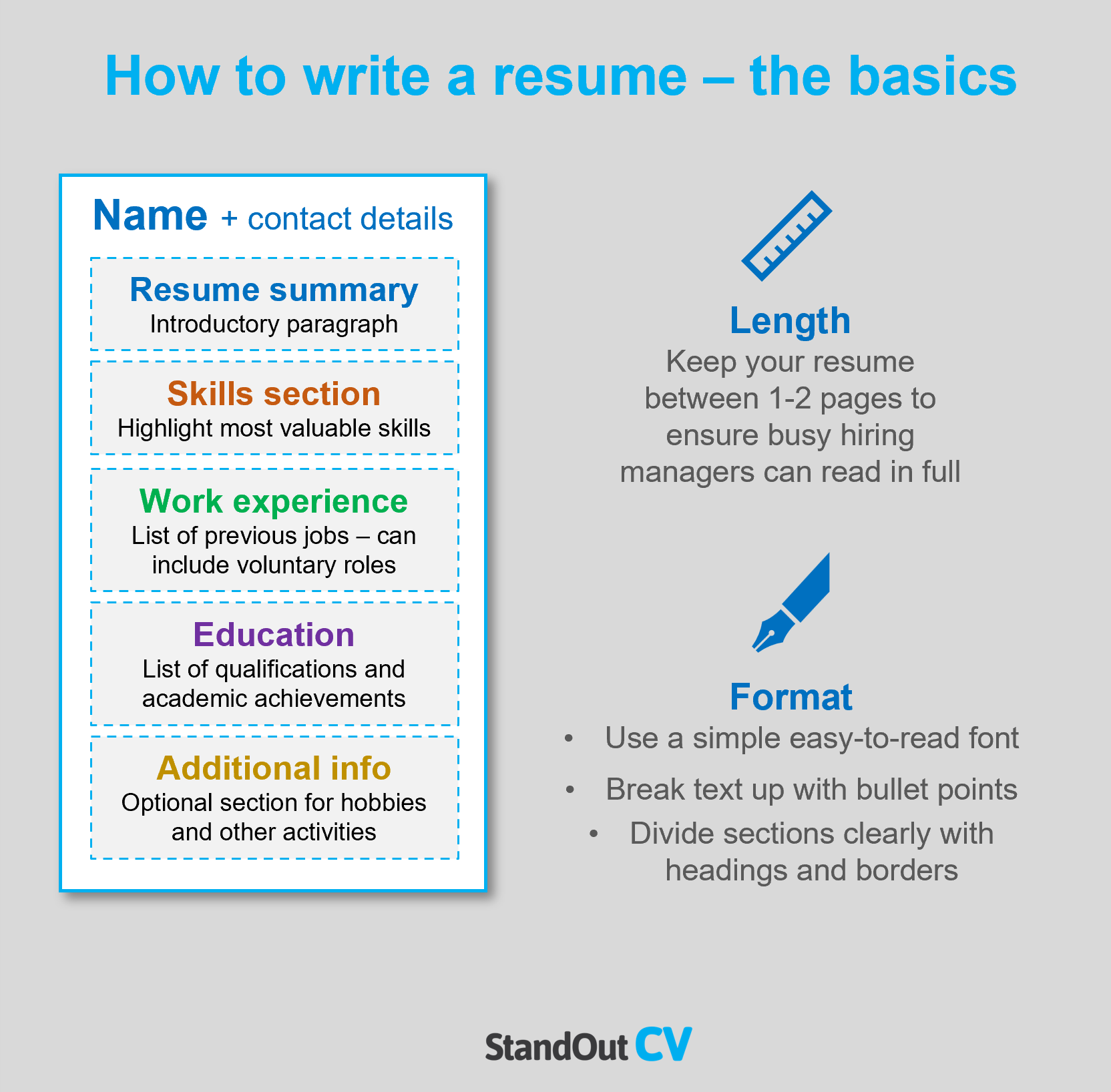 Formatting your resume
Length: Recruiters often see hundreds of resumes per day – so keep yours under 2 pages in length, if you want to ensure it gets read in full.
Font & readability: Nobody likes to read huge unbroken paragraphs of text – and recruiters are no different. Break your resume text up with bullet points and use a clear simple font.
Layout: Allow recruiters to skim through your resume with ease, by dividing the page into clear sections with headings and borders. The design of your resume should be eye-catching but not overly complex – keep the style and color scheme simple and clean.
Photos: Although it's not mandatory to include a photo on your resume in the United States, it may be a good idea to do so in certain regions and industries where it is preferred.
Quick tip: Achieving a professional look for your resume can be difficult and time-consuming. If you want to create an attractive resume quickly, try our partner's Resume Builder and use one of their eye-catching resume templates.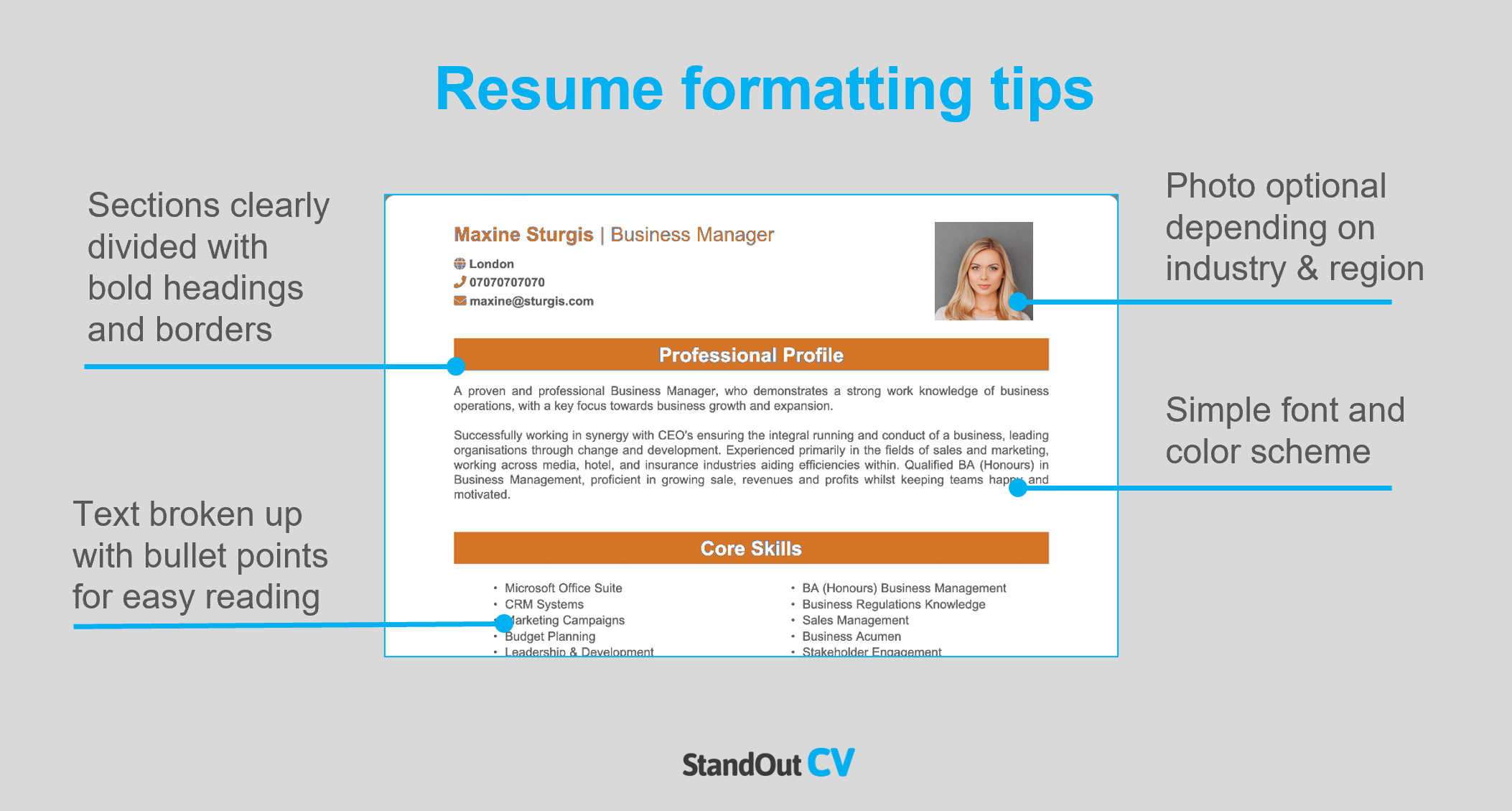 Resume layout
Divide the page into these sections when you write your own resume.
Name and contact details – Simply state who you are, and how to get in touch with you.
Resume summary – An introductory paragraph at the very top of your resume which summarizes your skills, experience and suitability for your target jobs.
Core skills section – A bullet-pointed list of your skills that relate most to your target jobs.
Work experience – A list of your current and previous jobs, including all of your responsibilities and achievements.
Education – A section that showcases all of your education and academic achievements.
Additional info (optional) – Here you can add an extra section for things like hobbies and interests, or anything else that might be relevant to your target jobs.
Here's what to add to each section of your Ironworker resume.
Contact Details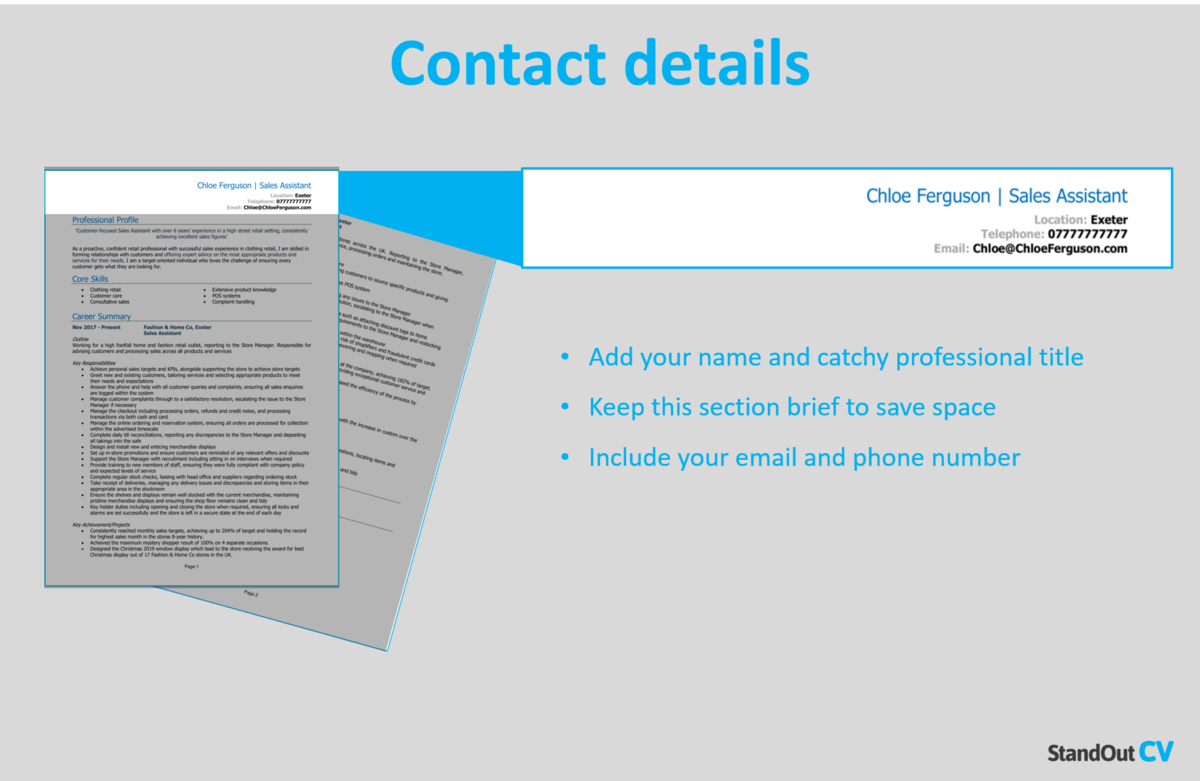 Add your name and contact details to the very top of your resume, making it easy for recruiters to get in touch
Name and profession title
Cell phone number – or another number you can answer quickly
Location – Add your local area such as San Diego or New York – not your full address as that will take up too much space.
Email address – Use your name or close variation – no nicknames from high school.
You can add a link to your LinkedIn profile if you have one – you do not need to include personal details like date of birth or marital status.
Ironworker Resume Summary
Your resume summary is like an elevator pitch. It's your chance to sell yourself to employers within a short space of time.
Achieve this by summarizing your skills and expertise, whilst highlighting your abilities that closely match the jobs you are aiming for.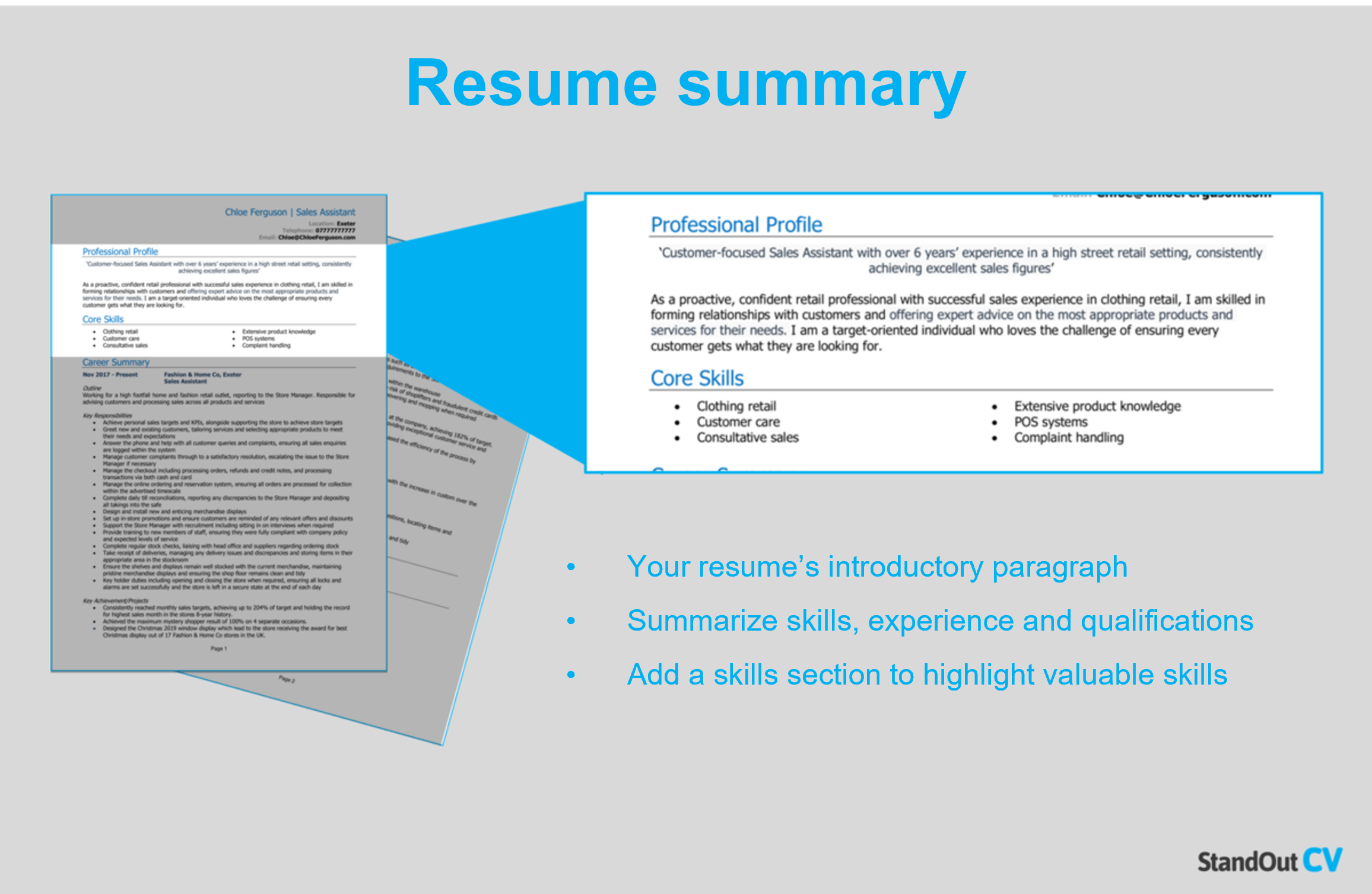 How to create a resume summary that will excite recruiters:
Keep it short: Your summary is intended to be a high-level introduction to hook readers' attention, so keep it brief (4-7 lines) – save the details for later in your resume.
Tailor to target jobs: Tailor your resume to your target jobs by studying the job description and adding as many matching skills as you can.
Avoid using cliches: Recruiters always see cringey cliches like "hardworking guru who works well in a team or individually" – they don't mean much to anyone, so focus your summary on tangible skills and experience.
Ironworker resume summary example
PTI-Certified Ironworker with a strong background in structural steel fabrication and installation for commercial and domestic construction projects. Demonstrated expertise in reading technical drawings and blueprints to efficiently assemble and install intricate steel components. Highly skilled in welding, rigging, and operating heavy machinery with a proven track record of improving process efficiency.
What to include in your Ironworker resume summary?
Summary of your experience: Summarize the type of work you have done in the past and the ways in which you have contributed to the success of your previous employers.
Relevant skills: Skills that are highly relevant to Ironworker work should be made prominent throughout your summary.
Qualifications: Showcase your level of education with a quick mention of any qualifications that are essential for the Ironworker roles you are applying to.
Quick tip: Choose from hundreds of pre-written summaries across all industries, and add one to your resume with one-click in our partner's Resume Builder. All written by recruitment experts and easily tailored to suit your unique skillset and style.
Core skills section
In addition to your resume summary, your core skills section provides an easily digestible snapshot of your skills – perfect for grabbing the attention of busy hiring managers.
As Ironworker jobs might receive a huge pile of applications, this is a great way to stand out and show off your suitability for the role.
It should be made up of 2-3 columns of bullet points and be made up of skills that are highly relevant to the jobs you are targeting.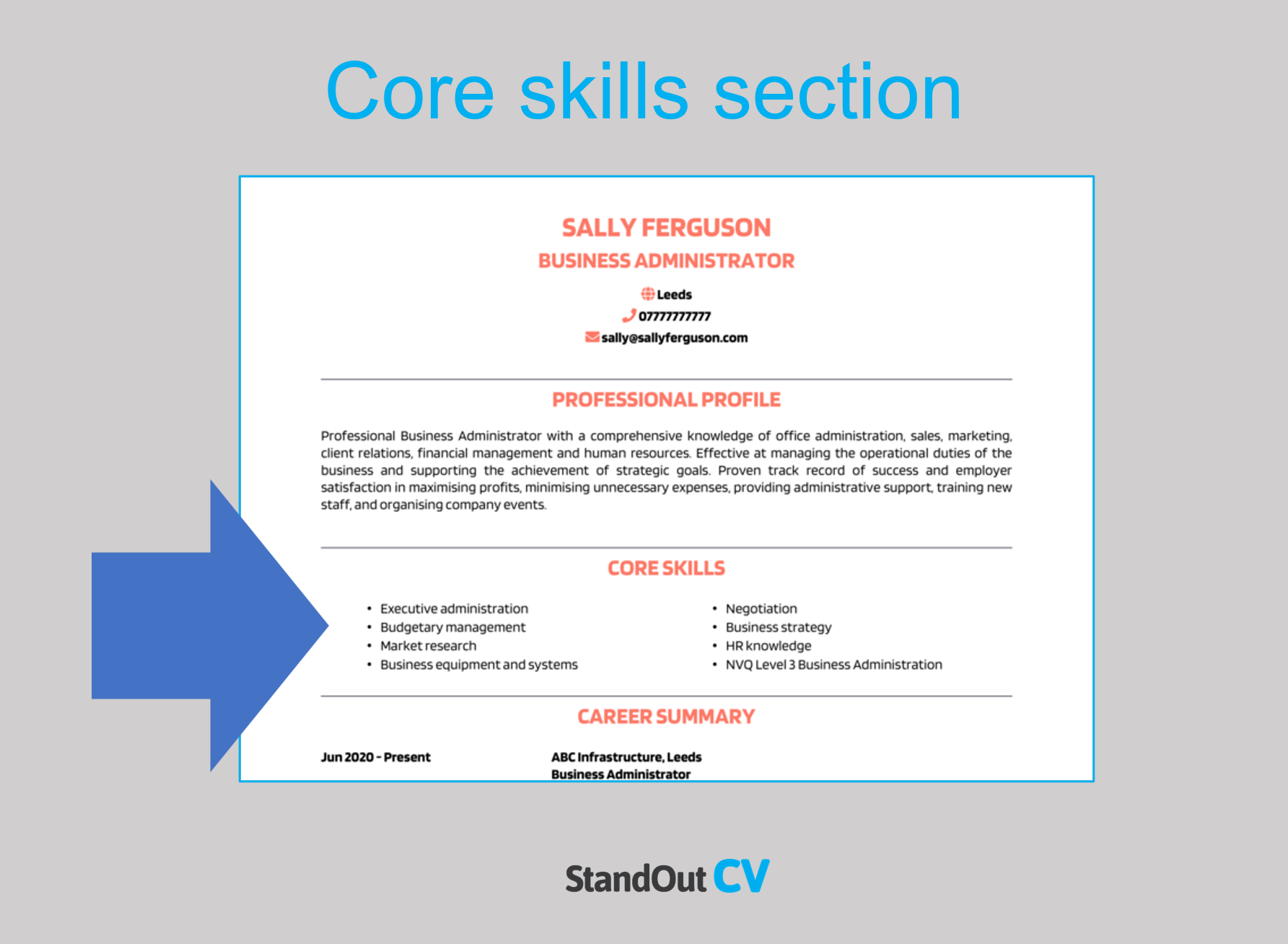 Best skills for your Ironworker resume
Structural Steel Erection – Assembling and installing structural steel components, such as beams, columns, and girders, according to blueprints and specifications.
Welding – Performing various types of welding, including arc welding and gas welding, to join steel components securely and efficiently.
Rigging – Safely and accurately rigging steel components for lifting and positioning using cranes or other equipment.
Blueprint Reading – Interpreting complex blueprints and construction drawings to understand project requirements and execute precise installations.
Safety Compliance – Adhering to strict safety protocols and regulations to prevent accidents and ensure a safe work environment for oneself and others.
Rebar Installation – Expertly placing and securing reinforcing bars (rebar) within concrete structures to enhance structural integrity.
Metal Fabrication – Cutting, shaping, and fabricating metal components to fit project specifications.
Structural Inspection – Conducting thorough inspections of erected steel structures to verify quality and compliance with standards.
Stakeholder Collaboration – Collaborating effectively with other construction professionals, such as engineers, project managers, and fellow ironworkers, to achieve project goals.
Bolt and Rivet Fastening – Fastening steel components using bolts and rivets, ensuring structural stability and integrity.
Quick tip: Our partner's Resume Builder contains thousands of in-demand skills for every profession that can be added to your resume in seconds – saving you time and greatly improving your chances of landing job interviews and getting hired.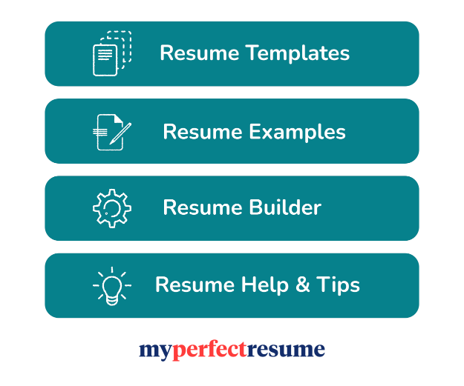 Work experience
So, you've grabbed the recruiters' attention with your summary, now it's time to show them what you're really capable of in your work experience section.
List your previous jobs from current to oldest, showing off the impact you made at each organization.
If you have tons of experience, you should just list the most recent an relevant jobs – but if you have little or no experience, add it all and even consider putting in voluntary work.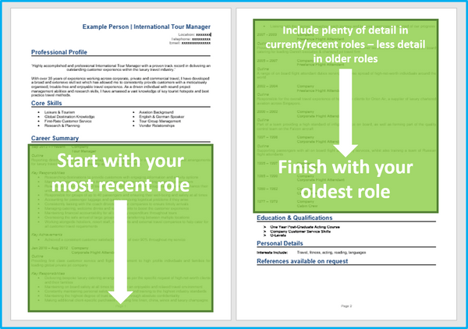 Structuring your jobs
Your job description probably includes tons of information, so it's vital to organize it well when writing about it on your resume.
Structure your jobs as like the example below to make skim-reading easy for recruiters and hiring managers.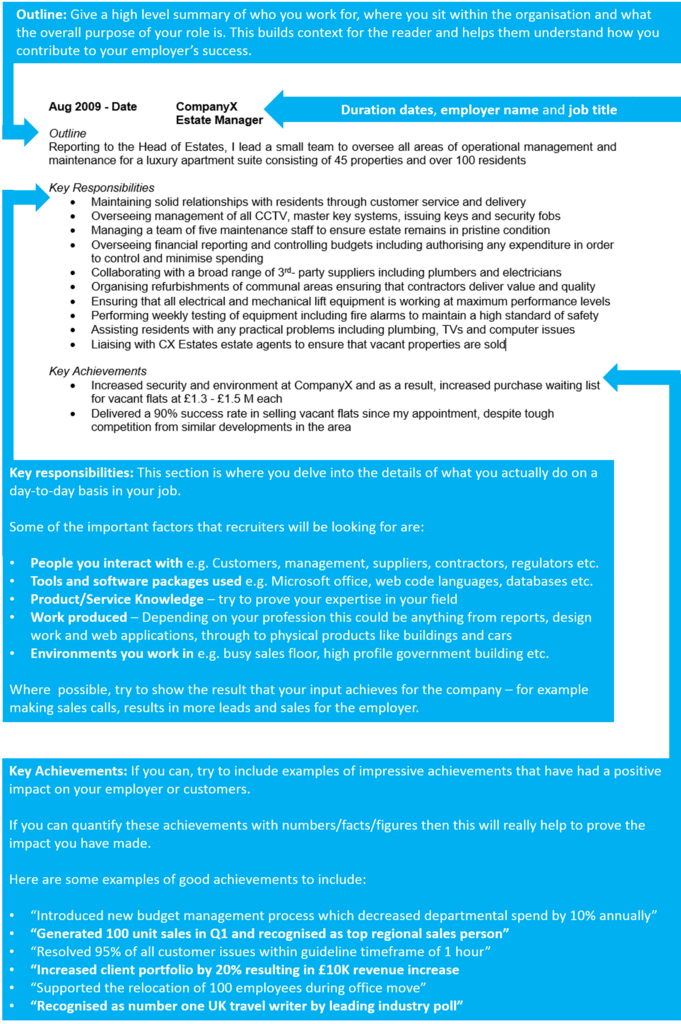 Job outline
To provide context to your jobs, begin each job with a concise summary of the organization, your role within it, and the main objectives of your position.
Key responsibilities
Next, write up a punchy list of your daily duties and responsibilities, using short bullet points.
Describe how you apply your skills and contribute to the running of the employer's business – highlighting skills which are applicable to your target jobs.
Key achievements
Finish each role by highlighting some impressive achievements you made whilst in the role.
Anything that benefited the employer can be included from making financial savings, to winning new customers.
Quantify your achievements with facts and figures if you can, e.g. "reduced call wait time by 10%"
Example job for Ironworker resume
Outline
Coordinate the installation of steel components in commercial and domestic buildings for a renowned steel fabrication and construction company in Detroit.
Key Responsibilities
Accurately interpret and analyze technical drawings, blueprints, and specifications to determine precise steel fabrication requirements
Erect and install structural steel components such as beams, columns, and trusses
Operate cranes, forklifts, and aerial lifts to position steel components
Conduct welding and cutting operations using various techniques, such as arc welding and oxy-fuel cutting, to join and shape iron and steel
Quick tip: Create impressive job descriptions easily in our partner's Resume Builder by adding pre-written job phrases for every industry and career stage.

Education section
Towards the bottom of your resume, add your education section.
Here you should list your professional qualifications and academic record, such as high school diplomas or college degrees.
If you have lots of work experience, you can keep this section brief (because recruiters will be more interested in your career. If you have little/no experience then you should bulk this section up with plenty of detail.
Additional information
At the end of your resume, you can add any extra information that might be relevant to the jobs you are applying for.
This could be hobbies, interests, publications, clubs or memberships.
This section is optional and doesn't need to be added if you have nothing more relevant to add.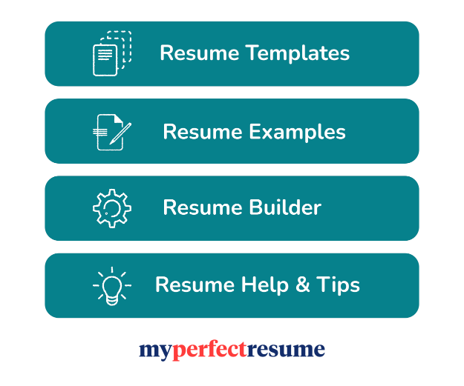 Writing your own winning Ironworker resume
A winning Ironworker resume should look great, read well, and sell your skillset to hiring managers.
If you follow the steps above, you should be able to bag yourself a top job in no time.
Good luck with your job search!