Are you a successful inventory clerk looking for your next role?
We understand that keeping track of all the latest resume writing advice can be tricky, which is why we've created this detailed guide to help you with your job application.
Check out all our top tips below, as well as an inventory clerk resume example to inspire you.
Contents
| | |
| --- | --- |
| How to write your Inventory Clerk resume | |

Inventory Clerk Resume Example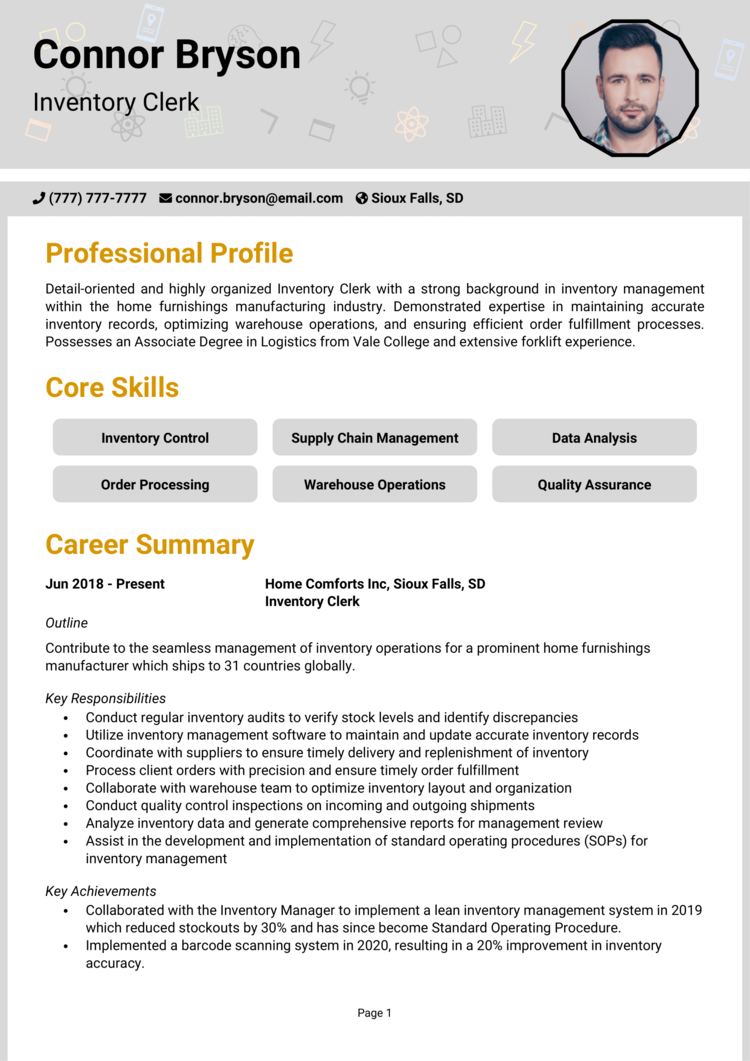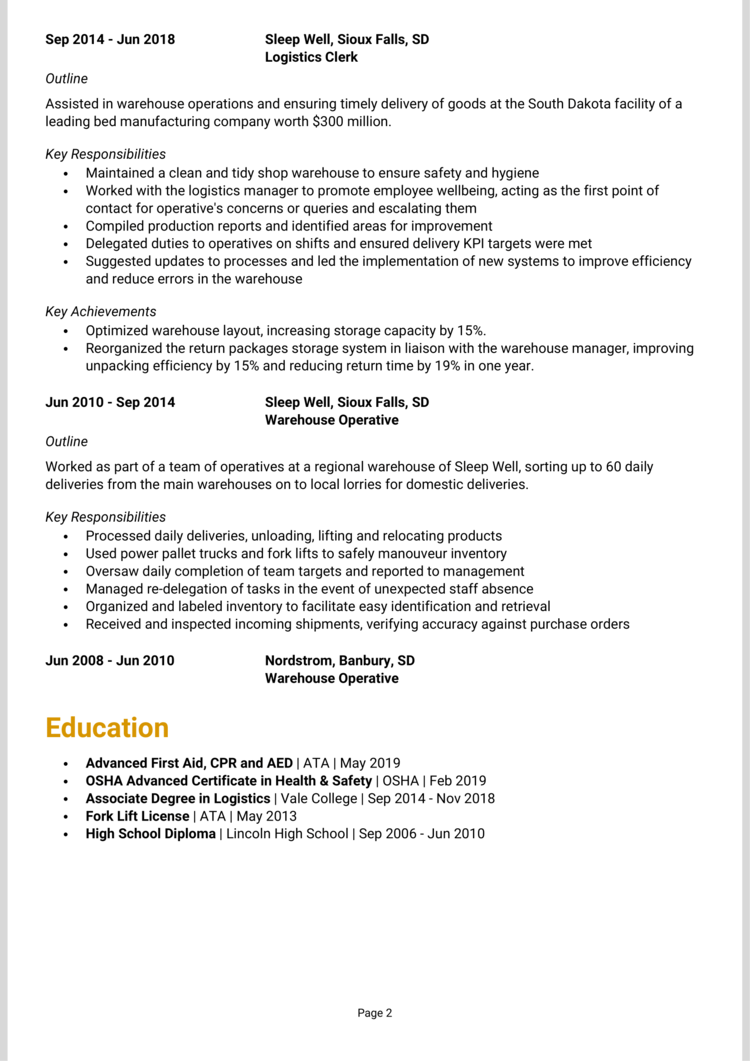 This Inventory Clerk resume example shows you the most effective layout for a resume in today's job market, along with the type of content you need to include.
Stick closely to these guidelines as you write your own resume, to boost your chances of getting lots of responses, interviews and job offers.
Now lets dive into the details of how you write your own eye-catching resume…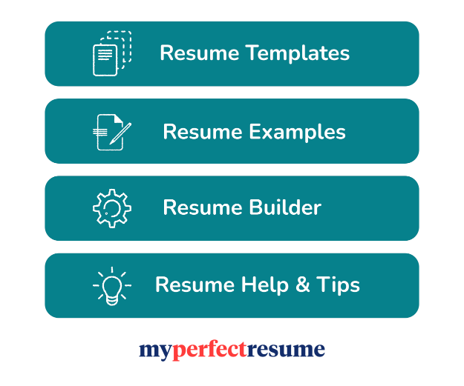 Inventory Clerk resume layout and format
Formatting and structuring your resume correctly is key to landing job interviews.
Your resume needs to look attractive, but more importantly it needs to be easy for recruiters and hiring managers to read and digest the information.
These tips will help you to do that: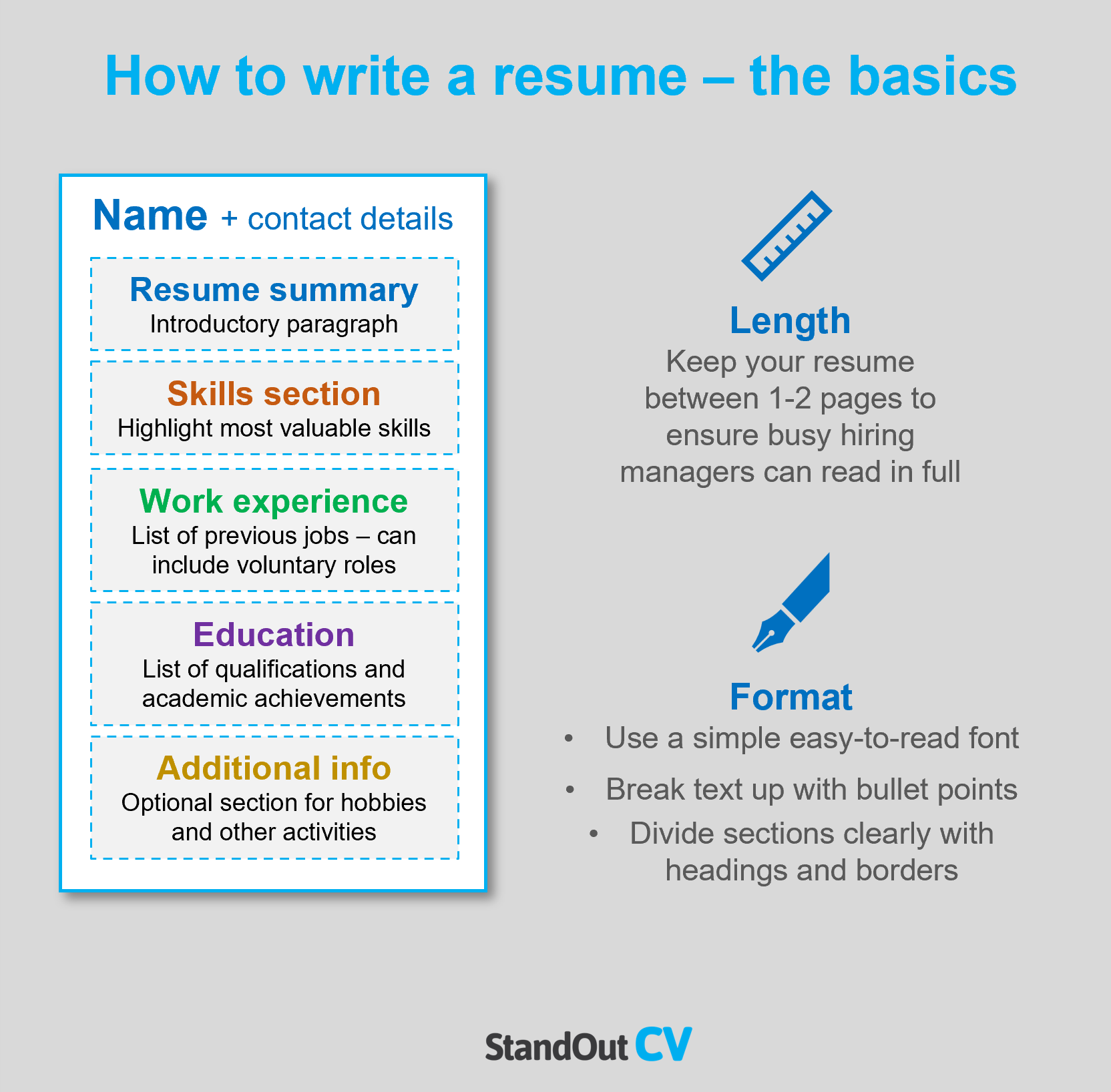 Formatting your resume
Length: Keep your resume to 2 pages or under. You've probably heard that recruiters and hiring managers don't have lots of time to read every resume, so keep yours brief if you want to ensure that they read all of the important info in yours.
Font & readability: Nobody likes to read huge unbroken paragraphs of text – and recruiters are no different. Break your resume text up with bullet points and use a clear simple font.
Layout: Your resume's design must strike a balance between aesthetics and functionality. Using bold headings and borders to organize the page into clear sections is an effective way to achieve both.
Photos: It's not mandatory to add a photo to your resume in the USA but it if you're applying to organizations within the creative fields, it can be beneficial.
Quick tip: Achieving a professional look for your resume can be difficult and time-consuming. If you want to create an attractive resume quickly, try our partner's Resume Builder and use one of their eye-catching resume templates.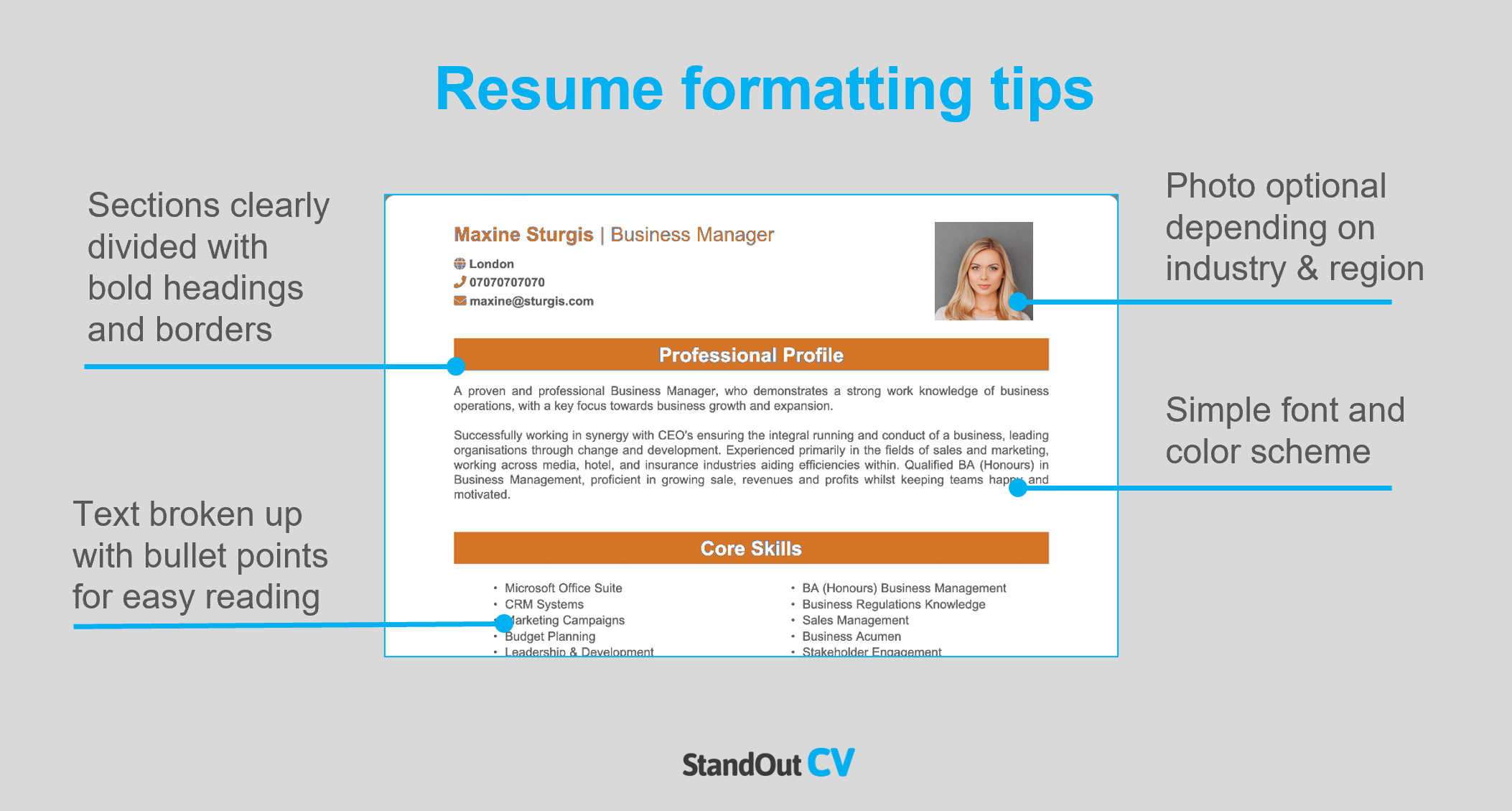 Resume layout
Here's an overview of the sections you should add when writing your resume.
Name and contact details – Stick these details at the top, so they are easy to find.
Resume summary – A punchy paragraph summarizing your skills and knowledge, enticing recruiters to read more of your resume.
Skills section – Short list of your most valuable skills, enabling recruiters to quickly spot your suitability.
Work experience – Showcase your previous employment, starting with your most recent roe and working backwards – voluntary work and college placements can be included if you have no paid experience.
Education – A summary of your most relevant qualifications and academic achievements
Additional info – An optional section for that other attributes that may boost your application, such as hobbies or clubs
Here's what to add to each section of your Inventory Clerk resume.
Contact Details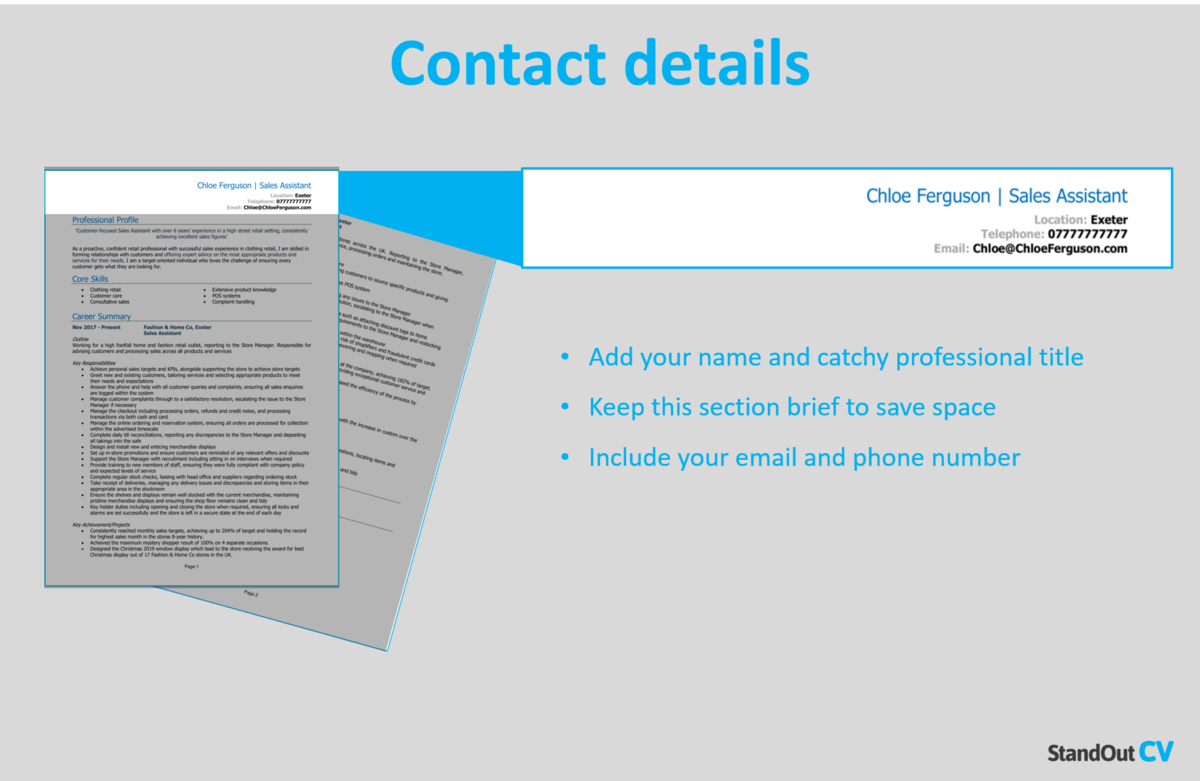 Add your name and contact details to the header of your resume, so that anybody reading can easily see how to contact you.
Name and profession title
Cell phone number – or any number you are easily reachable on
Location – Add your local area such as Washington or San Diego – not your full address as that will take up too much space.
Email address – Use a professional looking address.
You can add a link to your LinkedIn profile if you have one – you do not need to include personal details like date of birth or religion.
Inventory Clerk Resume Summary
Your resume summary is like an elevator pitch. It's your chance to sell yourself to employers within a short space of time.
Achieve this by summarizing your skills and expertise, whilst highlighting your abilities that closely match the jobs you are aiming for.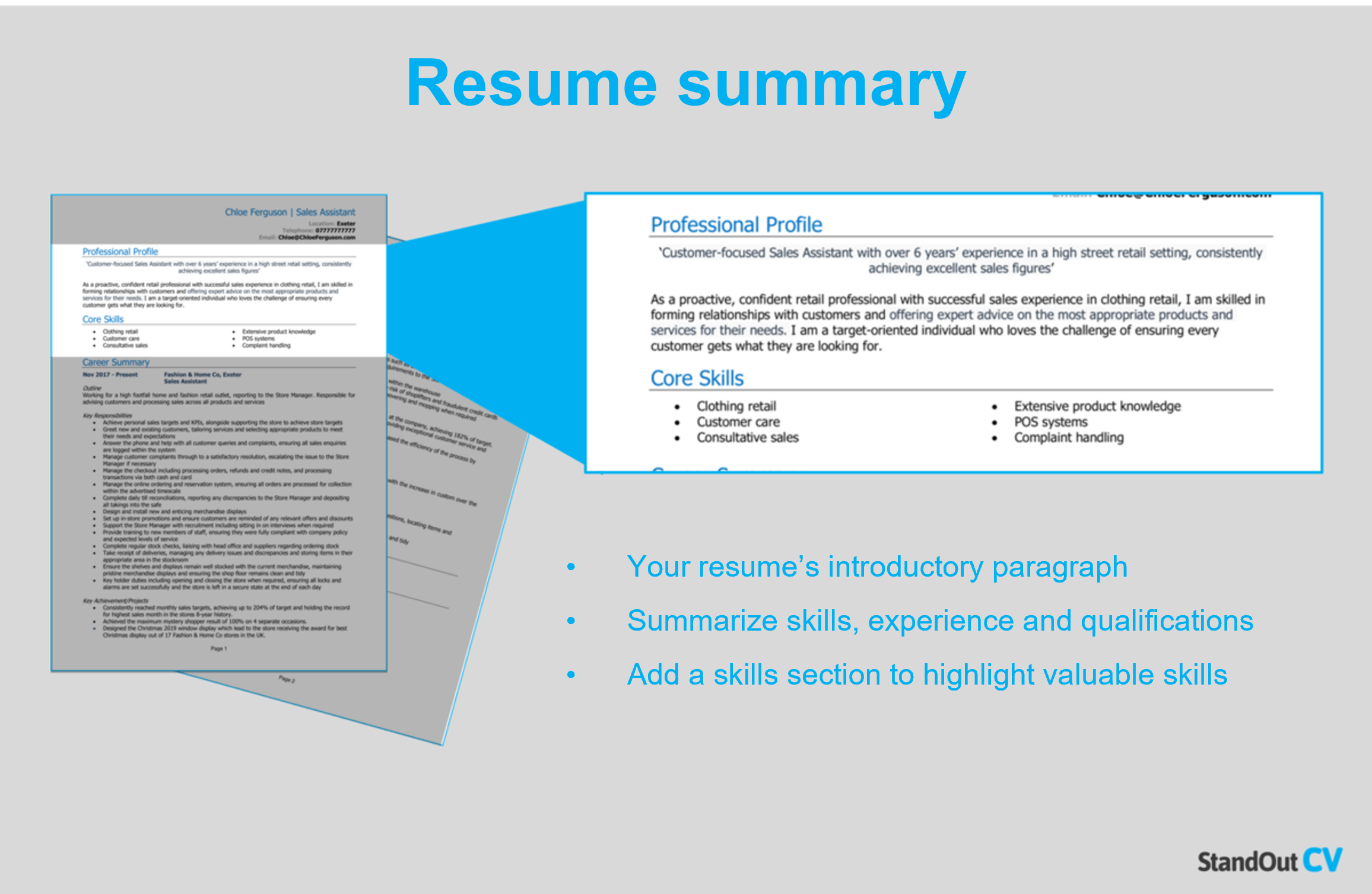 How to create a resume summary that will excite recruiters:
Keep it short: Your summary is intended to be a high-level introduction to hook readers' attention, so keep it brief (4-7 lines) – save the details for later in your resume.
Tailor to target jobs: By carefully reviewing the job description and incorporating as many relevant skills as possible, you can customize your resume to better match your target jobs.
Avoid using cliches: To capture the attention of recruiters you must provide factual information, such as hard skills and qualifications, and avoid using empty phrases like "Go-getter who thinks outside the box."
Inventory Clerk resume summary example
Detail-oriented and highly organized Inventory Clerk with a strong background in inventory management within the home furnishings manufacturing industry. Demonstrated expertise in maintaining accurate inventory records, optimizing warehouse operations, and ensuring efficient order fulfillment processes. Possesses an associate degree in logistics from Vale College and extensive forklift experience.
What to include in your Inventory Clerk resume summary?
Summary of your experience: What type of organizations have you worked at? What types of roles have you done and what have you contributed to previous employers?
Relevant skills: Highlight your skills which are most relevant to Inventory Clerk jobs, to ensure that recruiters see your most in-demand skills as soon as they open your resume.
Qualifications: Mention any Inventory Clerk qualifications that are important to your profession in the summary briefly, to show you are qualified to carry out the role.
Quick tip: Choose from hundreds of pre-written summaries across all industries, and add one to your resume with one-click in our partner's Resume Builder. All written by recruitment experts and easily tailored to suit your unique skillset and style.
Core skills section
Next, you should create a bullet pointed list of your core skills, formatted into 2-3 columns.
Here, you should focus on including the most important skills or knowledge listed in the job advertisement.
This will instantly prove that you're an ideal candidate, even if a recruiter only has time to briefly scan your resume.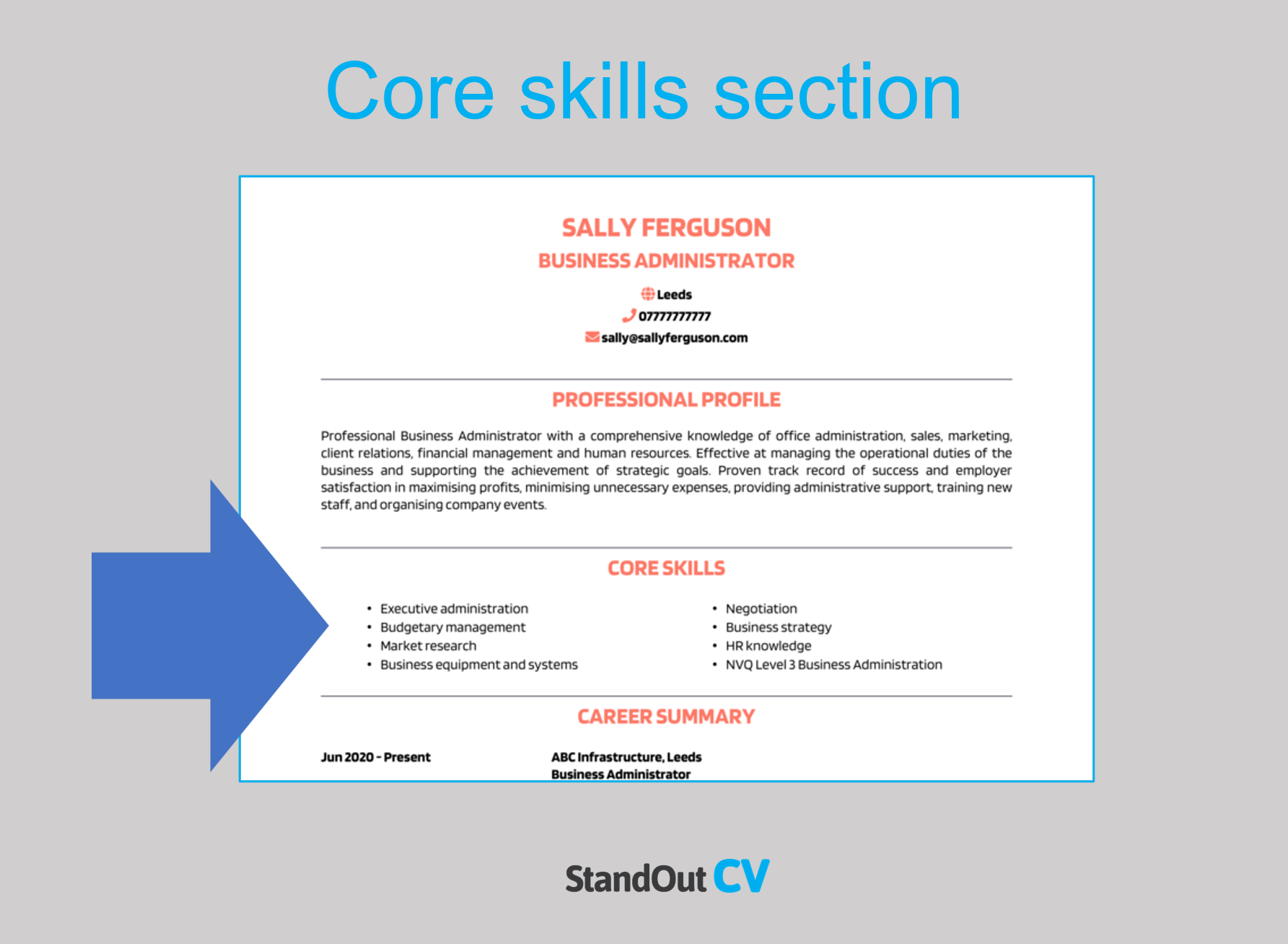 Best skills for your Inventory Clerk resume
Inventory Management – Efficiently tracking, recording, and managing inventory levels to ensure accurate stock counts and prevent stockouts or overstocking.
Data Entry – Accurately inputting and updating inventory information into computerized systems or spreadsheets for real-time inventory control.
Inventory Organization – Maintaining a well-organized and systematic approach to categorize and store inventory items for easy retrieval.
Inventory Records – Paying close attention to product specifications, serial numbers, and barcodes to prevent errors in inventory records.
Stock Reconciliation – Conducting regular stock reconciliations to identify discrepancies between physical inventory and recorded data.
Inventory Auditing – Performing regular audits to verify inventory accuracy, identify discrepancies, and maintain data integrity.
Problem Resolution – Analyzing inventory issues and finding effective solutions to optimize inventory processes and enhance efficiency.
Stakeholder Communication – Effectively communicating with team members and other departments regarding inventory levels, orders, and stock movements.
Forklift Operation – Operating forklifts or other material handling equipment to move and store inventory safely.
Vendor Coordination – Collaborating with vendors and suppliers to ensure timely and accurate delivery of inventory items.
Quick tip: Our partner's Resume Builder contains thousands of in-demand skills for every profession that can be added to your resume in seconds – saving you time and greatly improving your chances of landing job interviews and getting hired.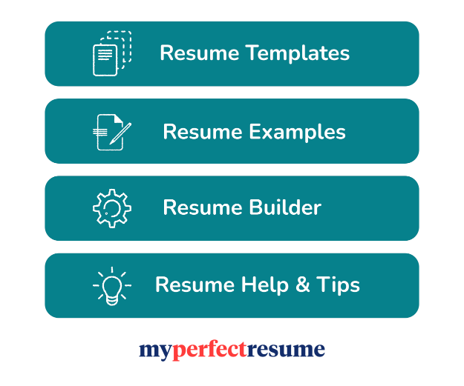 Work experience
Now that you've reeled recruiters in with your awesome summary, it's time to delve into your work experience.
Here you'll list your previous jobs (starting with your most recent and working backward) and showcase how you apply your skills in the workplace.
Provide lots of detail in recent jobs, and less in older roles.
If you have no relevant paid experience, you can include voluntary work and placements – but if you have lots of experience, you can leave out some of the really old jobs.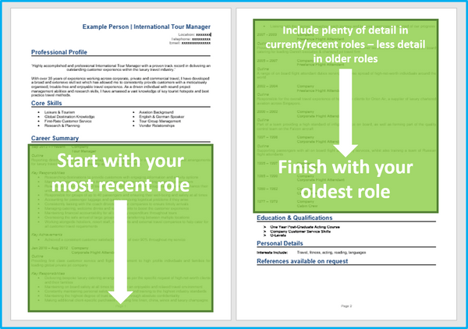 Structuring your jobs
Without a good structure, your job description can look messy and overwhelming to anyone reading them.
Make it easy for recruiters to read your work experience by structuring your roles like this.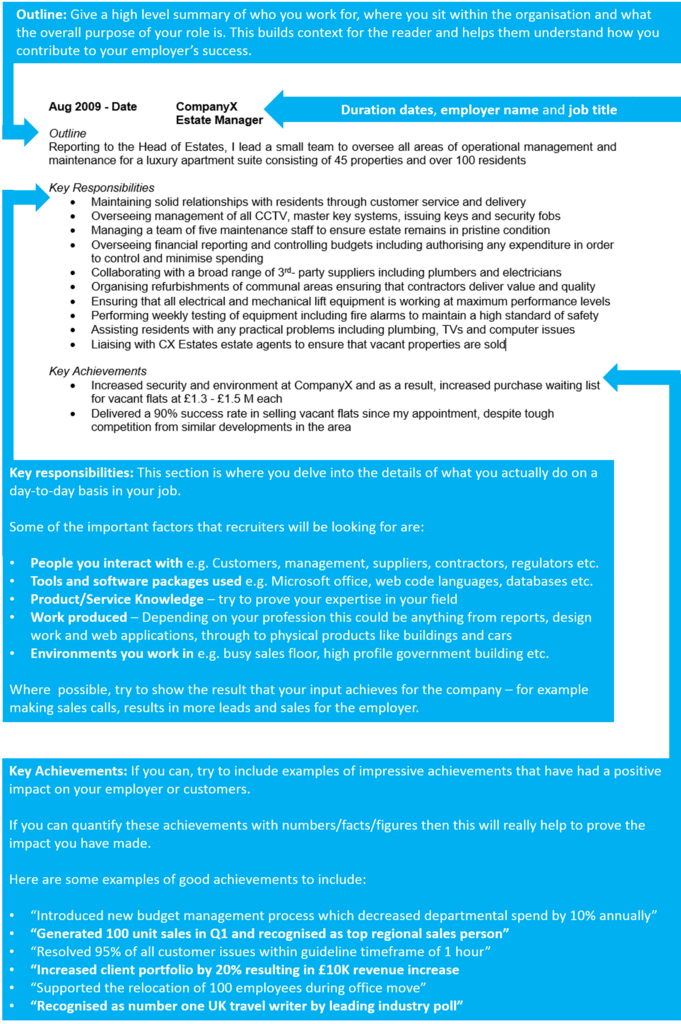 Job outline
Begin each job with a short summary of who the organization is, where you sit within it, and what the main goal of your position is.
Key responsibilities
Then delve into the detail of your job by listing out easy-to-read bullet points which show how you apply your skills in the workplace.
Tailor these bullet points to focus on the skills and knowledge that are required in the jobs you are applying for.
Key achievements
Round off each job by adding some impressive achievements you made in the role.
Anything you've done that has made a big impact on your employer will make a good impression, think; generating revenue, saving costs, or improving a product.
Quantify your achievements with number where possible e.g. "reduced call wait time by 10%"
Example job for Inventory Clerk resume
Outline
Contribute to the seamless management of inventory operations for a prominent home furnishings manufacturer which ships to 31 countries globally.
Key Responsibilities
Conduct regular inventory audits to verify stock levels and identify discrepancies
Utilize inventory management software to maintain and update accurate inventory records
Coordinate with suppliers to ensure timely delivery and replenishment of inventory
Process client orders with precision and ensure timely order fulfillment
Quick tip: Create impressive job descriptions easily in our partner's Resume Builder by adding pre-written job phrases for every industry and career stage.

Education section
Nearing the end of your resume, your education/qualifications section should be added.
In a well-structured list, add all of your qualifications and certifications that qualify you to perform a typical Inventory Clerk role.
If you have plenty of work experience, keep this section brief – if not, add lots of detail to make up for your lack of experience.
Additional information
The additional info section is optional but can be useful if you have anything else to add that could benefit your application.
For example, you may have some hobbies and interests that are relevant to your job – or you might have awards or publications to shout about.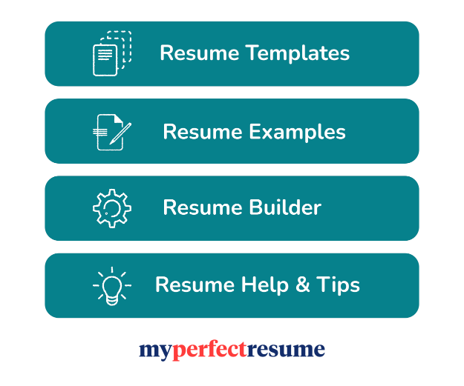 Writing your own winning Inventory Clerk resume
A winning Inventory Clerk resume should look great, read well, and sell your skillset to hiring managers.
If you follow the steps above, you should be able to bag yourself a top job in no time.
Good luck with your job search!