When you're applying for a new job, including an internship on your resume can help to showcase your skills and experience and boost your chances of securing an interview.
But in order to make the most of your internship, you need to display it correctly on your resume. If you're not sure how to do that, this guide is for you.
Here's how to add an internship to your resume (including some resume examples)  where to include it on the page, and how this helps you get hired.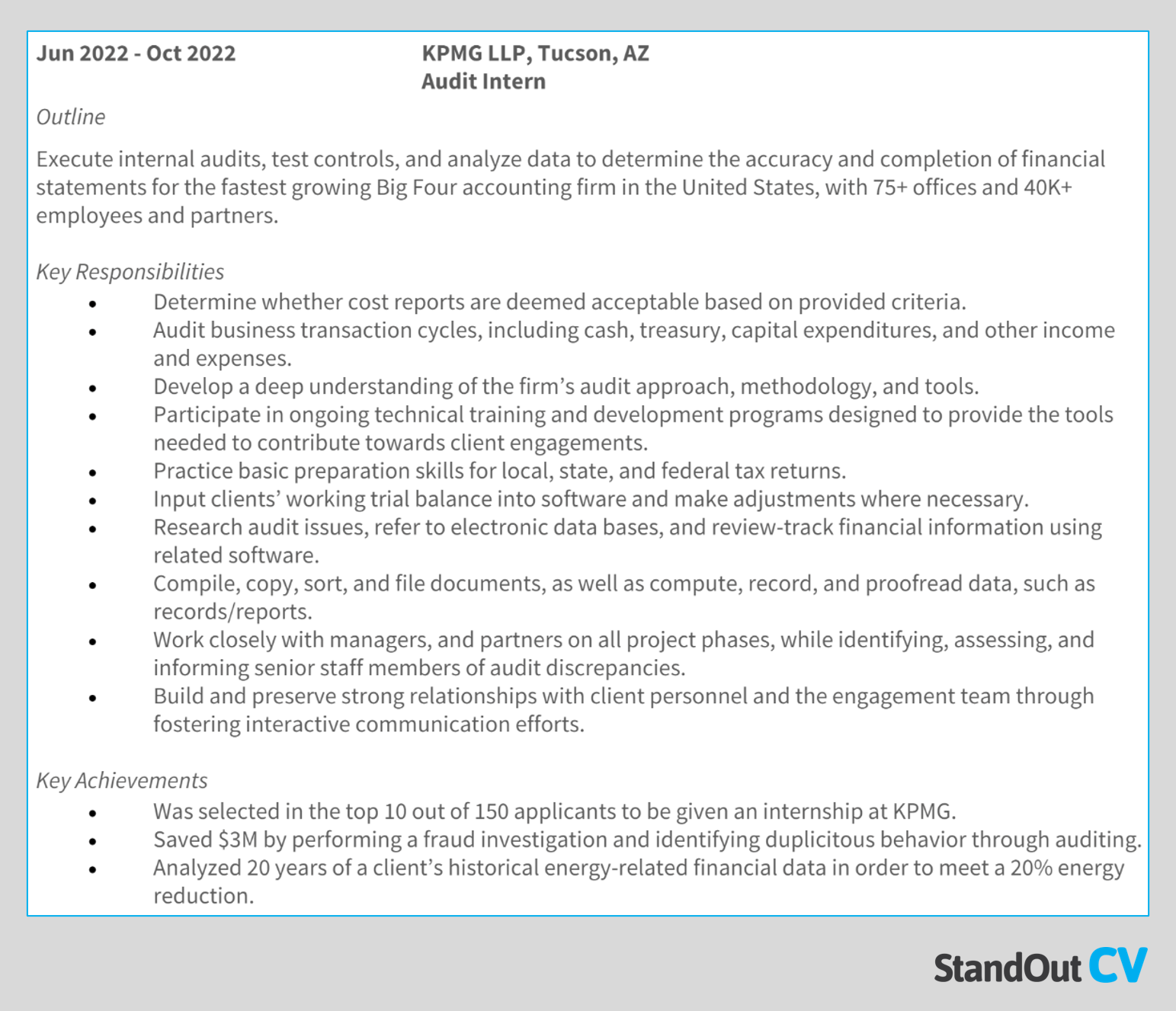 Where to add an internship to your resume
Internships are a great way for you to gain professional experience, and gain skills that employers want to see.
This is why they are best suited to your work experience section, and they should be structured the same as any full-time position would be.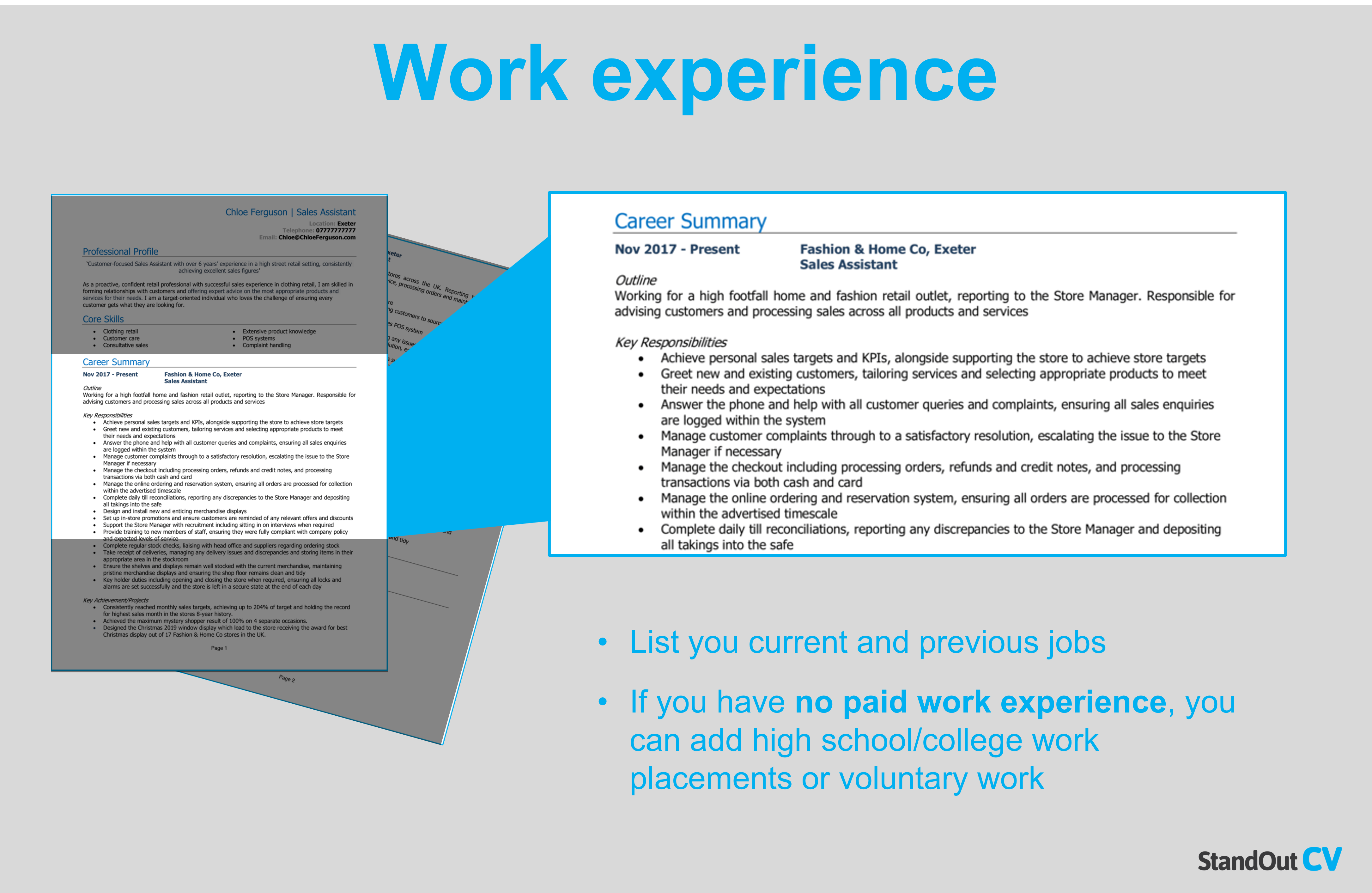 But if your internship is particularly relevant to the role you're applying for, you can also include a sentence or two about this in your resume summary, to ensure it gets noticed.
How to add an internship to your resume
When adding an internship to your work experience section, you need to make sure you include the most important details and structure this as effectively as possible. To do this, you should:
Structure it like a job – You need to structure this like you would any other job. To do this, you must include your job title, the name of the company, and the dates of your internship
Provide an outline – Once you've set out the key information, you can provide a brief outline of your internship. This should only be a few sentences long and explain what the company is and your role while you were there
Bullet point responsibilities – Follow this up with several bullet points outlining your key responsibilities as an intern. Be sure to give the names of any relevant tools or programs you learned to use during your time there
Highlight achievements – You should also take this opportunity to highlight any impressive accomplishments from your internship. For example, were you entrusted with an important task or project, and if so, what were the results?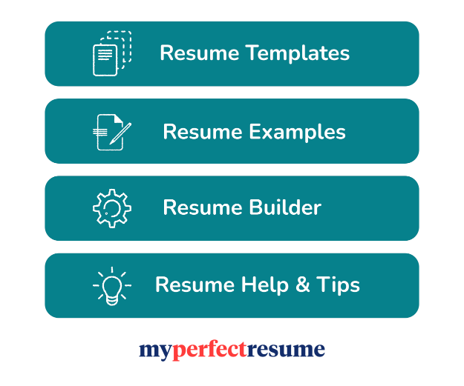 Example internship resume 1
Eventuality – Event Planning Intern | San Fransisco, CA  – 05/2022 – 08/2022
As an event planning intern, gained valuable on-the-job experience by helping to organize, set up, and manage seven large corporate events over the three-month internship.
Responsibilities:
Researched florists, photographers, musicians, and venues in the local area
Managed administrative tasks, such as contract signing, fee collection, and venue bookings
Created and updated status reports so everyone was up to date on what activities were completed
Example internship resume 2
We Are Tech – Computer Technician Intern | Berkley, CA – 06/2018 – 09/2018

Working alongside the team of five technicians, providing support and assistance across all computer repair works.
Assisted the technician on rounds to offer installation and updates to over 40 members of staff in the office
Performed repairs on at least 10 devices a week and provided data for client reports
Used troubleshooting tactics to reduce computer downtime throughout the week

Example internship resume 3
Endeavor Co. – Administrative Intern | Columbus, OH – 05/2021 to 09/2021
Working with employees across the team of, providing ad hoc assistance, handling multiple phone calls, emails and in-person meetings at any one time.
Responsibilities:
Answered phones calls and replied to over 30 emails a day
Greeted visitors at the door and showed them to the correct meeting room
Prepared printouts and office rooms for client meetings
Helped to organize office maintenance as and when it was needed
Example internship resume 4
Fitspo America – Digital Marketing Intern | Dallas, TX – 11/2017 – 02/2018

As an intern, supported the digital marketing team in a variety of tasks, including social media, email marketing, and copywriting for a range of business clients.
Created content for various social media channels, posting to an audience of over 50,000 followers
Wrote and edited copy for the company blog on a weekly basis
Worked on 2 editions of the Fitspo monthly newsletter
Benefits of adding an internship to your resume
There are several benefits to adding an internship, or even multiple internships, to your resume, and these include:
Highlighting your experience – Internships give you real-world experience. By adding this to your resume, you have the chance to showcase this
Showcasing your core skills – This is also an opportunity to highlight the skills you learned during your internship. You can add these throughout your resume, including in your core skills and work experience sections
Giving you a competitive edge – When up against other candidates, your internship could give you a competitive edge. This is particularly true if you're on equal footing, but you've completed an internship, and they haven't
Sharing relevant achievements – Listing achievements and quantifying these where possible can give your resume a major boost. So it's a good idea to include any big accomplishments from your internship
Showing your initiative – Finally, internships are a great way to gain experience, and undertaking a position as an intern shows you are proactive, passionate, and taking positive steps for the future of your career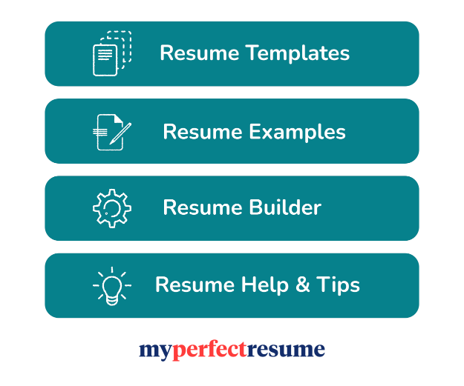 What is an internship?
Internships are temporary job opportunities designed for students or recent graduates seeking to gain practical experience in their field of study or interest. These placements can be either paid or unpaid in the US.
They offer individuals the chance to learn new skills, gain hands-on experience, build professional connections, and explore potential career paths.
Typically, interns work under the supervision of a mentor or supervisor, and they will carry out junior responsibilities within the team or department – sometimes internships can lead to a permanent job offer for the student.
Should you add an internship to your resume?
While there are many benefits to adding an internship to your resume, whether or not you do this will depend on a couple of key factors.
Firstly, you need to think about relevance. You should only add your internship to your resume if it's particularly relevant to the role you're applying for or if you have little to no other experience to talk about. Also, providing you have enough space to do so.
However, if you've got lots of other great experience under your belt that is more recent and relevant, adding the internship could take up valuable space. In this case, it is usually better for you to leave the internship off.
Ultimately, the choice is yours, but using our advice above, you can make the most informed decision.