Can you provide hands-on care within a patient's residence whilst also overseeing a team of carers?
Then your skills are in demand right now, and you need to summarize your expertise on a carefully thought-out resume.
But if you're not sure how to do that, we can help. Check out our home care manager resume example and key advice below for guidance.
Contents
| | |
| --- | --- |
| How to write a Home Care Manager resume | |

Home Care Manager Resume Example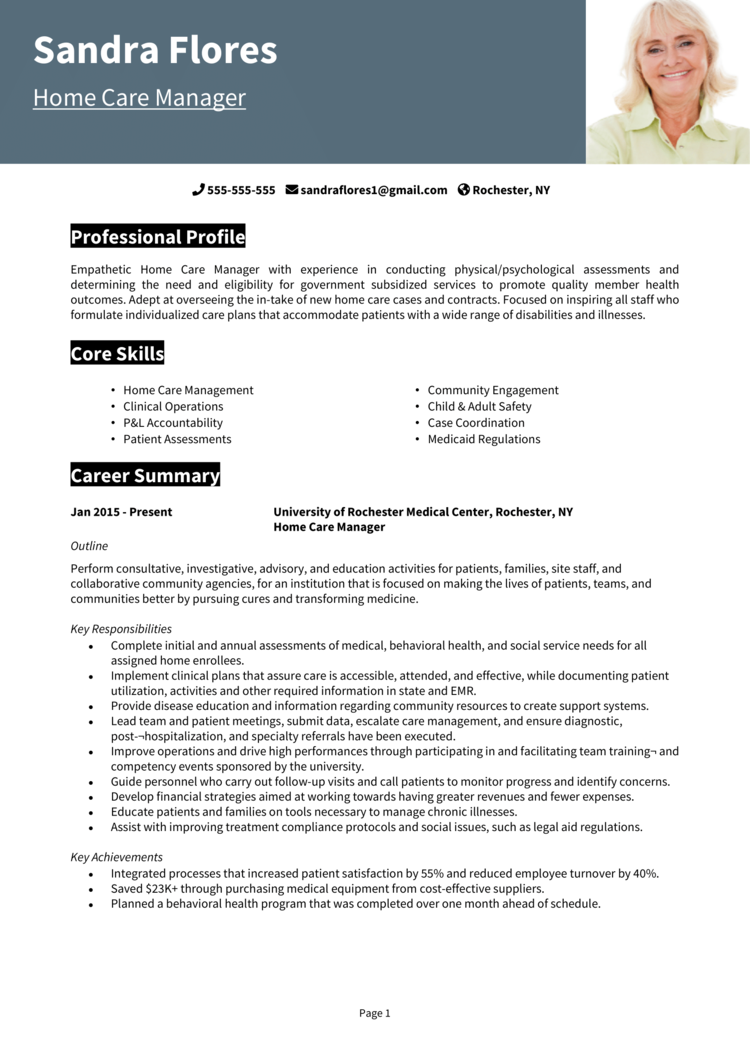 This Home Care Manager resume example gives you a good idea of how a good Home Care Manager resume should look and read.
The information is presented professionally and the content is well structured to ensure that time-strapped recruiters and hiring managers can find the important skills and knowledge quickly.
Refer to this example as you write your own resume.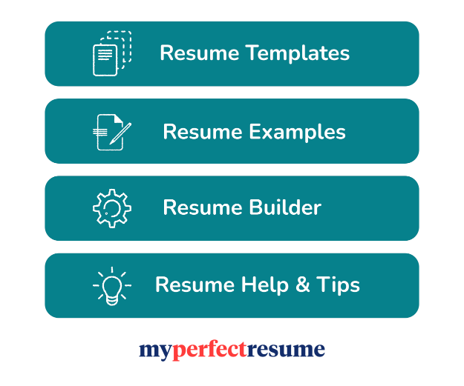 Home Care Manager resume layout and formatting
If you want to get noticed in the job market, you have to pay attention to the format and layout of your resume.
Essentially your resume needs to look highly polished, and provide hiring managers with an easy reading experience.
Use these resume formatting tips to get a head start on this.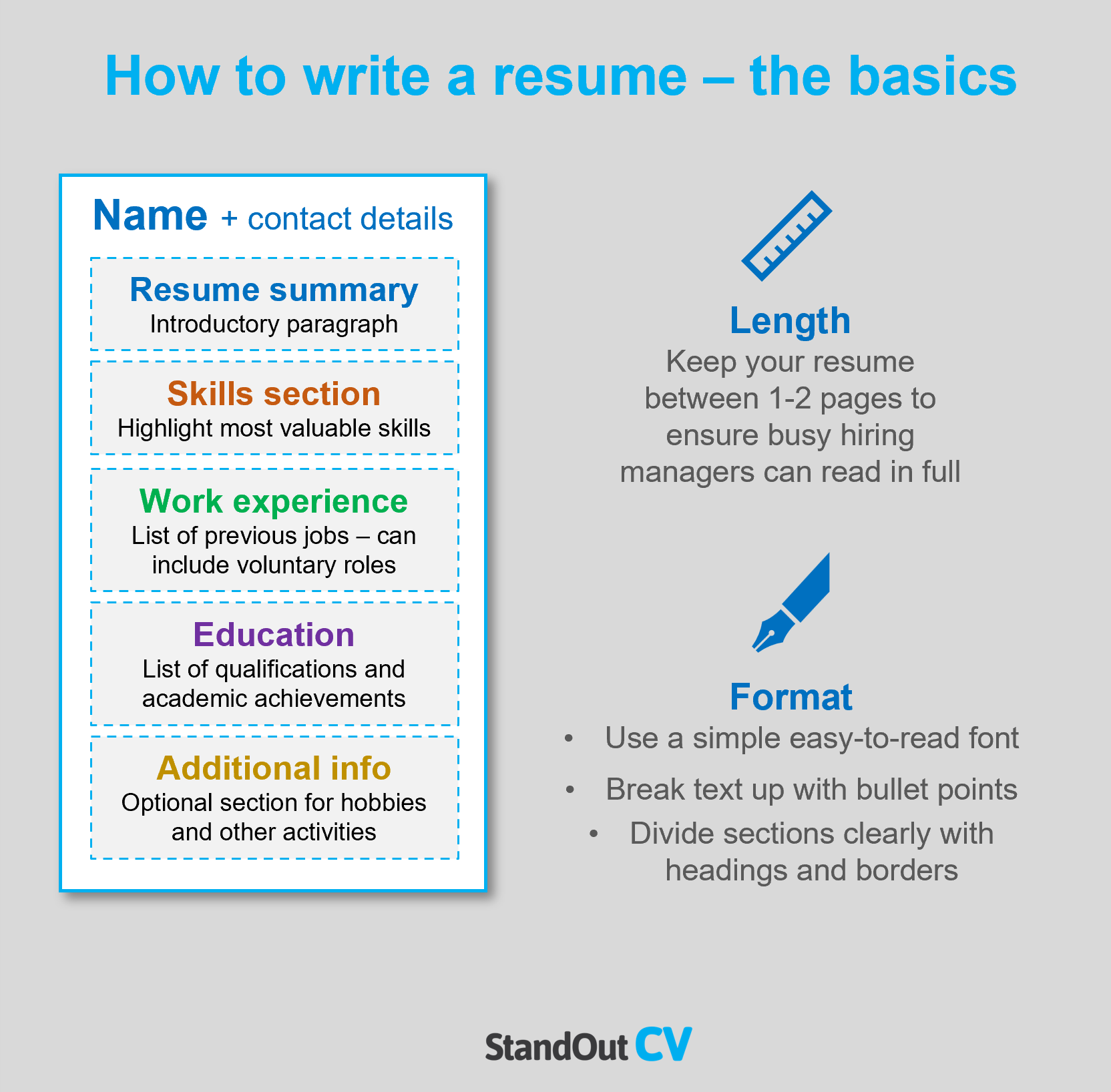 Formatting your resume
Length: As recruiters have a limited amount of time to review each resume they see, keep your resume to 2 pages or less to increase the chances of it being thoroughly reviewed.
Font & readability: To create a resume that is easily digestible for hiring managers, it's essential to use an uncomplicated font and structure your content with bullet points and short paragraphs.
Layout & Structure: Allow recruiters to skim through your resume with ease, by dividing the page into clear sections with headings and borders. The design of your resume should be eye-catching but not overly complex – keep the style and color scheme simple and clean.
Photos: While a photo is not usually necessary on your resume in the United States, it may be beneficial to include one in regions and industries where it is customary.
Quick tip: Achieving a professional look for your resume can be difficult and time-consuming. If you want to create an attractive resume quickly, try our partner's Resume Builder and use one of their eye-catching resume templates.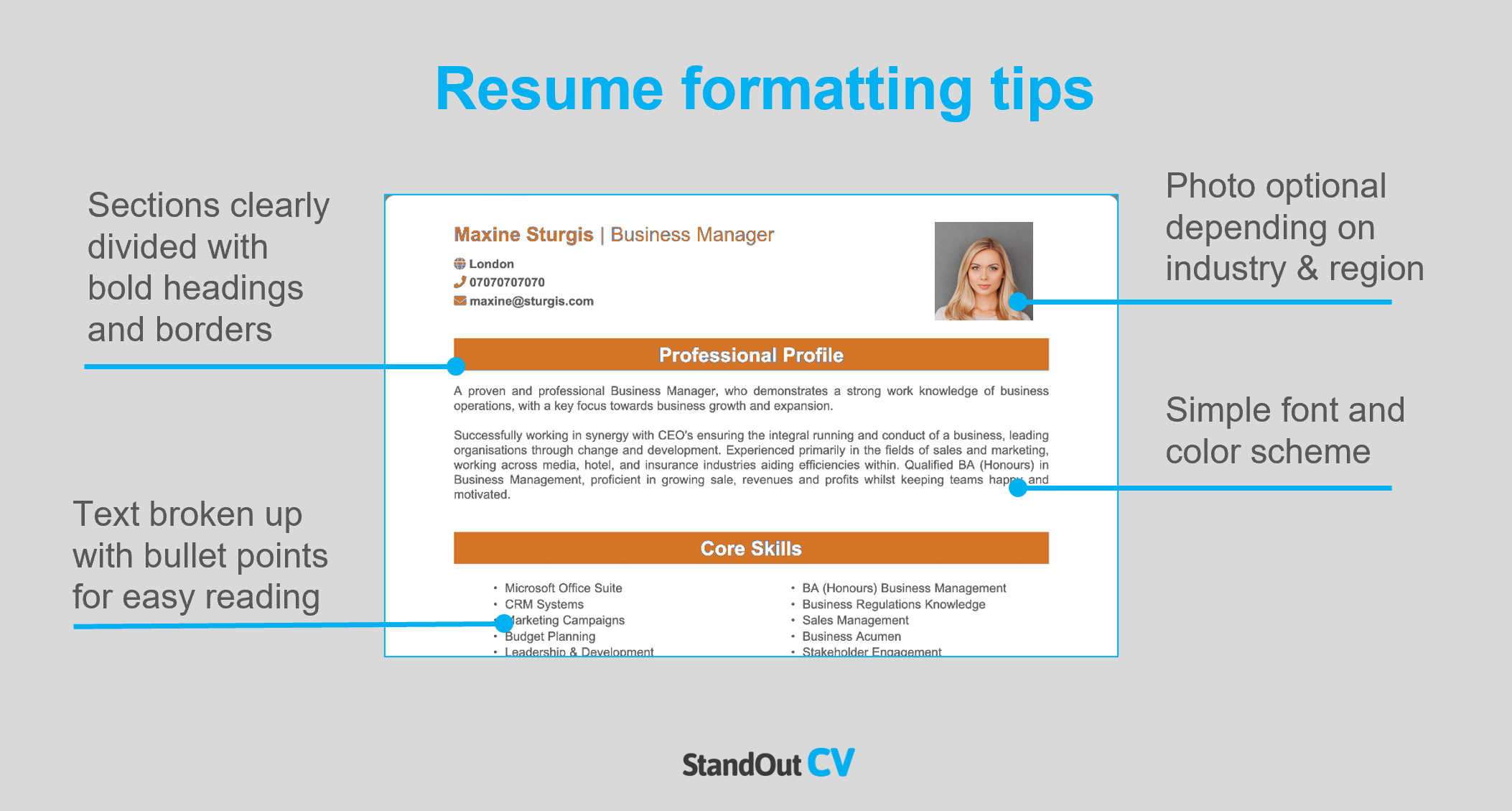 Resume layout
Include the following sections when you write your resume.
Name and contact details – Make it easy for employers to contact you, by putting these at the top.
Resume summary – An intro paragraph sitting at the top of your resume, summarizing the reasons why you should be hired.
Skills section – A short snappy list of your most important skills, that can be quickly digested
Work experience – Reverse chronological list of your previous jobs – voluntary work and college placements can be included if you have no paid experience.
Education – List your qualifications and professional training.
Additional info – An optional section for things like hobbies and interests.
Here's what to include in each part of your resume.
Contact Details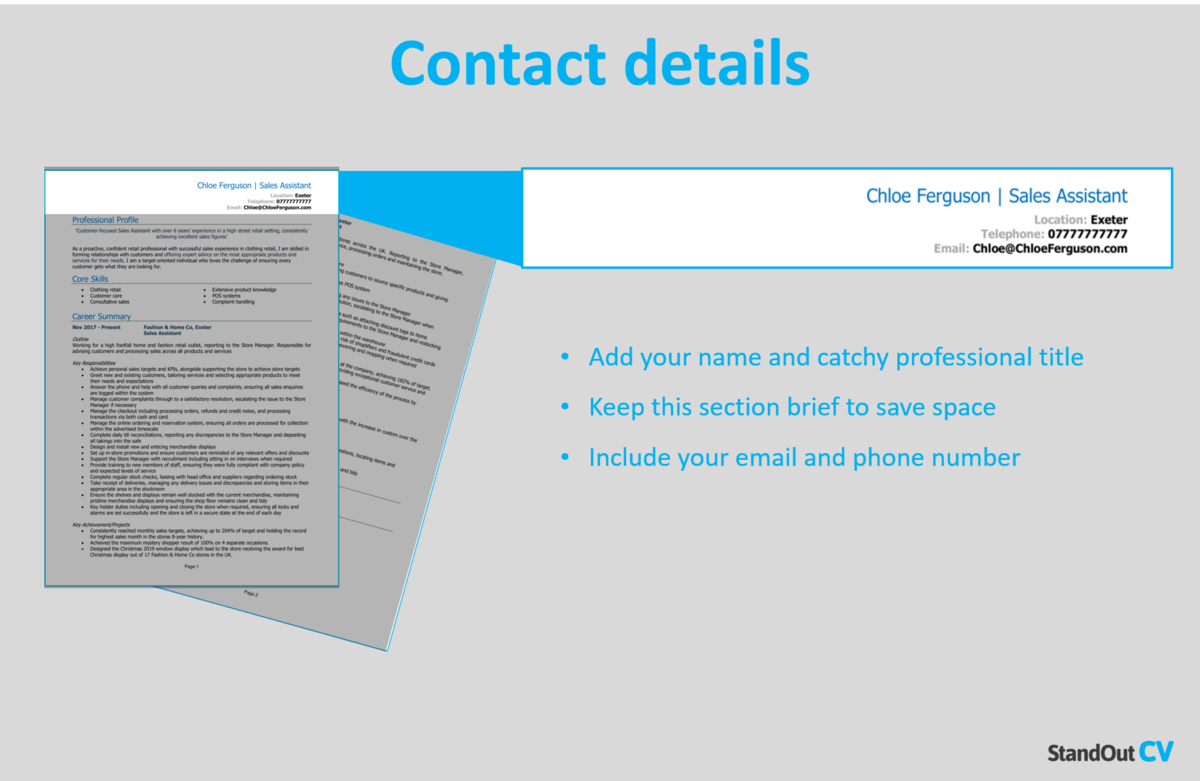 Add your name and contact details to the header of your resume, so that anybody reading can easily see how to contact you.
Name and profession title
Cell phone number – or any number you are easily reachable on
Location – Add your local area such as Washington or San Diego – not your full address as that will take up too much space.
Email address – Use a professional looking address.
You can add a link to your LinkedIn profile if you have one – you do not need to include personal details like date of birth or religion.
Home Care Manager Resume Summary
The resume summary is a short paragraph at the top of your resume, and it's purpose is to grab recruiter's attention and make sure they keep reading it.
To make your summary work, ensure that you provide a high-level summary of your skills and experience – and tailor it to reflect the requirements of the jobs you are applying for.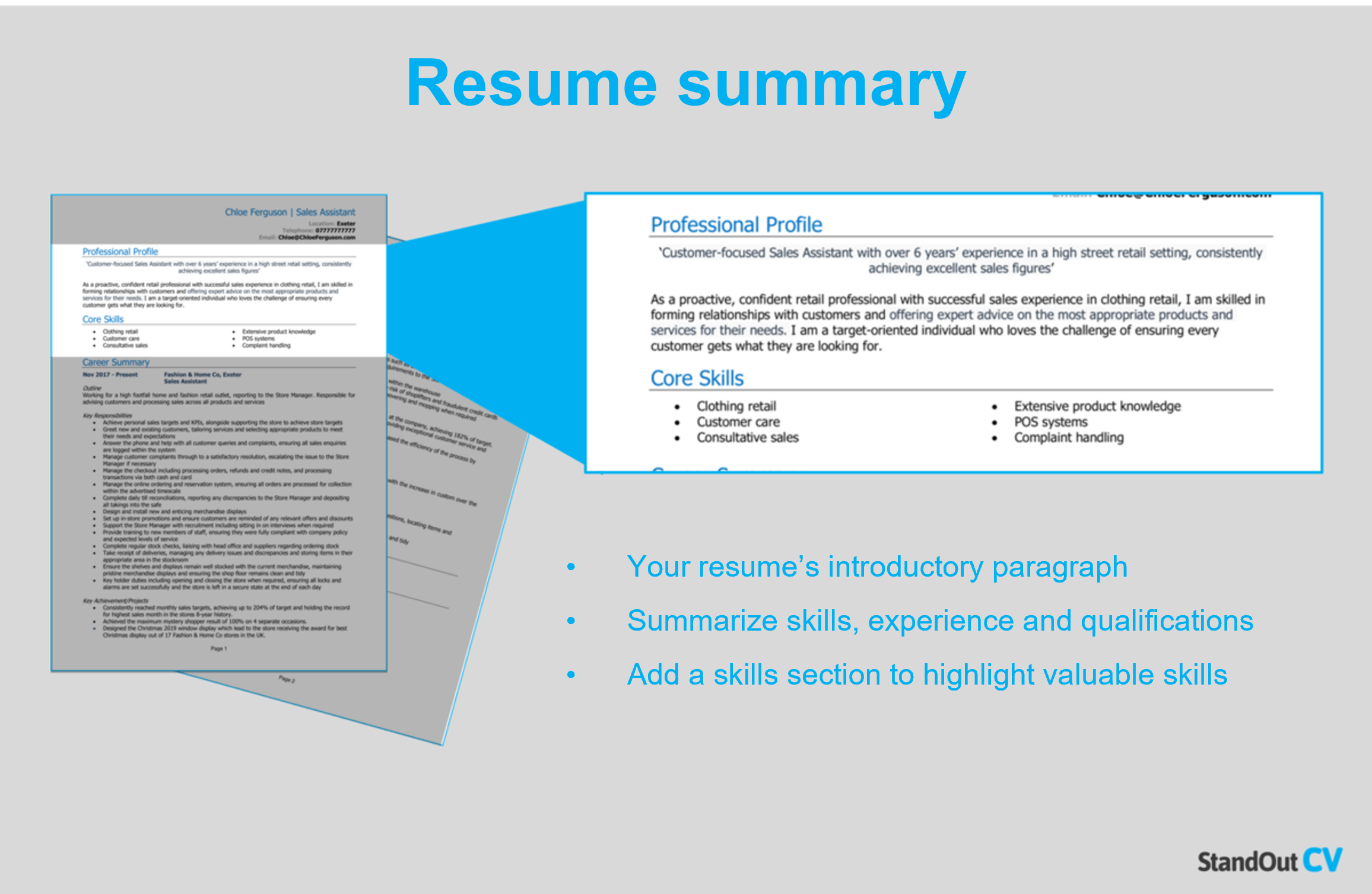 How to create a resume summary that will excite recruiters:
Keep it short: You only have a few seconds to grab a recruiters' attention and make them commit to your resume, so keep your summary between 4 – 7 lines.
Tailor to target jobs: Tailor your resume to your target jobs by studying the job description and adding as many matching skills as you can.
Avoid using cliches: You may be a "team player who always give 110%" but generic phrases don't tell employers much about you in reality – stick to factual information.
Home Care Manager resume summary example
Empathetic Home Care Manager with experience in conducting physical/psychological assessments and determining the need and eligibility for government subsidized services to promote quality member health outcomes. Adept at overseeing the in-take of new home care cases and contracts. Focused on inspiring all staff who formulate individualized care plans that accommodate patients with a wide range of disabilities and illnesses. 
What to include in your Home Care Manager resume summary?
Summary of your experience: Summarize the type of work you have done in the past and the ways in which you have contributed to the success of your previous employers.
Relevant skills: To quickly showcase your suitability for Home Care Manager jobs, ensure that your summary emphasizes your most relevant skills to the jobs you are applying for.
Qualifications: If your job requires any qualifications such as a professional course or a college degree, mention it briefly in your summary.
Quick tip: Choose from hundreds of pre-written summaries across all industries, and add one to your resume with one-click in our partner's Resume Builder. All written by recruitment experts and easily tailored to suit your unique skillset and style.
Core skills section
Your core skills section, positioned just below your resume summary, provides recruiters with a quick glance at 4-10 of your most in-demand skills.
For Home Care Manager jobs, where hiring managers may receive hundreds of applications, this section can help you stand out and immediately grab their attention.
To be effective, this section should consist of 2-3 columns of bullet points that highlight attributes that are highly relevant to the jobs you are targeting.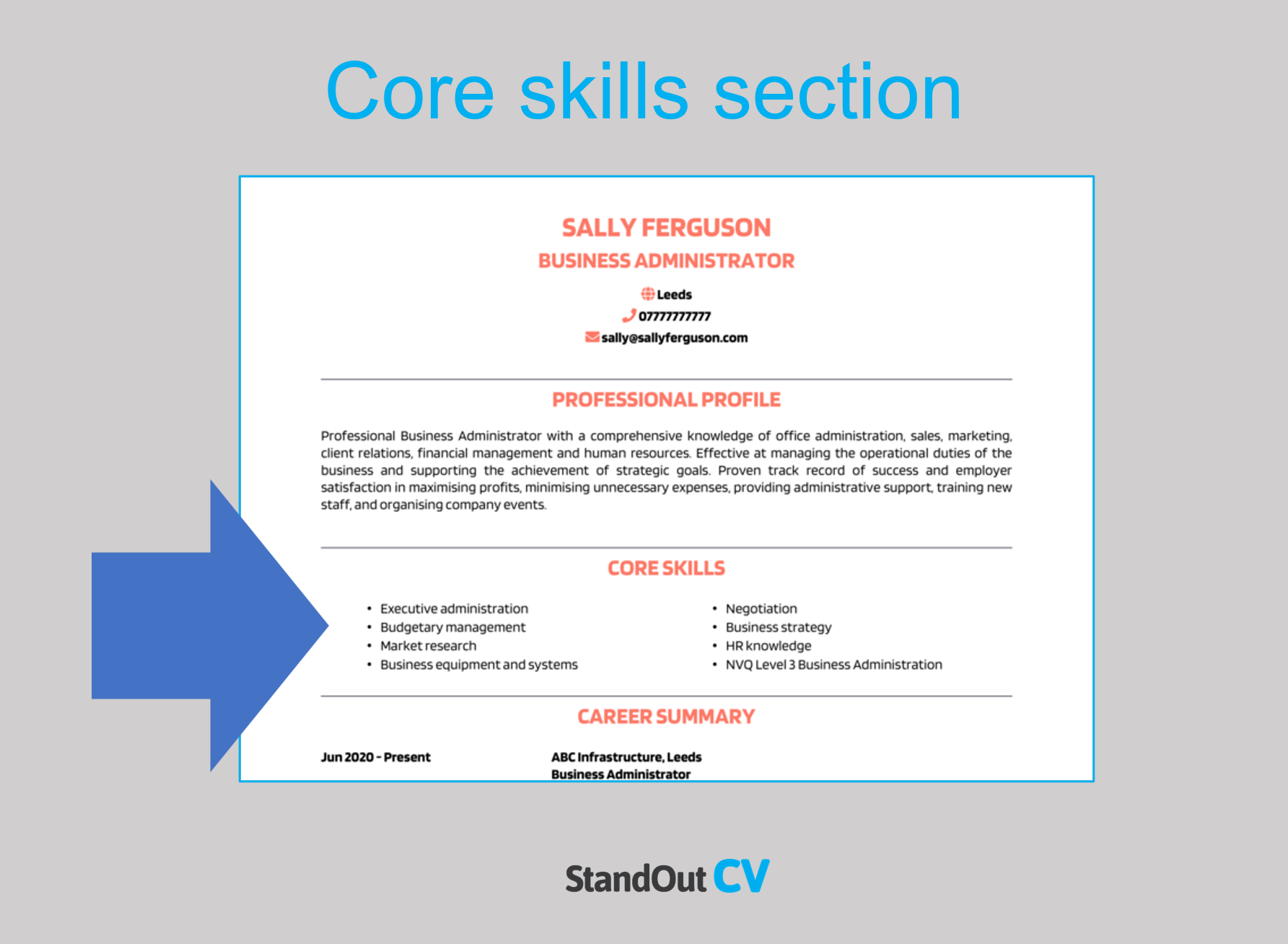 Best skills for your Home Care Manager resume
Client assessment – Assessing clients' needs, including physical and emotional health, to develop individualized care plans.
Staff management – Managing staff, including scheduling, training, and performance management, to ensure that staff are providing quality care to clients.
Care coordination – Coordinating care services, including coordinating with healthcare providers and family members, to ensure that clients are receiving comprehensive care.
Quality assurance – Utilizing knowledge of quality assurance principles, including monitoring and evaluating care services, to ensure that clients are receiving high-quality care.
Budget management – Utilizing knowledge of budget management principles, including tracking expenses and preparing financial reports, to manage care service budgets and ensure compliance with regulations.
Regulatory compliance – Utilizing knowledge of regulatory compliance requirements, including healthcare regulations and labor laws, to ensure that the care services are compliant with all applicable laws and regulations.
Effective communication – Interacting effectively with clients, staff, healthcare providers, and family members, to provide updates and communicate care plans and progress.
Issue resolution – Solving problems effectively, including addressing client concerns and managing staffing and care service issues, to ensure the success of the care services.
Documentation management – Maintaining accurate and up-to-date client records and care service documentation, to ensure compliance and continuity of care.
Cultural competence and sensitivity – Utilizing knowledge of cultural competence principles, including respecting clients' diversity and providing culturally sensitive care, to ensure that clients receive care that is respectful and appropriate for their cultural background.
Quick tip: Our partner's Resume Builder contains thousands of in-demand skills for every profession that can be added to your resume in seconds – saving you time and greatly improving your chances of landing job interviews and getting hired.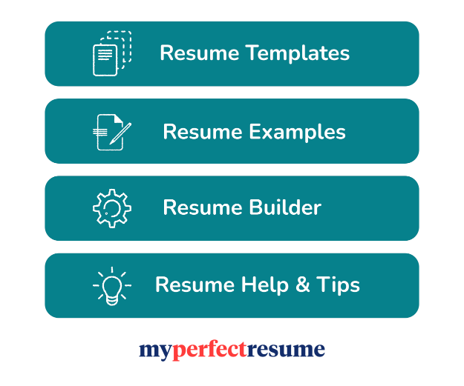 Work experience
So, you've got the recruiter interested with your catchy summary… Great work.
Now it's time to show them the impact you make in the workplace by listing out your previous jobs and what you achieved in each one.
If you have tons of experience, you can condense this part down to the last few years – if you are junior, then you should include as much possible (even volunteering and school work placements)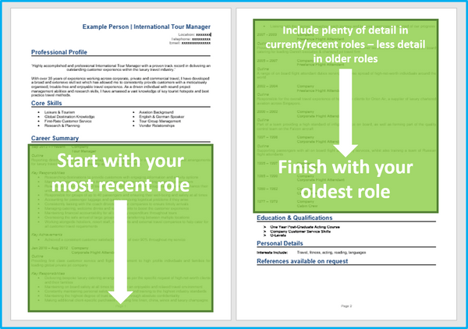 Structuring your jobs
You probably do a lot in your job, so its vital to break all of that information down into a good structure.
Structure your jobs as follows to make it easy for recruiters to skim through and pinpoint the essential info.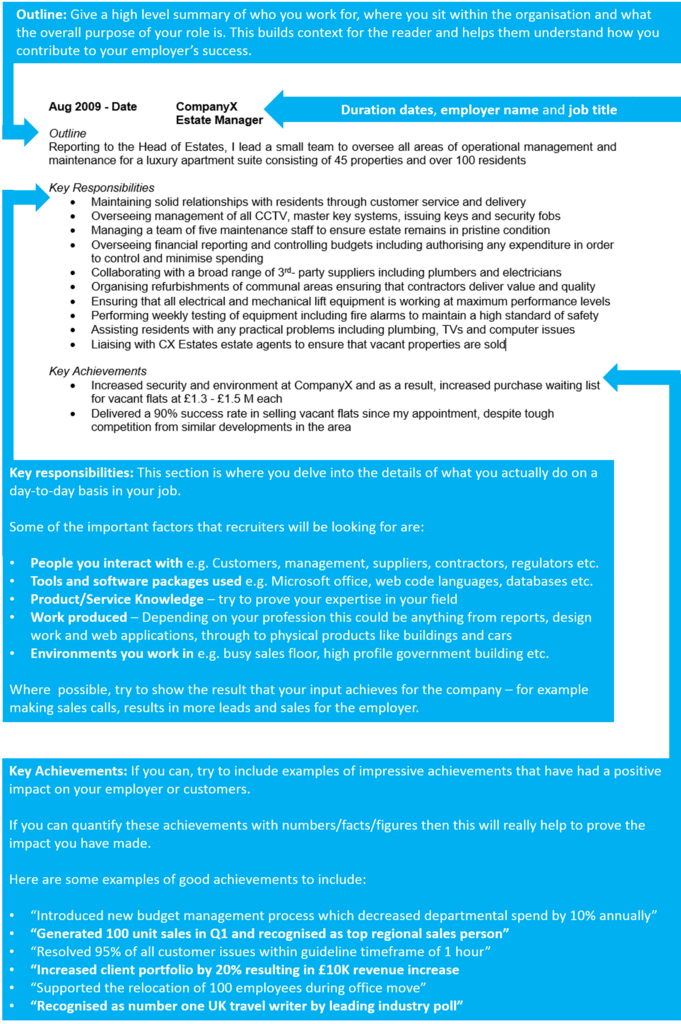 Job outline
Start with a 1-2 sentence outline of the role, summarizing what the goal of your position was, who you reported to (or managed) and the type of organization you worked for.
Key responsibilities
Then delve into the detail of your job by listing out easy-to-read bullet points which show how you apply your skills in the workplace.
Tailor these bullet points to focus on the skills and knowledge that are required in the jobs you are applying for.
Key achievements
Finish each role by highlighting some impressive achievements you made whilst in the role.
Anything that benefited the employer can be included from making financial savings, to winning new customers.
Quantify your achievements with facts and figures if you can, e.g. "reduced call wait time by 10%"
Example job for Home Care Manager resume
Outline
Perform consultative, investigative, advisory, and education activities for patients, families, site staff, and collaborative community agencies, for an institution that is focused on making the lives of patients, teams, and communities better by pursuing cures and transforming medicine.
Key Responsibilities
Complete initial and annual assessments of medical, behavioral health, and social service needs for all assigned home enrollees.
Implement clinical plans that assure care is accessible, attended, and effective, while documenting patient utilization, activities and other required information in state and EMR.
Provide disease education and information regarding community resources to create support systems.
Lead team and patient meetings, submit data, escalate care management, and ensure diagnostic, post-¬hospitalization, and specialty referrals have been executed.
Quick tip: Create impressive job descriptions easily in our partner's Resume Builder by adding pre-written job phrases for every industry and career stage.

Education section
Near the end of your resume add your education section
Experienced candidates should keep it brief and focus on professional qualifications – and junior candidates can include high school diplomas, college degrees etc.
Additional information
At the end of your resume, you can add any extra information that might be relevant to the jobs you are applying for.
This could be hobbies, interests, publications, clubs or memberships.
This section is optional and doesn't need to be added if you have nothing more relevant to add.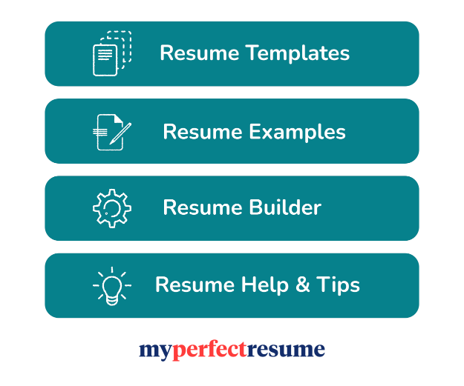 Writing your own winning Home Care Manager resume
A winning Home Care Manager resume should look great, read well, and sell your skillset to hiring managers.
If you follow the steps above, you should be able to bag yourself a top job in no time.
Good luck with your job search!