When it comes to the harvest, are you the cream of the crop?
If so, you need to prove to the recruiter that you've got the skills and licenses to effectively operate farm machinery, irrigate the soil, and gather the crops.
Do this correctly, and you can secure your next exciting role. To get it right, check out our top tips and harvesting laborer resume example in this guide.
Contents
| | |
| --- | --- |
| How to write a Harvesting Laborer resume | |

Harvesting Laborer Resume Example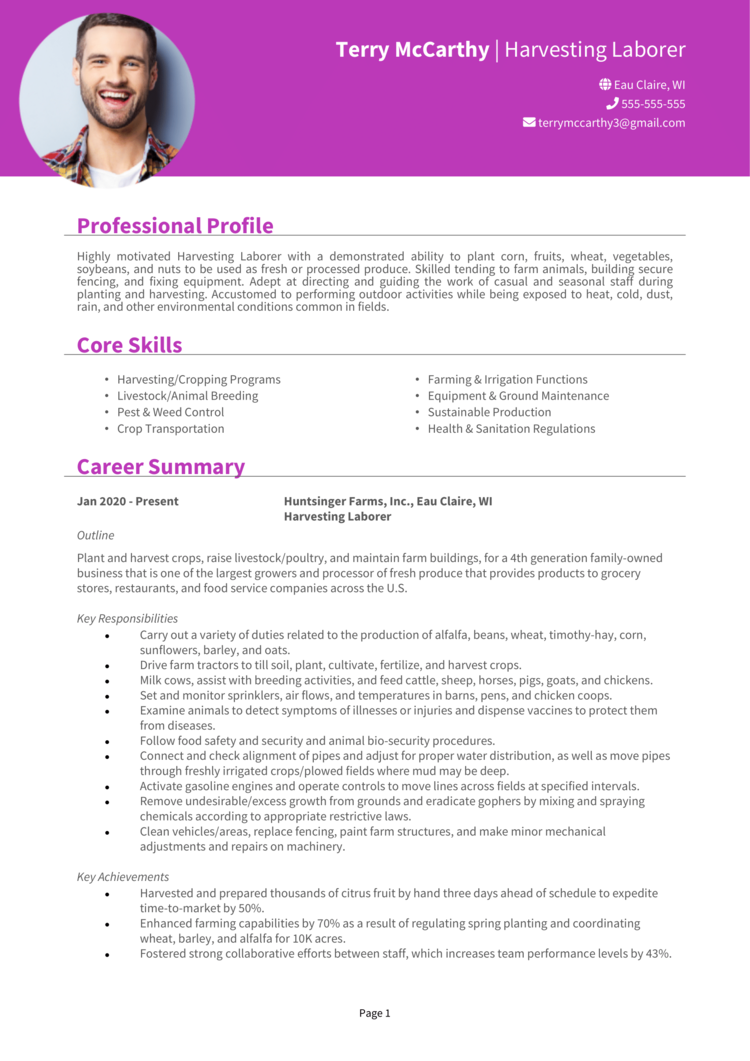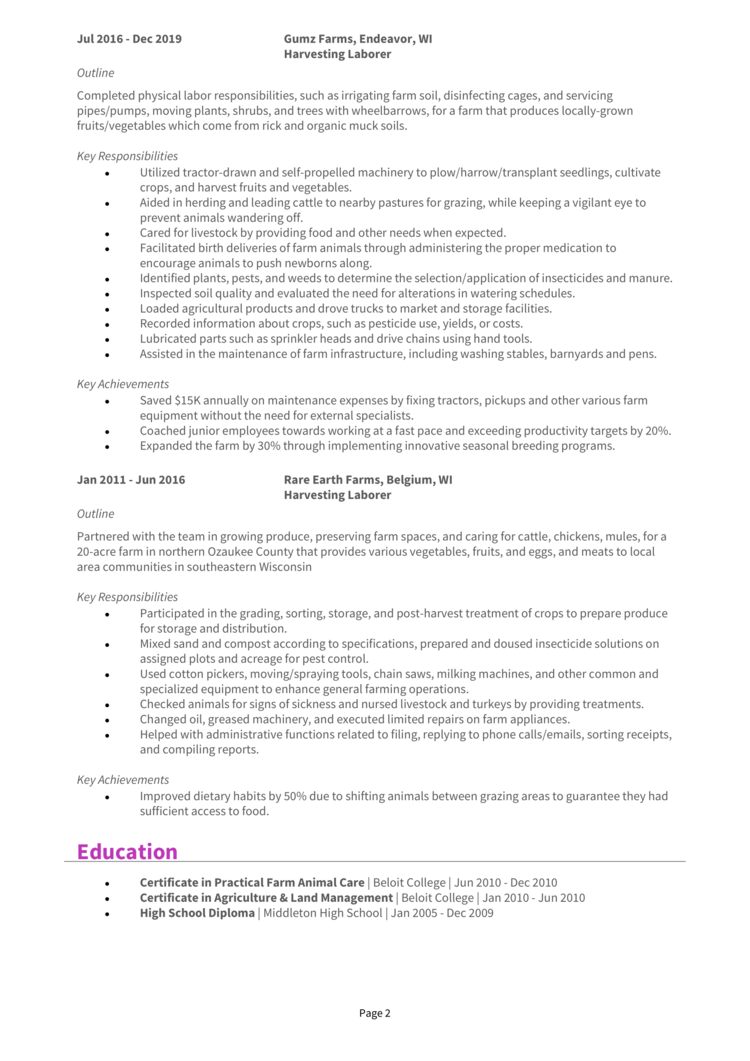 This Harvesting Laborer resume example shows you the most effective layout for a resume in today's job market, along with the type of content you need to include.
Stick closely to these guidelines as you write your own resume, to boost your chances of getting lots of responses, interviews and job offers.
Now lets dive into the details of how you write your own eye-catching resume…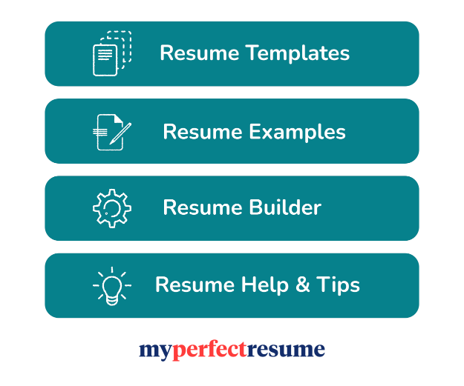 Harvesting Laborer resume layout and formatting
The format and layout of your resume can make or break its success.
Sure, it's great to pack your resume with lots of impressive skills and knowledge, but if the page is not structured clearly, hiring managers will struggle to find the important stuff!
Above all, your resume should be easy-to-read and professional looking.
Follow these formatting tips to get noticed.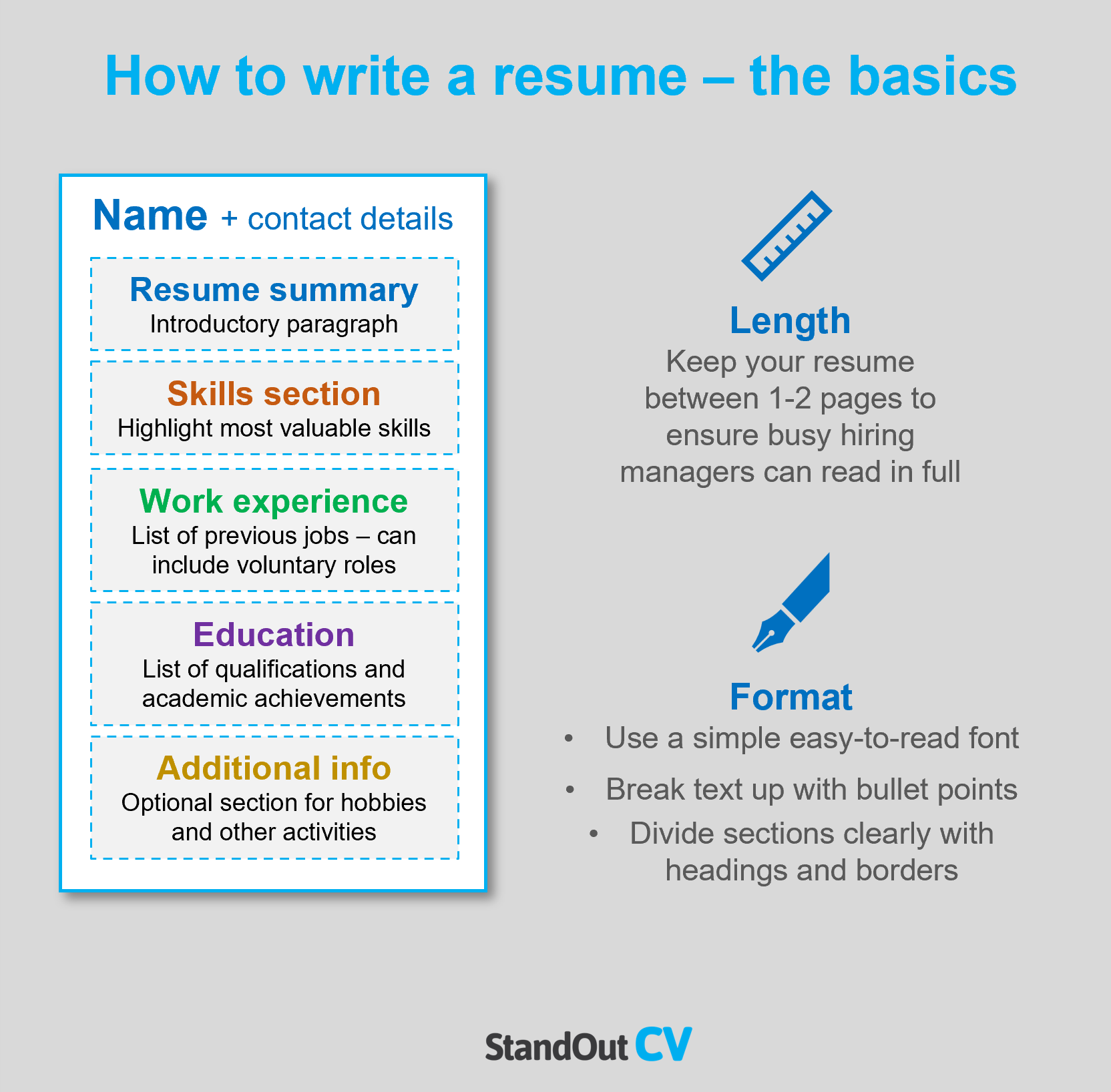 Formatting your resume
Length: Think that submitting a 10 page resume will impress recruiters? Unfortunately it won't… Even if you've got tons of experience to brag about, recruiters don't have time to read essays, so keep it brief – around 2 pages is the sweet spot.
Font & readability: Readability is the name of the game when it comes to your resume. Ensure yours is a dream to read by using a simple clear font, and breaking the text up with plenty of bullet points and short paragraphs.
Layout & Structure: A visually appealing resume is important, but don't forget about functionality. To ensure a functional design, use bold headings and borders to organize the page into clear sections.
Photos: You are not obliged to add a photo to your resume in the USA, but it can be a nice way of adding some life to the document.
Quick tip: Achieving a professional look for your resume can be difficult and time-consuming. If you want to create an attractive resume quickly, try our partner's Resume Builder and use one of their eye-catching resume templates.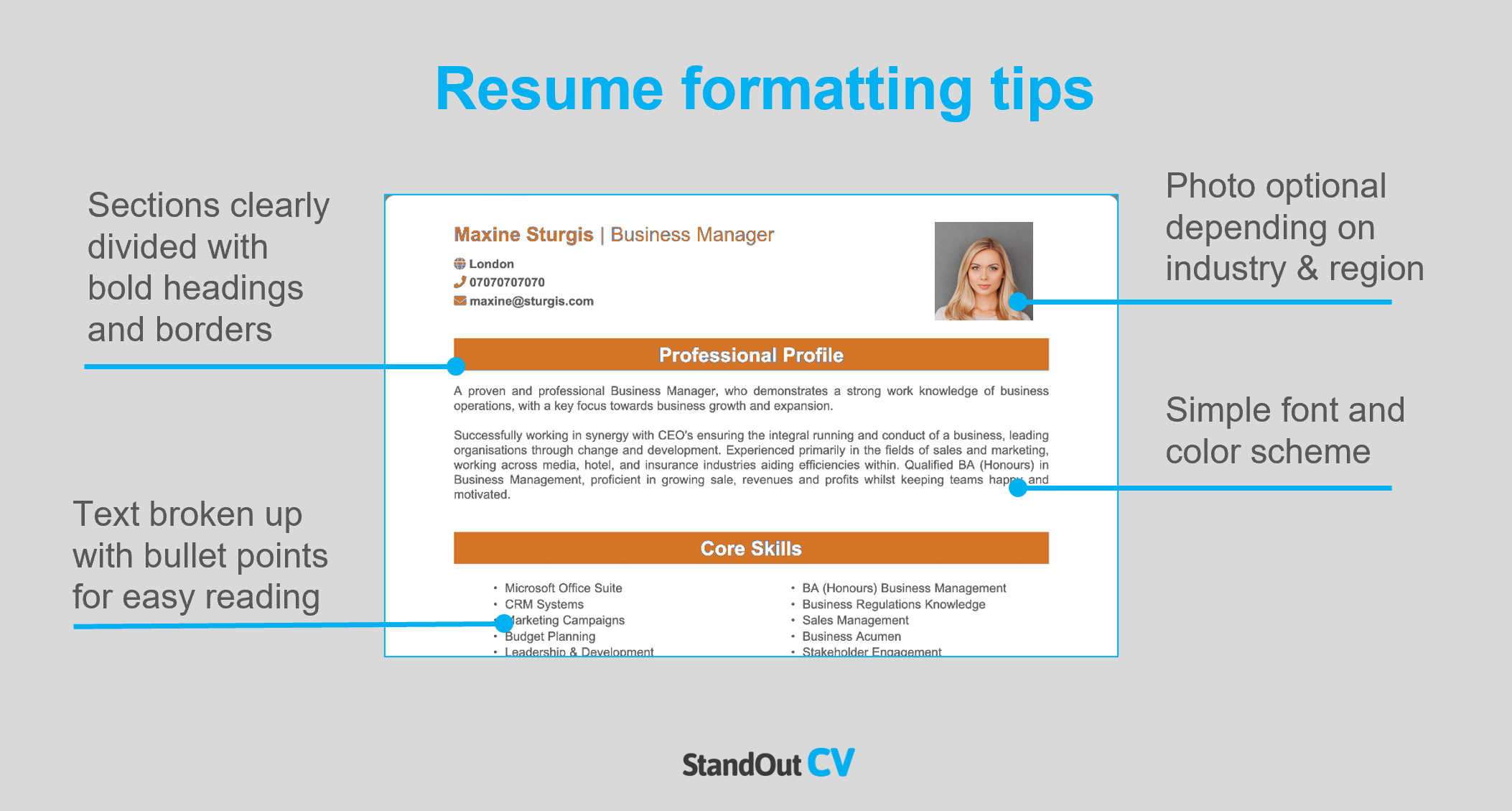 Resume layout
Divide the page into these sections when you write your own resume.
Name and contact details – Simply state who you are, and how to get in touch with you.
Resume summary – An introductory paragraph at the very top of your resume which summarizes your skills, experience and suitability for your target jobs.
Core skills section – A bullet-pointed list of your skills that relate most to your target jobs.
Work experience – A list of your current and previous jobs, including all of your responsibilities and achievements.
Education – A section that showcases all of your education and academic achievements.
Additional info (optional) – Here you can add an extra section for things like hobbies and interests, or anything else that might be relevant to your target jobs.
Here's what to include in each part of your resume.
Contact Details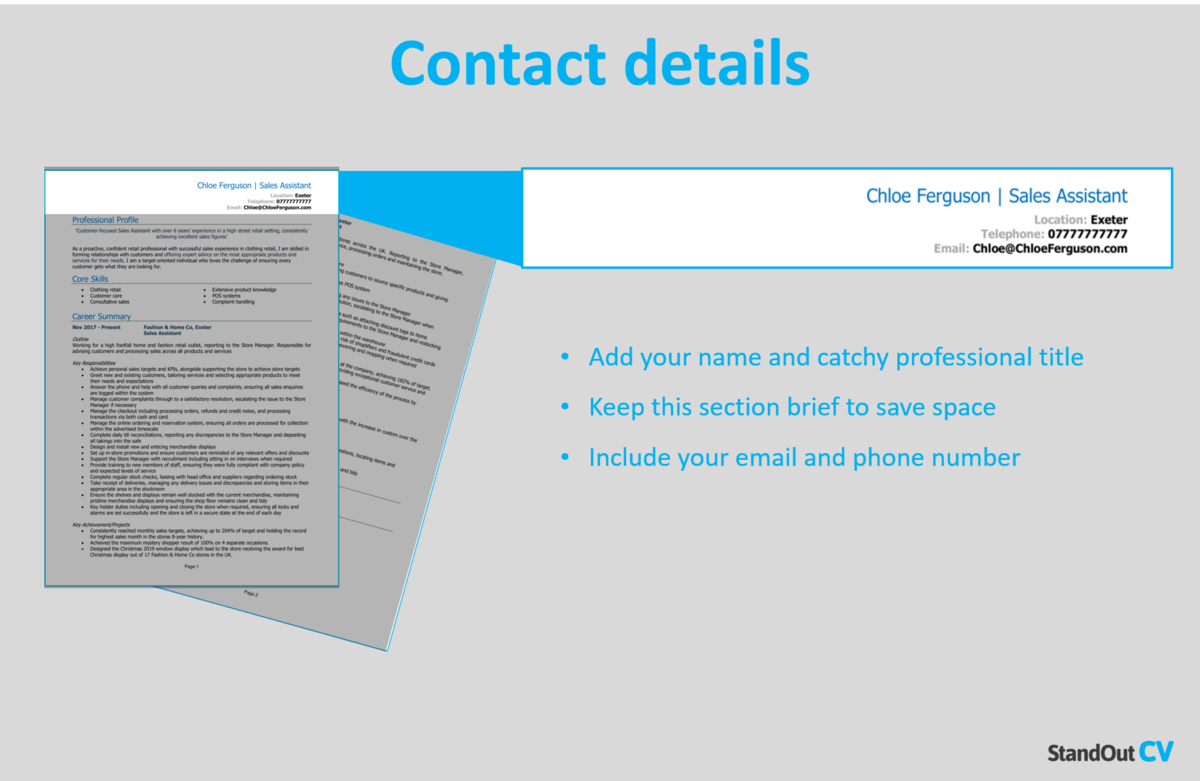 Add your name and contact details to the very top of your resume, making it easy for recruiters to get in touch
Name and profession title
Cell phone number – or another number you can answer quickly
Location – Add your local area such as San Diego or New York – not your full address as that will take up too much space.
Email address – Use your name or close variation – no nicknames from high school.
You can add a link to your LinkedIn profile if you have one – you do not need to include personal details like date of birth or marital status.
Harvesting Laborer Resume Summary
Your resume summary is like an elevator pitch. It's your chance to sell yourself to employers within a short space of time.
Achieve this by summarizing your skills and expertise, whilst highlighting your abilities that closely match the jobs you are aiming for.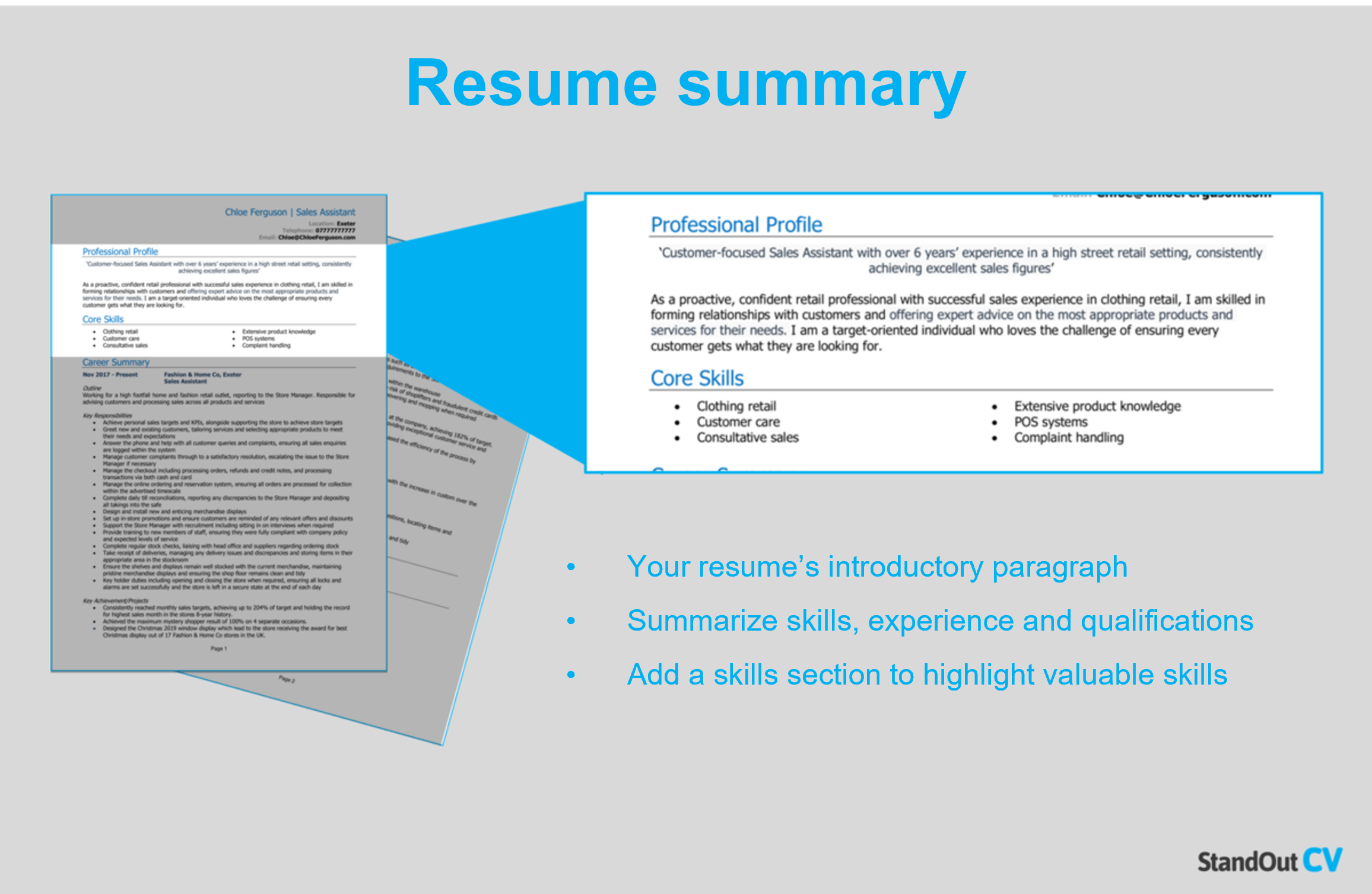 How to create a resume summary that will excite recruiters:
Keep it short: To capture a recruiter's attention and keep them interested in your resume, limit your summary to 4-7 lines as you only have a few seconds to make an impression
Tailor to target jobs: Recruiters will be scanning for the skills and knowledge they mentioned in the job description, so add as many as you can to your summary.
Avoid using cliches: You may be a "team player who always give 110%" but generic phrases don't tell employers much about you in reality – stick to factual information.
Harvesting Laborer resume summary example
Highly motivated Harvesting Laborer with a demonstrated ability to plant corn, fruits, wheat, vegetables, soybeans, and nuts to be used as fresh or processed produce. Skilled tending to farm animals, building secure fencing, and fixing equipment. Adept at directing and guiding the work of casual and seasonal staff during planting and harvesting. Accustomed to performing outdoor activities while being exposed to heat, cold, dust, rain, and other environmental conditions common in fields.
What to include in your Harvesting Laborer resume summary?
Summary of your experience: What kind of companies have you worked for in the past? And which jobs have you carried out?
Relevant skills: Skills that are highly relevant to Harvesting Laborer work should be made prominent throughout your summary.
Qualifications: Any qualifications that are important to the Harvesting Laborer jobs you are applying for, should be mentioned in the summary.
Quick tip: Choose from hundreds of pre-written summaries across all industries, and add one to your resume with one-click in our partner's Resume Builder. All written by recruitment experts and easily tailored to suit your unique skillset and style.
Core skills section
Your core skills section, positioned just below your resume summary, provides recruiters with a quick glance at 4-10 of your most in-demand skills.
For Harvesting Laborer jobs, where hiring managers may receive hundreds of applications, this section can help you stand out and immediately grab their attention.
To be effective, this section should consist of 2-3 columns of bullet points that highlight attributes that are highly relevant to the jobs you are targeting.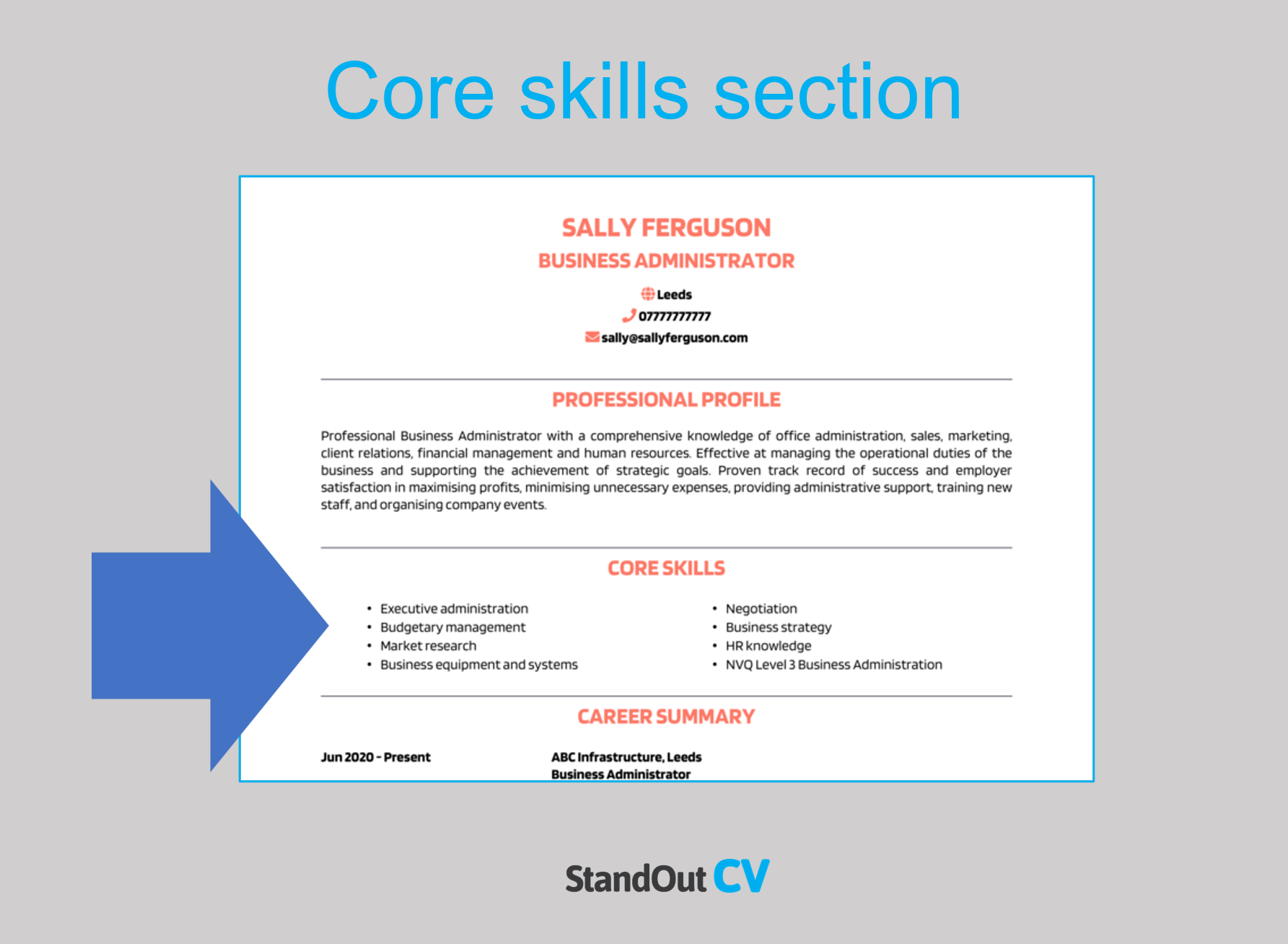 Best skills for your Harvesting Laborer resume
Crop knowledge – Utilizing knowledge of crop characteristics, including maturity stages and harvesting requirements, to ensure that crops are harvested at the optimal time.
Harvesting techniques – Using various harvesting techniques, including handpicking and using machinery, to efficiently and effectively harvest crops.
Safety procedures – Utilizing knowledge of safety procedures, including handling equipment and using personal protective equipment, to ensure safe working conditions.
Physical stamina – Working for long periods of time, including standing and bending, and perform physically demanding tasks, such as lifting and carrying heavy loads.
Quality assurance – Identifying and removing damaged or diseased produce, to ensure high-quality crops.
Equipment maintenance – Performing basic equipment maintenance, including cleaning and repair, to ensure that equipment is in good working condition.
Record keeping – Utilizing knowledge of record keeping principles, including logging hours worked and recording harvested produce, to maintain accurate records of harvesting activities.
Quick tip: Our partner's Resume Builder contains thousands of in-demand skills for every profession that can be added to your resume in seconds – saving you time and greatly improving your chances of landing job interviews and getting hired.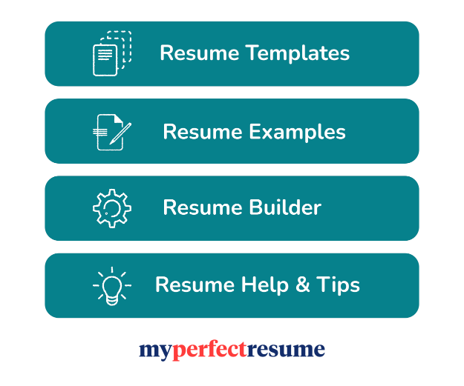 Work experience
Once you've hooked the hiring manager with your summary, you can really blow them away with you work experience.
List your previous jobs from newest to oldest to show the impact you made at each organization.
If you have years of experience, you can leave out some of the older jobs, and if you have little/no experience, you can bulk this section up with voluntary work and college placements.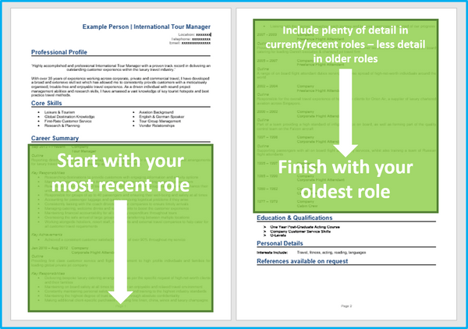 Structuring your jobs
Without a good structure, your job description can look messy and overwhelming to anyone reading them.
Make it easy for recruiters to read your work experience by structuring your roles like this.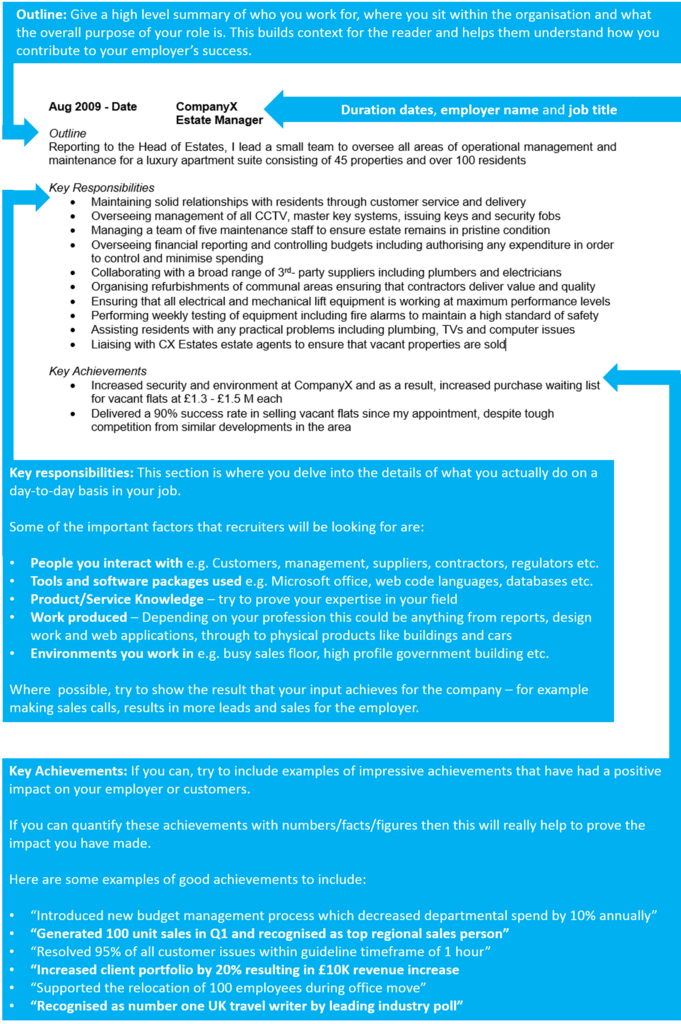 Job outline
Kick off each role with a high-level overview to summarize the focus of the job, what the organization/department does, and how you fit into the bigger picture.
Key responsibilities
The bulk of the role description should be comprised of bullet points that explain all of your duties in the job.
Keep the sentences short and simple to make them easy for recruiters to digest.
Key achievements
Round off each job by adding some impressive achievements you made in the role.
Anything you've done that has made a big impact on your employer will make a good impression, think; generating revenue, saving costs, or improving a product.
Quantify your achievements with number where possible e.g. "reduced call wait time by 10%"
Example job for Harvesting Laborer resume
Outline
Plant and harvest crops, raise livestock/poultry, and maintain farm buildings, for a 4th generation family-owned business that is one of the largest growers and processor of fresh produce that provides products to grocery stores, restaurants, and food service companies across the U.S.
Key Responsibilities
Carry out a variety of duties related to the production of alfalfa, beans, wheat, timothy-hay, corn, sunflowers, barley, and oats.
Drive farm tractors to till soil, plant, cultivate, fertilize, and harvest crops.
Milk cows, assist with breeding activities, and feed cattle, sheep, horses, pigs, goats, and chickens.
Set and monitor sprinklers, air flows, and temperatures in barns, pens, and chicken coops.
Quick tip: Create impressive job descriptions easily in our partner's Resume Builder by adding pre-written job phrases for every industry and career stage.

Education section
Nearing the end of your resume, your education/qualifications section should be added.
In a well-structured list, add all of your qualifications and certifications that qualify you to perform a typical Harvesting Laborer role.
If you have plenty of work experience, keep this section brief – if not, add lots of detail to make up for your lack of experience.
Additional information
At the end of your resume, you can add any extra information that might be relevant to the jobs you are applying for.
This could be hobbies, interests, publications, clubs or memberships.
This section is optional and doesn't need to be added if you have nothing more relevant to add.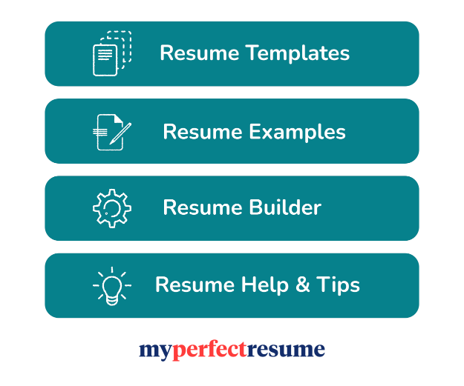 Writing your own winning Harvesting Laborer resume
Writing a Harvesting Laborer resume can be challenging but following the steps above will ensure that you land plenty of interviews.
Good luck with your job search!