Are you ready to take the next step in your graphic design career and become a project manager?
Then you need to update your resume to showcase not just your design skills but your leadership and organization skills too.
If you're not sure where to start, let us guide you. Use our graphic design project manager resume example and top tips below to brush up on your resume writing skills.
Contents
| | |
| --- | --- |
| How to write a Graphic Design Project Manager resume | |

Graphic Design Project Manager Resume Example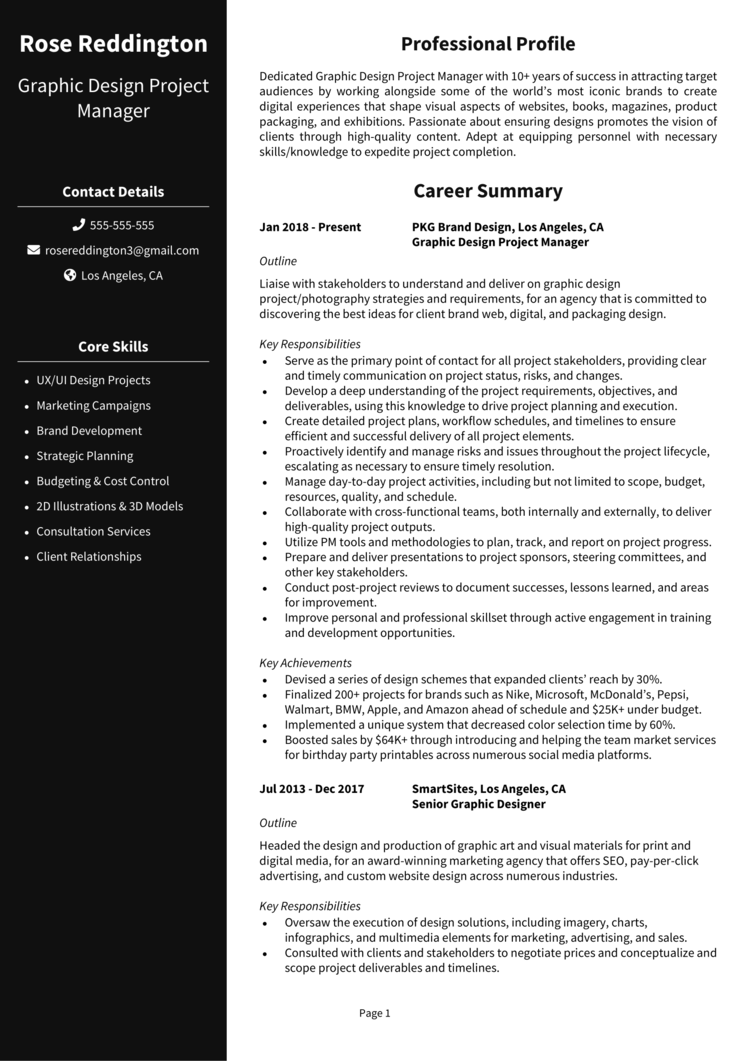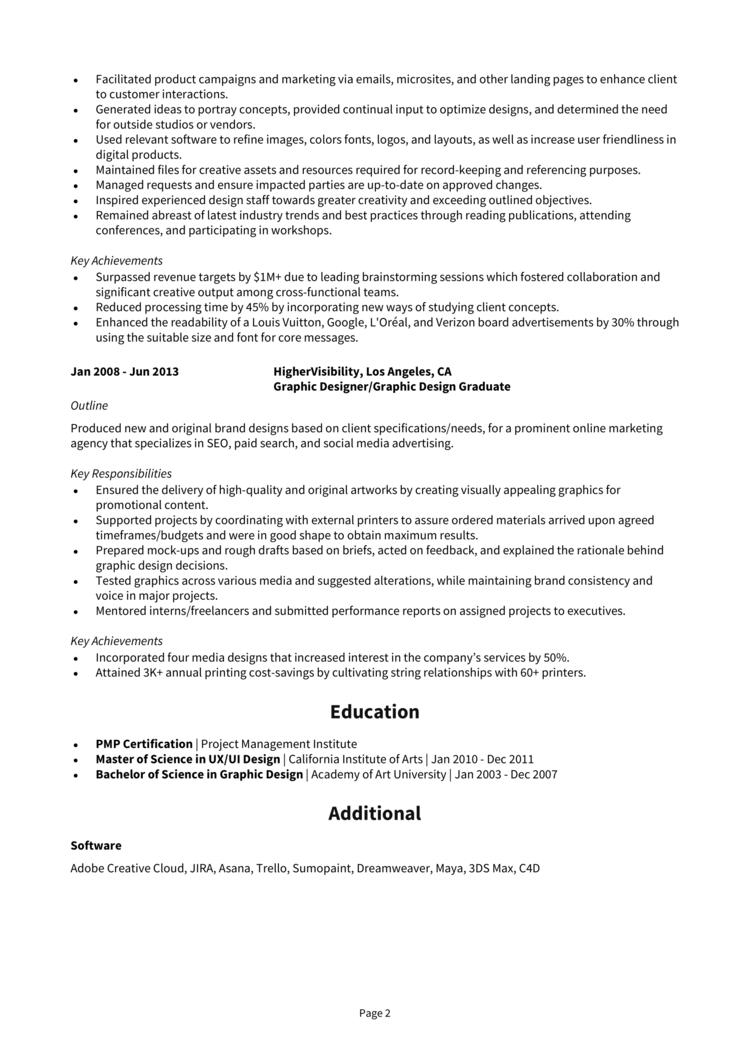 This example Graphic Design Project Manager resume gives you a general idea of how to structure your own resume, along with the type of content you need to include.
Sticking with this resume format will help you to get noticed by employers and ensure that they can quickly see the benefit of hiring you.
Now, lets walk through a step-by-step guide on how to write your own winning resume.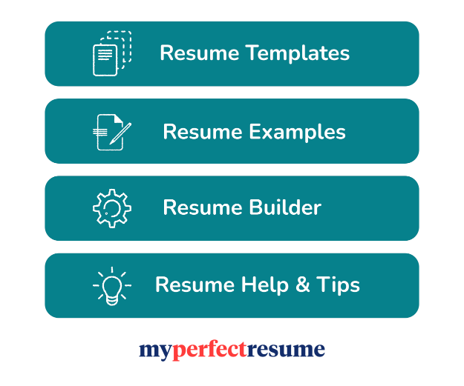 Graphic Design Project Manager resume layout and formatting
When it comes to holding the attention of recruiting managers, the format and layout of your resume play a key role.
Your resume needs to strike a perfect balance between looking awesome, and being easy for recruiters to read (which is not always easy to achieve)
Use the following formatting tips to get started.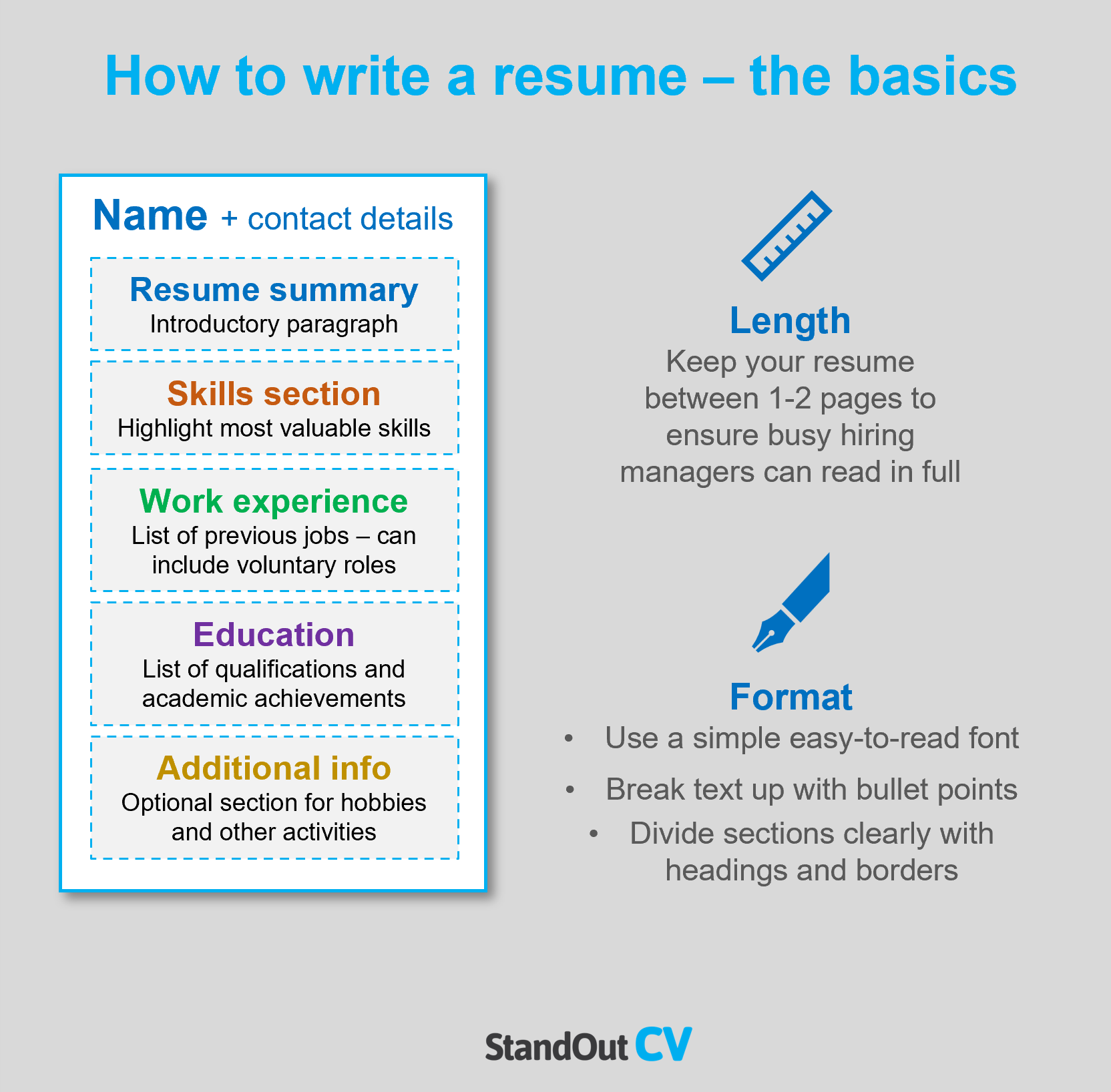 Formatting your resume
Length: To ensure that your resume gets proper attention from recruiters, it is best to keep it at 2 pages or less. Recruiters are often inundated with hundreds of resumes to review on a daily basis, so they want to read each one quickly as possible.
Font & readability: The key to a good resume is readability. To make your resume easy to read, use a clear and uncomplicated font, and break up the text with bullet points and short paragraphs.
Layout & Structure: Go with a resume design that looks good, but also allows for easy reading and navigation for employers. Ensure the page is clearly split up into sections by adding large font headings and dividing borders. Keep the color scheme simple and don't overcrowd the page.
Photos: You don't have to add a photo to your resume in the States, but some regions and industries like to see them.
Quick tip: Achieving a professional look for your resume can be difficult and time-consuming. If you want to create an attractive resume quickly, try our partner's Resume Builder and use one of their eye-catching resume templates.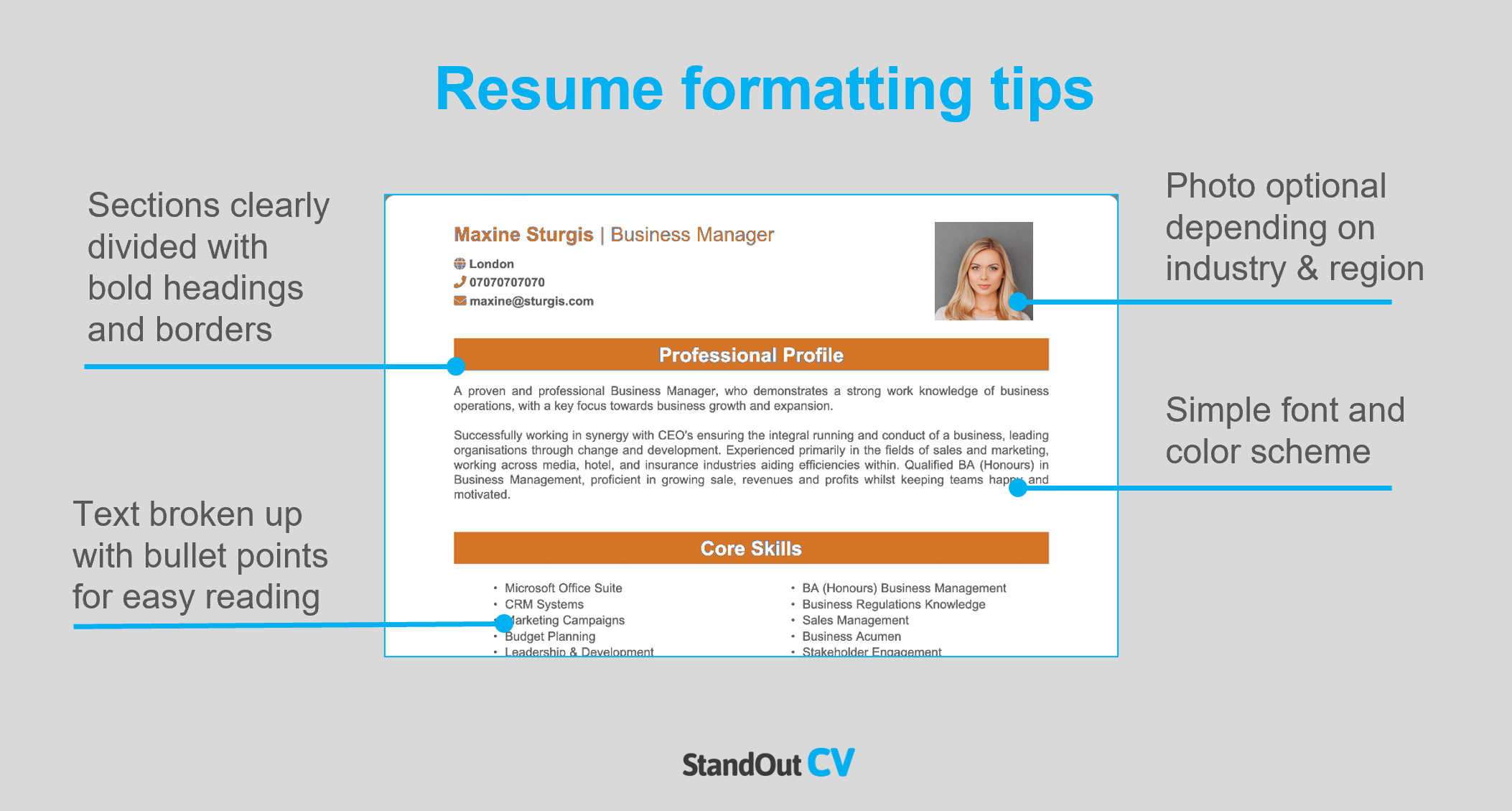 Resume layout
When writing your resume, you should always include the following sections:
Name and Contact Details – Place this information at the top of your resume to make it easy for employers to contact you.
Resume Summary – Write a brief introductory paragraph at the top of your resume summarizing why you are the best candidate for the job.
Skills Section – Create a concise list of your most important skills that can be quickly skimmed over by potential employers.
Work Experience – List your previous jobs in reverse chronological order, including volunteer work and college placements if you have no paid experience.
Education – List your educational qualifications and any professional training you have received.
Additional Information – This is an optional section for including details about hobbies, interests, or any other relevant information that may help distinguish you from other candidates.
Here's what to include in each part of your resume.
Contact Details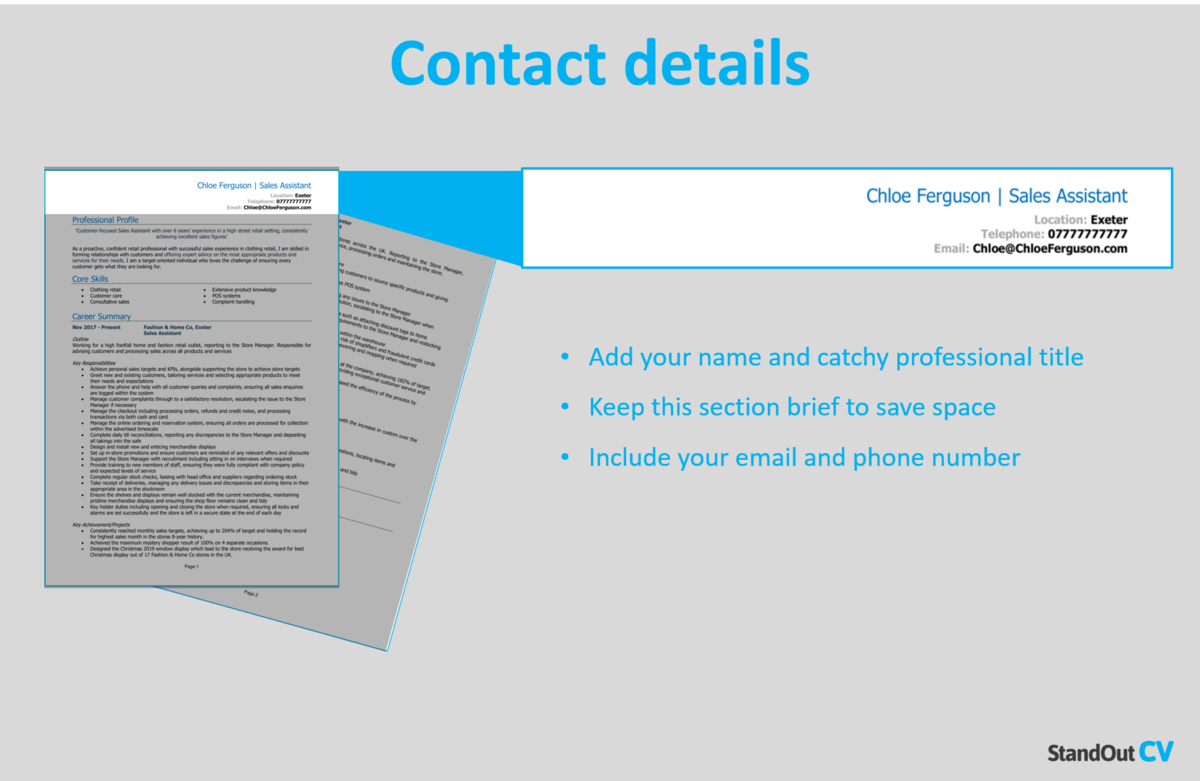 Add your name and contact details to the header of your resume, so that anybody reading can easily see how to contact you.
Name and profession title
Cell phone number – or any number you are easily reachable on
Location – Add your local area such as Washington or San Diego – not your full address as that will take up too much space.
Email address – Use a professional looking address.
You can add a link to your LinkedIn profile if you have one – you do not need to include personal details like date of birth or religion.
Graphic Design Project Manager Resume Summary
Now it's time to get into the real content of your resume, starting with the summary.
Your resume summary is a short paragraph at the top of the document, and its jobs is to catch the eye of hiring managers by summarizing all your skills and knowledge that are most important to the roles you are applying for.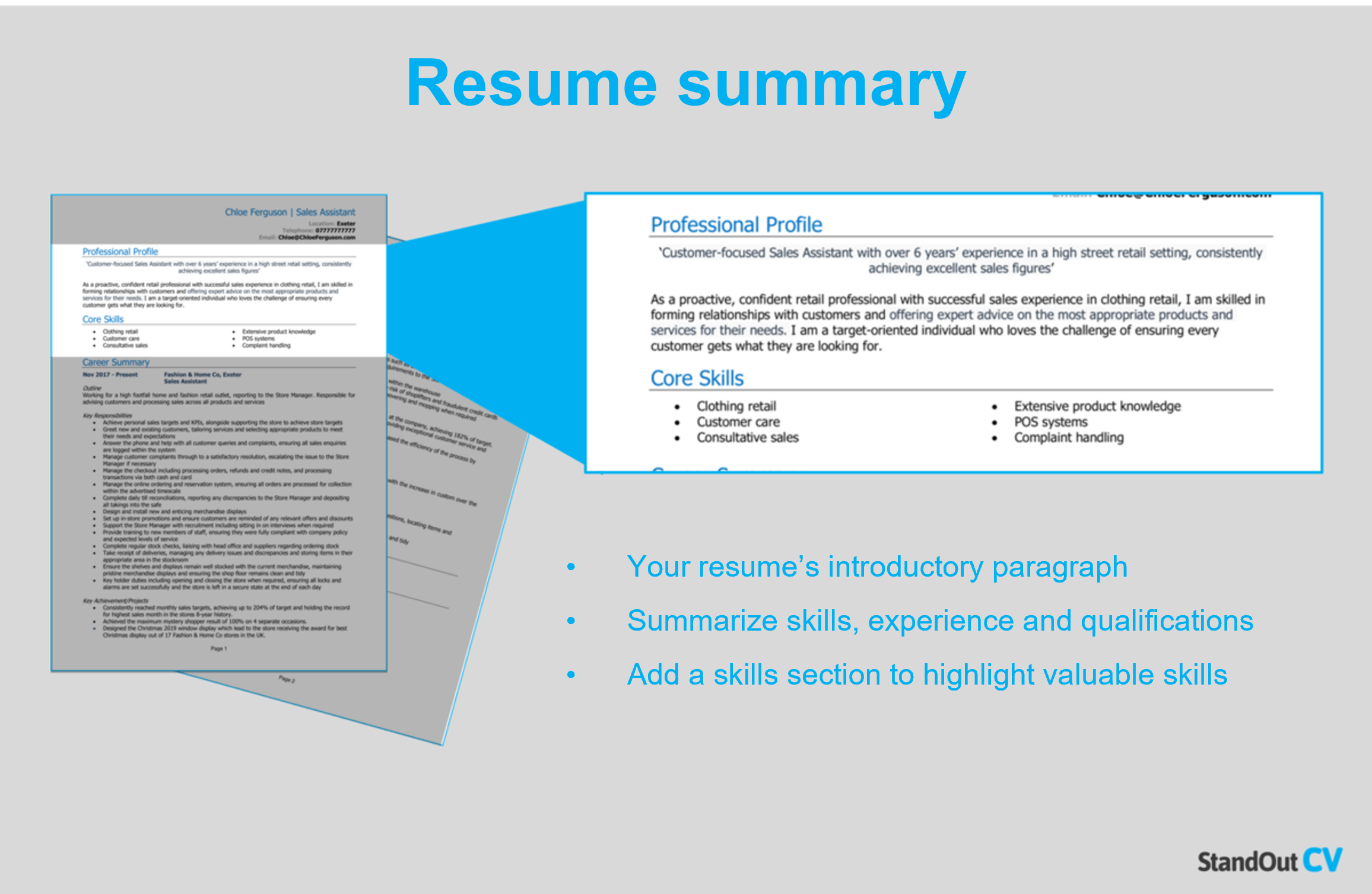 How to create a resume summary that will excite recruiters:
Keep it short: To capture a recruiter's attention and keep them interested in your resume, limit your summary to 4-7 lines as you only have a few seconds to make an impression
Tailor to target jobs: By carefully reviewing the job description and incorporating as many relevant skills as possible, you can customize your resume to better match your target jobs.
Avoid using cliches: You may be a "team player who always give 110%" but generic phrases don't tell employers much about you in reality – stick to factual information.
Graphic Design Project Manager resume summary example
Dedicated Graphic Design Project Manager with 10+ years of success in attracting target audiences by working alongside some of the world's most iconic brands to create digital experiences that shape visual aspects of websites, books, magazines, product packaging, and exhibitions. Passionate about ensuring designs promotes the vision of clients through high-quality content. Adept at equipping personnel with necessary skills/knowledge to expedite project completion. 
What to include in your Graphic Design Project Manager resume summary?
Summary of your experience: Summarize the type of work you have done in the past and the ways in which you have contributed to the success of your previous employers.
Relevant skills: Instantly showcase your suitability for Graphic Design Project Manager jobs by including your skills that are highly relevant to them.
Qualifications: If your job requires any qualifications such as a professional course or a college degree, mention it briefly in your summary.
Quick tip: Choose from hundreds of pre-written summaries across all industries, and add one to your resume with one-click in our partner's Resume Builder. All written by recruitment experts and easily tailored to suit your unique skillset and style.
Core skills section
Your core skills section, positioned just below your resume summary, provides recruiters with a quick glance at 4-10 of your most in-demand skills.
For Graphic Design Project Manager jobs, where hiring managers may receive hundreds of applications, this section can help you stand out and immediately grab their attention.
To be effective, this section should consist of 2-3 columns of bullet points that highlight attributes that are highly relevant to the jobs you are targeting.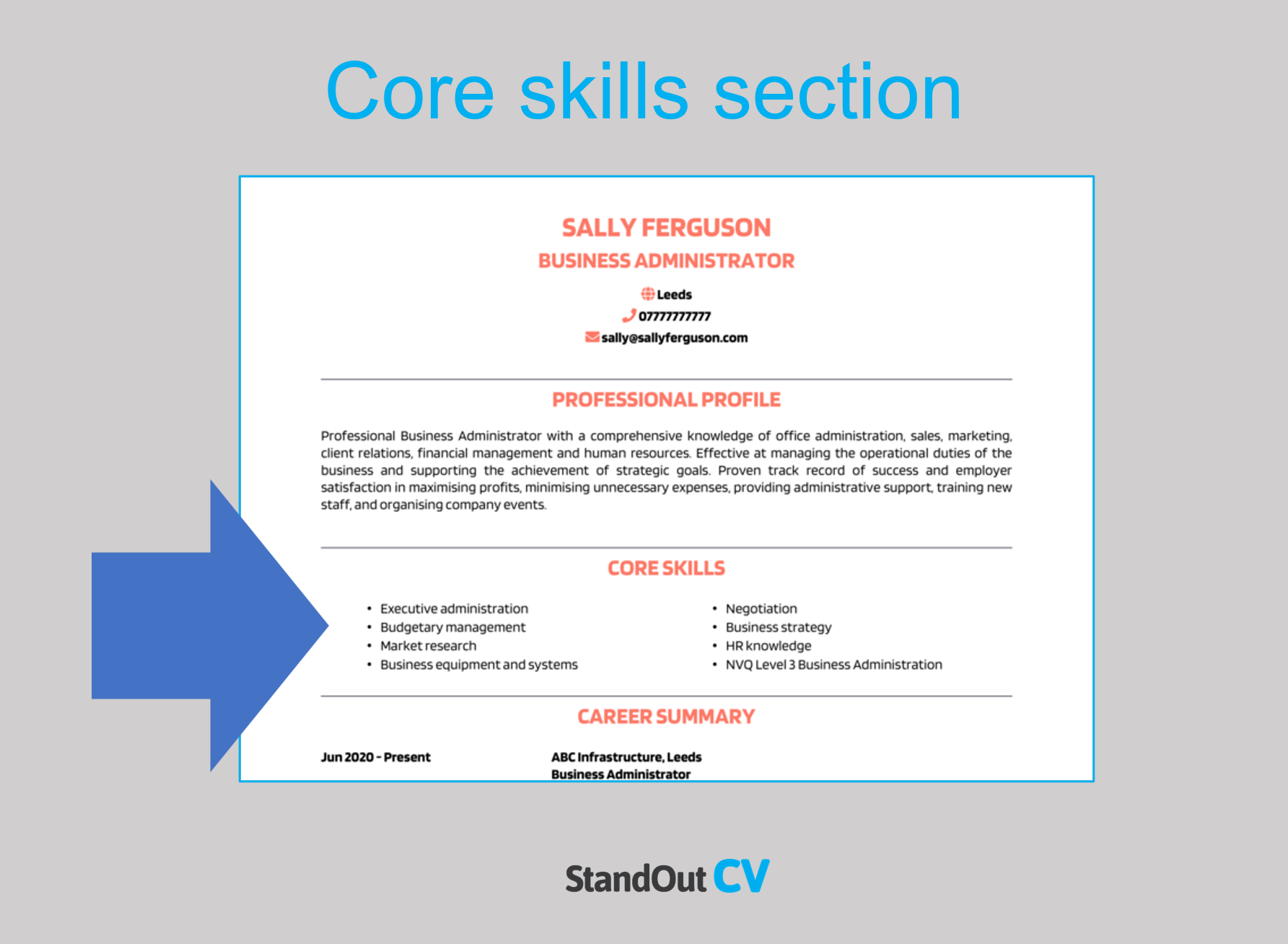 Best skills for your Graphic Design Project Manager resume
Project management – Managing graphic design projects, including setting timelines, budgets, and resources, to ensure that projects are completed on time and within budget.
Creative direction – Providing creative direction and feedback to design teams, including setting design goals and providing feedback on design concepts, to ensure that designs meet project objectives.
Design software proficiency – Utilizing various design software tools, including Adobe Creative Suite, to create and edit graphics, layouts, and other design elements.
Design principles – Utilizing knowledge of design principles, including typography, color theory, and layout, to create visually appealing and effective designs.
Branding and identity – Utilizing knowledge of branding and identity principles, including logo design and brand style guides, to create consistent and recognizable brand identities.
Quality assurance – Utilizing knowledge of quality assurance principles, including proofreading and design testing, to ensure that designs are error-free and meet project specifications.
Team management – Managing design teams, including assigning tasks, providing feedback, and conducting performance evaluations, to ensure that teams meet project objectives.
Print and digital production – Utilizing knowledge of print and digital production processes, including file preparation and output, to ensure that designs are optimized for various mediums.
Budget management – Utilizing knowledge of budget management principles, including tracking expenses and preparing financial reports, to manage design project budgets and ensure compliance with project requirements.
Quick tip: Our partner's Resume Builder contains thousands of in-demand skills for every profession that can be added to your resume in seconds – saving you time and greatly improving your chances of landing job interviews and getting hired.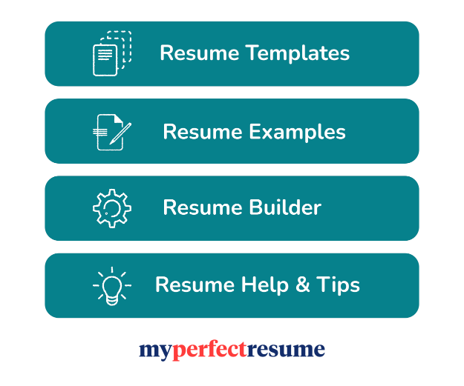 Work experience
So, you've got the recruiter interested with your catchy summary… Great work.
Now it's time to show them the impact you make in the workplace by listing out your previous jobs and what you achieved in each one.
If you have tons of experience, you can condense this part down to the last few years – if you are junior, then you should include as much possible (even volunteering and school work placements)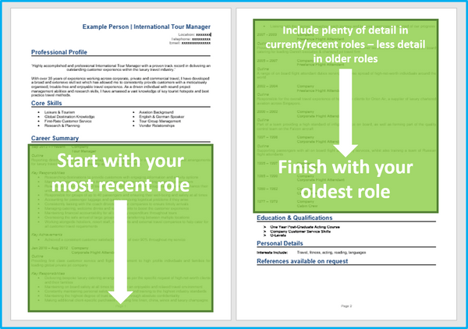 Structuring your jobs
Your job description probably includes tons of information, so it's vital to organize it well when writing about it on your resume.
Structure your jobs as like the example below to make skim-reading easy for recruiters and hiring managers.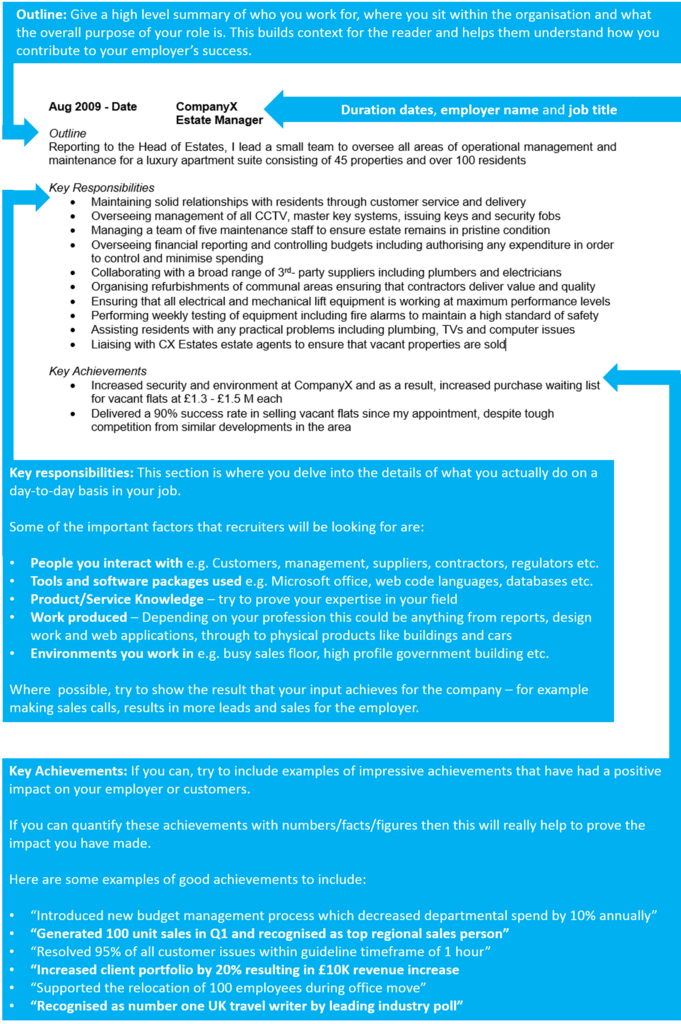 Job outline
Start with a 1-2 sentence outline of the role, summarizing what the goal of your position was, who you reported to (or managed) and the type of organization you worked for.
Key responsibilities
Then delve into the detail of your job by listing out easy-to-read bullet points which show how you apply your skills in the workplace.
Tailor these bullet points to focus on the skills and knowledge that are required in the jobs you are applying for.
Key achievements
Finish each role by highlighting some impressive achievements you made whilst in the role.
Anything that benefited the employer can be included from making financial savings, to winning new customers.
Quantify your achievements with facts and figures if you can, e.g. "reduced call wait time by 10%"
Example job for Graphic Design Project Manager resume
Outline
Liaise with stakeholders to understand and deliver on graphic design project/photography strategies and requirements, for an agency that is committed to discovering the best ideas for client brand web, digital, and packaging design.
Key Responsibilities
Serve as the primary point of contact for all project stakeholders, providing clear and timely communication on project status, risks, and changes.
Develop a deep understanding of the project requirements, objectives, and deliverables, using this knowledge to drive project planning and execution.
Create detailed project plans, workflow schedules, and timelines to ensure efficient and successful delivery of all project elements.
Proactively identify and manage risks and issues throughout the project life cycle, escalating as necessary to ensure timely resolution.
Quick tip: Create impressive job descriptions easily in our partner's Resume Builder by adding pre-written job phrases for every industry and career stage.

Education section
Nearing the end of your resume, your education/qualifications section should be added.
In a well-structured list, add all of your qualifications and certifications that qualify you to perform a typical Graphic Design Project Manager role.
If you have plenty of work experience, keep this section brief – if not, add lots of detail to make up for your lack of experience.
Additional information
If you have anything else to add which is relevant to the jobs you are applying for, the additional info section is the place to add it.
Perhaps you have a hobby which involves relevant skills, or maybe you have some awards or publications worth mentioning.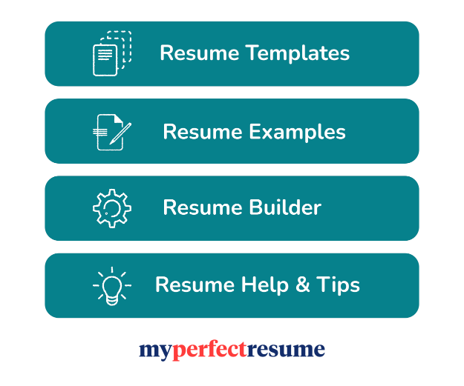 Writing your own winning Graphic Design Project Manager resume
Writing a Graphic Design Project Manager resume can be challenging but following the steps above will ensure that you land plenty of interviews.
Good luck with your job search!