When you were younger it may have felt like a childhood dream, but now you're really applying to be a full-time gamer and it feels so good.
But in order to secure the role, particularly in this very competitive industry, you need a winning resume that's going to grab the recruiter's attention.
To help you create this, we've put together a detailed guide, along with a gamer resume example to influence your own.
Contents
| | |
| --- | --- |
| How to write your Gamer resume | |

Gamer Resume Example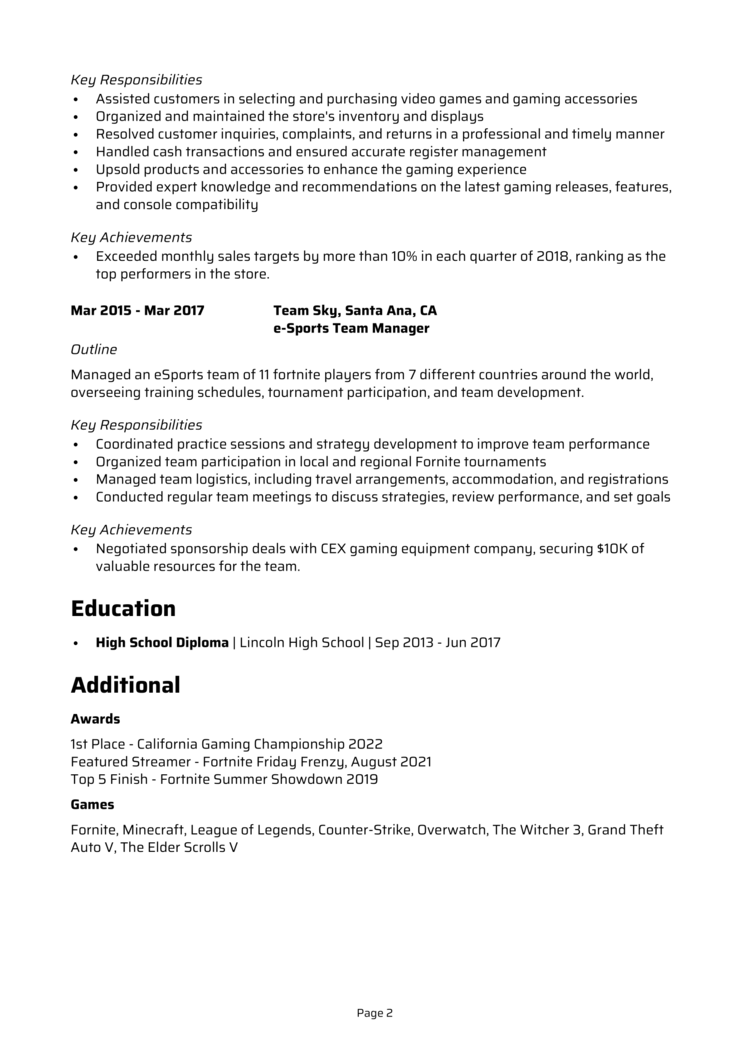 This example Gamer resume is well-structured to provide a pleasant reading experience for recruiters, and contains all of the crucial information they want to see.
The rest of the guide will show you exactly how you can achieve this in your own resume.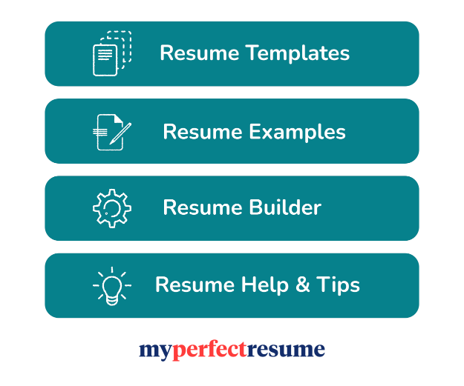 Gamer resume layout and format
Formatting is often overlooked when writing resume, but it's a crucial element of it"s success.
Creating a document that not only looks good, but is easily comprehended, is the key to gaining and holding the attention of busy hiring managers.
Use these formatting tips for best results.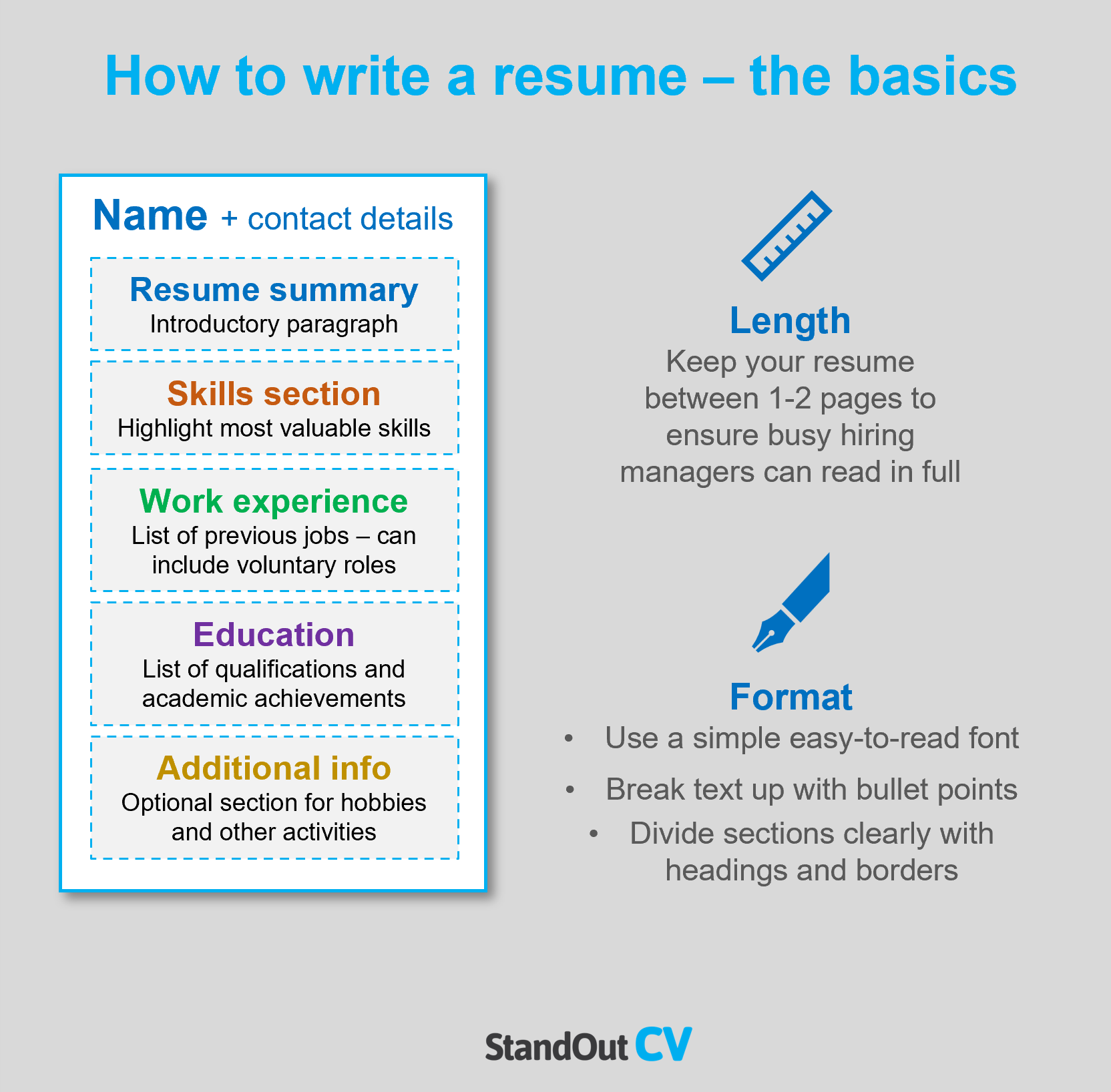 Formatting your resume
Length: Given that recruiters have to sift through tons of resumes daily, it's recommended to keep your resume brief (no more than 2 pages) to make sure it receives their full attention.
Font & readability: Nobody likes to read huge unbroken paragraphs of text – and recruiters are no different. Break your resume text up with bullet points and use a clear simple font.
Layout: When it comes to designing your resume, it's essential to make it visually appealing, but it's equally important not to overlook functionality. To achieve this, you should organize the page into clear sections using bold headings and borders.
Photos: While a photo is not usually necessary on your resume in the United States, it may be beneficial to include one in regions and industries where it is customary.
Quick tip: Achieving a professional look for your resume can be difficult and time-consuming. If you want to create an attractive resume quickly, try our partner's Resume Builder and use one of their eye-catching resume templates.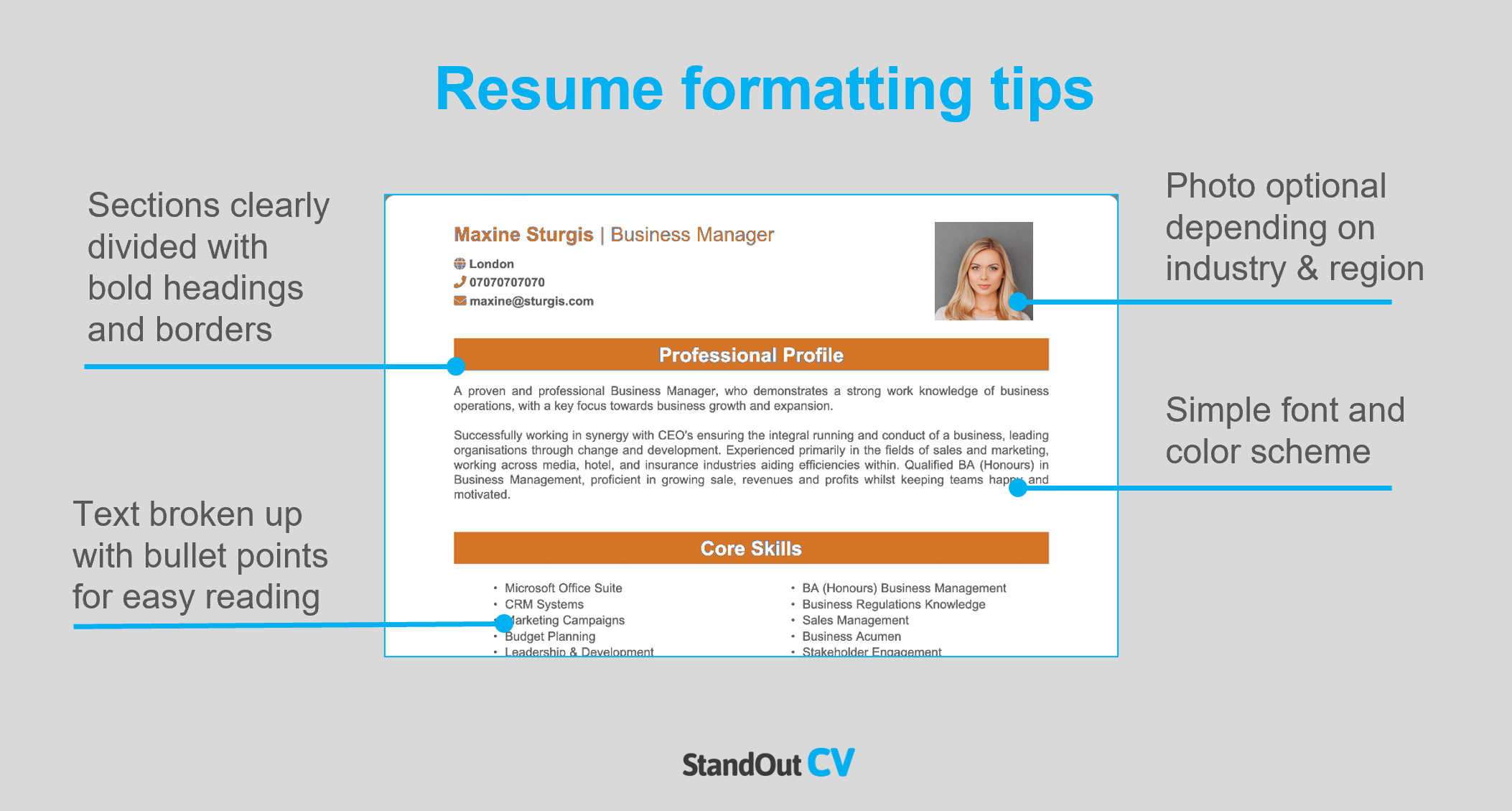 Resume layout
Organize the document into these sections when you write your resume.
Name and contact details – Employers need to know how to get in touch with you – so list your email and cell phone number here.
Resume summary – An intro paragraph at the top of the resume which summarizes your suitability for target jobs.
Skills section – A bullet-pointed list of your most relevant skills and knowledge.
Work experience – A list of your previous jobs (or at least the most relevant and recent ones)
Education – Add academic and professional qualifications that prove you can carry out the job
Additional info – If they are relevant to the jobs you are applying for, you can add an extra section for things like hobbies and interests.
Here's what to add to each section of your Gamer resume.
Contact Details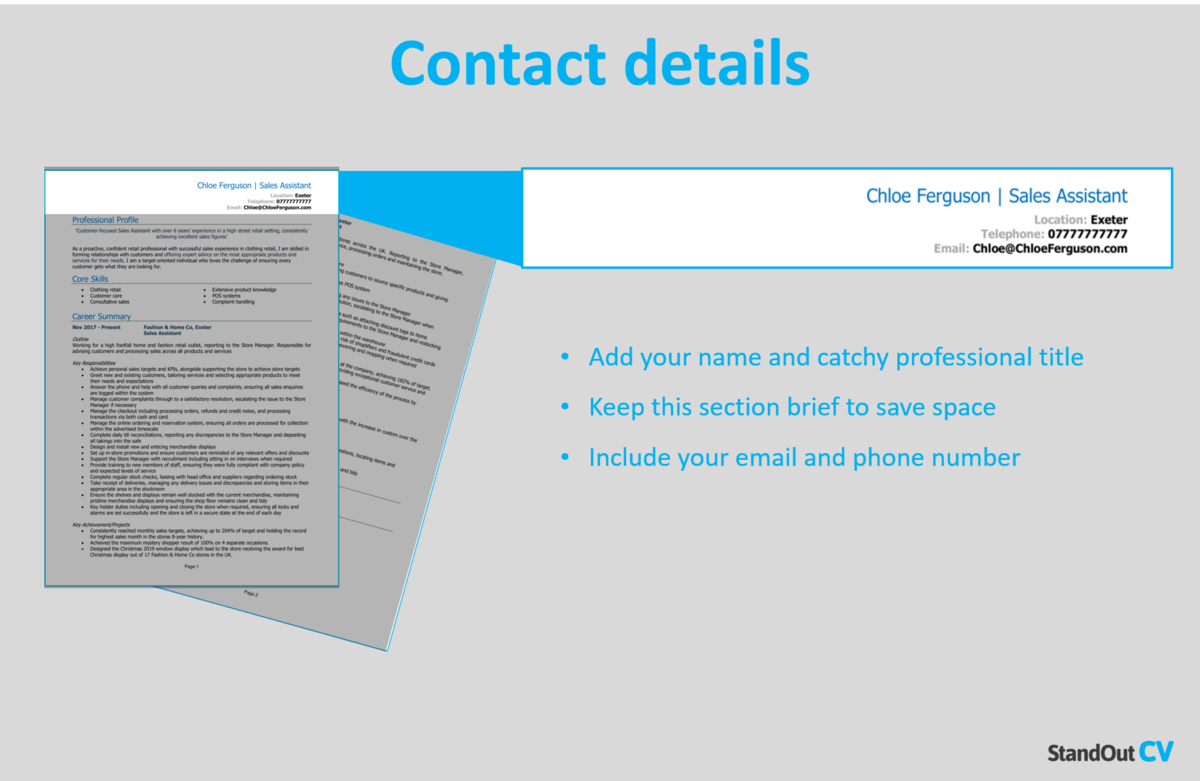 Add your name and contact details to the very top of your resume, making it easy for recruiters to get in touch
Name and profession title
Cell phone number – or another number you can answer quickly
Location – Add your local area such as San Diego or New York – not your full address as that will take up too much space.
Email address – Use your name or close variation – no nicknames from high school.
You can add a link to your LinkedIn profile if you have one – you do not need to include personal details like date of birth or marital status.
Gamer Resume Summary
The resume summary is a short paragraph at the top of your resume, and it's purpose is to grab recruiter's attention and make sure they keep reading it.
To make your summary work, ensure that you provide a high-level summary of your skills and experience – and tailor it to reflect the requirements of the jobs you are applying for.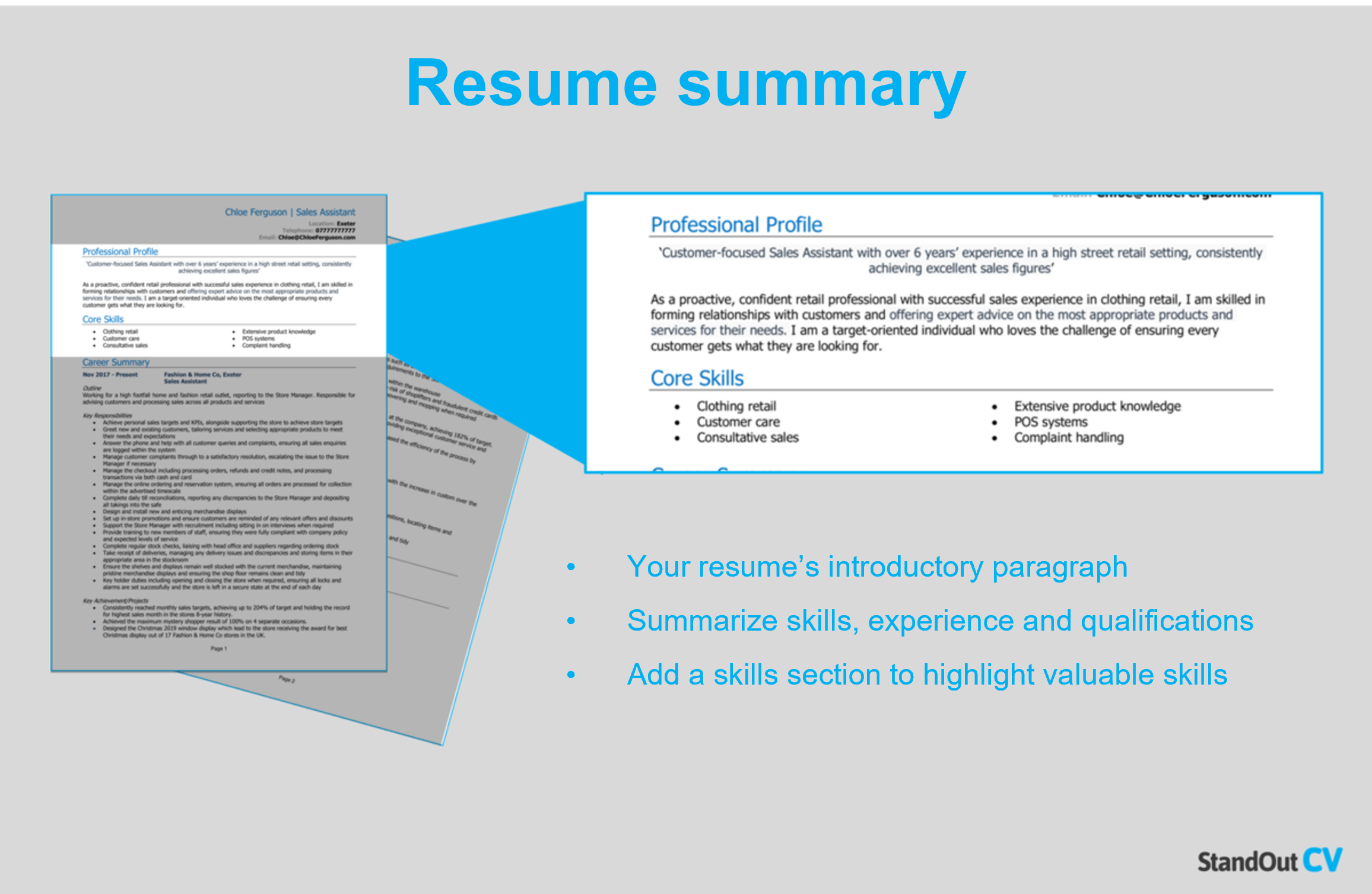 How to create a resume summary that will excite recruiters:
Keep it short: A concise and focused resume summary is essential for capturing a recruiter's attention and keeping them engaged. Limiting your summary to 4-7 lines ensures that you make a strong impression in the first few seconds of them opening the document.
Tailor to target jobs: To tailor your resume to your target jobs, it's essential to closely analyze the job description and include as many relevant skills as possible.
Avoid using cliches: Recruiters look for facts in resumes, such as hard skills and qualifications – so, leave out the meaningless cliches like "hard worker who works well in a team and individually"
Gamer resume summary example
Passionate and skilled Fortnite Gamer with a proven track record of success in competitive gaming and content creation. Demonstrated expertise in strategy development and live streaming to engage and entertain a wide audience with over 100,000 Twitch followers. Committed to continuous improvement and staying up to date with the latest trends and strategies in the gaming industry.
What to include in your Gamer resume summary?
Summary of your experience: Provide a summary of the kind of work you have previously done, along with the benefits you have delivered to the organizations you worked with.
Relevant skills: Include your skills which are hyper relevant to Gamer jobs to instantly show your suitability.
Qualifications: Showcase your level of education with a quick mention of any qualifications that are essential for the Gamer roles you are applying to.
Quick tip: Choose from hundreds of pre-written summaries across all industries, and add one to your resume with one-click in our partner's Resume Builder. All written by recruitment experts and easily tailored to suit your unique skillset and style.
Core skills section
In addition to your resume summary, your core skills section provides an easily digestible snapshot of your skills – perfect for grabbing the attention of busy hiring managers.
As Gamer jobs might receive a huge pile of applications, this is a great way to stand out and show off your suitability for the role.
It should be made up of 2-3 columns of bullet points and be made up of skills that are highly relevant to the jobs you are targeting.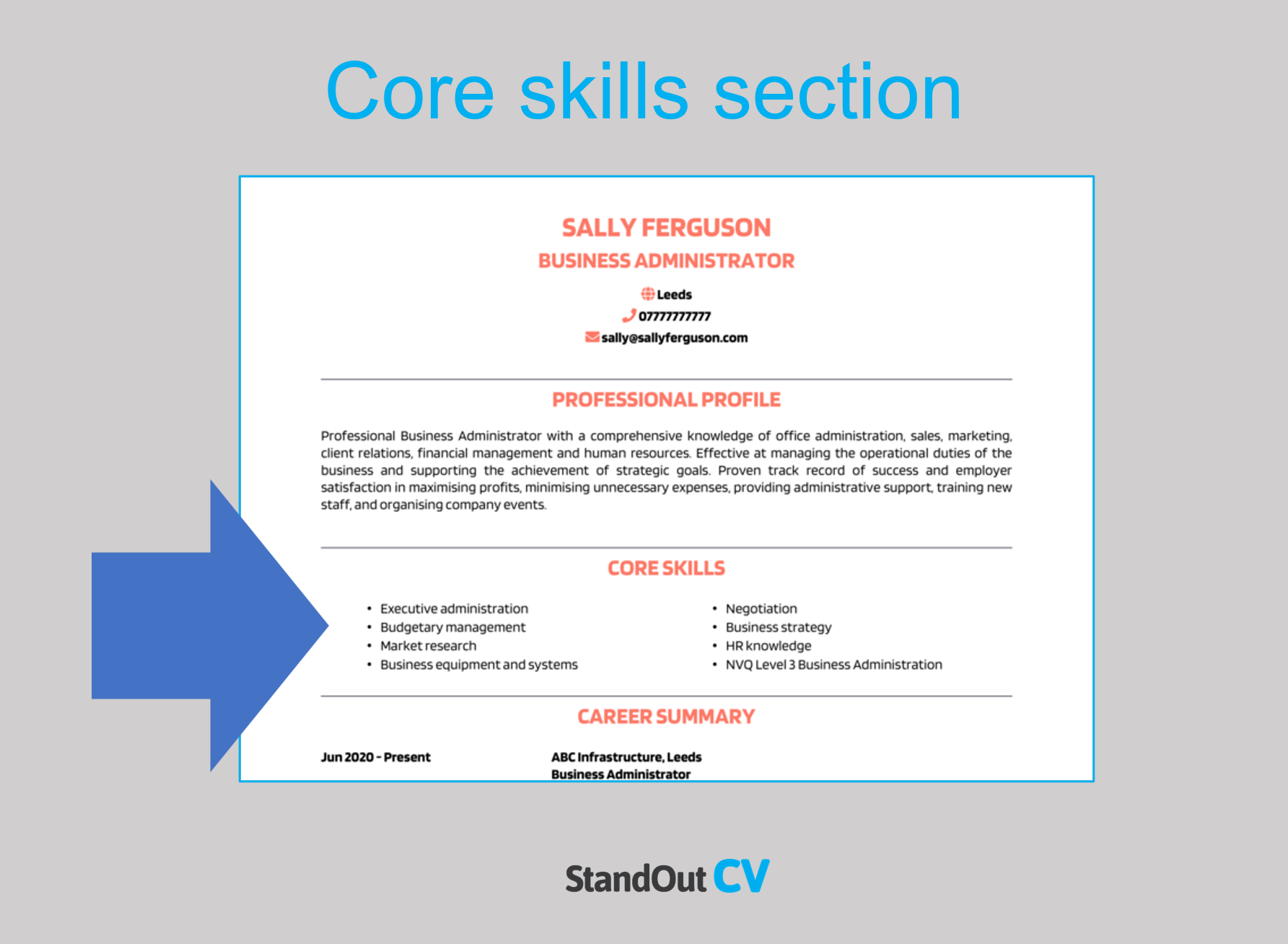 Best skills for your Gamer resume
Hand-Eye Coordination – Maintaining precise coordination between hands and eyes for quick and accurate reactions.
Reaction Time – Reacting swiftly to in-game events and making split-second decisions.
Strategic Thinking – Developing and executing strategies to outsmart opponents and achieve objectives.
Problem Resolution – Utilizing creative problem solving to overcome complex challenges.
Adaptability – Adapting to different game mechanics, genres, and challenges.
Teamwork – Coordinating actions with teammates to achieve shared goals.
Communication – Maintaining clear communication with teammates to coordinate strategies and execute plays effectively.
Resource Management – Managing in-game resources, such as currency or inventory items, efficiently.
Hand Speed – Utilizing quick and precise finger movements to execute complex combinations of inputs.
Analysis – Analyzing game mechanics, opponents' behavior, and the environment to gain a competitive edge.
Quick tip: Our partner's Resume Builder contains thousands of in-demand skills for every profession that can be added to your resume in seconds – saving you time and greatly improving your chances of landing job interviews and getting hired.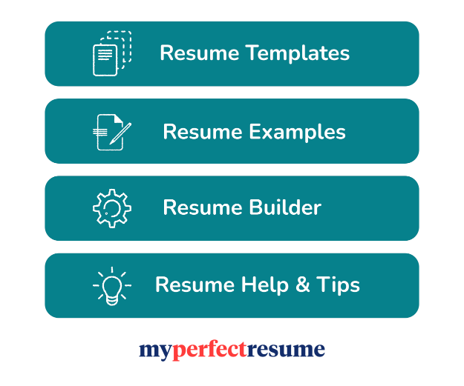 Work experience
So, you've got the recruiter interested with your catchy summary… Great work.
Now it's time to show them the impact you make in the workplace by listing out your previous jobs and what you achieved in each one.
If you have tons of experience, you can condense this part down to the last few years – if you are junior, then you should include as much possible (even volunteering and school work placements)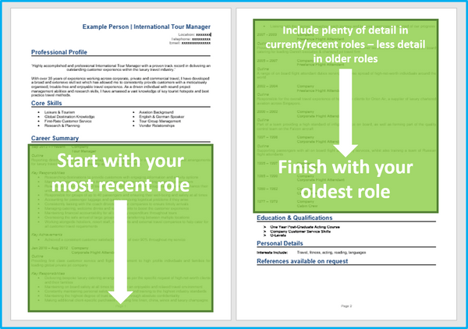 Structuring your jobs
Resume job descriptions contain lots of information, so its crucial to structure them well.
Use the structure below to ensure hiring managers can consume the information easily.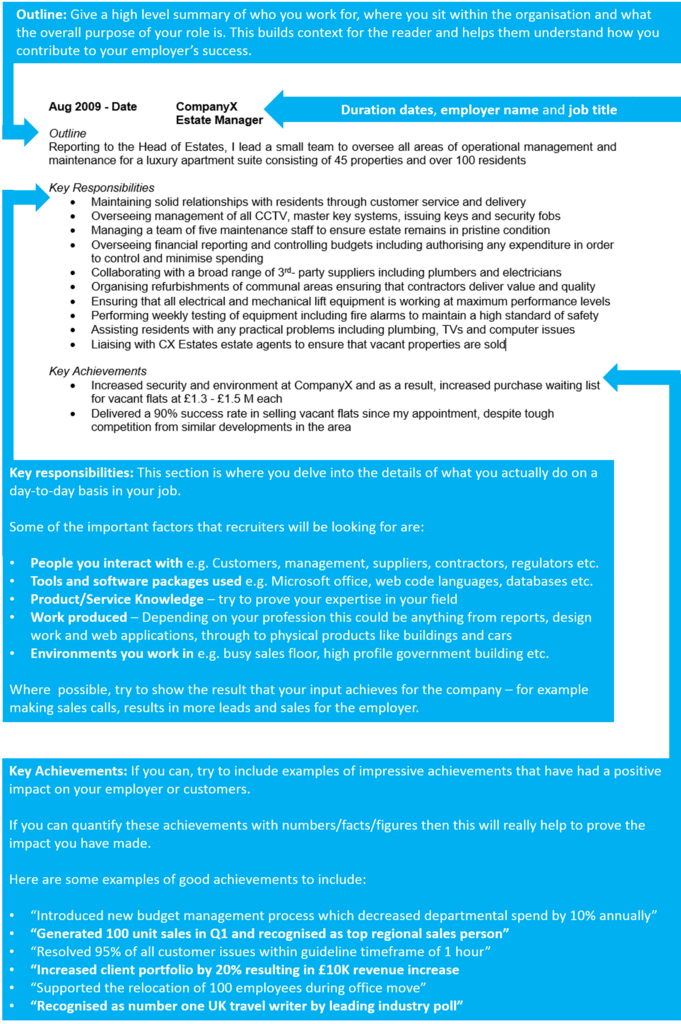 Job outline
To provide context to your jobs, begin each job with a concise summary of the organization, your role within it, and the main objectives of your position.
Key responsibilities
The bulk of the role description should be comprised of bullet points that explain all of your duties in the job.
Keep the sentences short and simple to make them easy for recruiters to digest.
Key achievements
Finish each role by highlighting some impressive achievements you made whilst in the role.
Anything that benefited the employer can be included from making financial savings, to winning new customers.
Quantify your achievements with facts and figures if you can, e.g. "reduced call wait time by 10%"
Example job for Gamer resume
Outline
Engage in professional Fortnite gaming and content creation, participating in international games and tournaments and showcasing high-level gameplay and insightful commentary.
Key Responsibilities
Showcase expert gameplay and provide commentary during live streams on Twitch, entertaining and engaging viewers
Create and edit high-quality gaming videos for YouTube, highlighting impressive moments, tips and tricks, and analysis
Manage social media accounts to engage with followers, answer questions, and promote upcoming streams and events
Participate in Fortnite tournaments and events, showcasing skills, and striving for top rankings
Quick tip: Create impressive job descriptions easily in our partner's Resume Builder by adding pre-written job phrases for every industry and career stage.

Education section
After your work experience, add your education section.
If you are an experienced professional, you can keep this part short – adding basic details of each qualification.
If you have little or no experience, bulk this section up by adding more detail and highlight important skills and knowledge for your target jobs.
Additional information
The additional info section is optional but can be useful if you have anything else to add that could benefit your application.
For example, you may have some hobbies and interests that are relevant to your job – or you might have awards or publications to shout about.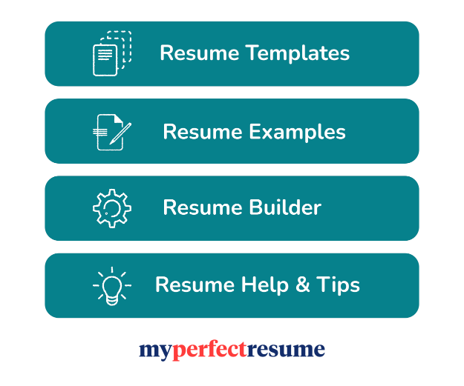 Writing your own winning Gamer resume
By tailoring your resume to the specific job and industry you are targeting and ensuring that it effectively communicates your professional value, you can position yourself as a top candidate for all Gamer positions.
Good luck with your job search!