Can you be there to support people during the hardest moments of their lives and to give their loved ones a perfect send-off?
A role as a funeral director is a very important one; therefore, recruiters need to see that you can do the job effectively.
To prove this, you need a standout resume. Learn how to write an impressive application with our advice in the guide below, complete with a funeral director resume example.
Contents
| | |
| --- | --- |
| How to write a Funeral Director resume | |

Funeral Director Resume Example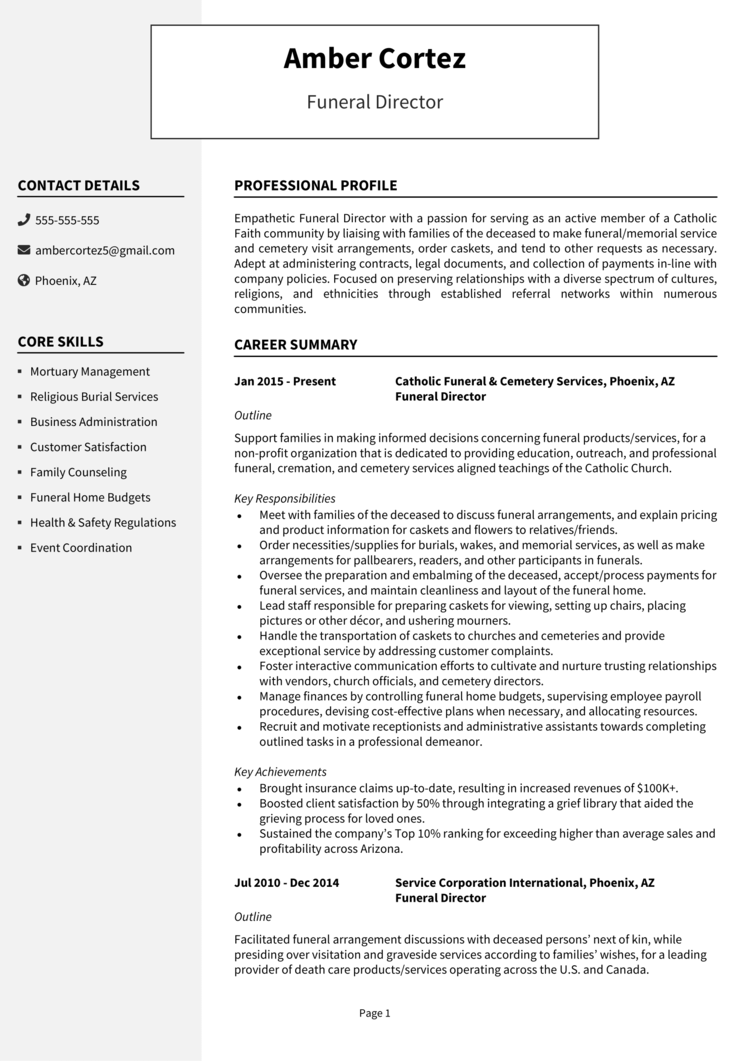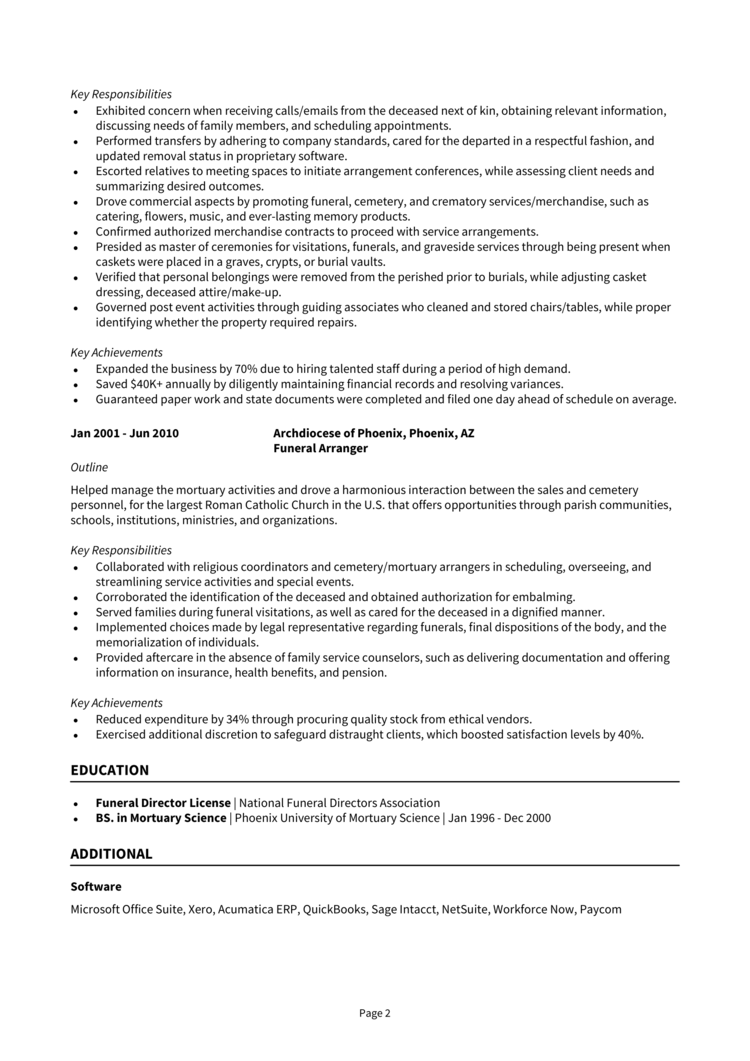 The example Funeral Director resume above shows you how a professional resume should look, along with the type of content it should contain.
You can see that the information is well-organized across the page and its easy for busy recruiters to see the candidate's important skills.
Keep this in mind when writing your own resume.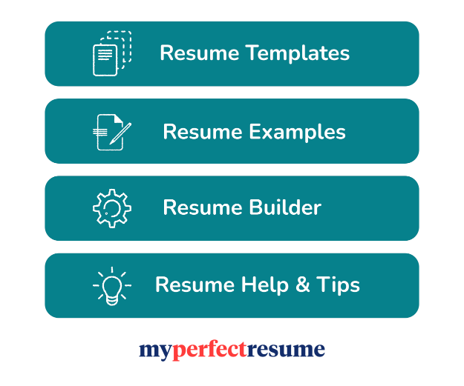 Funeral Director resume layout and formatting
When it comes to holding the attention of recruiting managers, the format and layout of your resume play a key role.
Your resume needs to strike a perfect balance between looking awesome, and being easy for recruiters to read (which is not always easy to achieve)
Use the following formatting tips to get started.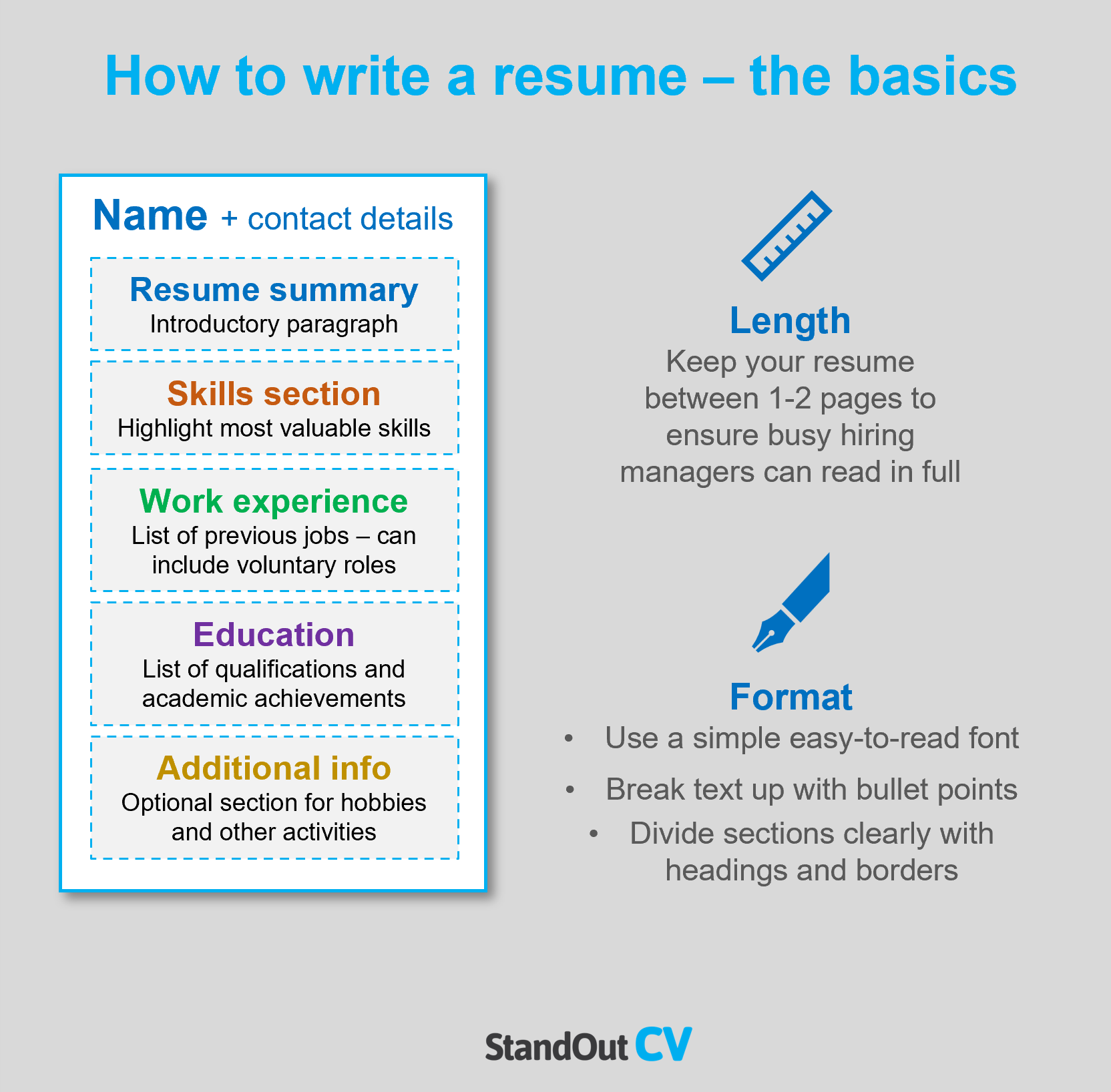 Formatting your resume
Length: Recruiters often see hundreds of resumes per day – so keep yours under 2 pages in length, if you want to ensure it gets read in full.
Font & readability: The key to an effective resume is its readability, so it's best to use a clear and simple font and format it with bullet points and short paragraphs to make it easy for recruiters to read through quickly.
Layout & Structure: A visually appealing resume is important, but don't forget about functionality. To ensure a functional design, use bold headings and borders to organize the page into clear sections.
Photos: It's not mandatory to add a photo to your resume in the USA but it if you're applying to organizations within the creative fields, it can be beneficial.
Quick tip: Achieving a professional look for your resume can be difficult and time-consuming. If you want to create an attractive resume quickly, try our partner's Resume Builder and use one of their eye-catching resume templates.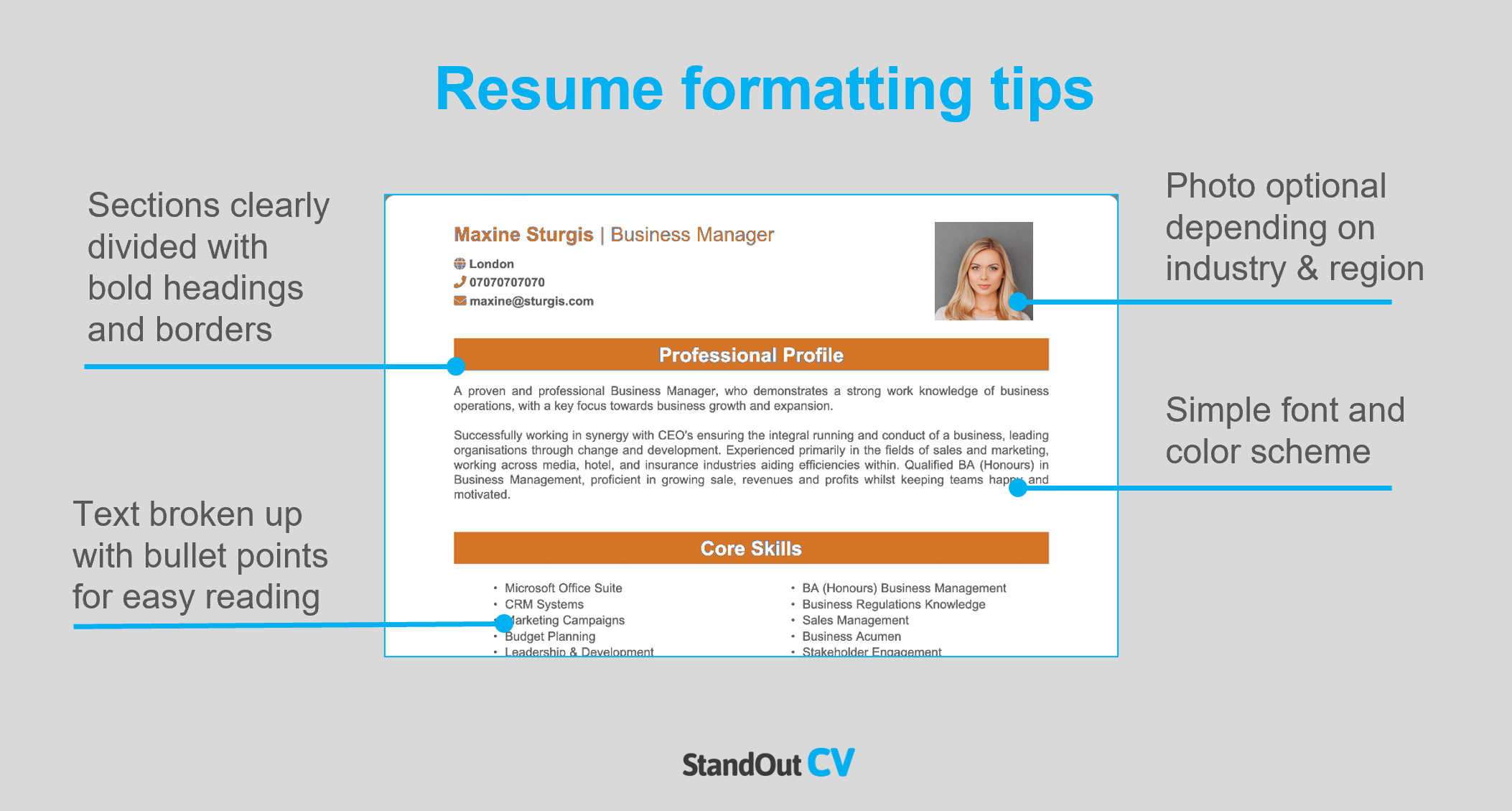 Resume layout
Divide the page into these sections when you write your own resume.
Name and contact details – Simply state who you are, and how to get in touch with you.
Resume summary – An introductory paragraph at the very top of your resume which summarizes your skills, experience and suitability for your target jobs.
Core skills section – A bullet-pointed list of your skills that relate most to your target jobs.
Work experience – A list of your current and previous jobs, including all of your responsibilities and achievements.
Education – A section that showcases all of your education and academic achievements.
Additional info (optional) – Here you can add an extra section for things like hobbies and interests, or anything else that might be relevant to your target jobs.
Here's what to include in each part of your resume.
Contact Details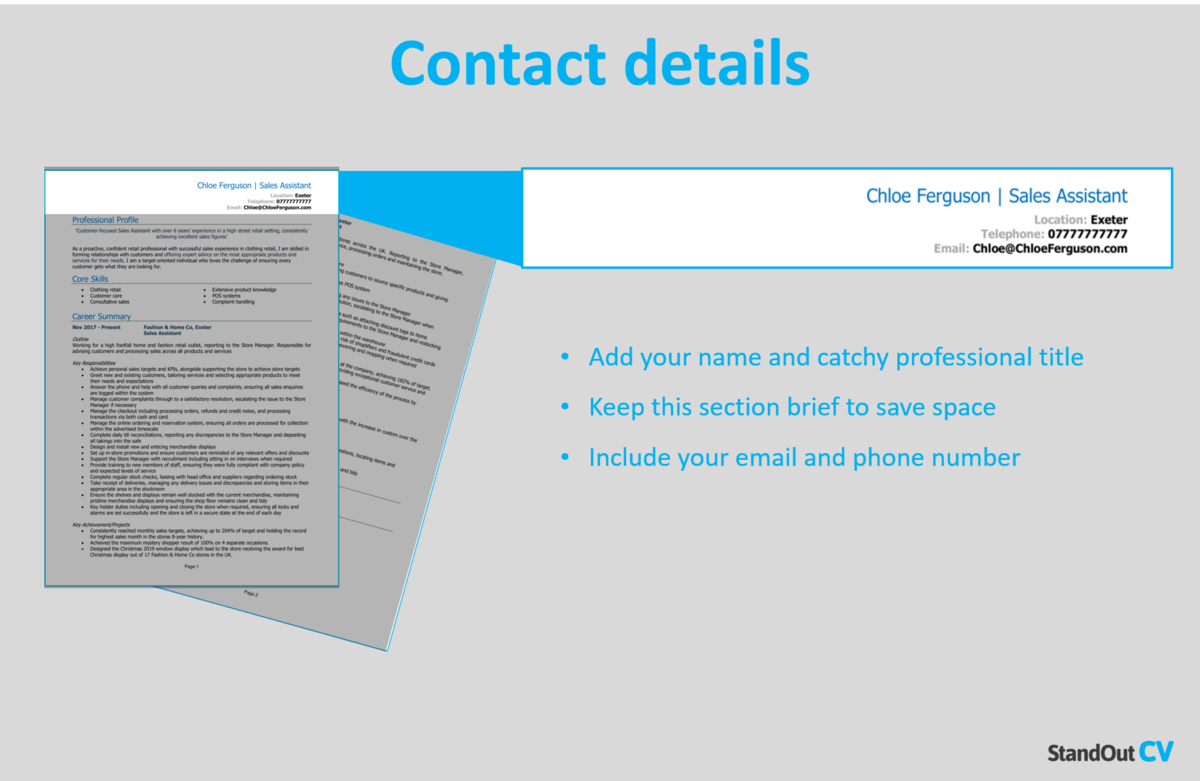 Add your name and contact details to the very top of your resume, making it easy for recruiters to get in touch
Name and profession title
Cell phone number – or another number you can answer quickly
Location – Add your local area such as San Diego or New York – not your full address as that will take up too much space.
Email address – Use your name or close variation – no nicknames from high school.
You can add a link to your LinkedIn profile if you have one – you do not need to include personal details like date of birth or marital status.
Funeral Director Resume Summary
Create a strong opening for your resume by adding a compelling summary to the top that highlights your most valuable skills and experience.
This short but important paragraph is designed convince recruiters that you're the perfect candidate for the job and entice them to read more of your resume.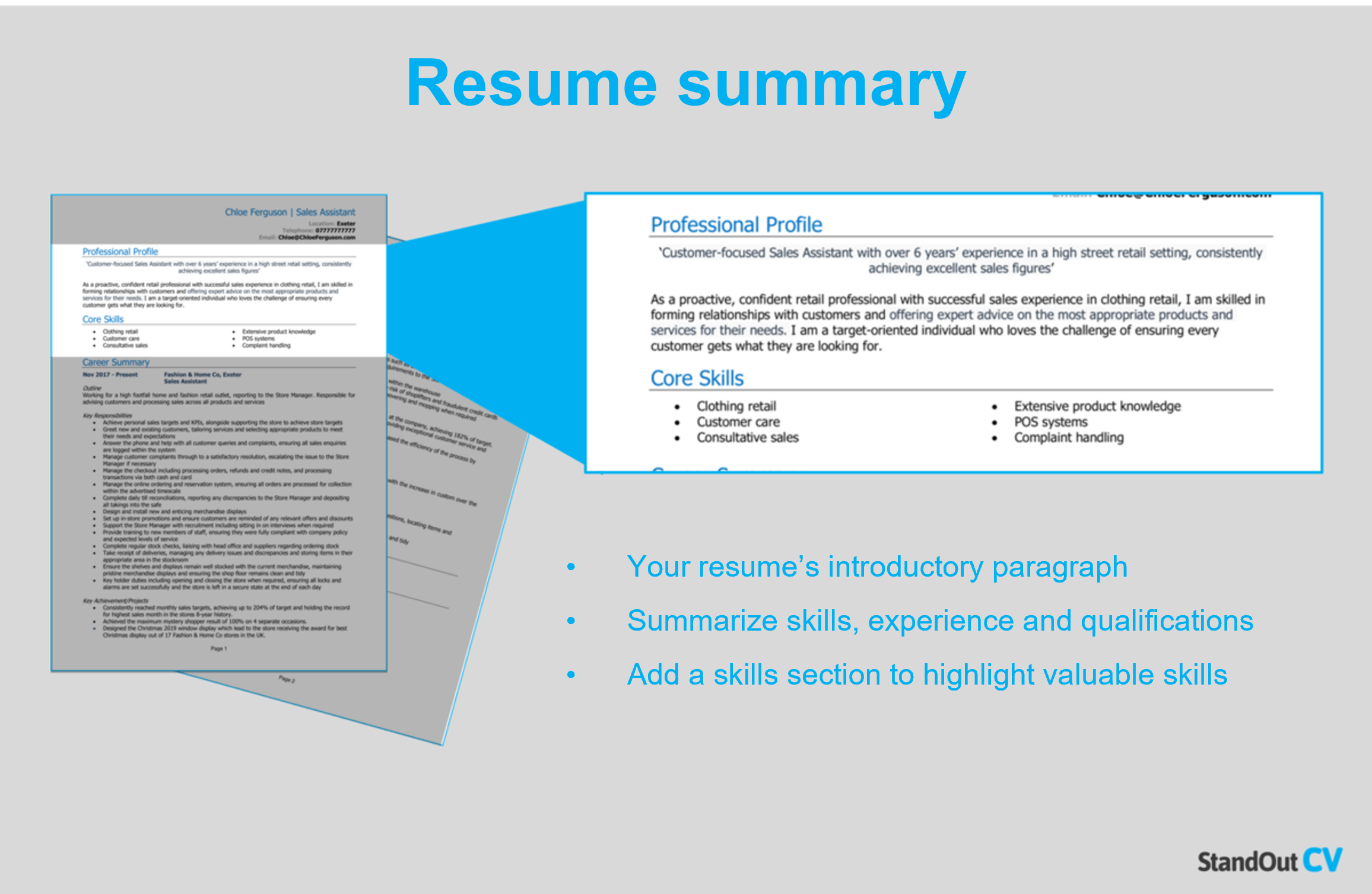 How to create a resume summary that will excite recruiters:
Keep it short: To effectively capture a recruiter's attention, it's crucial to keep your resume summary brief and to the point, limiting it to 4-7 lines as this provides enough detail without overwhelming them at this early stage.
Tailor to target jobs: To make your resume more relevant to your target jobs, analyze the job description and include as many matching skills as possible.
Avoid using cliches: You may be a "team player who always give 110%" but generic phrases don't tell employers much about you in reality – stick to factual information.
Funeral Director resume summary example
Empathetic Funeral Director with a passion for serving as an active member of a Catholic Faith community by liaising with families of the deceased to make funeral/memorial service and cemetery visit arrangements, order caskets, and tend to other requests as necessary. Adept at administering contracts, legal documents, and collection of payments in-line with company policies. Focused on preserving relationships with a diverse spectrum of cultures, religions, and ethnicities through established referral networks within numerous communities.
What to include in your Funeral Director resume summary?
Summary of your experience: Provide an overview of the type of work you have done in the past and the impact you have made at previous employers.
Relevant skills: Skills that are highly relevant to Funeral Director work should be made prominent throughout your summary.
Qualifications: To make a strong impression on potential employers when applying for Funeral Director jobs, be sure to mention any relevant qualifications in your summary.
Quick tip: Choose from hundreds of pre-written summaries across all industries, and add one to your resume with one-click in our partner's Resume Builder. All written by recruitment experts and easily tailored to suit your unique skillset and style.
Core skills section
Next, you should create a bullet pointed list of your core skills, formatted into 2-3 columns.
Here, you should focus on including the most important skills or knowledge listed in the job advertisement.
This will instantly prove that you're an ideal candidate, even if a recruiter only has time to briefly scan your resume.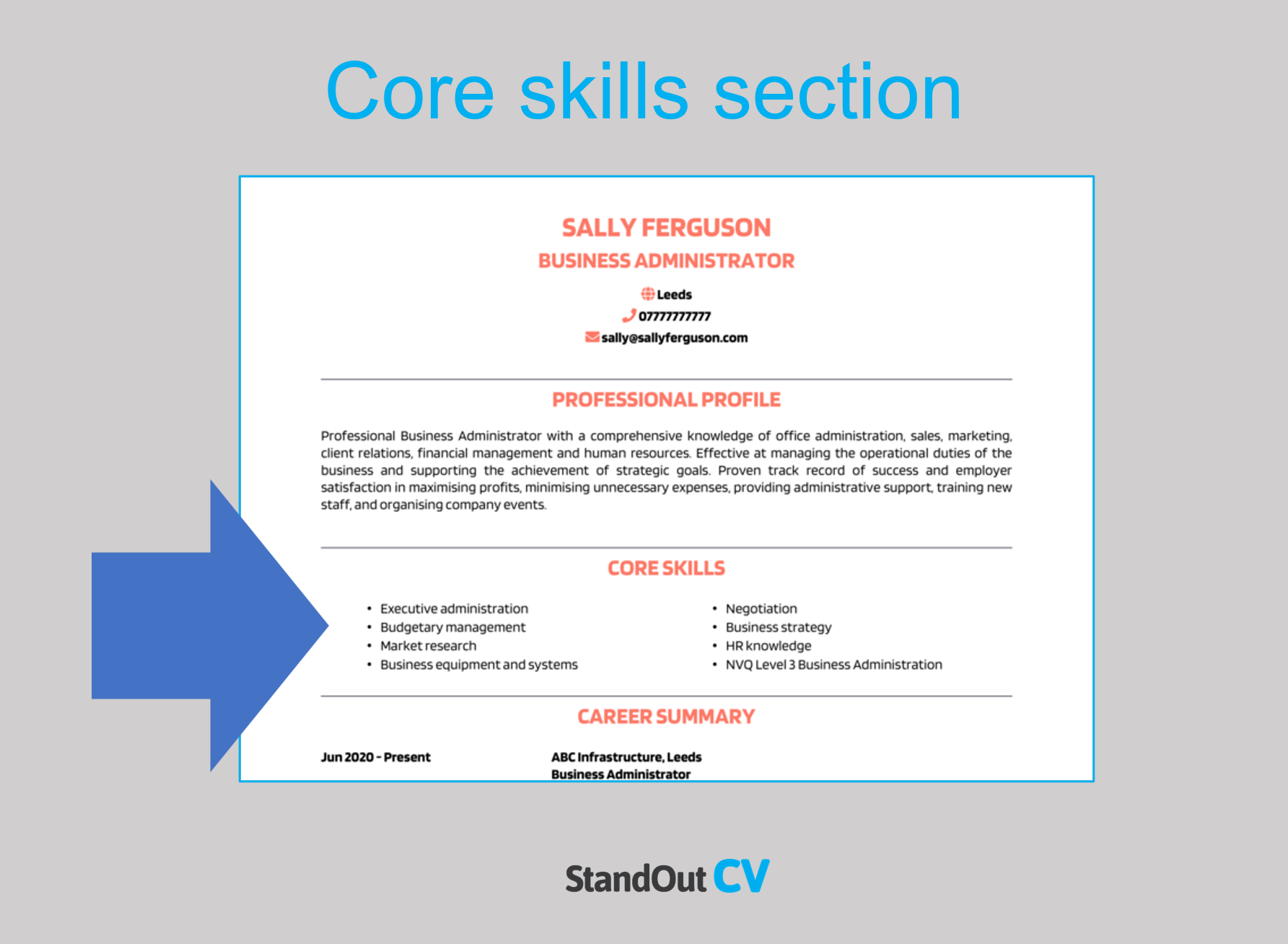 Best skills for your Funeral Director resume
Funeral planning – Planning and organizing funeral services, including selecting caskets and urns, arranging floral arrangements, and preparing obituaries, to meet the needs and preferences of grieving families.
Grief counseling – Providing emotional support and guidance to grieving families, including understanding the stages of grief and providing resources for coping with loss.
Legal compliance – Utilizing knowledge of legal compliance requirements related to funeral services, including state and federal laws, regulations, and ethical standards, to ensure compliance and avoid legal issues.
Customer service – Utilizing strong customer service skills to interact effectively with clients, stakeholders, and team members, to provide compassionate and respectful service and support.
Financial management – Utilizing knowledge of financial management principles, including budgeting and accounting, to manage funeral expenses and ensure profitability.
Embalming – Utilizing knowledge of embalming principles and techniques, including chemical treatment and restoration, to prepare deceased individuals for viewing and burial.
Funeral home operations – Utilizing knowledge of funeral home operations, including managing staff and facilities, to ensure effective and efficient funeral services.
Transport management – Managing transport arrangements for deceased individuals, including coordinating with airlines and other transport services, to ensure timely and appropriate transport.
Quick tip: Our partner's Resume Builder contains thousands of in-demand skills for every profession that can be added to your resume in seconds – saving you time and greatly improving your chances of landing job interviews and getting hired.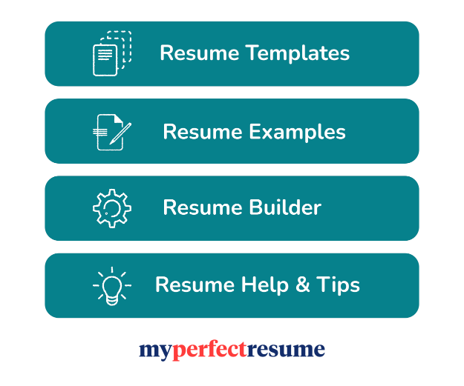 Work experience
So, you've grabbed the recruiters' attention with your summary, now it's time to show them what you're really capable of in your work experience section.
List your previous jobs from current to oldest, showing off the impact you made at each organization.
If you have tons of experience, you should just list the most recent an relevant jobs – but if you have little or no experience, add it all and even consider putting in voluntary work.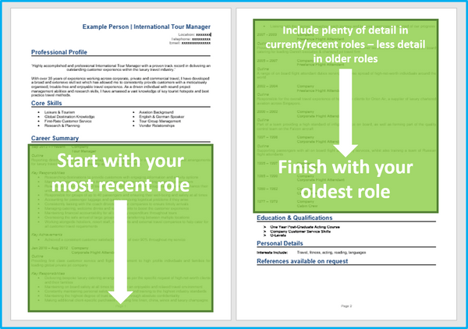 Structuring your jobs
Resume job descriptions contain lots of information, so its crucial to structure them well.
Use the structure below to ensure hiring managers can consume the information easily.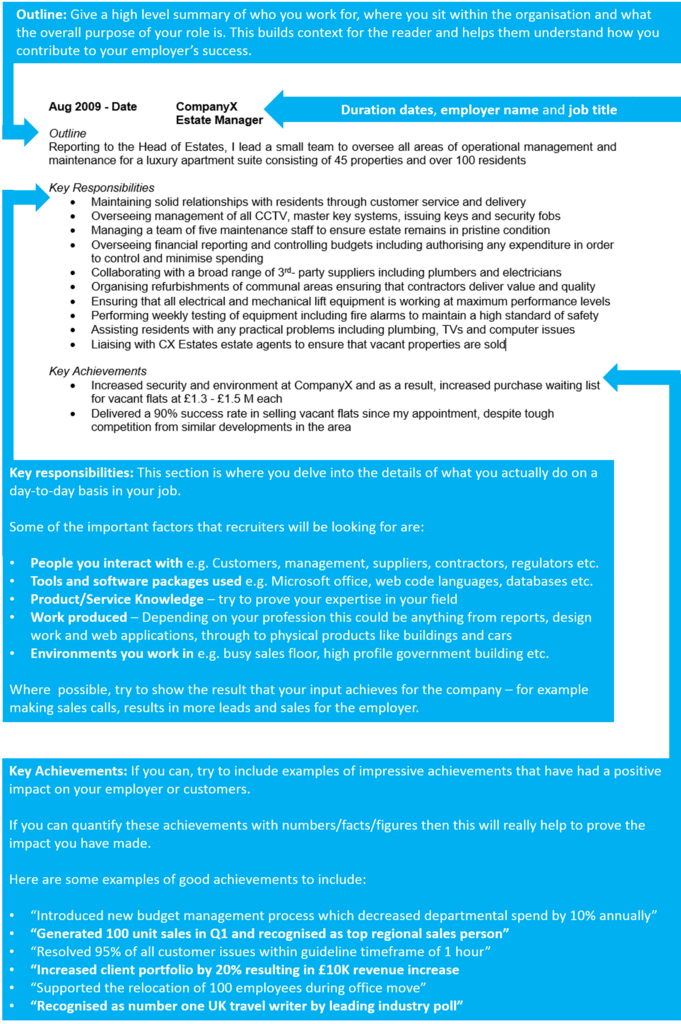 Job outline
Each role description should begin with a qucik summary of the job and company, along with how the job fits into the strucuture of the organization.
Key responsibilities
The bulk of the role description should be comprised of bullet points that explain all of your duties in the job.
Keep the sentences short and simple to make them easy for recruiters to digest.
Key achievements
Finish each role by highlighting some impressive achievements you made whilst in the role.
Anything that benefited the employer can be included from making financial savings, to winning new customers.
Quantify your achievements with facts and figures if you can, e.g. "reduced call wait time by 10%"
Example job for Funeral Director resume
Outline
Support families in making informed decisions concerning funeral products/services, for a non-profit organization that is dedicated to providing education, outreach, and professional funeral, cremation, and cemetery services aligned teachings of the Catholic Church.
Key Responsibilities
Meet with families of the deceased to discuss funeral arrangements and explain pricing and product information for caskets and flowers to relatives/friends.
Order necessities/supplies for burials, wakes, and memorial services, as well as make arrangements for pallbearers, readers, and other participants in funerals.
Oversee the preparation and embalming of the deceased, accept/process payments for funeral services, and maintain cleanliness and layout of the funeral home.
Lead staff responsible for preparing caskets for viewing, setting up chairs, placing pictures or other decor, and ushering mourners.
Quick tip: Create impressive job descriptions easily in our partner's Resume Builder by adding pre-written job phrases for every industry and career stage.

Education section
After your work experience, add your education section.
If you are an experienced professional, you can keep this part short – adding basic details of each qualification.
If you have little or no experience, bulk this section up by adding more detail and highlight important skills and knowledge for your target jobs.
Additional information
At the end of your resume, you can add any extra information that might be relevant to the jobs you are applying for.
This could be hobbies, interests, publications, clubs or memberships.
This section is optional and doesn't need to be added if you have nothing more relevant to add.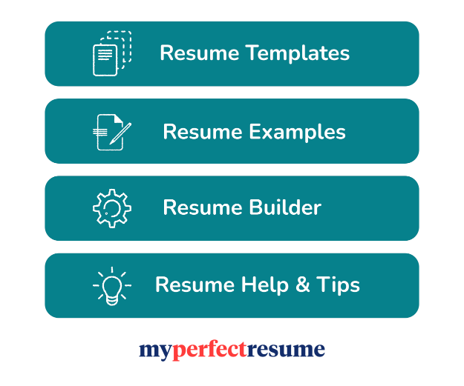 Writing your own winning Funeral Director resume
Writing a Funeral Director resume can be challenging but following the steps above will ensure that you land plenty of interviews.
Good luck with your job search!