No matter what your chosen art form is, being a freelance artist allows you to choose your projects and make a living doing what you love.
But in order to keep the work coming in, you need an application that's as impressive as your portfolio.
We can help you apply your creativity to your resume writing with our helpful guide and freelance artist resume example. Check it out below.
Guide contents
| | |
| --- | --- |
| How to write a Freelance Artist resume | |

Freelance Artist Resume Example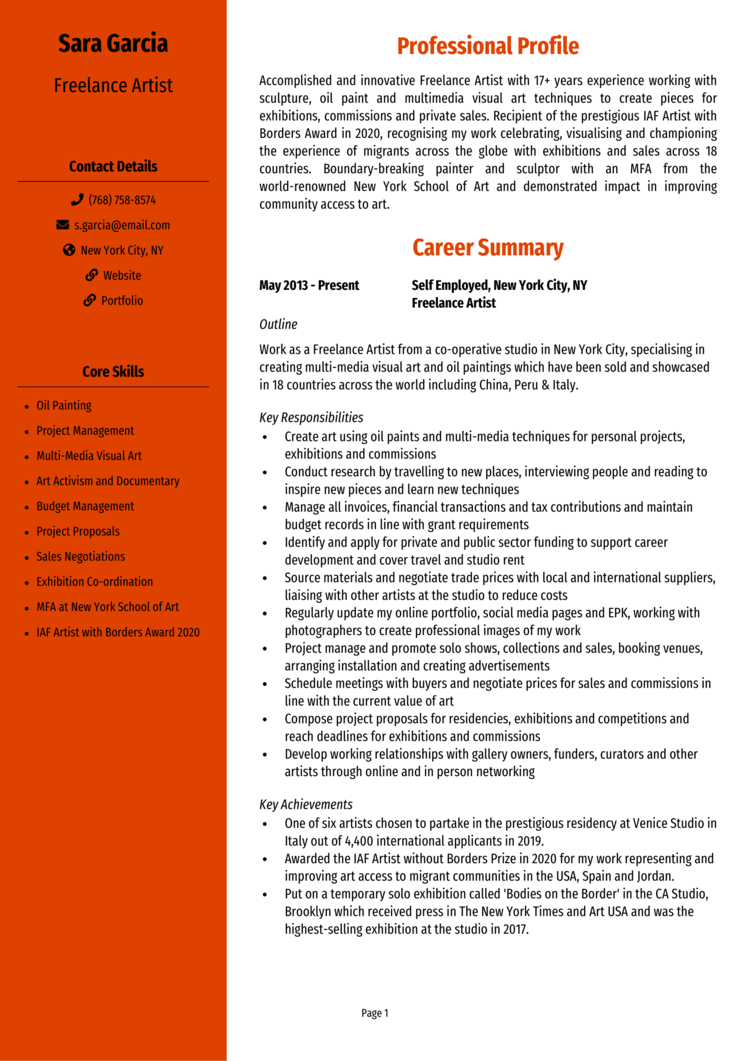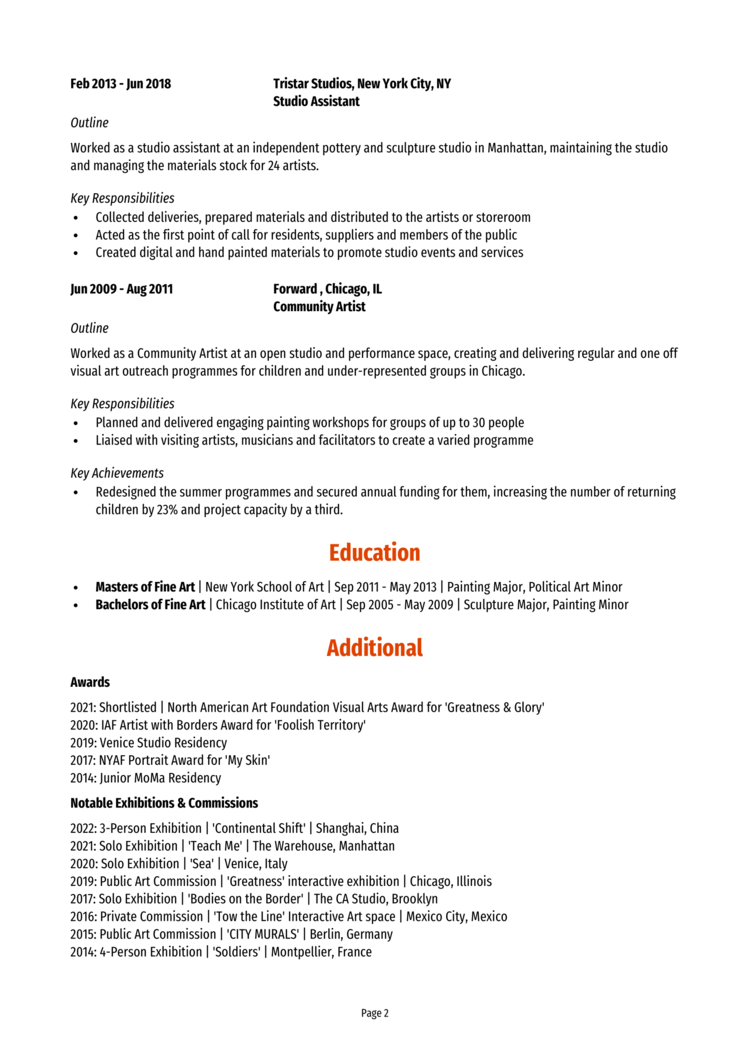 This Freelance Artist resume example gives you a good idea of how a good Freelance Artist resume should look and read.
The information is presented professionally, and the content is well structured to ensure that time-strapped recruiters and hiring managers can find the important skills and knowledge quickly.
Refer to this example as you write your own resume.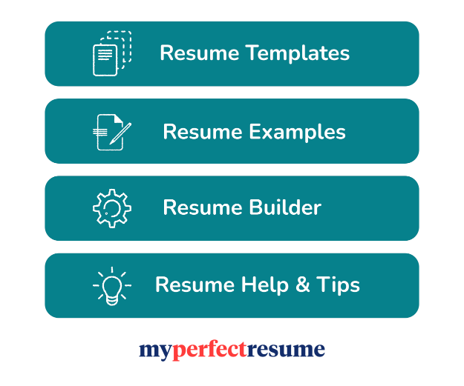 Freelance Artist resume layout and formatting
The format and layout of your resume can make or break its success.
Sure, it's great to pack your resume with lots of impressive skills and knowledge, but if the page is not structured clearly, hiring managers will struggle to find the important stuff!
Above all, your resume should be easy-to-read and professional looking.
Follow these formatting tips to get noticed.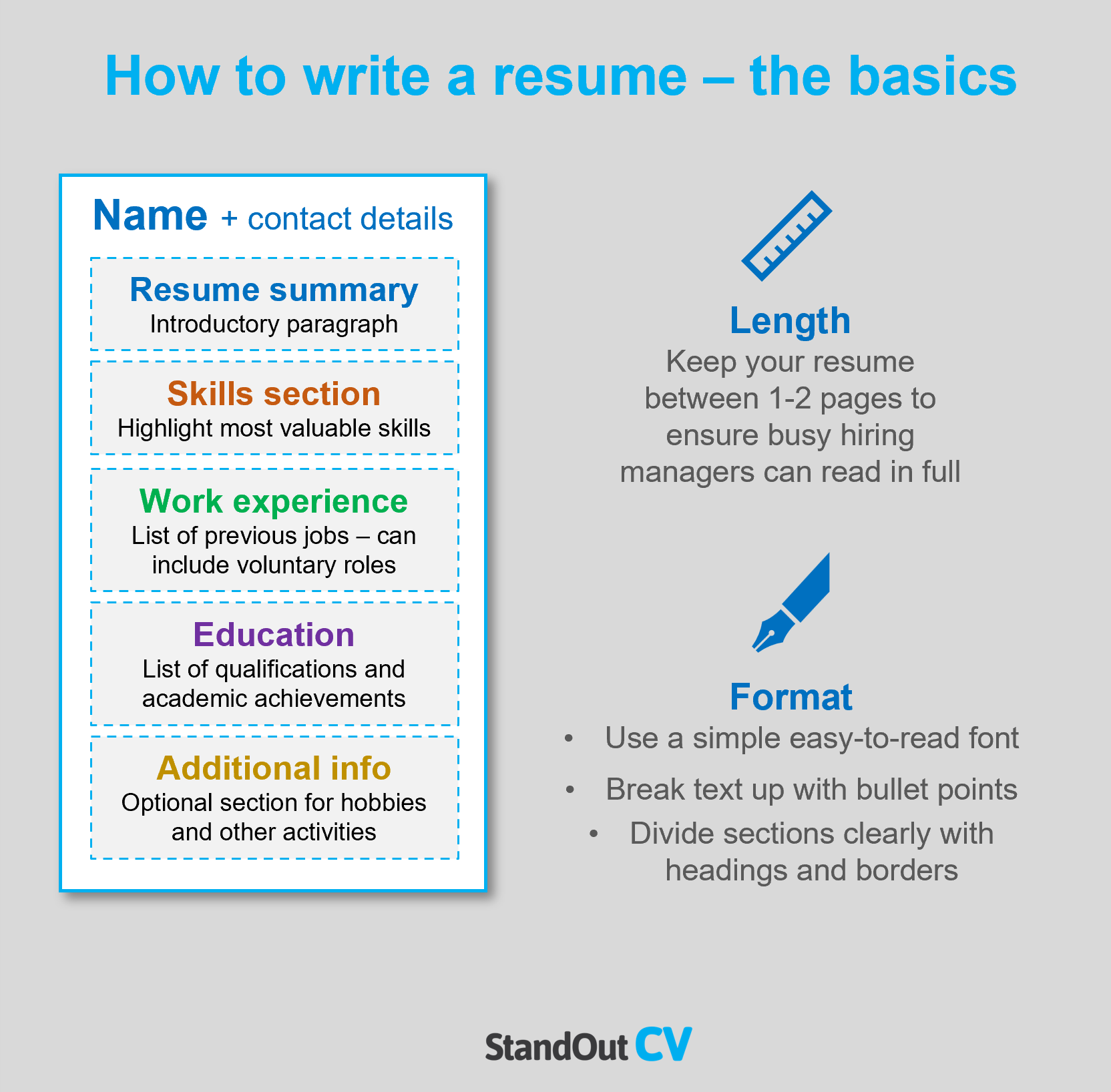 How to format your resume
Length: Keep your resume to 2 pages or under. You've probably heard that recruiters and hiring managers don't have lots of time to read every resume, so keep yours brief if you want to ensure that they read all of the important info in yours.
Font & text: Simplicity and a pleasant reading experience are crucial if you want to highlight your most valuable skills to recruiters. Use a clear font (avoid fancy ones) and break up the text in your resume with bullet points to ensure information can be easily consumed.
Design & layout: Go with a resume design that looks good, but also allows for easy reading and navigation for employers. Ensure the page is clearly split up into sections by adding large font headings and dividing borders. Keep the color scheme simple and don't overcrowd the page.
Photos: You are not obliged to add a photo to your resume in the USA, but it can be a nice way of adding some life to the document.
Quick tip: Achieving a professional look for your resume can be difficult and time-consuming. If you want to create an attractive resume quickly, try our partner's Resume Builder and use one of their eye-catching resume templates.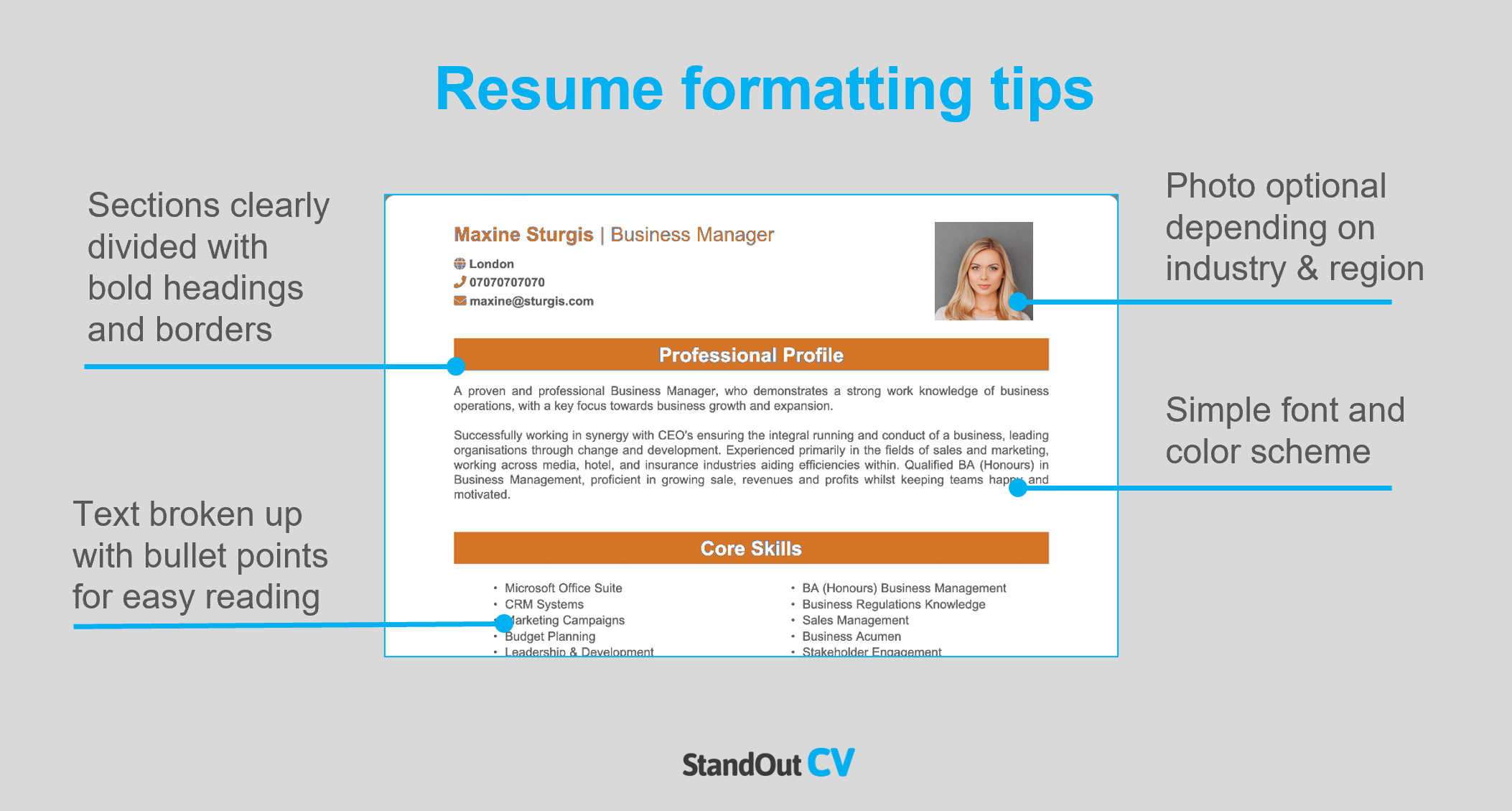 Resume layout
Organize the document into these sections when you write your resume.
Name and contact details – Employers need to know how to get in touch with you – so list your email and cell phone number here.
Resume summary – An intro paragraph at the top of the resume which summarizes your suitability for target jobs.
Skills section – A bullet-pointed list of your most relevant skills and knowledge.
Work experience – A list of your previous jobs (or at least the most relevant and recent ones)
Education – Add academic and professional qualifications that prove you can carry out the job
Additional info – If they are relevant to the jobs you are applying for, you can add an extra section for things like hobbies and interests.
Here's what you should include in each section of your resume.
Resume Contact Details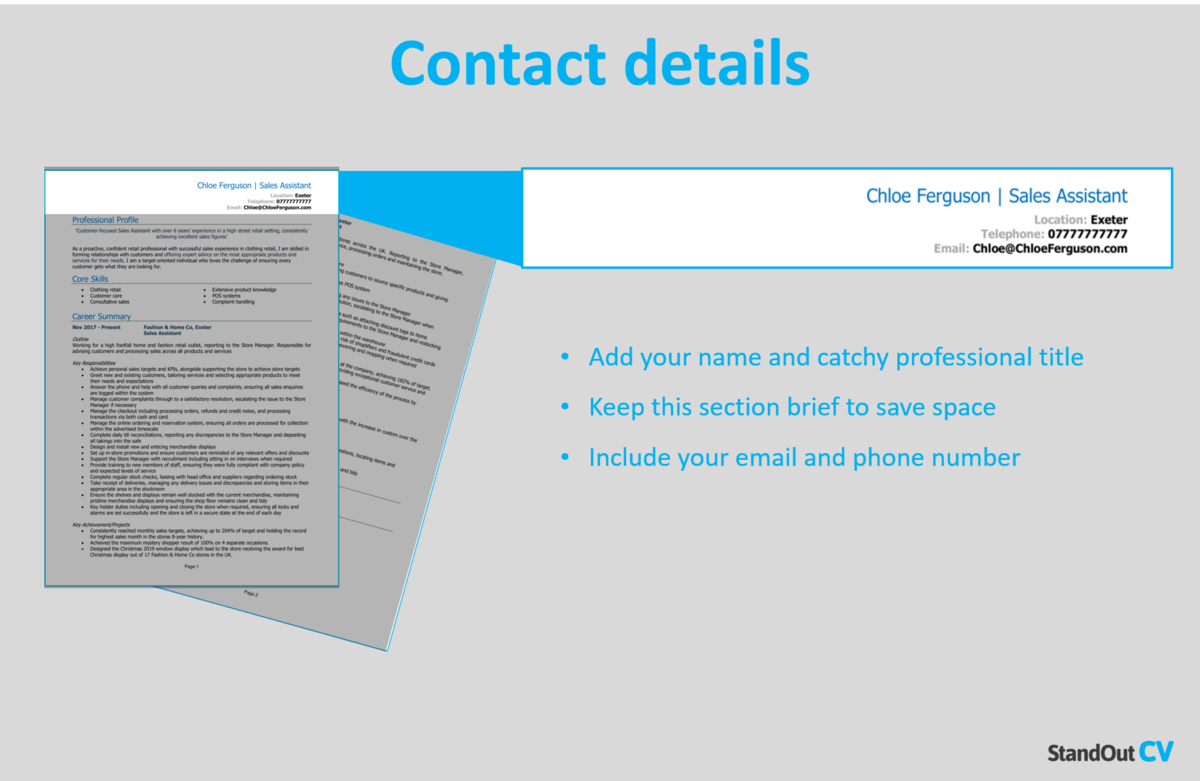 Add your name and contact details to the very top of your resume, making it easy for recruiters to get in touch
Name and profession title
Cell phone number – or another number you can answer quickly
Location – Add your local area such as San Diego or New York – not your full address as that will take up too much space.
Email address – Use your name or close variation – no nicknames from high school.
You can add a link to your LinkedIn profile if you have one – you do not need to include personal details like date of birth or marital status.
Freelance Artist Resume Summary
Start your resume with a bang by adding a powerful summary to the top, summarizing your most valuable skills and experience.
This short paragraph is your chance to show recruiters why you are a perfect fit for the job and encourage them to read more of your resume.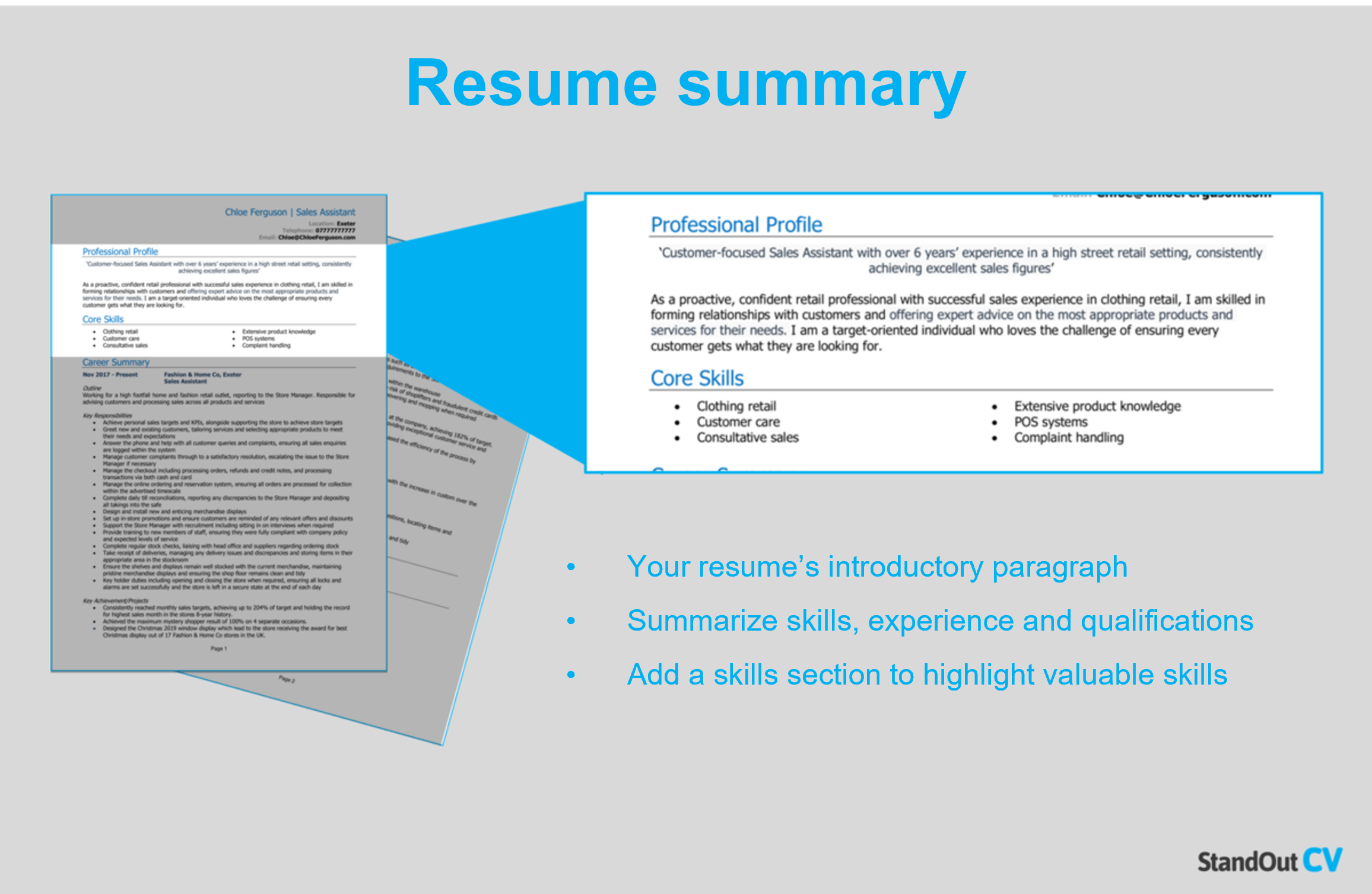 3 tips for creating a resume summary that will get noticed:
Keep it concise: You only have a few seconds to grab a recruiters' attention and make them commit to your resume, so keep your summary between 4 – 7 lines.
Tailor to target jobs: Ensure your profile makes an impact by matching it closely to the requirements of the job description, copying as many key terms as possible.
Don't use cliches: Recruiters always see cringey cliches like "hardworking guru who works well in a team or individually" – they don't mean much to anyone, so focus your summary on tangible skills and experience.
Example resume summary for Freelance Artist
Accomplished and innovative Freelance Artist with 17+ years' experience working with sculpture, oil paint and multimedia visual art techniques to create pieces for exhibitions, commissions and private sales. Recipient of the prestigious IAF Artist with Borders Award in 2020, recognising my work celebrating, visualising and championing the experience of migrants across the globe with exhibitions and sales across 18 countries. Boundary-breaking painter and sculptor with an MFA from the world-renowned New York School of Art and demonstrated impact in improving community access to art.
What info to include in your Freelance Artist resume summary?
Summary of experience: What type of organizations have you worked at? What types of roles have you done and what have you contributed to previous employers?
Relevant skills: Highlight your skills which are most relevant to Freelance Artist jobs, to ensure that recruiters see your most in-demand skills as soon as they open your resume.
Vital qualifications: Mention any Freelance Artist qualifications that are important to your profession in the summary briefly, to show you are qualified to carry out the role.
Quick tip: Choose from hundreds of pre-written summaries across all industries, and add one to your resume with one-click in our partner's Resume Builder. All written by recruitment experts and easily tailored to suit your unique skillset and style.
Core skills section
Sitting just underneath your resume summary, your core skills section gives recruiters 4-10 of your most in-demand skills in just a glance.
As Freelance Artist jobs may get hundreds of applications, this is a great way to stand out and quickly grab hiring managers' attention.
It should be made up of 2-3 columns of bullet points and highlight attributes that are hyper-relevant to the jobs you are aiming for.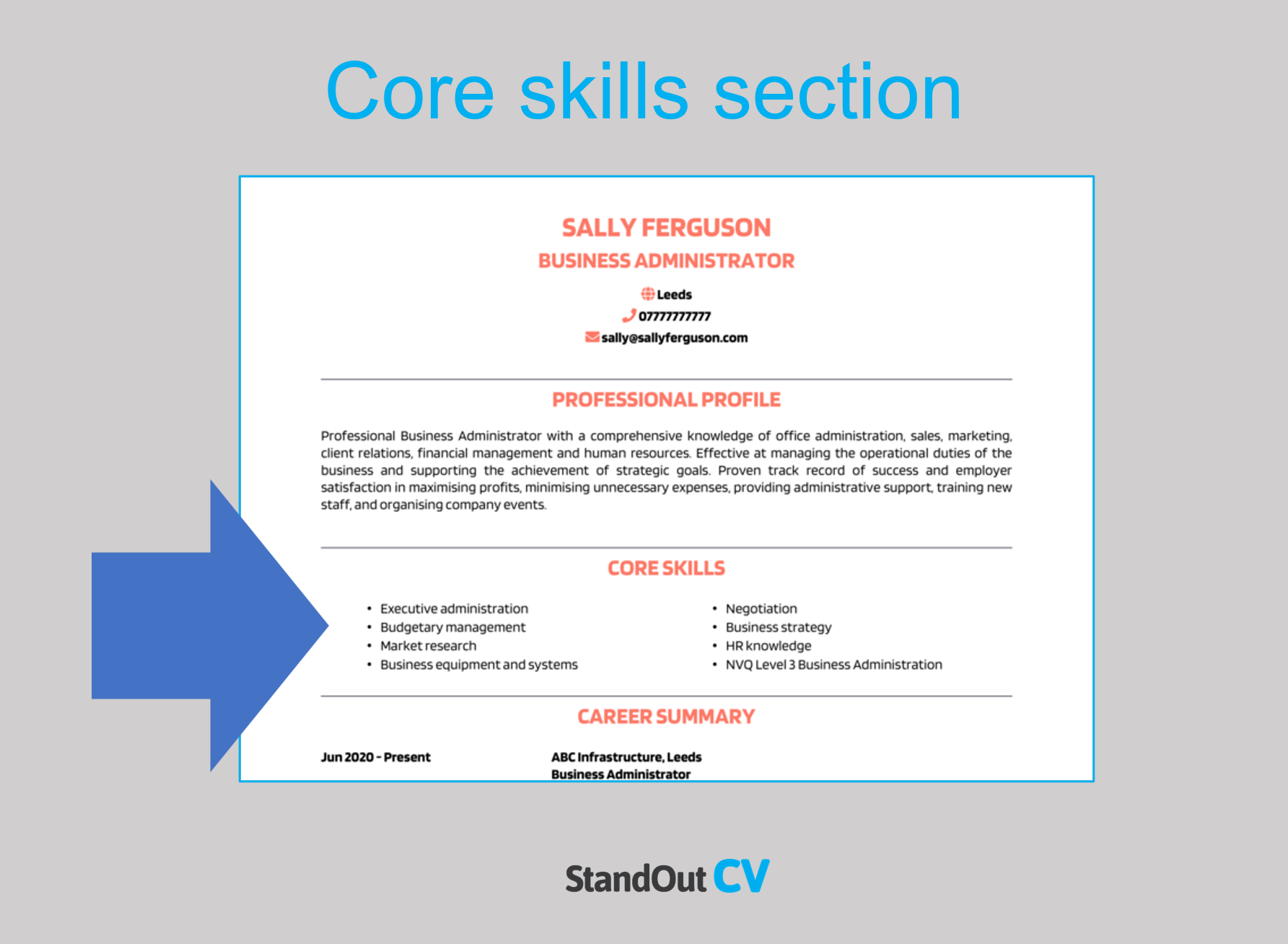 Top skills for your Freelance Artist resume
Oil Painting – highlighting expertize with specific mediums or art styles.
Multi-Media Visual Art – creating artworks from a range of materials which include an electronic element such as audio or video.
Art Activism – creating art that combines the creative power of the arts with the strategic planning of activism necessary to bring about social change.
Sales Negotiations – negotiating with buyers to agree to a satisfactory price for the artwork created.
Exhibition Co-ordination – overseeing art exhibits including working with museum and gallery curators to display key pieces.
Quick tip: Our partner's Resume Builder contains thousands of in-demand skills for every profession that can be added to your resume in seconds – saving you time and greatly improving your chances of landing job interviews and getting hired.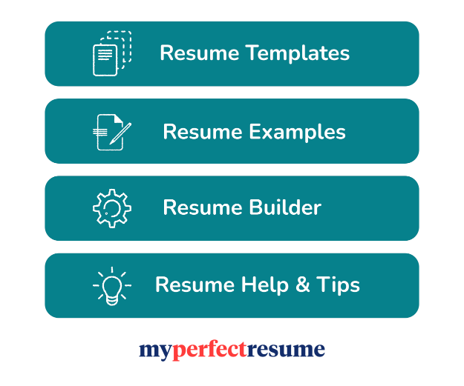 Resume work experience section
So, you've got the recruiter interested with your catchy summary… Great work.
Now it's time to show them the impact you make in the workplace by listing out your previous jobs and what you achieved in each one.
If you have tons of experience, you can condense this part down to the last few years – if you are junior, then you should include as much possible (even volunteering and school work placements)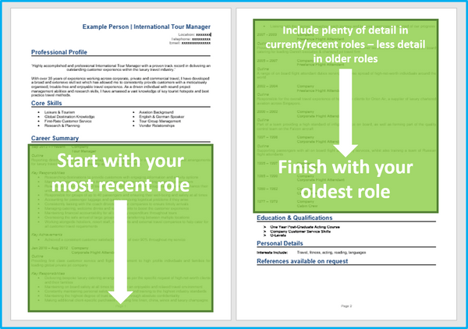 Structuring your job descriptions
You probably do a lot in your job, so its vital to break all of that information down into a good structure.
Structure your jobs as follows to make it easy for recruiters to skim through and pinpoint the essential info.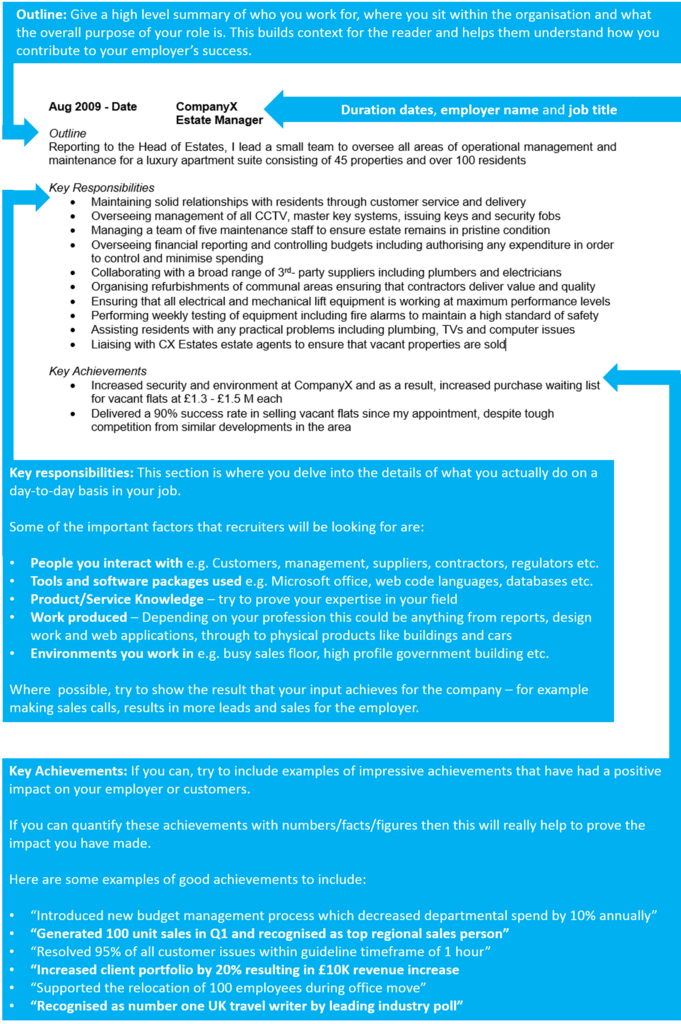 Job outline
Each role description should begin with a qucik summary of the job and company, along with how the job fits into the strucuture of the organization.
Key responsibilities
Next, write up a punchy list of your daily duties and responsibilities, using short bullet points.
Describe how you apply your skills and contribute to the running of the employer's business – highlighting skills which are applicable to your target jobs.
Key achievements
Show employers the value you can bring to them by adding a few achievements to your jobs.
Whether you've saved the company money or improved an internal process, let recruiters know
Add some numbers to give readers a real scale of the impact, e.g. "reduced call wait time by 10%"
Example job for Freelance Artist resume
Outline
Work as a Freelance Artist from a co-operative studio in New York City, specializing in creating multi-media visual art and oil paintings which have been sold and showcased in 18 countries across the world including China, Peru & Italy.
Key Responsibilities
Create art using oil paints and multi-media techniques for personal projects, exhibitions and commissions
Conduct research by travelling to new places, interviewing people and reading to inspire new pieces and learn new techniques
Manage all invoices, financial transactions and tax contributions and maintain budget records in line with grant requirements
Identify and apply for private and public sector funding to support career development and cover travel and studio rent
Quick tip: Create impressive job descriptions easily in our partner's Resume Builder by adding pre-written job phrases for every industry and career stage.

Education section
After your work experience, add your education section.
If you are an experienced professional, you can keep this part short – adding basic details of each qualification.
If you have little or no experience, bulk this section up by adding more detail and highlight important skills and knowledge for your target jobs.
Additional information
The additional info section is optional but can be useful if you have anything else to add that could benefit your application.
For example ,you may have some hobbies and interests that are relevant to your job – or you might have awards or publications to shout about.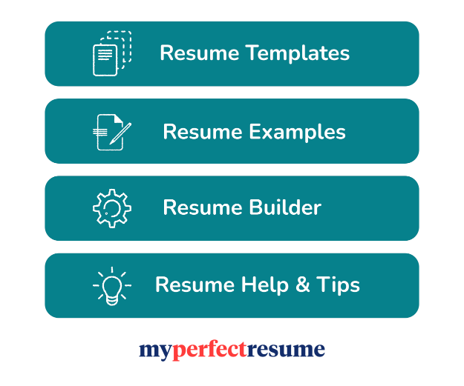 Writing your Freelance Artist resume
Following the steps in this guide will help you to create a winning Freelance Artist resume and bag lots of interviews.
If you want some more help through the process, try our partner's Resume Builder for expert guidance and tons of pre-written resume content.
Good luck with your job search!