As a director, you'll have to plan and oversee all activities related to ordering supplies, planning menus, directing kitchen staff, and keeping costs down.
As such, you need a resume that's going to prove to the recruiter that you've got the stomach (and organization skills) for such an important and varied role.
If you're not sure how to create such a resume, check out our comprehensive guide below, complete with a food and beverage director resume example.
Contents
| | |
| --- | --- |
| How to write a Food and Beverage Director resume | |

Food and Beverage Director Resume Example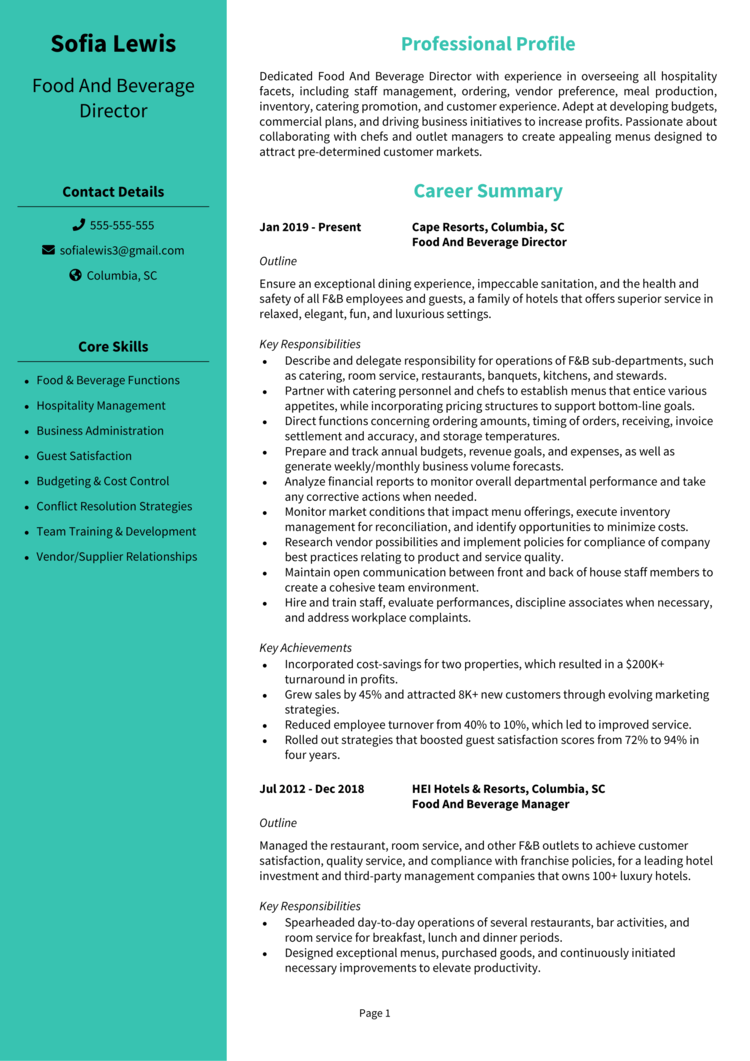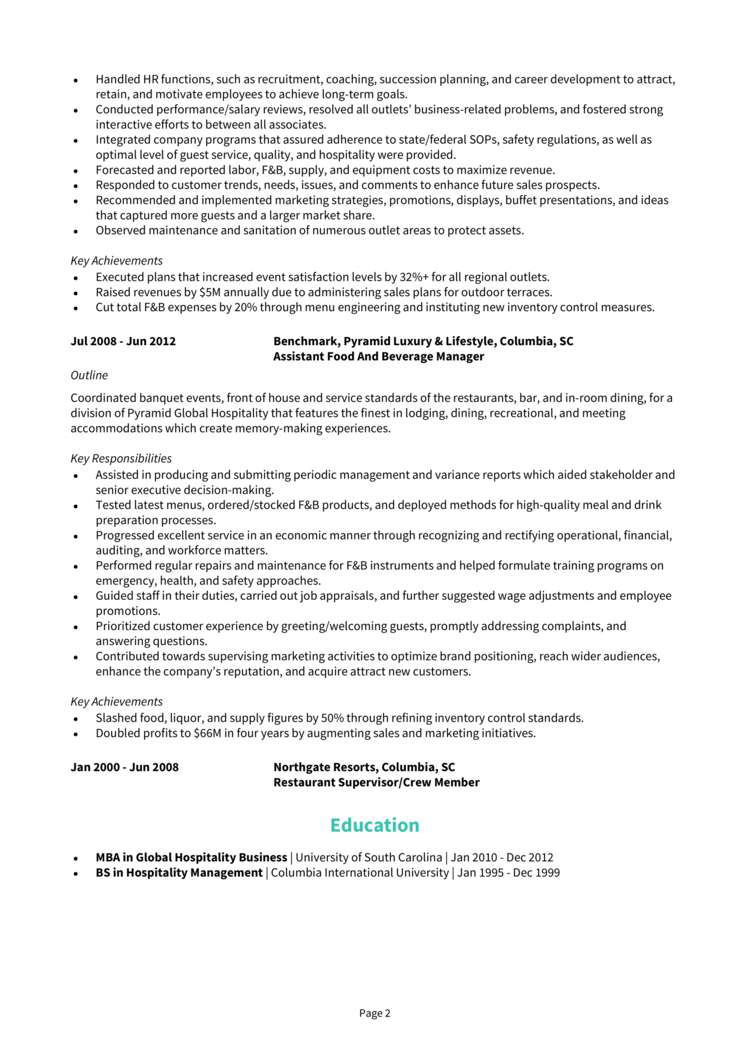 This example Food and Beverage Director resume gives you a general idea of how to structure your own resume, along with the type of content you need to include.
Sticking with this resume format will help you to get noticed by employers and ensure that they can quickly see the benefit of hiring you.
Now, lets walk through a step-by-step guide on how to write your own winning resume.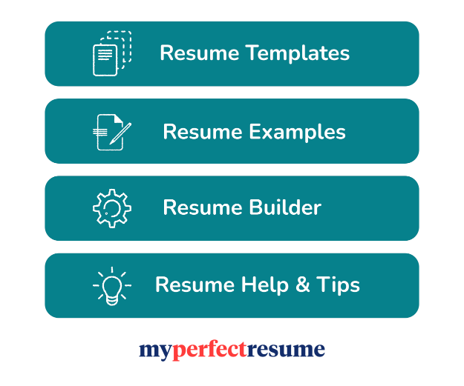 Food and Beverage Director resume layout and formatting
Formatting and structuring your resume correctly is key to landing job interviews.
Your resume needs to look attractive, but more importantly it needs to be easy for recruiters and hiring managers to read and digest the information.
These tips will help you to do that: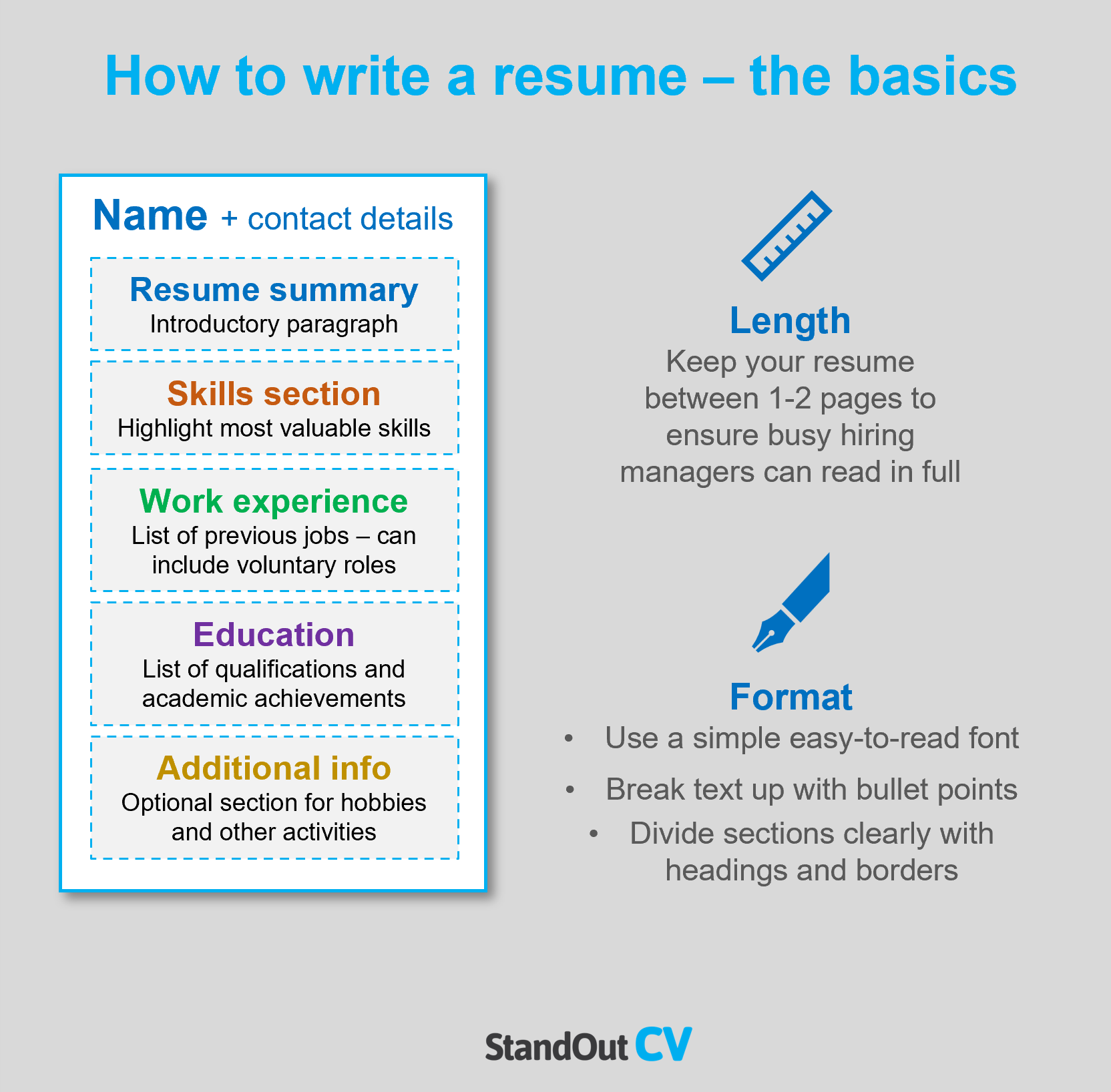 Formatting your resume
Length: As recruiters have a limited amount of time to review each resume they see, keep your resume to 2 pages or less to increase the chances of it being thoroughly reviewed.
Font & readability: Complex fonts are a readers' worst nightmare and will leave recruiters struggling to understand your message. Use a clear simple lean font in a color that stands out against the page, and break your text up with bullet points to make the content easily digestible.
Layout & Structure: Your resume should look appealing – but don't overlook functionality when it comes to design. Organise the page into clear sections using bold headings and borders.
Photos: You are not obliged to add a photo to your resume in the USA, but it can be a nice way of adding some life to the document.
Quick tip: Achieving a professional look for your resume can be difficult and time-consuming. If you want to create an attractive resume quickly, try our partner's Resume Builder and use one of their eye-catching resume templates.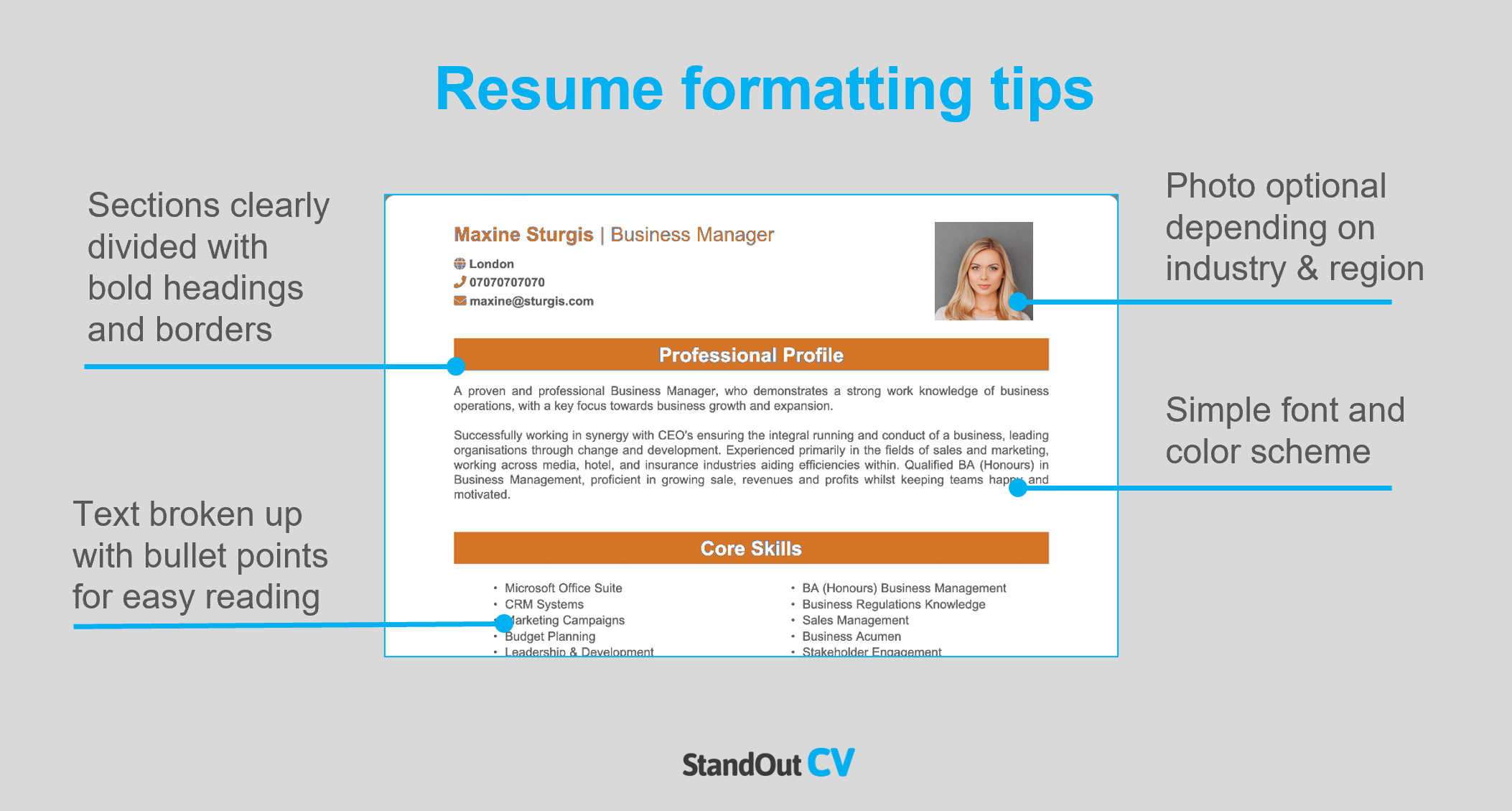 Resume layout
Organize the document into these sections when you write your resume.
Name and contact details – Employers need to know how to get in touch with you – so list your email and cell phone number here.
Resume summary – An intro paragraph at the top of the resume which summarizes your suitability for target jobs.
Skills section – A bullet-pointed list of your most relevant skills and knowledge.
Work experience – A list of your previous jobs (or at least the most relevant and recent ones)
Education – Add academic and professional qualifications that prove you can carry out the job
Additional info – If they are relevant to the jobs you are applying for, you can add an extra section for things like hobbies and interests.
Here's what to include in each part of your resume.
Contact Details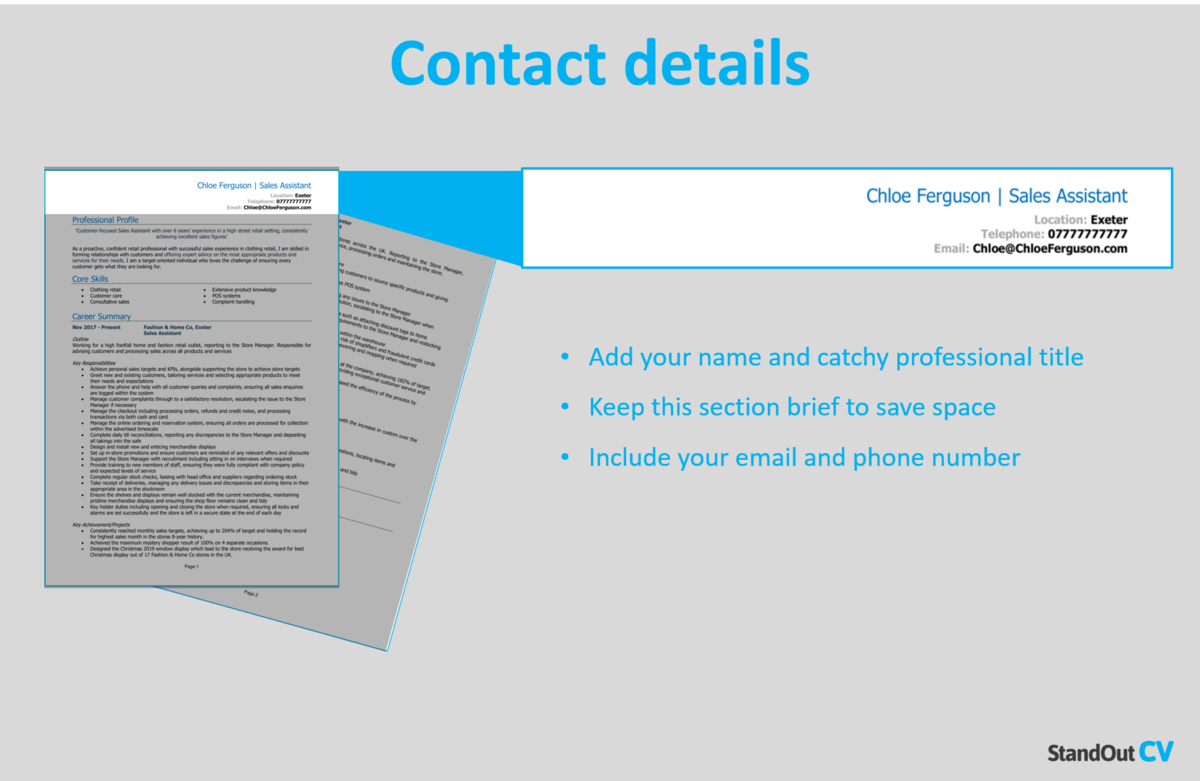 Add your name and contact details to the very top of your resume, making it easy for recruiters to get in touch
Name and profession title
Cell phone number – or another number you can answer quickly
Location – Add your local area such as San Diego or New York – not your full address as that will take up too much space.
Email address – Use your name or close variation – no nicknames from high school.
You can add a link to your LinkedIn profile if you have one – you do not need to include personal details like date of birth or marital status.
Food and Beverage Director Resume Summary
Your resume summary is like your introduction to the recruiter or hiring manager – it should grab their attention and leave them eager to read more about you.
Achieve this by writing a snappy overview of your skills, knowledge and what value you can bring to an employer.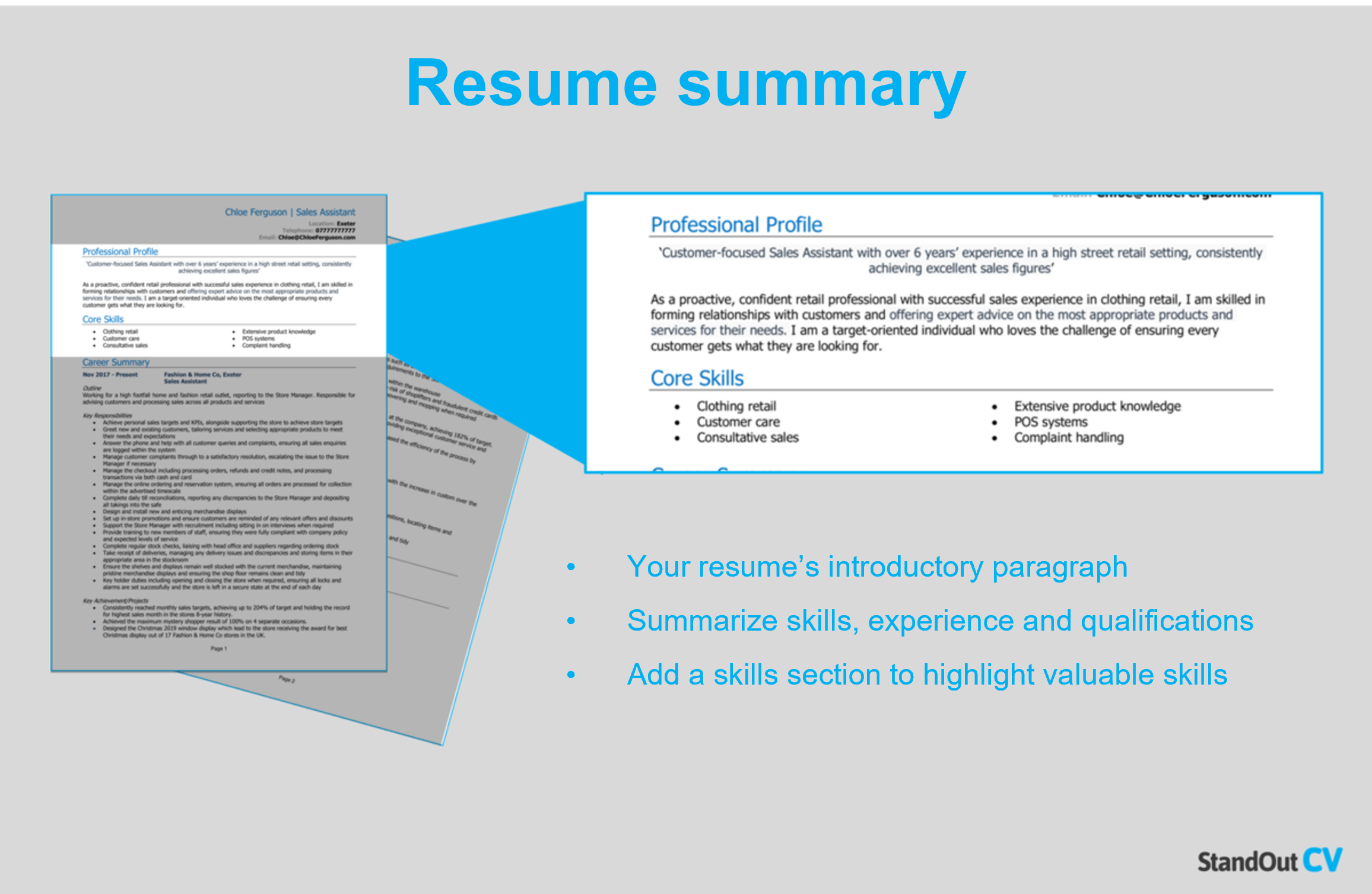 How to create a resume summary that will excite recruiters:
Keep it short: Aim for a short punchy paragraph of 4-7 lines. This is just enough info to showcase why you'd make the perfect hire, without going into excessive detail and overwhelming busy recruiters at such an early stage in the resume.
Tailor to target jobs: Ensure your profile makes an impact by matching it closely to the requirements of the job description, copying as many key terms as possible.
Avoid using cliches: Recruiters look for facts in resumes, such as hard skills and qualifications – so, leave out the meaningless cliches like "hard worker who works well in a team and individually"
Food and Beverage Director resume summary example
Dedicated Food and Beverage Director with experience in overseeing all hospitality facets, including staff management, ordering, vendor preference, meal production, inventory, catering promotion, and customer experience. Adept at developing budgets, commercial plans, and driving business initiatives to increase profits. Passionate about collaborating with chefs and outlet managers to create appealing menus designed to attract predetermined customer markets.
What to include in your Food and Beverage Director resume summary?
Summary of your experience: What type of organizations have you worked at? What types of roles have you done and what have you contributed to previous employers?
Relevant skills: Highlight your skills which are most relevant to Food and Beverage Director jobs, to ensure that recruiters see your most in-demand skills as soon as they open your resume.
Qualifications: Mention any Food and Beverage Director qualifications that are important to your profession in the summary briefly, to show you are qualified to carry out the role.
Quick tip: Choose from hundreds of pre-written summaries across all industries, and add one to your resume with one-click in our partner's Resume Builder. All written by recruitment experts and easily tailored to suit your unique skillset and style.
Core skills section
Your core skills section, positioned just below your resume summary, provides recruiters with a quick glance at 4-10 of your most in-demand skills.
For Food and Beverage Director jobs, where hiring managers may receive hundreds of applications, this section can help you stand out and immediately grab their attention.
To be effective, this section should consist of 2-3 columns of bullet points that highlight attributes that are highly relevant to the jobs you are targeting.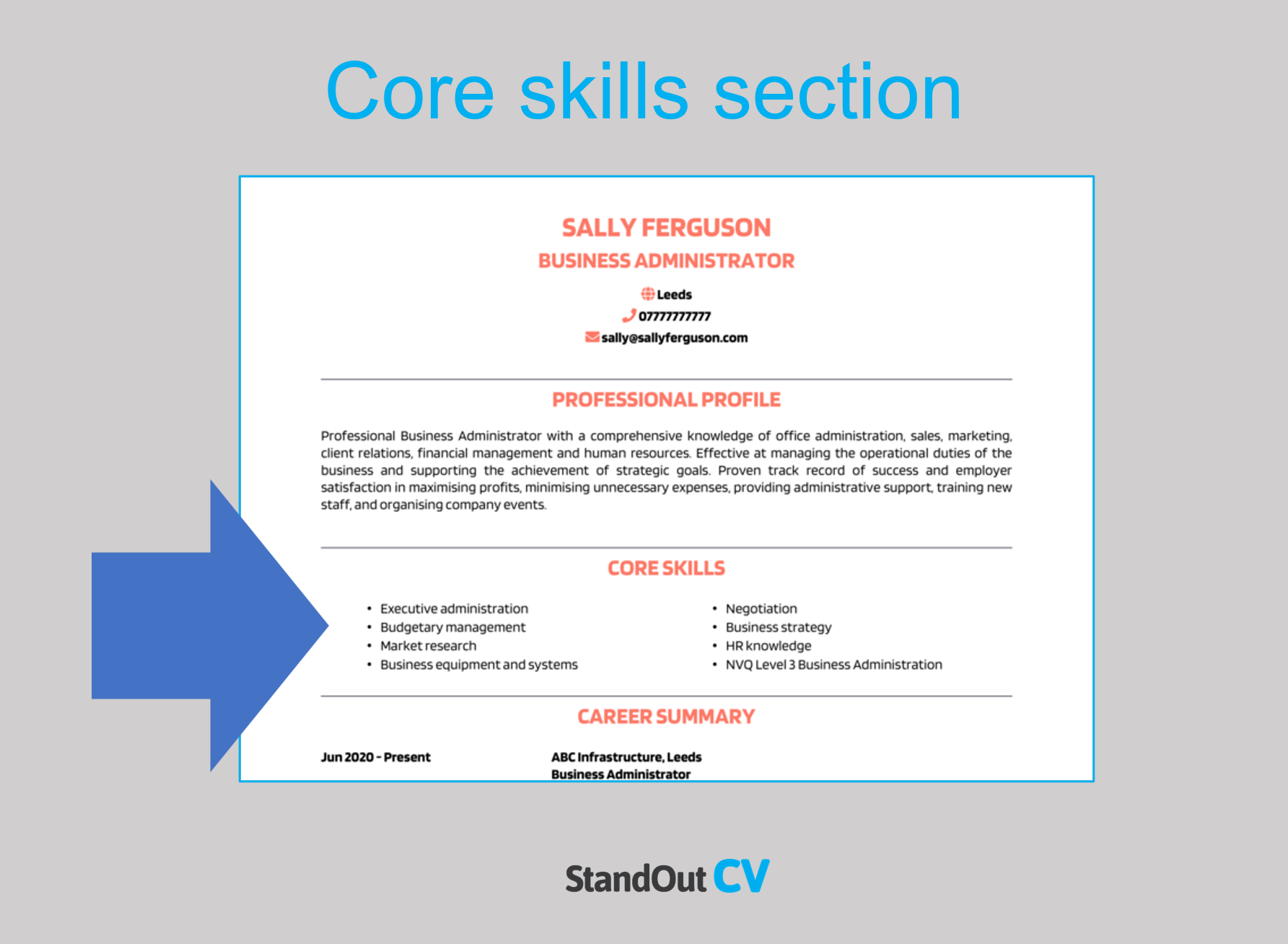 Best skills for your Food and Beverage Director resume
Culinary expertise – Creating and designing menus, including food preparation and presentation, to meet guest preferences and industry standards.
Budget management – Utilizing knowledge of budget management principles, including tracking expenses and preparing financial reports, to manage the food and beverage budget and ensure profitability.
Inventory management – Utilizing knowledge of inventory management principles, including tracking supplies and forecasting demand, to maintain optimal levels of food and beverage stock.
Vendor management – Identifying, negotiating with, and managing vendors, including suppliers and distributors, to ensure high-quality and cost-effective food and beverage products.
Food safety and sanitation – Utilizing knowledge of food safety and sanitation protocols, including health and safety regulations, to maintain a safe and healthy work environment.
Staff management – Managing staff, including hiring, training, and scheduling, to ensure effective and efficient food and beverage operations.
Customer service – Utilizing strong customer service skills to interact effectively with guests, stakeholders, and team members, to provide excellent service and support.
Event planning – Utilizing knowledge of event planning principles, including planning and executing events such as banquets, weddings, and corporate events, to meet guest expectations and ensure event success.
Sales and marketing – Utilizing knowledge of sales and marketing principles, including promotions and advertising, to drive sales and increase revenue.
Wine and beverage expertise – Utilizing knowledge of wine and beverage selection and service, including proper storage and serving techniques, to provide a high-quality and well-rounded dining experience.
Quick tip: Our partner's Resume Builder contains thousands of in-demand skills for every profession that can be added to your resume in seconds – saving you time and greatly improving your chances of landing job interviews and getting hired.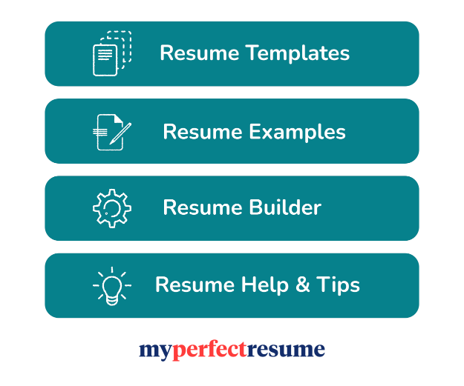 Work experience
Once you've hooked the hiring manager with your summary, you can really blow them away with you work experience.
List your previous jobs from newest to oldest to show the impact you made at each organization.
If you have years of experience, you can leave out some of the older jobs, and if you have little/no experience, you can bulk this section up with voluntary work and college placements.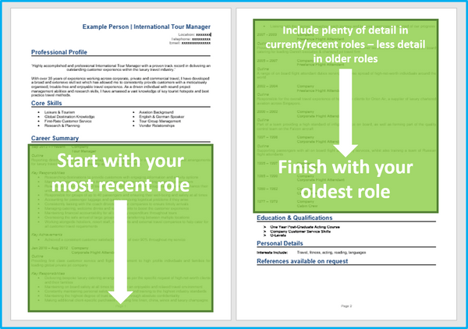 Structuring your jobs
You probably do a lot in your job, so its vital to break all of that information down into a good structure.
Structure your jobs as follows to make it easy for recruiters to skim through and pinpoint the essential info.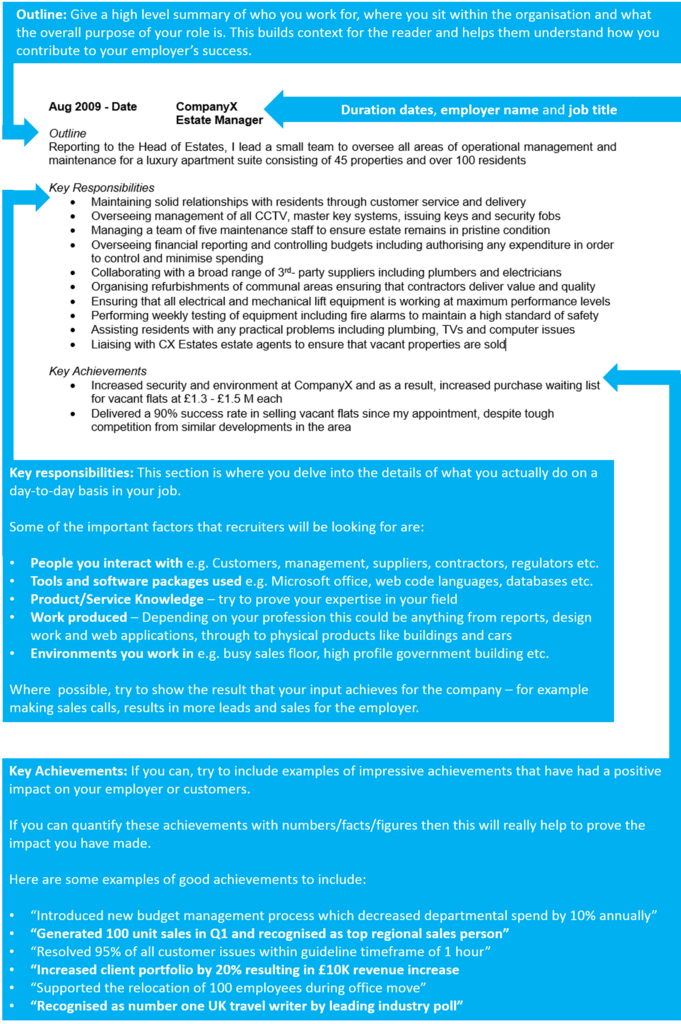 Job outline
Kick off each role with a high-level overview to summarize the focus of the job, what the organization/department does, and how you fit into the bigger picture.
Key responsibilities
List your notable responsibilities in short sharp bullet points to demonstrate your input and how you contributed to the organization's success.
Highlight the skills that are most important to the roles you are applying for.
Key achievements
Finish each role by highlighting some impressive achievements you made whilst in the role.
Anything that benefited the employer can be included from making financial savings, to winning new customers.
Quantify your achievements with facts and figures if you can, e.g. "reduced call wait time by 10%"
Example job for Food and Beverage Director resume
Outline
Ensure an exceptional dining experience, impeccable sanitation, and the health and safety of all F&B employees and guests, a family of hotels that offers superior service in relaxed, elegant, fun, and luxurious settings.
Key Responsibilities
Describe and delegate responsibility for operations of F&B sub-departments, such as catering, room service, restaurants, banquets, kitchens, and stewards.
Partner with catering personnel and chefs to establish menus that entice various appetites, while incorporating pricing structures to support bottom-line goals.
Direct functions concerning ordering amounts, timing of orders, receiving, invoice settlement and accuracy, and storage temperatures.
Prepare and track annual budgets, revenue goals, and expenses, as well as generate weekly/monthly business volume forecasts.
Quick tip: Create impressive job descriptions easily in our partner's Resume Builder by adding pre-written job phrases for every industry and career stage.

Education section
Nearing the end of your resume, your education/qualifications section should be added.
In a well-structured list, add all of your qualifications and certifications that qualify you to perform a typical Food and Beverage Director role.
If you have plenty of work experience, keep this section brief – if not, add lots of detail to make up for your lack of experience.
Additional information
If you have anything else to add which is relevant to the jobs you are applying for, the additional info section is the place to add it.
Perhaps you have a hobby which involves relevant skills, or maybe you have some awards or publications worth mentioning.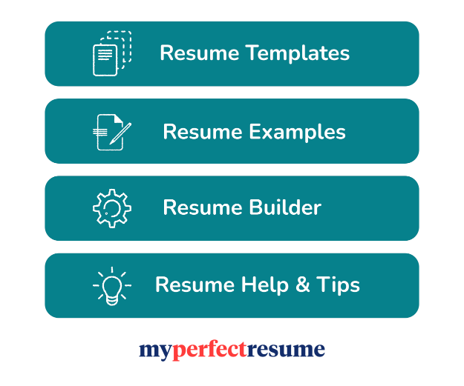 Writing your own winning Food and Beverage Director resume
Following the steps in this guide will help you to create a winning Food and Beverage Director resume and bag lots of interviews.
Good luck with your job search!