Are you hoping to secure a finance internship this year?
If so, you need a persuasive and engaging resume that's going to grab the recruiter's attention and showcase your passion for finance.
But if you're new to the industry and you're not sure where to start, check out our detailed writing guide below, complete with a finance internship resume example.
Contents
| | |
| --- | --- |
| How to write a Finance Internship resume | |

Finance Internship Resume Example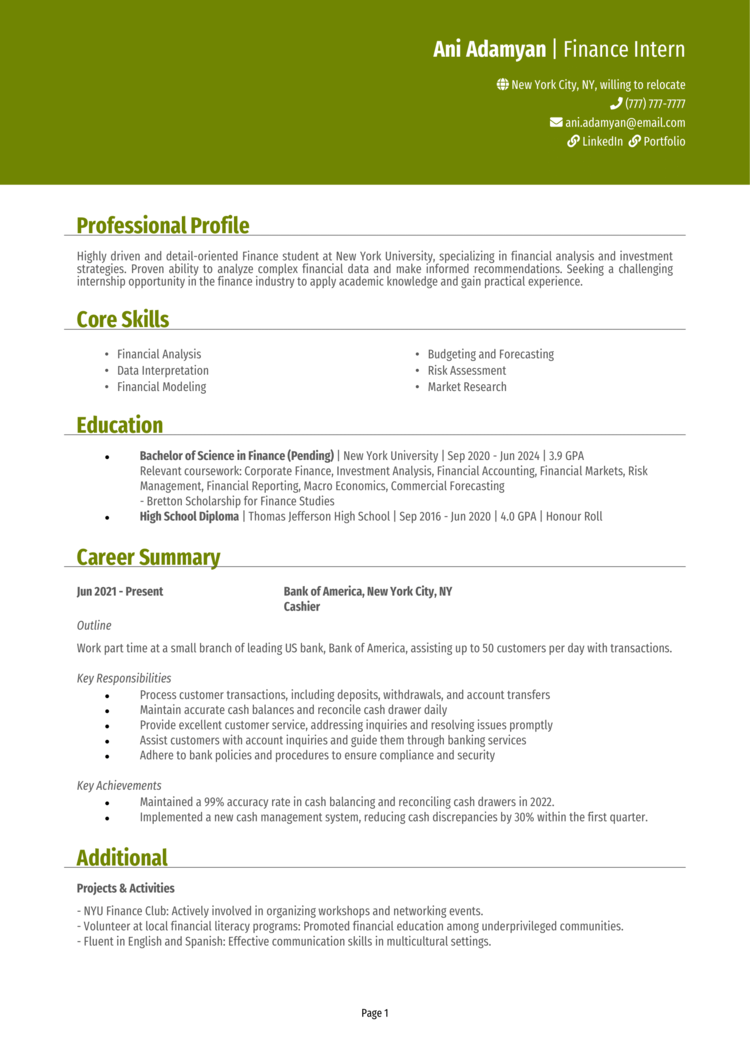 This example Finance Internship resume is well-structured to provide a pleasant reading experience for recruiters, and contains all of the crucial information they want to see.
The rest of the guide will show you exactly how you can achieve this in your own resume.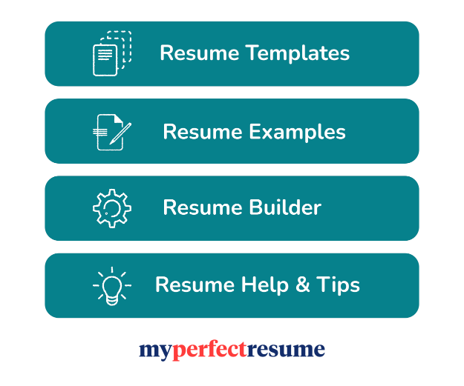 Finance Internship resume layout and format
When it comes to holding the attention of recruiting managers, the format and layout of your resume play a key role.
Your resume needs to strike a perfect balance between looking awesome, and being easy for recruiters to read (which is not always easy to achieve)
Use the following formatting tips to get started.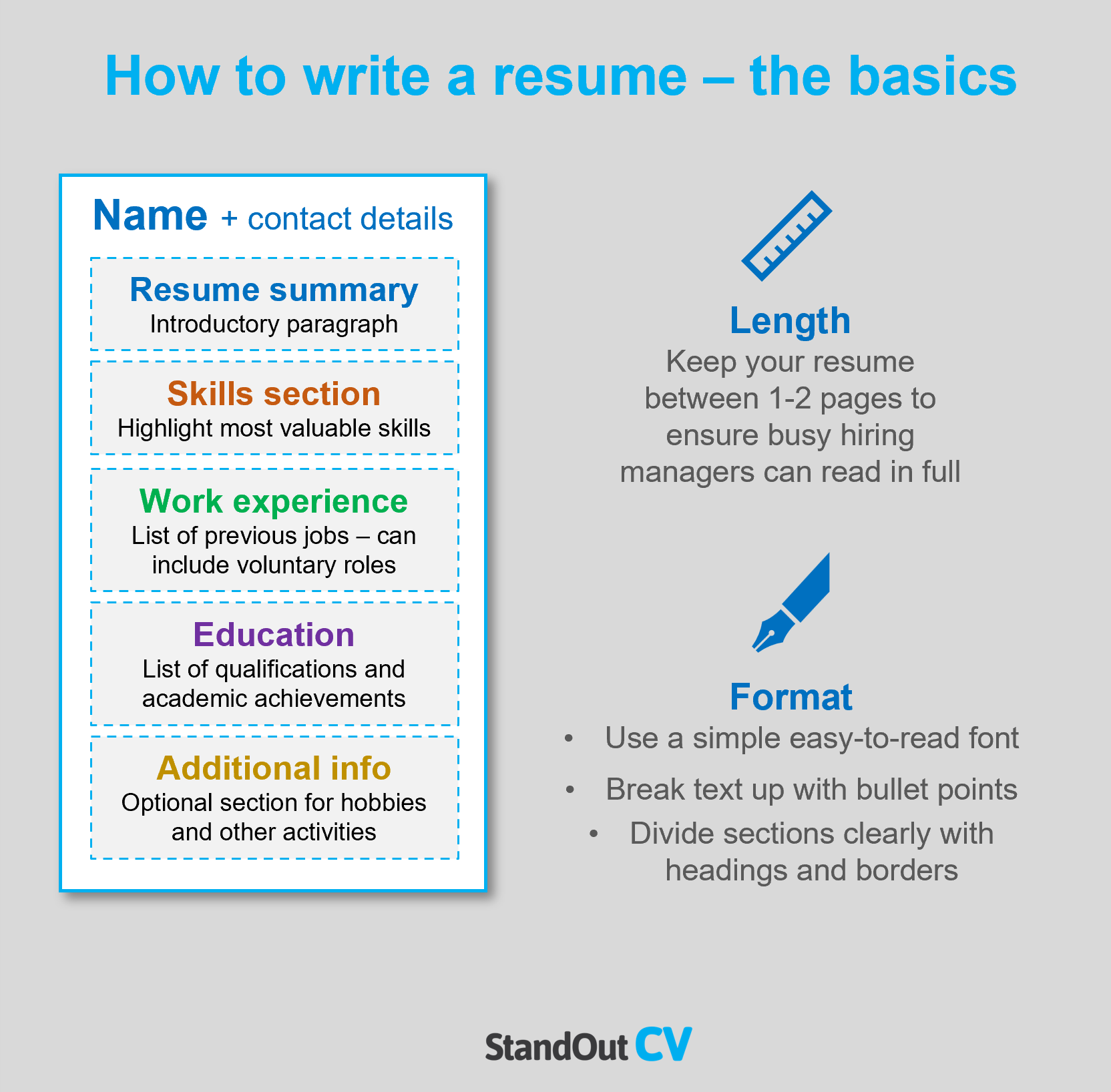 Formatting your resume
Length: Keep your resume to 2 pages or under. You've probably heard that recruiters and hiring managers don't have lots of time to read every resume, so keep yours brief if you want to ensure that they read all of the important info in yours.
Font & readability: To create a resume that is easily digestible for hiring managers, it's essential to use an uncomplicated font and structure your content with bullet points and short paragraphs.
Layout & Structure: Go with a resume design that looks good, but also allows for easy reading and navigation for employers. Ensure the page is clearly split up into sections by adding large font headings and dividing borders. Keep the color scheme simple and don't overcrowd the page.
Photos: It's not mandatory to add a photo to your resume in the USA but it if you're applying to organizations within the creative fields, it can be beneficial.
Quick tip: Achieving a professional look for your resume can be difficult and time-consuming. If you want to create an attractive resume quickly, try our partner's Resume Builder and use one of their eye-catching resume templates.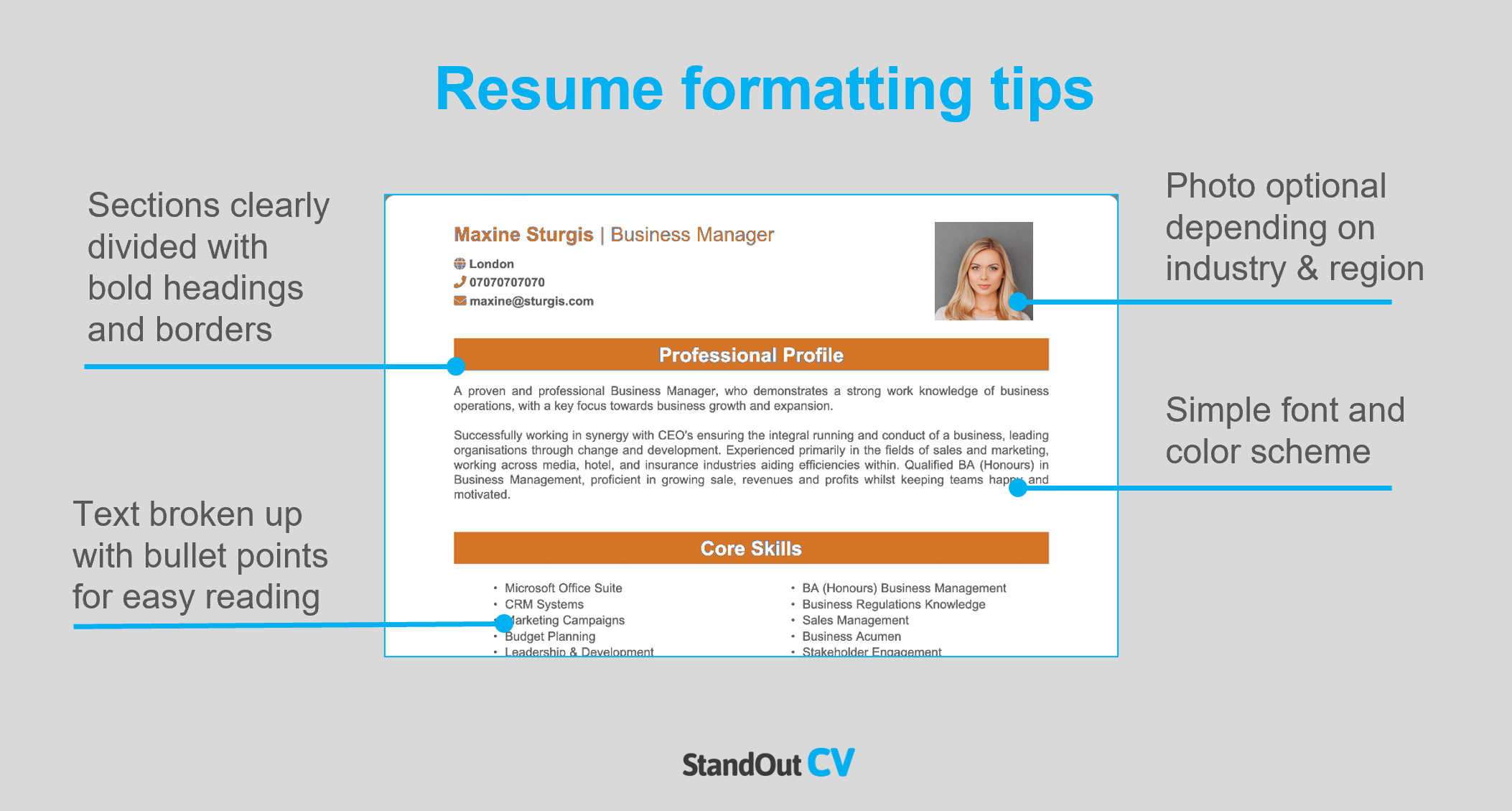 Resume layout
When writing your resume, you should always include the following sections:
Name and Contact Details – Place this information at the top of your resume to make it easy for employers to contact you.
Resume Summary – Write a brief introductory paragraph at the top of your resume summarizing why you are the best candidate for the job.
Skills Section – Create a concise list of your most important skills that can be quickly skimmed over by potential employers.
Work Experience – List your previous jobs in reverse chronological order, including volunteer work and college placements if you have no paid experience.
Education – List your educational qualifications and any professional training you have received.
Additional Information – This is an optional section for including details about hobbies, interests, or any other relevant information that may help distinguish you from other candidates.
Here's what to include in each part of your resume.
Contact Details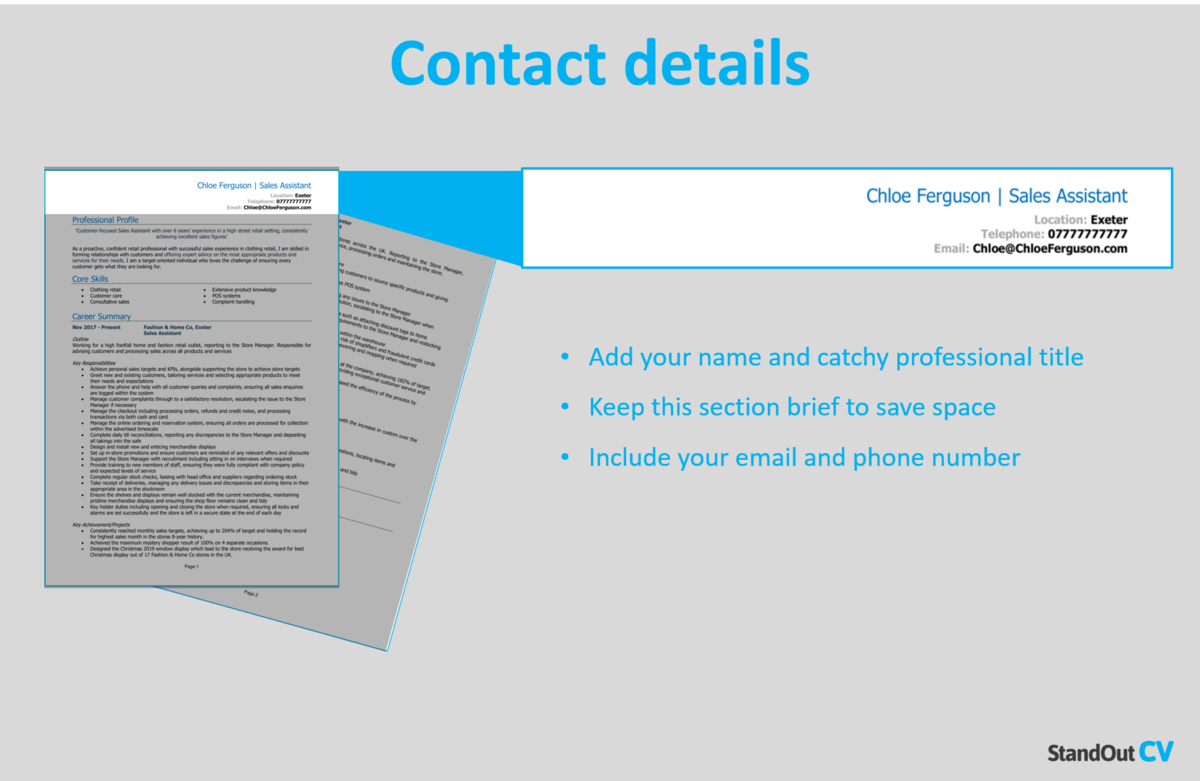 Add your name and contact details to the header of your resume, so that anybody reading can easily see how to contact you.
Name and profession title
Cell phone number – or any number you are easily reachable on
Location – Add your local area such as Washington or San Diego – not your full address as that will take up too much space.
Email address – Use a professional looking address.
You can add a link to your LinkedIn profile if you have one – you do not need to include personal details like date of birth or religion.
Finance Internship Resume Summary
The resume summary is a short paragraph at the top of your resume, and it's purpose is to grab recruiter's attention and make sure they keep reading it.
To make your summary work, ensure that you provide a high-level summary of your skills and experience – and tailor it to reflect the requirements of the jobs you are applying for.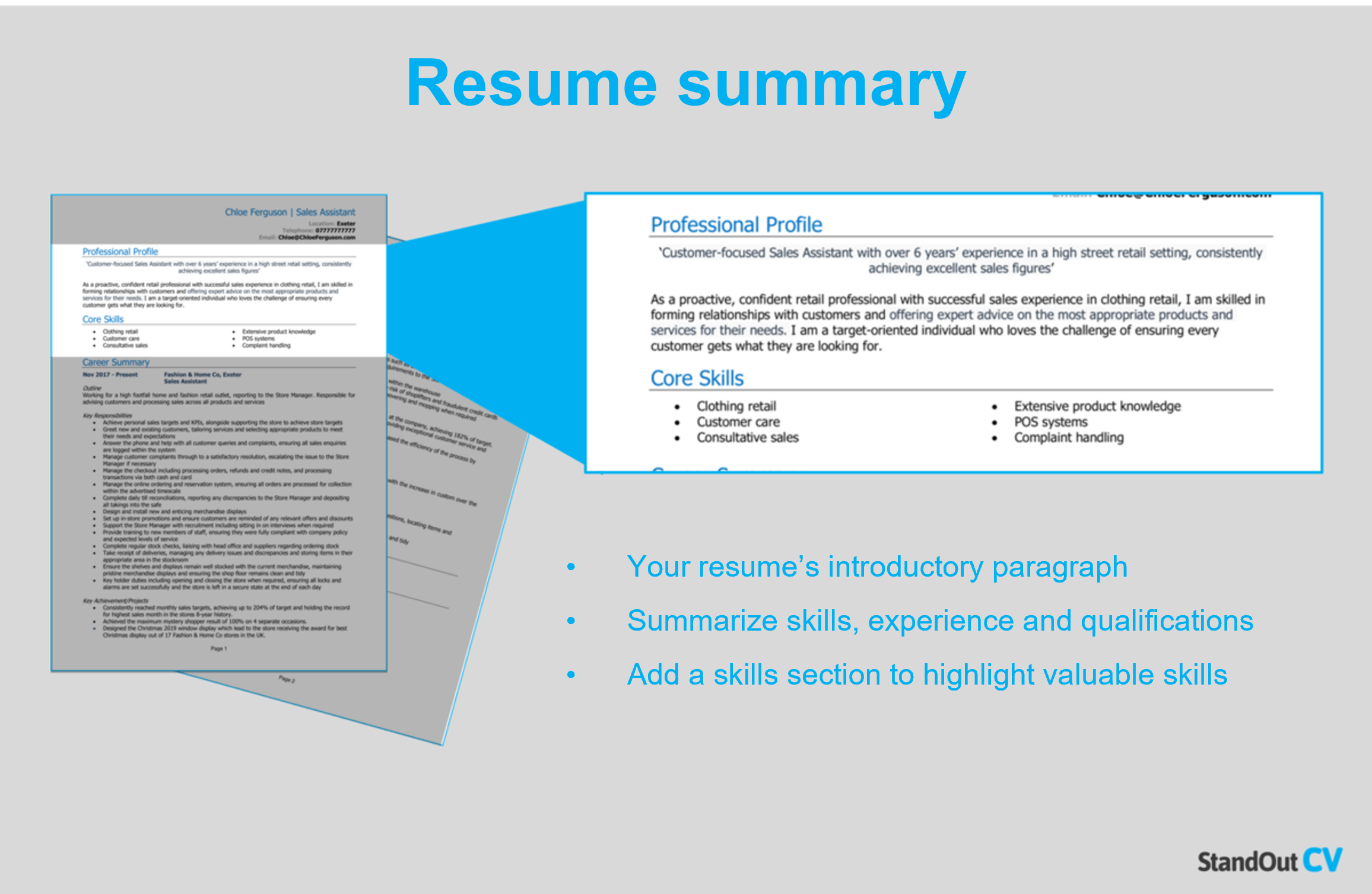 How to create a resume summary that will excite recruiters:
Keep it short: To capture a recruiter's attention and keep them interested in your resume, limit your summary to 4-7 lines as you only have a few seconds to make an impression
Tailor to target jobs: To tailor your resume to your target jobs, it's essential to closely analyze the job description and include as many relevant skills as possible.
Avoid using cliches: Recruiters look for facts in resumes, such as hard skills and qualifications – so, leave out the meaningless cliches like "hard worker who works well in a team and individually"
Finance Internship resume summary example
Highly driven and detail-oriented Finance student at New York University, specializing in financial analysis and investment strategies. Proven ability to analyze complex financial data and make informed recommendations. Seeking a challenging internship opportunity in the finance industry to apply academic knowledge and gain practical experience.
What to include in your Finance Internship resume summary?
Summary of your experience: Briefly describe the work you have performed in the past and the contributions you have made to the organizations you have worked for.
Relevant skills: Skills that are highly relevant to Finance Internship work should be made prominent throughout your summary.
Qualifications: If your job requires any qualifications such as a professional course or a college degree, mention it briefly in your summary.
Quick tip: Choose from hundreds of pre-written summaries across all industries, and add one to your resume with one-click in our partner's Resume Builder. All written by recruitment experts and easily tailored to suit your unique skillset and style.
Core skills section
Sitting just underneath your resume summary, your core skills section gives recruiters 4-10 of your most in-demand skills in just a glance.
As Finance Internship jobs may get hundreds of applications, this is a great way to stand out and quickly grab hiring managers' attention.
It should be made up of 2-3 columns of bullet points and highlight attributes that are hyper-relevant to the jobs you are aiming for.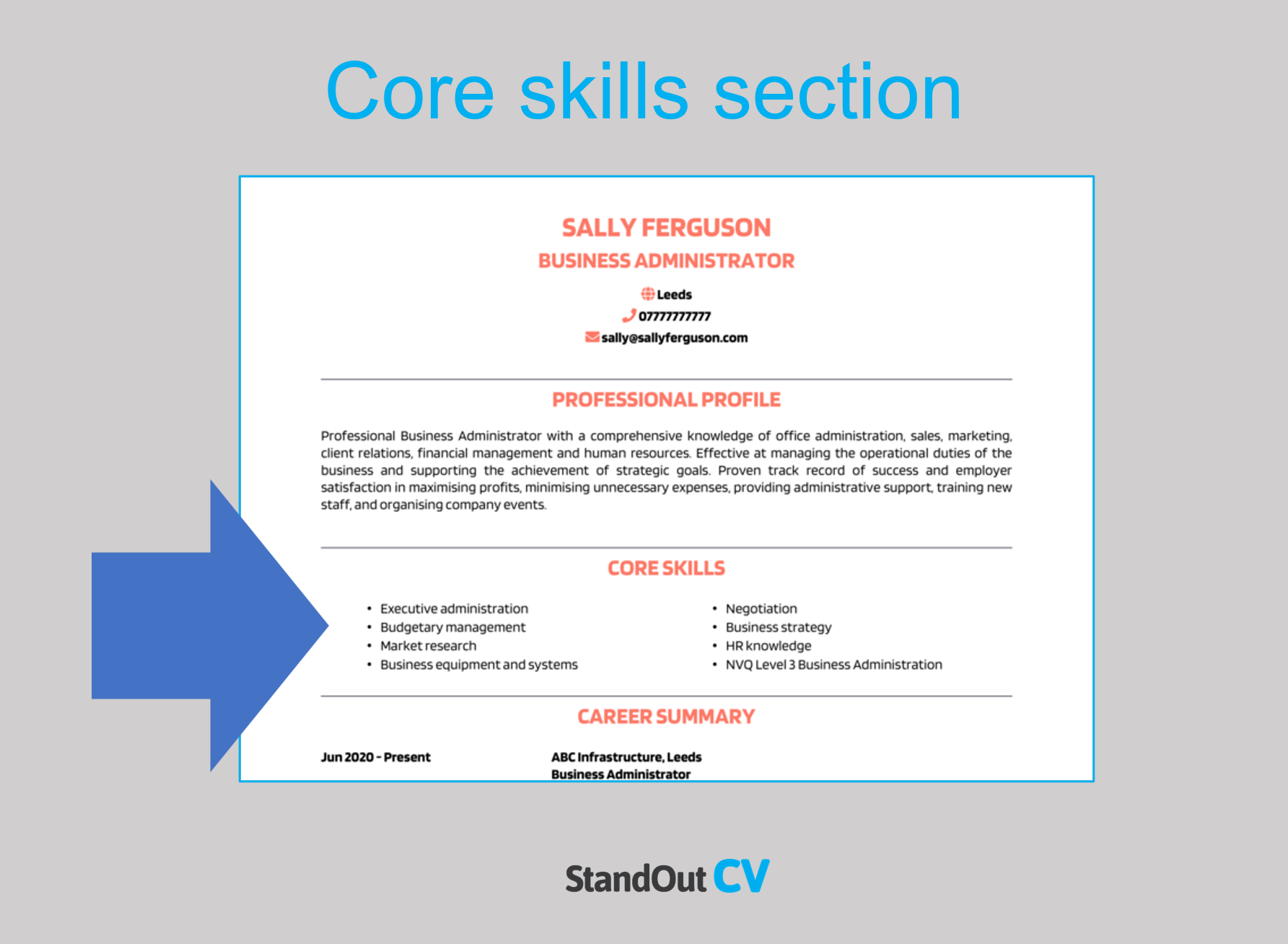 Best skills for your Finance Internship resume
Financial Analysis – Analyzing financial data, interpreting financial statements, and making sound financial decisions.
Excel Proficiency – Utilziing Microsoft Excel, including functions, formulas, and data analysis tools, to effectively manage and analyze financial data.
Financial Modeling – Building financial models to forecast financial performance, evaluate investment opportunities, and support decision-making processes.
Budgeting and Forecasting – Preparing and managing budgets, conducting variance analysis, and forecasting financial performance.
Financial Reporting – Understanding financial reporting standards and regulations, such as GAAP or IFRS, to prepare accurate and concise financial reports.
Data Analysis – Utilizing data analysis techniques, such as statistical analysis and data visualization, to extract meaningful insights from financial data.
Risk Management – Utilizing knowledge of risk assessment and mitigation techniques, including identifying financial risks and developing strategies to manage them.
Financial Systems – Utilizing financial systems and software used in the industry, such as ERP systems or financial management software, to support financial processes.
Business Acumen – Maintaining a solid understanding of business principles, industry trends, and market dynamics to analyze financial performance in the context of broader business objectives.
Stakeholder Communication – Presenting financial information clearly and confidently, collaborating with team members, and building professional relationships.
Quick tip: Our partner's Resume Builder contains thousands of in-demand skills for every profession that can be added to your resume in seconds – saving you time and greatly improving your chances of landing job interviews and getting hired.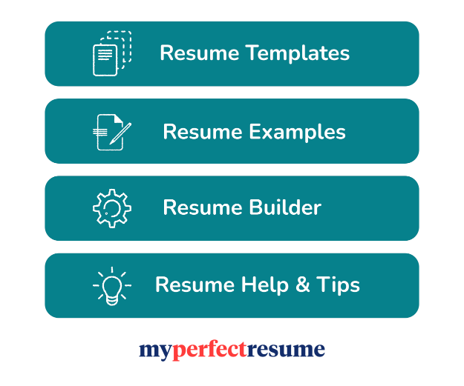 Work experience
Congratulations on successfully capturing the recruiter's interest with your attention-grabbing summary! Now, it's time to showcase your workplace impact by providing a detailed list of your previous job experiences and achievements.
If you have significant experience, consider highlighting the most recent few years to condense this section. However, for junior job seekers, it's essential to include as much relevant experience as possible, including volunteering and school work placements.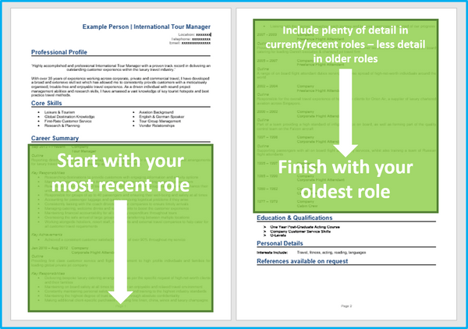 Structuring your jobs
Your job description probably includes tons of information, so it's vital to organize it well when writing about it on your resume.
Structure your jobs as like the example below to make skim-reading easy for recruiters and hiring managers.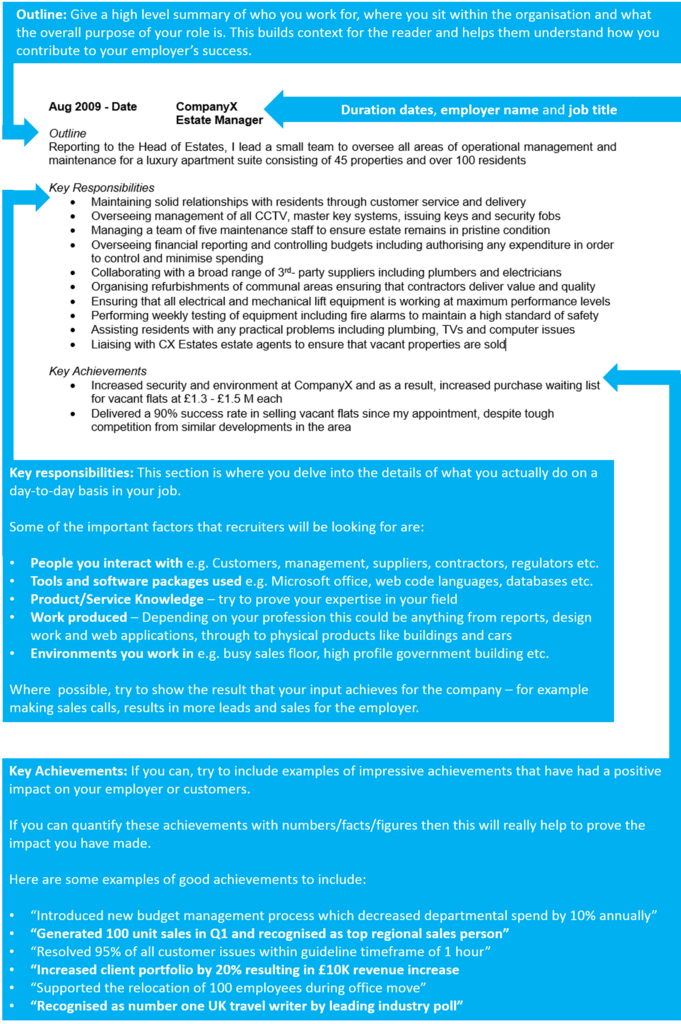 Job outline
Starting each job with a brief summary of the organization, your position within it, and the primary goal of your role can help recruiters quickly understand the context of your work.
Key responsibilities
Next, write up a punchy list of your daily duties and responsibilities, using short bullet points.
Describe how you apply your skills and contribute to the running of the employer's business – highlighting skills which are applicable to your target jobs.
Key achievements
Finish each role by highlighting some impressive achievements you made whilst in the role.
Anything that benefited the employer can be included from making financial savings, to winning new customers.
Quantify your achievements with facts and figures if you can, e.g. "reduced call wait time by 10%"
Example job for Finance Internship resume
Outline
Work part time at a small branch of leading US bank, Bank of America, assisting up to 50 customers per day with transactions.
Key Responsibilities
Process customer transactions, including deposits, withdrawals, and account transfers
Maintain accurate cash balances and reconcile cash drawer daily
Provide excellent customer service, addressing inquiries and resolving issues promptly
Assist customers with account inquiries and guide them through banking services
Quick tip: Create impressive job descriptions easily in our partner's Resume Builder by adding pre-written job phrases for every industry and career stage.

Education section
After your work experience, add your education section.
If you are an experienced professional, you can keep this part short – adding basic details of each qualification.
If you have little or no experience, bulk this section up by adding more detail and highlight important skills and knowledge for your target jobs.
Additional information
If you have anything else to add which is relevant to the jobs you are applying for, the additional info section is the place to add it.
Perhaps you have a hobby which involves relevant skills, or maybe you have some awards or publications worth mentioning.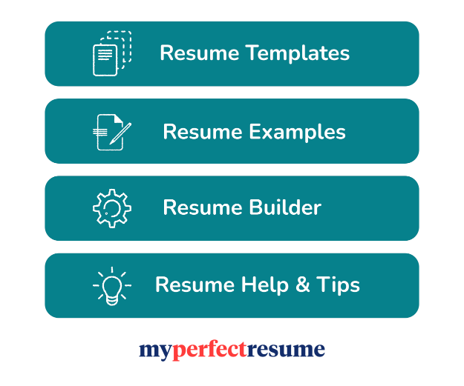 Writing your own winning Finance Internship resume
Writing a Finance Internship resume can be challenging but following the steps above will ensure that you land plenty of interviews.
Good luck with your job search!