Did you know the FBI accepts less than 20% of applicants?
So as well as being physically fit, competent and confident, you also need a powerful resume behind you that will help you get your foot in the door.
That's a lot of pressure on a piece of paper, but using our writing guide and FBI Federal Agent resume example below, you can create an application that will make you stand out from the competition.
Guide contents
| | |
| --- | --- |
| How to write an FBI resume | |

FBI Resume Example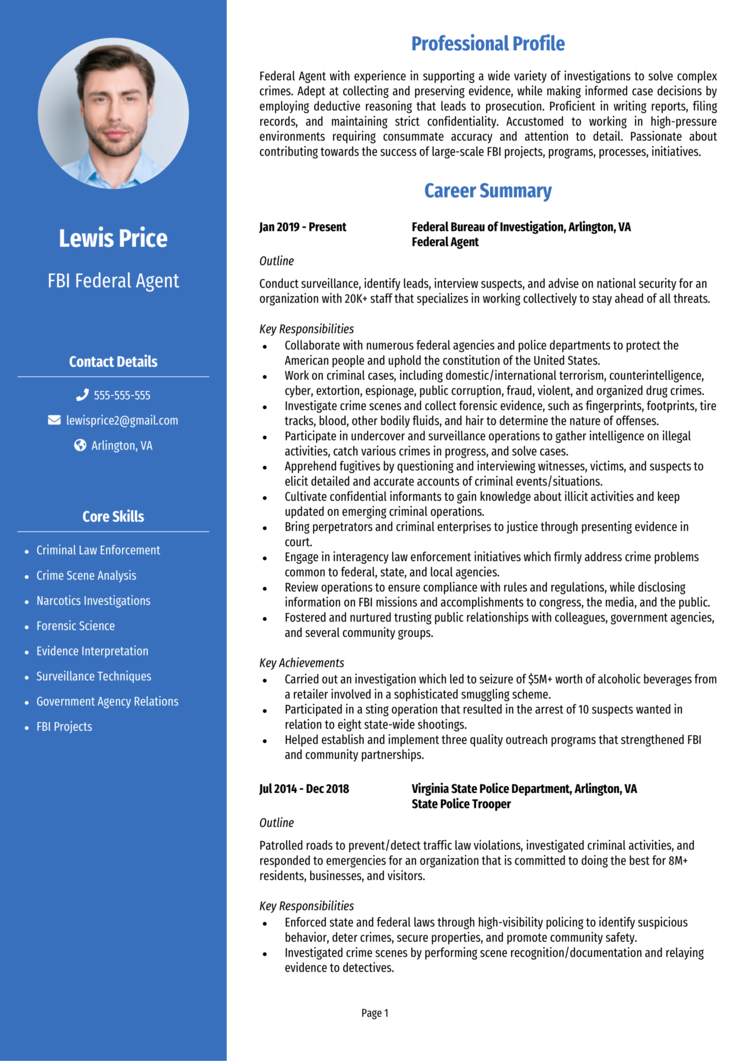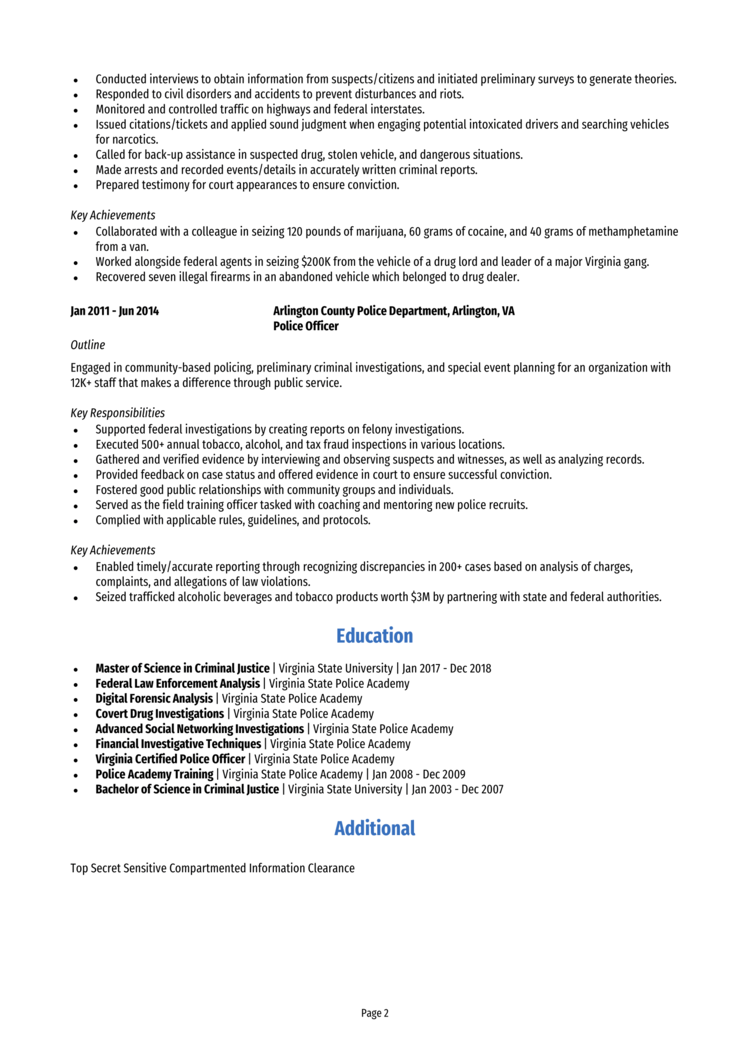 This example FBI Federal Agent resume gives you a general idea of how to structure your own resume, along with the type of content you need to include.
Sticking with this resume format will help you to get noticed by employers and ensure that they can quickly see the benefit of hiring you.
Now, lets walk through a step-by-step guide on how to write your own winning resume.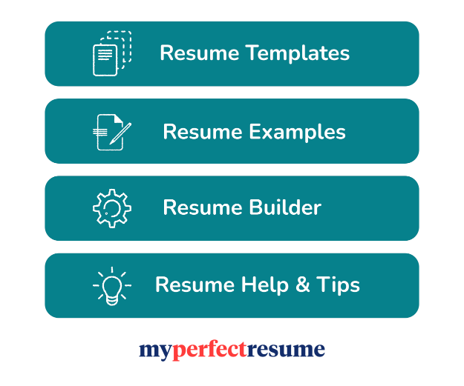 FBI resume layout and formatting
When it comes to holding the attention of recruiting managers, the format and layout of your resume play a key role.
Your resume needs to strike a perfect balance between looking awesome, and being easy for recruiters to read (which is not always easy to achieve)
Use the following formatting tips to get started.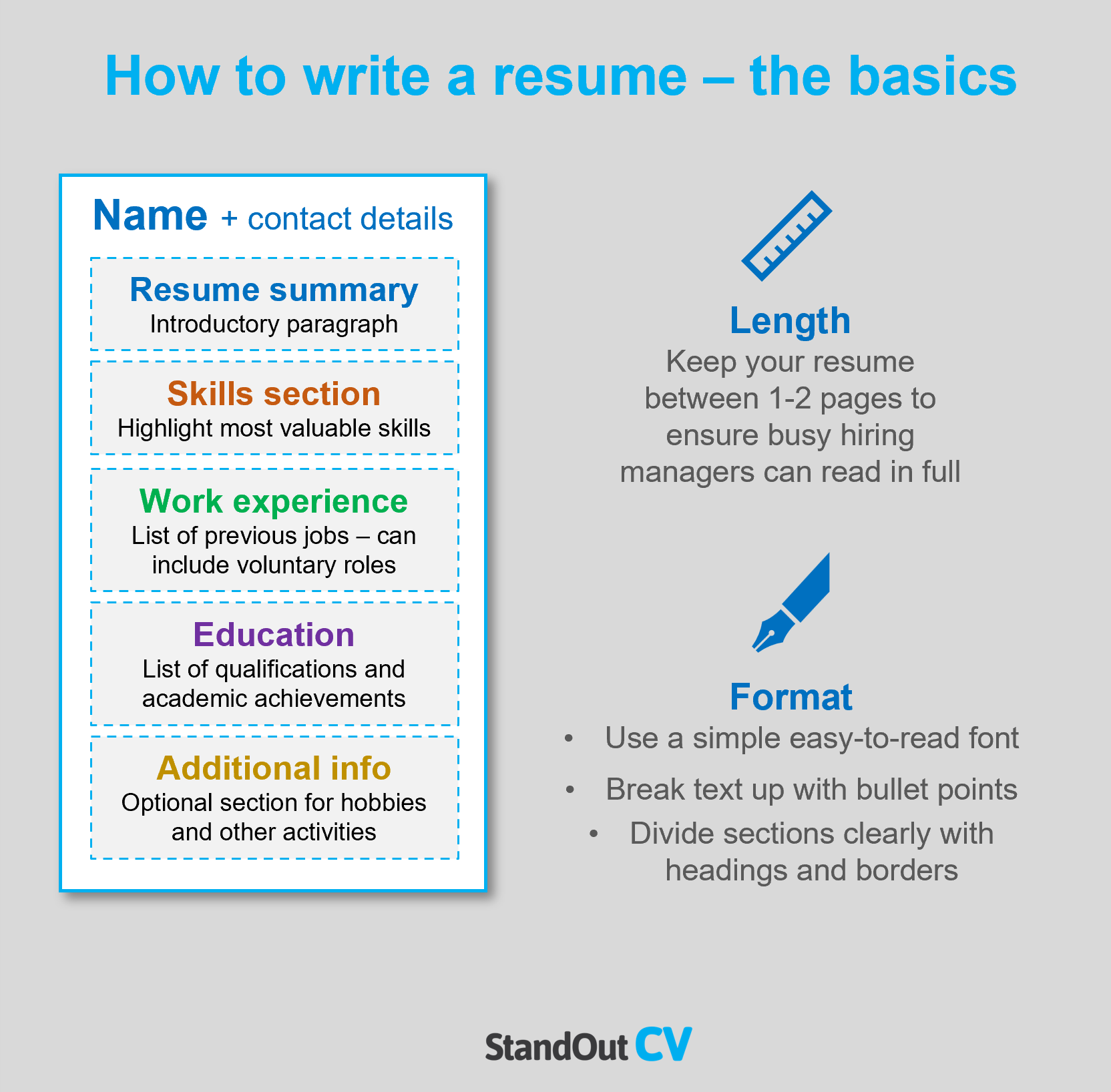 How to format your resume
Length: Keep your resume to 2 pages or under. You've probably heard that recruiters and hiring managers don't have lots of time to read every resume, so keep yours brief if you want to ensure that they read all of the important info in yours.
Font & text: Nobody likes to read huge unbroken paragraphs of text – and recruiters are no different. Break your resume text up with bullet points and use a clear simple font.
Design & layout: Your resume should look appealing – but don't overlook functionality when it comes to design. Organise the page into clear sections using bold headings and borders.
Photos: You are not obliged to add a photo to your resume in the USA, but it can be a nice way of adding some life to the document.
Quick tip: Achieving a professional look for your resume can be difficult and time-consuming. If you want to create an attractive resume quickly, try our partner's Resume Builder and use one of their eye-catching resume templates.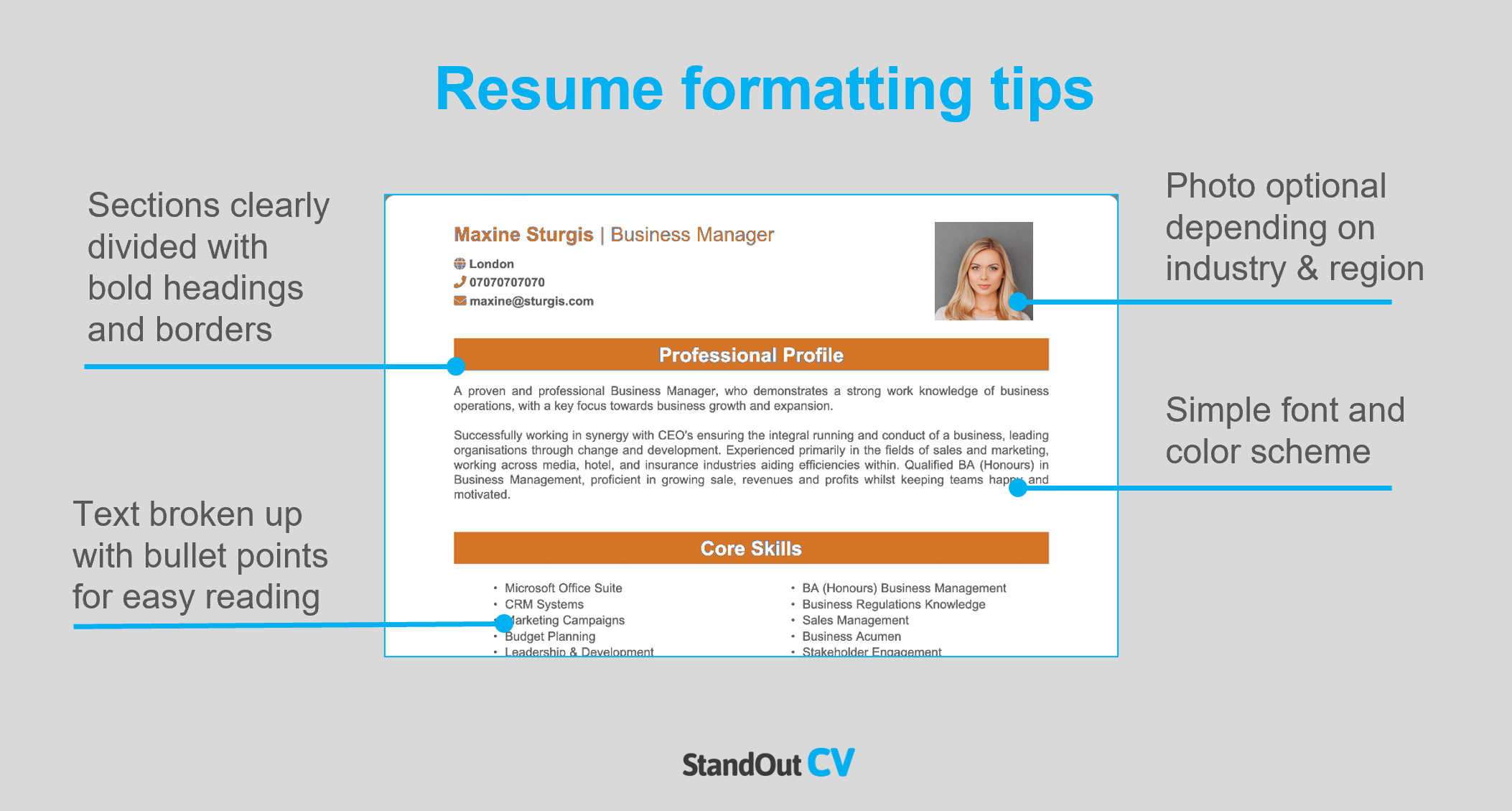 Resume layout
Organize the document into these sections when you write your resume.
Name and contact details – Employers need to know how to get in touch with you – so list your email and cell phone number here.
Resume summary – An intro paragraph at the top of the resume which summarizes your suitability for target jobs.
Skills section – A bullet-pointed list of your most relevant skills and knowledge.
Work experience – A list of your previous jobs (or at least the most relevant and recent ones)
Education – Add academic and professional qualifications that prove you can carry out the job
Additional info – If they are relevant to the jobs you are applying for, you can add an extra section for things like hobbies and interests.
Here's what you should include in each section of your resume.
Resume Contact Details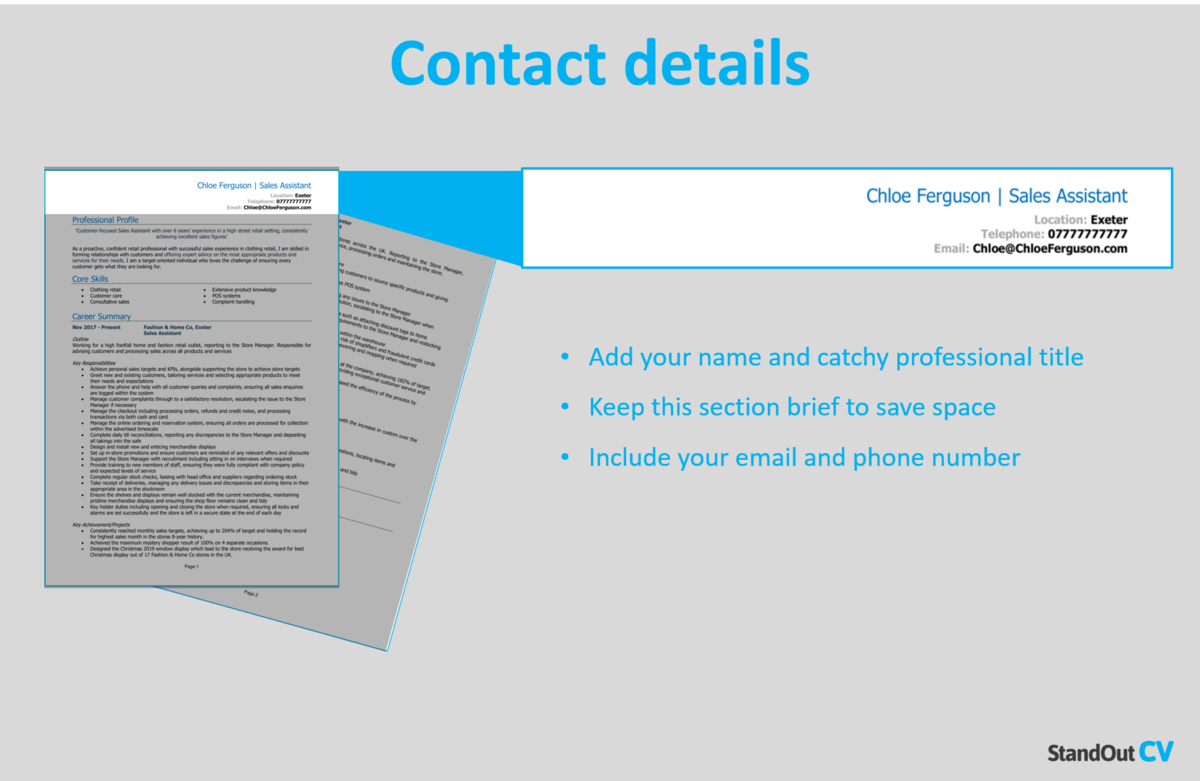 Keep your contact details short to save resume space and include the following.
Name and profession title
Cell phone number
Location – Add your local area such as Silicon Valley or New York, unless you are looking for work in a different location
Email address – Keep it professional and don't use an old address that you thought was cool in high school, but now looks a bit embarrassing.
You can add a link to your LinkedIn profile if you have one – you do not need to include personal details like date of birth or marital status.
FBI Resume Summary
Now it's time to get into the real content of your resume, starting with the summary.
Your resume summary is a short paragraph at the top of the document, and its jobs is to catch the eye of hiring managers by summarizing all your skills and knowledge that are most important to the roles you are applying for.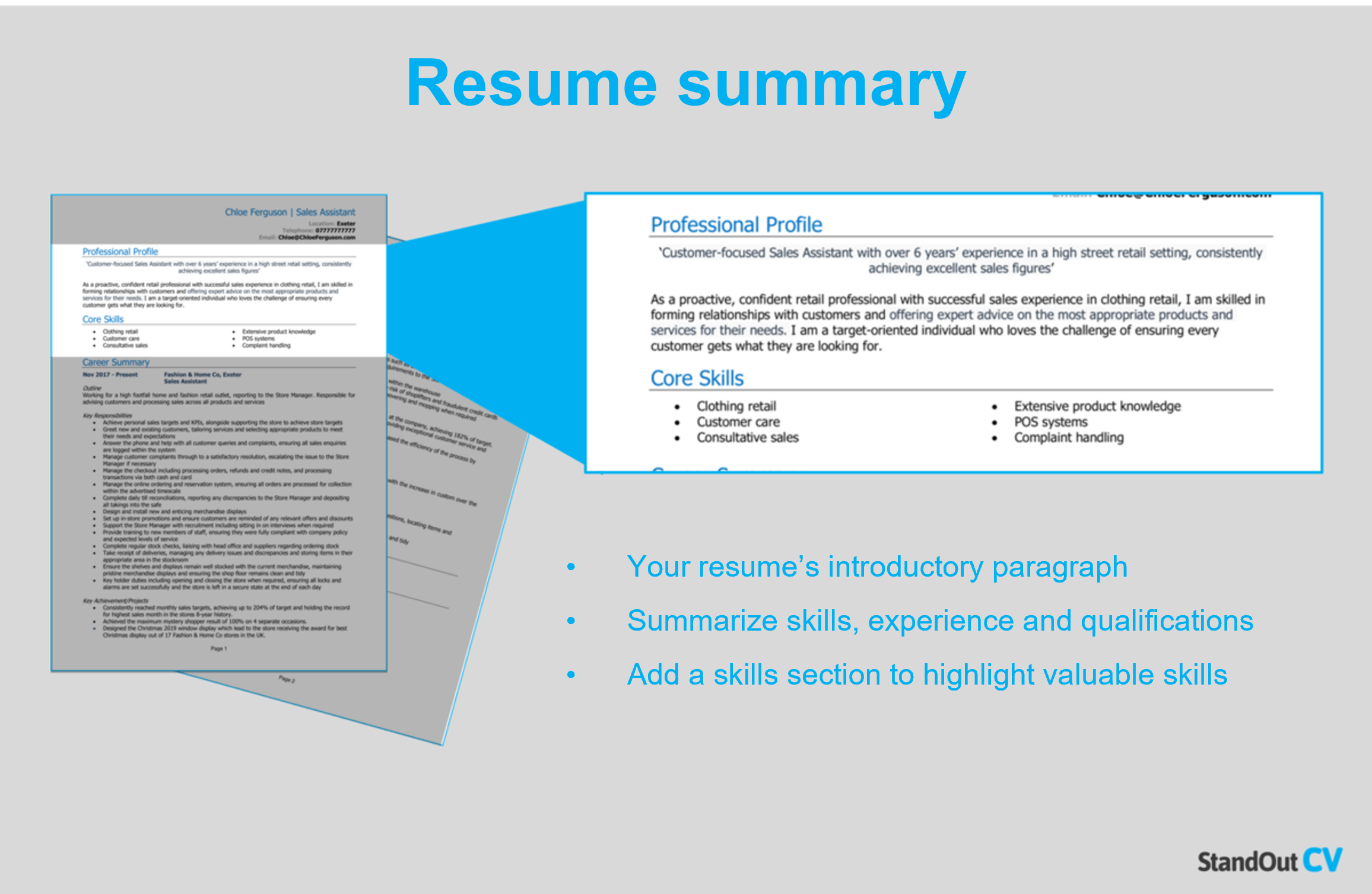 3 tips for creating a resume summary that will get noticed:
Keep it concise: Attention spans are short in the job market, so keep your summary brief and high-level at around 4-7 lines – This is just enough to catch the eye of rushed hiring managers.
Tailor to target jobs: Optimize your summary to match the requirements of your target jobs, by mirroring the key words from the job description as closely as possible.
Don't use cliches: Recruiters look for facts in resumes, such as hard skills and qualifications – so, leave out the meaningless cliches like "hard worker who works well in a team and individually"
Example resume summary for an FBI Federal Agent
Federal Agent with experience in supporting a wide variety of investigations to solve complex crimes. Adept at collecting and preserving evidence, while making informed case decisions by employing deductive reasoning that leads to prosecution. Proficient in writing reports, filing records, and maintaining strict confidentiality. Accustomed to working in high-pressure environments requiring consummate accuracy and attention to detail. Passionate about contributing towards the success of large-scale FBI projects, programs, processes, initiatives.
What info to include in your FBI resume summary?
Summary of experience: Provide an overview of the type of work you have done in the past and the impact you have made at previous employers.
Relevant skills: Highlight your skills which are most relevant to jobs in the FBI, to ensure that recruiters see your most in-demand skills as soon as they open your resume.
Vital qualifications: Any qualifications that are important to the jobs in the FBI that you are applying for, should be mentioned in the summary.
Quick tip: Choose from hundreds of pre-written summaries across all industries, and add one to your resume with one-click in our partner's Resume Builder. All written by recruitment experts and easily tailored to suit your unique skillset and style.
Core skills section
In addition to your resume summary, your core skills section provides an easily digestible snapshot of your skills – perfect for grabbing the attention of busy hiring managers.
As jobs in the FBI might receive a huge pile of applications, this is a great way to stand out and show off your suitability for the role.
It should be made up of 2-3 columns of bullet points and be made up of skills that are highly relevant to the jobs you are targeting.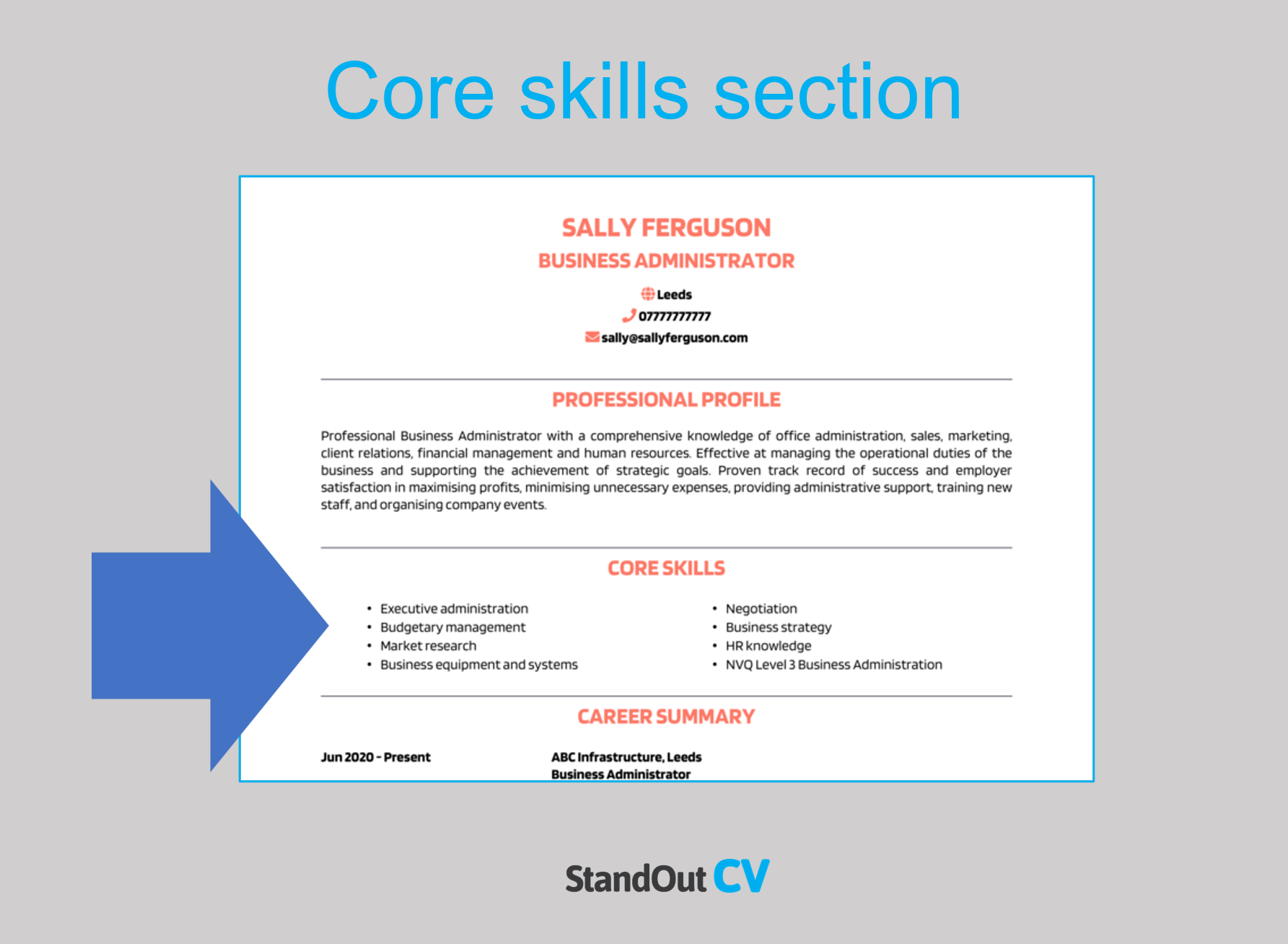 Top skills for your FBI resume
Criminal Law Enforcement – enforcing criminal law by discovering, deterring, rehabilitating, or punishing people who violate the rules and norms governing that society.
Crime Scene Analysis – analyzing and interpreting the specific features of a crime and related crime scenes, involving an integrated assessment of the forensic evidence, forensic victimology, and crime scene characteristics.
Forensic Science – understanding the science behind crime scenes to aid in criminal investigations by collecting and analyzing evidence.
Evidence Interpretation – utilizing evidence and fact to interpret a potential hypothesis regarding the events that took place.
Surveillance Techniques – utilizing a variety of techniques to discreetly gather intelligence and provide information in support of ongoing counterterrorism, foreign counterintelligence, and criminal investigations.
Quick tip: Our partner's Resume Builder contains thousands of in-demand skills for every profession that can be added to your resume in seconds – saving you time and greatly improving your chances of landing job interviews and getting hired.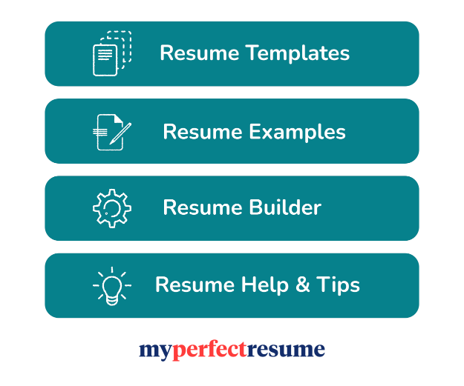 Resume work experience section
Once you've got recruiters interested with your impactful summary, your work experience is where the real detail will lie.
Lay out your previous jobs from current to oldest, detailing what you contributed and achieved in each one.
If you're highly experienced you can cut this section down to your most recent few years of work, but if you are junior you can bulk this up with voluntary work and college placements.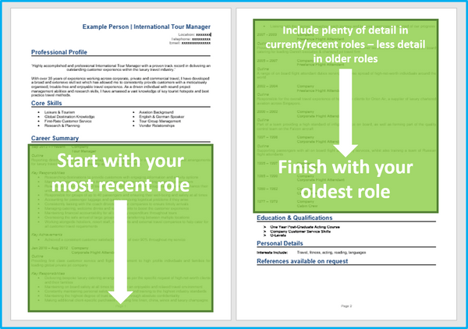 Structuring your job descriptions
It's easy to overwhelm readers when writing about a job you have been doing for years or even months.
Break the information up like this to keep it simple for recruiters to understand.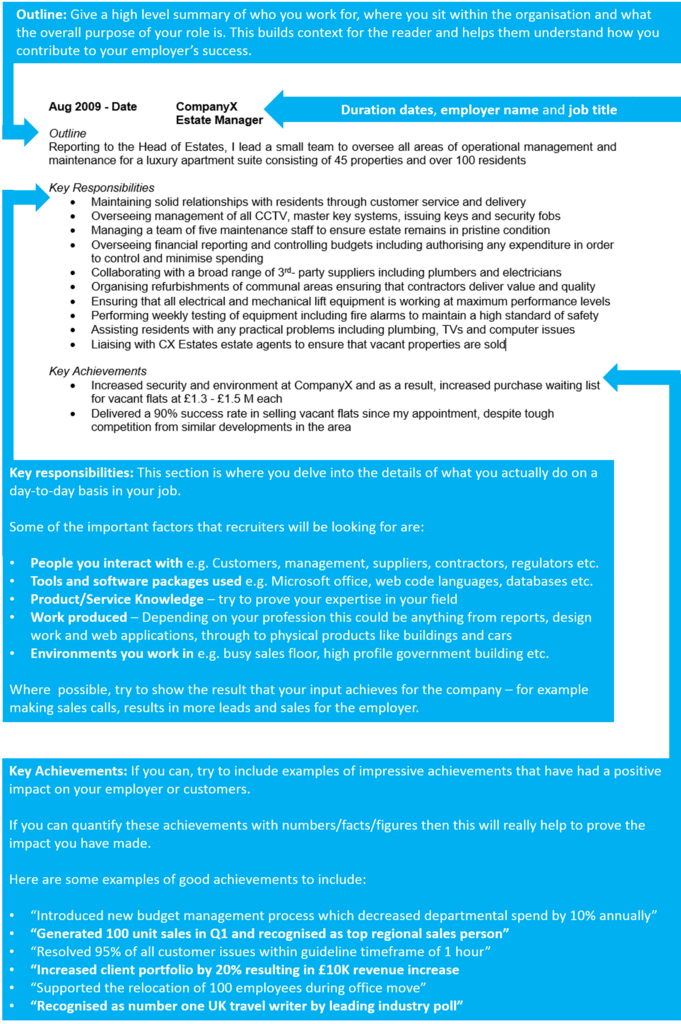 Job outline
Begin each job with a short summary of who the organization is, where you sit within it, and what the main goal of your position is.
Key responsibilities
Next, write up a punchy list of your daily duties and responsibilities, using short bullet points.
Describe how you apply your skills and contribute to the running of the employer's business – highlighting skills which are applicable to your target jobs.
Key achievements
Round off each job by adding some impressive achievements you made in the role.
Anything you've done that has made a big impact on your employer will make a good impression, think; generating revenue, saving costs, or improving a product.
Quantify your achievements with number where possible e.g. "reduced call wait time by 10%"
Example job for an FBI resume
Outline
Conduct surveillance, identify leads, interview suspects, and advise on national security for an organization with 20K+ staff that specializes in working collectively to stay ahead of all threats.
Key Responsibilities
Collaborate with numerous federal agencies and police departments to protect the American people and uphold the constitution of the United States.
Work on criminal cases, including domestic/international terrorism, counterintelligence, cyber, extortion, espionage, public corruption, fraud, violent, and organized drug crimes.
Investigate crime scenes and collect forensic evidence, such as fingerprints, footprints, tire tracks, blood, other bodily fluids, and hair to determine the nature of offenses.
Participate in undercover and surveillance operations to gather intelligence on illegal activities, catch various crimes in progress, and solve cases.
Quick tip: Create impressive job descriptions easily in our partner's Resume Builder by adding pre-written job phrases for every industry and career stage.

Education section
After your work experience, add your education section.
If you are an experienced professional, you can keep this part short – adding basic details of each qualification.
If you have little or no experience, bulk this section up by adding more detail and highlight important skills and knowledge for your target jobs.
Additional information
At the end of your resume, you can add any extra information that might be relevant to the jobs you are applying for.
This could be hobbies, interests, publications, clubs or memberships.
This section is optional and doesn't need to be added if you have nothing more relevant to add.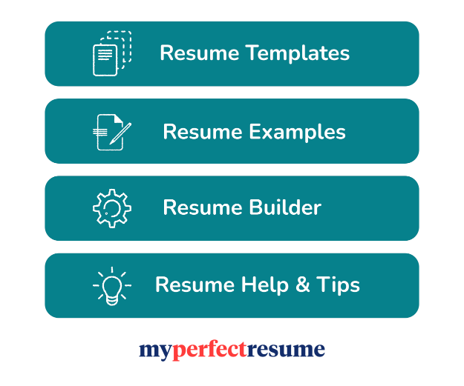 Writing your FBI resume
Writing an FBI resume can be challenging but following the steps above will ensure that you land plenty of interviews.
If you want to speed up the process and use an attractive professional template, try out our partner's Resume Builder.
Good luck with your job search!