You understand the power of a good email marketing campaign, and you're ready to unleash your expertise on a new team.
But first, you need to convince the recruiter to open and engage with your resume.
To help you craft an application that delivers, check out our top tips and email marketing manager resume example in this comprehensive guide.
Contents
| | |
| --- | --- |
| How to write a Email Marketing Manager resume | |

Email Marketing Manager Resume Example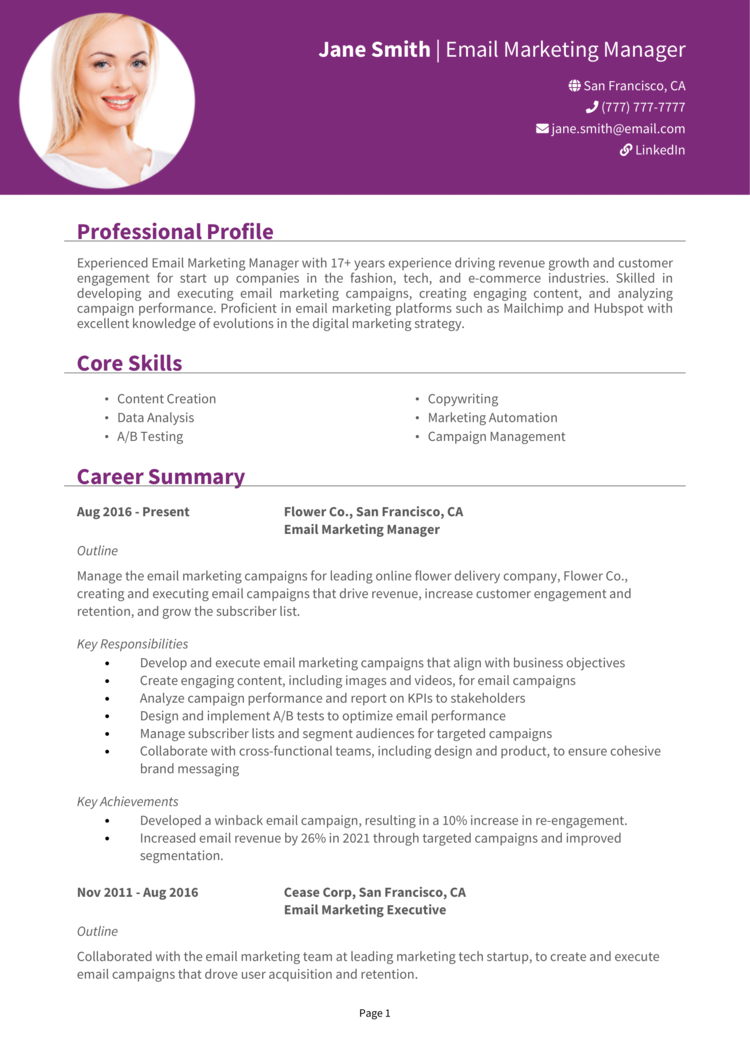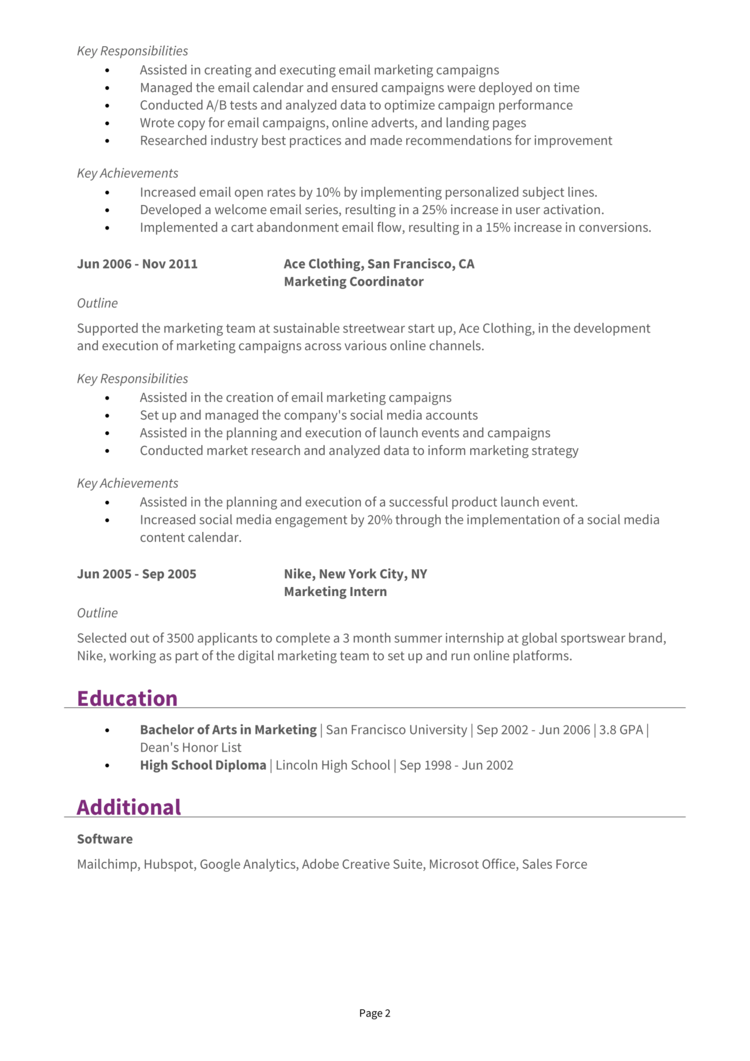 This Email Marketing Manager resume example shows you the most effective layout for a resume in today's job market, along with the type of content you need to include.
Stick closely to these guidelines as you write your own resume, to boost your chances of getting lots of responses, interviews and job offers.
Now lets dive into the details of how you write your own eye-catching resume…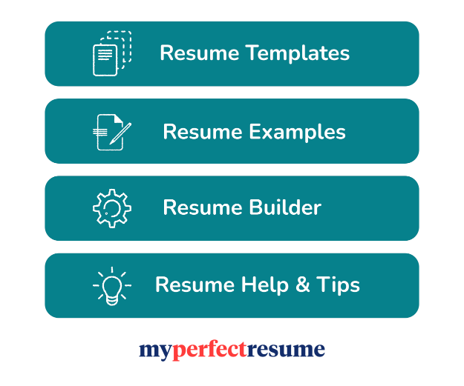 Email Marketing Manager resume layout and formatting
If you want to get noticed in the job market, you have to pay attention to the format and layout of your resume.
Essentially your resume needs to look highly polished, and provide hiring managers with an easy reading experience.
Use these resume formatting tips to get a head start on this.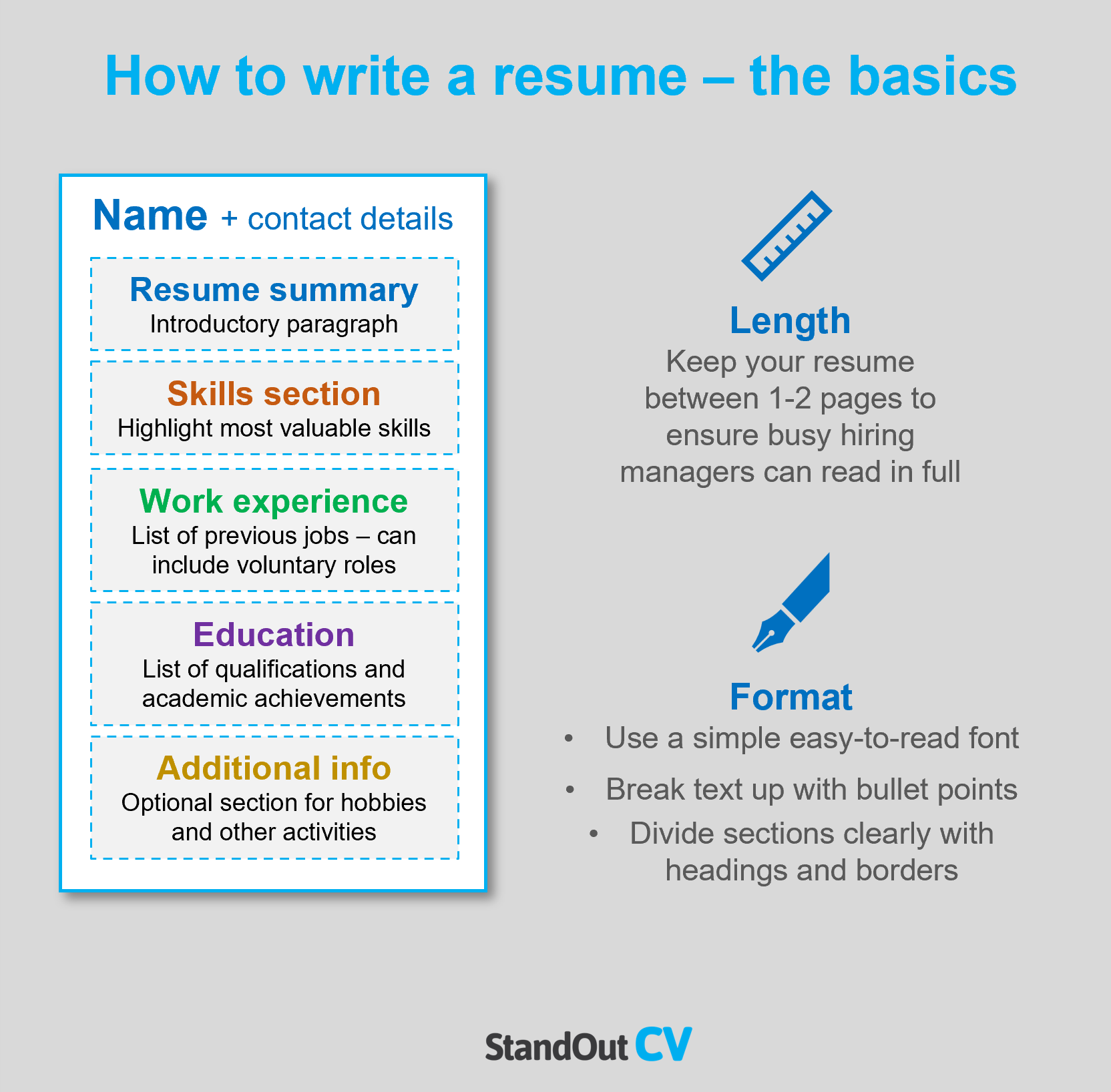 Formatting your resume
Length: Given that recruiters have to sift through tons of resumes daily, it's recommended to keep your resume brief (no more than 2 pages) to make sure it receives their full attention.
Font & readability: A readable resume is crucial if you want recruiters to see your important skills. Ensure yours is easy to read by using a simple, clear font and breaking up the text with bullet points and short paragraphs.
Layout & Structure: Go with a resume design that looks good, but also allows for easy reading and navigation for employers. Ensure the page is clearly split up into sections by adding large font headings and dividing borders. Keep the color scheme simple and don't overcrowd the page.
Photos: Although it is not compulsory to include a photo in your resume in the USA, it can be advantageous if you are applying to companies in creative industries.
Quick tip: Achieving a professional look for your resume can be difficult and time-consuming. If you want to create an attractive resume quickly, try our partner's Resume Builder and use one of their eye-catching resume templates.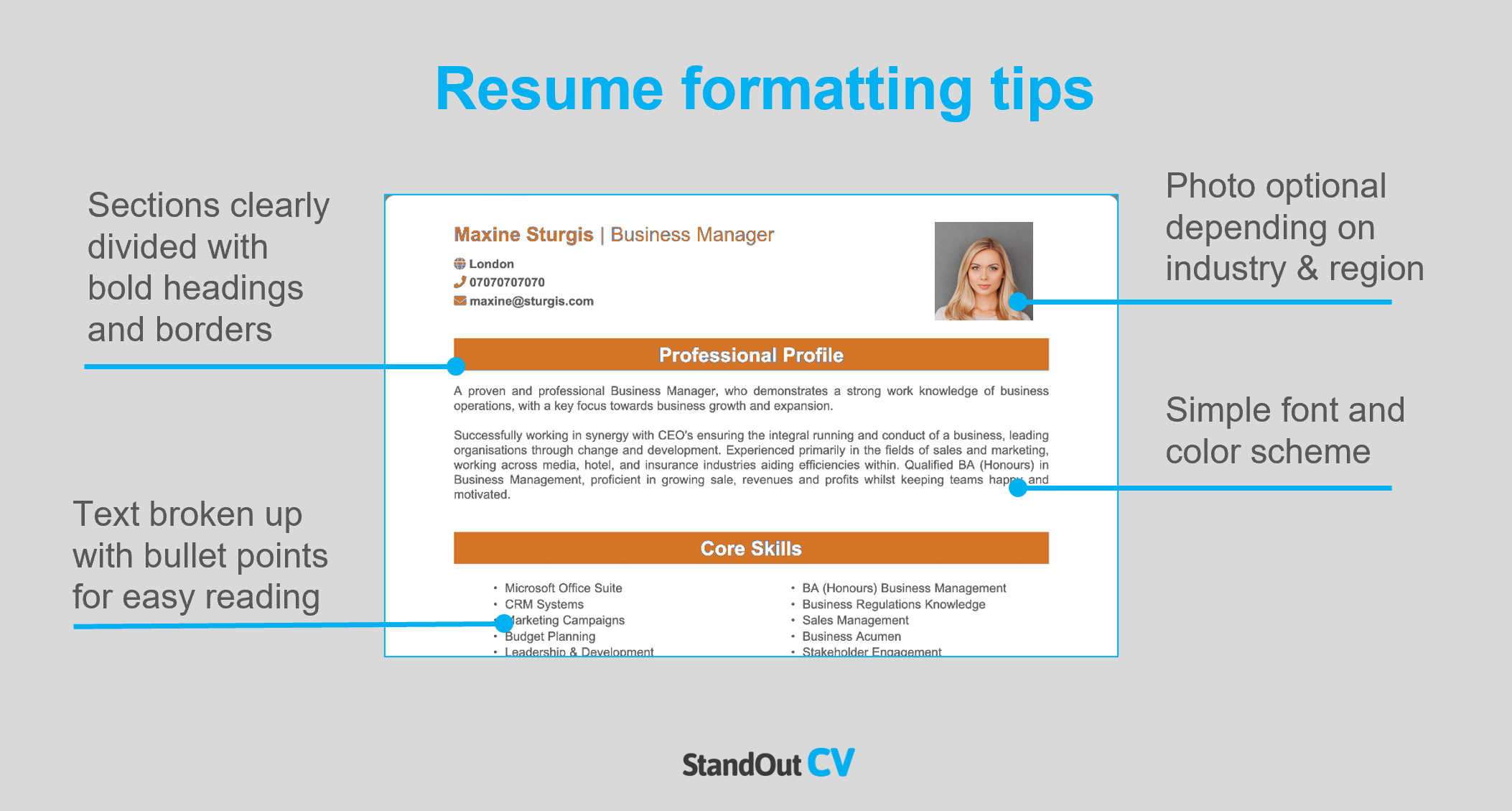 Resume layout
When you write your resume, include the sections below.
Name and contact details – Pop these at the very top to ensure recruiters know how to contact you.
Resume summary – An eye-catching paragraph which summarizes your most valuable attributes – placed near the top of your resume
Skills section – A bullet pointed list of your most in-demand skills, enabling recruiters to see your suitability from a glance.
Work experience – List some or all of your previous jobs in reverse chronological order – voluntary work and college placements can be included if you have no paid experience.
Education – A summary of your professional training and academic qualifications.
Additional info – An optional section for anything that may boost your application, such as relevant hobbies and interests
Here's what to include in each part of your resume.
Contact Details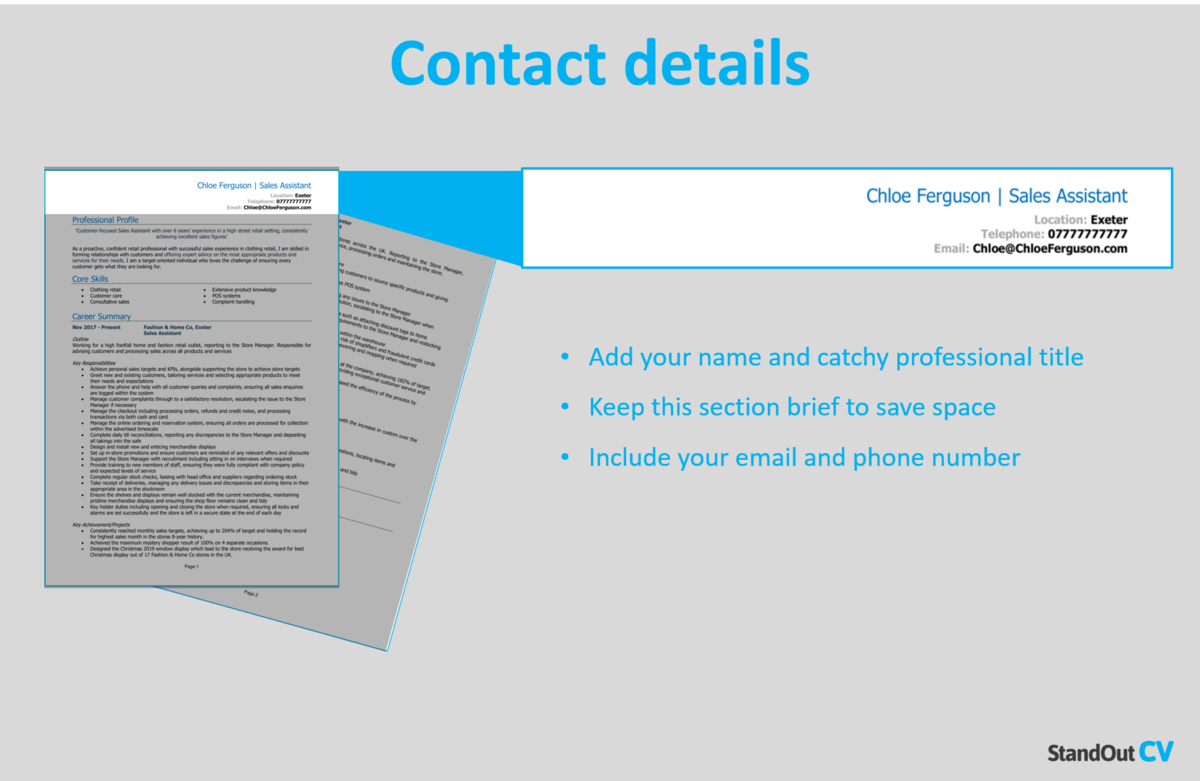 Add your name and contact details to the header of your resume, so that anybody reading can easily see how to contact you.
Name and profession title
Cell phone number – or any number you are easily reachable on
Location – Add your local area such as Washington or San Diego – not your full address as that will take up too much space.
Email address – Use a professional looking address.
You can add a link to your LinkedIn profile if you have one – you do not need to include personal details like date of birth or religion.
Email Marketing Manager Resume Summary
Your resume summary is like your introduction to the recruiter or hiring manager – it should grab their attention and leave them eager to read more about you.
Achieve this by writing a snappy overview of your skills, knowledge and what value you can bring to an employer.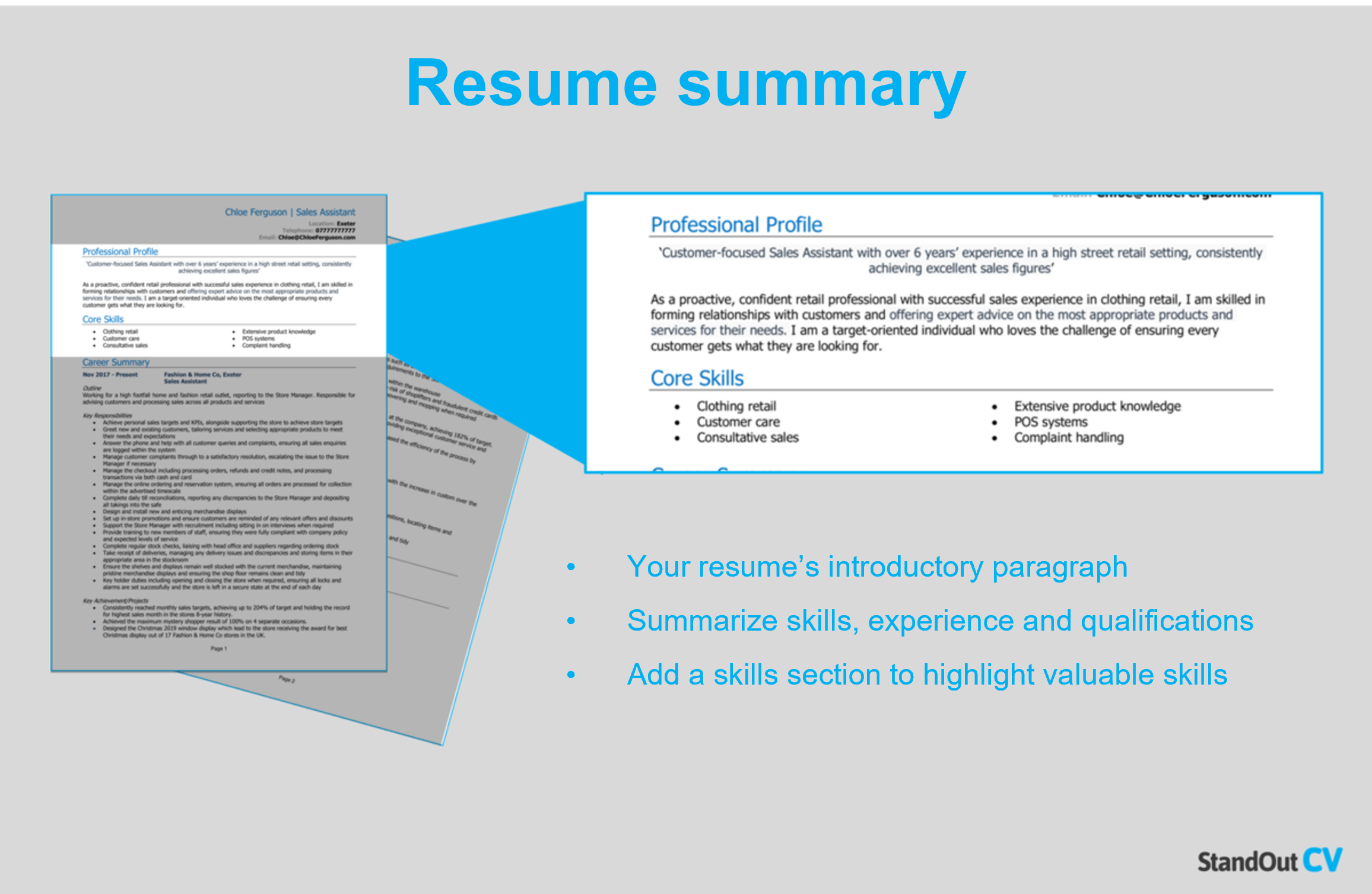 How to create a resume summary that will excite recruiters:
Keep it short: A concise and focused resume summary is essential for capturing a recruiter's attention and keeping them engaged. Limiting your summary to 4-7 lines ensures that you make a strong impression in the first few seconds of them opening the document.
Tailor to target jobs: Recruiters will be scanning for the skills and knowledge they mentioned in the job description, so add as many as you can to your summary.
Avoid using cliches: To capture the attention of recruiters you must provide factual information, such as hard skills and qualifications, and avoid using empty phrases like "Go-getter who thinks outside the box."
Email Marketing Manager resume summary example
Experienced Email Marketing Manager with 17+ years' experience driving revenue growth and customer engagement for startup companies in the fashion, tech, and e-commerce industries. Skilled in developing and executing email marketing campaigns, creating engaging content, and analyzing campaign performance. Proficient in email marketing platforms such as Mailchimp and Hubspot with excellent knowledge of evolution's in the digital marketing strategy.
What to include in your Email Marketing Manager resume summary?
Summary of your experience: Summarize the type of work you have done in the past and the ways in which you have contributed to the success of your previous employers.
Relevant skills: Instantly showcase your suitability for Email Marketing Manager jobs by including your skills that are highly relevant to them.
Qualifications: If your job requires any qualifications such as a professional course or a college degree, mention it briefly in your summary.
Quick tip: Choose from hundreds of pre-written summaries across all industries, and add one to your resume with one-click in our partner's Resume Builder. All written by recruitment experts and easily tailored to suit your unique skillset and style.
Core skills section
Your core skills section, positioned just below your resume summary, provides recruiters with a quick glance at 4-10 of your most in-demand skills.
For Email Marketing Manager jobs, where hiring managers may receive hundreds of applications, this section can help you stand out and immediately grab their attention.
To be effective, this section should consist of 2-3 columns of bullet points that highlight attributes that are highly relevant to the jobs you are targeting.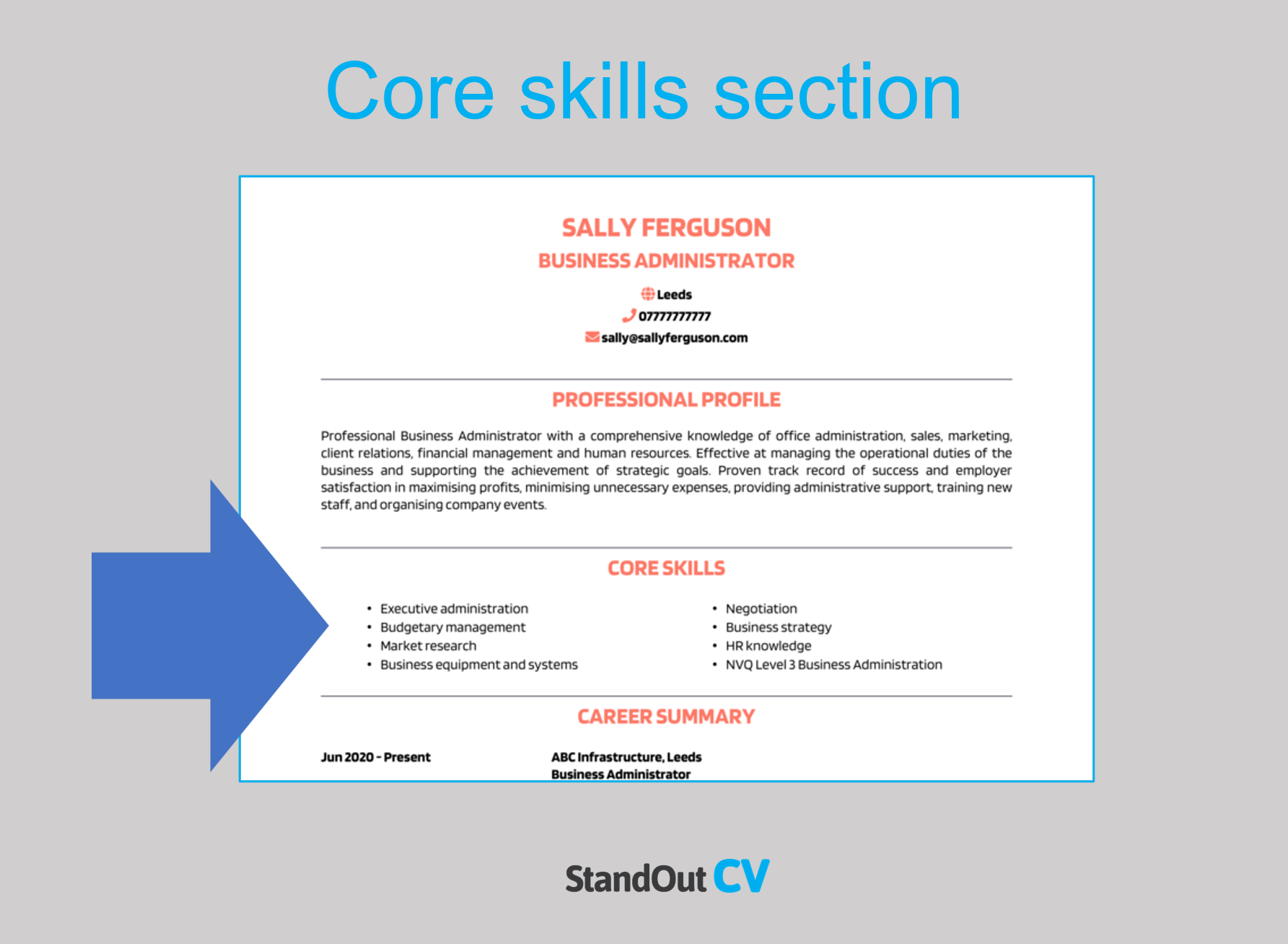 Best skills for your Email Marketing Manager resume
Email marketing strategy – Developing and implementing email marketing strategies, including identifying target audiences, crafting messaging, and setting campaign goals.
Campaign management – Managing email marketing campaigns, including planning and scheduling campaigns, segmenting email lists, and monitoring campaign performance.
Email marketing platforms – Utilizing knowledge of email marketing platforms, including Mailchimp, Constant Contact, and HubSpot, to develop and execute email marketing campaigns.
Copywriting – Writing engaging and effective email copy, including subject lines, headlines, and body copy, to capture readers' attention and drive engagement.
A/B testing – Utilizing knowledge of A/B testing techniques, including testing subject lines, call-to-actions, and content variations, to optimize email campaign performance.
HTML/CSS – Creating and editing HTML and CSS code, to customize email templates and ensure that emails are visually appealing and optimized for different email clients.
Data analysis – Analyzing email marketing metrics and data, including open rates, click-through rates, and conversion rates, to measure the effectiveness of email campaigns and identify areas for improvement.
Automation – Understanding email marketing automation techniques, including trigger campaigns and drip campaigns, to optimize email campaign performance and save time.
Regulatory compliance – Maintaining a detailed understanding of regulatory compliance requirements, including laws related to email marketing and data privacy, to ensure that email marketing campaigns are compliant with all applicable laws and regulations.
Effective communication – Interacting effectively with clients, stakeholders, and technical teams, to communicate email marketing concepts, designs, and recommendations.
Quick tip: Our partner's Resume Builder contains thousands of in-demand skills for every profession that can be added to your resume in seconds – saving you time and greatly improving your chances of landing job interviews and getting hired.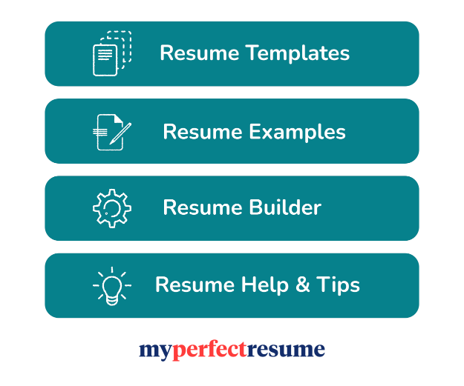 Work experience
Once you've hooked the hiring manager with your summary, you can really blow them away with you work experience.
List your previous jobs from newest to oldest to show the impact you made at each organization.
If you have years of experience, you can leave out some of the older jobs, and if you have little/no experience, you can bulk this section up with voluntary work and college placements.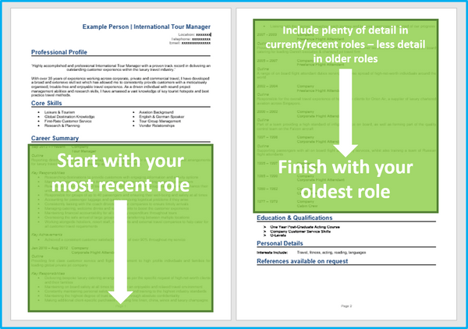 Structuring your jobs
Resume job descriptions contain lots of information, so its crucial to structure them well.
Use the structure below to ensure hiring managers can consume the information easily.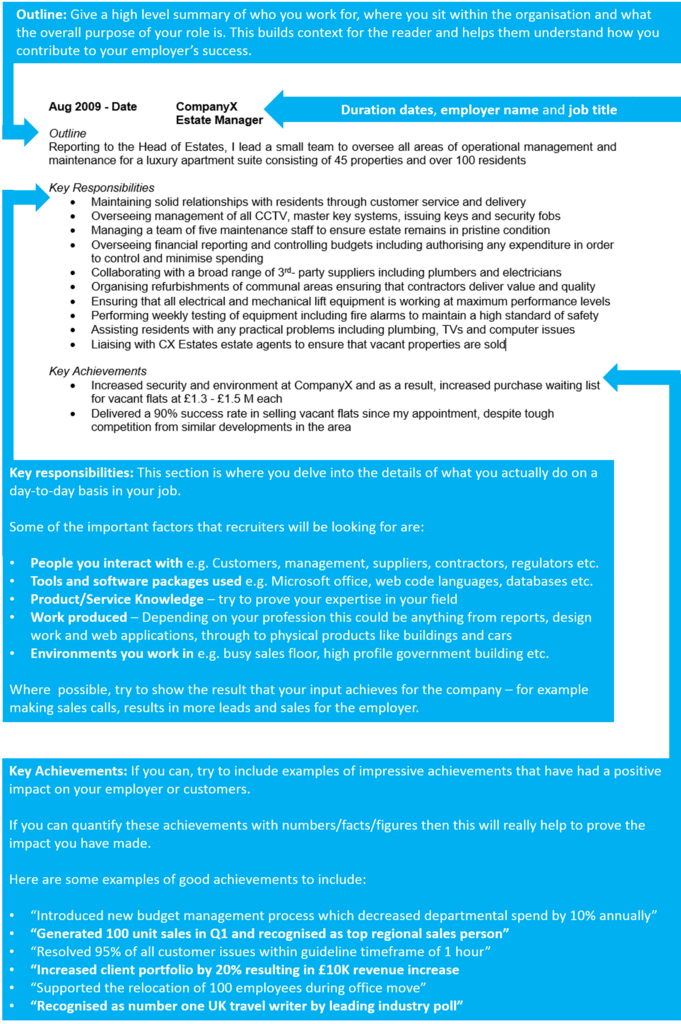 Job outline
To provide context to your jobs, begin each job with a concise summary of the organization, your role within it, and the main objectives of your position.
Key responsibilities
Then delve into the detail of your job by listing out easy-to-read bullet points which show how you apply your skills in the workplace.
Tailor these bullet points to focus on the skills and knowledge that are required in the jobs you are applying for.
Key achievements
Show employers the value you can bring to them by adding a few achievements to your jobs.
Whether you've saved the company money or improved an internal process, let recruiters know
Add some numbers to give readers a real scale of the impact, e.g. "reduced call wait time by 10%"
Example job for Email Marketing Manager resume
Outline
Manage the email marketing campaigns for leading online flower delivery company, Flower Co., creating and executing email campaigns that drive revenue, increase customer engagement and retention, and grow the subscriber list.
Key Responsibilities
Develop and execute email marketing campaigns that align with business objectives
Create engaging content, including images and videos, for email campaigns
Analyze campaign performance and report on KPIs to stakeholders
Design and implement A/B tests to optimize email performance
Quick tip: Create impressive job descriptions easily in our partner's Resume Builder by adding pre-written job phrases for every industry and career stage.

Education section
Nearing the end of your resume, your education/qualifications section should be added.
In a well-structured list, add all of your qualifications and certifications that qualify you to perform a typical Email Marketing Manager role.
If you have plenty of work experience, keep this section brief – if not, add lots of detail to make up for your lack of experience.
Additional information
At the end of your resume, you can add any extra information that might be relevant to the jobs you are applying for.
This could be hobbies, interests, publications, clubs or memberships.
This section is optional and doesn't need to be added if you have nothing more relevant to add.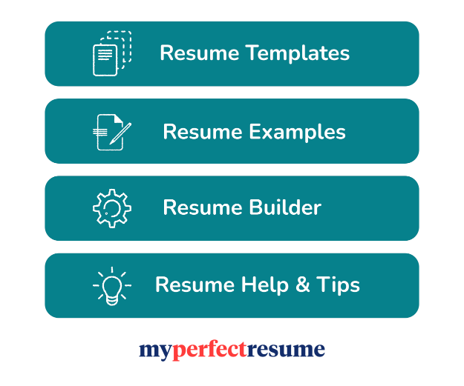 Writing your own winning Email Marketing Manager resume
Crafting a strong Email Marketing Manager resume can be a daunting task, but implementing the steps outlined above will significantly increase your chances of securing multiple interview opportunities.
Good luck with your job search!