You're a tech whizz and you've got the organization and analytical skills to oversee the company's entire technology infrastructure.
In today's world, that makes you a very desirable professional. But you still need a standout resume if you hope to even be considered for the position.
Thankfully, that's our area of expertise. In the guide below, we'll share a director of technology resume example, along with a bunch of top tips for writing a great application.
Contents
| | |
| --- | --- |
| How to write a Director of Technology resume | |

Director of Technology Resume Example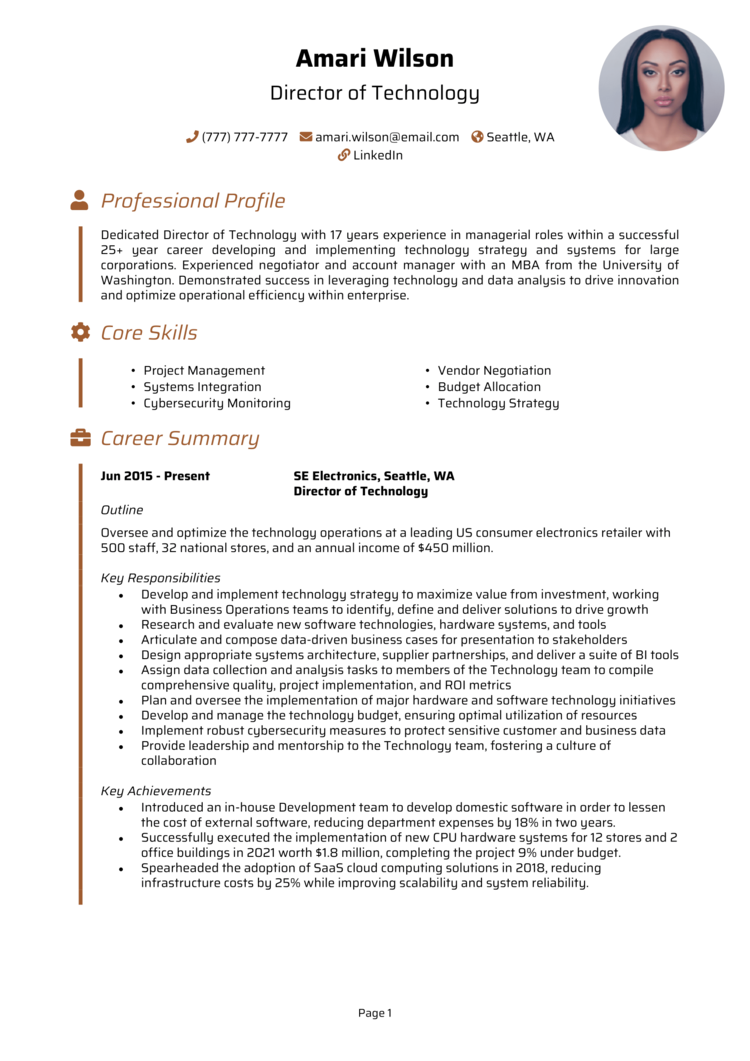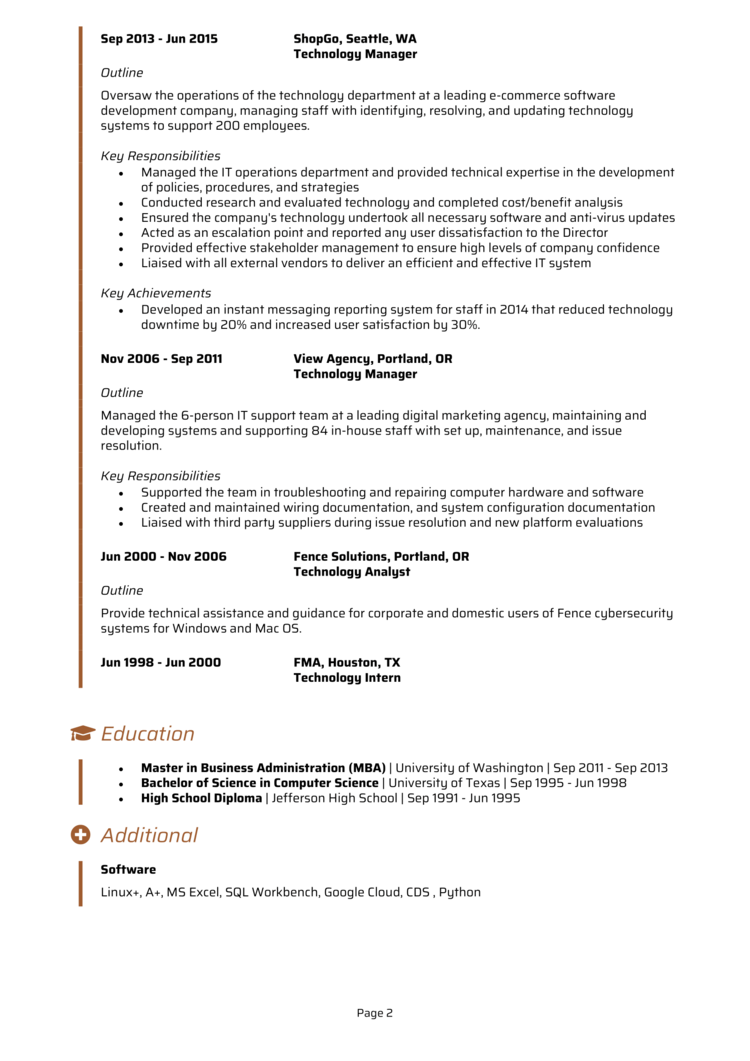 This example Director of Technology resume gives you a general idea of how to structure your own resume, along with the type of content you need to include.
Sticking with this resume format will help you to get noticed by employers and ensure that they can quickly see the benefit of hiring you.
Now, lets walk through a step-by-step guide on how to write your own winning resume.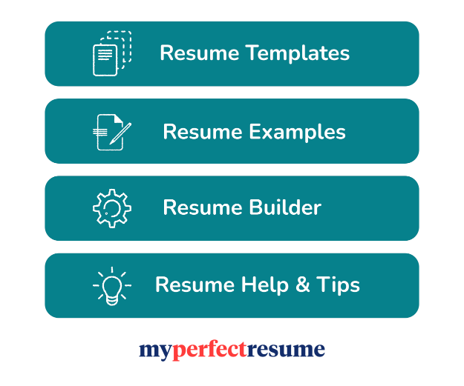 Director of Technology resume layout and format
The format and layout of your resume can make or break its success.
Sure, it's great to pack your resume with lots of impressive skills and knowledge, but if the page is not structured clearly, hiring managers will struggle to find the important stuff!
Above all, your resume should be easy-to-read and professional looking.
Follow these formatting tips to get noticed.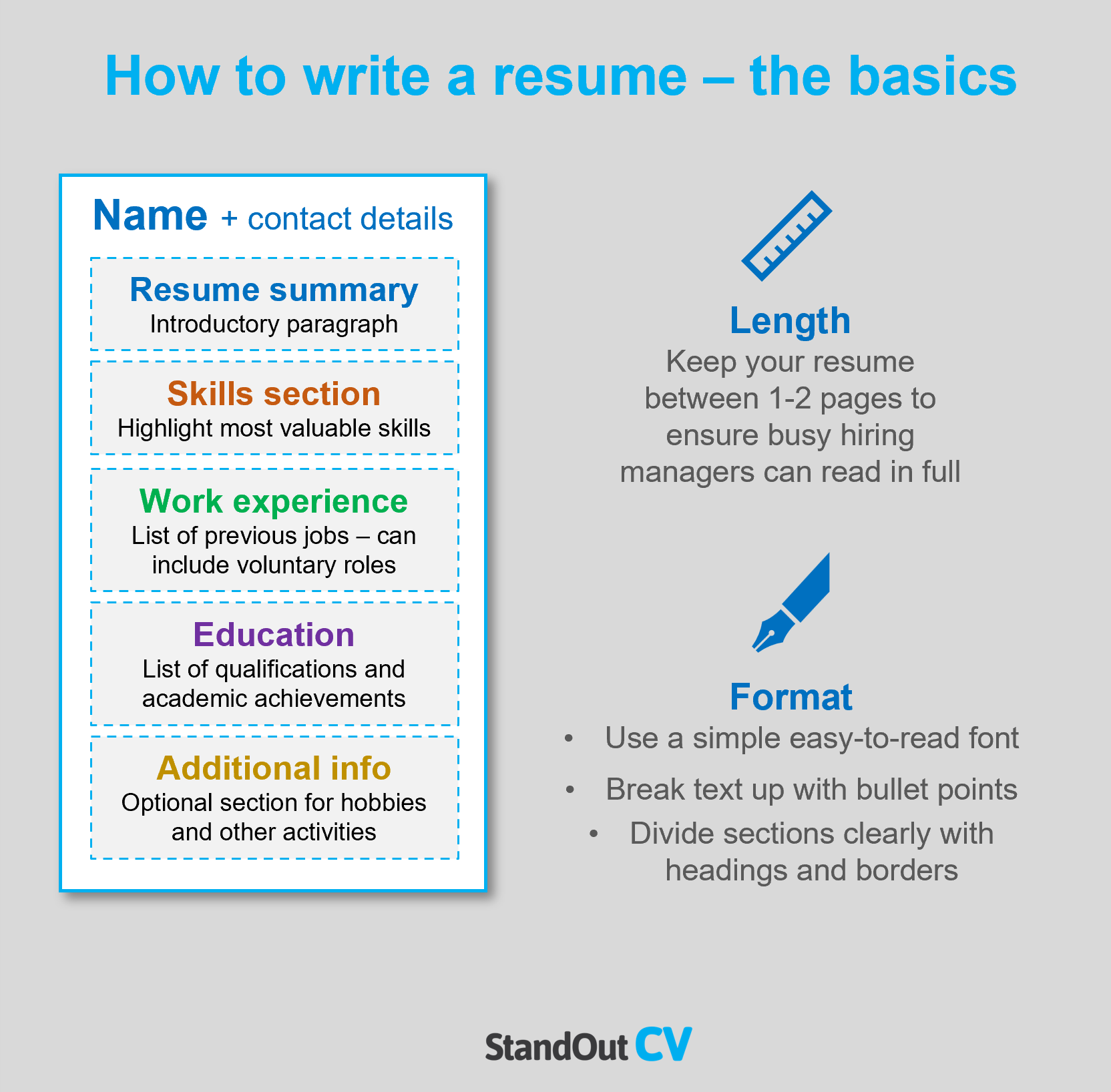 Formatting your resume
Length: To ensure that your resume gets proper attention from recruiters, it is best to keep it at 2 pages or less. Recruiters are often inundated with hundreds of resumes to review on a daily basis, so they want to read each one quickly as possible.
Font & readability: A readable resume is crucial if you want recruiters to see your important skills. Ensure yours is easy to read by using a simple, clear font and breaking up the text with bullet points and short paragraphs.
Layout & Structure: Go with a resume design that looks good, but also allows for easy reading and navigation for employers. Ensure the page is clearly split up into sections by adding large font headings and dividing borders. Keep the color scheme simple and don't overcrowd the page.
Photos: While adding a photo to your resume is not mandatory in the USA, it can be beneficial if you are applying to organizations in creative industries.
Quick tip: Achieving a professional look for your resume can be difficult and time-consuming. If you want to create an attractive resume quickly, try our partner's Resume Builder and use one of their eye-catching resume templates.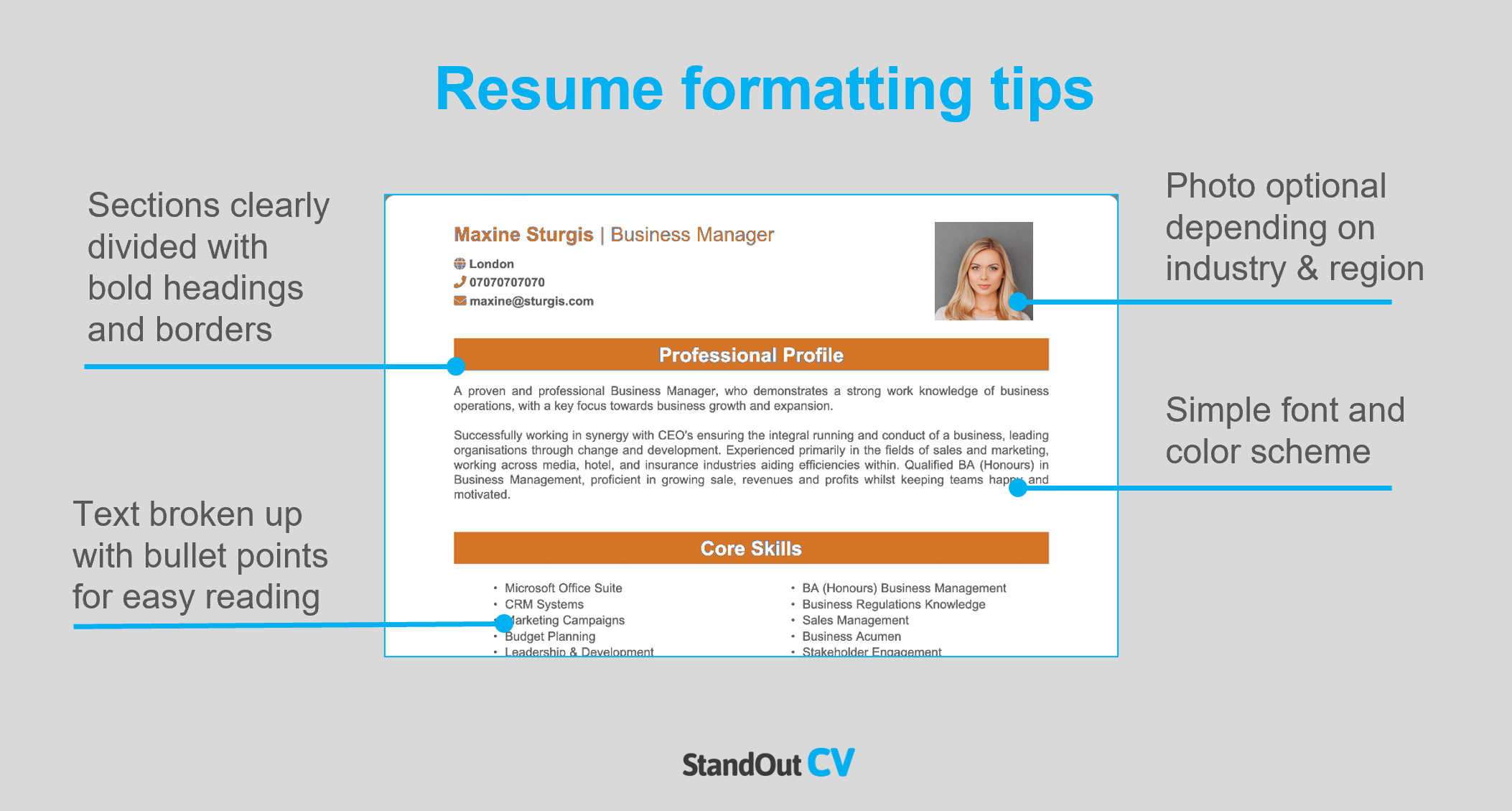 Resume layout
When writing your resume, you should always include the following sections:
Name and Contact Details – Place this information at the top of your resume to make it easy for employers to contact you.
Resume Summary – Write a brief introductory paragraph at the top of your resume summarizing why you are the best candidate for the job.
Skills Section – Create a concise list of your most important skills that can be quickly skimmed over by potential employers.
Work Experience – List your previous jobs in reverse chronological order, including volunteer work and college placements if you have no paid experience.
Education – List your educational qualifications and any professional training you have received.
Additional Information – This is an optional section for including details about hobbies, interests, or any other relevant information that may help distinguish you from other candidates.
Here's what to include in each part of your resume.
Contact Details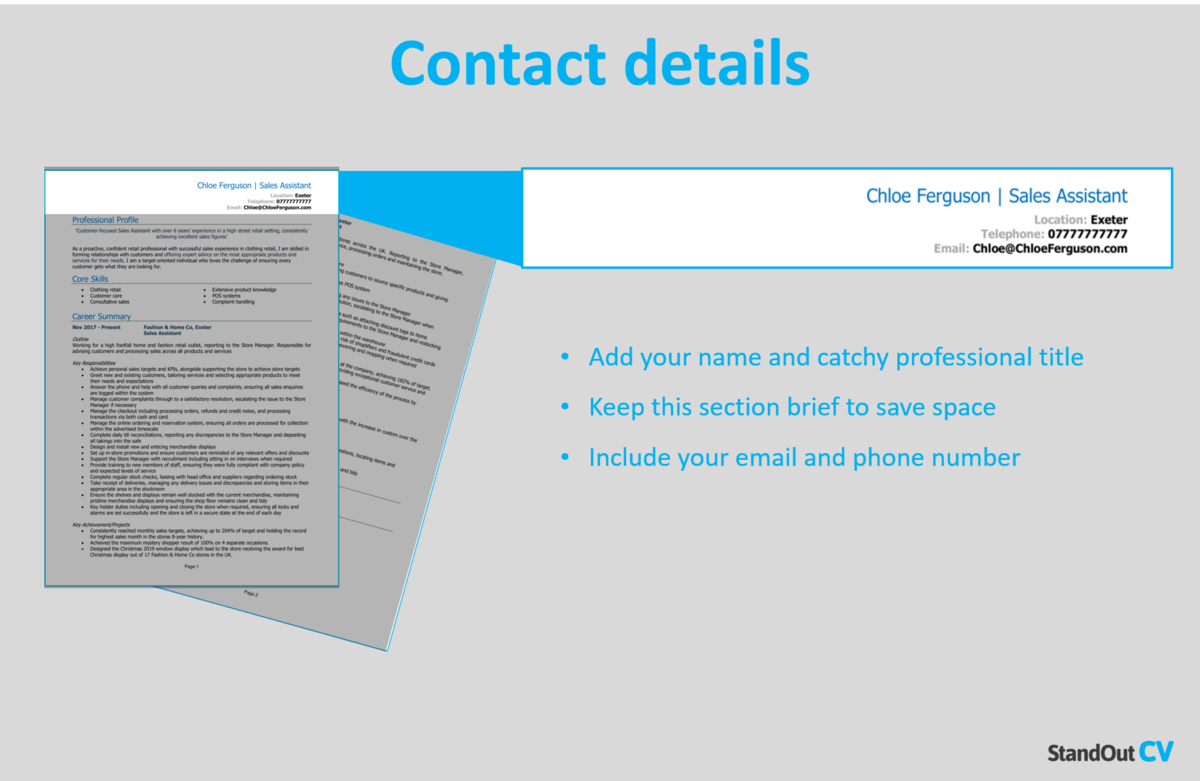 Keep your contact details short to save resume space and include the following.
Name and profession title
Cell phone number
Location – Add your local area such as Silicon Valley or New York, unless you are looking for work in a different location
Email address – Keep it professional and don't use an old address that you thought was cool in high school, but now looks a bit embarrassing.
You can add a link to your LinkedIn profile if you have one – you do not need to include personal details like date of birth or marital status.
Director of Technology Resume Summary
Create a strong opening for your resume by adding a compelling summary to the top that highlights your most valuable skills and experience.
This short but important paragraph is designed convince recruiters that you're the perfect candidate for the job and entice them to read more of your resume.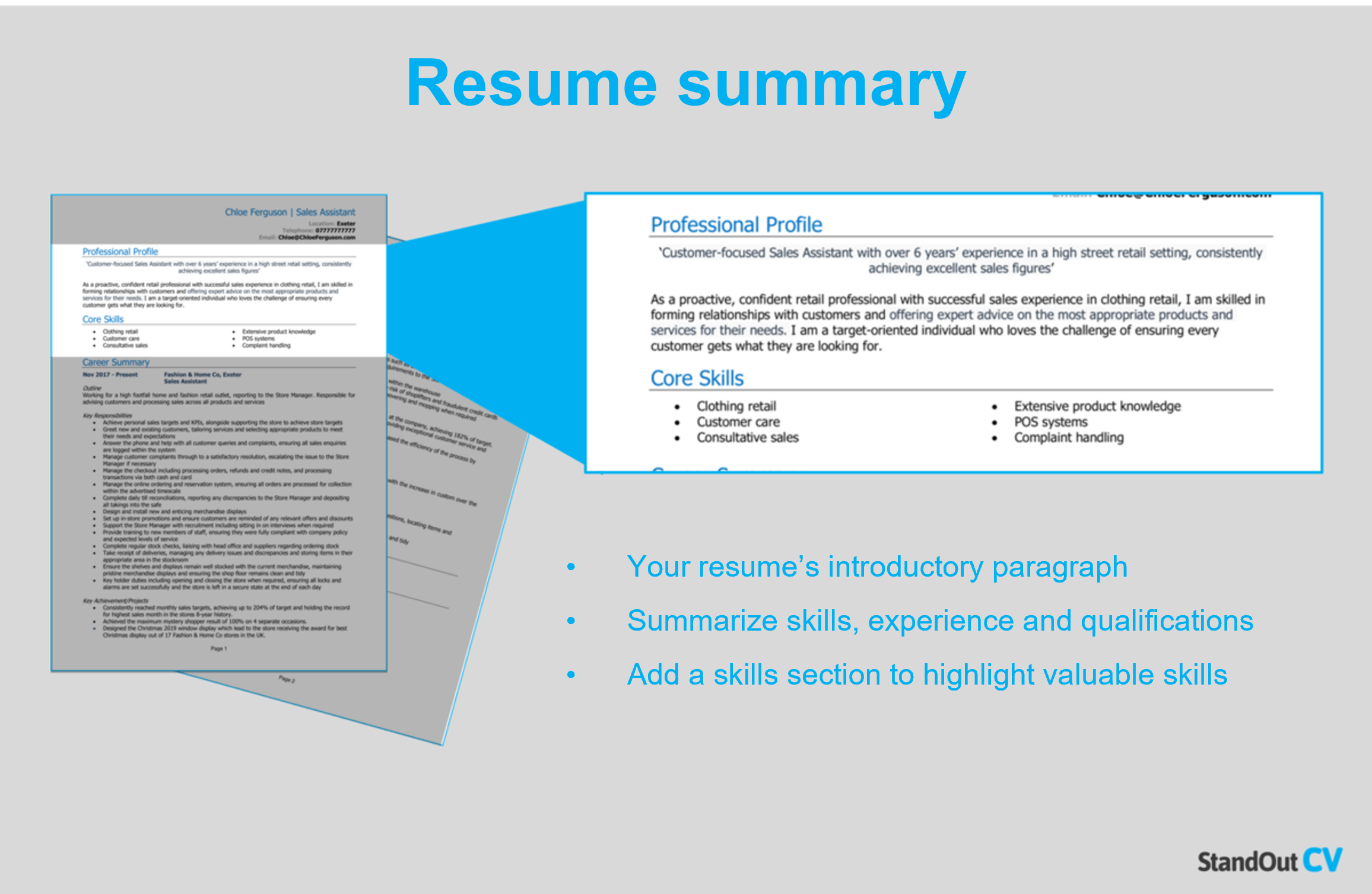 How to create a resume summary that will excite recruiters:
Keep it short: A concise and focused resume summary is essential for capturing a recruiter's attention and keeping them engaged. Limiting your summary to 4-7 lines ensures that you make a strong impression in the first few seconds of them opening the document.
Tailor to target jobs: Optimize your summary to match the requirements of your target jobs, by mirroring the key words from the job description as closely as possible.
Avoid using cliches: You may be a "team player who always give 110%" but generic phrases don't tell employers much about you in reality – stick to factual information.
Director of Technology resume summary example
Dedicated Director of Technology with 17 years' experience in managerial roles within a successful 25+ year career developing and implementing technology strategy and systems for large corporations. Experienced negotiator and account manager with an MBA from the University of Washington. Demonstrated success in leveraging technology and data analysis to drive innovation and optimize operational efficiency within enterprise.
What to include in your Director of Technology resume summary?
Summary of your experience: Provide an overview of the type of work you have done in the past and the impact you have made at previous employers.
Relevant skills: Skills that are highly relevant to Director of Technology work should be made prominent throughout your summary.
Qualifications: To make a strong impression on potential employers when applying for Director of Technology jobs, be sure to mention any relevant qualifications in your summary.
Quick tip: Choose from hundreds of pre-written summaries across all industries, and add one to your resume with one-click in our partner's Resume Builder. All written by recruitment experts and easily tailored to suit your unique skillset and style.
Core skills section
In addition to your resume summary, your core skills section provides an easily digestible snapshot of your skills – perfect for grabbing the attention of busy hiring managers.
As Director of Technology jobs might receive a huge pile of applications, this is a great way to stand out and show off your suitability for the role.
It should be made up of 2-3 columns of bullet points and be made up of skills that are highly relevant to the jobs you are targeting.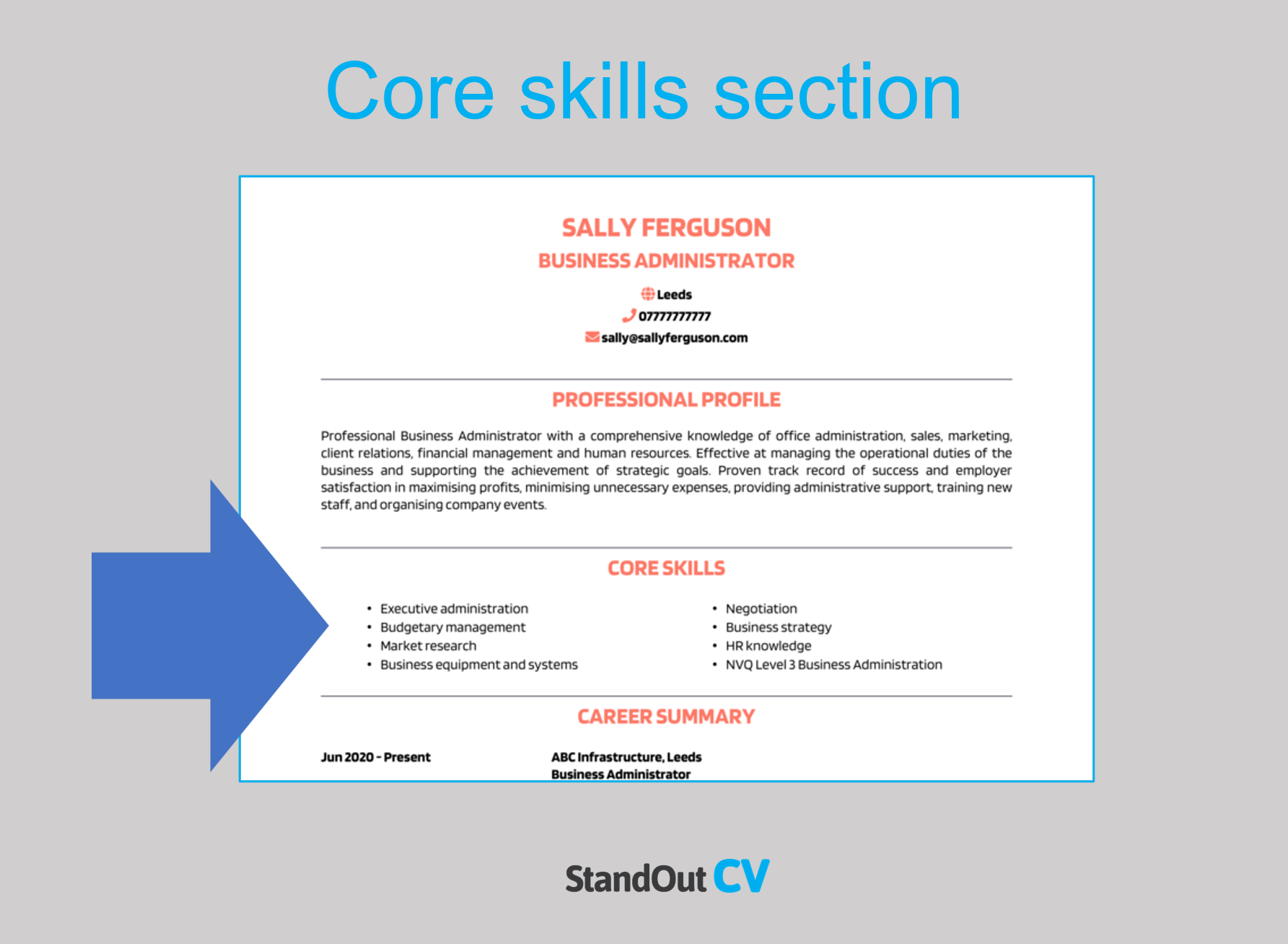 Best skills for your Director of Technology resume
Strategic Planning – Developing and implementing long-term technology strategies aligned with business goals and objectives.
IT Governance – Establishing and maintaining effective IT governance frameworks, policies, and procedures to ensure efficient and secure technology operations.
Project Management – Managing complex technology projects, including budgeting, resource allocation, risk assessment, and stakeholder communication.
Team Leadership – Motivating and guiding technology teams, promoting collaboration, and fostering a positive and productive work environment.
Technology Architecture – Utilizing knowledge of enterprise architecture principles and frameworks to design scalable and efficient technology solutions.
Cybersecurity – Utilizing knowledge of cybersecurity principles and best practices to protect data, networks, and systems from potential threats and ensure compliance with regulations.
Cloud Computing – Utilizing cloud computing platforms and services, such as AWS or Azure, to leverage cloud-based solutions and optimize infrastructure.
Data Analytics – Leveraging data analytics tools and techniques to extract insights, drive informed decision-making, and improve business outcomes.
Vendor Management – Managing vendor relationships, including contract negotiations, service-level agreements, and performance monitoring.
Emerging Technologies – Maintaining an awareness of emerging technologies and trends in the technology industry, such as artificial intelligence, blockchain, and Internet of Things, to explore potential opportunities for innovation and competitive advantage.
Quick tip: Our partner's Resume Builder contains thousands of in-demand skills for every profession that can be added to your resume in seconds – saving you time and greatly improving your chances of landing job interviews and getting hired.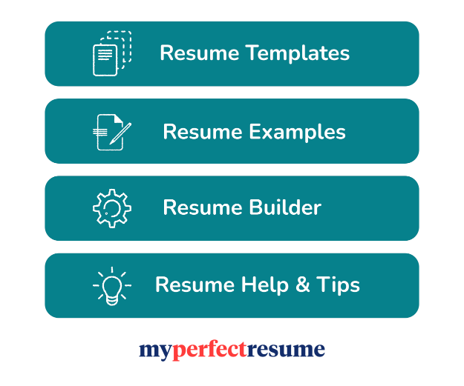 Work experience
So, you've got the recruiter interested with your catchy summary… Great work.
Now it's time to show them the impact you make in the workplace by listing out your previous jobs and what you achieved in each one.
If you have tons of experience, you can condense this part down to the last few years – if you are junior, then you should include as much possible (even volunteering and school work placements)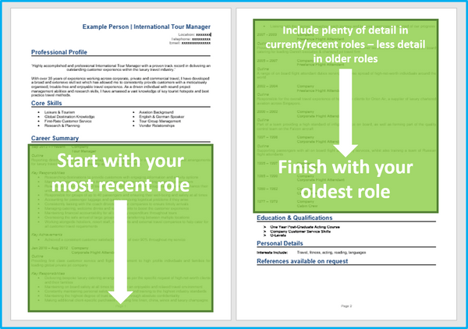 Structuring your jobs
Resume job descriptions contain lots of information, so its crucial to structure them well.
Use the structure below to ensure hiring managers can consume the information easily.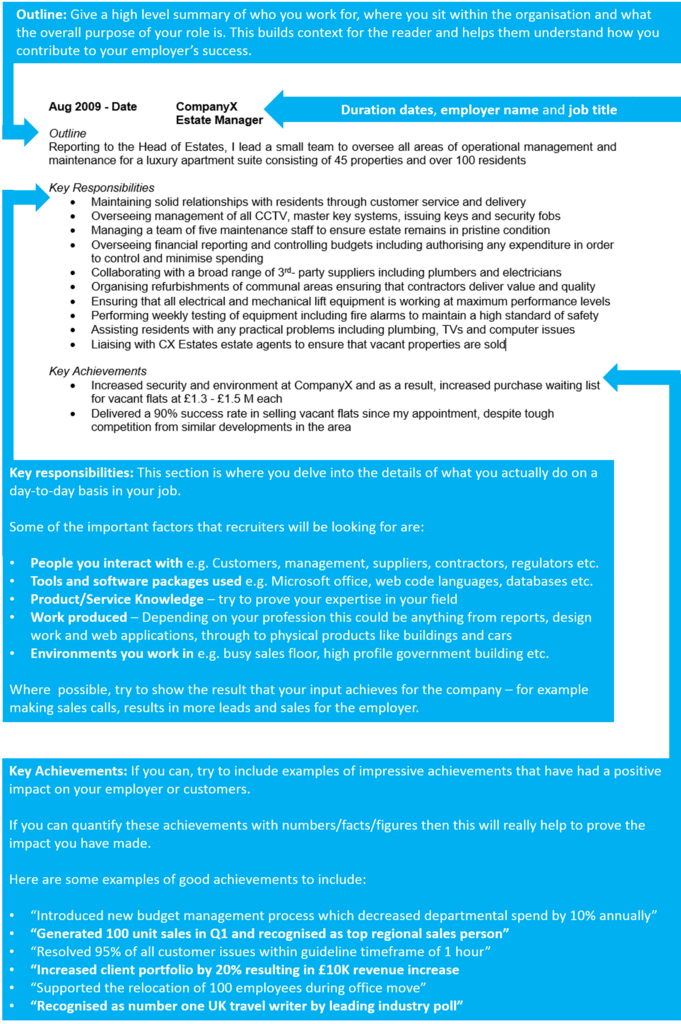 Job outline
Starting each job with a brief summary of the organization, your position within it, and the primary goal of your role can help recruiters quickly understand the context of your work.
Key responsibilities
List your notable responsibilities in short sharp bullet points to demonstrate your input and how you contributed to the organization's success.
Highlight the skills that are most important to the roles you are applying for.
Key achievements
Show employers the value you can bring to them by adding a few achievements to your jobs.
Whether you've saved the company money or improved an internal process, let recruiters know
Add some numbers to give readers a real scale of the impact, e.g. "reduced call wait time by 10%"
Example job for Director of Technology resume
Outline
Oversee and optimize the technology operations at a leading US consumer electronics retailer with 500 staff, 32 national stores, and an annual income of $450 million.
Key Responsibilities
Develop and implement technology strategy to maximize value from investment, working with Business Operations teams to identify, define and deliver solutions to drive growth
Research and evaluate new software technologies, hardware systems, and tools
Articulate and compose data-driven business cases for presentation to stakeholders
Design appropriate systems architecture, supplier partnerships, and deliver a suite of BI tools
Quick tip: Create impressive job descriptions easily in our partner's Resume Builder by adding pre-written job phrases for every industry and career stage.

Education section
Towards the bottom of your resume, add your education section.
Here you should list your professional qualifications and academic record, such as high school diplomas or college degrees.
If you have lots of work experience, you can keep this section brief (because recruiters will be more interested in your career. If you have little/no experience then you should bulk this section up with plenty of detail.
Additional information
The additional info section is optional but can be useful if you have anything else to add that could benefit your application.
For example, you may have some hobbies and interests that are relevant to your job – or you might have awards or publications to shout about.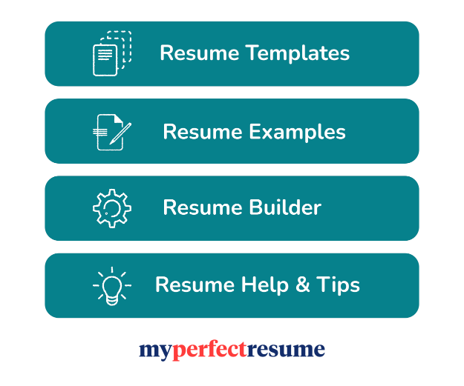 Writing your own winning Director of Technology resume
Following the steps in this guide will help you to create a winning Director of Technology resume and bag lots of interviews.
Good luck with your job search!